There is no need for statistics and sky-high graphs to tell you how social media is just the place to be today. People all over the globe are actually considering the role of a social media influencer to be a full-fledged profession. Many creative souls have fallen for the charm of that orange-pink-purple camera icon and followed their passion for becoming an influencer in their field of choice. In a time like this, you might often find yourself searching for gifts for Instagram lovers especially when it comes to impressing a special someone.
You come across so many high-flying social media influencers every day, but sometimes, one of them might just catch your fancy a little more than others, and eventually turn into your crush. Or, your last Tinder date might have been someone who's making it big in the influencer world. One of your college crushes might also have gone on to become a well-known Instagrammer.
Let us tell you that the rock-solid path to your crush's heart is a gift that will get his/her 'likes' and get you drowned in mushy emojis. If you have a sweet crush on a big Instagram influencer, your creative, ingenious gift idea can make his/her daily social media tasks a lot more fun and easier.
Trending Gifts For Instagram Lovers & social media influencers
For your benefit, this article is all about helping you pick out that perfect gift for your crush, who is also a big-shot Instagram influencer. These gift ideas for Instagram influencers will definitely get that social media-loving heart up and running. Plus, you could always take a stroll down their feed for inspiration because their Instagram account tells a lot about them. So, let's look at some exciting fool-proof Instagram lover gifts, shall we? And, I would also like to remind you that you could easily get your hands on these creative gifts from Amazon.
Related Reading: Gifts You Can Get For People You Have Just Started Dating
Top 10 gifts for the Instagram obsessive in your life
1. Mini selfie stick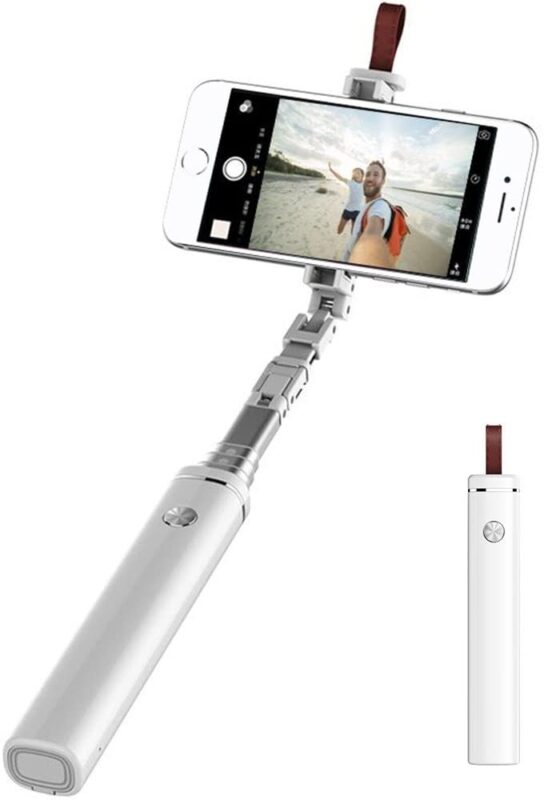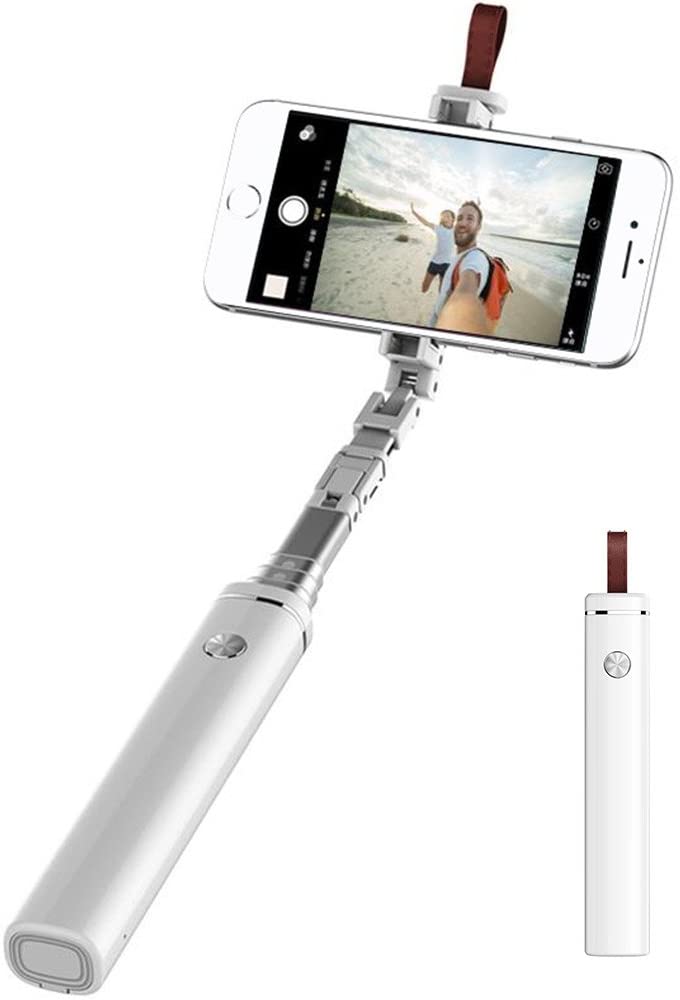 Selfie sticks are hands down the best gift for Instagram influencers. This selfie stick has been curated thoughtfully so that one can always keep a track of his/her photography equipment while traveling. It will come in real handy when your crush is traveling alone all over the world in search of that perfect click, worthy of his/her Insta feed.
This travel-sized selfie stick has a beautiful ergonomic design to provide you with a comfortable grip. Its super strong battery power keeps it alive for 75 hours at a stretch enabling it to take up to 20,000 photographs.
The length extends between 6.4in – 20.6 in
Rotate the cradle head 360 degrees to capture views from any side
Connect to your device via Bluetooth
Foldable and portable stick to carry around easily
And the best part about it is the alarm feature which will automatically give an alert when the stick moves beyond a particular distance from the owner/user. Impress your bae with this thoughtful Instagram gift idea so they never miss a great shot ever again!
2. Camera de-humidifying dry cabinet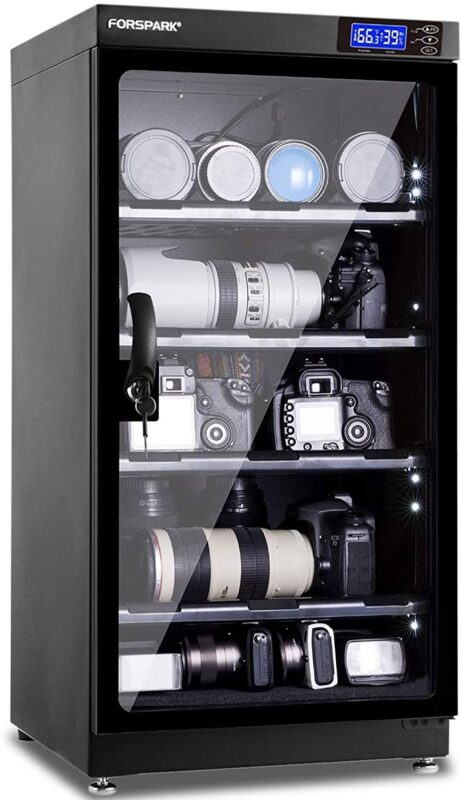 If you are looking for gifts for social media influencers, this choice is just as interesting as its name sounds and we are pretty sure your crush is going to love it more than anything.
It is basically a dehumidifying cabinet for all their photography-related equipment. Trust me anyone who is into photography knows well how humid weather and moisture can damage the health of their precious possessions. You have no idea how much your crush is going to appreciate this functional gift item!
Powered by thermoelectric cooling technology
Protects your devices from moisture, heat, rust, dust, fungus, and oxidation
No risk of leakage or fire danger
Comes with adjustable shelves and an LED light display
Its advanced technology helps to keep all of the cameras and other accompanying gear at an optimal humidity level which will help to keep it preserved against environmental damage. This is a perfect solution when your crush is one of those people who are skilled photographers and are super popular on social media or Instagram owing to their amazing clicks.
3. Like button cookie-cutter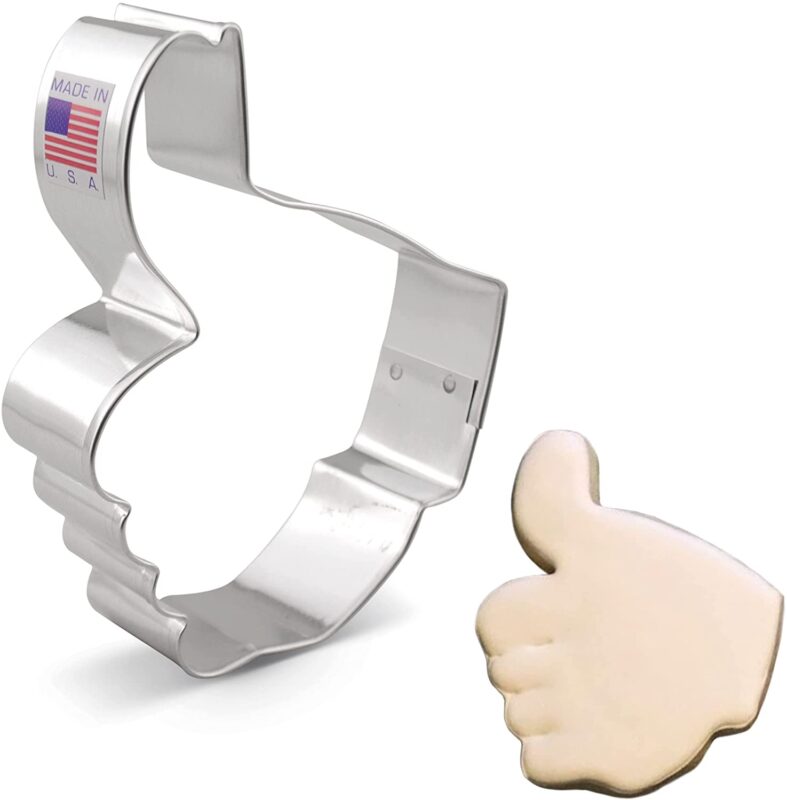 Do you know what could be better than some classic vanilla gingerbread or round chunky choco-chip cookies? We will tell you! It's baking some trendy cookies in the shape of the most popular button on social media – the like symbol.
It could not be any simpler as all your crush needs to do is roll out some cookie dough and use this cookie cutter to bake some yummy social media goodness. Not to mention the overload of cuteness that's going to be coming up in the final cookie pictures.
Made with quality alloy steel
Safe food-grade material
Easy to use and long-lasting
No extra color-coating on its surface
Stories of making cookies made using your gift will definitely make your favorite Instagram influencer a sweetheart to their audience. Plus, this like-shaped quirky cutter will help you drop a subtle hint of your irresistible attraction toward them!
Related Reading: 30 Gift Ideas For Women Who Have Everything – Unique Gifts For Her
4. Hashtag marquee light
A marquee light, in the shape of a hashtag, with bulbs shining through, is going to spruce up your crush's studio/office or even the bedroom in the best way possible. It is so versatile that it can be hung on a wall or kept on a bookshelf or chest of drawers and it won't disappoint. So, could there be any better gift ideas for Instagram influencers?
Very compact and portable design
Runs on 2 AA batteries, no other power supply is required
Has a keyhole slot in the back to hang it
Doesn't get hot even after long use
It will look supremely good as the backdrop of Instagram reels or even as a prop when he/she clicks those aesthetic Insta stories. So, if you want to get into your crush's good 'hashtags', you better grab this item now!
5. Social media slogan tees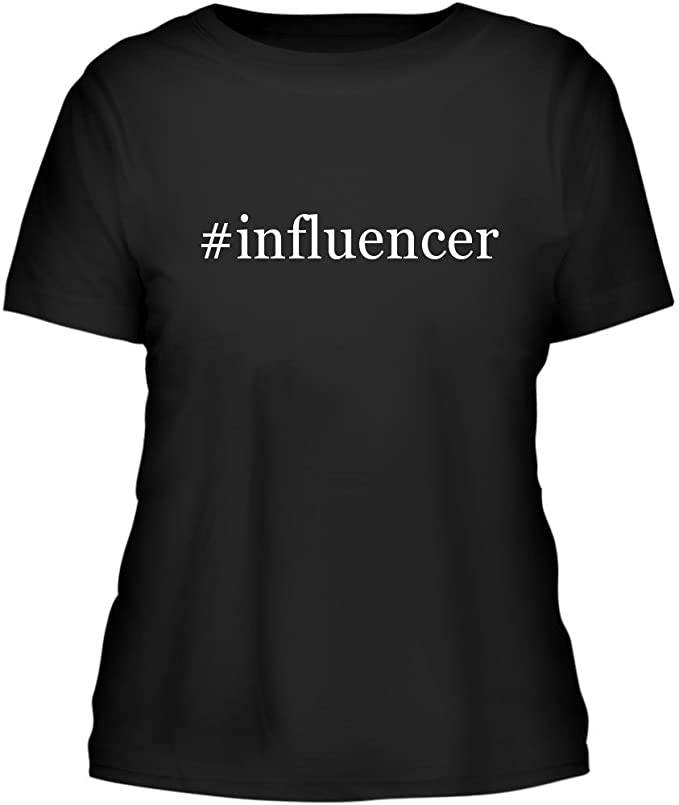 You can never go wrong with cute t-shirts as gifts for Instagram lovers, right? If you have a crush on someone who is a fashion content creator, you could get them some comfy and cool t-shirts having social media-related slogans and quotes like this #influencer one. It will notch up their style game even when they are chilling at home in messy hair and shorts.
Made of 100% ring-spun cotton
Much softer quality than other common cotton products
Oversized and light-weight t-shirt
It could be the perfect gift for those 'I woke up like this' and no-makeup selfie stories that will stir up a wave of 'likes' from their social media fans. Not to mention the healthy dose of sarcasm and quirkiness will uplift their cool online personality.
6. Rhinestone phone accessories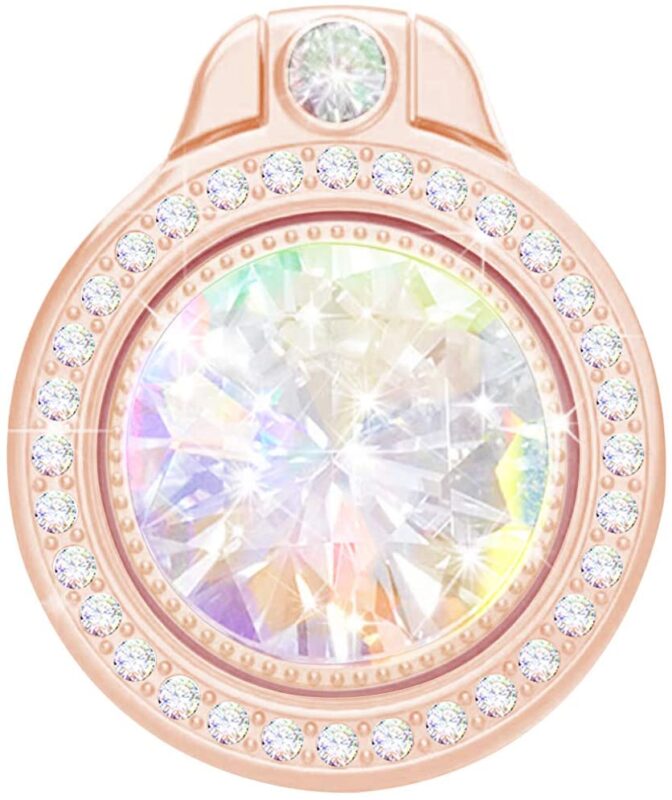 If you are planning to splurge on your crush and want to make her really happy, you know you can never go wrong with crystals. No, we are not talking about a ring or a necklace with a special meaning cause those are clichéd options of the past.
How about you follow the trend this time and go with this stunning rhinestone phone ring holder? It's rose gold, it's sparkly – basically, it's everything an Instagram influencer may ever want to vamp up their mirror selfies.
Gives you a nice grip to hold the phone and watch something on the screen
Rotate it 360 degrees to look from any angle
It sticks on the phone with a one-time usable strong adhesive
Protects your phone from accidental drops
Get your favorite girl this crystal pop socket that will make her feel like a million-dollar baby in the truest sense. This pop socket will not only be useful for all her phone activities, but it will be a real sensation on her Insta feed as well.
Related Reading: 21 Cool Tech Gift Ideas For Couples Madly In Love And Passionate About Gadgets | 2022
7. @ social media necklace
This is one of the prettiest and daintiest gifts that you could possibly gift your crush especially when you know she is really serious regarding her Instagram game. Be it a hashtag or the 'at the rate' symbol, any item featuring these social media emblems are the perfect fit as a gift for Instagram influencers. And if it's a gorgeous piece of jewelry then nothing like it!
Made of handcrafted brushed metal
The gold-plated coating doesn't wear off or rust
Nickel-free, hypoallergenic necklace
Good for everyday use
Get this lovely gift for your popular girl to show her your support and enthusiasm for her passion and profession. You will create a soft corner in her heart, there is no doubt about that!
8. Treat-wielding pet selfie tools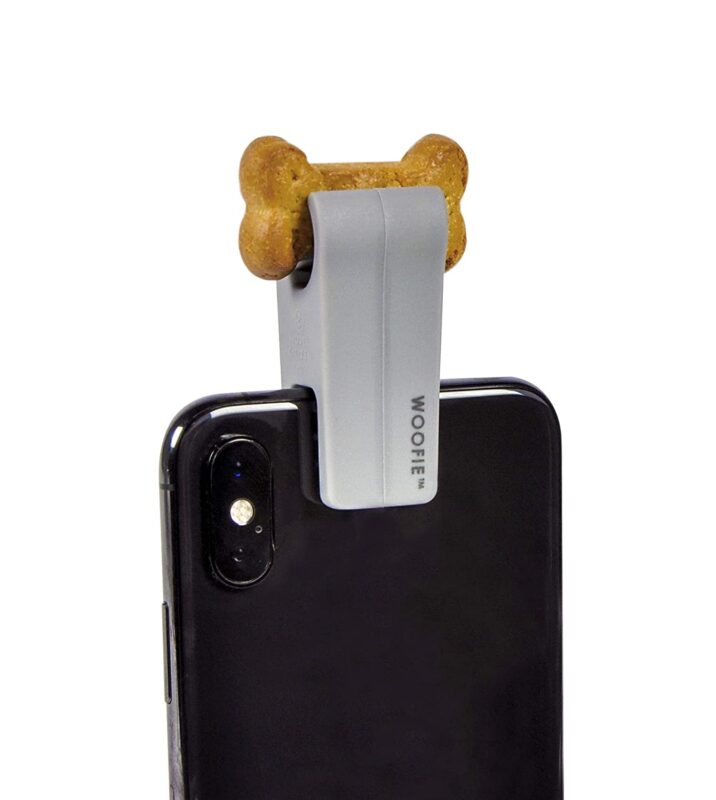 Is your crush the best dog parent on earth and it was love at first sight when he/she started the popular Insta page for their pet? Well, with this model gift for dog lovers, you can appeal to both the social media influencer and the pet parent version of your crush. How cool is that? All they would have to do is to attach it on top of their smartphone and tuck their pet's favorite treat in it.
Treat holder made of silicone
Flexible material to fit a wide range of devices
It is small, light-weight and easy to carry in a pocket
These treat holders are tailor-made gifts for Instagram lovers who run a pet channel because it keeps the dog/cat eagerly focused on the screen while your crush can capture all those picture-perfect selfies with their furry companions. And they are going to be more than impressed with you, for all those oozing-with-cuteness photos coming up on the Insta feed.
9. Status update note/memo pad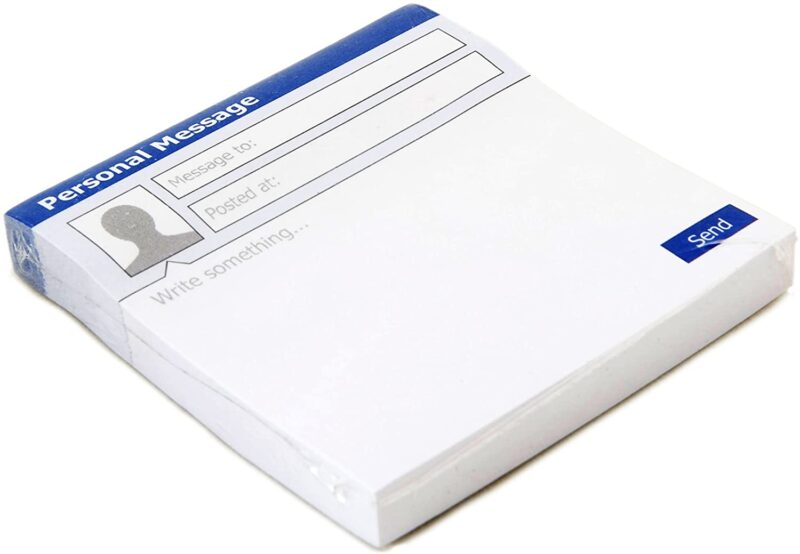 Is your crush striving hard to keep a track of his/her social media tasks, collabs, uploads, etc. and you desperately want to help? Well, here's your chance.
Gift him/her a notepad that is printed in the format of a Facebook status update or an Insta post. This is sure to get your crush motivated about jotting important things down and getting all the creative juices flowing.
There are 100 sheets in each pad
It's a square-shaped (3in × 3in) notepad
Stick or remove them easily on any surface
These sticky notes are not only perfect for keeping track of a busy social schedule, but it's also a fun way to pass on notes to friends and family, right?
10. Ring light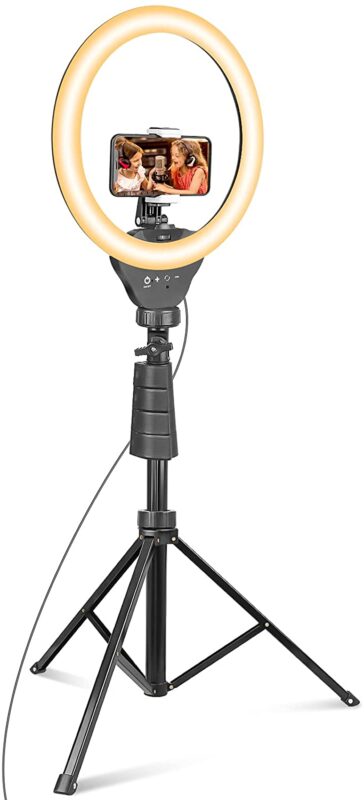 Yes, content is always the king in the way of making a successful career as an influencer. But a good attractive execution makes it even more impactful. Your crush will tell you how they are always trying to make the pictures and videos for their Instagram feed look more shiny and professional. That is exactly why a ring light is extremely effective and one of the best gifts for social media influencers.
12-inch ring light giving 20W of power from 240 LEDs
You can adjust luminance and color temperature
Easy to shift between selfie stick and tripod mode
Compatible with all cameras, cellphones, webcams, Ipad, and more
Thanks to this gift, now your crush can attend every zoom meeting and video call with a daisy-fresh radiant presence. And the numbers of likes and comments will touch the sky on their Instagram reels.
Related Reading: 35 Useful Travel Gift Ideas For Men – Best Gifts That He Will Love
11. Heart-shaped ice cube tray
Who likes a boring drink? Nobody! Well, here's a simple yet effective way to give any drink a complete makeover whenever you are trying a new cocktail recipe and an even better gift for your crush. Thanks to this ice-cube tray, your crush can jazz up even a meager glass of water which will have cute, Instagram-ish heart-shaped ice cubes floating away. 
Made of 100% pure quality food-grade silicone
Easy to clean and store because of its non-stick surface
Very flexible molds to pop out the chunks easily
A set of 3 trays with a total of 24 cavities
Perfect for those social gatherings or parties of social media influencers/bloggers, these ice cubes are sure to steal the spotlight every time. So pick up a tray and trust us, you will definitely be getting all the 'hearts' coming your way from your crush for this quirky gift!
12. Spinning smartphone accessory
Does your crush enjoy using a fidget spinner and he/she is always glued to the phone because of being a social media influencer? Well, out of many gifts for Instagram lovers, here's something that will help them get the best of both worlds.
This spinner finger ring stand is a spinning toy-come-phone accessory that works as an attachment like a pop socket, and your crush can use this as a game, decorative accent, etc.
Rotates 360 degrees vertically and 180 degrees horizontally
Made of zinc alloy with a specially polished smooth surface
Durable and rotates for a long time
Powerful and washable adhesive
Spinning it can help him/her release stress when they have a hectic day full of shoots or content creation. There is no chance of disappointment if you get this as a gift for your Instagrammer crush!
13. Social media content planner
Social media may look all bright and sunny from the outside but getting into it as a professional is a lot harder than you think. Understanding the algorithm, thinking of new campaigns and strategies to promote the brand, planning content – there is so much to do! Your partner must be feeling lost at times trying to keep track of everything. To make it a little easier, buy them a copy of this super cute social media organizer and earn some brownie points.
Provides information about how to increase your online visibility
52-weeks content planner and organizer
Manage target audience, hashtags, and much more
Beautifully designed and illustrated journal
Your crush is definitely going to give you an honorable mention in their stories for putting so much thought into this gift and making their life a lot more hassle-free.
14. Clip-on camera lens
Does your crush love the convenience of clicking photos with a smartphone, but love the effect of camera lenses? Well, who doesn't? The gift that could make your crush so impressed with your choice is a clip-on camera lens for his/her smartphone.
These lenses are made to fit most smartphones and just need to be clipped over the phone camera, and your crush will have a wide array of fish-eye lenses, macro-lens, or super-wide lenses to choose from in the kit.
14-in-1 phone camera lens kit
Includes a selfie ring light with 7 brightness modes
Churns out sharp images with minimal distortion
Portable, clip-on design – can be easily removed
If you are looking for very practical and useful gifts for Instagram influencers, then this has to be your choice. The ease of clicking DSLR-like photos on the smartphone will help amp up his/her Insta feed in an instant.
Related Reading: 25 Gifts For Beach Lovers [Gifts For People Who Love The Beach]
15. Social media pillows
What better way to announce an influencer's love for social media than some cute and colorful social media pillows on his/her couch or bed? Or maybe both! This pillow is not only a great hugging buddy but it also helps to elevate the aesthetics of the room further. It's one of the most suitable gifts for social media influencers that you could find especially if your crush is a YouTube diva!
12in x 16in pillowcase, also available in other sizes
The YouTube play button is printed only on one side
Very comfortable, soft, and breathable material
Concealed zipper and beautiful design
This cushion cover will make great props or backgrounds when your crush is slaying an Instagram live session or doing an impromptu photoshoot.
16. Like/dislike stampers
Following in Facebook's footsteps of like and dislike, you could surely get these cool stamps for your crush. Though we would not really encourage it to be used on official documents, your crush could definitely have some fun using the 'like' stamp as and when they prefer on journals and notebooks.
Budget-friendly self-inking stamp
Comes with a 2-sided ink pad to double the number of impressions
Features a clear-mount base for perfect alignment
It's available in blue ink
If you pick this very stamp, be rest assured, your gift is for sure getting 'like' stamped all over it! Maybe you could even write out your feelings in a letter for your crush and seal it with the Like stamp. You can thank us later!
17. Flat lay styling kit
Aesthetically pleasing flat lays are a great way to draw the attention of a maximum audience. Plus, they give your feed such a pleasant vibe that anyone who visits your page won't be able to leave without following you. I am sure your crush, too, is a pro at this art. To show them some appreciation for their creativity and hard work, gift this wholesome flat lay styling kit to enhance the beauty of their photographs!
Includes stickers, vintage sheets, polaroid notes, and a lot more prop items
Also, there is a satin fabric for background purposes
Different props are used in all sets so that no two kits turn out to be identical
Available in 3 color palettes
You won't find more befitting Instagram gift ideas than styling props. No content creator can ever have enough of these items. So when the package arrives at your crush's doorstep, they would be super excited and feel the urge to hug you then and there!
18. Minimalist decor pieces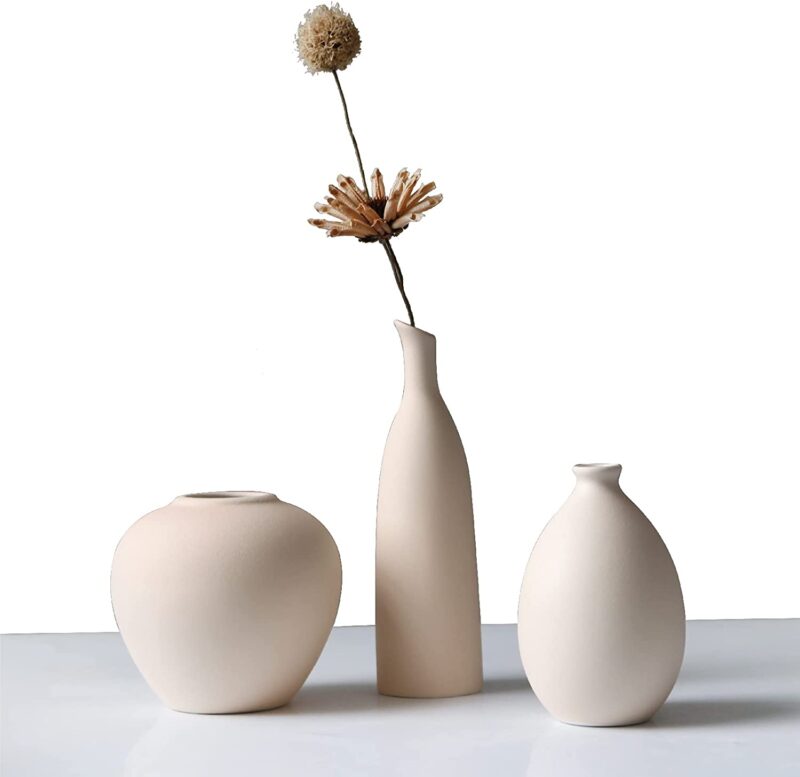 Ditch the clichéd figurine gift ideas and present to your crush some gorgeous ceramic vase set to decorate their office space or studio. The best part is that an influencer wouldn't just have to keep it as an idle showpiece, but can do so much more with it. The simple, rustic look of these vases makes them the appropriate choice for gifts for minimalists, especially if your crush promotes a minimalist lifestyle in their channel.
The shape and the colors blend in all kinds of interior home decor
Crafted and processed from 100% ceramic
Comes wrapped in molded foam in a damage-proof packaging
It can be a great addition as a prop to their product review pictures or be the perfect trophy décor on their shelves and tables to deck them up in a cool way.
Related Reading: 21 Last Minute Gift Ideas For Your Wife's Birthday
19. Picture backdrop for photography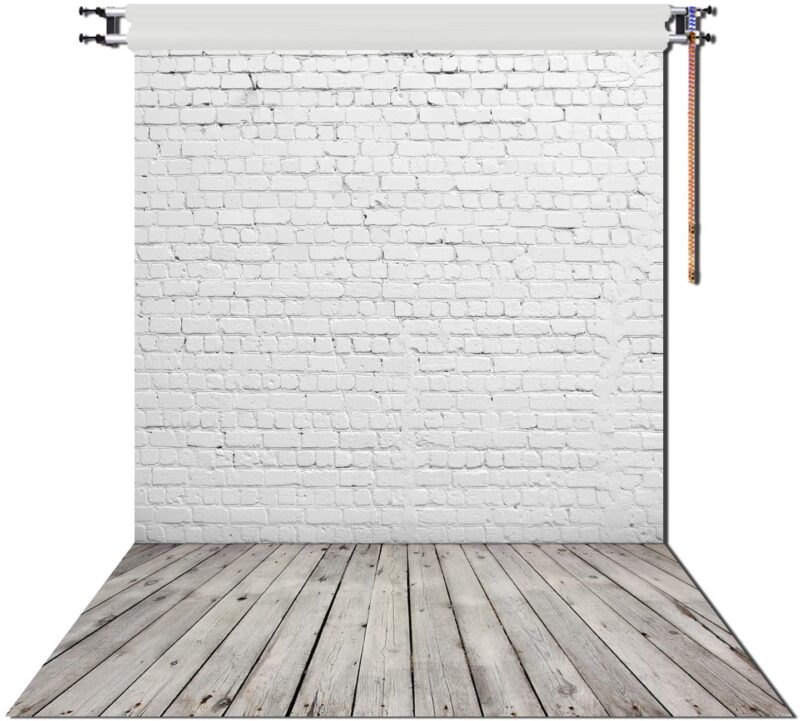 Nothing ruins a picture like a messy background. If your influencer crush is a fashion blogger, they must be always very concerned about the backdrop of their video and which part of their home they are exhibiting to their audience. Put an end to this problem once and for all and get your hands on this gorgeous picture backdrop for photography.
High-quality vinyl backdrop, easy to fold and carry
Better to keep it away from fire and water and store it in a dark, dry place
Use a steam iron to remove the creases in less than 200℃ temperature
Trust us on this, nothing spills elegance and aesthetic vibe more than a brick wall. You are about to win your crush over with this absolutely photogenic wall decor!
20. Instax mini camera
Can you tell me why these Instax mini cameras from Fujifilm make for amazing gift ideas for Instagram influencers? This camera lets you seize a moment and turn it into a memorable one as it instantly prints the picture that you just clicked!
So, when your influencer crush is out on a coffee date somewhere in the city and meets a big fan, they could take a shot together and share the polaroid with their admirer, maybe even sign the copy. Isn't that so cool?
Sleek and trendy design with transparent ring lens
Captures bright pictures even in low light
Has a built-in macro mode and selfie mirror
Works on 2 AA batteries
If nothing, this blush pink Instax mini would look adorable as a prop in the background of their videos and reels. Also, have you noticed the camera has a resemblance with the logo of Instagram? Isn't it just meant to be? I think so!
21. Social media party supplies
This may not be the best option to go for when your guests are expecting professional-looking plates and cutleries in a gathering, but it surely is a great choice for your social media-loving crush. I mean, what's the harm in cute party favors for a themed party? Here's your chance to impress your crush with one of the most fun Instagram lover gifts and enjoy the party with them giving them a chance to get to know you better.
The whole set is good enough for a total of 16 guests
Includes dinner and dessert plates, lunch napkins, plastic forks, and spoons
Colorful social media-friendly products
The plates are made of paper
Such gifts are perfect for adding that personal touch and a little twist to otherwise normal social gatherings. Pick this quirky social media party supplies kit and you'll definitely get a big thumbs up for this thoughtful gesture.
Gifting Tips & Tricks
Even though the influencer rate race has churned up more content creators than consumers, every big influencer on the 'gram has their own unique personality. Some of them have slid into the role of a professional influencer due to the money involved, while some enjoy the excitement of connecting with hundreds & thousands of like-minded souls online.
If you want to make a lasting impression on your role model, then make sure you choose such gifts for Instagram lovers that suit your crush's style, personality and niche.
You might like an influencer who's an avid traveler and backpacking globe-trotter or you might have fallen for a style icon who attends Fashion Weeks and collaborates with designers. So, if you keep a few things in mind while choosing Instagram lover gifts, then we can assure you your crush will notice your effort and reciprocate!
We know you stalk your crush's every move on Instagram, so put all that stalking to good use! Find out their likes & dislikes, their habits, and choices, and decide on your gift accordingly.
Make a list of things that go with their personality or might be useful to their field of work, and then pick the one that will make the most positive impact on the receiver.
If your crush has a Pinterest profile, then check their boards for perfect inspirations for gifting. He/she must be pinning items they like or find appealing and you can pick a gift from there to surprise them with!
There's nothing as special as a personalized gift! A gift that's custom-made for your crush will surely speak volumes about the thought & effort you put into it. Gifts engraved with his/her name or personalized products printed with custom hashtags or Instagram handles will surely show how much you care.
If your crush creates content in a particular niche, then you can choose a gift according to that. Garments with social media prints can be perfect for fashion influencers, while Instagram-shaped cookie cutters or rolling pins are great choices for food bloggers.
Add a heart-warming touch with a personal, handwritten note. Trust us, it'll add a sweet new dimension to your thoughtful gift and will definitely help you make a special place in your crush's heart (and maybe their Instagram feed too!).
Related Reading: 21 Long Distance Family Gifts They Will Actually Want To Use
In this day & age when every other person is aiming to be an influencer, you might meet someone special who's a social media star or actually develop a crush on an Instagrammer you've become friendly with online. However big & famous your much-loved Instagram influencer might be, everyone loves a nice gift, especially when a lot of thought goes into it.
Even when you have the best intentions at heart, choosing the right gift can be more challenging than it seems. So, if you want to impress your crush with a carefully-chosen gift, you need to do it in style. Keep the above pointers in mind and pick the most perfect gift to surprise your crush with! You'll definitely get a special mention in the unboxing stories and might just go on to become more than just one of their followers.
All of our suggested gifts for social media influencers are easily available on Amazon, or other similar e-commerce sites – so get, set and start shopping! Get your love story moving with gifts that'll help your crush amp up his/her social media presence and you'll earn brownie points for sure. It's time you let your crush know your feelings with very special Instagram gift ideas and change those virtual 'likes' into real-life 'love'!
Social Media And Relationships: Have We Isolated Ourselves To Find Company?