You've found the love of your life and are ready to settle down with her –congratulations! All you need now is for your best friends to say 'Yes' to being your best men at the wedding. Figuring out how to ask for your friends to be your groomsmen can be a little daunting when you don't know what to give them as groomsmen proposal gifts.
This certainly cannot be a last minute gifting thing as looking for a best man proposal gift as it requires a substantial amount of effort to come up with a unique groomsmen proposal box. Groomsmen will stick to you like gum till the day of your wedding. Their gifts need to be special. This list will help you come up with the best groomsmen proposal gifts.
Creative Groomsmen Proposal Gift Ideas
This best man proposal gift list has gifts for every type of man. There are a lot of things you have to thank your groomsmen for – right from the time you were going to propose. They were there for you as you battled thoughts every man has before proposing. They have been with you to help you plan the big proposal and then to help you with the wedding preparations and whatnot. This list has the best groomsmen proposal gift ideas and you won't have to look anywhere else.
1. Custom bobbleheads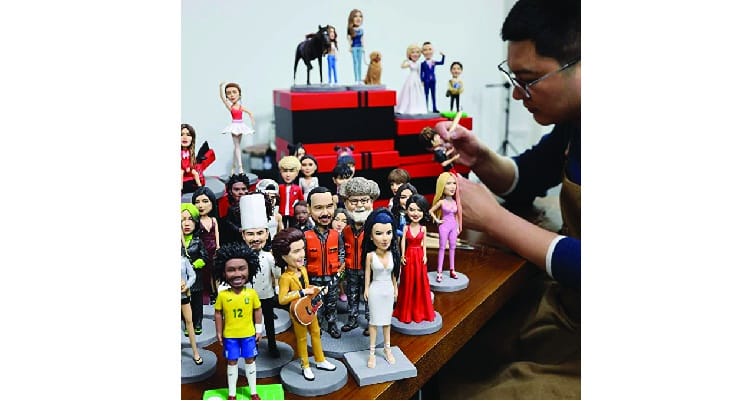 These personalized bobbleheads are funny and quirky and we're pretty sure this is one of the groomsmen proposal gifts that they might not already own. Add this fun and memorable gift in your groomsmen proposal box and share a chuckle.
Satisfaction guaranteed or 100% of your money back 
Free shipping and free online proofing where the sculptor will send you the picture before shipping it
100% customized and handmade
The sculptor, Jerry, has amassed over one million followers; he has sculpted figurines for more than 100 celebrities 
2. Whiskey glass set
Up your gifting game by adding this regal looking glass set with skate table coasters by Royal Reserve in your groomsmen proposal box. This is one of the best gift ideas to ask your groomsmen the big question while having a drink or two with them. Men love whiskey and these glasses will make them remember you whenever they are taking a sip from the glasses.
Comes with 2 crystal glasses, 2 stone coasters, 8 whiskey stones and a tong
Also comes with cocktail recipe cards
Elegant glasses are lead free and true whiskey lover's dream
3. Globe-shaped whiskey decanter set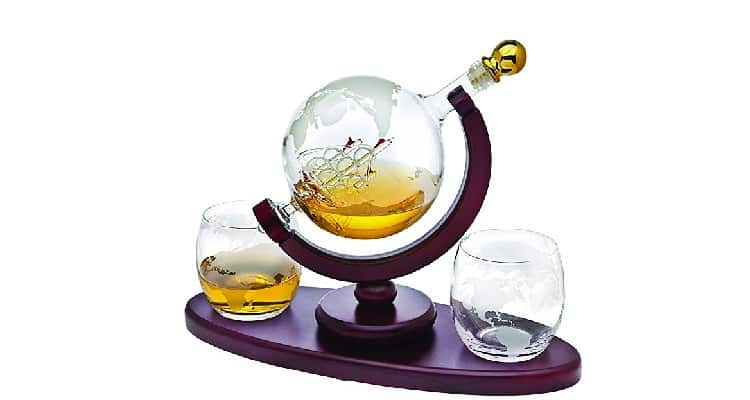 This globe shaped whiskey decanter set is a treat for all eyes. It looks so royal and elegant that it'll leave your groomsmen mesmerized. Every guy has these 10 types of friends. If your friend loves whiskey, then present them with such fantastic groomsmen proposal gifts to which they will never say no to. Godinger has specialized in handcrafted silver, crystal, glasses and metal giftware. They are available at all major retailers across the US and Canada.
Hand blown, whiskey decanter dispenser features etched globe design and antique ship
Comes with two matching globe designed whiskey glasses fitted onto mahogany tray
Lead free with 850 ml decanter capacity and 300 ml for the glasses
Brilliantly clear and handmade; can also be used to serve water, juice or other beverages
Related Reading: 35 Useful Travel Gift Ideas For Men – Best Gifts That He Will Love
4. Personalized flask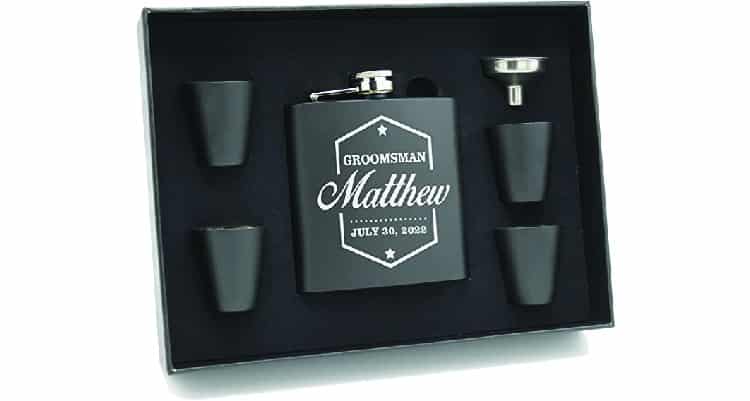 A personalized flask for your groomsmen to carry their drinks wherever they go. This super stylish flask makes it one of the best groomsmen proposal gifts. It is also one of the cheap groomsmen proposal gifts but certainly doesn't look it. You can even have this customized – engrave their names or a funny quote, absolutely free of charge!
Holds 6 oz, comes with a funnel
4 shot glasses included in beautiful presentation box
Your entire order with engraving will ship in 1 to 3 days
5. Personalized poker set
What a fun gift to give your groomsmen! This personalized poker set is one of the best groomsmen proposal ideas and when they say "Yes", spend the night playing poker with them for a typical guys' night celebration.
300 personalized poker chips with full name, initials and 3 lines of imprint
High quality 11.5G poker chips
Comes with aluminum case, 2 decks of cards, dice and dealer button
Gold imprint on one side
6. Bottle opener
For your groomsmen who love beer. This is one of the best groomsmen proposal gifts as this conveys a shared love for beer. Have beer with them and talk about some bankable reasons for getting married. Add this funky bottle opener in your groomsmen proposal box.
Stainless steel 
Product size is 8.5 x 5.4 x 0.2cm / 3.34 x 2.12 x 0.078inches
Package consists of 10 bottle openers
7. Groomsmen wallet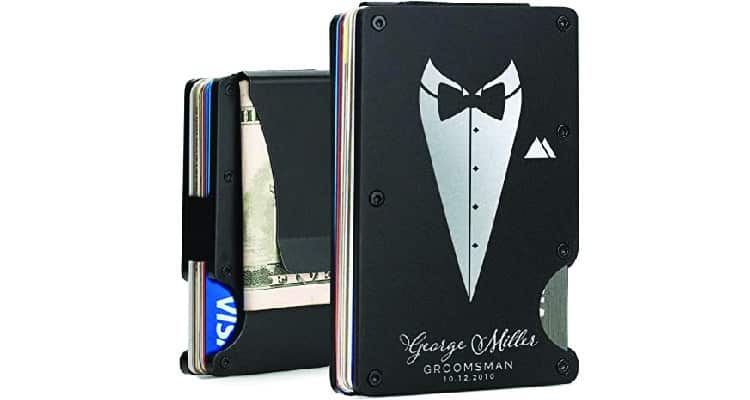 This elegant, personalized, metal card holder wallet can be customized with an initial, a name, a title, or even a date of your choice. It's one of the best wedding gifts for a groom, groomsmen, best man, father of the bride, or your wedding usher.
Select design from their list and customize the metal wallet
Submit the name, initial, the title and/or the date you want customized
Made from durable aluminum material
Slim design, can fit easily in back or front pocket
8. Pocket watch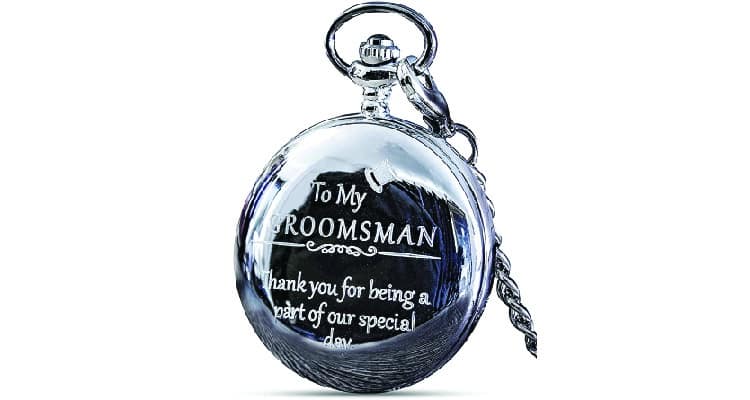 Create a memorable moment by gifting your groomsmen this engraved pocket watch. "To my groomsman. Thank you for being a part of our special day". Groomsmen proposal gifts like these are bound to touch their hearts.
Available in sets of 1, 3 and 5
Beautifully designed and crafted for maximum impact
Delicate etched engraving on polished steel surface
Precision quartz movement and 45cm steel chain
9. Groomsman tumbler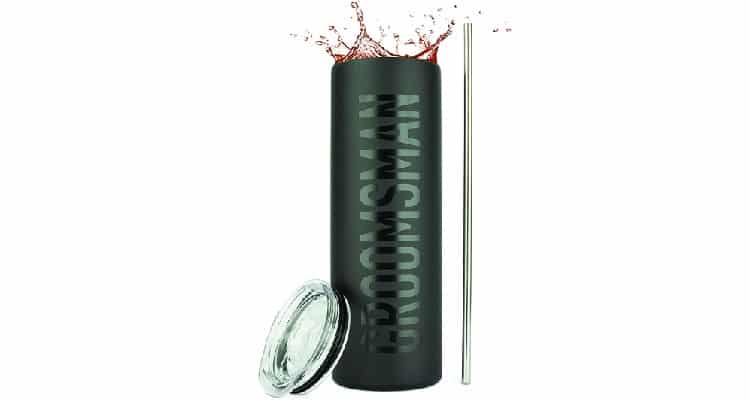 A unique and unbreakable gift for your groomsman who has been with you through all your ups and downs. Just like the bond you share with them, this tumbler also claims to be unbreakable. Groomsmen proposal gifts like these in your groomsmen proposal box are always a great idea.
Holds 20 oz of hot or cold beverage. Can be used for wine as well
Travel friendly tumbler, reusable and eco-friendly
Shatterproof steel and laser finish along with premium 'Spill-Resistant' lids to reduce environmental impact
Fresh alternative to disposable cups
10. Custom toiletry bags
This best man proposal gift will help them store their toiletries in this bag when they come for your wedding. It can be customized to your liking. Not just the name of your groomsmen, but you can select the color of the bag.
Made from canvas and leatherette
Lightweight yet durable 
Water resistant
Measurements: 9.5″ L x 4.75″ W x 4″ H. Perfect sizing for traveling
11. Alpha gift box for men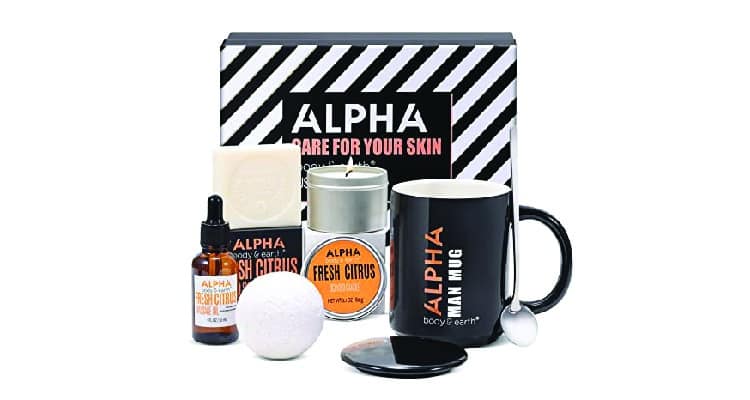 If you don't wish to spend a lot on groomsmen proposal ideas, then cheap groomsmen proposal gifts like these gift boxes are the right choice for you. This spa gift set for men is infused with a fresh citrus fragrance that will help invigorate their senses.
Set includes massage oil, scented candle, soap bar, bath bomb and coffee mug
Massage oil made with natural ingredients
Bath bomb created with citrus essential oils
Masculine and sophisticated spa gift set for men
12. Groomsmen socks
Your dapper groomsmen will look more stylish and handsome in these socks. Black socks have a timeless appeal. Get this and add it in your groomsmen proposal box with a sweet groomsmen proposal message and hear them roar "Yes!" to your proposal.
Made from breathable fabric
Comes with 1 pair groom socks, 1 Best Man Socks and 6 Pack Groomsmen Socks.
These are perfect for bachelor party supplies or to wear on the big wedding day or to the engagement
Made using 70% cotton, 27% polyester and 3% spandex
13. Personalized cufflinks
No groomsman's accessories collection can be complete without the addition of some sleek cufflinks, tie bar and money clip. Personalize these with your groomsmen's initials and add then check them off your groomsmen proposal ideas list.
Set includes pair of cufflinks, matching tie bar and money clip 
Comes in black gift box with high quality foam to hold each piece in place 
Cufflink Shape: round: 16 x 16mm, height: 22mm; closure type is bullet-back. 
Tie bar length: 50mm; money clip length: 54mm
High polished smooth surface 
14. Custom beer mugs
The classic beer mug with customizable print really makes a great gift. Your groomsmen can enjoy their frosty ale or lager in style. You and your groomsmen can get together on International Beer Day and have beer in these mugs. These groomsmen proposal gifts are best because not only are they great looking and useful, but they are cheap groomsmen proposal gifts too. The engraving is done free of cost.
Customize each separately with desired name, wedding role and date
The more the number of glasses purchased, the more the shipping is discounted 
Every glass etched permanently and will NEVER come off 
Original fun gift for beer lovers
Related Reading: 21 Gifts For Beach Lovers [Gifts For People Who Love The Beach] | Christmas 2022
15. Groomsmen sunglasses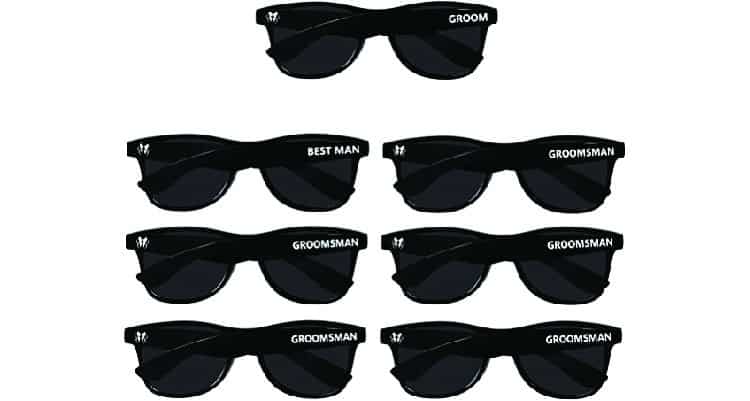 Add this in your groomsmen proposal box with a thoughtful groomsmen proposal message to give your besties a dash of style and pizazz. Bring them out at the bachelor shower as you connect with your besties before your big day, air out any pre-wedding jitters and get some great photos and memories.
Plastic lens and non-polarized 
Comes with scratch resistant coating
Width of the lens is 55 millimeters
Kit contains a total of 1  'Groom', 1 'Best Man' and 5 'Groomsman' Sunglasses with shiny lettering
16. Lighter
The ultimate bonding ritual between men is when they light up a ciggy and talk about life. Your entourage will enjoy the day in style with groomsmen proposal gifts such as these. Make them feel special by giving them a personalized lighter. Share with them a smoke and if you are experiencing pre-wedding blues. This is one of the gift ideas to give your groomsmen-to-be when you ask them if they will stand by you on your big day.
Stylish, durable and easy to fill
Sturdy metal construction and replaceable flint
Designed for daily use, can be cherished for years
Laser engraving
17. Beard grooming kit
Men love to take care of their beards. Gift your groomsmen this well-packed beard grooming kit. Each beard product is individually boxed and bagged inside. It is without a doubt one of the best groomsmen gift ideas. 
12-in-1 beard care kit includes beard wash, oil, razor, etc. 
From organic beard oil to beard balm, everything included
Fragrance free beard wash, beard oil and beard wax
Products contain Vitamin E and Aloe Vera which aid in healthy beard growth and management; also softens beard and provides additional shine
18. Leather AirPods case
To protect your groomsmen's AirPods and gift them this stylish leather case which has an LED visible front and comes with wireless charging cover. It has a delicate design and is easy to install. This expensive looking case is a great best man proposal gift as it won't burn a hole in your pocket. This is one of the cheap groomsmen proposal gifts which doesn't look so cheap.
Made of premium genuine leather 
Comes with a 360° protection for your AirPods Charging Case
19. Cigar humidor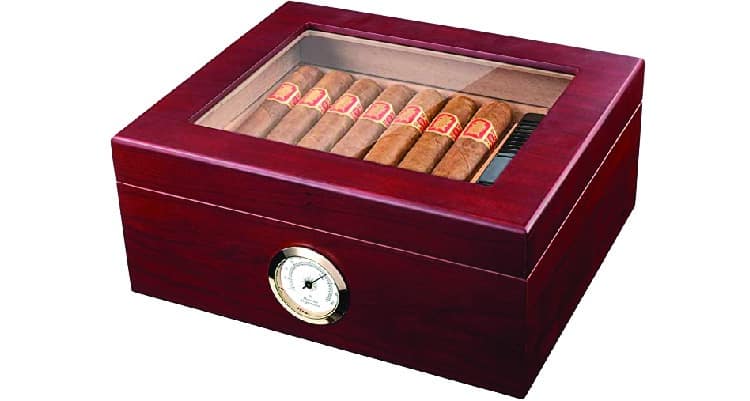 Are any of your groomsmen cigar aficionados? Then what can be a classier and more useful gift than a cigar humidor? Make sure that the cigars are as fresh as your main course with this cigar humidor. After lighting up a cigar, you guys can share what they drunk texted or any other life anecdote. This is one of the more stylish gift ideas to ask groomsmen to be there for you on one of the most important days of your life. 
Glass-top humidor box to protect cigar collection
Sealed construction keeps moisture out while the hygrometer checks humidity levels at any time
Wood and glass box, capable of holding 25 to 50 cigars depending on ring size
Also has removable cedar divider to make organizing even easier
20. Fujifilm Instax Mini 11 Instant Camera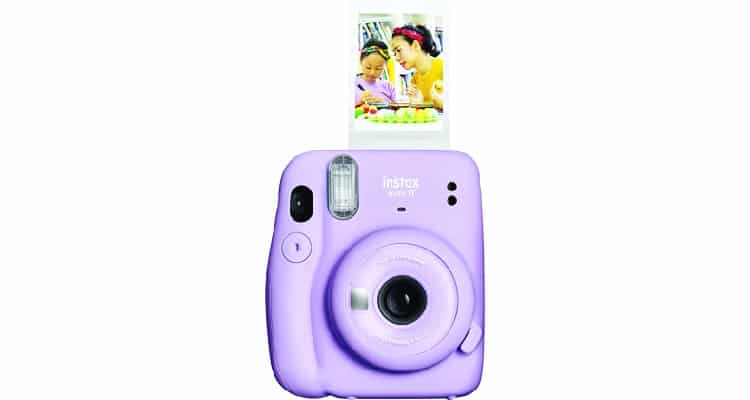 Still struggling with groomsmen proposal gifts? Checkout this cute little instant camera. It is absolutely adorable to add in your groomsmen proposal box. With its new Automatic Exposure function, you don't need to adjust a dial anymore to take photos based on your lighting. All you have to do is snap and shoot. Pull on the front edge of the lens and take selfies with your buddies.
Can take selfies with instant camera's Selfie Mode. 
Includes 2 AA batteries 
Two shutter button accessory  
Comes in five different colors
Slim body size and transparent ring lens
Can capture pictures in any environment, even in dark places or against bright backgrounds
Related Reading: 36 Sentimental Gifts For Best Friends – Thoughtful Gift Ideas
21. Tie and pocket square gift set
This is everything your groomsmen will need to look crisp at your wedding. Gift the best groomsmen proposal message along with this tie and pocket square set.
Choose from two options: 3 piece gift set or 5 piece gift set
Patterns in both sets includes paisley, flower, striped and plaid
Comes in various colors
Made from silk; stitching and threading is jacquard woven thus assuring durability and wearability
22. Yeti Rambler 20 oz Tumbler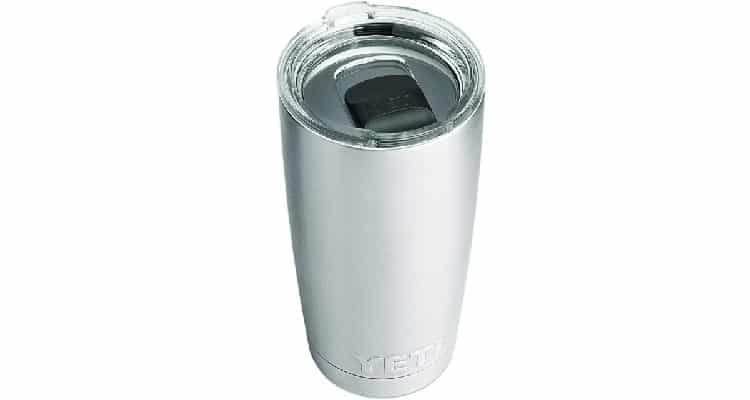 We all need coffee to begin our day with positivity and good vibes. This is one of the best groomsmen proposal gifts as your groomsmen need to look fresh on the day of your wedding. YETI manufactures not only tumblers but also mugs and jugs that will keep your drinks hot or cold.
BPA free and dishwasher safe
Come with MagSlider Lids which won't allow beverage to spill
Made up of 18/8 stainless steel making them puncture-resistant and rust-resistant
Will keep drink hot till the last sip owing to double-wall vacuum insulation feature
23. NFL 3 piece BBQ grill set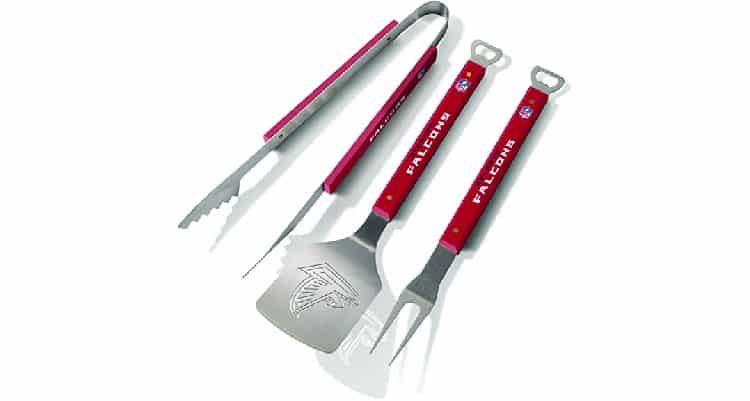 Your groomsmen will definitely take out this grill set when there is an NFL match going on and you can support their love for sports by getting them such amazing gifts. Add sweet groomsmen proposal message to seal the deal. 
Made up of unique laser-cut design in heavy-duty stainless steel
Composite handles will be of the team you support 
Long-lasting and comes with 2 bottle openers
Comes with stamp of officially-licensed logo
24. Bathrobe
Bathrobes will come in handy for your groomsmen when they are busy with the field job at your wedding. If you want to add a thoughtful touch to your gift, then customize it with their name or your wedding date. This is one of the warm and comfy gift ideas to ask your groomsmen if they want to be a part of your big day.
Comes with belt closure
Turkish terry cloth made in the finest mills by skilled artisans 
Highly absorbent 
25. WOWBOX Duffel Bag
Your groomsmen need this duffel bag to carry their essentials and arrive at your wedding in style. They can also use this as a gym bag or shoulder handbag. These are great groomsmen gift ideas that they will cherish and use forever.
Made of sturdy, thick canvas and genuine, top cowhide leather 
Not just fashionable must-have for men but also has shoes and laundry compartment 
Zipped pockets come with magnetic clasps 
Water resistant and made of heavy-fury fabric which is good at water resistance 
Groomsmen gifts are not just a tradition. It's a great way to thank them for being with you and helping you handle your wedding preparations and handle you too – you know that's gonna happen! They are your bros, your buddies and your pals, and the bond will last for infinity beyond. 
FAQs
1. What should a groomsman card say?
Anything that comes straight from your heart. Tell them you are getting married and ask them if they would do you the honor of being a groomsman. Let them know that it's their time to suit up. Send them a proposal card along with some gifts that you can choose from our curated list. 
2. How do you ask someone to be your best man?
Celebrate your meaningful relationships by inviting your best friend to take part in one of the most important celebrations of your life. Asking someone to be one of your groomsmen is a sign of respect, friendship and fidelity. You can send a handwritten card asking the big question along with a gift box or a bottle of champagne.
30 Gift Ideas For Your Co-workers | Personalized, Inexpensive Gifts
21 Cool Tech Gift Ideas For Couples Madly In Love And Passionate About Gadgets