Our best friends are some of the most special people in our lives. We share everything with them. From our personal affairs to professional problems, they know every little detail about every event and occurrence that's taken place in our lives. If you are looking to surprise your besties with sentimental gifts for best friends, make sure you take into account the things they love. 
Finding a meaningful gift is not a cakewalk. You have to think about a gift which will represent your friendship perfectly. Something that will let them know you are lucky to have them in your life. This listicle is here to be your guide in choosing heartfelt gifts for best friends. 
Meaningful Gifts For Best Friend
A best friend is hard to find. A best friend is someone who will walk in when the rest of the world walks out on you. You can sail the stormiest waves when they are with you. They know all your dirty little secrets and leave no stones unturned in supporting you and loving you just the way you are.
Suppose your best friend got engaged or just graduated or got a promotion at work, this list of thoughtful gifts for friends will make the job easier of finding the perfect gift for your best friend and letting them know how much they mean to you.
1. Personalized wooden keepsake box
If you have lots of memories with your best friend, then this will be of utmost use to them. They can use this treasure box to keep not just pictures, but all the other souvenirs of your friendship with them. Personalized gifts always add that special, thoughtful touch. Because you put a lot of time and thought into buying the gift, it shows how much you care for someone. And that is exactly what your best friend needs.
Customize it the way you want. Engrave her name or nickname or anything else that has a personal significance to you both
Choose from a variety of fonts to have it engraved on the lid of the box
The treasure box is redwood, stained with a unique brass latch to keep its contents safe
Purposely distressed to give an antique look. 
2. Best friends picture frame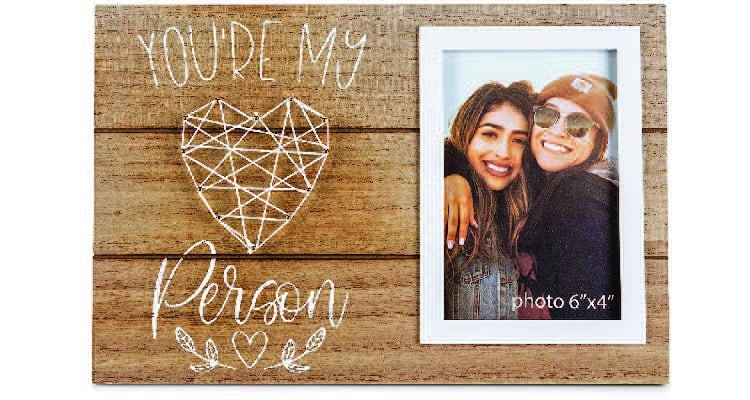 This personalized picture frame with the sentimental quote, "you're my person", is designed for you and your inseparable bestie with whom you've shared everything, from laughter to tears.
Create long lasting memories and display your most treasured photo with your best friend
Choose from their birthday parties, wedding reception, or your graduation day 
Handsome rustic picture frame with stained wood finish
Cute, handmade, string art heart is made of solid materials that withstand years of use without breaking or fading
Related Reading: 28 Romantic Valentine's Day Gifts For Husband
3. Trinket dish
Remind your best friend of the special bond you both share by gifting her this cute little trinket dish that says "blessed to have a friend like you". Such sentimental gifts for best friends will definitely tug at her heart strings.
Beautiful and chic, comes in a neutral color palette of black, white and hold
Comes in an elegant gift box package
She can store her rings, necklaces, bracelets and even her keys 
4×4 inches and 0.75 inch in height which will fit anywhere in the house or at her workplace 
4. Friendship circle bracelet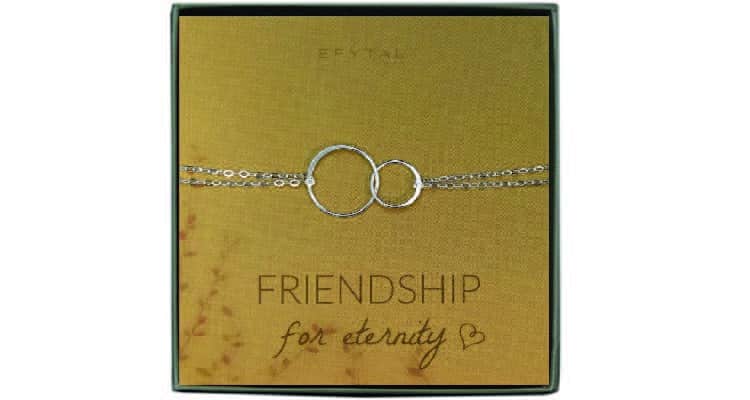 EFYTAL has jewelry for all occasions. Whether it's your friend's birthday, bridal shower or her anniversary, they have it all covered. This Friendship for Best Friend bracelet is one of the best sentimental gifts for best friends that you could give her.
Bracelet has two rings which are crafted with 925 Sterling Silver
It is hypoallergenic and won't turn the skin green, red or itchy
Made from high quality materials which are sourced from reputable silver suppliers
All the bracelets are handcrafted to protect the chain from tangling
5. Tumbler cup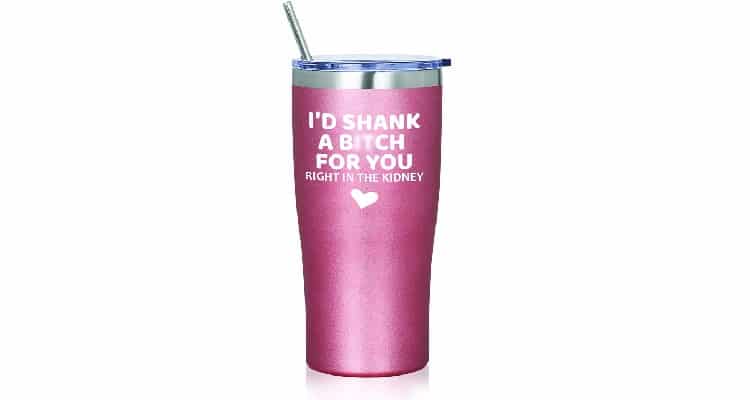 A swanky tumbler cup with a funny yet meaningful note speaks volumes regarding the bond you have with your best friend. This tumbler cup proudly says, "I'd shank a bitch for you right in the kidney". How true is that! Most of us would so do that if somebody tried to hurt our best friend.
20 oz stainless steel tumbler that can be used for serving a beverage of any kind
18/8 stainless steel and easy to clean
Non-toxic tumbler which comes with 2 pieces of BPA-free lid, stainless steel straws and a cleaning brush
Heat and cold resistant with double-walled vacuum insulation and no sweat design
6. keychain
Besides mobile phones, what is one thing that travels with you everywhere you go? The answer is keys. And that's why keychains make sentimental gifts for best friends as they go wherever the ones you love the most go. 
Comes packaged and ready to gift with a card for a thoughtful message
Made of premium 316L stainless steel and beautifully polished 
Won't irritate your skin as it is hypoallergenic, nickel-free and lead-free 
Metal bats on the keychain are approximately 1.4inches long
7. Gift journal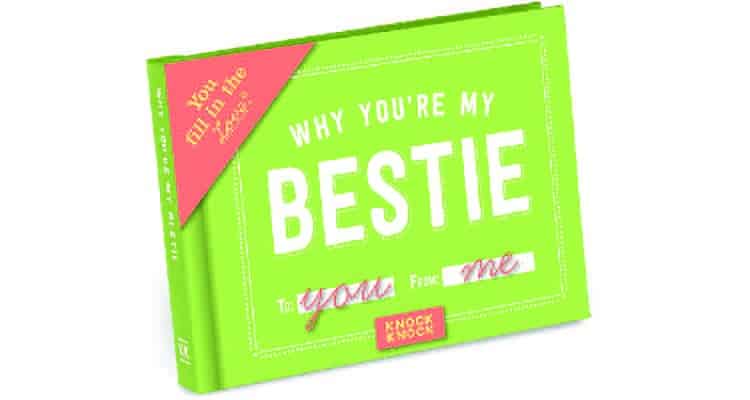 This little book contains fill-in-the-blank lines to describe why your best friend is the bomb. All you have to do is complete each line and voila – you have the perfect, sentimental gifts for best friends. A uniquely personal gift for your best friend that they can read again and again.
Hardcover with removable, clear, plastic jacket
4.5×3.25 inches
113 pages which come with blank spaces that you have to fill – make it as silly or sweet or sentimental as you want
Cover says "why you're my bestie" and you can fill in all the reasons why they became your best friend
8. Shattered glass ceiling necklace
From one strong feminist to another, this would make for a powerful yet heartfelt gift for best friends. As this world has always been a trying place for women, your best friend will need a reminder to always be optimistic, keep pushing ahead and climbing up. This symbolic necklace pays a tribute to all the achievements of successful women. It's also a reminder that you've got her back.
Silver leather adjustable cord makes the necklace look more lustrous and one of a kind
Silver artistic wire with beautiful, delicate spirals on the front and an enchanting spider web effect on the back 
For women of all ages; simply screams inspiration and achievement
Each piece is different sporting a unique visual effect from the shattering of clear glass
Related Reading: 15 Best Engagement Gifts For Newly Engaged Friend
9. Lavender scented candles
How many of us have wished that our bestie lived next door? This scented candle portrays exactly that. This is two gifts in one. Once the candle has finished, the bottle can be cleaned and used in many ways.
100% scented soy candle made from natural soy wax
Pour 9 ounces of cotton wick scented. Pour it into a reusable glass jar and it will burn for about 50 hours 
Infused with premium lavender for that lovely lavender fragrance 
Promotes sleep and gives relief from anxiety and stress
10. Swarovski infinity bracelet
Tell your best friend that this friendship is forever and let them know that you love them till infinity and beyond. Surprise them with this elegant gift that shines like the stars in the sky. Jewelry these days have become safe to buy online. Like your friendship, this bracelet is everlasting and maintains its brilliance over time. 
This Swarovski Infinity bracelet is a combination of precision and quality
Crafted with premium quality sparkling crystals with chic rhodium-plated chain
Layered look, so trendy and unique because of its bangle plus bracelet quality 
Comes with a rhodium-plated band and chain, white crystal infinity symbol, and clasp closure
11. Inyma deluxe gift package
While we agree that it's the thought that counts, why settle for cheaply-made gift items? Special occasions demand a little splurging, so why not opt for this gift box which will blow your friend's mind. Looking for sentimental gifts for best friends? This will do beautifully!
Package includes a trendy coffee cup, a pair of girly cupcake socks, an inspirational journal and a makeup organizer bag
The cosmetic bag is pink and extremely stylish
Journal is handy for to-do lists or jotting down notes and personal goals
12. Morse code bracelet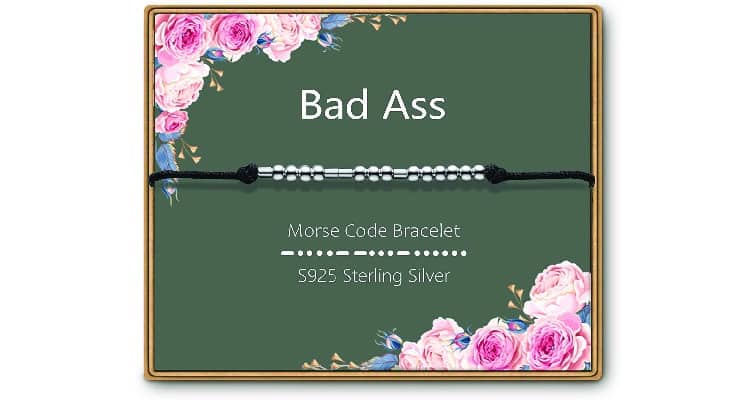 "Bad Ass". Yes, that's what your best friend is. Affirm this by getting them a bracelet that screams those two words. What makes this simple bracelet a unique and meaningful gift for best friend is that the letters are inscribed in morse code. 
Beads are made of S925 Sterling Silver and comes with a waxed cord
Based on the sequence of the morse code compilation, the silver heads and silver tubes are put on the wax rope
Adjustable bracelet with an adjustable range of 16cm to 28cm
Hypoallergenic and won't hurt your skin
13. Sisters by heart figurine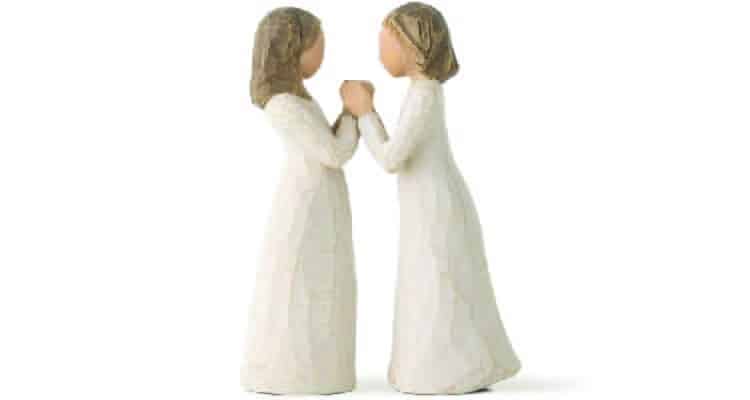 This is a lovely figurine that represents the everlasting bond between two best friends. Celebrate your treasured friendship of sharing and understanding with such sentimental gifts for best friends. This figurine will display the supportive bond among women.
4.5"h resin figure has been cast from artist Susan Lordi's original carving
Hand-painted and packaged in a fitted box
Comes with an enclosure card for gift-giving purposes
Shows two women facing each other with their hands interlocked together 
Related Reading: 21 Gifts For Your Co-Workers | Gift Like Star Performer
14. A super cute illustrated book
I think I am in Friend-Love With You by Yumi Sakugawa is absolutely adorable. Such sentimental gifts for guy best friend or girlfriend will definitely make their hearts turn to mush. It talks about the awesome bond you share with someone and who makes you happy.
Friend-love is that amazing relationship you have with someone who makes your heart smile
It's not love-love but it's just as intense and amazing
Show your friend how much you love them 
Available in two options – Kindle and hardcover
15. Besties forever tote bag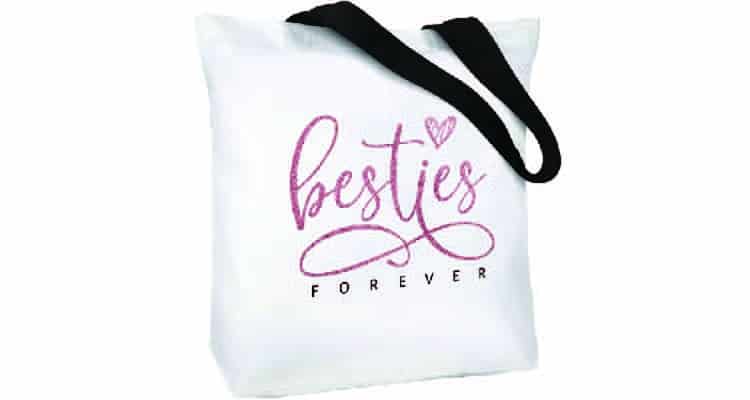 Is your best friend conscious about the environment? Then give them this summer-friendly and stylish tote bag; made keeping in mind a vegan environment. It's one of the meaningful gifts for best friend which will show them you care about their core issues and ideals. 
Large canvas tote bag with pocket with black handle
Interior pocket keeps supplies and personal items in place
Has a large roomy interior with "Besties Forever" printed on the front
Durable, reusable and 100% eco-friendly
16. DIY wine making kits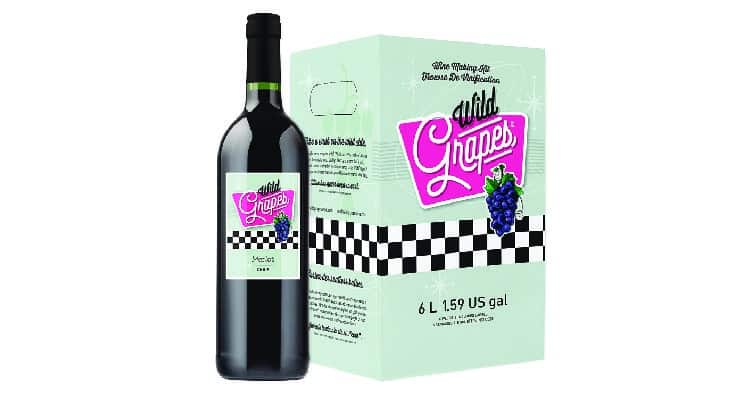 This cool wine-making kit is surely ranks among most thoughtful gifts for friends, especially if your friend is a vinophile. The wine that's prepared will boast of quality, flavor and aroma, making it perfect for gifting your best friend. Make this wine and enjoy it on a sleepover.
Chilean Merlot is a red wine with rich fruity blackberry and plum aromas
This Chilean Merlot is made up of premium ingredients and easy to make
Pick your wine style and pair it with the Wild Grapes wine starter kit
Each DIY wine kit includes a wine base, yeast pack, fine agents and 30 labels
17. Best friend hoodie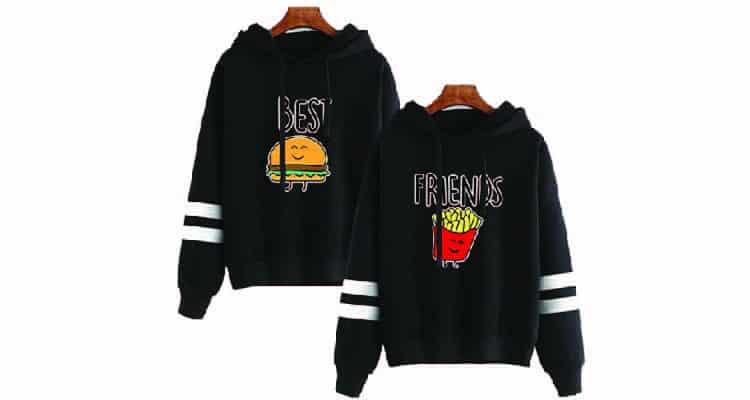 A big yes for matching hoodies and sweatshirts. Is your best friend the fries to your burger? Then get them such sentimental gifts for best friends and shower them with love. Go eat burgers wearing this hoodie and make a day of it. 
Made of 95% cotton and 5% polyester materials
Soft, stretchable and breathable fabric which provides exceptional comfort
Durable and neither too think nor too transparent 
Select your size and your best friend's size and have it delivered at your doorstep 
18. Premium coffee scoop set
Help your friend brew the perfect cup of coffee every morning by gifting this coffee scoop set in rose gold. If your best friend isn't a caffeine lover then they can use it as a measuring cup as it has measurements written on its handles. 
Two coffee scoops measuring out 1 tbsp (15 ml) and 2 tbsp (30 ml) 
Perfect for deep containers as it has long handles 
Won't rust easily. Smooth, polished finish will look fantastic in your kitchen
Besides coffee, can be used to measure tea powder, sugar, flour, baking soda, spices, syrups, or liquid condiments
19. Bath bombs gift set
These bath bomb gift sets by LifeAround2Angels are uniquely designed and handcrafted in the USA. Girls love to smell good and feel good, which makes these bath bombs one of the nicer sentimental gift ideas for best friend. The scents are simply delightful and some are as unique as mango, papaya and melon.

Set includes 12 handcrafted bath bombs that come in 12 different scents, each about 3 oz and 2 inches in diameter
Cruelty-free and humane; made in special clean rooms, hygiene is guaranteed 
Made using sterilized equipment, they are bacteria-free
Each bath bomb has been handcrafted with flower petals, pearls and flakes
20. Photo ornament
Pick your favorite photo of you and your best and turn it into this photo ornament. Perfect for any occasion. They will absolutely love this special metal photo ornament studded with faux pink crystal. Sentimental gifts for best friends like these will show them the unconditional love you have for them.
Round silver metal jewelry with quotes engraved on it
The ornament reads "friends are like stats you don't always see them but you know they are always there"
8.5" h and 3" w which is the perfect size and weight for a Christmas tree 
Includes a red bag for gifting of storage
Related Reading: 30 Unique 2-Year Anniversary Gifts For Girlfriend To Impress Her
21. Personalized bar necklace
MeMoShe is a jewelry brand that makes custom-made necklaces. You can customize your best friend's name or her birthdate or an amalgamation of both of your names, into a piece of jewelry. This isn't one of those run-of-the-mill sentimental gift ideas for best friends, but something precious and unique.

Customized 3D necklaces, which means all four sides will be engraved
Made from 925 Sterling silver or stainless steel 
Chain length fixed at 14 inches; heart choker and bar pendant necklace connected 
Select the chain from either a cable or box chain design, then choose the symbol you wish to engrave on the bar necklace
22. Personalized wrap ring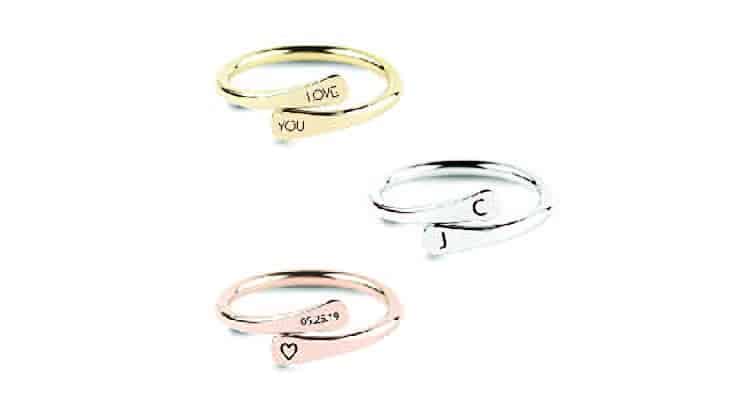 Each of these rings are made-to-order which makes it a pretty great sentimental gift for best friends. This elegant and classic accessory will become everyday wear in your best friend's daily life. It is simple and promises to complement all types of clothing. 
Simple and elegant. 
Customize it with your choice of metal finish varying from gold, silver, to rose gold
Make it thoughtful by engraving the initials of your name, or a cute heart to make it even more special
Easily adjustable due to its wrapped design. 
23. Funny throw pillow cover
This throw pillow cover is printed with a funny pattern that will tell your best friend they are not ordinary like your other friends. It's the perfect gift for your friend's cozy bedroom and each time she sees it, she'll think of you and all the great times you've had together, making it a sweet, sentimental gift for best friends.
Superior quality of cotton linen; comes with an invisible zipper
Measures 18 x 18 inch (1-2 cm deviation)
Easy to clean and care for. Machine wash in cold water, gentle cycle, tumble dry by low temperature, cool iron if needed.
24. Best friend blanket
With this fully soft and comfy sherpa blanket, wrap your best friend in luxury and warmth. This is a perfect way to remind them of you wherever you may be. It has loveable lines printed all over such as, "You're the sister I got to choose" and other equally cool and charming sayings which make it one of the best sentimental gifts for best friends.
Elegant with a luxurious feel
Made of high quality polyester flannel and Sherpa 
Can be used however you want. Perfect Sherpa blanket for couch throw, picnics in the park, outdoor events, travel and cozy winter snuggles
Machine wash on gentle cycle with cold water and tumble dry at very low temperature. 
25. BFFs bucket list journal
I am sure you and your best friend have made plans to do tons of stuff with each other, whether it's visiting exotic countries, going sky-diving or simply taking a salsa class together someday. Sentimental gifts for best friends like this journal will help you to write down 100 things you want to accomplish with your friend.
100 pages to fill with the things you want to achieve in your life be it short or long term
Each page comes with a description box so you can title the experience you wish to do
Write down why you want to do it and what you would require in order to accomplish it
Rate your experiences on a scale of one to five stars
26. Neon sign
This "bad bitch" neon sign is one of those cool and quirky gifts that you can only gift a BFF. Your buddy can decorate their space with this bright LED neon sign and the vibes she gets from this gift will always give her the go-get-'em mojo she needs.
Red in color; 5V voltage, plug into USB for charging it
16.54" W x 7.48" H in size
Comes with an on and off press switch hence easy to use 
Long press to adjust its brightness 
27. Aromatherapy diffuser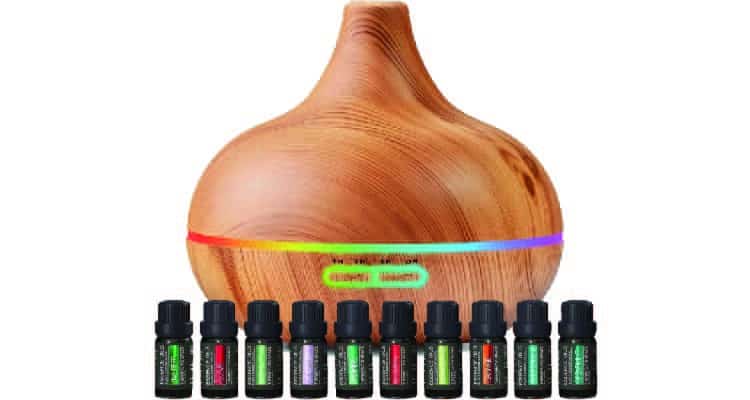 If you're looking for thoughtful gifts for friends, here's one that's perfect. You want to ease away your friend's worries and tensions, right? So why not an aromatherapy diffuser? Their essential oils are formulated using high-quality plants sourced from different regions of the world. This will give your best friend a calming stress-free night and she'll have you to thank.
Oils are sourced from all over the world, such as lavender from France and Tea Tree from Australia
Essence diffuser has a 400ml capacity and uses wave diffusion technology to atomize essential oils for ultimate wellness
Comes with ten essential plant oils. To protect the oils from sun degradation, they are packed in 10ml amber jars
Contain absolutely zero additives or fillers 
Related Reading: Top 10 Gift Ideas For Her
28. Personalized custom desk name plate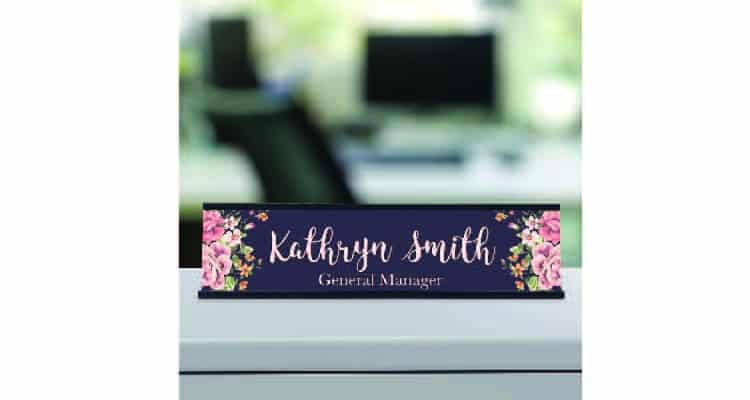 Make your best friend's office desk a little more floral and elegant by customizing a desk name plate for them. This gift will remind them of you even when they are busy at work. 
Select from 15 different fonts 
Size 2" x 8"
Vibrant, smooth and glossy finishing
Comes in a black aluminum holder with an aluminum insert 
29. Success and inspiration jar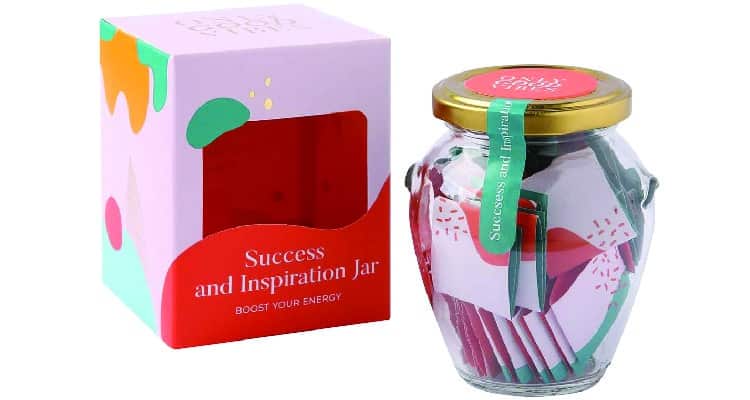 Your best friend should know that you are always rooting for their success. Give them such sentimental gifts for best friend and amaze them. This jar of success and inspiration will let them know you've got their back and boost their confidence, propelling your best friend closer to their dreams.
Beautifully packed and contains 31 quotations 
Spanish glass product; its storage capacity is 300ml 
Size of box is 8.4 x 8.4 x 10.5
All parts of the gift are reusable and made of high quality paper 
30. Hoop earrings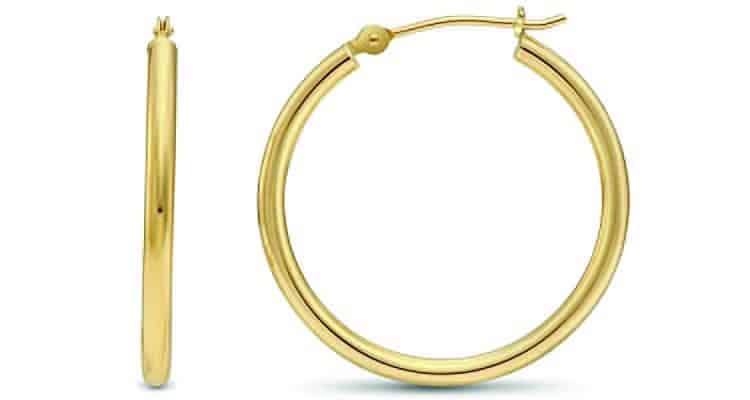 Minimalist jewelry is timeless.. These everyday wear, Heidi fox gold hoops are as understated as they can get and a must in your best friend's jewelry box. These easy to put on hoop rings are elegant and classy. 
Made of 14k yellow gold; available in various sizes
Sturdy click-top closure makes it an easy and comfortable wear
30-day money-back guarantee ensuring complete satisfaction to customers
Available in yellow gold or rose gold 
31. Birth month flower pendant necklace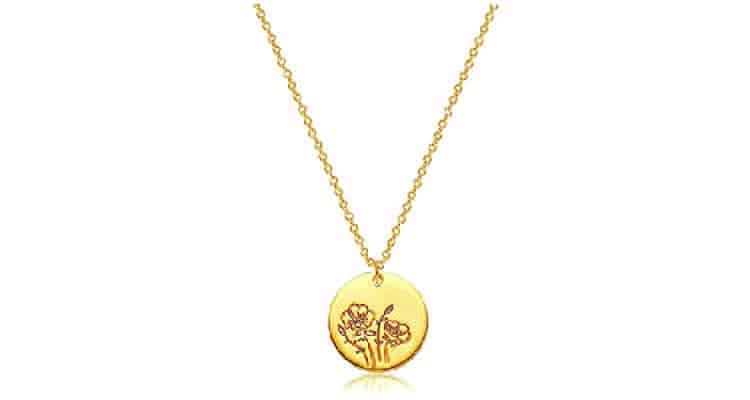 If this isn't the sweetest gesture on earth, I don't know what is. This little pendant which comes with an easy to wear lobster clasp will show your friend how much thought you have put into the gift. If you're looking for such sentimental gifts for best friends, then this necklace with her birth month flower engraved on the pendant, is the one.
18k gold, assuring durability and anti-tarnish properties 
Round pendant with birth month flower engraved on it
Twelve flowers corresponding to the twelve months of the year
Necklace chain length is approximately 18" with a 2″ extension chain 
32. Long distance touch bracelets
These long distance connection bracelets are so thoughtful and sweet that it will melt your best friend into a puddle. This pair of bracelets will keep you both connected even if you two are miles apart. And you know what makes this one of the more unique and heartfelt gifts for best friends? It mimics the natural vibration of your friend's touch. 
Share your status with your friend by downloading the Bond Touch App on App Store or Google Play 
Has an in-built private chat where you can gossip and talk about anything you want 
Comes with customizable straps and swap accessories
Includes two USB chargers for the two bracelets with a silver loop
Related Reading: 21 Gifts For Your Girlfriend's Parents & In-laws | Under Budget Gift Ideas
33. Macrame photo display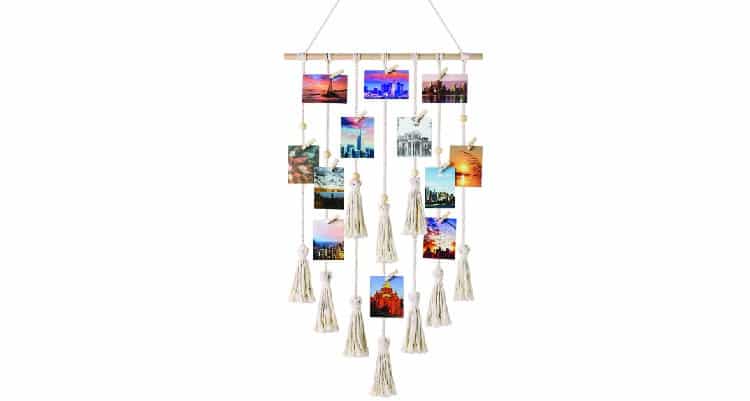 A macrame wall decor photo display is a casual, artistic way to flaunt your favorite photos and prints. Your friend can hang it on a wall and their home will thrum with memories of your bond. 
Easy to change pictures with the help of removable wood clips 
Made of cotton cord and wood dowel
Comes with 30 removable wood clips
Size 17″ width x 42.5″ length, measuring from top to the ends of the longest fringe
34. Personalized dog tag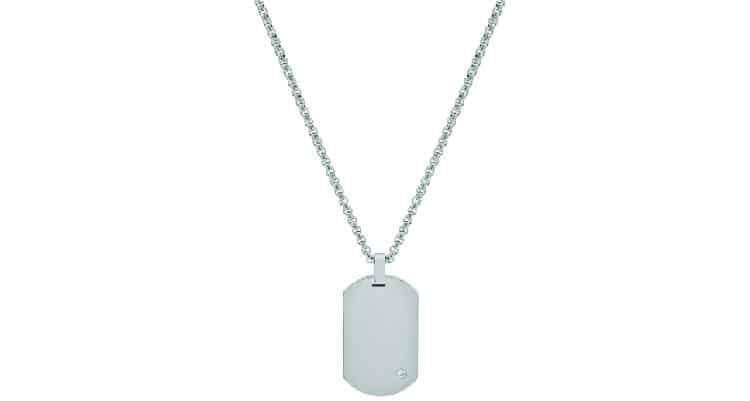 This is one of the best sentimental gifts for guy best friend. Upgrade their look to trendy and fashionable with this casual accessory. Customize this dog tag and make it unique by having your friend's name or birth date or anything that is special to them engraved on it.
Made from high quality genuine jewelry grade materials including 316L surgical stainless steel  
Chain included, also be stainless steel
Size of the pendant: 22mm width x 40mm length
Geoffrey Beene Gift Box included for storage 
Guaranteed after sales service
35. Cosmetic bag
These pretty and delicate cosmetic bags are printed with words of love which will remind your friend you are always there for them. Sturdy and durable, this is a great gift if your bestie loves her makeup and accessories, and travels a lot too. She'll thank for this lovely and practical gift.
Made of cotton canvas material, making it durable and not easy to damage
Size 10" x 7.5"
Smooth zippers ensure easy opening and closing of the bag
Hand washable 
36. Customized compass
An antique customized compass is truly an impressive, unique and sentimental gift for guy best friend. A helpful and practical gift if your friend is the outdoorsy kind and loves to go trekking, mountain climbing or camping in the woods. 
Beautifully designed compass engraved with top quality work
Made from genuine brass; no artificial material is involved
Size: 64mm x 22mm and it comes with a free leather case
Chain is also attached with the compass
All of the above gifts are sentimental and will stay with your friend for a long time. Don't think too much about it. Click the "Buy Now" button and make the bond stronger with your friend.
FAQs
1. What should I gift my male friends?
Gift them anything as long as it doesn't put any financial pressure on you. Men love a variety of things…gadgets, watches, cameras and even flowers. It's an outdated thought that men don't like flowers. Go ahead and surprise your male friend with a bouquet of fresh roses and they'll love it. 
2. What is the best gift you can give someone?
That depends on how well you know that person. If that person is really close to you, then you will be aware of their likes and dislikes. Shop according to their taste and make them happy. But if that person isn't close to you, then go with safer options like wrist watches or perfumes.
3. How do you pick a birthday gift for your best friend?
Go through the above list and find the right match for your best friend based on their likes and dislikes, their personality and taste. You know your best friend more than anybody else. Select a gift that they will cherish forever. Customize it to make it even more special. 
21 Christmas Gifts For New Moms | Unique Motherhood Gift List
21 Cool Tech Gift Ideas for Couples Madly in Love and Passionate About Gadgets