Are you someone whose man is always on the go? Be it traveling for work or just simply exploring the world around them, men can be outdoorsy. Choosing gifts for your man that he will love and cherish can be a difficult task. Questions like "Will he find this useful?" or "Is this worth it?" often trouble us. The trouble is coming to an end. This ultimate list of 35 travel gifts for men will meet everything you're looking for. Be it road trips, flight tycoons, or rail lovers, we've got 'em all covered. Scroll to find these best travel gifts for men and win his heart. Again! 
Gifts For Men Who Love To Travel
If you want to select gifts that express eloquently and add value, make sure to avoid getting random ones. Notice what your man prefers for traveling. Does he like to pack light? Is he an organizer or a perfectionist? Is he into luxury or comfort? Plus, if your man prefers road trips, then the travel gifts for your man suited for air travel might not excite him. Personalize your gifts by knowing his habits, and keep that in mind as you travel (pun intended) through our ultimate list of travel gifts for your man.
1. Hands-free phone holder
Traveling, no matter where, when, and how, demands entertainment. What would you do on a lonely, 3-hour long journey? This hands-free phone holder is the savior. One of the best travel gifts for him, this phone holder will be great for your man who loves to binge on movies and TV series while traveling. 
30-degree rotation to suit your best angle
Compatible with almost every phone size there is
Strong and lightweight
Can be clamped onto anything nearby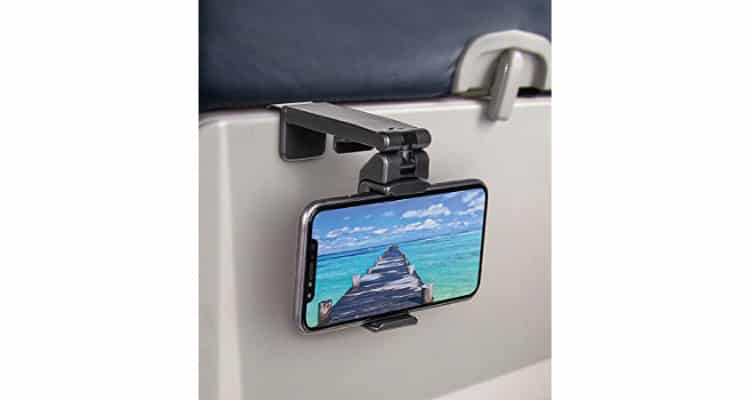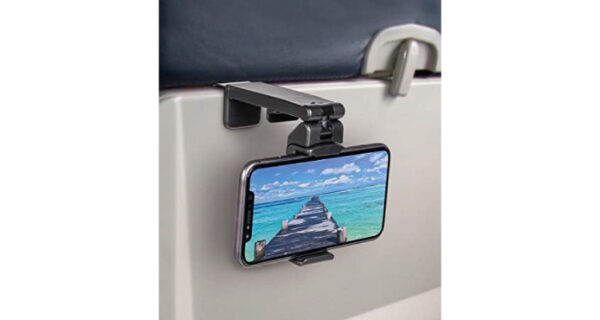 Extremely useful and complete as a traveling gift for men, he is sure to love this unique token of love.  
2. Travel duffel bag
When it comes to a person who is always on the go, a good and sturdy duffel bag sounds like a reasonable choice, doesn't it? With this shoulder travel duffel bag, your man will be good to go for any short trip. Be it road, rail or air, the bag suits every mode and is an ideal travel gift for men who often go for short business trips or camping. 
Large and with multiple pockets
Dry-wet separated compartments – made of high-density water-resistant material
27x18x55 cm dimensions – the perfect size for overnight stay
Comes in six exciting colors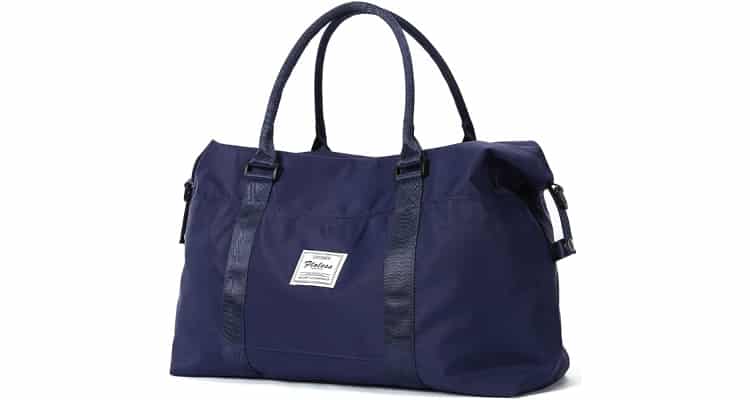 While normal bags might come and go, this travel tote bag is an ideal choice for your man who likes light packing. Easy to fit and easier to use, this gift will surely elate him.
Related Reading: 41 Gift Ideas For 15-Year-Old Boys [Choices For This New Year]
3. Travel pillow for neck
Long road and air trips might be fun, but they also come with acute neck and backaches thanks to all that sitting. Also, I wonder if your man is a travel guy without one of these super comfortable travel pillows? If yes, then this is the one for you.
Twistable to any shape so that it can suit your personal need
Not just neck – it can be used for back, head, shoulders, and more
Comes with a quick washable machine dry cover – cleaning these was never easier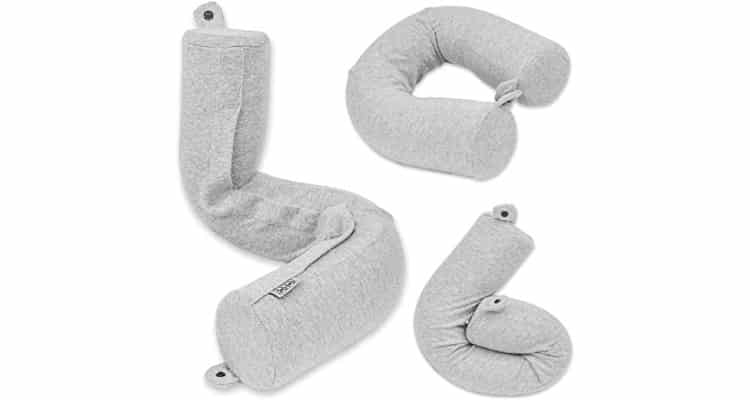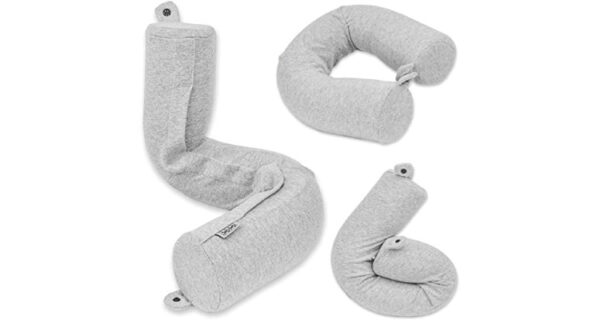 Bless your guy with this bundle of comfort. Made to provide ultimate comfort, this neck pillow is one of the most luxurious travel gifts for him!
4. Passport and vaccine card holder combo
Traveling in the 21st century is not just rainbows and lilies. With all those documents and formalities, managing your trip can be a real ruckus. Thanks to this passport and card holder, the chaos comes to an end! Gift this unique travel gift to your man and see the Cheshire cat smile on his face.
Made of faux leather
Multifunctional at its core. It can store 1 transparently covered card, 2 passports, 3 other cards, tickets, and a pen
Choose from 7 amazing color options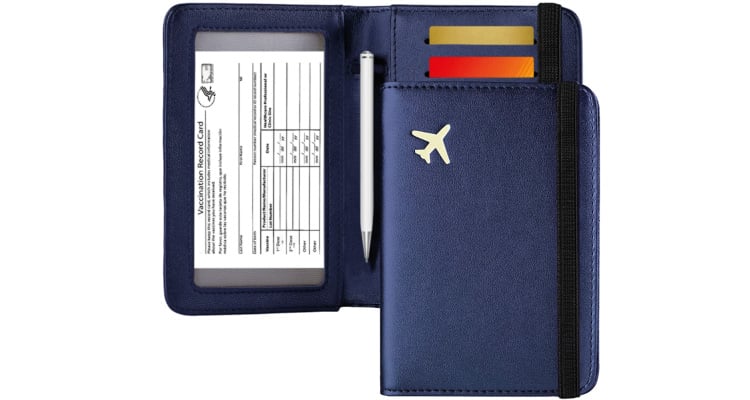 With this systematic and organized multipurpose cardholder, managing your journey couldn't have been easier. This one says, "Let me take your burden" to your man.
5. iWALK mini portable charger for iPhone with built-in cable
Phones and devices have this sorcery of detecting that we are traveling, and they shed battery faster than lightning! But this mini portable charger is here to save us. One of the most useful traveling gifts for him, this mini charger is all he needs on all those long trips. 
Ultra-compact – the size of a lipstick, weight of an egg
No need for a cable
3350mAH battery capacity
Compatible with iPhone XS, iPhone 12, iPhone X, iPhone 8, iPhone 13, and similar models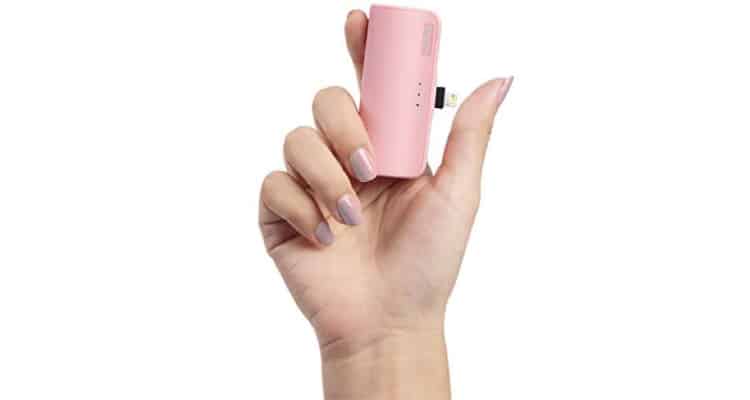 For your online, outdoorsy guy, this iWALK portable charger will prove to be a perfect travel gift for your man and will remind him of you every time he uses it. 
6. Collapsible water bottles
Water is your ultimate best friend during travels. But the huge, elephantine bottles can be a real headache to carry along everywhere. We're here to give you solutions, and give we will! Buy your man this stylish bottle which can change its shape and you will be set for life.
Pack of two, BPA free bottles
Made of silicone
Leakproof and easy to clean
Excellent heat resistance – withstands -50 to 200 degrees Celsius
600 ml capacity
Save your big guy all the water trouble with this easy-to-go collapsible and stylish water bottle. Bonus – You can even go bottle-twinning on a couple of trips with these! You said unique travel gifts for men, there you go girl!
7. Occer compact binoculars with clear low light vision 
This one is for all our hiking and nature-loving men. This waterproof, high focus pair of binoculars is a dream come true for every hodophile, a perfect travel gift for men. Ace your gifting skills with this unique travel gift for your man and be the cause for his happy travel memories. 
12x magnification
Can be worn over sunglasses or spectacles
Compatible with low light settings
Made of ABS plastic and equipped with a cruise strap
Bless your sight-seeing loving man with this spectacular pair of binoculars. The memory of the wide smile on his face will be enough to keep you happy while he's away!
Related Reading: 32 Graduation Gift Ideas For Her – Unique Meaningful Gifts
8. Funny graphic tee
T-shirts and clothing come first to mind when thinking of travel gifts for men. With this funny graphic tee that reads "Adventure you say? Alpaca my bags!", your husband or boyfriend will remember your humor and love for him miles away. 
Nine different colors for your choosy little guy
Double-needle sleeve and bottom hem
Machine wash 
100% cotton for solid colors
Give your significant other a small part of you to cherish when he's away with this funny graphic tee. Lightweight and comfortable, he will surely wear it to every next trip he goes to!
9. Men's premium 20-piece kit
When it comes to travel, tours, and trips, an essentials kit is a must-have. With this special international men's premium kit, take care of your soulmate while he is far away. It comprises a travel size, 20-piece kit with TSA compliant essentials to take care of everything your boy needs. 
Branded products – Gillette, Dove, Colgate, Crest, and more
Comes with a stylish brown travel bag for easy packing
Has it all – shampoos, conditioner, lip balm, nail clippers, combs, and much more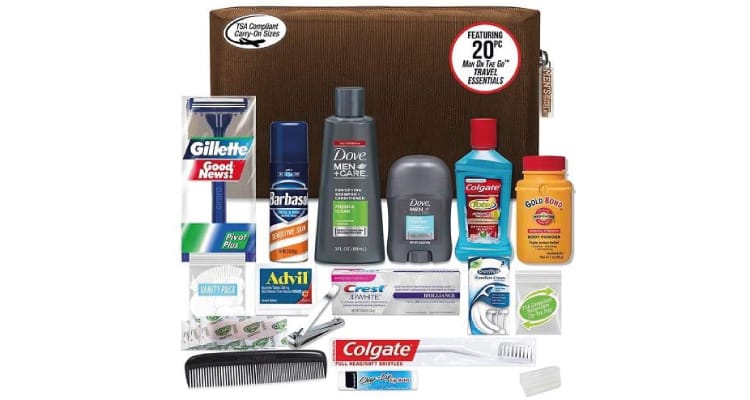 Cater to your young man's everyday needs with this premium kit. Was saying "I'll be there for you" any easier? We don't think so! Go ahead with this luxurious travel gift for your man and reinvent the tradition of gifting.
Related Reading: 35 Best Gift Ideas For Music Lovers And Musicians In Your Life
10. Vintage train embossed leather writing journal notebook with pen set 
Has your man got an element of Shakespeare in himself? Does he enjoy jotting away his little adventures as he explores the world? Gift him this vintage red-bronze embossed writing journal to make his trip a little more memorable and luxurious. 
Size: A5
Comes in six different designs and colors
200 ruled pages
Comes with a silk bookmark, impermeable paper, gold pen, and 3D embossed design for that premium feel
This handmade journal is a great pick for remembering your travel thoughts forever. Build your little world with this notebook – doodling, poetry, journaling, and so much more! A quick tip: Fill pages with little notes to surprise your S/O like never before! A cuter travel gift for men does not exist!
11. Compact picnic blanket
There is no human on earth who's not in love with blankets. Ideal for almost everywhere – beaches, camping, flights, trains, the list never ends. And just when you think it cannot get any better, you learn that it comes in a POCKET SIZE! 
100% waterproof
60" x 56" dimensions
Rip-stop Nylon material
Superfast drying, non-tearable, easy-wash, fits in the pocket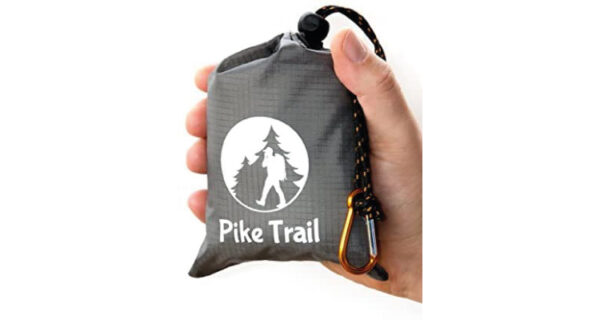 With this pocket-size blanket that can be expanded to fit 2 adults and 2 kids, your traveling story couldn't get better. Pick this as a travel gift for your husband or boyfriend and remind him of your essence and love.
12. LifeStraw Personal Water Filter
Camping and hiking are the real attractions for a truly dynamic, outdoorsy man. But those adventurous trips come with many problems and requirements. Water filters can prove to be great gifts for men who often travel to camping grounds and forests. And with a portable, healthy option, you may have reinvented the true thought of gifting!
No electricity or power required
Material: Plastic
Rigorous testing ensures 100% purity
Provides 4000 liters of water in a lifetime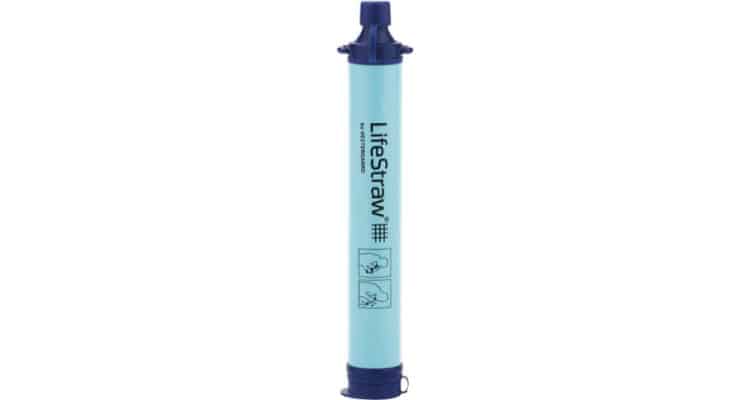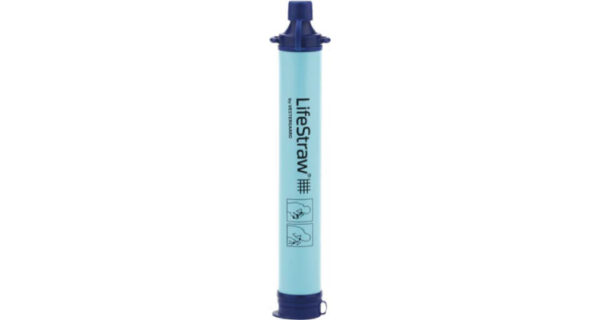 With this miniature straw-sized water filter, give your little guy an extra hand and keep him healthy and safe even if you're not around him. Imagine how thoughtful this travel gift must be to any outdoors person like your partner. 
13. Timberland men's white ledge mid waterproof ankle boot
Boots are like ornaments in any man's wardrobe. And when we're talking about someone who's best friends with his passport, a pair of good boots becomes a necessity! Timberland is a renowned brand loved for its durable, versatile men's boots and has been stealing hearts ever since the 1970s. Is there any reason he won't love this?
Made of 100% leather
Comes in three different colors to suit your style
Waterproof and ideal for hiking, camping, and all your outdoor adventures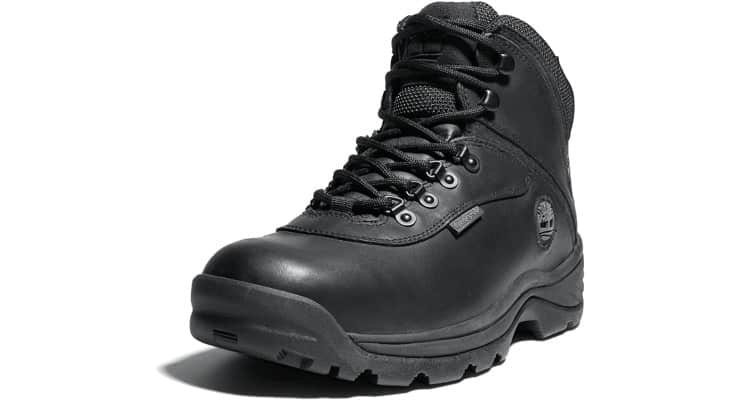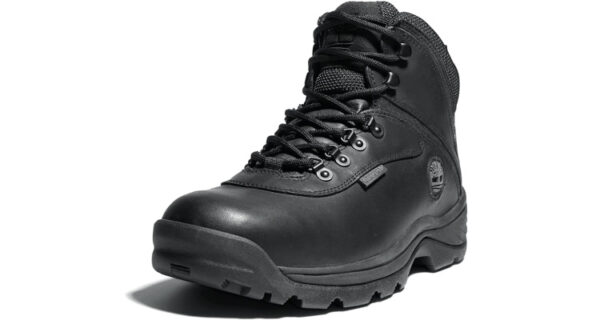 Add to the beauty of your man's wardrobe with these premium hiking boots from Timberland, the most luxurious travel gift for him. But beware! He might have a new best friend. 
14. Ray-Ban Rb3025 polarized sunglasses
What is a traveler without a sturdy pair of sunglasses? And with Ray-Ban, make your love see clearer. Ray-ban is a world-famous brand for goggles and other glasses that keep your boy in style. This versatile, ready-to-go pair is a great, luxury travel gift for your man. 
Metal frame with crystal lens
Choose from a wide arena of 21 styles and colors
UV protection coating
58 millimeters lens width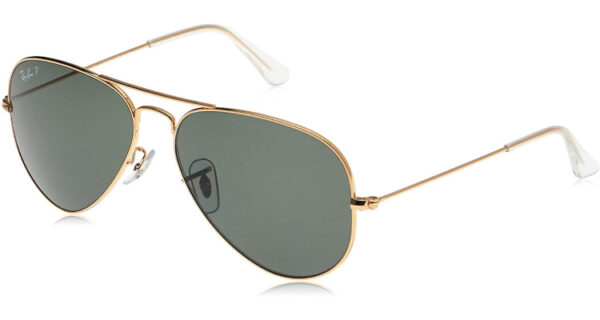 We bet that this luxurious pair of Ray-ban sunglasses truly tops the list of best travel gift ideas for men. Make your man's sunny trips more enjoyable with this exquisite present!
Related Reading: 11 Best Cavitation Machines To Get In Shape This Year | 2022
15. Etsfmoa unisex beanie hat with light
 Another excellent option for selecting some of the best travel gifts for men – a beanie clubbed with a torchlight is the solution to most travel problems. Wonderfully helpful for camping and hiking trips, the beanie keeps you from feeling the chills and the light brings everything to sight. Now if your man is somebody who's all in for tents, camping, and bonfires, could there be a better gift for him?
8 hours runtime on a single charge
Comes with a USB port that works with everything!
Made of an ultra-soft acrylic blend
19 exotic styles
This exquisite beanie makes for a versatile and useful gift for men. Even at home, your guy will surely enjoy his jogs and dog walking hours more with this comfy beanie.
16. Pacific pass 4 person family dome tent 
How can we possibly miss tents when we're talking about the best travel gifts for men? And especially when it comes to gifts for men who love hikes and camps, good, durable tents become a necessity. Snuggle up with your SO in this 4-person large tent or ensure that he'll sleep safe and warm even when he is going solo
Two bright color options
Lightweight and portable
Comes with 2 ropes and 7 stakes for easy building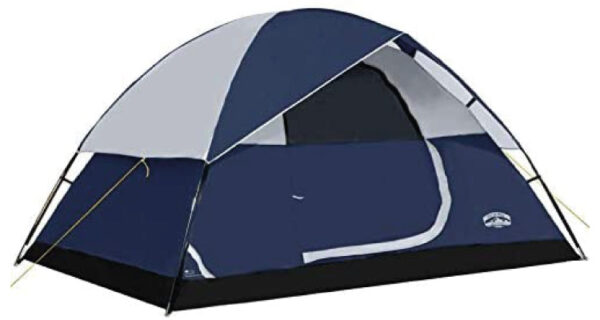 Any camping trip is incomplete without erecting a tent near a bonfire. And with this handy, portable, and less space-taking tent, your boy is sure to make the most out of his day out.
17. Rdruko men's lightweight bomber jacket 
Good trips become better with good fashion. And when fashion is a blend of comfort and style, it couldn't get better. When confused over what to choose as a travel gift for your man, a lightweight bomber jacket is just what you need. He can wear it to the mountains or during any of his other journeys, and the soft fuzzy feeling will always remind him of home.
100% polyester material
Comes in 6 vibrant color options
Zipper closure and 5 pockets
Lightweight and windproof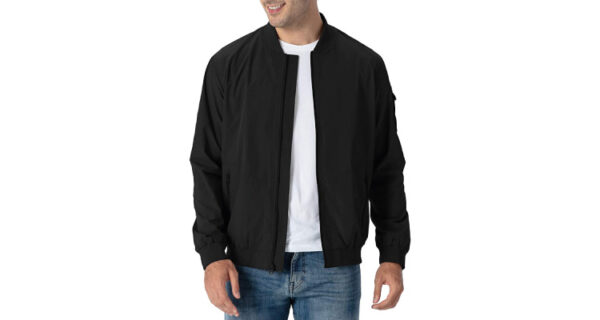 Gift your significant other this cool bomber jacket and watch him turn into the most handsome man ever. Great for traveling and daily wear, a more useful gift doesn't exist.
Related Reading: 21 Gifts For Beach Lovers [Gifts For People Who Love The Beach] | Christmas 2022
18. Outdoor ventures men's raincoat with hood
A gift that ensures rain doesn't play havoc with your man's plans. Save your big guy from water troubles with this essential, must-have item and lend an extra hand for rainy, tropical trips. What's more? This versatile raincoat also works as an angel when there's extra snow and hail, making it ten times more useful as a traveling gift for men!
Choose from a range of nine beautiful colors
Waterproof, windproof, and breathable
Four zippered pockets
Comes with uniquely stitched armpit air vents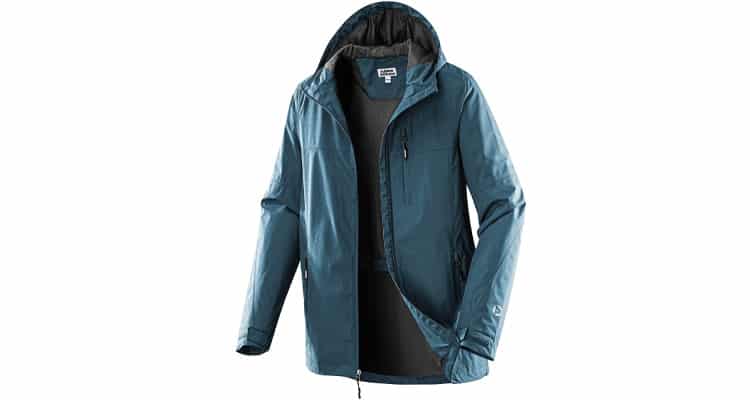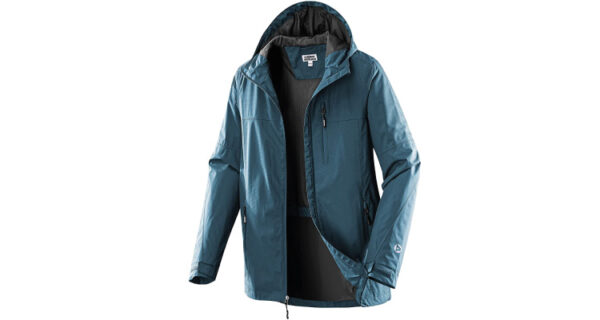 A real customer's choice product, this full seam-taped waterproof rain jacket is an ideal pick for your man and his rainy, windy tours. The apparel looks smart and decent on men and makes for a handy gift for men who travel frequently.
19. FoxBoxUSA tote car organizer 
Road trips add every bit of fun to any travel plan. But organizing and keeping track of your travel essentials can be a huge headache. Thanks to this amazing tote car organizer by FoxBoxUSA, the headache is now gone.
Made from high-quality polyester D600
Cup holder for all bottles and suitable for little kids
Collapsible to enable easy storage
Easy to carry – two handles attached
Equip your car with this handy tool; place it between the driving and the passenger seat, and have the most comfortable road trip ever. Ideal for family-men, college guys, and just any other man who loves a good car trip, this tote car organizer will surely be a unique travel gift for your man. 
20. Leather duffel bag
Now when we're thinking about traveling, packing for the trip is perhaps the most tedious job ever. But with this leather duffel bag, your packing problems are sure to vanish! This is a perfect travel gift for men – your boyfriend makes his tours easier and more comfortable with a perfect token of care. 
Dimensions: 24 x 12 x 10
Made from the finest buffalo leather
1 internal zipper pocket and two side pockets 
Metal studs in the base to protect the leather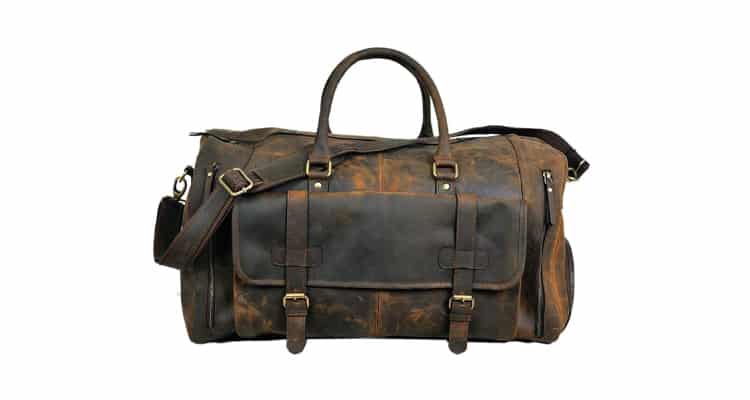 Be it long trips or shorter ones, a classic leather duffel bag is just what your man needs for all his adventures. Fill it with small trinkets to add to the surprise and show him all your affection.
21. Funny graphics t-shirt 
Men seem to be born with this default love for video games. And will we ever stop teasing them about this? Gift your gamer boyfriend this funny and stylish t-shirt by Ann-Arbour, and watch his face light up. Great for wearing on flights and in trains, this cool piece will surely accentuate his wardrobe.
90% US cotton, 10% polyester
Slightly tapered to prevent the boxy look
Durable, vibrant new technology ink for a better appeal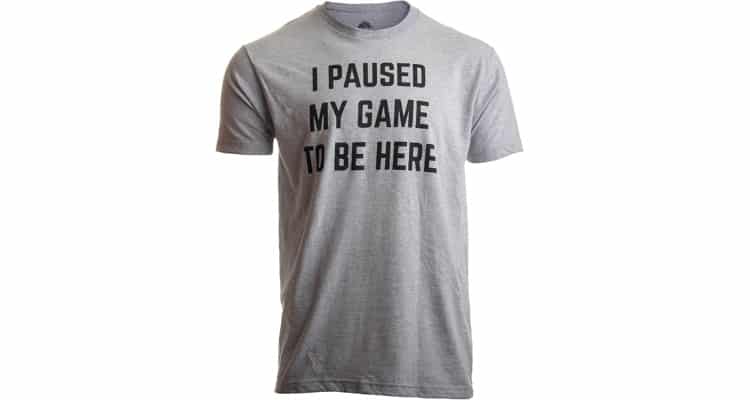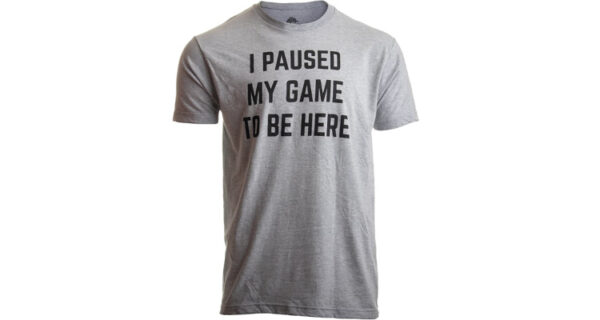 You could go solo with this nice shirt or add it to something else he loves, and make his trip a little more special with your touch. Let's go?
Related Reading: 21 Cool Gadget Gift for Men [Best Gadget For Him] Oct 2022
22. Hydro flask tumbler 
Make sure your guy's hydration needs are met even on the go. With this reusable, temperature-keeping tumbler by Hydro Flask, he can remain hydrated even when on rough trips. The flask can keep beverages hot for 6 hours and cool for 24 hours and it does that in a way the taste does not deteriorate. Will he not be beaming with gratitude? Go ahead and rejuvenate his day with this wholesome, useful traveling gift for him. 
Vacuum insulated
Pure stainless steel and reusable
16 ounces capacity
BPA free
A multipurpose, reusable flask is every traveler's desire. And this athletic, bold flask is something to top the list of best travel gift ideas for him. Don't you agree? 
23. Matein travel laptop backpack
A few of us might have guys who are both workaholics and travel junkies. Lucky for him and you, we've got the gift section covered. For men who can't stop thinking about work even on a holiday, a travel laptop bag is just the right pick. With this useful and unique travel gift for your man, surprise him with something he didn't see coming. 
One laptop compartment, one electrical accessories compartment, and four others for miscellaneous objects
Comfortable design with soft back-padding
Built-in USB charger
Water-resistant and durable polyester material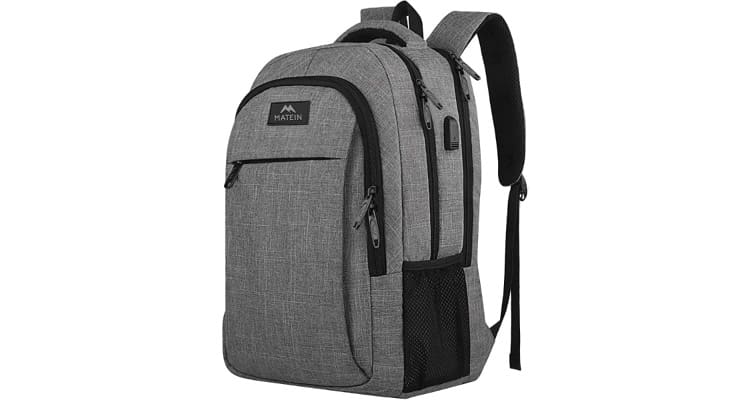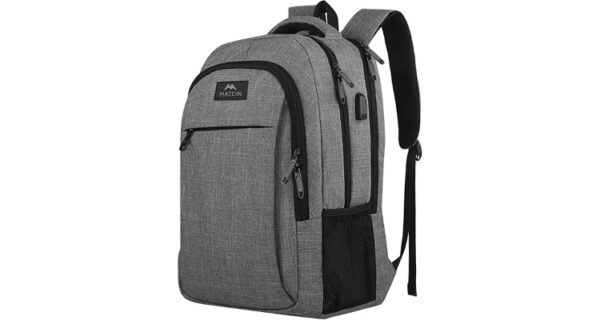 This all-in-one travel bag transcends just any other laptop bag and is a great option for a working man. You could also gift it to someone who frequently has work-related tours and trips and make their job ten times easier. 
24. OlarHike 6 set packing cubes
Won't we all agree that packing is the most disastrous part of a trip? But something hurts more than that – unpacking after the trip! To save your man from these blues, go for a set of packing cubes. He can now organize his various items the way he likes and keep his packing less chaotic and more accessible. The cherry on top? Unpacking could have never been easier.
Available in six different styles and colors
Pack of 6 cubes, 4 different sizes (1 large, 2 medium, 2 small, and 1 slim)
High-quality SBS material
Strong mesh netting makes for non-tearable and see-through cubes
Make your constantly traveling boyfriend (or husband) free from travel troubles with these wonderful, utmost convenient packing cubes as a traveling gift for him. He will surely not be tired thanking you! 
Related Reading: 21 Romantic Gifts For Him [Sentimental Christmas Gift For Men] 2022
25. iDesign inter design laundry bags
Traveling and dirty laundry are perhaps best friends. The worst part is when the clean clothes mix with the dirty lot, and you can no longer wear any. Well, thanks to this sturdy laundry mesh bag by iDesign, the trouble is over. You could store your clothes while on the trip and later put the bag itself in the machine to protect your delicates!
Zipper closure
Dimensions: 12 x 0.5 x 16 inches 
Material: fine weave breathable mesh
Tuck-away, rust-proof zippers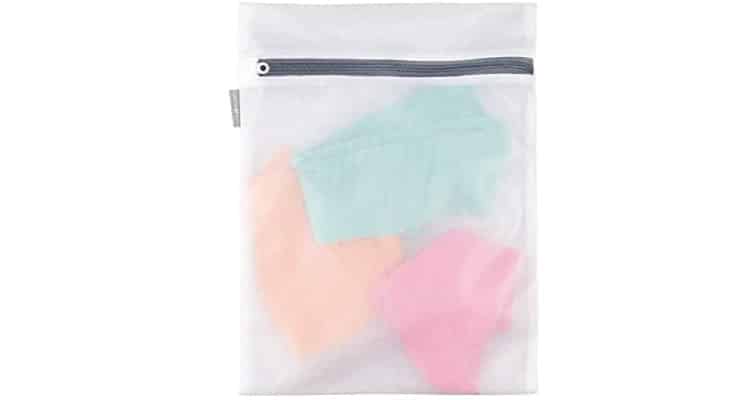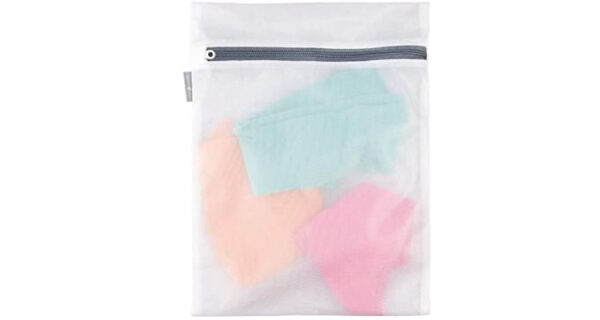 The mesh bags by iDesign are a great add-on travel gift for him. A two-in-one piece, this bag can store, organize, and later protect your dainty garments from the rough washing machines. 
26. Car backseat organizer
For those who love to keep their cars ever-equipped and make road trips way more enjoyable, doesn't it get a little chaotic to have every essential in your car? However easy the preparedness makes the trip, managing and organizing the items can be a herculean task. Why not invest in a sturdy car backseat organizer? Money well spent!
Dimensions: 24" x 16"
Materials: polyester and plastic
Portable and adjustable to will
9 compartments for easy storage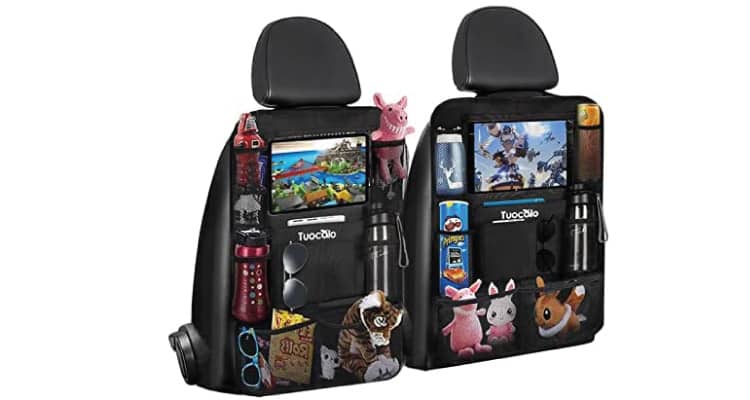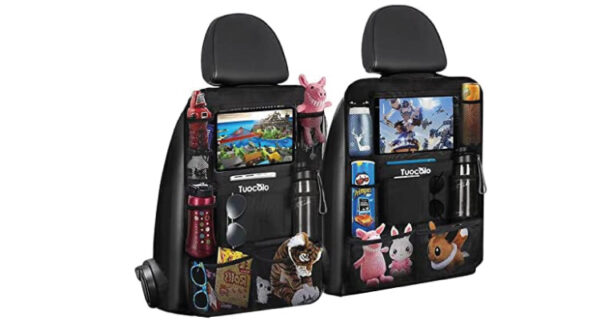 Car organizers may come and go, but this durable and adjustable organizer will always have your back. It is spacious, waterproof, and cleans in a second – a most useful and unique travel gift for men. Go ahead!
27. Columbia unisex-adult bora bora booney
Summertime is synonymous with beaches and a long holiday away. But sunburns and other associated illnesses can spoil the fun. Keep the harsh sunlight away and enjoy your holiday with a nice shady hat. And is there anything better than Bora Bora boonies? Neh. 
Material: 100% Nylon Poplin
Drawstring closure
UV absorbent yarn for maximum protection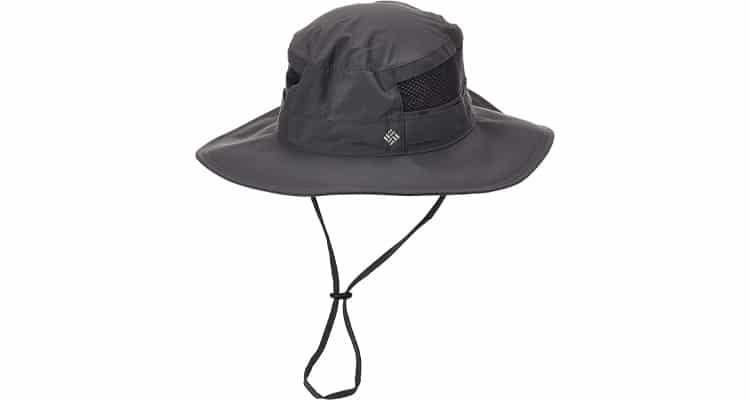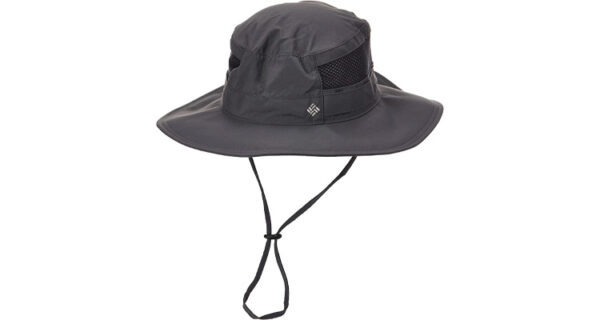 One of the most useful traveling gifts for him, your beachy husband will surely love this Booney. Just wait until you see him proudly put it on and you will be so happy to have bought this!
28. Zionor X11 ski goggles
Winter and snow are a great time for skiing. But how will you combat all those harmful radiations, fog, and other enemies? Skiing without goggles is absurd, but choosing the best will surely be a blessing. With this ZIONOR X11 Ski Goggles, top the list of best traveling gifts for men in style!
Material: polycarbonate for lens and TPU on the frames
UV400 Protection
8 magnet spots for a better stay
High density 3 layered foam to aid breathability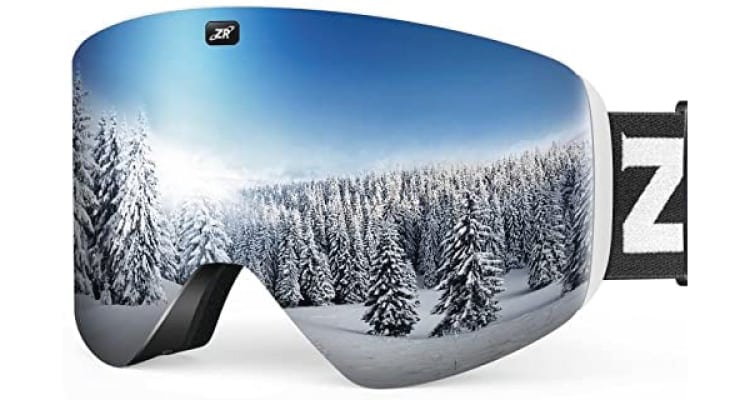 Buy for your free rider this ultimate pair of ski goggles and make his wintery holidays more memorable, more special. 
Related Reading: 11 Last-Minute Gift Ideas For Someone Who Has Everything | 2022
29.  AmazonBasics 131-piece general mechanic's kit set
When on a nice holiday getaway, the last thing you'd want is to be stuck on the highway with a defunct car. We never know what's ahead, so be prepared. For your crafty little mechanic, give him this AmazonBasics 131-Piece General Toolset and have your car trip ready anytime, anywhere. Will he not appreciate this?
Contains everything you need
Amazon basics 1-year warranty
Blow molded case
Chrome-plated alloy steel provides long-lasting equipment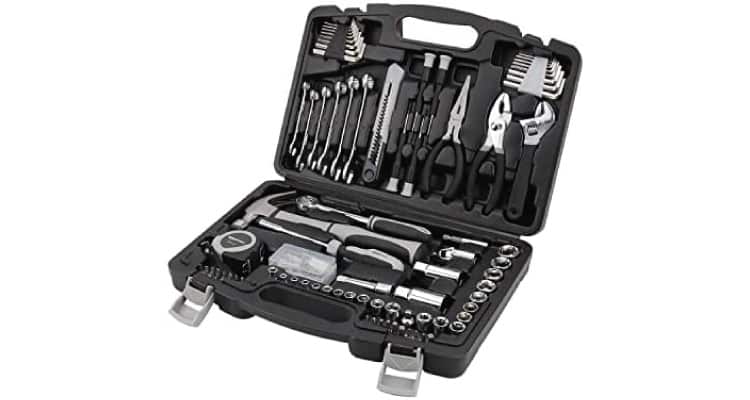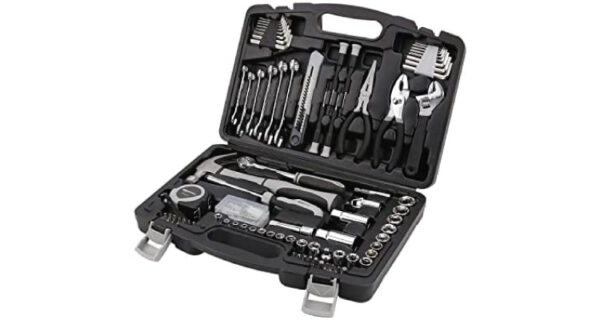 Make your car trip easier and happier with this bundle of preparedness. What's more? Your know-it-all husband will love this unique travel gift like no other, we bet.
 30. Small travel first aid kit
Mishaps and illness don't come with warnings. Don't risk it. A travel-sized first aid kit makes for a unique travel gift for your man and you ensure that he stays safe in every situation.
Dimensions: 7.5" x 5.4"
87 pieces
Comes in a durable zipper pouch
High-quality nylon pouch that fits in the hand and is waterproof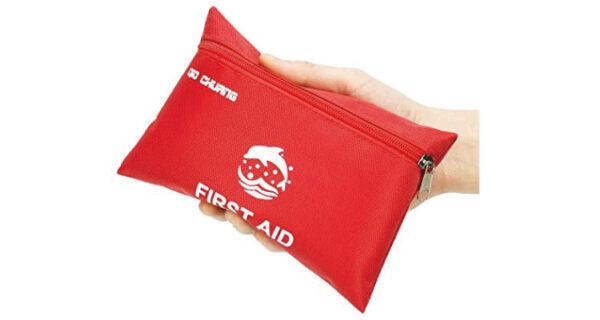 Take care of your big guy from miles away with this handy travel first aid kit and remind him that safety comes above all. What a cute little token of love!
31. Samsonite freeform hard side expandable suitcase
Traveling gets a hundred times better with sturdy and durable suitcases. And there's nobody who won't agree. When deciding what would make a great luxury travel gift for men, how can we reasonably miss these suitcases?
12 vibrant colors
Dimensions: 21" x 15" x 10"
Weighs 6.5 lbs.
10 years warranty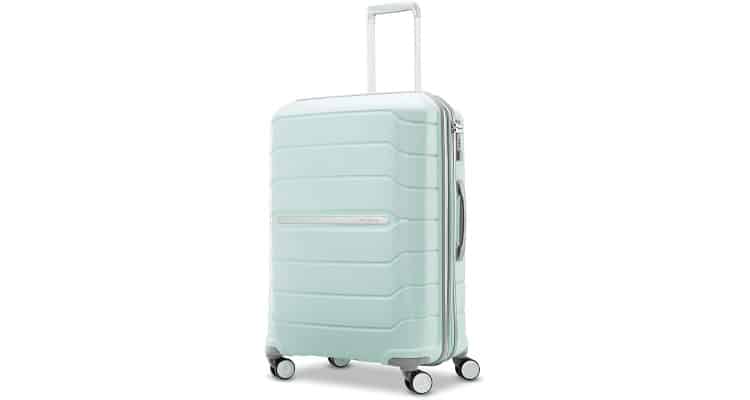 The expandable suitcase by Samsonite is the answer to all your storage problems. With a recessed TSA lock system, don't worry about the security of your belongings and go carefree. The cross ribbon and divider make packing easier and faster. All in one.
32. CRZ yoga quick-dry joggers
Long flights call for comfortable apparel. And a pair of good joggers can never be defeated in this race. Be a savior to your man's journey worries and gift him this pair of athletic travel pants by CRZ Yoga. Gift him something that transcends beyond the materialistic realm – gift him comfort, love, and warmth. Cliché? We don't think so.
Material: 87% Polyamide, 13% Spandex
Drawstring closure
30" inseam
Multiple pockets for easy access and storage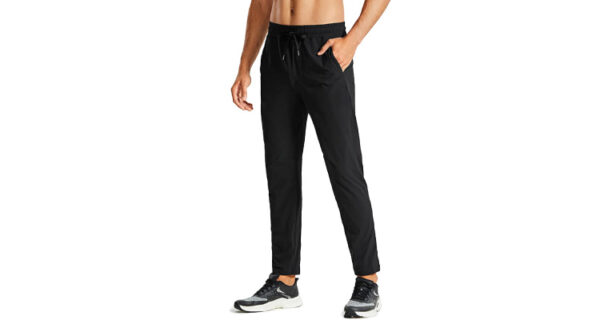 A stretchable, comfortable pair of joggers make for a perfect gift for men who travel often. Wouldn't they just love how easy your present makes their journey?
Related Reading: 21+ Weird Yet Wonderful Long-Distance Relationship Gadgets [Trending 2022]
33. Titanium motor milk frother
Coffee means different things to different people. But many of us can't stop being indebted to caffeine for saving our hectic days. When traveling, coffee can be a faraway thought. It doesn't have to be, though. Get your boyfriend this titanium motor frother for his trip and watch his tiredness fly away.
Material: 18/10 Steel
Requires 2 batteries
Works brilliantly for matcha tea, coffee, and anything else!
Easy cleanup and storage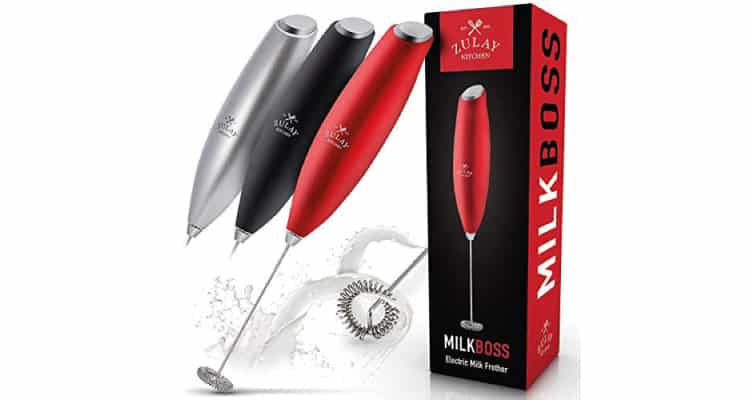 The best thing about this frother is how portable it is. Just throw it in with your clothes and make perfect coffee on your own – anytime, anywhere. Ideal travel gift for men who are all about coffee, right?
34. Sleep eye mask
Can we all agree that long flights and bus trips are so tiring at times? With unlimited light and blabbering, sleeping becomes almost impossible. Well, save yourself the sleepless hours on your long journeys with this sleeping eye mask by NUFR. 
Material: silk
Easy to wear, flexible and painless straps
100% light blocking
Lifetime warranty
Who knew that sleeping on trains and flights could be this convenient? Bless your eyes with this ultimate savior or give it as a gift to your SO who travels frequently. You will not regret this. 
35. Swtmerry sleeping bag
Camping and hiking and staying in forests! Vacations like these are like right out of a fairytale. Unless you are afflicted by cold, bugs, mosquitoes, grass, or frost. Save your vacation from forest nightmares. As a gift, sleeping bags are great to symbolize warmth, love, and affection for your loved ones. 
Portable, lightweight, and compact design
Easy to carry and machine washable
Outer Material: Nylon
Inner material: Cotton
A sleeping bag makes for an excellent, luxury travel gift for him and you could even slide in together (wink, wink). 
Trips and holidays are a great time for getaways and breaks. But separating from your loved ones can be challenging. Send with him a small part of you and keep reminding him of how much you love and cherish him. Travel gifts for your man can be great tokens to share your love and affection. The separation might be difficult, but in the end, it's always him in your heart, right? 
21 Best Real Silk Robes To Add Luxury To Your Morning Routine
The Rise Of Japanese Virtual Girlfriends And The Reasons Behind It