The holiday season is approaching and it is but natural to start thinking about buying presents for your near and dear ones. If your loved ones are adults and still Harry Potter fanatics, then we are here to help you find an unique Harry Potter inspired gift for them which will make them thank you for years! Now, just because it's a Harry Potter gift, it doesn't mean the process of selecting gifts for these fans becomes easier. Harry Potter's universe is vast and the gifts are even vaster. To help you out…here's a list of 21 Harry Potter gifts for adults which have been selected keeping different budgets and tastes in mind.
Related Reading: 21 Gift Ideas For Basketball Players [Boyfriend Loves Basketball]
If the person loves winter we suggest you consider the scarf, sweatshirt and throw blanket, if they are quirky and adventurous, gift them the hip flask or Dobby socks. Bookmark the earrings or makeup brushes if they are girly, gift them the cookbook if they are a budding chef and consider the inspirational quote if they are going through a tough time.
1. Harry Potter Woven Tapestry Throw Blanket
This 48″W x 60″ machine washable Warner Brothers' Harry Potter "Marauder's Map" Throw Blanket is meant to be a decorative piece or tapestry. It's not super heavy and thus won't smother you. It can lie on your bed all warm and comfortable or around your shoulders. The imagery on top of the blanket immediately rekindles your love for Harry Potter as it lies pretty on top of the bed.
If you want to show this off in the living room, get a specialty hanger or small nails to hang this on the wall and reminisce with your friends the good old Harry Potter days! 
2. The Unofficial Harry Potter Cookbook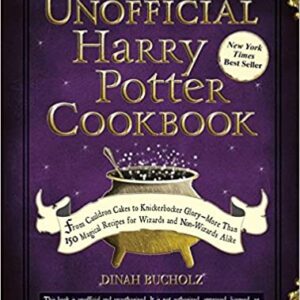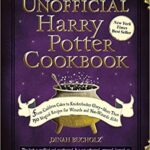 Any adult muggleborn who loves cooking would absolutely dig this cookbook. As soon as you open the book, you are transported back to the wizarding world of culinary delights. The magical recipes include more than 150 super easy recipes alongwith tips and tricks. There is Treacle Tart – Harry's favorite dessert, Mrs Weasley's trademark dish – Molly's Meat Pies, cauldron cakes and pumpkin pasties among other lip smacking food. The excerpts from the books offer context for each recipe thus making the whole process even more fun.
You can invite your friends or partner over and create all these magical recipes with them and post pictures on Instagram to make strangers drool.
3. Dobby Socks, SweetGo Dobby Is Free Knitted Words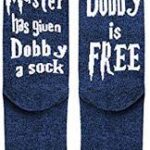 The 80% cotton and 20% spandex socks will definitely take you down memory lane thanks to its cute and funny message – Master has given dobby a sock, dobby is free. The best thing about these socks are that all the words at the bottom are sewn and they won't fade over time. Also, they fit both men and women, so all your Harry Potter loving couples out there, if you are feeling extra lovey-dovey, you can definitely take turns wearing it (after washing)! And don't worry, these socks are not just good for a laugh!
Related Reading: 21 Amazing Gift Ideas For Harry Potter Fans [ List For All Age Group]
They are actually useful and they would keep your feet warm during winters. A nice Christmas gift, if you ask us! 
4. Harry Potter Adult Fleece Hooded Bathrobe
This unisex soft and cozy adult fleece hooded bahtrobe is an ideal gift for adults who are on cloud nine when they get Harry Potter gifts, not only because it reminds them of their childhood but also since the gift is actually useful! Wear it on cold days and feel that extra dose of warmth and have fun imagining yourself as a wizard thanks to the look!
Now being an HP fan doesn't mean, you will only choose Gryffindor – you can choose any house you want and it will be embroidered on the robe.
5. Chapter Art Coasters Made From Real "Harry Potter" Books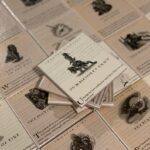 All you HP fanatics, ahoy! Get these handmade coasters from the chapter title pages of the Potter books. The ceramic coasters are perfect souvenirs of your love for the wizards. The fun part of this gift set is that you will get randomly selected chapters – for example The Elder Wand, The Triwizard Tournament and The  Journey from Platform 9/34 among others.
Created with a cork backing and secured with a waterproof coating, these coasters will add to the decor of your homes and also shield your surfaces from potential damage caused due to drink-ware.
6. Wizard Wand Potter Makeup Brushes
Love HP as well as makeup? We suggest getting your hands on these wizard wand Harry Potter makeup brushes which are nothing less than the commercial brushes out there. These brushes will blend your foundation like a pro and also help you in applying eyeshadow and contouring. These makeup brushes constituting dense soft synthetic fibers are compatible with powder, cream and gel liners.
 The brushes are on the heavier side and the bristles are sturdy, so don't worry about them falling off! And oh, this gift set comes with a surprise – a necklace!  
7. HARRY POTTER Gold Snitch Pewter Key Ring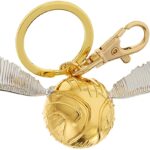 If you are a movie prop collector and dig both the HP books and movies equally, then we suggest you get this Gold Snitch Harry Potter key ring. This golden snitch doesn't cost an arm and a leg, is made of metal and is anything but fragile. It will last you a long time even with heavy use, in and out of pockets. But if you want to avoid any risk, it's best to use it as a keychain.
Related Reading: 21 Gift Ideas For 15 Year-Old-Boys [Choices For This New Year]
If you are feeling adventurous, remove the key chain part, include a piece of clear fishing line through the loop, alter the wings and in no time you will see a flying snitch in your room! 
8. Black Matte 6oz Engraved Hip Flask
Are you a Harry Potter fan and have recently reached the legal age of drinking? Then grab this Harry Potter inspired hip flask! You can have your very own Polyjuice potion aka your favourite alcohol in this black matte 60z engraved hip flask. Bear in mind that you have to shell out a few extra bucks for the customisation on the back and the front to perfectly be in sync with the Harry Potter theme.
Stand out with this gift and carry it with you while you are on a drive, on an outing or a date! Don't drink alcohol? Then use it to store your favourite creams, lotions and perfumes! 
9. Harry Potter Earrings
Get your hands on these lightweight, cute and pretty earrings and make a style statement. These handmade silver Harry Potter earrings made of stainless steel are an ideal gift for anyone who loves silver jewellery and is an ardent Harry Potter fan. This gift will especially strike a cord with adults whose favourite book in the series was the seventh and final book Harry Potter and the Deathly Hallows because of the design.
These understated earrings arrive in an organza gift pouch with an earring holder card, earring backs, a Thank You card and a complimentary vinyl sticker.
10. Harry Potter Sweatshirt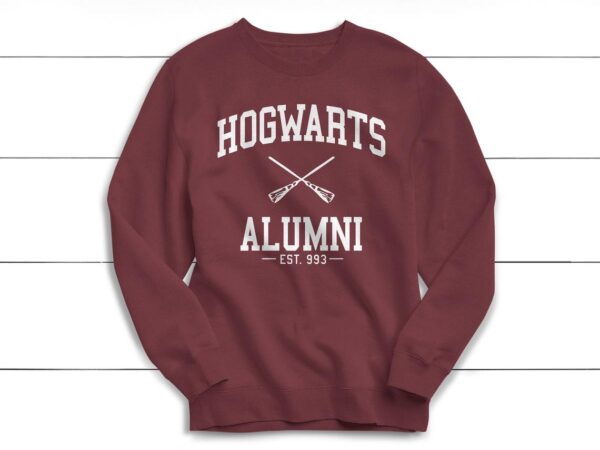 Want to flaunt your obsession with the HP series? Get this unisex 50% Cotton, 50% Polyester Harry Potter inspired sweatshirt for you and your loved ones. Women who prefer a slimmer fit should order one size down. This sweatshirt has got a 1×1 ribbed collar, cuffs and waistband with spandex, seamless body and concealed seam on cuffs. The stitch is double needle work covering seaming on waistband, neck and armholes.
To maintain your favourite sweatshirt, iron it on low heat on the reverse side to print, avoid ironing the print, bleaching and dry cleaning.
11. Harry Potter inspired Satin Gown Robe Dressing Gown For Bridal Shower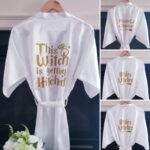 Planning to have a Harry Potter themed wedding? You can get as many robes as you want – each robe will be dedicated to one Hogwart House. Click your bridal photos with your bridesmaids wearing these robes – each robe is dedicated to a particular house, you can pick and choose! The back of the robe will be according to your chosen design. If you don't select a particular glitter colour, you will get gold text in the back design. Since the robes run a little small, we suggest you go at least one size up. 
Related Reading: 21 Best Real Silk Robes To Add Luxury To Your Morning Routine
These robes are made of silk satin, are thick and non-see through. The front of the robe will display the HP house emblems and they will appear in the customary house colours.  
12. Hermione's Time Turner
An ideal gift for your wife who still nurses a crush for Harry Potter! This would surely make her delighted if her favourite character in the series is Hermione Granger (sorry, Luna Lovegood fans!). You can choose from the four official replicas of Time Turner –  one in silver (silver color), one in silver plated 24 carat gold, one in metal 24 carat gold plated 5.5 cm in diameter and one in metal 24 carat gold plated 3.5 cm in diameter . 
Those who wish to wear their Time Turner to be more robust and best suited for outdoors, get the  5,5cm The replica (3,5cm), is smaller and therefore  a bit fragile, so choose it only if you want your Time Turner to be little!
13. Custom Harry Potter Mug
These handmade Ceramic customised Harry Potter mugs are an ideal way to start your day! Have your favourite coffee, tea or any beverage in it and start the day on a positive note. You can get your and your favourite person's name printed on the cup and create a memento. You can choose the hair, scarf and skin colour for both the girls – we think this is an ideal gift for your girlfriends, sister or any fellow female Potter maniac. Don't worry about the design as it's permanently printed. 
These white cups are dishwasher friendly when used on top track and safe in a microwave. If you would like to order a mug with a male figure on it, you can always opt for a couple mug!
14. Heat Activated Color Changing Marauder's Map Cotton Face Mask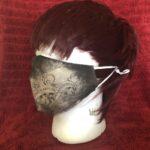 Gone are the days when people stared at you if you wore a mask. Now very much a part of our daily fashion for reasons we all know of – get ready to wear this cotton heat activated colour changing marauder's Map mask. If you are gifting it to someone you can add on to the element of surprise by personalising this gift with  a letter from Professor Mcgnagal. Now coming to the Marauder's Map! Both sides of the mask are black and you will find one of them displaying the map with heat.
All you Tik Tok lovers must know that this mask was inspired by Stephanie Hook's viral Tik Tok video! Tip: Avoid washing and wipe this mask with a damp rag.
15. Harry Potter Golden Snitch Light
Us HP lovers can't get enough of the golden snitch, can we? Here's another gift to add to your quidditch memorabilia – a Harry Potter golden snitch light which can be used as an elegant decoration. You can use this as a contemporary decoration in a Harry Potter themed party, game night or even in your bedroom. In this gift, you will find the Golden Snitch moving slowly and lightly in a tall illuminated bell jar. Since it isn't too bright, you can also keep it on at night while you sleep.
Related Reading: 21 Cool Tech Gift Ideas for Couples Madly in Love and Passionate About Gadgets | 2020
This one is firmer than other touch lamps with an easy set up. You will get a standard usb or mini usb and will have to arrange your own outlet plug.
16. Spoontiques Hogwarts Glitter Cup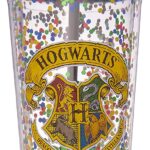 Looking for a sturdy multicoloured plastic cup with a great size and smooth metal lid? Try out the Spoontiques Hogwarts Glitter Cup which has 20 oz capacity, is double wall insulated with a stainless steel lid and a plastic straw which is capable of being used multiple times. The glitter accentuates the cup. If you are a Harry Potter enthusiast and also a germaphobe, you are definitely going to love this.
The best part is that you can use this cup both indoors and outdoors. Take it with you on a drive, picnic or even a date!
17. Cinereplicas Harry Potter Scarf 
Do you love winter and want to include a Harry Potter memorabilia to your favorite season? Add this Harry Potter scarf to your winter wardrobe – this one is super long and resembles the ones you see in the HP movies. You can wear it not only during winter but also a Harry Potter themed party or any costume party for that matter. The scarf is super soft, cozy and will keep you warm.
It's created with acryl which will help in providing extra warmth and comfort to you during winters.  You get a gift bag along with this gift –  it's aHarry Potter gift zipper bag.
18. Happiness Can Be Found in the Darkest of Times Inspirational Quotes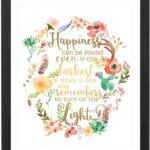 This art print is one of the best Harry Potter fan arts simply because of it's positive message  – Happiness can be found even in the darkest of times if one only remembers to turn on the light". You can put up this inspiring quote either in your home or workplace too add that dose of Harry Potter inspiration in your life. This art print is made with original watercolour with a touch of gold foil crafted by artists at Eleville.
Each print is about 8 x 10 inch  on a 180 lb – 300g  weighty archival and the textured photo paper has zero acid and a supreme  quality backing board. 
19. Flying Cauldron Butterscotch Beer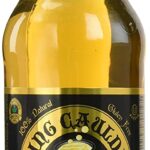 It's slightly sweeter than coke, and although not identical to the real butterbeer (no fizz and whipped foam) If you are not a pedant, you will definitely dig this. Even though it's not exactly the drink described in the series, the label is very identical to the one shown in HP series. If you dig the butterscotch flavour, get this one and share it with your fellow Potterheads! This non-alcoholic beverage is caffeine free and contains Sparkling filtered water, unbleached cane sugar, vanilla extract, natural caramel, natural flavors, stevia rebaudiana leaf extract.
Related Reading: 11 Last-Minute Hostess Gifts Ideas | Inexpensive Hostess Thank You Gifts | 2020
When buying the 6-pack, note that you will get a four pack box, wrapped in bubble wrap. The last two will be wrapped in a lot of bubble as well but they will come independent.
20. Big Mo's Toys Wizard Glasses 
These are real and not  "pretend glasses". You get "real" wire frames with real lenses. They look just like the glasses that Harry wore in the movies. This is one of the best ways to display your nerdiness! Wear this to classes or on an outing, you can even pose in them for your Instagram to make a style statement. These are also great for costume parties – these lenses are 2.5" in diameter and the glasses are 5" wide with an arm length of 5".
These glasses are made of premium materials, so don't worry about them being toxic for you or the environment! 
21. Harry Potter Knee High Socks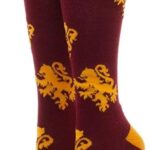 Any kinky Potter fanatics out there?! These 98% Polyester, 2% Spandex officially licensed Harry Potter socks are perfect for some roleplaying in the bedroom. Pair them up with thigh highs or a sexy skirt and watch your partner drooling! You can also wear it to work or college during winters and even in some Harry Potter themed wedding or party. The socks are on the softer side. JHowever, keep in mind that if you have chubby legs, they might feel a bit tight and if your legs lean towards skinny, they might feel a little loose!
These socks are for Ladies Sock Size: 9-11 / Shoe Size: 5-10. If your legs fit the criteria, then buy these and enjoy them as costume accessories. 
Give your friends and family these Harry Potter gifts and let them relieve their days with the young wizard.
21 Romantic Gifts For Him [Sentimental Christmas Gift For Men] 2020
[In A Hurry] 🎄🎄 21 Last-Minute Christmas Gift Ideas | Christmas Shopping List