Age 15 is that stage where a teen boy is moving towards an independent being and is desperate to become a young man. He is undergoing hormonal change which makes it difficult even for parents to relate to them. We don't deny the fact that as a parent you have raised him since childhood and are aware of his likes and dislikes, but as your little boy is now not-so-little anymore, it is very common to get confused while choosing a perfect gift for him.
Does he still like video games or has he moved on? Is he interested in indoor activities or prefers more of outdoor games? Does he like gifts that has his friends involved or he wants something to give him solitude? All these questions are likely to pop up in your mind while choosing a Christmas, Birthday, Thanksgiving or any other occasional (or non-occasional) gift for him.
Related Reading: 21 Gifts Ideas For College Girls [Updated List For This Christmas]
At this tender stage, they have their own dislikes and likes which makes them highly individualized. Some 15-year-old boys are in love with science, others prefer sports and some are gaming enthusiasts.
Being aware of a teenage boy's personality is instrumental in finding him a good and quality gift. So to take over your burden, we've researched and reviewed the top gift options and included a list of 21 choices for you to select from.
Our 21 best gift ideas for 15-year-old boys contain amazing gifts that boys will love and you are sure to find a present here for a boy who is already 15 or will be soon.
1. Hanes Men's Humor Graphic T-Shirt
No wonder your boy has many clothes and to top it up, he prefers buying his own stuff. But here we have something that we bet would put him in awe – Hanes Men's Humor Graphic T-Shirt. With a variety of color options and quirky sayings such as 'I've Got Mad Texting Skills', I'm Thinking…', and more; this t-shirt is sure to be his next favorite clothing item in the wardrobe. The t-shirt is lightweight, soft on the skin, and made of 100 per cent cotton for comfortable every-day use. To save you from hand-laundry, the jersey can be machine washed and cold ironed for a solid look
Ideal to wear over jeans for a casual look or with a blazer for a formal one, this t-shirt makes a safe gifting option when you can't think of any other.
2. The 7 Habits Of Highly Effective Teens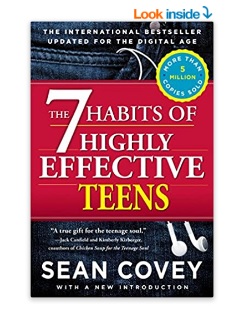 If your teen is someone who wants to be the next Steve Jobs or simply someone who needs more focus to achieve big things in life alas future, then there is no better gift option then to buy him the paperback – The 7 Habits of Highly Effective Teens. The book, by Sean Covey's, is not just any other educational read but is a roadmap—a step-by-step guide to help your boy get from where he is now, to where he wants to be in the future.
The book, filled with positivity and motivation will help your teen to reach his goals, dreams and plans bit-by-bit. To add, the learnings from the book will make for a lifetime keepsake.
3. Basketball 3D Illusion Gift Lamp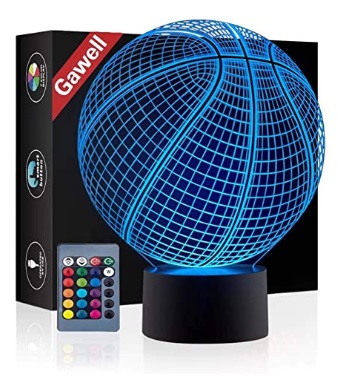 Whether your big boy likes to read, study or simply Netflix and Chill during night, Basketball 3D Illusion Gift Lamp is an ideal gift choice for him. Not just a basic night lamp, this 3D lamp has a shape of a basketball to give your teen's room a sports vibe. Also, it has sixteen different colours to suit every mood and it works on smart touch switch technology for easy mobilisation.
Related Reading: 21 Trending White Elephant Gifts Everyone Will Fight For | Best Fun Gift Ideas
Watch your 15-year-old turn his room into a Harry Potter secret chamber, convert it into his own pub for Saturday nights or simply dim the lights for a goodnight's sleep all with just a switch.
4. Table Top Robot – DIY Robotics Stem Toys
Fifteen is an age when your child is not a kid anymore and yet have not become an adult yet. So during this time, on one hand, buying him a toy would be childish and on the other, getting him high equipped gadgets would be risky. Thus, coming on a middle ground, here is a toy that is a perfect choice for him – Table Top Robot – DIY Robotics Stem Toy. The Table Top Robot is a hands-on science kit that teaches the basics of robotics by constructing a working robot crab. With details instructions that come in the kit, your boy will love spending hours on building up the toy and later spending days alluring its mechanism. When activated, the robot crab scuttles under its own power and changes direction when it encounters an obstacle.
Watch your teen place it on a tabletop and enjoy it performing acrobatic tricks in awe while praising us for our suggestion.
5. Manual To Manhood
There's a lot a young man in the making needs to learn as he grows up and prepares to make his way in the world. There are times when your teenager would be stuck with something, times when he wouldn't know something, times when he would feel left out. During this phase it is likely that he is shy to ask yours or anyone else's help to save the humiliation of not knowing. To save him from embarrassing moments and the need to ask for others help, we recommend getting him Manual to Manhood.
With great illustrations and supporting social media, Jonathan Catherman offers this collection of one hundred step-by-step instructions on almost everything a guy needs to know, including how to; wear cologne correctly, grill a steak, tie a tie, manage money, talk to a girl and plan a date.
6. Novelty Cotton Do Not Disturb Socks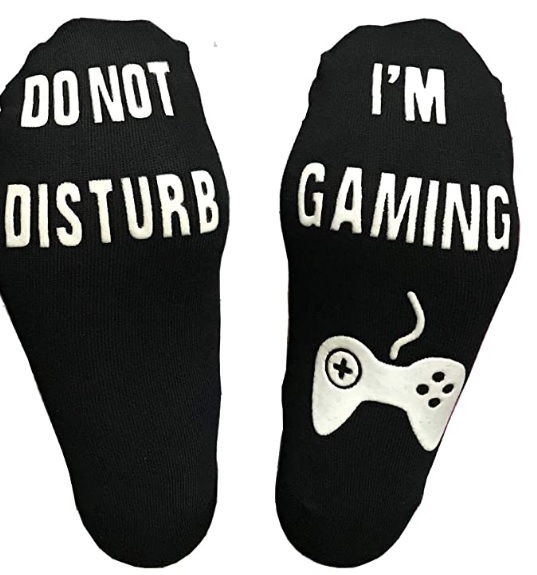 Believe us when we say, this pair of Novelty Cotton Do Not Disturb Socks makes a great gift idea for you're a 15-year-old game addict. With 'Do not Disturb' written on one foot and 'I'm Gaming' written on the other, the pair of socks will silently portray your boy's message while he is busy gaming.
Related Reading: 21 Amazing Gift Ideas For Harry Potter Fans [ List For All Age Group]
Made of high durable fabric and woven to provide comfort, the novelty cotton socks will keep your teen's feet toasty warm. And imagine the smile on his face when he unwraps this quirky gift! It is surely going to earn some extra brownie points for you as a parent.
7. 97 Things To Do Before You Finish High School
Of course high school is about education but at this age it is a lot more than just going to school. It is time to discover new places, undertake new hobbies, meet new people and explore the world with an open eye. And 97 Things to Do Before You Finish High School is a book that talks just about that!
The book will teach your teen all the things that formal education doesn't;  such as how to host a film festival, plan your first road trip, make a podcast, or write a manifesto.
It also gives wings to your boy's imagination and will help him do stuff like how to make a time capsule, spend a day in silence, learn DJing, and a lot more. Life doesn't stop at 3 pm every day, why should your teenager? Get him this book, NOW!
8. EMDMAK Survival Gear, Outdoor Emergency Survival Kit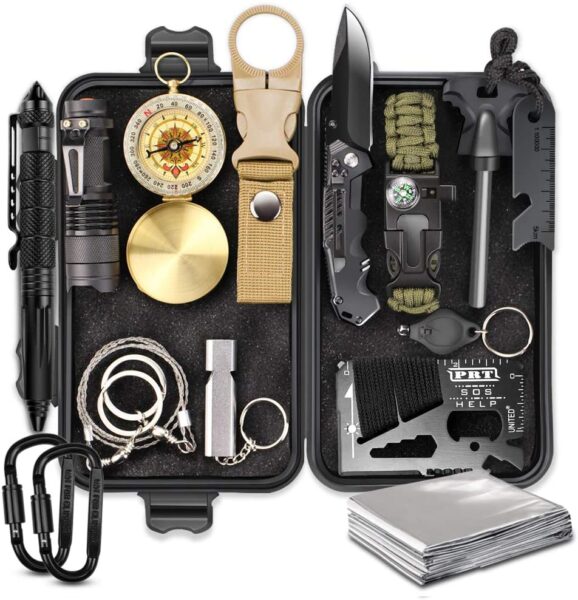 Allow your boy to explore the mountains, dive deep in the seas and haunt new places but with safety by gifting him EMDMAK Survival Gear, Outdoor Emergency Survival Kit. This survival gear kit contains everything one needs – when there is any emergency situation – such as Upgraded Compass, Saber Card, Survival Knife, Wire Saw, Emergency Blanket, Army Green Paracord Bracelet, Flashlight , Tactical Pen, Fire Starter, Water Bottle Clip, Whistle, Mini Light, Carabiner, and Black Waterproof Box.
Perfect for hiking, hunting, backpacking, wilderness survival, etc,this kit will ensure your child's safety at places where you cannot be present. An ideal gift for the kid as well as for the parent (when the kid uses it and lightens your concerns).
9. Making The World A Better Place Since 2005 Coffee Mug
Whether it's a Birthday, Valentine's day, Christmas, Thanksgiving or New year, you can never go wrong with mugs. And this time we have come up with another quirky mug specially customized for every 15-year-old.
With the saying 'Making the World a Better Place Since 2005' the mug will add a fun factor to your teen's morning coffee and make him smile endlessly throughout the day for this little achievement! Yayy!
Related Reading: 21 Gift Ideas For Teenage Girls | Checklist 2020
Printed on both sides, with the highest quality print, the mug is dishwasher and microwave safe. It is made up of ceramic material and can hold 11 oz. or 15 oz of the drink to get the day started.
10. Cute 15th Birthday Look This Good Tumbler Mug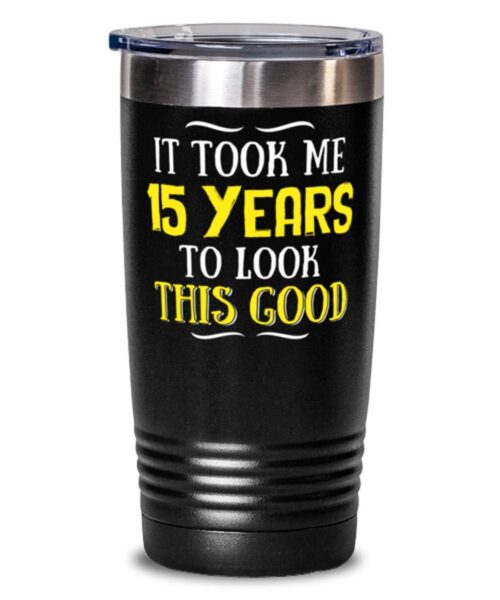 So you think ceramic mugs are old school and did not like our last gift idea? Don't worry we have another equally quirky mug but this time in the form of a tumbler and made up of Black Stainless Steel.
With the saying 'It Took Me 15 Years to Look this Good', the tumbler comes with a lid and can be used for having coffee, protein shakes, cold beverages, or just any other liquid that your boy likes to have.
This perfectly vacuum-insulated mug tumbler is a great present that will surely cause the youngster to delight in your choices as he sips his favorite warm, hot, or cold beverage at home or at school.
11. 2020 The Year I Turned Fifteen And Was Quarantined, T-shirt Birthday Gift
With the world-wide pandemic that evolved in 2020, came an array of struggles, hardships and losses. We know it was and is still tough but enough of mourning, it's now time to look at the silver lining and overcome this adversity on a funny note by gifting your boy '2020 the Year I turned Fifteen and was quarantined' tshirt as a gift.
Made with 100% soft jersey cotton and available in different colors, this t-shirt is sure to provide comfort during cozy nights and work-fill days to your teen.
Moreover, the tee will work as one of the best momento that will remind your youngster about 2020 and all the things (both good and bad along with this gift) that came with the year.
12. Teenage Mutant Ninja Turtles Mega Construx Collector Michelangelo Mutagen Canister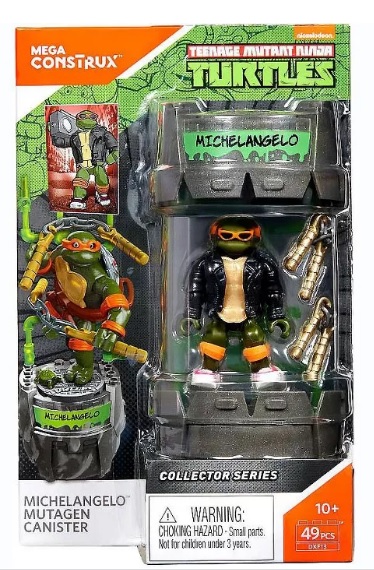 Gift your Ninja Turtle fan a gift that he would love to spend hours on. Teenage Mutant Ninja Turtles Mega Construx Collector Michelangelo Mutagen Canister comes with various pieces to build which in turn would develop your youngsters mind in mechanisms. The figure can also perform stunts, keeping your teen keen and busy.
Related Reading: 11 Cozy Gifts for Your Girlfriend | Thoughtful and Unique Gifts for Her | 2020
Give a present that not only grabs the interest of your teen but also takes him ahead in the learning curve. Be the smart parent and thank us later. Wink!
13. Telescope In Personalized Wooden Box
There is no greater feeling in the world to receive a gift that speaks to your heart.  The gift-giver spends time to select something that they know will warm your heart with joy, laughter, warmth and happiness! And Telescope in Personalized Wooden Box is exactly that very gift for your youngster.
The tailor-made gift is an ideal birthday present for your favourite maritime sailor. It is a uniquely designed Telescope with an antique finish in brass that comes with your child's name sculptured on the box.
Moreover, the ancient carvings make this one a special keepsake showcasing your attention to detail.
14. Yuham Magnetic Dart Board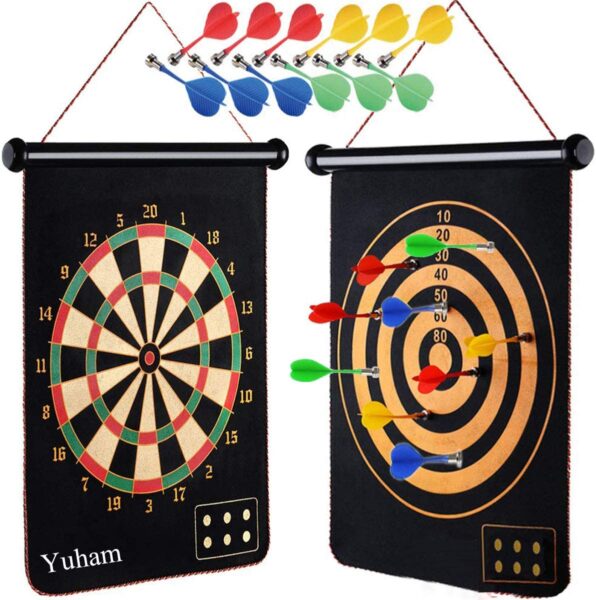 With the maturing age, your youngster needs to develop focus in life for a bright future. And talking about focus, what can bring a better knowledge of direction other than a dart set?
Ideal for both indoors and outdoors, this magnetic dart set is composed of high quality material. When your dart hits the dart board, it is durable and strong enough to not get hampered or fall off the wall.
The magnets enclosed safely inside the roll-up dartboard are powerful enough to hold darts in place and also assure of not hurting a person (including the dog and the cat) or damaging the walls.
Watch your boy enjoy his free time developing concentration and focus. And thank us later for the best gift suggestion!
15. GoSports BattleChip Backyard Golf Cornhole Game
Teenagers and sports go hand-in-hand. And now, as a parent, it's time for you to be your child's best friend and play a sport with him. GoSports BattleChip Backyard Golf Cornhole Game is an exciting new hybrid between golf and corn hole for the ultimate outdoor game. It includes 3'x2' target, hitting mat, 16 color foam balls and carry case and is easy to learn and fun to play.
Related Reading: 21 Cool Gadget Gift for Men [Best Gadget For Him] Oct 2020
P.S. We know we give the best gift suggestions, Thank you! So grab this gift as fast as you can and enjoy a merry time with your teen while you get to know his secrets when he is busy targeting the goal.
16. NY Threads Plush Long Bathrobes for Men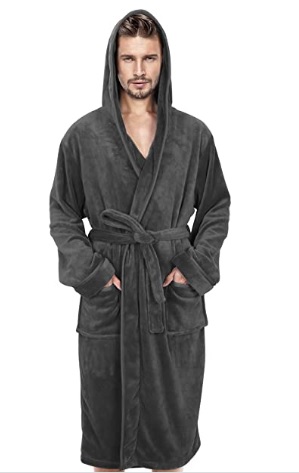 We know teens are smart, they are go-getters, they want to achieve the world and be the best versions of themselves. But when it comes to boys, it all boils down to 'No bath day today, will bathe tomorrow!'
So here we have an idea to get your stinky teen out of the bed and make him willingly walk to the shower – A comfy, super soft, plush, hoodied, and huggable bathrobe! (Round of applause)
NY Threads Men's Hooded Robe is made from coral fleece that offers great comfort whenever in use. Perfect for lounging, relaxation, and a great choice to wear after a tiring day at school, your boy will love getting into it and alas, take bath.
17. 3D Novelty Graphic-Print Galaxy Hoodies Pullover Sweatshirt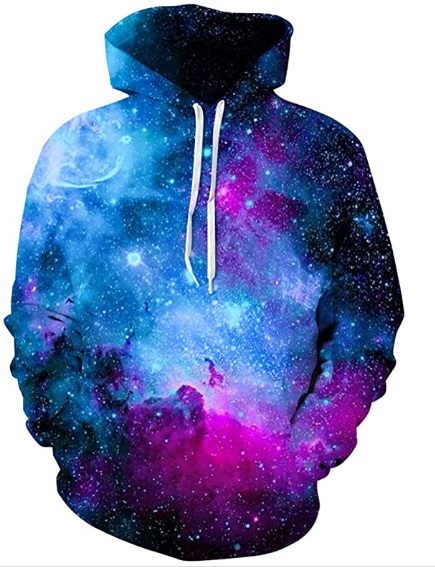 Talking about comfy clothes, here is another one with great comfort and greater high-fashioned look. This hoodie, has a unique digital printing showcasing the beautiful galaxy on both sides. With a drawstring hood, long sleeves pullover shirt, and the huge front pocket to slip on hands, this pullover sweatshirt is ideal to keep your youngster warm in wintery days and nights along with helping him make a style statement.
Watch him thank you in amazement every time he comes home with tonnes of compliments on the hoodie. Be a modern-age parent and gift your child a galaxy that is available in different colours!
18. Nike Academy Team Backpack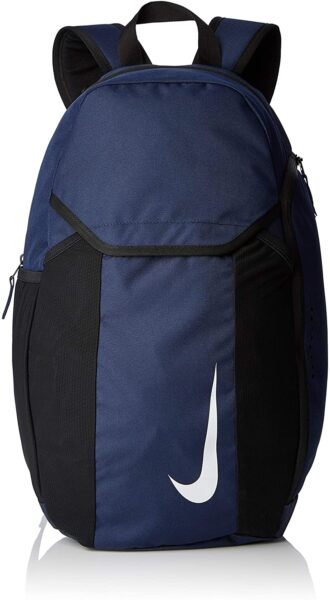 When you are confused among all the other gift options and still want to give your teen a useful present, what can be a better idea than giving him a nice backpack for school? Nike Academy Team Backpack is both comfort and class wrapped in a single bag.
With great color options and highly durable material, the backpack comes with multiple storages to keep your boy's stuff organized.
Related Reading: 11 Last Minute Gift Ideas For Neighbors | Make This Christmas Happier
Be proud of yourself (And us too) when he happily walks to school with the super awesome gift. And earn compliments from his friends for being the most thoughtful parents ever. Drum rolls!
19. MFTEK RGB Rainbow Backlit Gaming Keyboard and Mouse Combo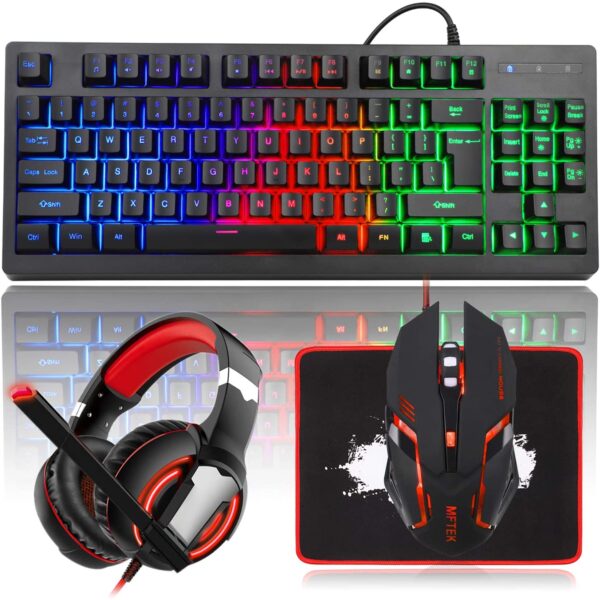 Want to be the coolest parents in town? Then amaze your youngster with a gift that he has never ever expected to receive from you – a gaming combo that includes a keyboard, mouse, LED PC gaming headset with microphone. Moreover, it comes with large mouse pad and small compact 87 keys USB wired mechanical feeling keyboard for computer gamer office. As alluring as this set looks, it is sure to please your gaming Nazi and make you the ultimate gaming hero with this amazing gift.
Pat your back while your child uses your gift every chance he gets and maybe ours too for the ultimate suggestion!
20. Kids Against Maturity: Card Game for Kids and Families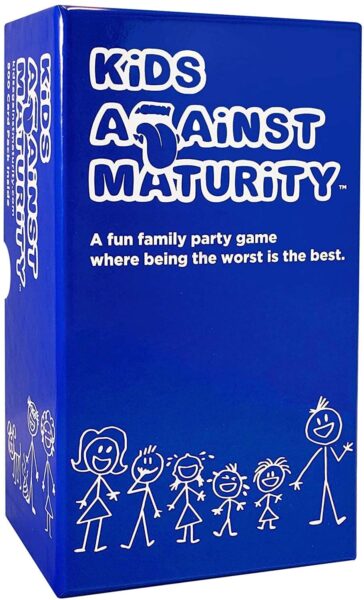 As parents of a young boy, you want to be his best friend and spend more time with him. But the age old card games and monopoly has bored you all and now there is nothing left to do on family Fridays?
Don't worry we got you another fun game that you can enjoy with your teenagers. Kids Against Maturity is the perfect parental tool to approach playtime and family time. With age-appropriate toilet humor and funny innuendos for the adults, it can be enjoyed at parties, picnics, and on lazy days. One game set includes 500 question and answer cards and a handy box to store it all. It is portable and can be taken anywhere size game.
Become an instant champion while camping, sleepovers, game nights, family gatherings, summer camp, plane trips and more for a great family time and endless hours of fun.
21. Spa Life All Natural Bath and Body Luxury Spa Gift Set Basket (Men's Grooming Set)
Now that your little boy is growing up so fast, it is needless to say that would start getting more conscious of himself. By now he must have started to take more care of his looks than earlier and would also like you to appreciate his new needs.
To cater to his newfound self-love, here is a grooming gift basket designed for men that in our eyes is the best of the lot. Your boy will appreciate the fact that now you are viewing him as a 'Man' and not a kid anymore. Moreover, the contents of the basket would make him blush in happiness especially the post-shave lotion, which is an indication that he is now a man to start shaving. Apart from rescuing post-shave lotion, the pampering kit contains a 2-in-1 shampoo and conditioner, invigorating body wash, essential daily moisturizer, and a footstone.
Let your young man enjoy his new hormones and you can enjoy the look of delight and the feel of comfort on his face.
So here we complete our list of 21 chosen gifts for your 15-year-old boy. But before we wind up, here is a little piece of advice that you should consider before buying a gift.
A Little Advice
We have listed a lot of gifts here, so you might be left wondering what is the ideal gift choice for the teen you are buying for? Every teenager is different from the other and so is their choice.
Related Reading: 21 Cool Gadget Gift for Men [Best Gadget For Him] Oct 2020
Thus, it is important to think about their personality and their likes and dislikes before considering an option. Not all teenage boys are interested in the same things – some like technology others enjoy board games, some prefer pampering items whilst some would be happy with comfy clothing options.
So, think about the kind of activities your son enjoys and then choose the perfect gift for him. To add, try not to choose something which will be embarrassing or childish in his (or his friend's) eyes.
Final Say
That wraps up our review on what the top gifts for 15-year-old boys can include. We understand how tricky it can be trying to find a great gift for boys this age, which is why we hope that we've provided you with all the information you need to select the best present and make the young one happy.
To add, be sure to consider the main features, pros, cons, and the aspects that make each gift stand out!
21 Gifts For Beach Lovers [Gifts For People Who Love The Beach] | Christmas 2020
9 Best Gift Cards For Your Spouse [Best Gift Cards for Couples] 2020 Updated