As opulent and awe-inspiring the big day might have been, only the happy couple knows how much better the honeymoon will be. A vacation with the love of your life, right after making the bond between the two of you official to the whole wide world. There really is only one thing that can make this affair of the heart even more momentous – honeymoon gifts. 
After receiving countless gifts on their wedding from their loved ones, it's the couple's turn to express the love they feel for each other. Do this with thoughtful and sweet gifts that your other half isn't expecting. Show your partner how the rest of your life is going to be – filled with love, never-ending effort, and surprises.
Honeymoon Gift Ideas For Bride And Groom

Yes, we know that a honeymoon is a time to relax, chill, and fall deeper into love with each other. You don't want the stress of picking out a gift, which is a good thing because you have us. We have done the work for you and crafted a list of honeymoon gifts which are not only practical, but considerate and oh-so-romantic.
1. Sun hat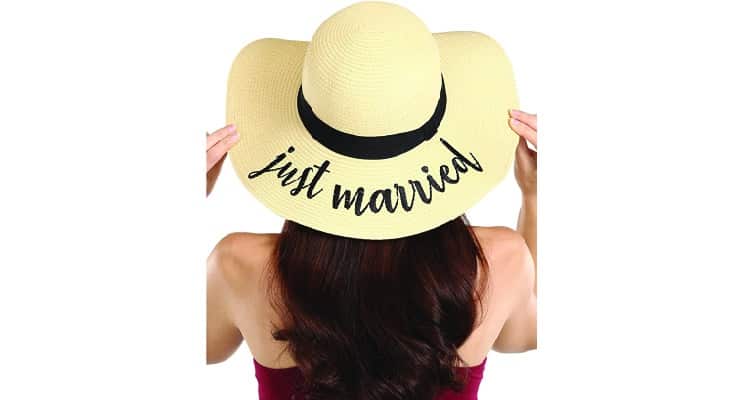 Looking for honeymoon gifts for wife that she will love and can make a fashion statement with? Buy her this floppy sun hat with the letters "just married" engraved on it. She can wear it at the beach, especially if the honeymoon destination will have tons of them, or even at a picnic. Your bride will be grinning from ear to ear if you give her these hats as honeymoon gifts.
Elastic closure 
Fashionably light-weight 
Foldable 
Neutral color to go with all the outfits
Related Reading: 7 Expert Tips To Resolve Conflict In A Marriage
2. Fossil couple watches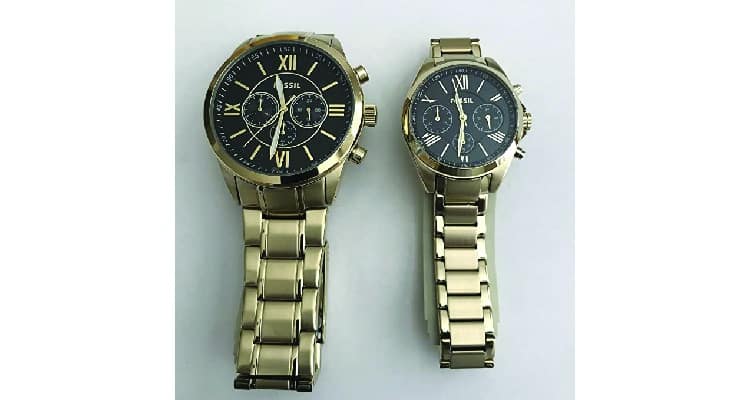 These Fossil watches are just the perfect honeymoon gifts for couples. If both of you are suckers for style, elegance, and sophistication, then look no further because Fossil watches have it all. They use quality material for their highly accurate and durable watches. Once the honeymoon ends, you will always have something that will remind you of the best vacation of your life.
Made from stainless steel 
Band color – gold 
Dial color – black 
Water-resistant
3. Couple pajamas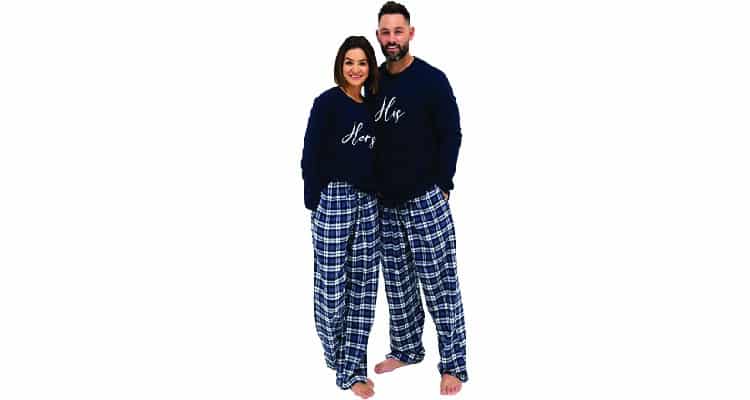 Your honeymoon is going to be filled with passion and intimacy but do you know what it will be incomplete without? Comfort wear. No matter what, comfort triumphs everything, even in the sexiest of the moments. To be in love is to be completely yourself, which is why we think these couple pajamas are just the ideas for honeymoon gifts that you needed.
Sizes from S to XL 
100% cotton 
Machine wash 
Available in 2 colors
4. Honeymoon journal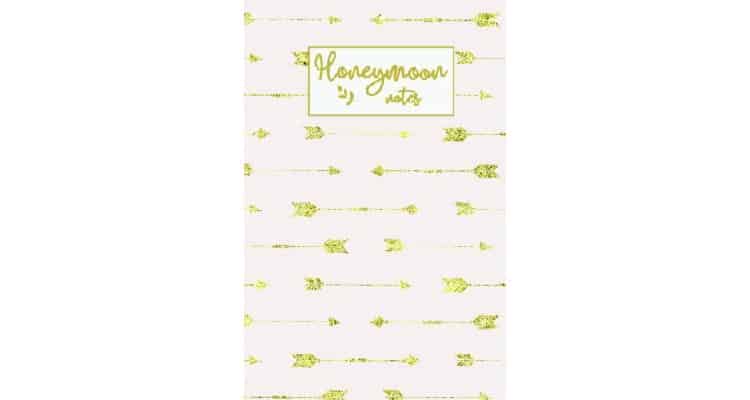 We are sure that the last few months of the wedding planning have been dominated by planners, calendars, notebooks, and whatnot. If you've enjoyed pinning up tasks and making lists in order to help you out, why not do the same for your honeymoon? A journal would easily make the list of gifts for honeymoon for any couple who believes traveling to be their second love.
Premium matte finish 
110 lined pages
Travel size 
Dimensions: 5.25 x 0.25 x 8 in
Related Reading: Every Couple Does These Clichéd Things When In Love
5. Instant camera
If you're planning to give your partner a honeymoon gift basket, do not forget to add an instant camera in it. This camera is for the moments which are so close to the heart that you need to pause, capture, and take the film with you wherever you go. Besides these cameras being all the hype nowadays, they are also extremely easy to carry anywhere and you can click whatever makes your heart smile.
Kit includes: Fujifilm mini 9 camera + mini striped film + cloth
Built-in flash 
Selfie mirror 
Color – ice blue
6. Couple t-shirts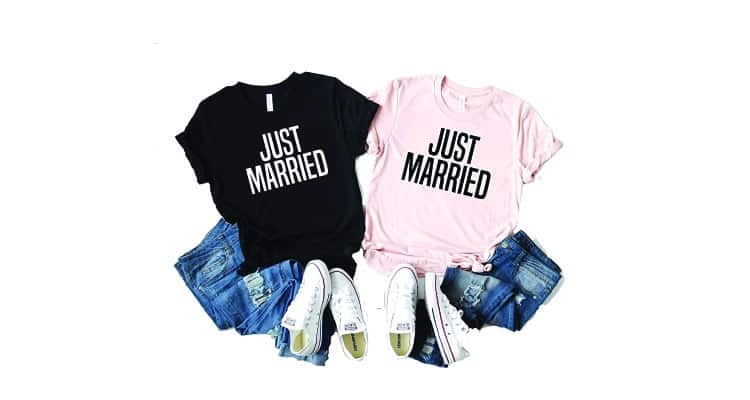 How can one plan for their honeymoon destination without any cheesey merchandise packed for the trip? Regardless of how embarrassing or shy you might feel, a pair of couple t-shirts as honeymoon gifts are must-haves. You can only wear a "just married" t-shirt once in your life, hopefully.
Unisex 
Customizable 
Sizes – XS to 4XL 
Available in 11 colors
7. Godiva chocolates
Godiva chocolates as gifts for honeymoon? A thousand times yes. We cannot think of one thing that could go wrong if you were to present this delicious, mouth-melting chocolates to your partner. In fact, it is a scientific fact that chocolates make you happy. When you indulge in one of these majestic things, it releases serotonin in your body which in turn lifts up your spirits. You can't argue with science now, can you?
Weight: 10 oz 
Assorted flavor 
Dimensions: 12.32 x 8.31 x 2.28 in
4.5/5 Amazon rating
Related Reading: 15 Gift Ideas For Newlyweds – Gifts That Every Newlywed Couple Needs
8. Jute tote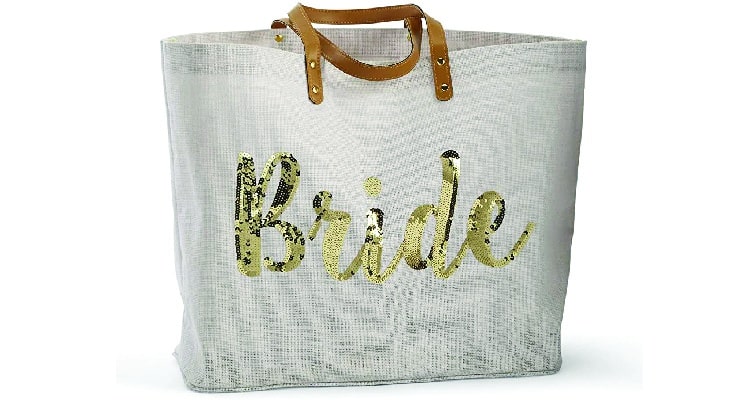 Honeymoon gifts for a bride are really not as much work as their partners tend to think. There are innumerable options to browse and select the right honeymoon gifts from. Your Mrs. will love this tote bag. It's fancy, it's fashionable, and it's got "bride" embroidered on it. What more can you ask for ?
100% jute 
Handles are made from vegan leather 
A must-have tote for every bride in the wedding season
Dimensions: 16 x 24 x 9 in
9. Cute socks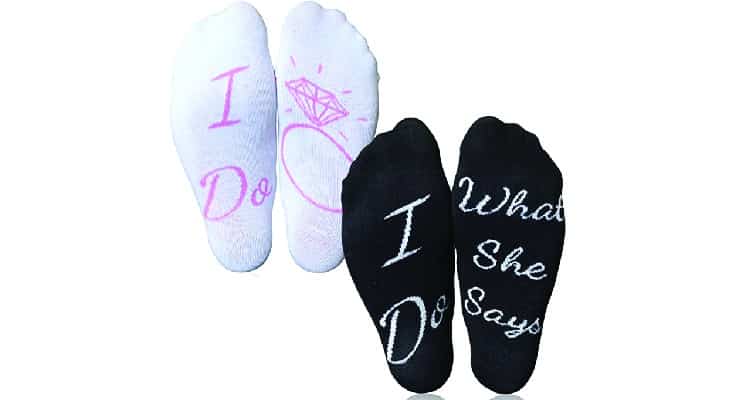 If you and your partner enjoy being shamelessly goofy with each other, then your honeymoon gifts should reflect that too. Exactly like this adorable pair of socks. Perfect to keep you warm on a winter night while also keeping you extra close to your forever-one.
Machine wash 
Super-stretch fabric 
One size fits most 
80% polyester, 20% cotton
10. Sand keepsake jar
If you and your partner like to collect memories or souvenirs from every place that you travel to, then these sand jars are just the right honeymoon gifts for the both of you. Fill the sand from the beach that the two of you had the time of your life in, and get the chance to relive those memories every single day.
Glass material 
Novelty shape 
Handmade 
Dimensions: 2.8 x 2.4 x 1.6 in
11. Beer coolers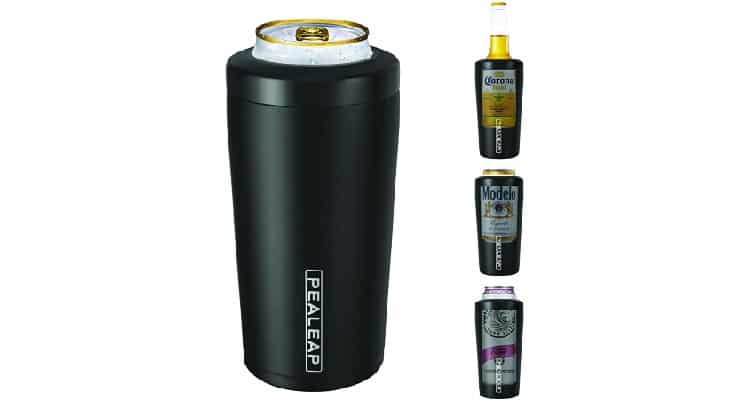 There is no other way to have beer except when it is chilled. You're on your honeymoon and you'll always be on the go. Whether it's for a swim at the beach or hiking in the mountains or just a night of dancing, you will need beer. If fun is the element you're looking for in your honeymoon gifts, then beer coolers are the right answer.
Stainless steel 
Keeps the beer 20x colder 
Easy to use and hold 
Keeps it cold for 8 hours
12. Selfie stick
You'd like to be as free and relaxed as possible on your honeymoon which is exactly why you need this selfie stick. Not only will it help you click stunning pictures of you and your loved one, but it will also manage to capture the entire scenic beauty around you. The best part about these selfie sticks as honeymoon gifts is that they come with compatible GoPro!
Extendable and foldable 
Selfie stick tripod 
Detachable remote control 
Adjustable phone holder and rotation angle
From couple pajamas to keepsake jars, we have provided you with a range of honeymoon gifts that you can choose from to surprise your partner with. Do not worry, any of these picks will be the right choice. We are hoping that you are now prepared for the best vacation of your life. 
FAQs
1. Who pays for the honeymoon, the bride or the groom?
Marriage is about sharing and togetherness, which is why it is the best idea for couples to equally split the cost of the honeymoon.
2. How can I surprise him on his honeymoon?
The best thing you can do is surprise your husband with little things throughout the trip. Starting from these honeymoon gifts, to booking his favorite water sports, or having the chef cook his favorite cuisine. It's the little things that always matter more.
Ask Our Expert
You must be Logged in to ask a question.