Finding a gift for a newly-wed couple, that is both unique and meaningful, is quite a task. So let's start planning the perfect gift. When it comes to gift ideas for newlyweds, you've got to find something that's not gifted by anyone else, and something that adds value to their lives as they begin their journey together. It has to be something special and something that reminds them of you. If you're getting worked up about this, don't worry, I'm about to list some cool gifting ideas for couples that they're going to absolutely love.
Best Gifts For Newly Married Couples
There are a lot of gift ideas for newlyweds to surprise the couple in a good way. You can always personalize some home accessories and gift them, but this is also an opportunity to give them something they wouldn't be expecting from you. Something that reminds them of this occasion and also reminds them of you. In this article, you'll find a range of gift ideas for the couple's wedding, from personalized wine bottles to matching undergarment sets. Choose what suits their preferences and what you love the most.
1. Ganz the key to a happy marriage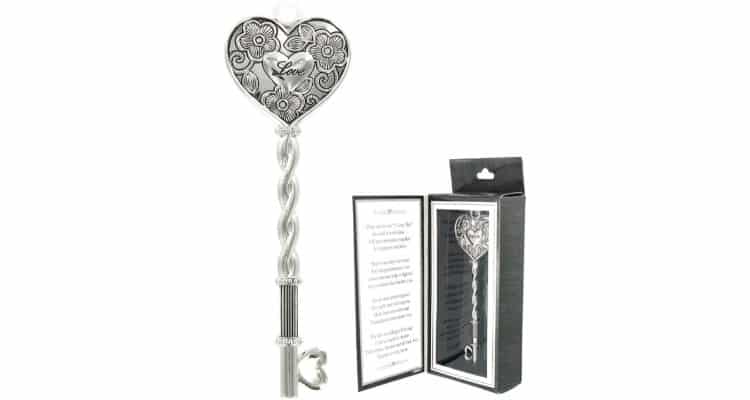 Good gifts for newly-weds need not always be something personalized or extravagant. Sometimes, it can be as simple as this product. Symbolizing a happy and successful marriage, this key has the words 'love' and 'forever' inscribed on its two sides. The box also has a beautiful poem written on it that wishes for a beautiful future for the married couple. It can be used as a display anywhere in the house, or cherished as a personal possession. Easily one of the best gift ideas for newlyweds, the product is certain to pleasantly surprise everyone at the wedding.
Made using zinc
Comes with a white lace ribbon
The box that comes with the product can be used for gifting
Related Reading: 12 Best First-Night Wedding Gifts For Your Husband
2. Willow Tree sculpted hand-painted figure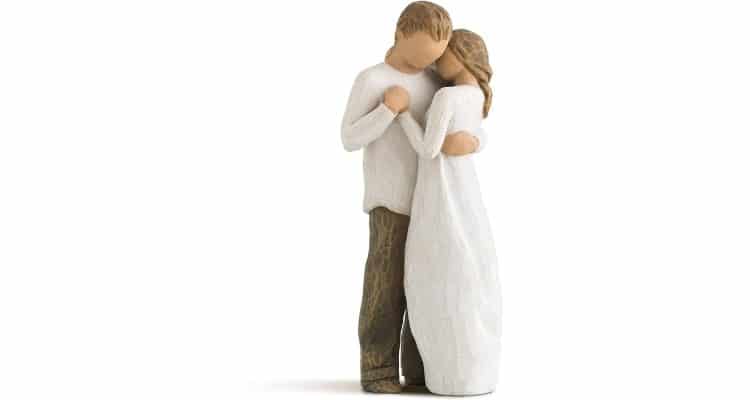 Willow Tree is a series of sculptures that seek to convey all that can't be conveyed through words. And this minimalistic yet striking figure is no different. If you're looking for newly-wed gifts for a couple who have an affinity to art, this sculpted figure is just what you need. With its simplistic design and aesthetic appearance, it fits any shelf, desk or surface. The figure comes in a gorgeous gift box with an enclosure card. This makes sure your gift stands out amongst all others and makes for a memorable day. Be it a friend or a stranger, this gift goes with every occasion.
Material used here is resin
The enclosure card has the phrase 'Hold dear the promise of love'
Original design is by the artist Susan Lordi
Each figure is hand-painted
3. LiquorKnight decanter set
For those who prefer gifting luxurious items as gifts, this LiquorKnight decanter set is the one to go for. Exquisitely designed, and complemented with premium accessories, this is the gift they're sure to remember. No matter whether you're searching for gift ideas for couples' Christmas or anniversaries, you simply can't go wrong with this product. Each product is hand-blown, which means every piece is unique in itself, just like their marriage. The set comes in an elegant gift case with designer hand sketches that is bound to awe and mesmerize. 
Made completely with food-grade materials
The decanter can hold upto 28 oz of a drink
The set also includes two glasses, six stones, one air stopper, one funnel, one wooden stand, and a refrigerator magnet besides the decanter
Both the decanter and glasses are completely lead-free
4. Cedar-raised planter box with legs
There are few things that look as beautiful and pleasing to the eyes as plants. So why not choose as the gift for newly-weds a site to plant some greenery in their abode? Made with sturdy, natural wood, this planter box is fit for every kind of plant. It supports the weight of soil and water along with the plants very easily. While the product has a natural, simple look about it, you can also finish the box as per your liking. Providing you with ample space for planting, this planter box is the best gift for those who find their peace among nature.
Can hold over 1000 lb weight 
One continuous rail is used to ensure the floor doesn't fall
Bolts are employed to hold the planter in one piece
Related Reading: Gifts You Can Get For People You Have Just Started Dating
5. Farmhouse wooden two-tier serving tray
If you're confused about all the gift ideas for newlyweds, you can safely go for this product. Aesthetic as well as functional, it fits in all kinds of surroundings. You can use it in the kitchen for fruits, in the bathroom for different accessories, in the bedroom for makeup products, and more. Frankly, the opportunities are endless. It can also be assembled and folded very easily and all the instructions are provided with the package so you don't face any issues. The newly-wed couple will find it very useful in their shared life together, both as a keepsake and a storage vessel. 
The entire structure is handmade
Made using fir wood
Comes with a metal handle
Instructions to assemble the tray are provided with the package
6. LED flame table lamp speaker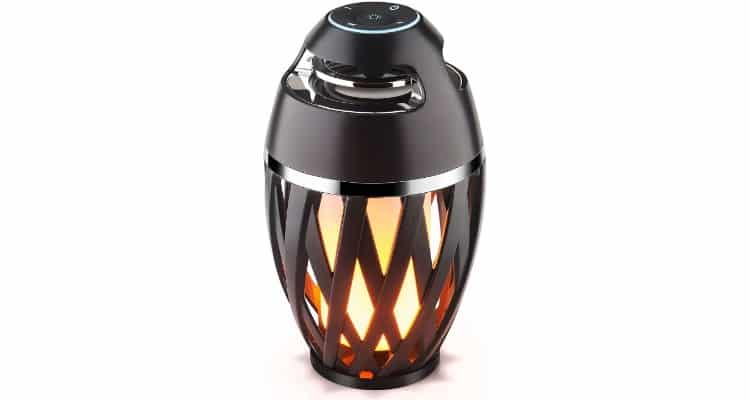 There are few better ways of kindling a romance than a late night dinner date, wouldn't you agree? But modern lifestyle and its various demands usually do not allow for that. However, what if you can create a beautiful dinner date at your home itself? This LED flame speaker is the best way to bring that gorgeous dinner date to your home, it's easily one of the best gift ideas for newlyweds. The speaker has 96 LED lights, and the design creates a romantic atmosphere anywhere. The sound quality is impeccable and it's resistant to water, dust, and shocks. So you can use it in an outdoor situation without any issues.
Comes with built-in bluetooth speaker
Speaker has in-built memory with a 2000 mAh capacity
One device can be used to connect to two such speakers for a more atmospheric experience
Smaller size allows for easy portability
7. NutriChef 14-piece nonstick cookware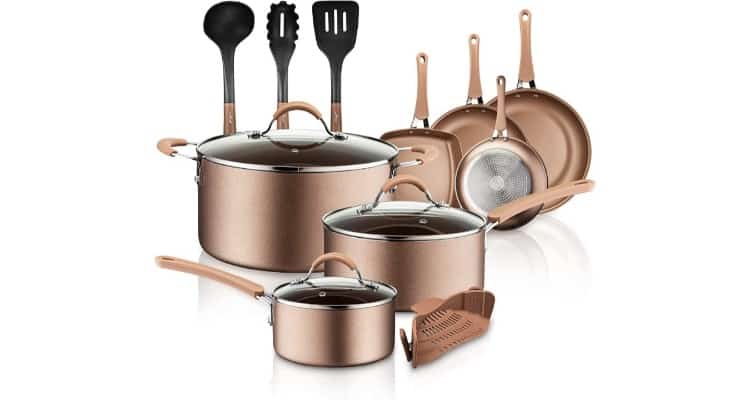 I know what you're probably thinking at this point. A cookware set, really? How clichéd can one get? But hold on for a second and let me explain why this is one of the best gift ideas for newly-weds. For starters, it's not only a nonstick set, it also comes in this gorgeous gold shade that looks more like champagne. Plus, the material is completely free of toxins and eco-friendly in nature. Completely safe and easy to use, they're perfect for every meal and every day of the couple's new life together.
Comes with three stew pots, three fry pans, one square pan, and one silicone drainer
Also comes with a measuring card and kitchen tools
An additional, transparent non-stick layer is present over the top non-stick coating
Is available in three different colours
8. W&S matching underwear for couples
For those who like to add some fun to their bedroom, this is one of the most unique gift ideas for a couple's wedding. These undergarments are soft, light to wear, and easy on the skin so you remain comfortable at all times. The material used is softer and more breathable than regular cotton, providing a better experience while wearing as well as while washing. They come in various sizes and prints, and you can mash up the different designs and colors as you fancy.
Each piece is sold separately so you need to add them to cart individually
Fabric type is cotton blend
Can be machine washed
Related Reading: 25 Uncommon But Useful Housewarming Gift For Couples
9. Personalized cutting board
To mark the special day of the two, personalized gifts for newlyweds are the way to go. This cutting board can be used to chop fruits and vegetables alike. With a large sign that shows the names of the couple as well as the last date, this personalized cutting board will always remind them of the particular occasion and of you. Not just a cutting board, but it also serves as a keepsake.
Made with walnut wood
Board is oiled with a food-safe oil that keeps the board safe and strong
Personalization includes first names of the couples, the last names, and the date of marriage
10. YLOVAN rustic wood sign
This wooden plaque makes for a great gift on any occasion, whether you're searching for gift ideas for couples' Christmas or their first anniversaries. Each piece is handcrafted, which means each of them is unique in some way, just like the couple. It has the option of hangers as well as holders. The frame has a simple, vintage charm to it that suits any room and background. Not only does the sign make for a unique keepsake, it also has a beautiful quote on it. 
Wooden background creates a rustic visual that looks appealing anywhere
The heart design at the front is created using string art
An adjustable back holder and two stainless steel hangers ensure an easy installation
11. Personalized star constellation map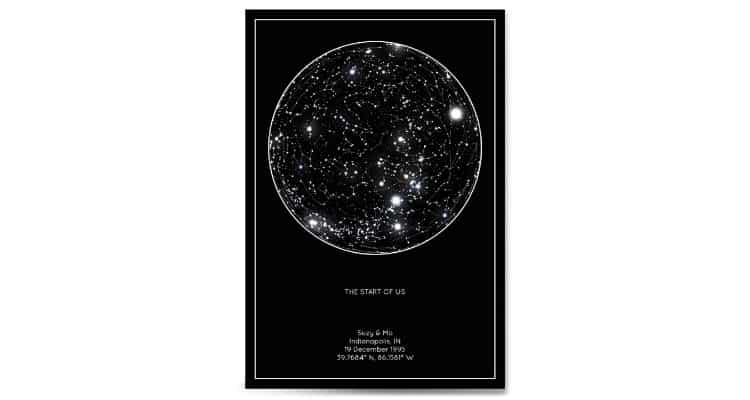 What better way to make a wedding day memorable than to have a picture of how the stars looked that night? When it comes to personalized gifts for newly-weds, not many products can match this gorgeous constellation map. Make any memory permanent with this stunning map that captures the stars on that particular night in your location. Made with pigmented inks used for archival, these prints are built to last for decades and centuries. They're perfect for every occasion, whether it's a wedding or an anniversary, and will be loved by everyone!
Has two background color options – black and white 
A frame can be added with the map for easy installation
Tale's Bright Star Catalog alongside other astronomical charts are consulted to create the map
Related Reading: 25 Unique Wedding Gifts For Bride From Groom
12. xieshang 20 pcs personalized stickers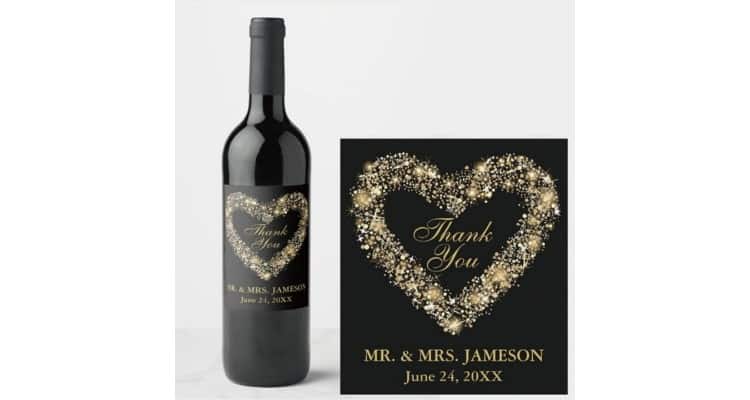 Looking for some last-minute gift ideas for newlyweds? You simply can't go for a simpler yet beautiful gift. These stickers are customized using any image you want. They fit most wine bottles, all you need to do is peel the sticker and stick it on the wine bottle. All the labels are unique, which means you can use it on different products without it getting repetitive. Personalized gifts for newlyweds, like these stickers, show that you care for them and have put in enough thought and love in choosing the gift.
Full-color printing for high-quality results
Is resistant to scratches so the paper surface remains smooth and clean
You can design your own logo or use the standard templates
13. The Metal Foundry personalized brass sundial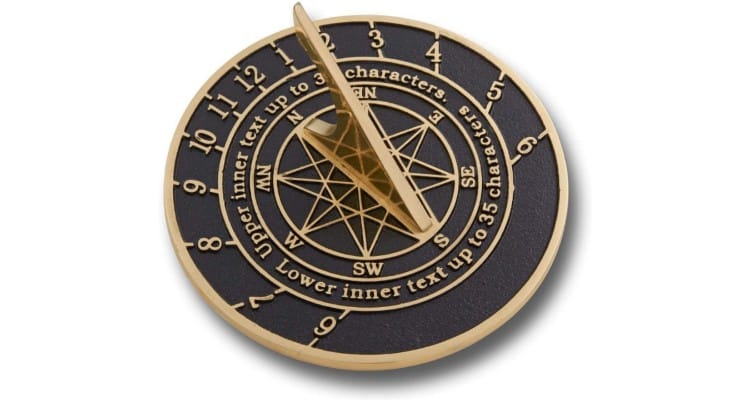 Show your style, taste, and love, all at the same time with this stunning sundial. When it comes to choosing a gift for newly-weds, it's essential to find something unique and creative. Every guest and friend tries to find something interesting and useful, which is why this vintage product is the perfect gift. You can also customize the sundial with the name of the couple to make sure they cherish the product and you for a long time. Bring history and art to one place and enjoy the result through this gorgeous product.
Can be bought in either brass or aluminum type
Has 4 size options 
Can be used in both indoor and outdoor situations
Has marked compass points that help in fitting the sundial at an appropriate location
14. Wedding print personalized artwork
Capture one moment and make it grander with this gorgeous artwork. Not many personalized gifts for newlyweds can match the beauty and thoughtfulness of this gift. These premium quality canvases are created using professional artists that capture your desired moment in all its glory. All these prints are done using latex HP ink which is UV-resistant and provides the best quality. You can make the day of the newly-wed couple brighter with this print and create an everlasting memory for them.
Cotton canvas is used with glossy surface finish
Painting is available in multiple sizes
These canvases are printed and wrapped by professionals to ensure the highest quality
15. The Adventure Challenge couples edition
It's often the moments filled with the most uncertainty that serve to bring you closer to the other person, which is why this product is so perfect. Not every adventure has to take place out in the open. Here, there are different options to choose from. One can use hints about the cost, the time of the day, and the location to close down on the perfect adventure. There are options to add pictures and one can even journal in the allotted sections. This makes for the perfect way to add some spontaneity to one's relationship and capture the memories of those adventures. It makes for one of the better gift ideas for a couple's anniversary, or wedding, or Christmas. 
50 cards to choose from, so you're never short on ideas
Once scratched off, an adventure must be carried to its conclusion
Budget and time guides are provided with every adventure to assist the user
So there we go! We've seen a wide array of gifts and gift ideas for newlyweds that are sure to attract appreciative (and envious) glances. If you want to gift a more personal piece, personalized gifts are the best way to go. But sometimes, the functionality of the product triumphs over its aesthetics, and so a planter or a cookware set might be a better product. Decide on what your priorities are, what the couple might like, and get shopping!
26 Christmas Gifts For New Moms | Unique Motherhood Gift List