This is my Ask our ExpertThis is my Ask our Expert
All couples are special – uniquely crazy in their love for each other, and silly in their little tiffs. So, get your favorite couple some phenomenal matching couple gifts that are as exceptional as them. Or, if you're one half of a couple like this, these gift ideas are perfect to pamper you and your boo. We have compiled an incredible list of 30 cute matching gifts for couples. These gifts are sure to surprise, tickle, astound and make couples happy around the world. Be it a newlywed couple, couples in a long-distance relationship, partners, or spouses, they will love indulging in these lovey-dovey gifts.
Celebrations attain a grandeur with sweet gestures and special gifts. Surprise your partner on your anniversary with a personalized set of matching gifts for couples, or get a naughty couple gift for your BFF's wedding. You are sure to find some delightful surprises lined up here.
30 Perfect Matching Couple Gifts
There are tons of gifting options available online. But wading through them to find that one perfect gift can be exasperating. That is exactly why we have this comprehensive list of matching couple gifts for you that are cute, funny, romantic, erotic, and practical – much like you. So get ready to add a lot of goodies and happiness to your cart.
1. Cute catty cups
Matching couple gifts are about being cute and romantic together. What better way to exude both, than these cute coffee mugs? Show your lovey-dovey side with these mugs that feature a mushy Tom who reaches out to kiss a coy cat. Cat-lovers, rejoice and raise a cuppa!
Sturdy cups made of ceramic
Each cup has a capacity of 12 oz
Package includes 1 black cat mug and 1 white cat mug
Microwave and dishwasher safe
2. Funny pair of socks
Looking for matching Christmas gifts for couples? Your search ends right here. Go for this matching pair of socks with a funny quote that will make them break into a smile instantly. Put your feet up as you unwind after a hectic day, and let your feet do the talking.
Made of polycotton blend
Breathable fabric keeps the feet warm and fuzzy
Stretchy fabric gives a snug fit
Suitable for machine-wash
3. Set of wine glasses
Any list of matching gifts for couples is incomplete without a set of glasses for their drinks to raise a toast. Celebrate your birthdays, anniversaries, and other special occasions sipping from this stylish beer and wine glass set, meant for a couple that is no less than a royal pair. Cheers to the good times and the great memories with your love!
Includes 1 "King"-printed pint beer glass measuring 16 oz and 1 "Queen"-printed wine glass measuring 12.75 oz
Printed using organic ink
Made of food-grade materials
Dishwasher-safe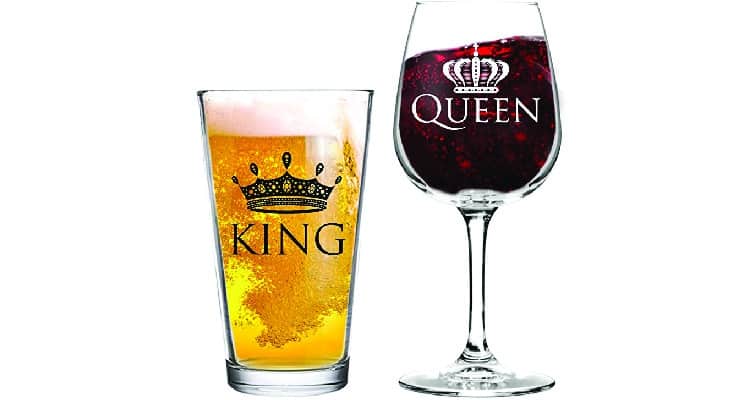 4. Matching things for couples: Hoodies
We know how girls love sneaking into their partners' hoodies. After all, they do make for the comfiest and the coziest outfits. This set of boyfriend and girlfriend matching gifts will come to the rescue for the boys complaining about their missing sweatshirts. Get your hands on this cute set of dinosaur hoodies and your bae wouldn't want to leave hers for a change.
Made of a heavy blend of 80% cotton and 20% polyester
Digitally printed using high-quality, eco-friendly inks
Machine-washable
Comes in a variety of colors and styles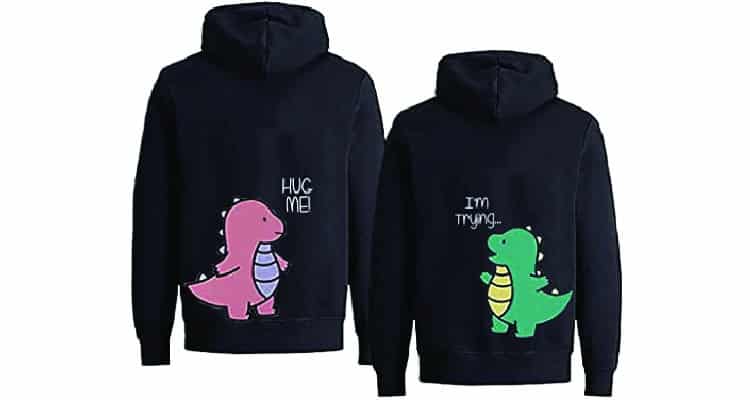 Related Reading: Gifts You Can Get For People You Have Just Started Dating
5. Couple watches
Love can overcome the barriers of time and distance. Keep up with your bae even when you are away from them with one of these matching gifts for couples long distance. This set of matching couple wrist watches will not only remind you of your love every time you look at your watch, but will also make their presence felt. Overcoming long-distance relationship problems got easier!
Classic golden round case
High-quality stainless steel strap
Adjustable strap
Waterproof watch
6. Naughty and raunchy underwear set
Get your partner in the mood for some wild lovemaking with this matching couples valentine's gift. Express your passionate love for each other in a cute and funny way. This one is sure to tickle your partner's funny bone with its witty pun and erotic slogan.
Includes 1 men's boxer brief with the message "Caution choking hazard" and 1 women's bikini underwear reading "Caution slippery when wet"
Made of 95% cotton and 5% spandex
Machine-washable
Available in different sizes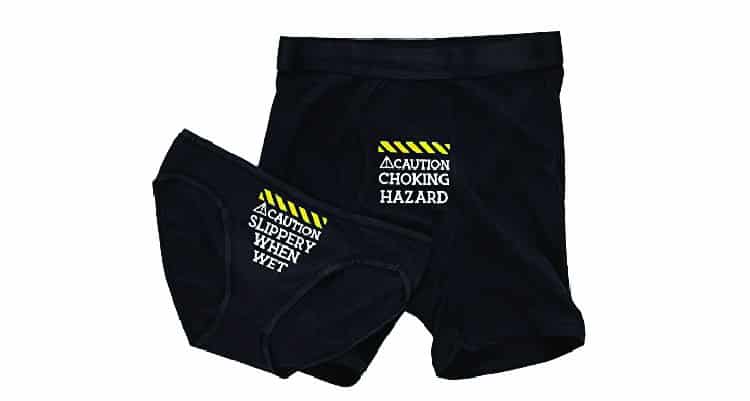 7. Accessories set for couples
What do you do when you are confused about which cute matching things for couples to go for? You get an entire set of such things! "Should I go for a necklace or a bracelet for matching couple gifts?" Get both instead. This breathtaking set of accessories has couple necklaces as well as bracelets to adorn the lovebirds.
Detachable heart couple pendant comprising of one half of a heart in black and the other half in silver
2 bracelets, in rose gold and black
Made of premium-quality stainless steel and titanium
Engraved with a love message
8. Matching couple gifts: T-shirts
Show the world how besotted you are with each other. The buddy, the confidante, and the partner-in-crime that you have been blessed with deserves all the love. Say it out loud with cute matching gifts for couples. Be it going on a brunch or cycling, a stroll in the park or a daring trek, these t-shirts will make people turn their heads everywhere you go.
Comes in various colors and sizes
Unisex fit
Soft and breathable fabric
Can be washed in the machine
Related Reading: 28 Romantic Valentine's Day Gifts For Husband
9. Personalized matching beanies
One of the best matching gifts for a married couple in the winter would be this set of personalized beanies. Enough of wearing your heart on your sleeves, time to wear it on your beanie instead. The cute little heart embroidered on the beanie along with your initials will make for a perfect declaration of your love.
Made of 100% acrylic
Unisex fit
Cuffed length: 9 in
Variety of colors to choose from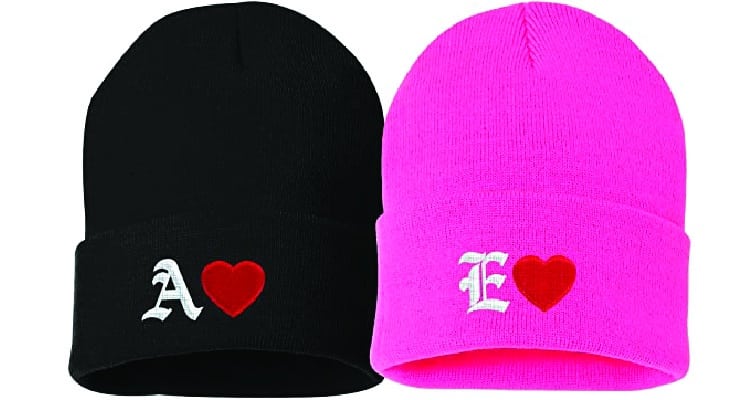 10. His and her keychains
Both of you hold the key to each other's hearts. Keep it safe and secure with these keychains. Love is often found in the simple pleasures of life such as cute, matching gifts for couples long distance. You might be separated by distance, but never by your heart. Just as you two complete each other, so does this set as it fits into each other like pieces of jigsaw puzzles.
Stainless steel keychains that are rust-resistant
Comes in a ready-to-gift box
Designed as puzzle pieces that read "His crazy" and "Her weirdo"
Product dimensions: 1.1 x 1.5 in
11. Matching couple gifts: Bracelets
For all those lovebirds who are in a long-distance relationship – separated by geography but tied by their heartstrings – this is one of the sweetest matching gifts for couples long distance. A set of bracelets with an encoded love message only to be deciphered by the ones in love; it is one coy and demure expression of your feelings.
Bracelet that says "I Love You" in Morse code
Bracelets made of durable nylon cord
Nickel-free, lead-free beads made of hematite electroplating
Adjustable bracelet, stretching up to 10 in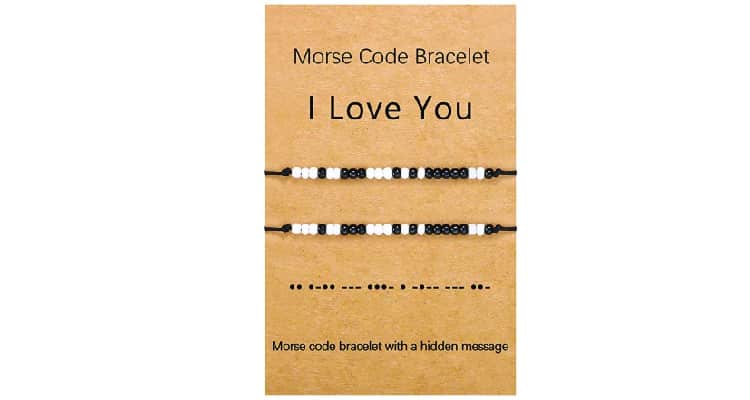 12. Matching pillowcases for couples
The cutest pillowcases we have ever seen – we bet you can't resist getting your hands on these. Cute illustrations, humorous, comfy, and adorable, these matching gifts for a couple will set you off on an 'aww' fest. Gift this to your partner on your anniversary and they won't stop smiling looking at it.
White-colored pillowcases made of cotton and polyester blend
Spiderman-themed pillowcases
Packed in eco-friendly gift boxes
Product dimensions: 20 x 30 in
Does not include pillows
13. Steel flasks for couples
Here are matching steel flasks for couples that love to work out together. Stay hydrated and stay in love, without compromising on style with these flasks. Bitten by the travel bug? Carry your beverage everywhere you go in these matching steel flasks for couples. Heading to the office? Don't forget your flasks. Have an upcoming anniversary? Get these flasks as matching gifts for couples. It is one versatile gifting solution.
Thermoset with flip-flop opening
Leak-proof, BPA-free, double-walled flasks in stainless steel
Includes 1 black flask that reads "Mr. Right" and 1 white flask with "Mrs. Always Right" written
Comes in an attractive gift box along with a gift card
14. Matching couple gifts: Bathrobe set
Ditch the old-school matching gifts for a couple to embrace the new. Go for this set of matching bathrobes that add a dash of fun and style to your bath routines. These embroidered bathrobes spell luxury, and having them in a set makes it more sensuous. Present your partner with their bathrobe after a steaming, long shower together and set the temperature soaring!
Made of premium-quality cotton with soft terry cloth lining
Features V-neck, mid-calf-length, full sleeves, 2 large pockets, a belt, and loops
Embroidered monograms for that personal touch
Suitable for machine-wash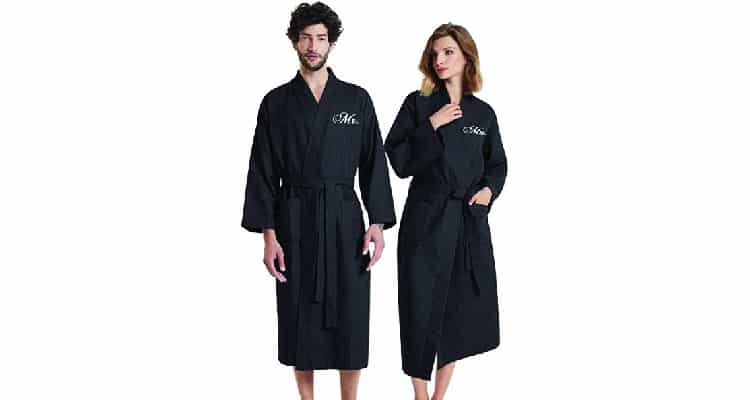 15. Steel tumblers for him and her
Turn ordinary tumblers special by jazzing them up with quirky slogans. Leave your mark on your personal tumbler so that they stand out. A set of 2 tumblers that read "Mr. Right" and "Mrs. Always Right" to reinstate the well-known fact – women are always right, no matter what! Claim your partner's heart all over again with these practical and unique matching couple gifts.
Premium-quality, double-walled, stainless steel tumblers
Spill-proof, BPA-free, plastic lid
Vacuum-insulated tumblers maintain the temperature of the beverages
Sturdy and durable gift for all occasions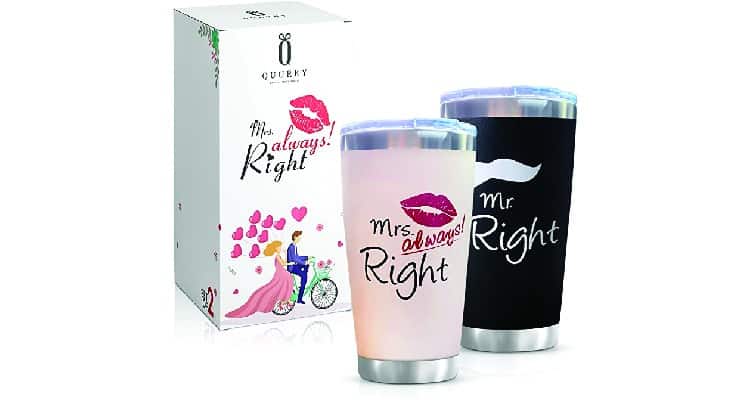 16. Matching bath slippers
Take your love for matching things for couples to the next level with these bath slippers. Surprise the love of your life with a spa-like experience at home and present them with these monogrammed slippers. Team them up with our recommended couple bathrobes and you have the perfect matching Christmas gifts for couples. Unique, stylish, and yet practical – they are going to love your gift (and you, of course).
Spa-like slippers made of durable, non-skid foam
Includes 2 pairs of slippers with the monograms: "His" and "Hers"
Terry cotton top and foam sole make for the utmost comfort
17. Matching aprons
The couple that enjoys whipping up a storm in the kitchen needs a set of matching aprons too. Make the moments spent cooking together all the more special and romantic with these two aprons as a matching couples valentine's gifts. Love can find its way even in the most mundane times after all. It makes for a practical gifting option too.
Premium-quality, durable material
One size fits all; features an adjustable neck and waist straps
Product dimension: 36 x 25 in
Related Reading: 24 Food Gift Ideas For Foodie Couples Who Love To Cook
18. Matching couple gifts: Mug set
Let your morning cuppa brim with love. Give your teas a romantic makeover. Sip in style with this elegant yet uber-glam matching mug set. Have a wedding to attend this weekend? Get these best matching gifts for the couple to make your present stand out from the dozens they will be receiving.
Includes 2 mugs with lids, and 2 personalized spoons for "Mr." and "Mrs."
Comes in a deluxe gift box along with a greeting card
Eye-catching details – 14k gold plated graphic, gold heart shape at the back of the mugs, stylish spoons
19. Say it with a ring
Nothing spells love and romance like a ring. Make your expression of love memorable with this pair of matching rings for couples. Propose to the love of your life with this stunning ring and see the sparkle in their eyes as they say "I do". What a magnificent idea for boyfriend and girlfriend matching gifts!
Attractive black and red-colored wedding ring for women and band for men
Hypo-allergenic set made of black IP and titanium
Studded with sparkling AAA + clear cubic Zircon stones
Available in different sizes
Comes in a cute little bag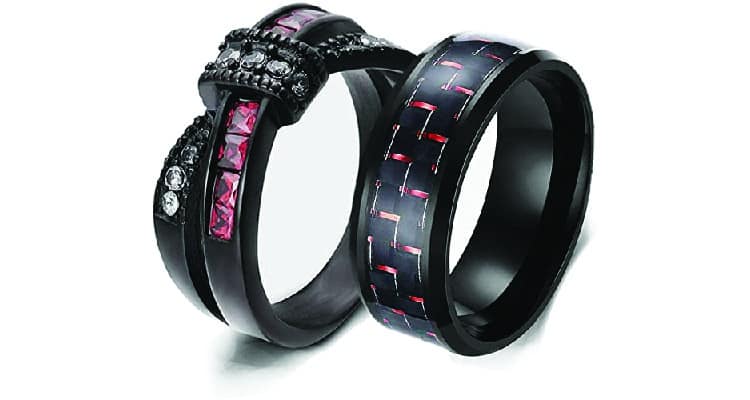 20. Personalized beach towels
The couple that travels together makes cherishable memories together. The next time you head to a beach, don't forget to carry these personalized beach towels along. Whether you soak in the sun or surf on the foamy waves, this towel set is a necessity. Utilitarian and unique, these towels offer the perfect gifting solution when it comes to matching things for couples.
Soft towels made of 50% poly fleece and 50% cotton terry loop
Customization available
High-quality printing that doesn't fade or bleed
Product dimensions: 30 x 60 in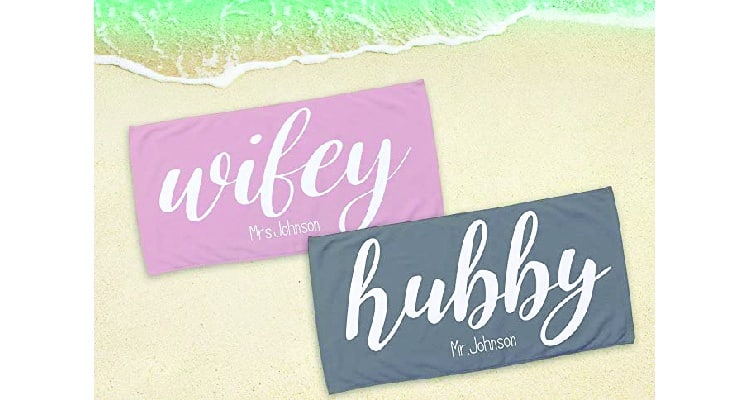 Related Reading: 25 Gifts For Beach Lovers [Gifts For People Who Love The Beach]
21. Toiletry bag for couples
Save yourself from the hassle of checking all the bags to find your toiletries. Get your personalized toiletry bag that will make your travels not only smooth, but smart and fashionable too. Be it newlyweds going for their honeymoon, a couple traveling together, or a thoughtful gift to celebrate a special occasion, this functional and cute matching thing for couples is a must-have.
Made of 60% polyester and 40% cotton-weaved fabric with a lining of 100% oxford nylon
Includes 1 white-colored waffle bag for "Mrs." and 1 black bag for "Mr."
Features 2 zippered compartments and a waterproof lining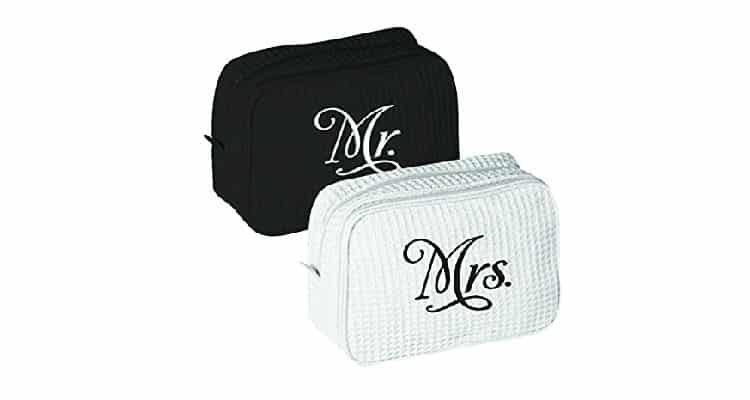 22. Wall hooks
This one is a luxurious piece of home decor. Add your personal touch and hang these wherever you want. Tired of your husband throwing his wet towels around? (We sure are!) These wall hooks will be just the right gift for him then. Not only are these hooks cute matching gifts for couples, but they might also encourage him to clean up after himself.
6 metal hooks for decor
Can be used in bathrooms, bedrooms, entrance
Easy-to-install, modern home decor piece
Comes with the mounting hardware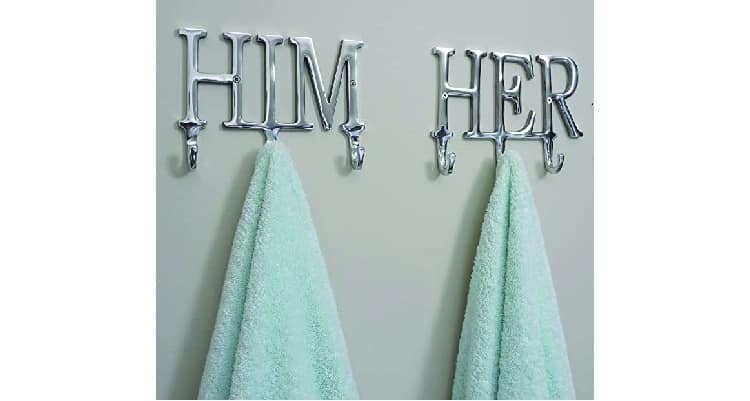 23. Matching baseball caps
Going outdoors with your partner can get more fun when you have cute matching things for couples to flaunt. Channel your sporty vibe with these "Mr." and "Mrs." baseball caps; let the world know you are blessed with the best partner. Be it a picnic, a trek, camping, or a leisurely stroll, these caps will envelop you in love while guarding you against the harsh sun.
Monogrammed caps made of 100% cotton
Features an adjustable strap and a square classic ring closure
Comes in a variety of colors
Related Reading: 35 Useful Gift Ideas For Camping Lovers And Outdoorsy People
24. Love pendant necklace
Matching gifts for couples long distances can make their partners' presence felt even when they are miles away. What better way to embrace your long-distance love than to hang around them (quite literally) in the form of this love pendant necklace? An apt gift for anniversaries and weddings, this one will sweep your partner right off their feet.
Titanium stainless steel necklace for him and her
Lead-free, hypoallergenic, skin-friendly pendant
Inlaid with shining stones, engraved with a love message
Black pendant for him, rose gold for her
25. Apron gift set for couples
Want to pamper your bae on Valentine's day? Go off the beaten track and plan a cooking date night at home. Rustle up each other's favorite dishes, and while you are at it, surprise them with this apron gift set. Thoughtful and functional, this matching couples valentine's gift will get instant approval from your partner. Brownie points for the funny quote!
Package includes oven mitts, aprons, pot holder, and dish towel
Aprons come with adjustable straps
Polyester blend apron measuring 32 x 25 in
Related Reading: 15 At-Home Date Night Ideas For Couples – Romantic Date Ideas
26. Planner for matching couple gifts
Life goals are achieved easily when you have a partner to share the load. Spend your days together, plan your weeks and months in conjunction, and get the shit done together with this planner for couples. This innovative gift is perfect for people who worship their work and like to stay organized.
Set of 2-in-1 planner and journal
Productivity boosting planner to keep a track of everything
Features monthly journal prompts, date night ideas, and blank pages for love notes
Undated pages and blank colored tabs for ease of use
27. Travel set for couples
Bit by the travel bug? Pack your bags and head to your favorite holiday destination along with your partner. Don't forget to get this travel set for your trip to make your belongings stand out from the crowd. Sleek luggage tags and passport covers with a touch of personalization make traveling hassle-free and stylish.
Includes 2 luggage tags, and 2 passport wallets
Made of high-quality and durable PVC plastic
Classic colors of black and white with graphic text in gold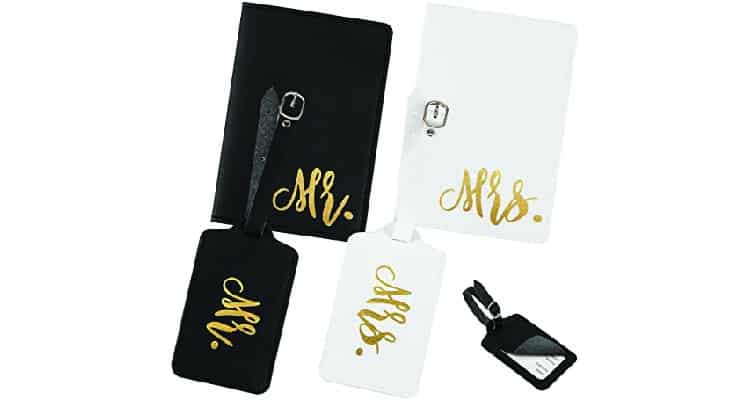 Related Reading: Forgot About The Day Of Love? 12 Last-Minute Quick Valentine's Day Gifts Ideas To Save The Day
28. Clear toiletry bag for couples
A practical and utilitarian gift that denotes your care and thoughtfulness, this set of toiletry bags will allure everyone with its simplicity. A great idea for matching Christmas gifts for couples, this can even insinuate the vacation you have been planning for the holidays. Pair it with our recommended travel set and you are good to vacay in style.
Transparent zippered bags for cosmetics
Travel-freindly and water-resistant
Comes with a strap for hanging
Marked with genders to avoid mix-up
Dimensions: 8.5 x 6 x 1.8 in
29. Couple wedding gift box
What do you do when your BFF is getting married and you want to pamper them silly? You celebrate this special occasion with elan and indulge them with a lavish gift box specially curated with matching couple gifts. A perfect set of gift items that signifies your love, this can also make for a great valentine's day gift for your partner.
Includes a personalized soy candle, a gold-foil "love" matchbox set, and "Mr." and "Mrs." luggage tags, pillow covers, and mugs
Made of high-quality material
Elegant, suave, and classy gift set
30. Couple phone cases
Want to make your partner feel special? Present them with these cute matching couple phone cases. Seemingly humble and simple, these cases are charming as they denote how your partner treats you like royalty. Let your love know how they rule over your heart with this regal phone case for couples.
Light-weight, eco-friendly phone cases
Made of thermoplastic polyurethane silicon
Compatible with Samsung Galaxy Note 20, IPhone 12, IPhone 13, Google Pixel 4A, Samsung Galaxy S10
Now that you have a list of matching couple gifts, you know what you need to do. Narrow down to any one (or more) gifts, surprise your partner, and claim their heart once again. Have a good time shopping and enjoy your special moments together!
21 Wedding Gift Ideas For Couple Already Living Together | 2022
Ask Our Expert
You must be logged in to post a comment.