Looking for unique I'm sorry gifts for her? Then you've come to the perfect place. In this article, we're going to list for you some gift ideas that are sure to melt your partner's heart and bring you together in no time. Sometimes mere words fail to do what a simple, loving gesture or gift can achieve. From DIY apology gifts for girlfriend to attractive presents for wife, you'll find the solution to all your needs here.
No matter how big the argument or how awful the disagreement is, these gift ideas will help to do away with at least some of the tension between you two. Through these gifts listed here, you get to show how much she matters to you and the lengths you're willing to go to for her. Choosing a good apology gift, however, is easier said than done. This is why we're here to help you find the perfect one to please her and make her forgive you.
18 Best I'm Sorry Gifts For Her To Show Your Apology
It's natural for humans to make mistakes, but how they choose to make up for them defines a relationship. With these best I'm sorry gifts for her, you can show her how much you regret your actions and that you're willing to change. Don't worry, anger is temporary, love is permanent! Bring that love to the surface with these amazing gift ideas that'll make her forgive you in a jiffy! We have an array of products here, from cute candles to gift baskets, that'll rekindle your love and dissipate her anger in no time.
1. 'To my wife' blanket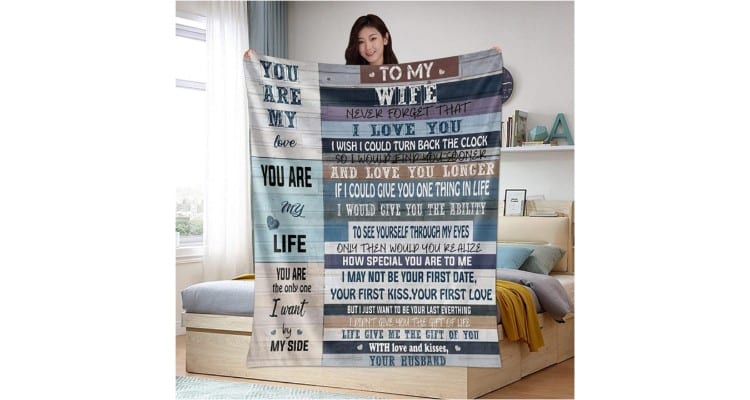 One of the best ways to apologize to your partner is to show her how much she means to you, and what better way to show it than this blanket? This blanket can be used for several functions including, but not limited to, as a blanket, as a baby blanket, on a sofa as well as for traveling. No matter where you are, this blanket can be used without any worry about damaging it. With its flexible usability and the beautiful, romantic messages for your wife, this is one of the warmest I'm sorry gifts for her.
Made using 350GSM polyester
Machine washable; bleach and ironing is to be avoided
Microfleece ensures lightweight and durability; easy to pack
Related Reading: How Do You Apologize To Someone You Love – So They Know You Mean It
2. Engraved personalized compass
When it comes to getting I'm sorry gifts for her, personalized gifts are always going to be a good idea. And this compass not only allows you to tell her how sorry you are, but is also a unique and beautiful product in itself. You can get your message engraved on the top side, inside, bottom side and even on the leather pouch. Not just that, you can choose any font that you'd like or even your own handwriting. You can tell her how much she means to you and how much you regret your actions. The compass has a rustic vintage look about it and can be used as an accessory as well as a home decor item.
Made of brass
Multiple options for customization available
Engrave upto 330 characters
3. Dried fruit gift basket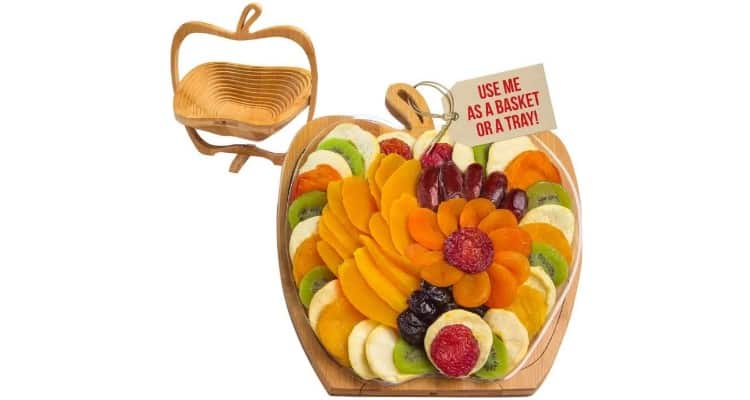 As they say, the circuits of the heart are connected to the belly! So why not present your apology in a delicious gift basket with the choicest of fruits? Including dates, mangoes, peaches, kiwis, pears, apples and more, this gift basket is sure to delight your partner. Especially if she's a foodie – then this would be the perfect idea for I'm sorry gifts for her. What's more, the fruit tray and trivet can be used later for both indoor and outdoor purposes, something to remind you of your little reconciliation.
The tray and trivet can be turned into a basket for outdoor purposes
All contents are vegan and free of any dairy or gluten products
Added sugar to preserve fruits
4. Vilight 'I Love You More, The End, I Win' funny mug
If your partner loves your sense of humor, then why not try something cute and silly to win her over and get her to forgive you? So when it comes to cute I'm sorry gifts for girlfriend, this mug has a simple quote written in golden-colored font that's sure to make her smile and warm her heart. It also comes with an adorable box that is perfectly suited for gifting purposes. Great for any occasion, you can also gift it to her without any reason at all, just to show your love for her.
Can hold up to 11.5 oz of any beverage
Each mug is completely handmade and therefore unique
Made of ceramic
Related Reading: Gift Ideas For Her: 15 Necklaces With Special Meaning
5. Sweet apology coloring book gift
If you're looking for some DIY apology gifts for girlfriend, you wouldn't find a more creative and simpler one than this. Whenever you put in some extra thought or effort in your apology, it indicates your feelings of regret better. This book has 32 sheets of adorable yet honest apologies to ask for her forgiveness. You can tear one sheet from this, or give her the entire book. Coloring it by yourself would show that you put yourself into the gift. This, in turn, would make her forgive you even faster.
Each quote page is single-sided
The cover has a matte finish 
Pages are easy to tear and color on
6. COKOKERT scented candles
Scented candles are one of the best I'm sorry gifts for her. It is because they help her relax and forget all the unpleasant experiences you two might have had. And when a scented candle has a message as unique and as hilarious as this one, it becomes a must-buy gift when offering an apology. The candle has the scent of eucalyptus, sage and seawater as the top notes. The middle notes consist of rosewood and lavender whereas the base notes are made of leather and fir. The candles can be burnt on a date, while sleeping, during a spa session and on many other occasions as well.
Made with completely natural soy wax
Has burning time of up to 50 hours
Jar has a capacity of 7oz
Related Reading: 40 Best Homemade DIY Gift Ideas For Girlfriend
7. 14K rose gold filled blush pearl necklace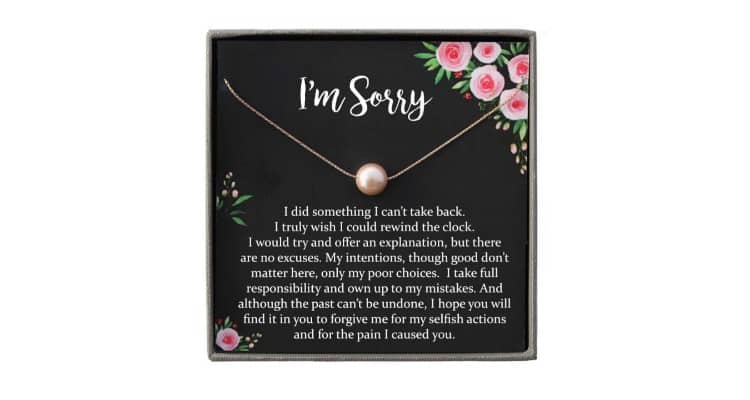 If you're searching for I'm sorry gifts for wife that are both exquisite and gorgeous, this might be just the product you need. Not only does the necklace look absolutely stunning – it's great for anyone no matter what her age or style – it also comes with a message on the beautiful gift wrap. With this fully handcrafted gift, you can show her how much she means to you and the extent of the regret you feel. Pearls are often considered a symbol of love and endurance, so what can be a better gift to ask for her forgiveness than this?
Strong and durable lobster clasp
Product is free of nickel and allergenic substances
Pearl comes with chain of US grade 14K rose-gold
8. Apology gift miniature in a bottle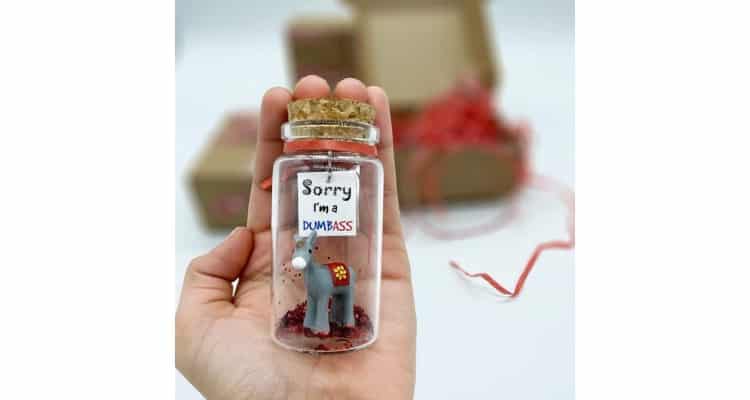 With its small size and adorable yet funny message, this is one truly cute I'm sorry gift for girlfriend. Each product is handmade, which makes them all unique in some way, just like your relationship. Go on, write that line down and tag it with the product when you give it to her! A great alternative to the more conventional gifts such as cards and flowers, the product is as simple as it is effective. It can also serve to break the ice between you two before you have a sincere chat among yourselves.
Comes in a beautiful cardboard box that can be directly used for gifting
Bottle is made of glass, so must be handled carefully
9. I SUCC i'm sorry succulent
Present your apologies with puns and humor using this beautiful gift box containing a soy candle, a box of matches and a live succulent. One of the best I'm sorry gifts for girlfriend, this box is as sensitive as it is thoughtful. Taking a leaf out of the succulent nature of the plant being gifted, the gift box comes with a tag that reads 'I succ, I'm sorry' that will definitely bring a smile to her face(the same way our extra use of puns made you smile too). The box also has the option of having a personalized message printed on it so that you can tell her everything that you want to say but haven't been able to.
Candle is 4 oz, made using 100% soy
Succulent comes in white pot made of high-quality ceramic
Related Reading: 11 Cozy Gifts for Your Girlfriend | Thoughtful and Unique Gifts for He
10. Teddy bear & gift bag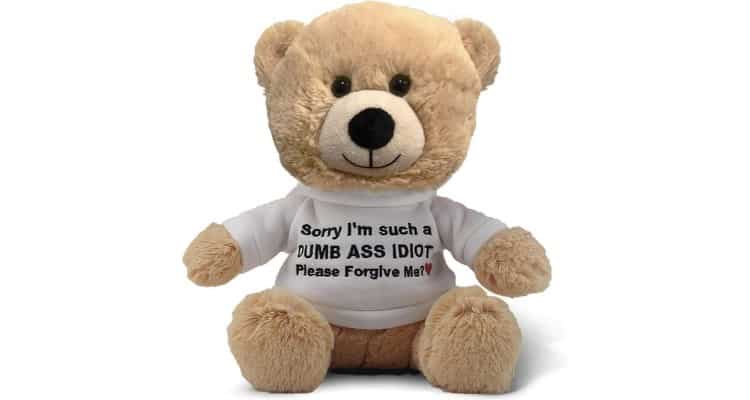 If you're looking for a safer and more conventional apology gift, this should be an easy choice to make. Whether it's I'm sorry gifts for wife or girlfriend, this cute, soft teddy bear is hard to resist. With the adorable sorry message written over the bear's mini shirt and the little gift bag that it comes in, you can be sure that the gift will do its intended task. The bear is made using premium quality material for long life and some extra softness. After you two have reconciled, you can remove the teddy bear's shirt.
Beige-colored bear comes in white cloth bag 
Stuffing is made of recycled materials for more eco-friendly product
Product comes with 1-year warranty
11. Apology card with heart-shaped fossil shell stones
We don't always have the words for what we want to say to our loved ones. To bridge that gap, Smiling Wisdom creates meaningful products that help you speak without speaking. And this product follows that philosophy as well. It allows you to apologize to your loved ones when you're not sure how to say it yourself. The product includes two fossil shell stones along with a greeting card with some beautiful lines. Not all I'm sorry gifts for her have to be funny or gorgeous. Sometimes subtlety and sincerity are the way to go, and in that respect, this is a great product!
Stones are of white-gold color
Fossils are made of natural quartz and should only be cleaned with clean cloth
Keep away from water and chemicals
Related Reading: 33 Best Valentine's Day Gifts For Her | Gift Ideas For Girlfriend
12. I'm sorry greeting card with envelope
Looking for something simple and straightforward? Then you don't need to look any further than this cute greeting card. With a direct message on the cover that says I have made a terrible mistake while the inside of the card says I'm so very sorry!, the product is as simple as it gets. To make your apology even more compelling, there's even a picture of a cute dog on the front of the card! Think this is perfect? Your partner will think so too.
Printed on recycled paper
Notecard is made from thick and long-lasting cardstock
Paper finish is glossy
13. Apology spa gift box set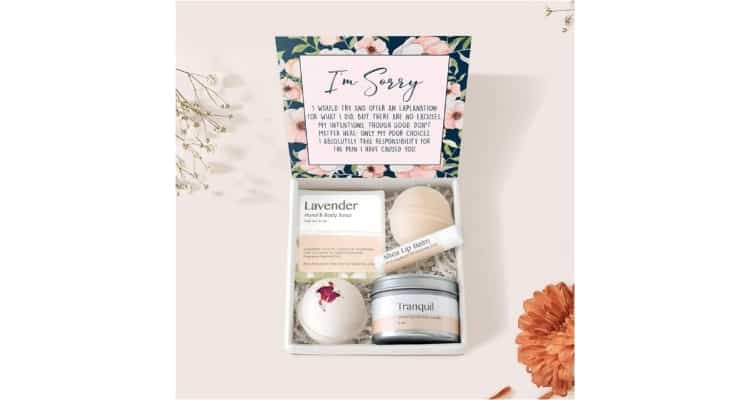 Don't just say "Sorry!" when making amends. Show her. Give her something she will actually enjoy using. And you can be sure this box set will do just that. With scents and fragrances that will help her relax and rejuvenate, you can see why it's one of the best I'm sorry gifts for her. The box set also comes with a greeting card that has a beautiful note written on it, asking her pardon and you can bet she'll find it impossible to not forgive you.
Includes candle, lip balm, 2 bath bombs, soap, greeting card and engraved wooden heart
Candle is made using 100% soy wax and can burn for up to 20 hours
Lavender soap is hand-made and has moisturizing properties
14. Chocolate Gift Basket
Conventional wisdom says that chocolate is the safest gift for any occasion and this is no different! With 15 flavors and 30 chocolates, I'm sorry gifts for her were never this delicious. Show your sincerity by giving her this assortment of fine chocolate flavors that are certain to satiate her palette and her heart. The chocolates come in a stunning gift box that you can use directly for gifting. 
Made with dark, white and milk chocolate
Each piece has been individually wrapped 
Product is vegetarian and kosher certified
Related Reading: 30 Gift Ideas For Women Who Have Everything – Unique Gifts For Her
15. Gold plated artificial rose
Why give her a bouquet when you can give her flowers she gets to keep forever? These flowers have no chance of causing an allergy nor are there any risks of them withering away with time. The gold touch gives them an elegant look that makes them even more favorable as an exquisite apology gift. For those searching for I'm sorry gifts for her that also have an extravagant appearance, this is a great option.
Comes in two color combinations
Package includes one gift box and 6 golden roses
16. 3D pop upward apology card
Does your partner have a sense of humor? Then there are high chances she'll like this cute little gift. With a simple Sorry message on the front and a cute figure holding up a board that says I'm so sorry, the greeting card doesn't do much except tell her what she needs to hear. Because sometimes apologizing without any fanfare or drama is the simplest and most effective way to go about it, which is why this is a great option for I'm sorry gifts for her.
Made of durable craft paper
Card dimensions are 5.9*3.97 inches
17. Apology keychain gift
If you want to give something simple that is simultaneously functional, this apology keychain is one of the best I'm sorry gifts for her. It's built to last, and can also be used as a decorative piece if not as a keychain. The message on the keychain isn't some long-drawn letter filled with excuses, it issues a direct apology. This straightforward approach is often the best way to melt her heart and make her forgive you for any mistake you might've committed.
Keychain comes in beautiful velvet pouch
Made of premium stainless steel
Is resistant to rust and color change
18. Primitives by Kathy 35169 box sign
Sometimes the best way of asking for an apology is by not asking for it. Instead, showing how much she means to you can melt her heart and make her forgive you. Because of its simplistic design, aesthetic appearance and the heartfelt message, this decor piece is one of the best I'm sorry gifts for wife. The rounded corners and worn-off edges of the product give the box sign a more vintage and sincere look which, in turn, accentuates the message. 
Wooden box is black and white in color
Can stand on its own or can be mounted on a wall
Comes in 9 different designs
Now that we've come to the end of the article, I hope you've found some ideas for I'm sorry gifts for girlfriend or wife. Be it the personalized gifts or the simple cards, they are a wonderful way of apologizing and bringing a smile to her face. While it's not advisable to give her a gift every time you commit a mistake, sometimes offering presents as a token of love and regret will leave a lasting mark. And you know what they say – show, don't tell. Well, maybe in this case, a bit of both.
FAQs
1. Do apology gifts work?
There's nothing better than an honest and sincere talk with your partner. However, sometimes, depending on how large the mistake is, taking that extra step never hurts. And that's where the concept of apology gifts comes in. They are a good way of showing genuine regret and a silent promise of not repeating the same behavior in the future.
2. What kind of flower means sorry?
While many common flowers, such as roses and sunflowers can be used to ask for your loved one's forgiveness, the purple hyacinth in particular symbolizes regret. This is why it's the perfect flower, if you're particular about such things, to ask for your partner's pardon.
5 Ways To Make Up If You Forget Your Partner's Important Date