Christmas is almost around the corner and there's hardly any person out there who doesn't get excited about Jingle Bell time! Even though these past two years Christmas has not been celebrated the way it used to be, we can still try to live up to the traditions as much as possible. What are your thoughts on finding some sexy stocking stuffers for your SO to make this Christmas a bit more exhilarating?
It's a magical, wonderful time of the year – but we also know, how tough it is get together some really cute stocking stuffer gifts for our loved ones. The stockings are hung on the mantle (or bedroom walls) with great care every year, and this year we are going to help you fill it up with the kind of stuff that is going to make Santa blush.
This list of naughty stocking stuffer ideas is perfect for your partner who may or may not have been pretty mischievous this year, but will definitely want to be when they see what their stockings have in store. These gifts are a delightful mix of kinky, quirky, and sexy that will guarantee you a spot on the 'Naughty List' (wink).
Sexy Stocking Stuffer Gifts For Your Spouse
When you are buying sexy Christmas gifts for boyfriend, think about the stuff you have both been fantasizing about. Look for something kinky that you always wanted to try in the bedroom or maybe a piece of sexy lingerie to astonish him suddenly and out of the blue! Play with your imagination and get as creative as you can.
If you ask us, we'd say put a few of these 21 sexy stocking stuffers in your partner's stocking this year, and you can both reap the rewards. We have put together a list that caters to all your moods –  from innocent to flirty to downright dirty. So, let's take a look at this well-curated list of special Christmas gifts that you can surprise your partner with!
1. Tropical sensual massage oil
Who wouldn't like a warm, sensual body massage on Christmas night? Plus, it will de-stress both you and your partner as the relaxing massage oil provides an enhanced sensual experience along with relieving your partner's aches and tight muscles. If you are looking for sexy Christmas gifts for wife, this should be your go-to option.
Mango scented tropical massage oil rich in vitamin E
Glides smoothly on your skin
Blend of sweet almond, jojoba and coconut oil
Cruelty-free product filled with botanical extracts
The natural goodness of the ingredients will make your skin look radiant and soft while escalating the massage into a sexier purpose quite effortlessly. So, make sure you slip it into your partner's stocking this year.
2. Golf ball storage bag
Let me guess, this Christmas you want to get a gag gift as a naughty stocking stuffer for him. We believe, this funny-looking golf ball storage bag with the quirky message, "Don't touch my balls", will do the job perfectly! If your spouse takes golfing seriously then he definitely needs this for a good laugh.
Made of microfiber suede leather
Can be easily attached to golf bag thanks to sturdy clasp
Double-stitched Velcro closure to make it durable
Comes with 2 golf balls; has capacity for 6
This storage bag is going to grab eyeballs and is a great conversation starter on the green turf. Your husband will crack up so hard looking at its design and the embroidered line.
3. Soft satin eye mask
Eye masks or sleeping masks can be used on a daily basis for an undisturbed, good night's sleep. But special occasions call for special eye masks, right? These soft satin ones are all about that. These masks come in a classic, sultry black and red color combo to elevate your Christmas night mood even more.
Filters light if you want to use it to sleep
Quality silk binder which is unisex too
Length of 150cm is good enough to fit most people
This blindfold mask is a perfect way to send a signal out to your better half that it's time to channel their inner Christian Grey. You are sure to thank us later for including this in our list of naughty stocking stuffers for her.
4. Truth or Dare bedroom game
Do you have a super clumsy dance partner whose his seduction moves, however, are always spot on? Here's an idea! Play a round of Truth and Dare this Christmas night and trick him into dancing for you. You can surprise your spouse with this sexy stocking stuffer to spice up your holiday season. This gift will help you treat your partner to a fun-filled night after all the presents have been opened.
Contains 50 naughty truths and 50 risqué dares for couples
Challenges are suitable for all sexual orientations
Comes in small, cute tin box which is travel-friendly too
This gift makes for a naughty game for adult couples to help you and your partner connect on a whole new level, aided by these oh-so-kinky suggestions. Tell me, what could be a better example of sexy Christmas gifts?
5. Horny goat weed herbal complex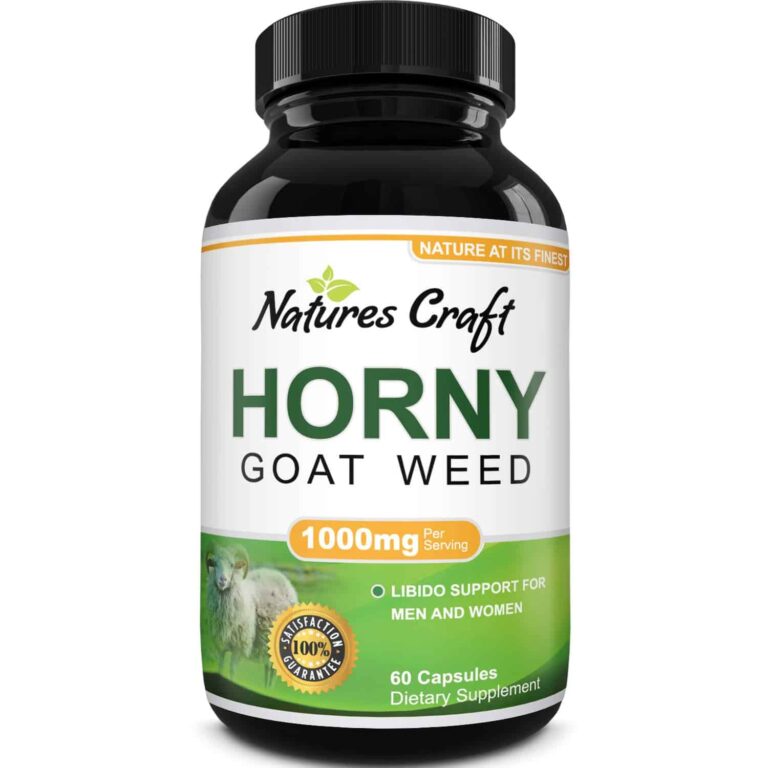 Who wouldn't want a magic pill to help recharge the lust batteries while also increasing sexual vigor, guaranteeing wildness in the bedroom? This Nature's Craft Horny Goat Weed herbal complex serves that purpose and can do so much for you and your partner on Christmas night and many more nights to come. Give this a go and you won't regret this decision!
Pack of 90 capsules, 1000mg per serving
Produced by GMP-certified laboratories in the USA
Increases blood flow and improves sexual performance
Easy-to-consume capsules, suitable for both men and women
This blend of special natural extracts and Maca root powder helps to overcome stress both inside and outside the bedroom. This item should definitely go on your list of naughty stocking stuffer ideas.
Related Reading: 8 Reasons You Should Wear Lingerie For Yourself First
6. Mint chocolate chip flavored lube
Doesn't this sound too good to be true? If you or your partner are a fan of classic mint and choc-chips, well, you can take your love for it further this Christmas. This yummy flavored lube is going to get your partner excited as soon as they discover it in the stocking.
Water-based, edible lubricant (food grade and sugar-free)
Compatible with various toy materials and natural rubber latex
Safe for vaginal and anal use and very easy to clean
Free of toxic parabens, glycerin, silicone and oil
So choose this edible mint chocolate chip flavored lube to complement the natural lubrication of your bodies and draw out the utmost pleasure from foreplay. And the best part is that the flavor will last as long as you do, pun intended.
7. Sex dice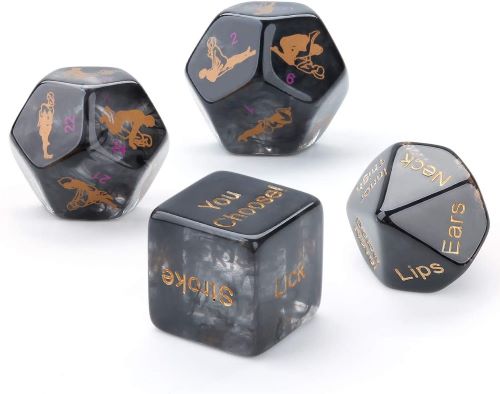 If you and your partner are on the verge of calling yours a vanilla relationship, it's time to spice things up a bit! Would you like to make every night exciting with your lover throughout the Christmas week? Then today is your lucky day because we have just the thing for you. Throw some sex dice into the equation and you got yourself a fun adult game for couples to make it interesting and how!
Contains a 12-sided body parts dice and 8-sided action dice
You can generate up to 96 erotic actions by rolling them together
Comes with an explanatory booklet with detailed notes and enlarged pictures
High-grade resin dice with clear graphics
This black, marble, sex dice set from Dalliance make for perfect sexy Christmas gifts. You and your partner can roll the dice as and follow Fate's bidding! Also, it comes with additional kinky tips. So, as we say, keep the dice rolling and the fun going!
8. Red lips temporary tattoo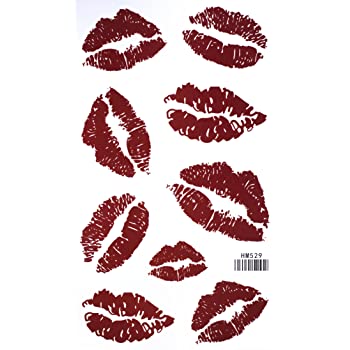 Does your partner complain that you don't give them enough kisses? Well, this is your chance to prove them wrong. These temporary red lip tattoos can be used on any part of the body and are super easy to apply and remove as well. And we are pretty sure your partner will have plenty of places to stick them on.
Apply on clean and dry skin — remember to keep an eye out for any irritation
Use baby oil or rubbing alcohol to remove it
Waterproof sticker tattoos
Not meant for children
These temporary red lip tattoos are super affordable and serve as a fun and naughty stocking stuffers for him. They look very real on your skin and last for up to seven days.
Related Reading: 12 Health Benefits Of Kissing
9. Fun sex coupons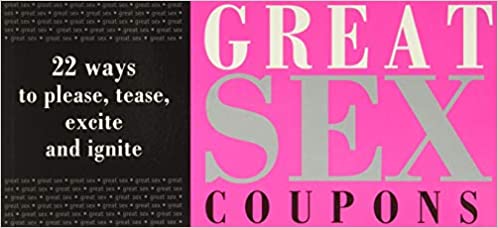 Have you lately been feeling that your bedroom scene lacks fireworks? Would you go so far as to say, that it's dull? Well, have to help you remedy the situation, don't we?. A fun pack of intriguing sex coupons is a perfect and ingenious Christmas stocking stuffer idea for your partner. It's a kinky and naughty gift option and comes with a ton of creative ideas to juice up your nightly activities.
Voucher book of 22 tear-out coupons
Each card comes with fun sex act that you can engage in with your partner
Comes in illustrated, paperback format
This deck of sex coupons is suited for all kinds of couples! The vouchers can be 'en-cashed' on demand and they come with an unexpected twist every time.
10. Humorous Christmas men's boxers
You know what a woman finds sexy in her man? It's when he puts on a show for her in sexy — maybe even funny — underwear with a kinky playlist going on in the background. Humor is an all-year round gift, and this particular gift offers plenty of it. These funny and cute red Christmas boxers for your male partner are sure to leave him with a smirk on his face.
Made of high-quality cotton blend fabric
Very soft and comfortable on the skin
Stretchy and breathable – good to wear all-day through
This sexy stocking stuffer is designed in such a way to make it seem as Santa's bag of gifts is THE true gift, placed as it is in the prime position, and you and your partner can share a good laugh over it. If you both have a wicked sense of humor, this sexy Christmas gift for him is the way to go.
11. Massage oil candle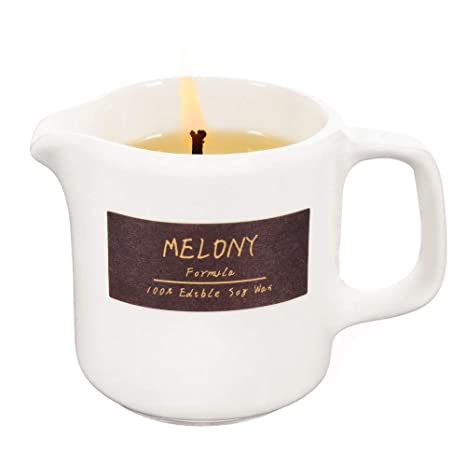 This edible massage oil cum scented candle is a way of doubling the pleasure and the fun. Not only is it a beautifully scented candle that relieves all your stress, but it also works as a massage oil. You can light it up to create the perfect mood in your bedroom and it will conveniently melt into massage oil. Don't think twice and order this as a sexy Christmas gift for wife and indulge in some sexy, sensuous activities.
Smokeless, 100% natural soy lecithin candle
Rich in essential oils and vitamin E to make your skin smooth and soft
Lead-free wick and lovely aroma
You can reuse cup once candle is finished
This massage oil scented candle comes with an irresistibly sweet honeysuckle and galbanum fragrance that has a calming effect on your senses. 
Related Reading: How To Make Him Want You More? Try Our Fail-Proof 10 Tips
12. Ring for sex bell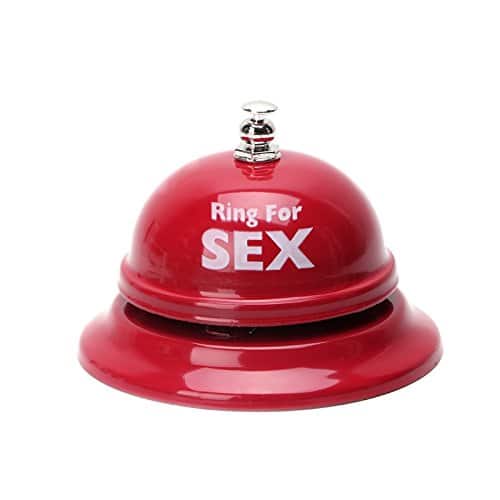 We bet your partner will love the idea of 'sex on tap' or 'at the ring of a bell'. That's what they'll get with this gift option. You just have to ring it and ding-dong, dinner will be served, pun intended. This is a really fun and quirky stocking stuffer idea for your partner this Christmas. It can also be used at a bachelorette party or even at a naughty Santa party, as per your wishes.
Super cute novelty gift item
Beautiful and sleek design with 'Ring for SEX' printed
Trust me, this is one of the best gag gifts you can find as naughty stocking stuffers for her. So, get your hands on this red 'Ring for sex' bell and watch how the fun unfolds on Christmas night!
13. Leather condom case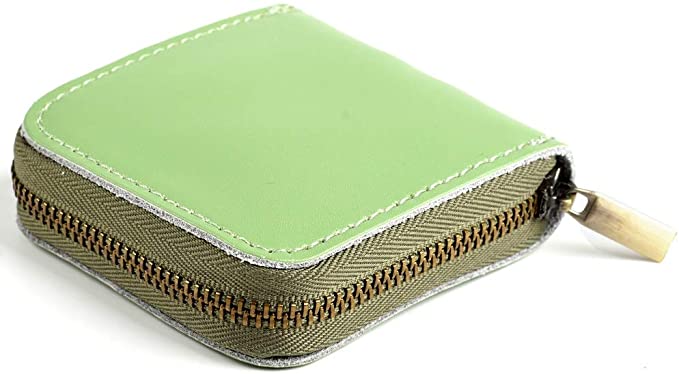 If you are looking for a naughty yet useful gift option for your partner's stocking stuffer, which also has a message to deliver, this leather condom pouch could be a potential candidate. This leather condom case is a handy way to ensure that you and your partner always engage in safe sex. Its clutter-free elegant design makes for a great gift for minimalists as well.
Genuine leather material, very soft to touch
100% handmade product with smooth-gliding zipper
Fits almost all sizes of condom packets from different brands
You can carry up to 4-6 condoms in it
This small leather condom pouch comes in a bunch of different colors and is the perfect shape and size to fit in any kind of Christmas stocking.
14. Edible candy thong
This is such a fun and naughty gift option that both you and your partner are going to go gaga over it. Stuff this in your partner's stocking and witness their reaction! This candy thong looks like it is made up of candy and we need not say more. Fair warning, keep it away from the kids.
Edible thong – doesn't that sound yum?
Multicolor candies stringed together
Great gag gift
This is sure to add such a fun and quirky twist to your holiday night. You and your partner can have a great laugh over it. Not to mention a shared sugar rush…
Related Reading: 10 Creative Ways To Tell Your Woman That You Want Sex
15. Kama sutra weekender kit
Since we're talking about sexy Christmas gifts, boy have we got the coolest choice for you. Yes, we know what you are thinking, that you can't possibly fit an entire kit in a Christmas stocking, but this kit comes with travel-sized portions for 'fun' on the go. This kit comes with kissable body treats and even a sexy feather tickler that is going to fit in your partner's stocking perfectly.
Includes liquid, sensual, lubricant and sweet honeysuckle, honey dust
Non-sticky almond massage oil has an amazing fragrance
Well-built wooden duster with quality feather
Pamper yourselves at home with the spearmint pleasure balm and a cooling body gel. What more could one possibly ask for in a kit? This kit ensures your Christmas night is all sorted and sizzling.
16. Secret message personalized collar stays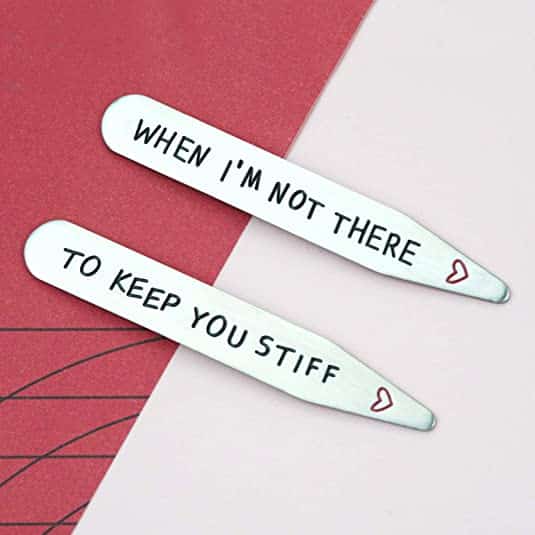 Are you on the lookout for a way to build a stronger connection with your SO but want to do it ever so subtly by dropping hints here and there? Well then, it would seem that this gift option has been made just for you. Send some cute notes to surprise your man with these naughty stocking stuffers for him.
Set of 2 stainless steel collar stays
They are very lightweight and hypoallergenic
Fun messages inscribed on them with a little heart toward the edge
Comes in ready-to-present gift box
You can drop a secret message like 'When I am not there to keep you stiff' — hehe! How clever! He's sure to receive the message loud and clear, and hurry home to you before the day ends.
17. Roleplay wrist cuffs
So, if you are all set for a little role-playing and ready to get your sexy Santa on, this gift is going to be the cherry on the cake. We are talking about wrist cuffs and blindfolds. Buy these sexy Christmas gifts for boyfriend and set Christmas night on fire!
Crafted from quality leather
Each cuff includes chain to be adjusted to fit most wrist sizes
Binds hands quite firmly making them perfect
This pair of plush wrist cuffs is comfortable, safe as well as portable. The pretty purple color and inner fur lining give them a sexy, naughty vibe.
18. Cologne for him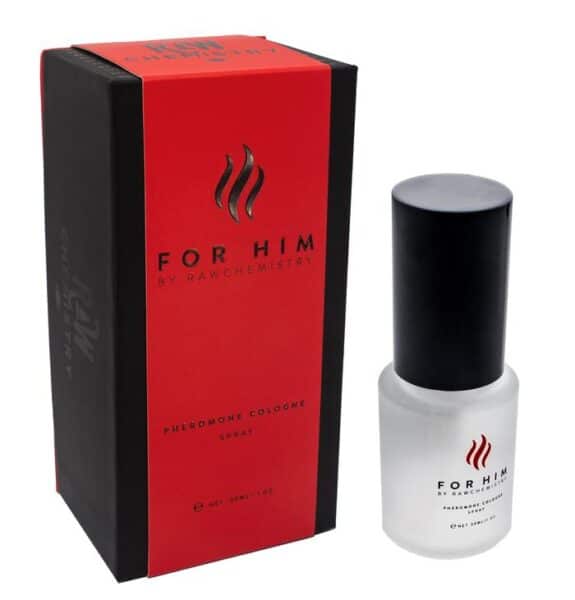 Don't you think that your partner is at his sexiest when he is smelling clean, fresh and oh-so delicious? Indeed the science of scent tells us why nice-smelling people attract more attention. Out of our many naughty stocking stuffer ideas, this one is going to ensure that your spouse will be smelling heavenly on Christmas night.
Very masculine cologne with enticing smell
Made up of patented blend of scents
Entirely alcohol-free formula
Beautiful luxury packaging, best for gifting
This Pheromone Cologne from RawChemistry is sure to make him smell great leaving you, powerless and him, irresistible. Also, it is one of the best-selling, award-winning colognes available for men .
19. Santa boxer and cap set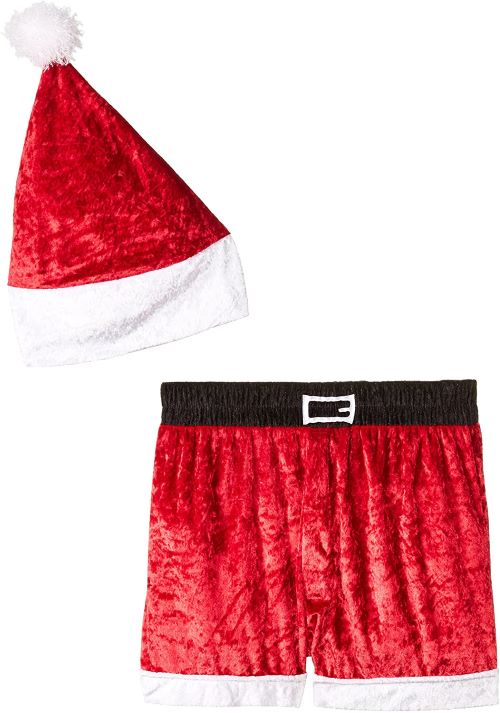 There's no better time than Christmas to sit on Sexy Santa's lap and tell him what you desire this year, am I right? This Christmas, whisper all your mischievous deeds and plans into your partner's ear and provide him with everything he needs to fit into the role of Sexy Santa. How is he going to punish his naughty, little, sexy elf though?
Imported items made of 100% polyester
Available in wide range of sizes
Pull-on closure for boxers
Machine washable
Buy this pair of velour, red, Santa boxers and the red cap as your sexy stocking stuffers this year. It's a fun gifting option and also comes in a green color if you would rather get down and dirty with one of Santa's elves rather than Santa.
20. Naughty quote mug
We are pretty sure your husband or boyfriend is going to have a Cheshire cat smile on his face when he brings this cat (mug) out of the bag (stocking). This mug has a naughty message on it that'll make him want to display it as a trophy…'Thanks for all the orgasms'. Isn't that an award that every spouse wants from their partner?
High-quality, white ceramic mug
Graphic print on both side
Won't fade even after multiple washes
Holds 11oz and is dishwasher-friendly
This funny and kinky mug is definitely going to be one of the Christmas gifts that stand out for him.
21. Red Santa babydoll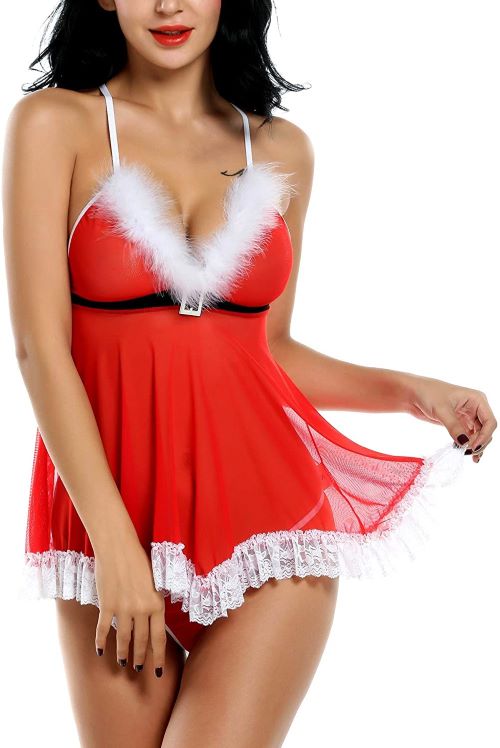 You must be wondering why we took so much time to get to the lingerie part of the list, but we were saving the best for the last. Do your wife's honeymoon lingerie pieces always stare at you from the wardrobe while life passes you leaving you with zero time to try out more sexy options? This is your chance to get some naughty stocking stuffers for her and you can never go wrong with lingerie.
Soft and comfortable material with lace and mesh combination
V-neck design and spaghetti straps
Sexy babydoll lingerie comes with G-string
Get this Christmas-themed red babydoll for your wife or girlfriend and enjoy your Christmas night with your own, personal, sexy Santa. You certainly won't be able to resist the temptation of such a hot and sexy Santa in your bedroom.
Tips And Tricks To Choose The Right Sexy Stocking Stuffer
To choose from this list of naughty stocking stuffer ideas, you have to first think about the kind of bond you share with your partner. You will know best as to whether you both enjoy a mushy, romantic kind of love or a more lustful, can't-keep=our-hands-off-each-other kind of love. This will help you zero in on the right naughty stocking stuffer gift options that you will both actually enjoy. Also, if you feel your relationship has been running on the same track for quite some time and want to spice things up, there is no better opportunity than a sexy Christmas stocking stuffer waiting to spark off the action. Here are a few more tips to keep in mind while choosing the sexy stocking stuffer for your darling partner:
Tenure of relationship: It's a very crucial thing to keep in mind whether you have been in the relationship for a short or long time. We definitely don't want to come across as too strong or scandalize our newfound love with kinky and sexy gifts. So, it's important that you are both on the same page regarding this matter. So, always make sure to be 100% positive that this is an okay thing for you to gift.
Within budget: We know money is not an issue when it comes to gifting our loved ones, but stocking stuffers should essentially be within a specific budget and not too rough on the pockets. That way, you can fill up your partner's stocking to the brim and make sure that you both have a naughty and fun-filled Christmas night.
Gives a clear signal: Now, sexy and kinky gifts are all about getting your message across as clearly as possible to your partner. You could do so by dropping subtle hints or sending across a very clear message. Whatever be the gift you choose, make sure it sends out all the right signals and matches the frequency wavelengths with your partner to make the most of your holiday nights.
Memorable and special: And finally, the most important thing to keep in mind is that you should choose a naughty gift for your lover that is a memorable one, and not something that they will throw under the bed and forget about until its time for spring cleaning. Make sure to get them something that they have been wanting for quite some time, but were too feeling shy to buy for themselves. They may feel too intimidated or nervous to buy something pleasurable for themselves, so you can do the job for them.
So, now you are more than equipped with all the knowledge that you need as far as this particular gifting department goes. Your partner is going to be so happy and thankful that you came across this article and gave it a read. This list of sexy stocking stuffers that we have provided above has something for everyone and is perfect for turning your Christmas night from drab to fab in a blink of an eye. Even if you are reading this just before Christmas, we are sure you can get most of these gift items delivered on time.
21 Harry Potter Gifts For Adults [Choices For Die Hard Fans Only] | 2022
21 Trending White Elephant Gifts Everyone Will Fight For | Best Fun Gift Ideas
12 Things To Consider While Gifting At The Workplace | Christmas Gift For Coworkers