Christmas is almost around the corner, and there's hardly any person out there who doesn't get excited for jingle bell time! Even though this year, Christmas is not going to be exactly like other years, but we can surely try to live up to the traditions as much as possible.
It's a magical, wonderful time of the year – but we also know, how tough it is to ponder and get together some really cute stocking stuffer gifts for our loved ones. The stockings are hung on the mantle (or bedroom walls) with great care every year, and this year we are going to help you fill it up with such stuff that is going to make even Santa blush.
Related Reading: [In A Hurry] 🎄🎄 21 Last-Minute Christmas Gift Ideas | Christmas Shopping List
This list of sexy stocking stuffers is perfect for your partner who has (or rather not) been naughty this year, and you are all set to change that. These gifts are a mix of kinky, quirky, and absolute jackpot prizes that are definitely not on the nice list.
Stuff a few of these 21 naughty stocking stuffers in your partner's stocking this year, and you both are sure to reap the rewards. We have put together a list that comes in all variety – from innocent to flirty to downright dirty. So, let's take a look at this well-curated list of special Christmas gifts that you can surprise your partner with, this Christmas!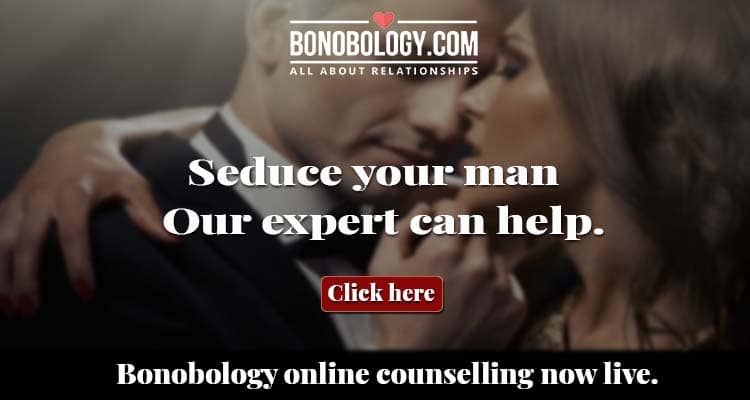 1. Natural Edible Body Massage Oil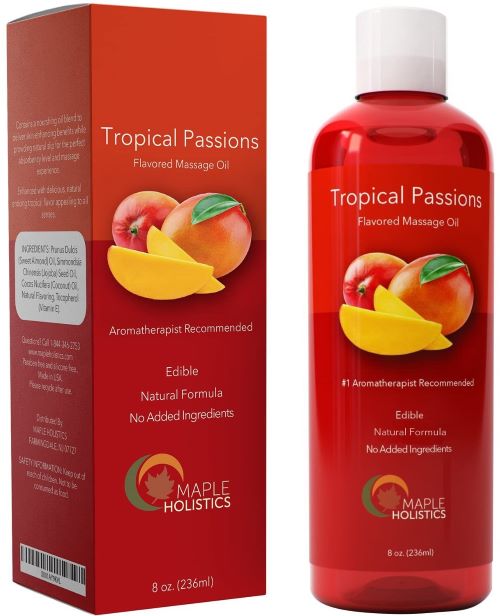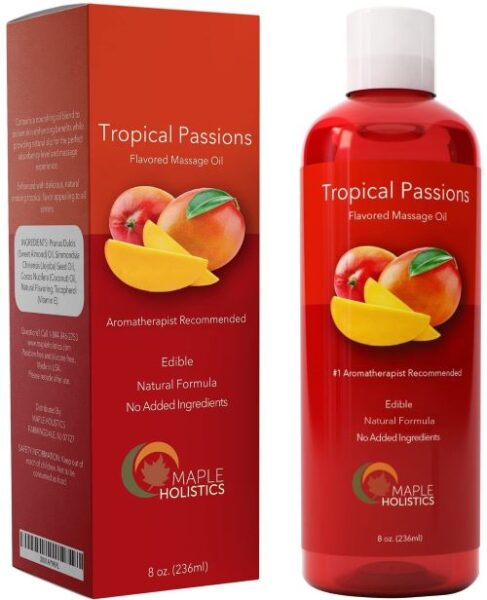 Who wouldn't like a warm, sensual body massage on Christmas night? Plus, it will de-stress both you and your partner as the relaxing massage oil provides an enhanced sensual experience along with relieving all aches and pains.
This edible massage therapy oil from Maple Holistics comes in two flavors, berry and tropical. It has all kinds of good things which will make your skin look radiant and soft, while escalating the massage into a greater purpose quite effortlessly. So, make sure to fill it up into your partner's stocking this year.
2.Golf Ball Storage Bag
This funnily shaped golf ball storage bag with a quirky quote "It takes balls to golf" is a perfect gift for him if he is even remotely into golf. Even if he isn't this gift surely makes for a good laugh.
This high-quality ultra-suede golf ball bag from My Sack is surely going to grab all eyes, and is a great mode of conversation starter on the green turf. It also comes with two balls complimentary, and has capacity to hold 6 balls.
3. Truth Or Dare Bedroom Game
This Truth or Dare bedroom game from Chronicle Books makes for a naughty game for adult couples, and is filled with 50 flirty truths and 50 super risky dares that can't be discussed outside the bedroom door. These compact tins are perfect to throw in a bag for an impromptu vacation and helps you and your partner connect on a whole new level, aided with some much-needed kinky inspiration.
4. Humorous Christmas Men's Boxers
Christmas calls for some humor, and this gift has plenty of it. This funny and cute red Christmas boxers for your male partner is sure to leave him with a smirk on his face.
This is a high quality soft cotton red boxer brief from Jasona 247 and is a perfect stocking stuffer this Christmas season. It is designed to show as if it's Santa's bag of gifts in the prime position, and you and your partner can share a good laugh over it. So, what are you even waiting for?
5. Soft Satin Eye Mask
Eye masks or sleeping masks can be used on a daily basis for a good, undisturbed night of sleep, but special occasions call for special eye masks right? These soft satin ones are all about that.
This blindfold, ribbon-satin sleeping mask from Ukissim is a perfect way to send a signal out to your better half that it's time to channel their inner Christian Grey. These come in classic, sultry black and red color to elevate the Christmas night mood even higher. You are sure to thank us later for including this in our list.
6. Horny Goat Weed Herbal Complex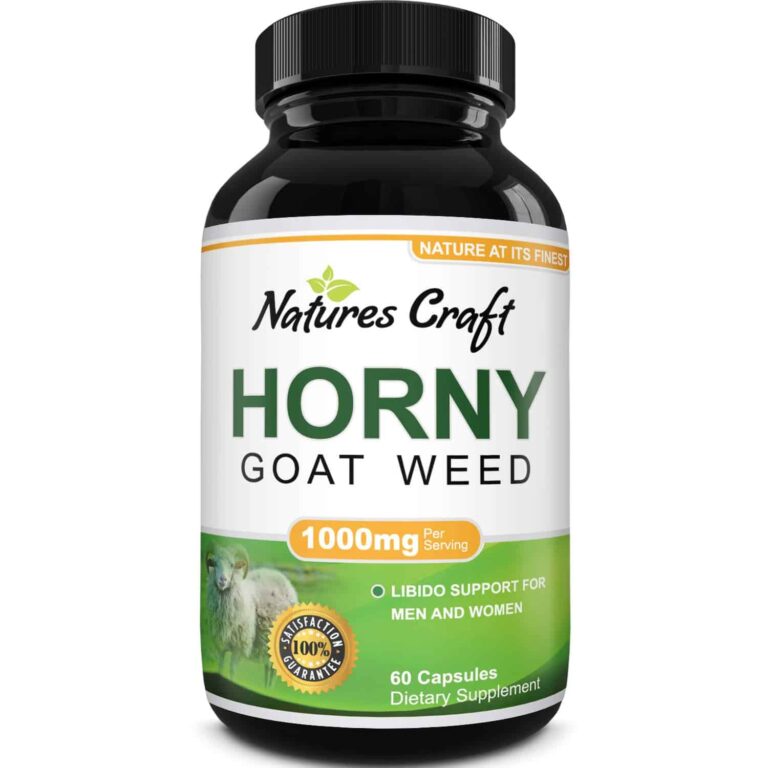 This Nature's Craft Horny Goat Weed herbal complex serves its purpose and can do ever so more for you and your partner on Xmas night and many more nights to come. This blend of special natural extracts & Maca root powder helps to overcome stress both inside and outside the bedroom. These easy-to-consume capsules are suitable for both men & women.
7. Sex Dice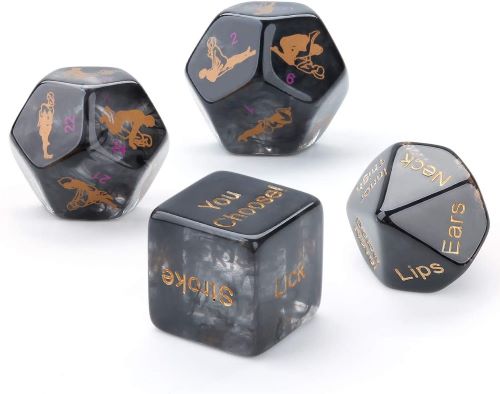 Are you seeking to spice up every night with your lover following Christmas night this year? We have just the thing for you. Sex dice games for adult couples are a great way to make your nights interesting and how!
This black marble-themed sex dice set from Dalliance comes with a 34-sex position booklet, making it an adventurous Christmas stocking option. You and partner can roll the dices as and how you wish to unravel what this game leads to. Also, it comes with additional kinky tips. So, as we say, keep the dice rolling and fun going!
8. Mint Chocolate Chip Flavored Lube
Doesn't this sound too good to be true? If you or your partner is a fan of classic mint and choc-chip, well you can take your love for it a few extra miles this Christmas. This yummy flavored lube is going to get your partner excited as soon as he/she discovers it in the stocking.
So choose this edible mint chocolate chip flavored lube from Lube Life and use this high quality, completely chemical free solution for all your lube needs. And the best part is that the flavor will last as long as you do, pun intended.
9. Red Lips Temporary Tattoo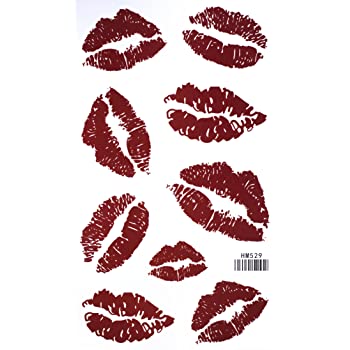 Does your partner always complain that you don't give them enough kisses? Well this is your chance to prove them wrong. These temporary red lips tattoos can be used on any parts of the body and are super easy to apply as well as remove with the help of baby oil.
Related Reading: 12 Health Benefits Of Kissing
This set of temporary red lip tattoo from King Horse is super affordable, and serves as a fun stocking stuffer for your special person. And we are pretty sure your partner will have plenty of places planned to stick these tattoos on. And they are waterproof too.
10. Santa Boxer and Cap Set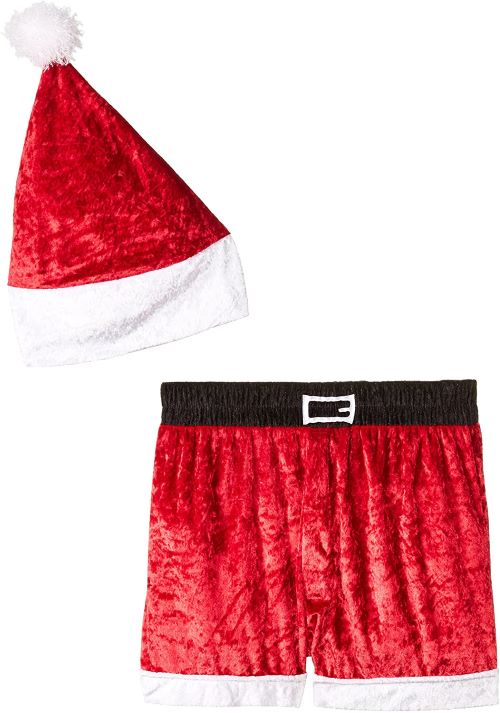 It's no better time than Christmas to sit on sexy Santa's lap, right and telling him what you actually desire for this year? This Christmas, signal your partner all about your mischievous deeds and plans and provide him everything needed for him to fit the role of Sexy Santa.
You can do just that by stuffing his stocking with this velour red santa boxer set from Intimo and it also comes complete with a red cap. It's a quite fun gifting option and also comes in a green color option if you are more fascinated by Santa's elves rather than Santa.
11. Secret Message Personalized Collar Stays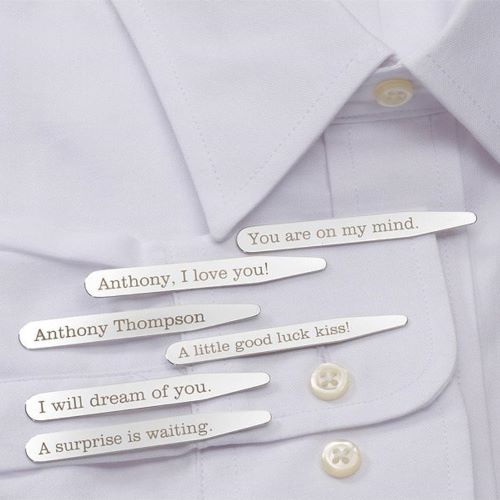 Are you on the lookout for a way to spice up your married or love life but want to do it ever so subtly by dropping hints here and there? Well, this gift option is a match made in heaven for you then.
These personalized hidden message collar stays from Personalization Mall is a great stocking stuffer idea for your partner this Christmas. You can drop a secret message like "You are on my mind", "A surprise is waiting for you at home" or even a simple "I miss you" and it is sure to pull your partner towards you before the day ends.
12. Fun Sex Coupons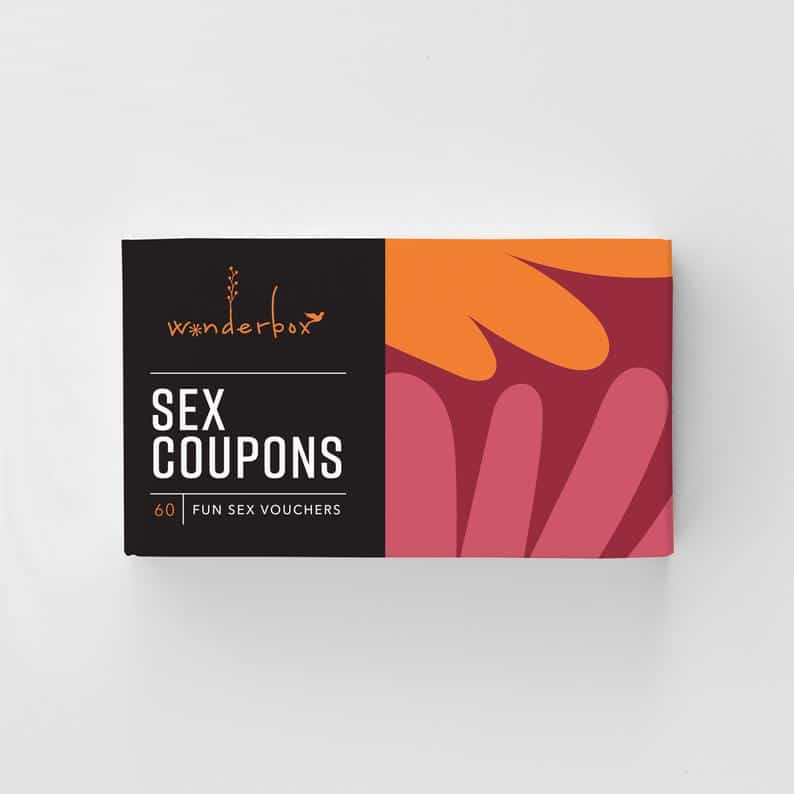 This fun and sexy set of 60 sex coupons is a perfect and ingenious Christmas stocking stuffer idea for your partner this year. It's a kinky and naughty gift option and comes with ton of creative ideas to spice up your Christmas night along with many more nights to come.
Related Reading: 21 Wedding Gift Ideas For Couple Already Living Together | 2020
This deck of 60 sex coupons from Flytrap Life is suited for all kinds of couples and each card comes with a fun sex act which you can engage in with your partner. These vouchers can be 'en-cashed' on demand and comes with an unexpected twist every time.
13. Massage Oil Candle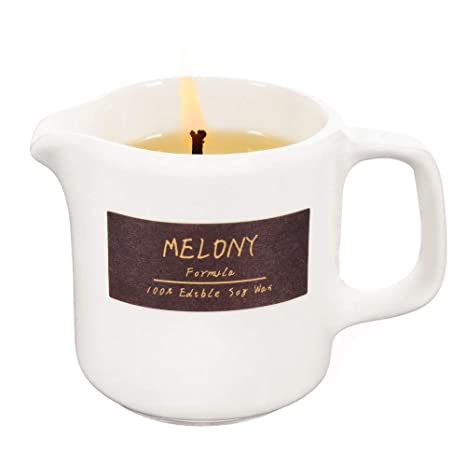 This massage oils/scented candles is a source of double the pleasure and double the fun. Not only is it a beautifully scented candle to relive all your stress, but it also doubles up as massage oil. You can light it up to create the perfect mood in your bedroom and it will conveniently melt into massage oil.
This massage oil scented candle from Melony is made up of 100% natural soy lecithins, and formulated with essential oils to care for your skin leaving it nourished and soft. Also, it comes with an irresistible, sweet honey suckle Galbanum fragrance that has a calming effect on your senses. 
14. Leather Condom Case
If you are looking for a naughty yet witty gift option for your partner's stocking stuffer, which also has a message to deliver, this leather condom pouch could be a potential candidate. This leather condom case is a handy way to ensure that you and your partner always engage in safe sex.
This small leather condom pouch from Dodo Leather comes in a bunch of different colors and is n perfect shape and size to fit in any kind of Christmas stocking. This button leather pouch is well-made and minimal, and is surely going to be appreciated by your better half.
15. Red Santa Babydoll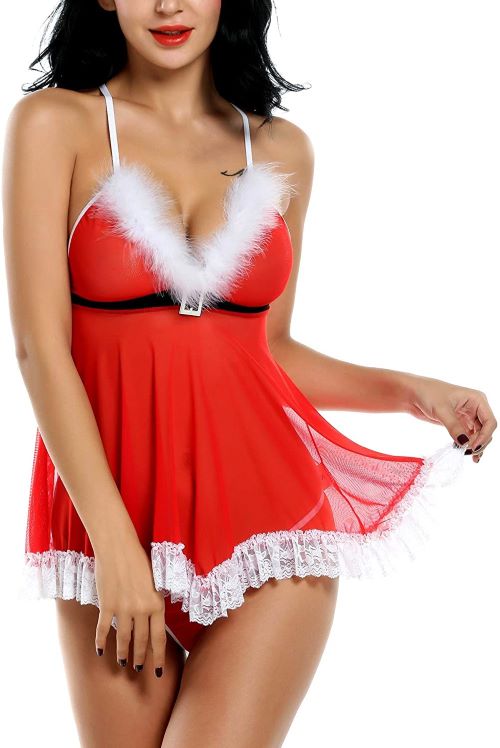 Get this Christmas themed red Santa babydoll from Avidlove for your wife or girlfriend and enjoy your Christmas night with your own personal sexy Santa. This babydoll is made out of soft lace and mesh and will ensure to accentuate the best features of your lover and you won't be able to resist the temptation of such a hot and sexy Santa in your bedroom.
16. Ring For Sex Bell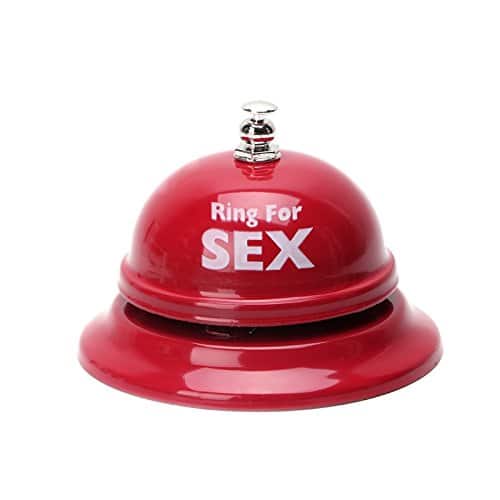 We bet your partner will love the idea of sex at the ring of a bell with this gift option. You just have to ring it and dinner will be served, pun intended. This is a really fun and quirky stocking stuffer idea for your partner this Christmas.
So, get your hands on this red ring for sex bell from Big Fun and watch how the fun unfolds on Xmas night. It can also be used in a bachelorette party or even in a naughty Santa party, as and per your wishes. So, if you want to have fun in the bedroom, order this for the holiday season now!
17. Edible Candy Thong
This is such a fun and naughty gift option that both you and your partner is going to go gaga over it. Stuff this in your partner's stocking and witness his/her reaction and yes, do keep it away from the kids.
This edible candy thong from Busuna looks like a thong is made up of candy and we need not say more. It is surely going to add such a fun and quirky twist to your holiday night. And you and your partner can have a great laugh over it. So, are you excited, because we definitely are!
18. Kama Sutra Weekender Kit
Yes, we know what you are thinking, that you can't possible fit an entire kit in a Christmas stocking, but this kit comes with travel sized portions for 'fun' on the go. This kit comes with kissable body treats and even a sexy feather tickler that is going to fit in your partner's stocking real well.
Related Reading: Sex Positions For Maximum Pleasure For Women
Get this weekender kit from Kama Sutra which includes a sweet almond massage oil, love liquid sensual lubricant, sweet honeysuckle honey dust, spearmint pleasure balm and a cooling body gel. What more could one possibly want? Get this kit and ensure that your Christmas night is all sorted and sizzling.
19. Plush Pink Wrist Cuffs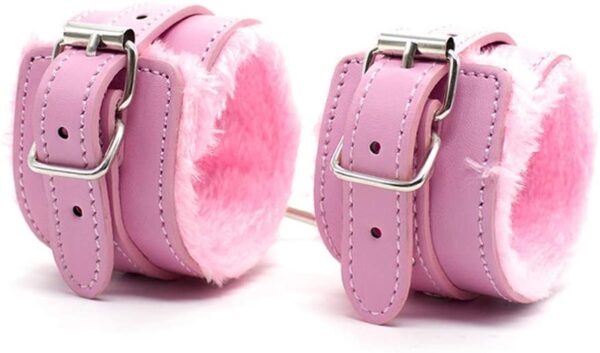 So, if you are all set to get into the mood for role-play and sexy Santa this X-mas night, this gift is going to be a cherry on the cake. We are talking about none other than wrist cuffs and blindfolds.
This is a plush pink set of wrist cuffs and a leather blindfold from HSBHSJ which is going to be really loved by your partner. It is made up of good quality PU leather, safe, comfortable, as well as really portable. The size can be easily adjusted to fit any wrists and the cute pink color and inner fur lining is to die for.
20. Cologne For Him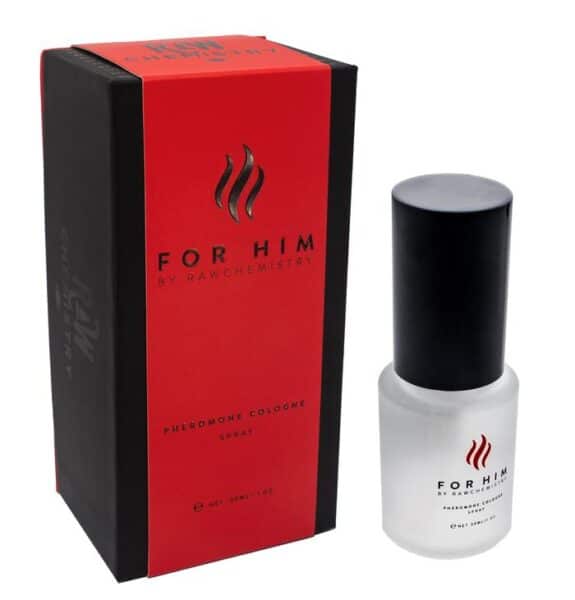 We all feel that our partner is at his sexiest when he is clean and smelling delicious, right? This stocking stuffer is going to ensure that your spouse will be smelling utmost heavenly on Christmas night.
This Pheromone Cologne from Raw Chemistry is sure to make him smell great and you won't have any chance of resisting him. This cologne is made up of patented blend of scents which are trusted to entice and attract. Also, it is one of the best-selling, award winning cologne options for men in the market.
21. Naughty Quote Mug
We are pretty sure your husband or boyfriend is surely going to have a Cheshire smile on his face when he brings this cat (mug) out of the bag (stocking). This mug has a naughty quote on it saying "Thanks for all the orgasms" and is an award that every spouse wants from their partner.
Related Reading: Things about the female orgasm that you didn't know

 
So, get this funny yet kinky mug from Such Mugs and it is going to be one of the Christmas gifts that stand out for him. These are high-quality, easy to use; microwave and dishwasher safe, as well as the printed message won't get rubbed off.
Tips And Tricks To Choose The Right Sexy Stocking Stuffer
Kind of relationship: Well, one of the most important things to realize first and foremost is the kind of bond you share with your partner. You will have a clear idea as to whether you both enjoy a mushier, romantic kind of love story or a more lustful love. This will help you decide on the naughty stocking stuffer gift options that you can actually explore. Also, if you feel your relationship has been running on the same track for quite some time and want to spice things up, there is no better opportunity than a sexy Christmas stocking stuffer waiting to do the honors.
Tenure of relationship: Another very crucial thing to keep in mind is whether you have been in the relationship for a short or long time. We definitely don't want to be coming across as too strong or scandalizing our new found love with kinky and sexy gifts. So, it's very important that you both are on the same page in this matter. So, always make sure to be 1000% positive that this is an Okay thing for you to gift.
Within budget: We know money is not a matter when it comes to gifting our loved ones, but stocking stuffers should essentially be within a specific budget and not too harsh on the pockets so that you can fill up your partner's stocking to the brim and make sure that you both have a naughty and fun filled Xmas night.
Gives a clear signal: Now, sexy and kinky gifts are all about getting your signal across as clearly as possible to your partner. You could do so by dropping subtle hints or send across a very clear message. Whatever be the gift you choose, make sure you send out strong signals and match the frequency wavelengths with your partner to make the most of your holiday nights.
Memorable and special: And finally, the most important thing to keep in mind is that you should choose a naughty gift for your lover that is a memorable one, and not something that they will throw under the bed and forget about it for the rest of their lives. Make sure to get them something that they have been wanting for quite some time, but were feeling shy or weird to buy it for themselves. They may be too intimidated or too nervous into findings something pleasurable for themselves, so you can do the job for them.
So, now you are more than equipped with all the knowledge that you would ever need in this department of gifting for the rest of your lives. Your partner is going to be so happy and thankful that you came across this article and gave it a read. This list of sexy stocking stuffers that we have provided above has something for all, and perfect for turning your Christmas night from drab to fab in a blink of an eye. You can get all of these gifts on the most common and popular online shopping platforms, and even if you are reading this just before Christmas, we are sure you can get most of these delivered on time.
21 Harry Potter Gifts For Adults [Choices For Die Hard Fans Only] | 2020
21 Trending White Elephant Gifts Everyone Will Fight For | Best Fun Gift Ideas
12 Things To Consider While Gifting At The Workplace | Christmas Gift For Coworkers