If your girlfriend is all about earth loving, then this list of sustainable gifts for her will present you with ideas for the perfect eco-friendly gifts which will make her go weak in the knees. It's commendable how your girlfriend or the woman you are planning to give this gift to is looking after our planet. It is high time people wake up to plastic pollution and do their part in saving the planet.
Instead of buying things one doesn't really need and contributing to unnecessary waste, it is time you consider being kinder to the environment when it comes to gift-giving. All you have to do is buy an eco-friendly gift for your girlfriend, mom or sister. Along with them, even the earth will thank you for it. 
Ethical And Eco-Friendly Gifts For Women
Shopping is a delightful mix of thoughtfulness, joy, creativity and fun. But when you add an element of green to the mix, you take the whole act of gift-giving to another level. These are gifts for minimalists who care about our planet. Some people think that cool eco-friendly gifts don't really exist. To prove them wrong, we have curated the following list of sustainable gifts for women that aren't just cool but also useful and attractive-looking. 
1. Canvas tote bag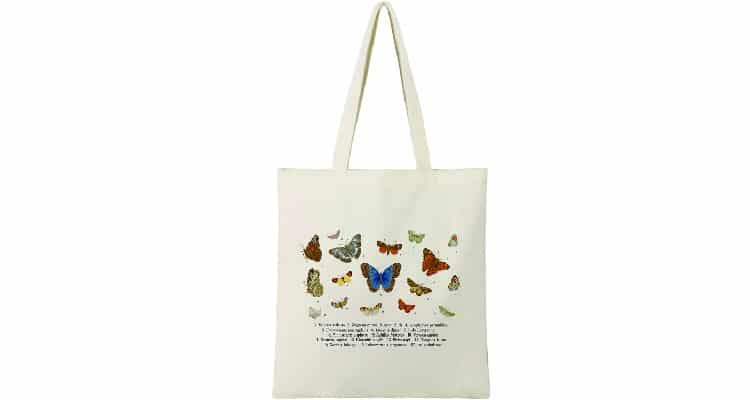 Imagine your girlfriend is going grocery shopping or has to run some errands. Make her trip to the supermarket more stylish and environment friendly with these cute canvas tote bags. She can put her daily necessities in this bag such as her phone, wallet, books and sunglasses. 
100% high quality 12 oz cotton canvas
Thicker material than most canvas tote bags
Has neat overlocking and durable handles in suitable size convenient for both hand holding and shoulder toting
Has 2 special inner pockets 
Related Reading: 15 Unique And Useful Wedding Gifts For Older Couples
2. Premium coconut bowls with spoon
This is hands down one of the most unique and sustainable gifts for her as these bowls are completely made from 100% natural coconut shells. The bowls are individually hand-crafted. The forks and spoons are made of ebony wood without ink, chemicals, or dyes. It also comes with straws made from bamboo.
If your girlfriend or mom loves environmentally friendly gifts, then these products, with their natural looks, will make them very happy. What makes this gift more special is that every coconut bowl is unique with its own shape, size, color and imperfections which gives it its natural appeal. The natural grains of the coconut shell stand out and its natural color will go with all of her dinner settings and themes.
100% natural without chemicals or plastics and completely environmentally friendly
Can be used to replace your potentially harmful plastic and fragile kitchenware
Made from high quality, thick coconut shells to ensure durability
3. Cork hanging indoor planter
Gift your girl this planter to spruce up her indoor decor. Cork is a brilliant yet very underestimated material as its harvest doesn't require cutting down plants which helps in maintaining wildlife diversity and reforestation. If your girlfriend is all about saving plants, then this is one of the best sustainable gift ideas as this planter is biodegradable, renewable and recyclable.
With this modern minimalist addition, she can create a healthy living environment for her plants. Some of the plants that will thrive in these beautiful, breathable planters are ferns, pothos, ivy and spider plants will thrive in these breathable planters.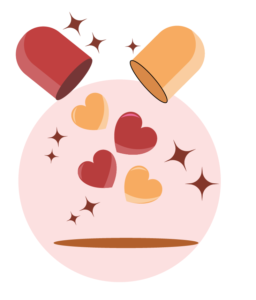 Get your dose of relationship advice from Bonobology right in your inbox
Comes with drainage hole and plug for drainage
Made from durable recyclable cork
Cork is porous making it a lightweight alternative to ceramic
4. Eco-friendly pens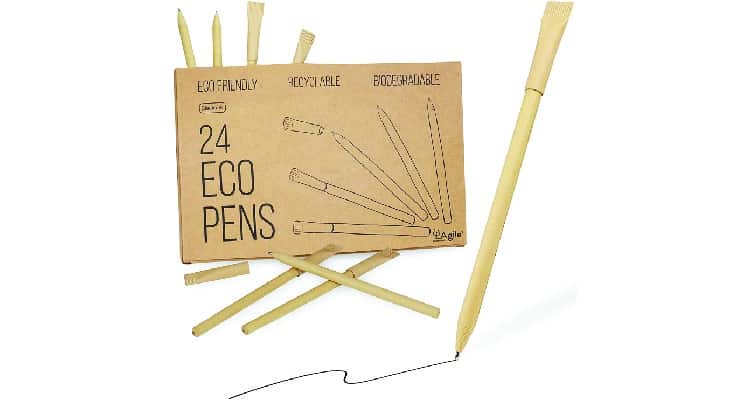 These paper biro pens with black ink are made from natural materials. The barrel and lid are made from entirely recyclable kraft paper tape. Some "green" pens have plastic ink cores, but these use premium stainless steel ink cores which are completely recyclable. This is one of the best sustainable gifts for her as this entire product is eco-friendly.
Made from kraft paper which can be decorated, labeled, and personalized
Use stainless steel cores to help reduce plastic pollution
Pack includes 24 tactile and lightweight black biro pens that are comfortable to hold
Multipack will last you a long time, helping to further reduce carbon footprint
5. Colorful stainless steel straws
Thanks to these stainless steel straws, the environmentally-conscious women in your life can now enjoy their iced coffee, tea or water happy in the knowledge that they're not adding to unnecessary plastic waste. This is a safe and suitable alternative to plastic straws; aside from being bad for the environment, plastic and stained straws are unhealthy too. It's time to surprise your girlfriend who cares a lot about the environment with these eco-friendly gifts.
Long-lasting, easy-cleaning and eco-friendly; each metal straw can be reusable and last for years 
Extremely durable and sustainable. No bending or breaking, rust proof and fade-proof, recyclable and environmentally-friendly
16pcs stainless steel straws are made of food grade 18/8 stainless steel
BPA free and lead free, non-toxic, non-plastic and no metal taste or after-taste
6. Tea infuser glass water bottle with bamboo lid
If your girl is always on the go, how about this water bottle made from toxic-free borosilicate glass, is one of the best green gifts for her. Along with a glass bottle, it can also be used as a tea infuser. She can simply take her favorite drinks with her in this bottle which comes with a tea strainer and neoprene sleeve. Gift her this and watch how an eco-friendly lifestyle can spice up your dating life.
Made of toxic-free borosilicate glass which is extremely safe and BPA free
Multifunctional – comes with detachable tea infuser and strainer
Can be used as tea bottle or fruit infuser bottle; effectively filter tea leaves/fruit dregs while enhancing purity and taste of your drink
Sealing ring made of non-toxic, tasteless and high temperature resistant silicone rubber material
7. Cotton beach towel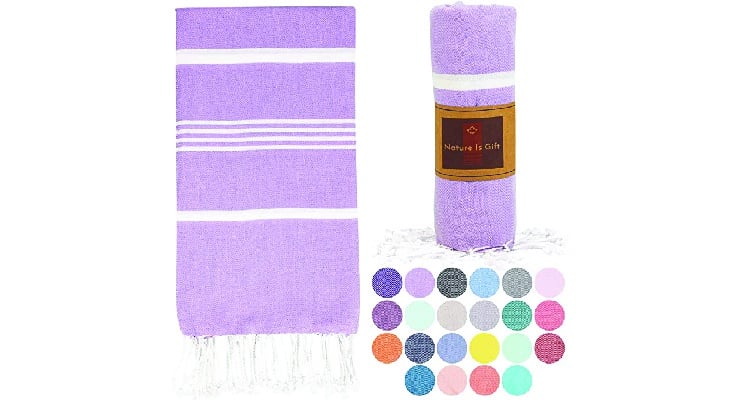 Your beach loving girlfriend will be absolutely delighted to receive this gift. Made from 100% cotton and natural dye, this is one of the best sustainable gifts for her ase these are thinner than terry towels. Peshtemal bathroom towels are incredibly quick-drying, making them less prone to annoying smells.
Pestemals are unisex and multipurpose towels
Can be used at home, in spas, gyms, poolside, on the beach
Can also be used as Sarong, Pareo and scarf
Lightweight and take up much less storage space; great for travel
Related Reading: 41 Best Gifts For Mother-In-Law – Thoughtful Gift Ideas To Impress Her
8. Eco friendly coasters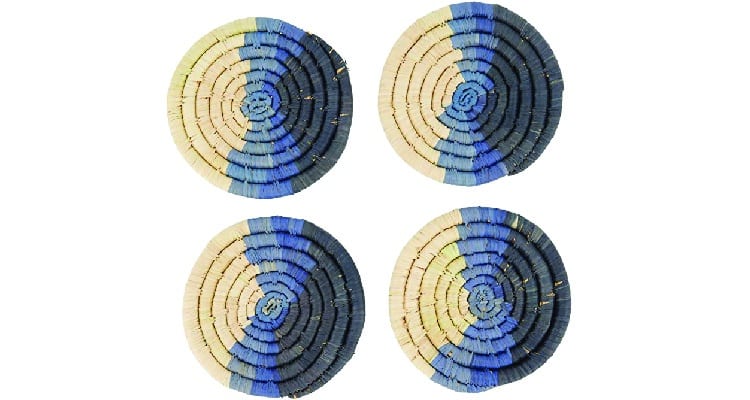 Designed and meticulously handcrafted by skilled artisans out of eco-friendly raffia grass, these beautiful, elegant, and practical 4-piece coaster sets make the best green gifts for her. These are handcrafted in Uganda and Rwanda.
Enhance any table or room while protecting sensitive furniture
Woven with eco-friendly raffia and dyed using organic colors
Hand threaded, wrapped and coiled then reinforced with structural stitching
9. Hedgehog dryer balls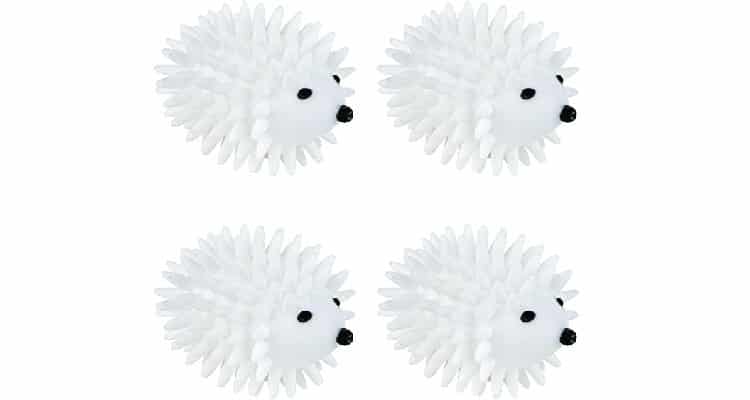 Did you know that dryer sheets aren't exactly the best thing for the environment? We didn't know that either before we set out to curate a list of eco-friendly gifts. These dryer balls are reusable and can make your clothes soft and static-free without creating waste. And what's more? These hedgehog dryer balls are affordable gifts for her which are too cute to resist.
Natural alternative to fabric softeners, dryer balls cut waste and reduce need for chemicals
Tumbles in dryer to lift and separate laundry allowing hot air to flow more efficiently
Soft spikes of the cute, cheerful hedgehogs massage fabrics to naturally fluff up and soften
Decrease wrinkles, static cling and tangling of all fabrics in dryer
10. Spider claw hair clip
Help your girlfriend be kind to her hair and the earth with sustainable gifts for her such as these spider clip hair accessories. This is the first-of-its-kind accessory line from Goody that is made with materials such as ocean-bound recycled plastic, and plant-based or renewable materials like bamboo. 
Slide-proof grip for all day wear
Small size for versatile styles
Packaged with recyclable kraft paper and zip ties made with plant-based materials
Affordable, high-impact style with low impact on the environment
Pack includes 4 clips in different colors
11. Cork yoga mat
Here's a great sustainable gift idea for the girl who loves doing yoga. Satori Concept is a premium brand whose values are embodied in their unique design, iconic logo and brand philosophy, "Connect with your true self". 
Portable, anti-slip travel yoga mat, convenient to carry around all day
Made from 100% all-natural, sustainably sourced organic cork and recyclable rubber
No PVCs, TPE's, toxic glues, silicone, phthalates or other harmful chemicals – 100% non-toxic to help save mother nature
Significantly durable yet lighter than most extra-large yoga mats
12. Birchwood pine scented candle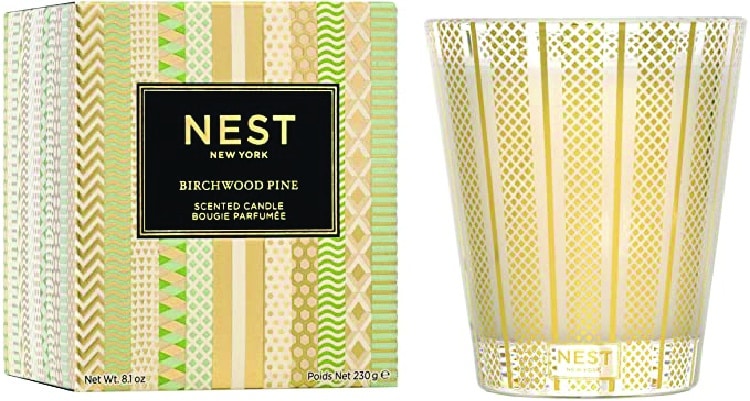 Candles are always a great gift idea. With these decorative scented candles, she can fill her home with a beautiful, luxurious fragrance to suit any mood. These long-lasting candles are made of proprietary wax that is formulated to burn cleanly and evenly for 50–60 hours. These are the perfect sustainable gift ideas for her as this candle has artfully blending notes of the familiar, the exotic, and the unexpected for a fragrance experience like no other.
8.1 oz scented candles
Available in variety of luxurious, evocative fragrances
Vegan and made without animal testing

 13. Recycled laptop sleeve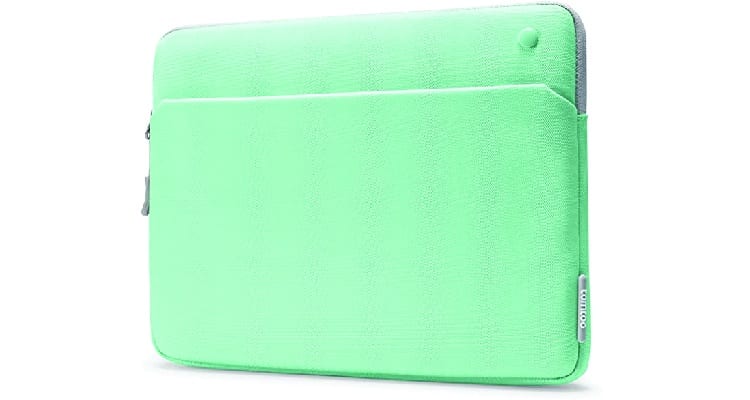 Gifting is one of the little things to make your girlfriend happy. So how about these premium quality, recycled laptop sleeves for your corporate girlfriend to make her feel special? They are a great idea if you're still looking for practical and sustainable gifts for women. It has shock-absorbing padding with soft fleece material which provides a silk feel. Give your girlfriend this environmentally friendly gift that'll make her feel and look good.
Large pocket for laptop or tablet, two additional storage spaces for carrying accessories such as charger, power adapter, cable, hub, apple pen, earphones, etc
Durable, water-resistant material external to protect laptop from scratches, dirt, rain
Slim and lightweight
Magnetic closures on front small pocket allow for hassle-free and quick access to your tablet accessories, phone, earphone, etc
Related Reading: 40 Unique Gifts For Sister To Make Her Feel Special
14. Bamboo pillowcase set
If you are thinking why a satin pillowcase has made its way to this list of sustainable gifts for her, then here is the answer – bamboo fabric is sourced from one of the fastest-growing plants on Earth which also happens to be renewable and sustainable. This bamboo pillowcase is less likely to tear and lasts much longer than its cotton or silk alternative. 
Features moisture-wicking and quick dry properties
These temperature-regulating pillow cases help get rid of night sweats, prevent tossing and turning, and respiratory issues due to overheating
Silky soft and smooth to the touch, reduce facial creases and wrinkles, and keeps your hair safe from harm, breakage, tangling and snagging
Pilling and fade resistant; becomes softer with every wash
15. Eco-friendly chopping board
Did you know that when wooden cutting boards absorb and retain water, bacteria and mold starts to grow? That's why a non-porous cutting board for the kitchen is so important. This wood fiber cutting board is BPA-free, has a high-density surface, is made from premium wood fiber to give the look of wood but doesn't require the same kind of maintenance. Definitely one of the best sustainable gifts for women.
Eco friendly cutting boards provide hypoallergenic food preparation surface for every meal
Equipped with a juice groove on one side to prevent liquids from spilling onto the counter
Easy-grip hole for convenient storage
Non-slip silicone corners/feet grip countertop surface prevent the board from shifting during use
16. O'Hara Des Fleur preserved roses
Flowers are the way to a woman's heart, especially roses. These real roses will last a year without the need to be watered and this makes them the perfect sustainable gifts for her. Flowers are the most beautiful way to show someone they are special and you love them. Surprise your girlfriend with these long-lasting roses as a symbol of your lasting love. These are gift ideas for women who have everything.
These preserved roses are 100% real, processed using eco-friendly science 
Exude a luxurious floral scent – free of any artificially added fragrances
Come in a bouquet arrangement inside a premium luxury gift box
Non-toxic, farm fresh, preserved flowers come in various colors. 
Flower boxes can be used as centerpiece as well
17. Macrame photo display
This macrame, wall decor, photo display is a casual, artistic way to display your favorite photos and prints.  Your girlfriend can hang it on a wall and create a lovely and homely vibe in her living space. What a gorgeous and eco-friendly way to decorate one's home.
Easy to add and remove pictures using removable wood clips 
Made of cotton cord and wood dowel; strong and durable
Comes with 30 removable wood clips
Size: 17″ Width x 42.5″ Length measuring from top to the ends of the longest fringe
 18. Floral luxury soap gift set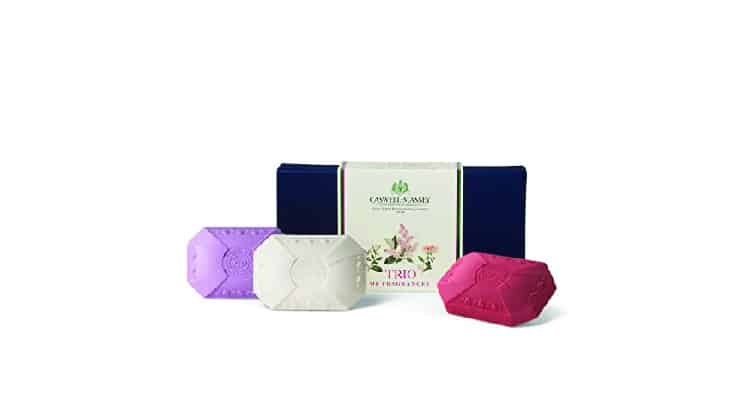 A long, relaxing, indulgent bath is a great way to indulge in some me-time. These long-lasting soaps are triple-milled to outlast and outperform regular soap and contain glycerin to lock in moisture and ensure softness and hydration after every bath. Gentle and moisturizing, these soaps are delightfully fragranced with essences of flowers from the New York Botanical Garden.
This is one of the best sustainable gift ideas for her as these soaps are paraben-free, sulfate-free, phthalate-free and never tested on animals. Green gifts that smell like a graden – what can be more delightful?
Lilac is fresh and delicate
Gardenia evokes the fragrance of early spring 
Honeysuckle is lush and ambrosial
Wrapped in premium gift packaging
We hope you've not only found what you were looking for, but have also made notes for future gifting purposes. These are a variety of sustainable gift ideas so you can not only give thoughtful presents to your girlfriend, but also have a lighter impact on the planet. 
26 Lovely Gifts For Your Boyfriend's Mom | Useful Gift Ideas
30 Matching Couples Gifts – Cute Matching Gifts For Him And Her