Relationships that are not based in blood can still be your family. Your stepmother is as much a mother to you as your biological mother, and that is exactly why we are here to give you a list of gifts for your step mom to make her day extra special.
Movies have consistently portrayed stepmothers in a terrible light but it is not always true. Your brave stepmom has taken on the role of being your bonus mom and that says a lot about how much you mean to her. It is time to return the favor.
Whether you have given her a hard time while trying to accept her, or you just want to make her feel like the super amazing mom that she really is, these gifts for your step mom will really make her feel accepted and loved.
Start off by thinking about what your stepmother really likes. This will help you choose a very thoughtful gift. Things are always easier when you know what you are looking for. That being said, let us take a look at our list of best gifts for stepmom. Whether you are looking for a list of step mom mother's day gifts or gifts for your step mom during Christmas, these gift ideas will surely make her feel loved and cared for.
32 Best Gifts For Stepmoms To Show Love And Care
Don't worry if you are running out of step mom gift ideas to turn into reality. We have an abundance of ideas for you, and these gifts range from customized and creative to wholesome and heartwarming. Often, choosing a present seems way more difficult than it really is. But everything seems to fall into place when you first decide the kind of vibe you want to give out with your gift. Is it going to be sentimental in nature, or funny and loving?
Choose the mood and proceed accordingly to get your stepmother the best possible gift. So, what are we waiting for? Hop on and take a look at our list of gifts for your beloved step mom.
1. Kodak Moments customized portrait
This is the first entry on our list of gifts for step mom, and we know you would want to take this traditional yet heartwarming route to her heart. A beautiful family portrait to tell your step mom that she is a part of the family now. With this, you let her know that you believe in the importance of making new memories with your beloved bonus mom while safeguarding the old ones!
Multiple sizes to choose from
Printed with fade-resistant and environment-friendly latex-based inks
The canvas is semi-scratch and spill-resistant
Related Reading: 38 Best And Useful Gifts For Mom That She'll Actually Love
2. Bonus mom necklace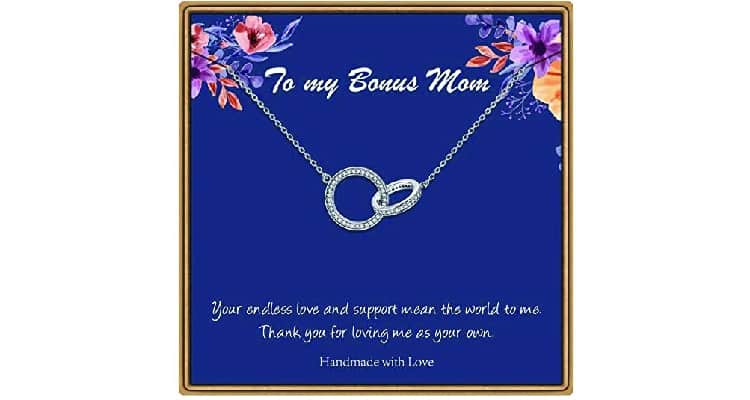 This bonus mom necklace is the prettiest thing to make your stepmom's day extra special. The necklace is beautiful on its own. However, the message you see on the box is really warm and accepting.
You get to see a small "To my bonus mom" message, on top of which the necklace is placed elegantly. One of the most affectionate presents for your stepmom.
The chain comes in a size of 18 in and is adjustable
Made with high quality material
White gold-plated
3. Wholesome keychain
Sometimes, you don't really have to think way outside the box. A simple thing like a keychain can do the trick as well, more so when it says "DNA doesn't make you family, love does". She will definitely be super happy to be on the receiving end of such thoughtful gifts for step mom.
Plus, we are in constant need of keys and if she has been finding it difficult to manage a couple of them, this beautiful keychain will surely be a blessing to her.
Comes packed in an elegant velvet pouch
Made of stainless steel
A warm message for your stepmom is printed on the keychain
Related Reading: 40 Best Birthday Gifts For Mom To Make Her Feel Special
4. Ring dish with a message
Talking about subtle gifts that showcase a whole lot of love, this ring dish is up next on our list of best gifts for your stepmom. Besides, there are messages like "Thank you for loving me as your own" and "Thank you for being the mom you didn't have to be" that will make her feel so loved.
The overall positivity that you can get from something as small as this trinket dish is unparalleled. Not mentioning it as one of the best gifts for step mom would have left this list incomplete.
Multiple messages to choose from
Roughly 4 in x 4 in
Made of high quality and durable ceramic
5. Thoughtful coffee mug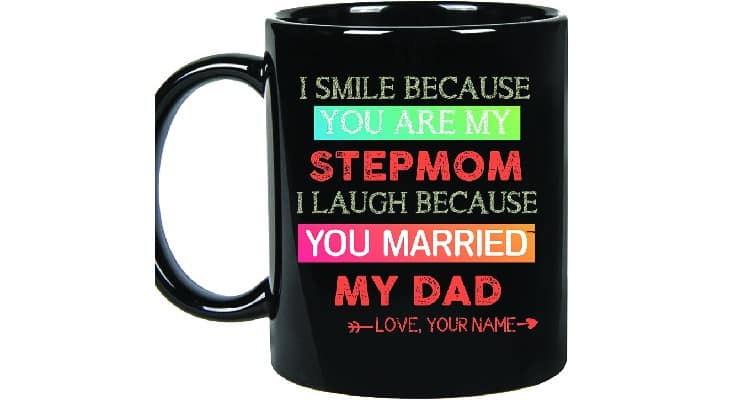 This coffee mug is the cutest mug with the sweetest little message out there. What's more, you can have your name custom-printed after the funky message printed on the mug. It is one hell of a funny gift that you would want to buy to see your precious stepmom crack up. Customized gifts are the best gifts and this mug is hands down one of the best customized gifts for your step mom.
11 oz to 15 oz capacity options
Made using excellent quality of ceramic
Printed on both sides
6. Specially made tumbler for stepmom
It doesn't matter what the occasion is. You may be looking for a mother's day gift for your step mom or you may be looking for versatile presents for step mom that she will actually use. Either way, this "Best Bonus Mom Ever" tumbler is all that she needs.
It has a double wall insulation to keep drinks warm or cold for hours on end. Besides, your step mom doesn't just get the tumbler. There is a metal straw and a cleaning brush that comes with it as well. Even if you decide to go with some other gift for now, do keep this in mind when you are looking for step mom gifts for Christmas.
1.9 lb capacity
Comes in a wonderful blue color
Made of stainless steel
Related Reading: 23 Best Gifts For Grandparents – Thoughtful Gift Ideas
7. Spa gift basket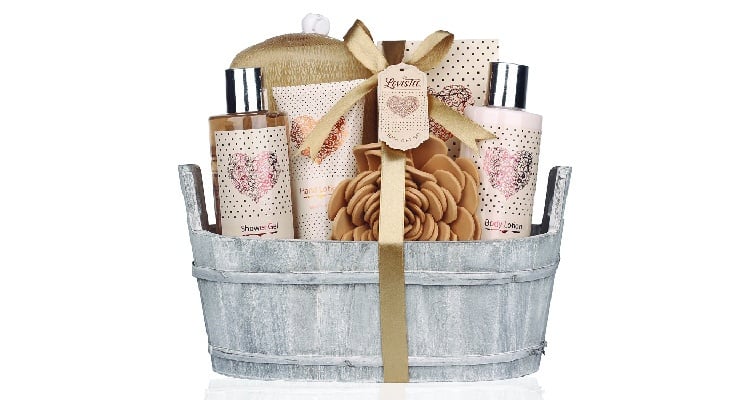 When you are gifting one exotic shower gel of 210 ml, one luxury hand lotion of 95 ml, one sensual body lotion of 210 ml, one bath salt of 10.5 oz, a bath puff, and an Eva sponge in a gift basket to your stepmom, which woman will not fall in love with you and this incredible gesture? It screams self-care and the fact that you really care for her. Easily one of the most caring gifts for your loving step mom.
Gift basket includes 6 gift items
There's a wonderful vanilla essence in the products
Comes in a nicely packed gift basket
8. Badass stepmom wine glass
The name of this particular entry in our list of best gifts for stepmom probably says it all. This wine glass is indeed one of the most badass step mom gift ideas. It is time to turn that idea into a reality and make your stepmom feel extra confident! After all, your bonus mom is also your new best friend. This is definitely one of the most subtle yet sentimental gifts for best friends or our bonus moms.
Capacity of 15 oz
Comes with a Bonus Mom message etched on it
Made of crystal-clear finish glass
9. Tea gift set
Is your stepmom a tea addict like us? Then this tea gift set will make her day, no questions asked. There are multiple flavors in the set that she can try. These are easy to carry on the go as well, so your stepmom gets to have herbal or black tea whenever and wherever she wants.
There are 8 tea drops in the set
Flavors include matcha, rose Earl Grey, citrus ginger, and peppermint
Very easy to make by just dropping one in hot water
Related Reading: 21 Wedding Anniversary Gifts For Parents
10. Pack of 4 high-waisted leggings
A set of leggings is something that most women need from time to time, whether it is for their yoga class or to match with some casual wear. These super comfortable and high quality leggings are the right choice if you want to give her something extremely useful.
Multitude of sets to choose from
Made of 92% polyester and 8% spandex
Not see-through
11. Pajama set
If you want to enhance your stepmom's bedtime in terms of comfort, this pajama set is a no-brainer. The pajamas look very pretty and come in a variety of sizes to choose from. Cleverly pose the question of what size she wears, and sneakily order a set for her. How's the plan? Good, right? Just make sure that you get one size smaller as these are large in size.
Made of 100% cotton
Elastic-drawstring waist closure
Ultra comfortable
12. Sleep headphones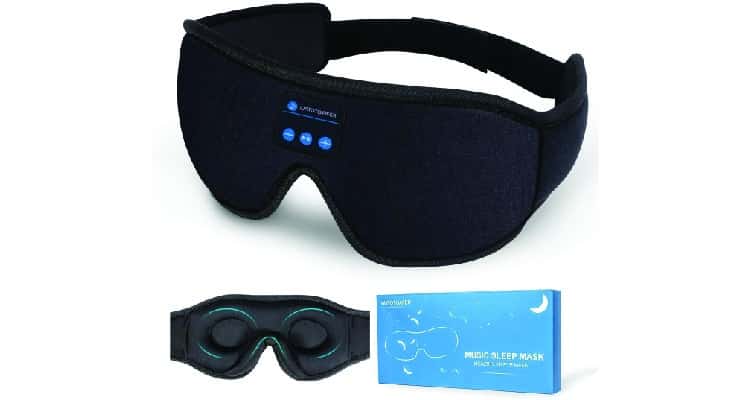 Talking about a good night's sleep, insomnia is something that a lot of people suffer from. Good news is that there are accessories that can help in that condition. If your stepmom has insomnia or faces general trouble while sleeping at night, get her these sleep headphones.
This eye mask also serves as a headphone set and will allow your stepmom to be immersed in her very own world of musical peace. It is one of the more creative gifts on our list of gifts for step mom.
Use Bluetooth 5.0 for connectivity to both Android and iOS devices
Four color options to choose from
Battery backup of over 10 hours
Related Reading: 25 Gifts For Beach Lovers [Gifts For People Who Love The Beach]
13. High-pigmented makeup palette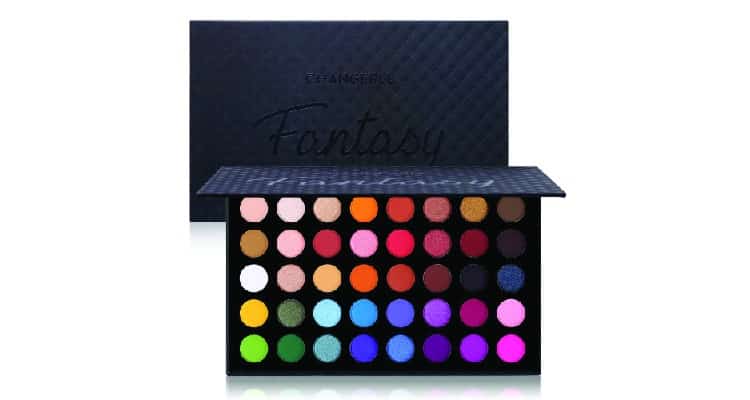 If your stepmom is into makeup, get her this very versatile makeup palette. Prism makeup is known for their heavy pigmentation and this makeup palette is no exception. Surely a very straightforward yet beautiful-looking gift for your step mom.
40 different shades
The shades come with matte finish
Long-lasting
14. Makeup bag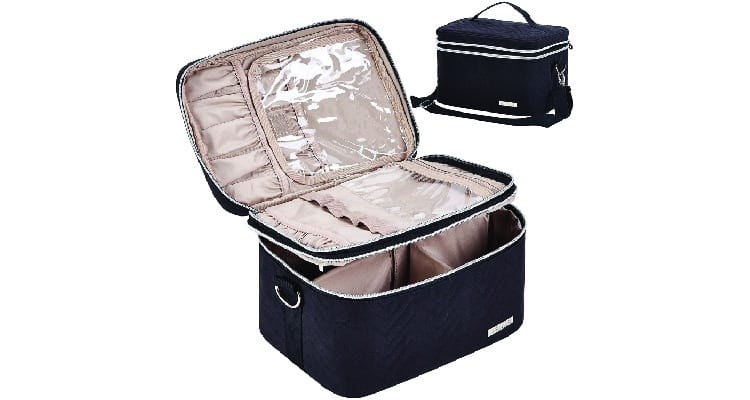 Talking about makeup palettes leads us directly to the next addition to our list, a makeup bag. This big makeup bag has enough compartments for endless storage. It is affordably priced as well which makes it one of the most value-for-money gifts for step mom you don't want to miss out on. Couple this with the palette, and she will be overjoyed!
4 variants to choose from
Multitude of sections to store cosmetic items
Highly durable
Related Reading: 21 Gifts For Your Girlfriend's Parents & In-laws | Under Budget Gift Ideas
15. Bathrobe for women
Bathrobes are some of the most exquisite yet versatile gifts you can give to anyone. When it comes to your stepmom, it is necessary to give her the much-deserved VIP treatment, isn't it? Cherry on top is that there are quite a few pockets as well.
Made of 100% polyester
Machine washable
Adjustable waist belt
Comes with a hoodie
16. Wine rack
If you are getting your stepmom a delicious bottle of wine, pair it up with this wine rack. Together, they will be one of the most wonderful gifts for your step mom.
Can store up to 10 bottles
Assembly is not required
Made of highly durable and eco-friendly wood
17. Aromatherapy candles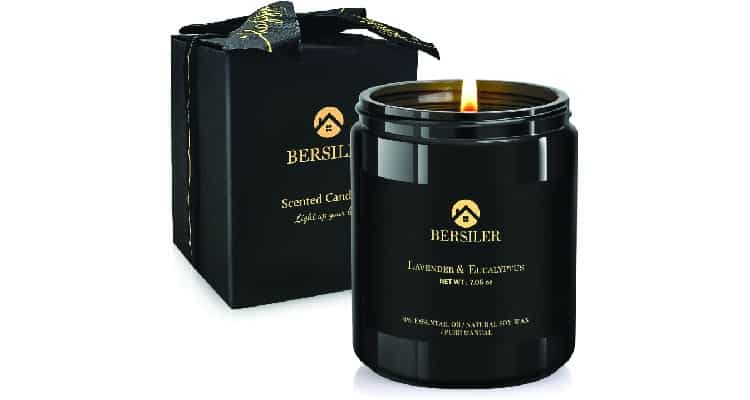 Aromatherapy is for everyone and your stepmom would totally love a wonderful jar with its highly calming properties. This aromatherapy candle can change the ambience of any place as soon as it is lit up. The incredible healing candle scent makes it a very loving gift for your stepmother, and you should get it right away. If you are looking for the best relaxation gifts for your dear bonus mom, this scented candle is definitely a great option!
7 oz jar
Fused with lavender and eucalyptus essential oils
Long-lasting
18. Cozette slipper for women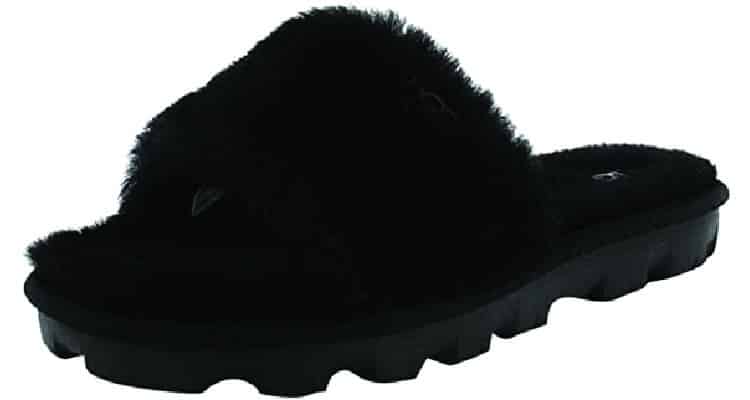 Sublime craftsmanship and a premium look makes this one of the best gifts that you can give to your stepmom. If you want to go with something not too over-the-top, these slippers are the way to go.
Rubber sole
Made of dyed sheep fur
Very comfortable
Related Reading: 8 Signs You Were Raised By A Toxic Mother: With Healing Tips From An Expert
19. L'Oreal Paris collagen face moisturizer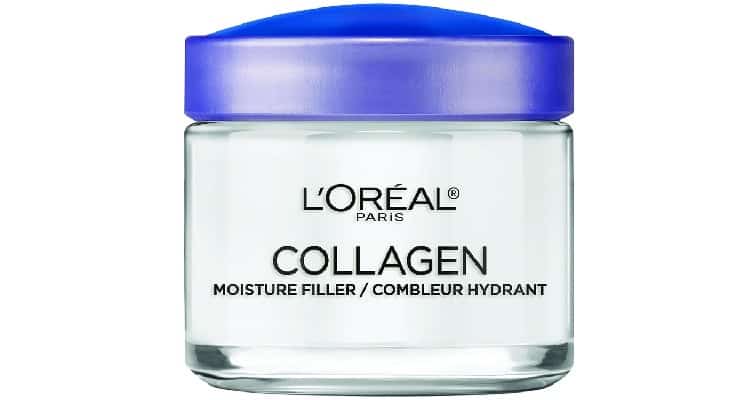 Want to get a gift for your stepmother that says "I care for your well-being, bonus mom"? This L'Oreal Paris collagen-based face moisturizer is probably just the thing she was looking for. Additionally, L'Oreal Paris needs no introduction. They have been doing this for decades, so you can trust their products completely.
3.4 oz jar
Deeply nourishes the skin
Light and non-greasy
20. Laptop tote work bag for women
So, your stepmom probably carries her laptop in a separate sleeve along with her bag and everything else. This is way too much, and your beloved stepmother shouldn't have to carry all this to her workplace. Check out this bag, it has a lot of space for a laptop and various other things. It's the perfect gift for her.
Suitable for up to 15.6 in laptops
Comes with a satchel handbag as well
There is a USB charging port for laptops
21. Gratitude journal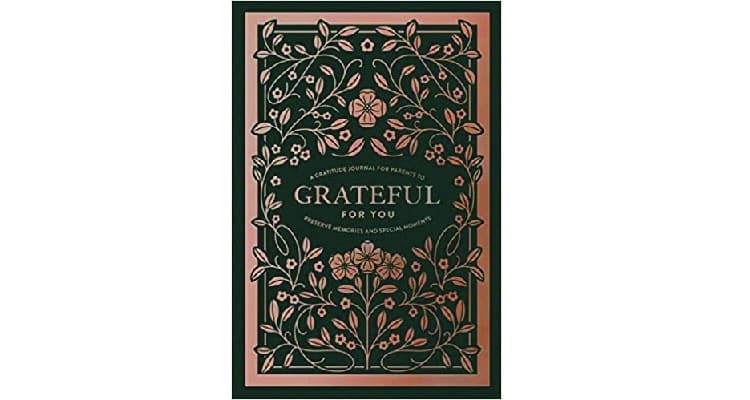 It is time to give your stepmom the one gift that no one has thought of giving her – a gratitude journal. This will make her write and immortalize all her special memories on the go. Besides, she will get her very own best friend to confide in during her ups and downs, and later, she can pass it on to you.
120 pages
Dimensions of 6.27 x 0.68 x 9.34 in
Cloth cover
Comes with a ribbon bookmark
22. 100 languages 'I love you' necklace
This necklace is very special as there is a lot more to it than meets the eye. There is a preserved, real rose attached to the box. There is a small drawer in the box as well. When you open the drawer, you see the heart-shaped necklace. The magic starts now.
When you place the convex center of the ring very close to your eyes, you can see "I love you" written in 100 languages. If this is not special, what is? Your stepmom will cherish this present forever. All the thought and creativity put into making this gift box made us add it to our list of gifts for step mom.
The rose can be kept for up to 5 years
Rose box measures 3.5 x 3.5 x 3.9 in
The necklace is silver-toned
Related Reading: 38 Affordable Gifts Under $50 For Her That She Will Adore
23. Funky mug for stepmom
This funny yet wholesome mug is all you need for your stepmom to plant a kiss on your forehead. Not only is the illustration adorable, if you want to customize using her name or anything else, you can do that as well.
To put things simply, this mug can serve as one of the best step mom mother's day gifts. And if later, you are looking for step mom gifts for christmas, it's a fitting gift for that day too. One of the most versatile additions to our list of gifts for step mom.
11 oz capacity
Dishwasher and microwave safe
Made using high quality ceramic
24. Bamboo cheese board and knife board combo set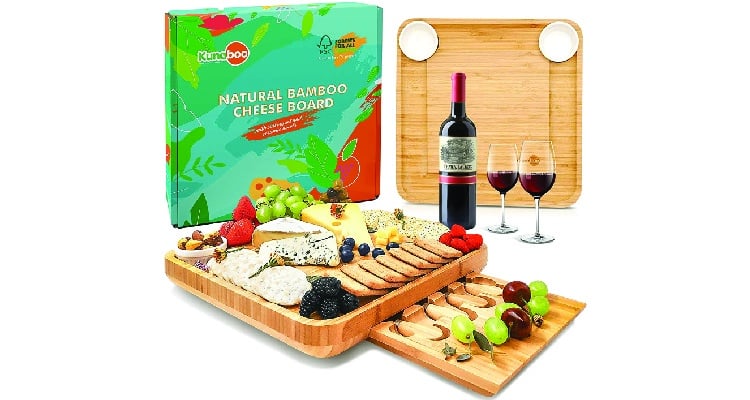 This cheeseboard and knife board combo will surely bring a broad smile on your stepmom's face. There are a lot of things going on with the cheeseboard. Not only do you get a stainless steel knife set along with it, but also two ceramic bowls that can serve as excellent dippers. You really don't want to miss out on this set. Surely one of the best gifts for your beloved stepmom.
The cheeseboard measures 13 x 13 x 1.85 in
Made using 100% Forest Stewardship Council (FSC) certified natural bamboo
Brilliant and organized design
25. iDOO Hydroponics indoor garden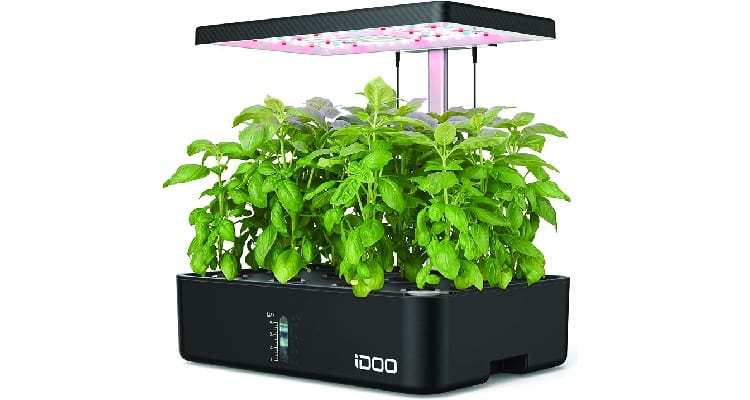 Is your step mom also a plant mom? We have the perfect gift for her. This indoor gardening system by iDOO is a massive hit amongst such folks. It has so many features that help your plants grow without any hassle. This adorable yet high-tech and affordable indoor gardening gadget is hands down one of the best gifts for step mom that you don't want to miss out on. Hands down, one of the best eco-friendly and sustainable gifts for her out there!
Features an in-built LED growth support light
In-built fan is included in the gadget
Comes with adjustable height of up to 11.3 in
Automatic timer
26. Hamilton Beach blender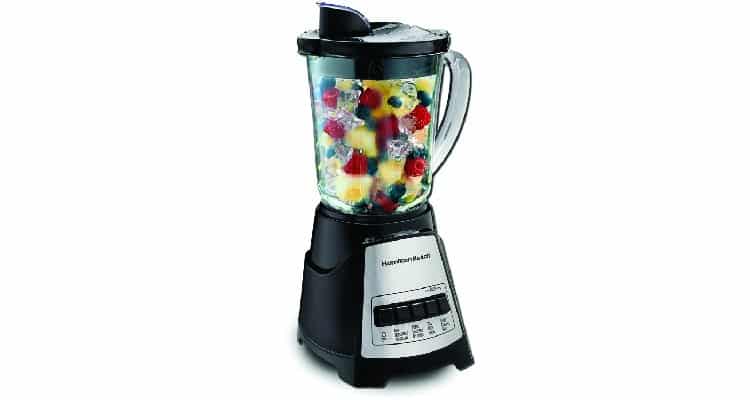 Whether your stepmom is a fitness freak who loves to make her own protein and fruit shakes or just makes use of a blender a lot, this gift will totally blend with her heart! It comes with 12 blending functions which are easy to understand and use. Overall, just the blender you need to top your list of step mom gift ideas.
The blender comes with a 40 oz glass jar
Product dimensions are 8.66 x 6.5 x 14.69 in
Blades are easy to remove and clean
Related Reading: 30 Gift Ideas For Women Who Have Everything – Unique Gifts For Her
27. Smart mug
This is no ordinary mug, as you may have already realized from the moniker. The Ember smart mug is actually too smart to be true. There are a bunch of different features which you can access through its dedicated app. It auto-sleeps when it senses there's no liquid in it too. It's one of the most value-for-money and amazing gifts for stepmom.
Keeps your drink hot for up to 1.5 hours on a single charge, or all day on the charging coaster
Has a capacity of 10 oz
Can be used both with or without the app
28. 'I'm sorry' funny scented candle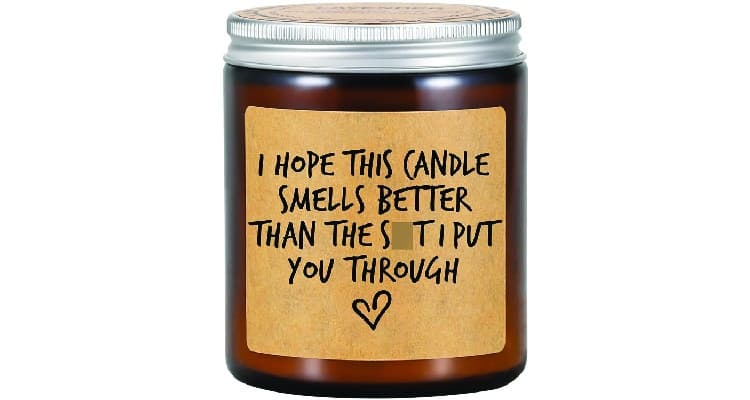 Did it take you some time to accept your stepmom as the amazing bonus mom that she is? Maybe you were a tad too hard on her during the acceptance period? Gift her this very thoughtful scented candle which is a great way to both be sorry in the sweetest way possible as well as make her laugh with the funny message inscribed on it. Not only is this one of the funniest gag gifts you can gift your step-mom with but, also a very memorable one. This sweet little jar of happiness just had to enter our list of gifts for step mom!
Comes with a sweet, funny message on the jar
Made using 100% soy wax and cotton wick
Fused with lavender fragrance
29. Moon lamp
Get her this pretty moon lamp to make your stepmom's bedtime all the more special. She can go to sleep peacefully looking at a near-replica of the moon right beside her bed. It is one of the most stunning step mom gift ideas.
Size is 5.9 in
Features touch-control brightness adjustment
Offers 4 to 8 hours of battery backup
Related Reading: 41 Best Gifts For Mother-In-Law – Thoughtful Gift Ideas To Impress Her
30. Customized recipe board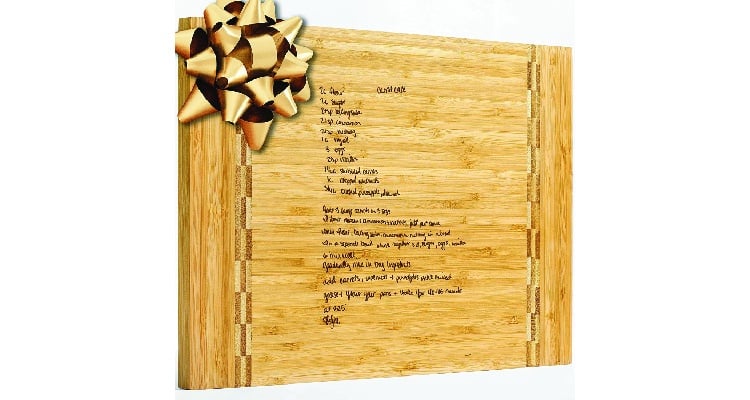 One of the best gifts for step mom would be this family heirloom gift that showcases how much you care for her. The sweetest thing about this is that you can get her favorite recipe engraved on the board. Super thoughtful, right? If you are looking for presents for your step mom, look nowhere else. If you are looking for unique family tree gifts or something personal to make your stepmom feel like she is a part of the family, this is a lovely gift to go for.
Made of eco-friendly special bamboo
Four different variants to choose from
Highly durable and can be used for years on end
31. 3-in-1 facial steamer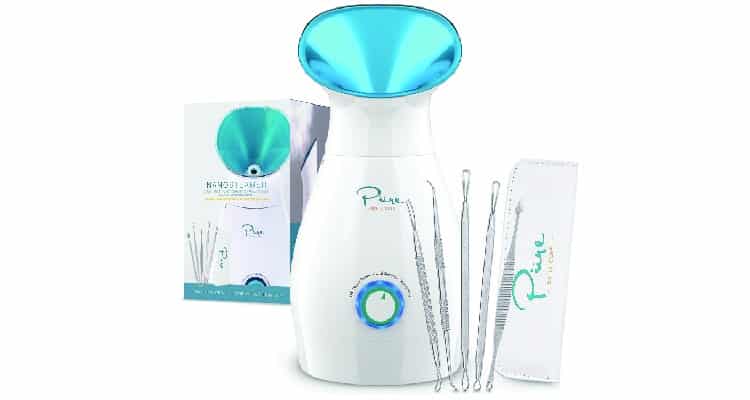 Facial steamers come in super handy for those who have sinus. Even for those who don't, it is just so relaxing and calming that anyone can enjoy this. Besides, there are multiple health benefits of using a facial steamer.
Comes with dimensions of 9.84 x 5.91 x 1.97 in
There is a 200 ml water tank that offers up to 30 minutes of working time
Includes a 5-piece stainless steel blackhead and blemish extractor kit
32. Bathtub caddy tray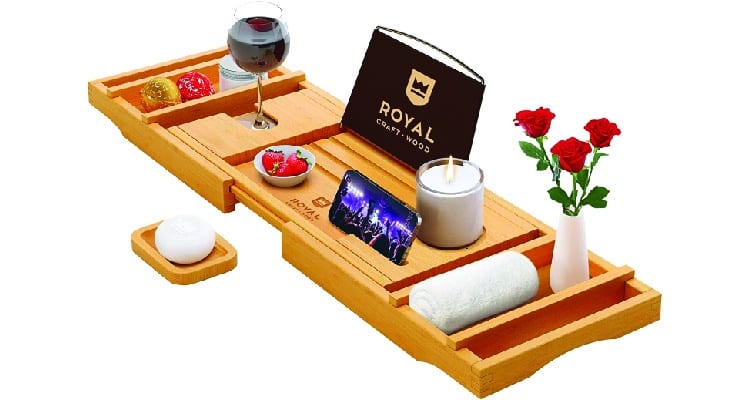 This bathtub caddy is that premium accessory which will completely change the way you enjoy your bathtub sessions. After a long day at work, your stepmom can get into the bathtub and watch her favorite shows while relaxing with a glass of wine in hand. Just the kind of experience she will absolutely dig. It surely is one of the most thoughtful gifts for your step mom. This is definitely the much needed pampering your step mom deserves especially if she is expecting a special someone with your dad. Surely one of the best gifts for pregnant women for extra care and pampering.
Can fit most bathtubs
Features a book or tablet holder, phone holder, wine glass holder, candle holder, and matching soap dish
Can extend from 29.5 in to 43 in
Once you start looking for gifts from this list, it is definitely going to be difficult for you to choose just one. We hope our list of gifts for your step mom has given you all sorts of wonderful gift ideas. Let us know how your stepmom reacted to the gift (or gifts) you got for her!
26 Christmas Gifts For New Moms | Unique Motherhood Gift List [2022]
35 Best Birthday Gift Ideas For Dad – Practical And Useful Gifts
26 Lovely Gifts For Your Boyfriend's Mom | Useful Gift Ideas