Since time immemorial, the heart has been one of the top symbols of love, passion and anything associated with love. If you are looking for ways to manifest your love with heart-shaped gifts, then you have come to the right place. This list has heart-shaped gifts for both him and her. 
It doesn't necessarily have to be Valentine's Day for you to gift the love of your life with a heart-shaped chocolate box. You can surprise them on random days to let them know that they are loved and cared for. Heart-shaped gifts clearly convey your feelings which will make your relationship stronger. 
Best Heart-Shaped Gifts 
We have compiled the best list of heart-shaped gifts that are sure to make your partner's hearts go all a-flutter. These gifts don't just have to be for your significant other. You can gift them to your friends, siblings and even parents because the heart symbol is one of the top symbols of love and isn't limited to romantic or passionate love alone. Check out the gifts below and get ready to see that special person in your life – friend, sibling, SO, relative – swoon with love. 
1. Heart-shaped trinket dish 
This is one of the best heart-shaped gifts for her as the heart-shaped jewelry dish will be an elegant reminder of your love no matter where your partner keeps it on display – their nightstand, kitchen counter or bathroom vanity. 
White ceramic heart-shaped trinket dish features gold foil heart print
Sold individually
Perfect for rings, chunky necklaces, jewelry, change or even house keys.
Made of 100% high quality ceramic
Related Reading: Top Wedding Registry Must Haves – Budget Friendly Items For Couples
2. Mini waffle maker
Have you ever met anybody who said they don't like waffles? Absolutely not because such people don't exist. This adorable mini waffle maker is one of the best heart-shaped gifts as it's easy to use and it's perfect for whipping up yummy, heart-shaped waffles for breakfast, lunch, dinner or dessert.
Simply plug in, wait 1-3 minutes until preheated and when the indicator light shuts off you can begin cooking
Provides quick, efficient and consistent result
The nonstick surface easily wiped clean
Cool-touch handle allows you to keep your hands safe when opening and closing lid 
3. Lindt assorted chocolates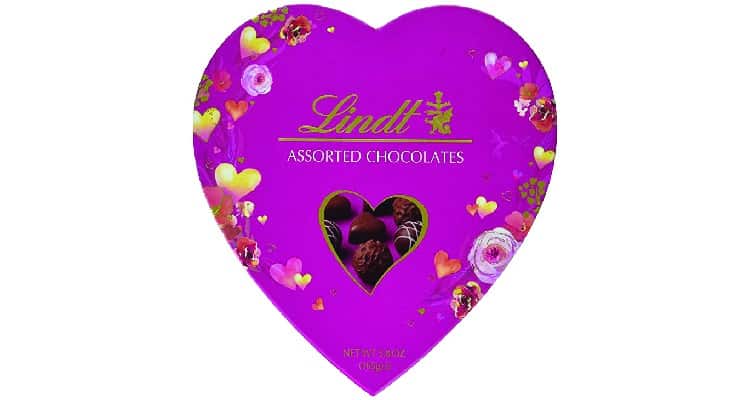 Instead of just any chocolate box, give this box of assorted chocolates to remind your friends or loved ones of how much they mean to you as chocolate makes relationships sweeter. This heart-shaped chocolate box of gourmet chocolate truffles makes a thoughtful gift on its own or when paired with flowers or a bottle of wine for that special someone.
The empty heart chocolate box is reusable too. Each box features a variety of assorted dark and milk chocolate truffles that are rich, creamy and indulgent for the ultimate chocolate experience. 
5.8 oz gift box of Lindt assorted chocolates
Chocolate truffles gift box includes variety of creamy and indulgent assorted chocolate
Kosher chocolate made with premium, high quality ingredients that make Lindt chocolate exceptional
4. Godiva Chocolatier assorted chocolates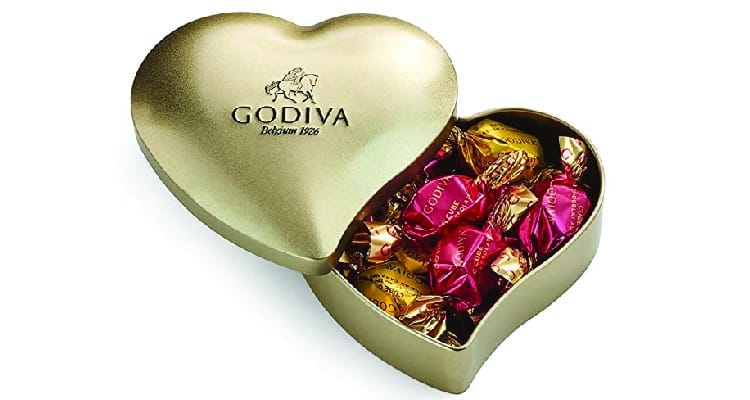 Godiva is a gourmet chocolate company and their products are a little pricier than the rest of the gifts on this list. But that's what makes this the most special heart-shaped gift box available. Their special Valentine's Day Godiva chocolate gift box features an indulgent array of mouthwatering milk chocolate and rich dark chocolate candies carefully crafted using only the finest ingredients.
The gorgeous, gold-colored, empty heart chocolate box can be reused to store little trinkets in. Yes. This is undoubtedly the quickest, yummiest and surest way to any chocolate lover's heart!
Delectable chocolate truffles can be enjoyed anytime and anywhere
Founded nearly 100 years ago, Godiva continues to adhere to their long-standing tradition of premium quality
Related Reading: 21 Gifts For Lesbian Couples – Best Wedding, Engagement Gift Ideas
5. Heart-shaped preserved roses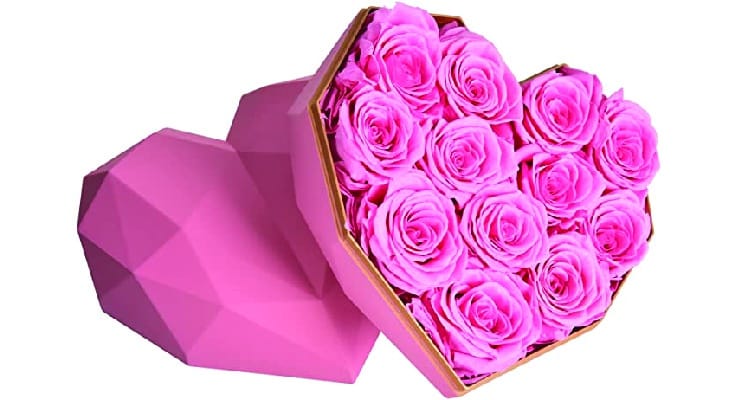 These preserved roses are made up of fresh and real flowers and they come in a heart-shaped gift box. If you don't know which color rose to choose, then find out various rose color meanings and find the right pick to express your feelings. Pink roses mean gratitude and joy. This is one astonishingly beautiful Valentine's day heart box as the roses are hand-picked at peak freshness after which they undergo an intricate process to preserve the quality and integrity of petals. The roses are then placed in a heart-shaped pink diamond-esque, heart-shaped box.
Composed of 12 large roses
Each rose undergoes a unique preservation technique allowing them to maintain their color, beauty and freshness for over 1 year
No watering and no need for sunlight
6. Trendy heart-shaped glasses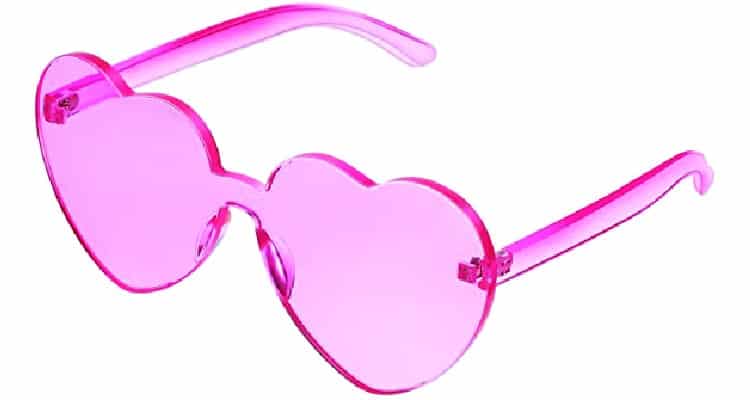 These sunglasses have a colored candy-like transparent quality about them which makes it a must-have for all the stylish women out there. It is an indispensable fashion item. These types of heart-shaped gifts for her will guarantee loads of picture-taking and flaunting on Instagram.
Plastic frame and plastic lens
Non-polarized
Novelty, heart-shaped, rimless sunglasses in multiple color options
Suitable for most face shapes
7. Heart-shaped jewelry box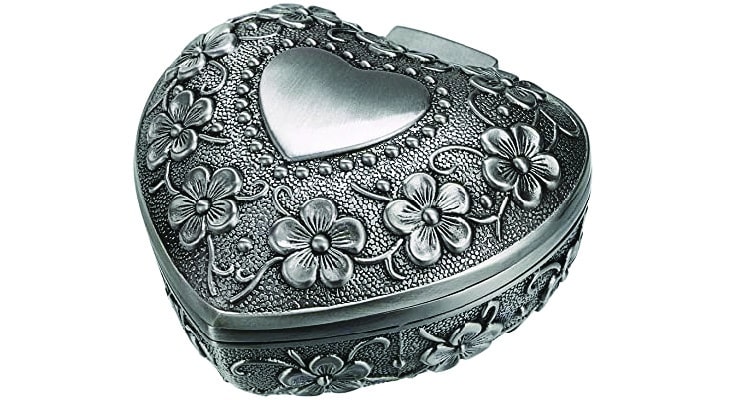 With the exquisite engraving on this vintage jewelry box, we're quite sure this is one of the prettiest heart-shaped gifts for her. This heart-shaped jewelry box is absolutely adorable and perfect for storing earrings, rings, or other small jewelry. It has a flower pattern around the surface and can also be used as a very attractive retro tabletop décor which will enhance the overall aesthetic of your house.
Made of premium zinc alloy making it sturdy and durable
Long-lasting, rustless and fadeless
Smooth surface with delicate artwork
Black velvet cushion inside box
8. 3D crystal ball
This is one of the more aesthetically pleasing heart-shaped gifts for him you'll come across on this list of heart-shaped gifts. The heart inside the crystal looks like a ball of cloud. The person you are planning to surprise this with is going to have a hard time looking at anything other than this gift.
Tap metal button to enjoy 7 color Breathing Light Mode
Interior image is carved with advanced 3D laser cutting technology
Image is clear, distinct and stereoscopic
Made with high-end K9 Crystal
Related Reading: 30 Matching Couples Gifts – Cute Matching Gifts For Him And Her
9. Heart-shaped stone pendant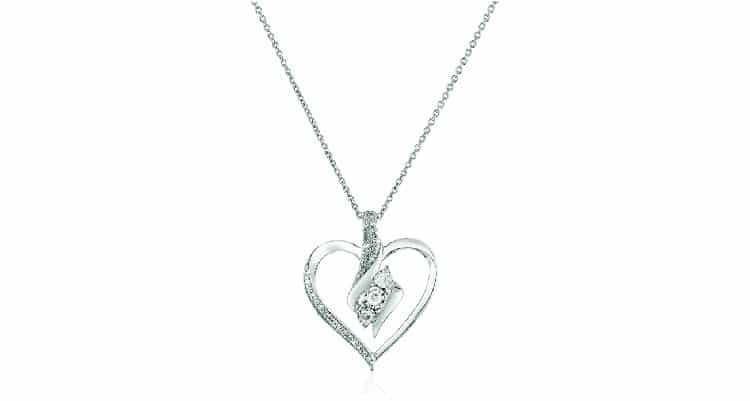 As the famous saying goes, "Diamonds are a girl's best friend." What better way to shower love on your girl than this elegant, 3 stone heart necklace, studded with diamonds. You can add such gift ideas for her to your Valentine's Day heart box of gifts and watch her jump with joy. 
Open heart pendant with hanging trio of diamond at center
Comes with rolo chain
Total diamond carat weight listed is approximate
Variances may be up to .03 carats
10. Solar wind chimes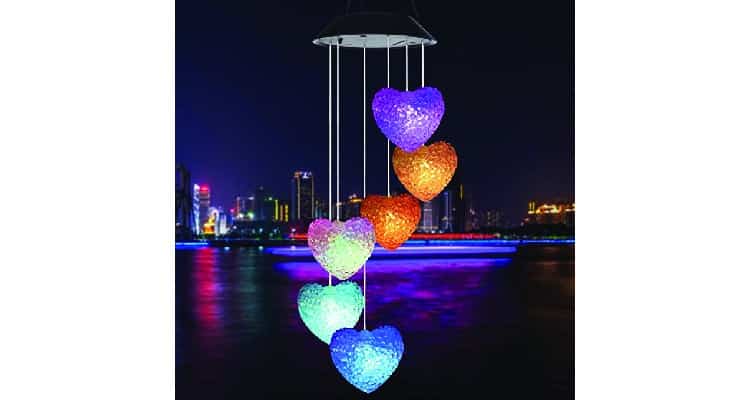 Heart solar wind chimes have beautiful patterns and dazzling colors. They are like a magical beam to light up your partner's heart. When you hang them, the brilliant light will fill your room and life with colors. This is one of the best heart-shaped gifts on our list as it has a beautiful meaning behind it too – the heart solar hanging lights mean peace and tranquility. 
At night, they will shine in wonderful colors
On sunny days,they will charge themselves and glow at night
Simply hang the crystal ball, solar wind chimes from your fence, courtyard, window, door or front porch
Unique rain-proof and moisture-proof design
11. Groot succulent planter
This is one of the best heart-shaped gifts for your boyfriend if he's a fan of the Marvel Cinematic Universe. Groot is so adorable with his fingers forming the heart. Apart from using it as a pot planter, it can also be used as a pen holder.
Made of high quality commodity material ABS
Height about 5.7 in
Package weight: 0.3 kg
12. Heart-shaped double walled insulated cups
The double-glazed heart shapes will remind your partner of you every time they are taking a sip from this cup. This is one of the best heart-shaped gifts to give to a loved one as it oozes love in every sip. 
Made of Borosilicate glass that is light and strong
May feel thin but it's much stronger and more durable than common glass
Very low coefficient of thermal expansion
Resistant to thermal shock
13. Heart lip gloss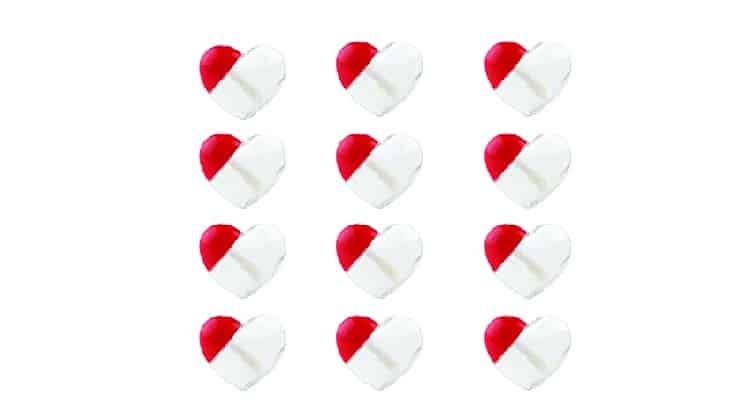 You saw the heart-shaped jewelry box above. But did you ever imagine you would see heart-shaped lip gloss? Lip gloss is an essential makeup item girls always carry in their handbag. Give your girlfriend a very special love lipstick tube which is convenient to carry anywhere they go. 
Heart lip oil bottle; transparent body
You can see remaining volume of cosmetics clearly
Lightweight and convenient to carry
Washable and reusable
14. Heart-shaped music box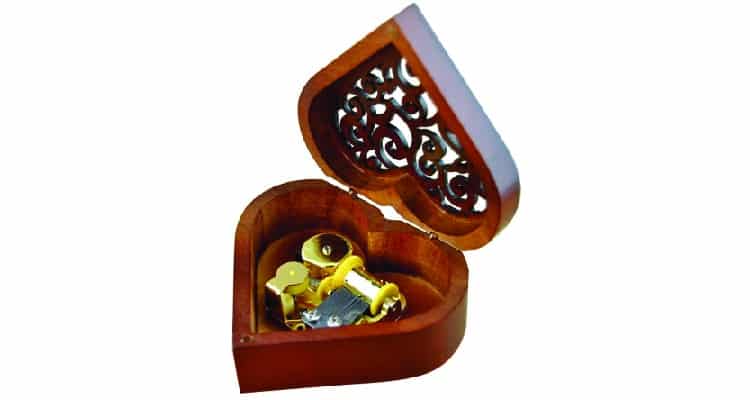 If your boyfriend loves music, then this is one of the best heart-shaped gifts for him. It starts to play the melody "You Are My Sunshine" as soon as he opens it. Truly, this gift for someone who has everything is for the man in your life who makes your heart sing.
Made of high quality wooden
When you open the box, you can see how the metal instrument inside works
Wind up to play music
15. Magnetic heart-shaped couple bracelet
This heart-shaped gift is quite unique as it comes with a pair of delicate heart-shaped magnetic bells that mutually attract when you get closer. These couples bracelets symbolize the eternal love and friendship between lovers and friends.  
Made of high-quality nylon string, brand new magnetic bell design and stainless steel
Magnetic heart bracelets never fade and won't fall out
Comfortable, safe and convenient to wear
Matching heart bracelet for couples comes with adjustable band that allows wearers to create the perfect fit for them
Treat your loved ones with heart-shaped gifts and show them just how much importance they hold in your life with this eternal symbol of love. From heart-shaped chocolate boxes to a heart-shaped jewelry box, select your favorite and fill the day with love. 
35 Best Birthday Gift Ideas For Dad – Practical And Useful Gifts
15 Gift Ideas For Newlyweds – Gifts That Every Newlywed Couple Needs
Ask Our Expert
You must be Logged in to ask a question.