Are you planning to attend a friend's bachelorette party? You need to find the perfect gift for her on this fun occasion. Selection of the right gift will bring a beautiful smile to the bride's face, and it will make the moment memorable for her. So, here are some unique and exciting bachelorette party gift ideas.
Unique Bachelorette Gift Ideas For Every Type of Bride
Attending a bachelorette party of the best or the closest friend is an occasion to remember. Choosing a thoughtful gift conveys your love and care for a person. If you are thinking of some unique bachelorette party gift ideas, you can get some hilarious gifts too, that tease and spoil the bride-to-be.
A bride's friends often struggle to find the perfect gifts for her. So, take a look at the 16 gift ideas listed below, and we're sure you'll find a suitable gift for your friend at her bachelorette party.
1. Dearfoams women's bridal slide slipper
This is a cute pair of slippers for women, featuring 100% polyester material and a strong rubber sole. This pair of slippers can be a perfect gift for a bride at her bachelorette party. In addition, their white furry appearance will make anyone fall in love with them.
● Available in four different colors: classic white, black, light blue, and mauve
● Well-cushioned insole made with memory foam to render top-class comfort
● Strong and durable rubber-made outsole
● The outsole has an excellent surface grip
Related Reading: 12 Best Honeymoon Gifts For Couples They Will Love
2. Kate & Milo Bachelorette signature frame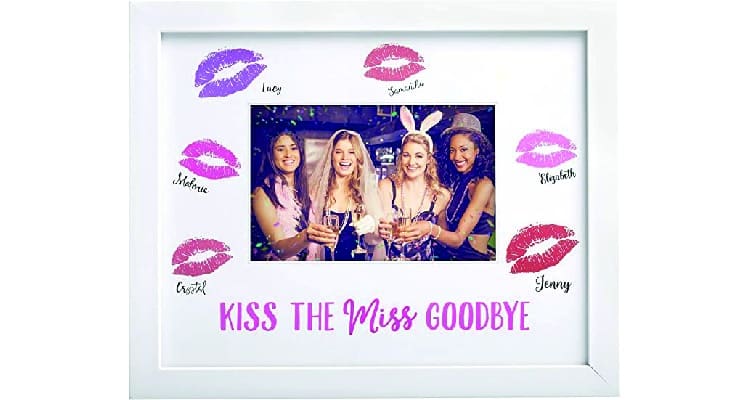 Bachelorette party gifts should be exciting, unique, and memorable. If you are looking for such a gift, consider this photo signature frame. Your friend will appreciate the gift, and her good memories will remain forever with the frame.
● The photo frame has a large area for signature and lipstick prints of the bride's friends
● The package also includes a signature pen
● The photo dimensions should be 4 in × 6 in
● The plastic-made frame material is posh and sturdy
3. Floerns women's funny lingerie nightgown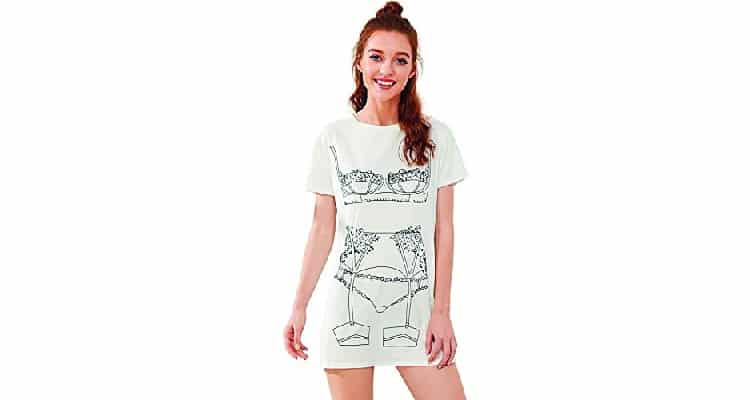 At a bachelorette party, friends of the bride have every right to get a little naughty. A touch of humor in the gifts will always be appreciated. If you love naughty humor, you can gift this beautiful t-shirt to your friend at her bachelorette party. The funny lingerie print of the t-shirt draws attention to it.
● Comfortable and skin-friendly polyester material
● Short sleeve, round neck, and short length
● Stretchable and durable fabric
● The print does not fade after washing
4. Ginger Ray headband veil accessory
Consider this beautiful bridal headband if you are looking for some exquisite bachelorette party gift ideas. The headband comes with a veil made of transparent chiffon cloth. Nevertheless, the word 'Bride' is written on top of the headband in a glossy, rose-gold color.
● Plastic-made, lightweight design
● Free-size headband that fits everyone
● A beautiful product at an affordable price
Related Reading: Honeymoon Packing List – Essentials to Bring on Honeymoon
5. Makeup travel case for the bride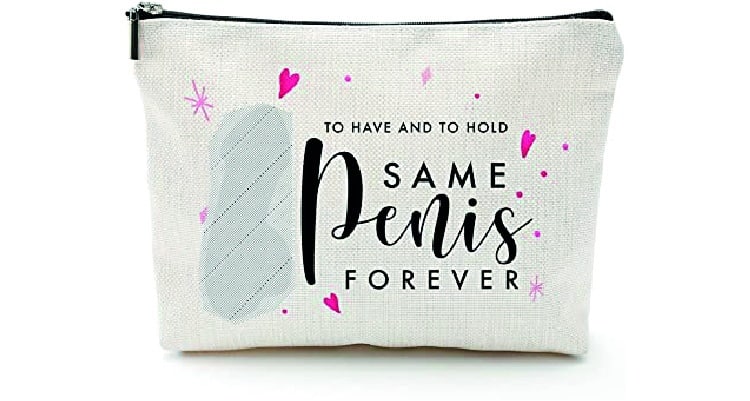 If you are looking for bachelorette party gift ideas, this is the perfect gift to add fun to the event. The funny line written on the travel case will bring a smile to the bride's face and blushes on her cheeks.
● Waterproof coating and travel-friendly design
● Dimension is 9 in x 7 in – adequate to accommodate multiple makeup items
● Linen material makes the bag suitable for daily use
● High-quality and sturdy zipper
6. Mud Pie Mrs Canvas bag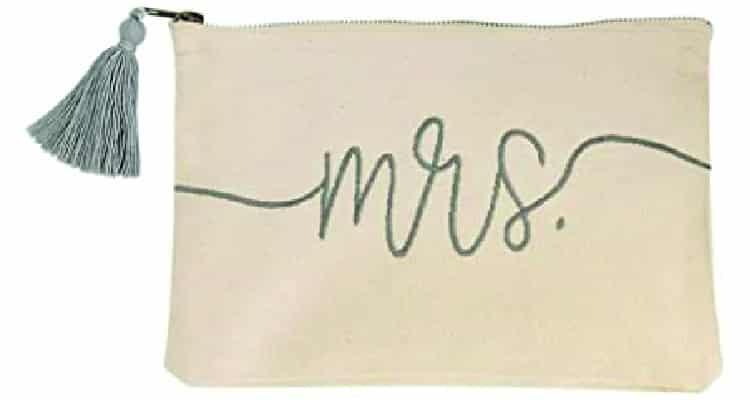 Many women have an eternal weakness for bags and jewelry. Therefore, such things can be suitable gifts for them on any occasion. This canvas bag has been exquisitely designed for future brides. Your friend will be super impressed with such a sophisticated gift selection.
● Small bag for accommodating makeup items
● Travel-friendly design and material
● A high-quality zipper ensures durable performance
● The material is waterproof
7. Avidlove Babydoll nightgown
Don't give this a second thought, and pick this babydoll lingerie for honeymoon as a bachelorette party gift if the bride is one of your closest friends. She will love the gift as it is quite transparent and will make her look super hot. Polyester-made lingerie is comfortable to wear, and it does not result in itching. Overall, it is a perfect bridal night dress.
● Available in 20+ colors and different sizes
● Lace and tie lingerie – easy to don and doff
● Perfect nightwear or sleepwear for the honeymoons
● Elegant and sophisticated appearance
Related Reading: 42 Gift Ideas To Say Thank You For Being A Bridesmaid
8. Funny wine glass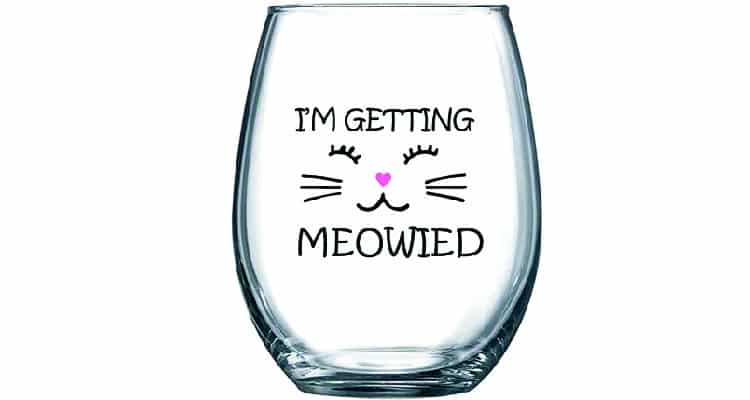 Are you looking for bachelorette gift ideas for a bride that loves wine? You can purchase this unique wine glass for your friend at her bachelorette party. It looks like a simple wine glass, though it has a twist. The funny tagline of the glass is the major highlight of the product.
● A classy wine glass without a stem
● Made in USA, the quality ensures durable performance
● The product is compatible with dishwashers
● The capacity of the glass: 15 oz of fluid
● Top-quality packaging
9. Fetti bride sun hat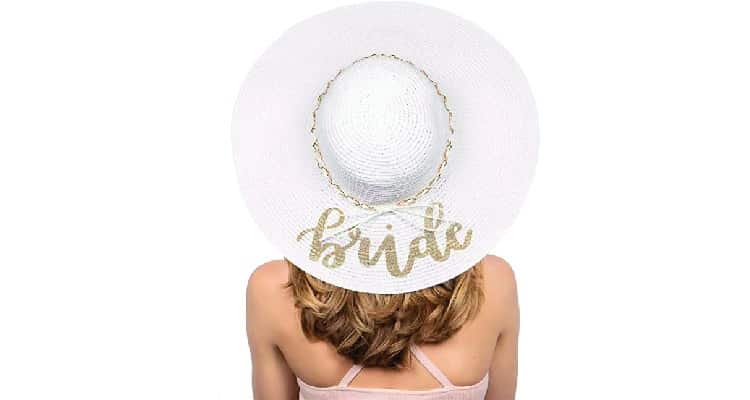 What comes after the wedding? If it's a perfect honeymoon at an exotic destination, then this is the gift for her. Note that your bachelorette party gift ideas can be related to the couple's honeymoon too. Gift this unique beach hat to the bride, as it will be a perfect honeymoon accessory for her. You can count it as a great gift for beach lovers too if the bride is a frequent sunbather.
● White hat made of white straws
● The word 'Bride' written with a hot-pressed gold glitter
● Free size that fits everyone perfectly
● Gives a perfect shade to the eyes and forehead under the sun
10. Fetti bridal veil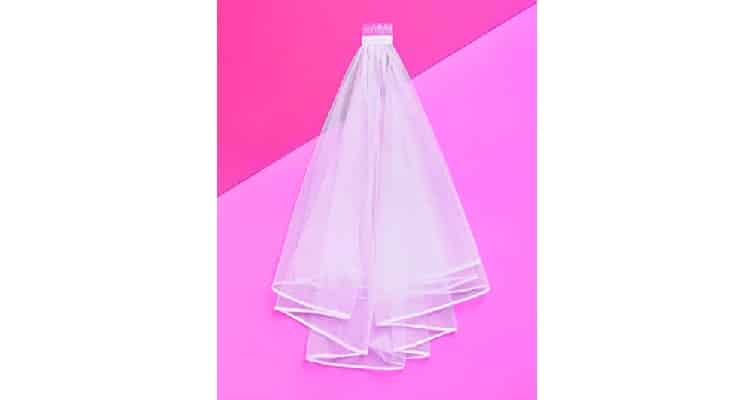 Bridal veils can be the perfect gifts for bachelorette party. The bride will look gorgeous with this pristine, white bridal veil. Moreover, these veils can also be used for decorating the bridal venue. Therefore, your gift can serve multiple purposes.
● A classic and lightweight bridal veil
● Soft and silky cascading material
● Strong, satin edges
● The veil comes with a pre-attached comb
11. Bachelorette dare card game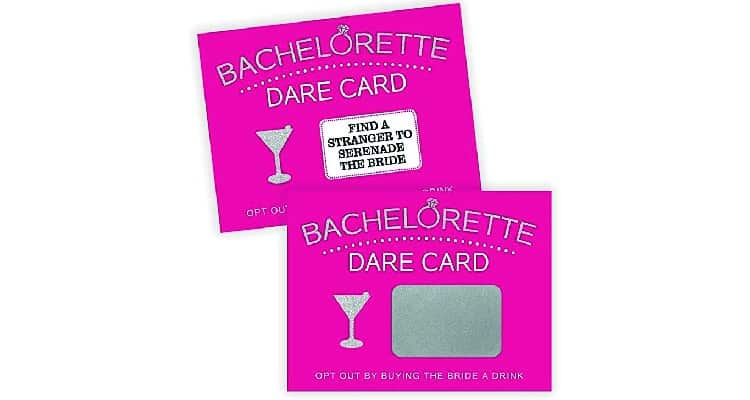 Are you searching for bachelorette gifts for bride that include games to play with the bride and other attendees? One of the classic games for such an event is Truth and Dare. If you plan to play this game, you can choose this set of dare cards as a bachelorette party gift for the bride.
● Unique dare challenges
● Scratch cards with different challenges
● A fun game for the bachelorette party
● One can opt out by buying a drink for the bride
12. Mrs. Canvas tote bag from Mud Pie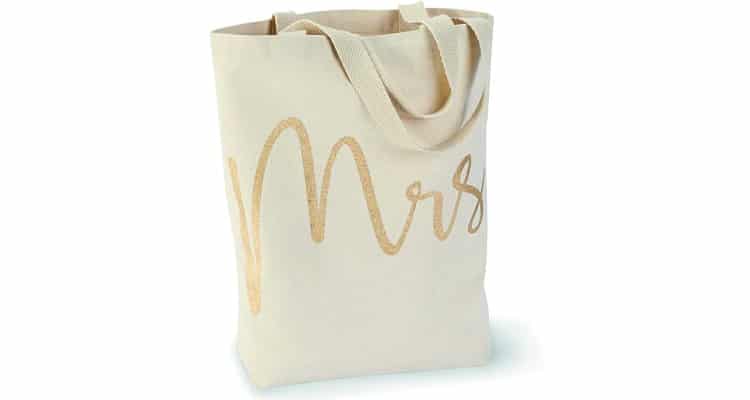 People often struggle with bachelorette party gift ideas. You can pick this tote bag for the bride, as many women have eternal affection for bags. This is the finest option if you are looking for last-minute bachelorette gift ideas.
● 100% cotton tote bag
● Eco-friendly material
● Available in different styles: Mrs, Bride, Bridesmaid, Mother of Bride, etc.
● Long-lasting material, suitable for wet wash
13. Funny honeymoon shirt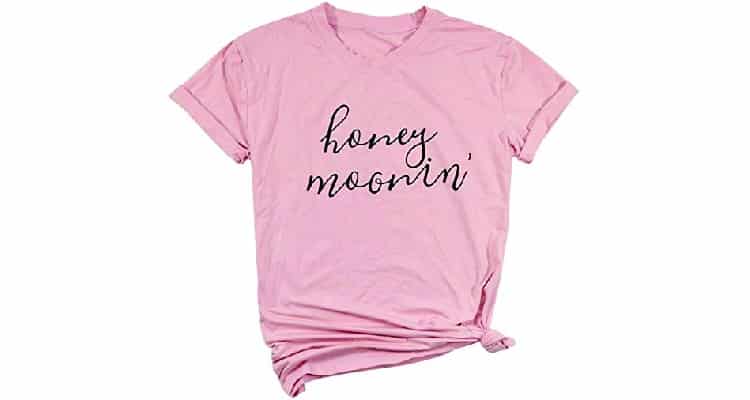 A honeymoon t-shirt is an excellent gift for the bride at the bachelorette party. This beautiful cotton t-shirt goes well with shorts and hats. The cotton t-shirt will render comfort in hot and humid beach honeymoon destinations.
● Available in six different colors
● Cotton-blend material – lightweight and comfortable
● Skin-friendly
● Hand and machine washes are recommended
Related Reading: 16 Wedding Party Gifts For Both Bride And Groom Squad
14. Elightvap one-piece swimsuits for women
If you are one of the bride's closest friends, you can gift this beautiful, white swimsuit to her. The classic white color of the suit makes the product highly sophisticated. The one-piece swimsuit will render the hottest look to a bride on her honeymoon.
● Spandex and nylon material – skin-friendly
● Simple pull-on closure
● Retro-inspired design
● High cut at the legs, and low in the back
15. Last Fling Before The Ring notebook
Gifting a notebook-cum-scrapbook can be one of the best bachelorette party gift ideas. The bride can write her memorable moments in this beautiful notebook. The notebook can also be used as a scrapbook, where friends leave good wishes for the bride for her future.
● Rose-gold and diamond-tipped pen included
● 34, premium-quality, white pages
● Premium cover with rose-gold foil
Related Reading: 25 Unique Wedding Gifts For Bride From Groom
16. Miamica luggage tags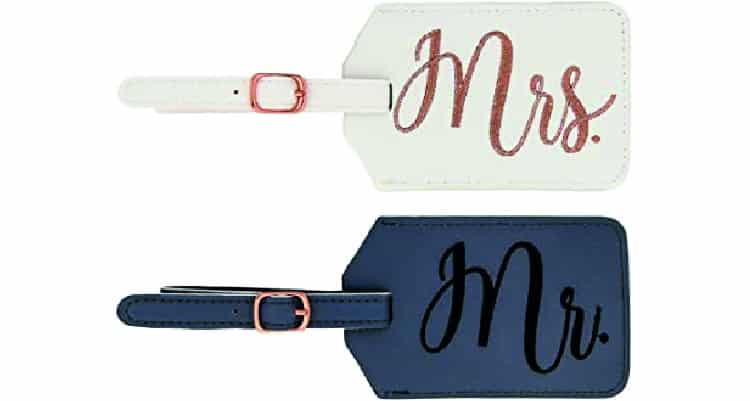 Consider buying these luggage tags if you are looking for some utility bachelorette party gift ideas. These cute tags are perfectly suitable for honeymoon couples. Find some features of the product below:
● Black and white leather tags
● Unique gifts for the newlywed couples
● Faux leather – no cruelty against animals
We hope these unique bachelorette gift ideas resolve your confusion in choosing a perfect gift for a bride. You can choose any or some of these gifts, and we're sure she will be impressed with the thought and care you put into the selection.
Should The Bride And Groom Split The Wedding Cost? How To Do It…