The maid of honor and bridesmaids are a very precious ensemble in any wedding. They take time out of their lives to be a part of their friend's beautiful journey, helping her prep for the Big Day. Starting from dress fittings to cake tastings to taking care of every minor issue that might come up, they make sure everything runs smoothly and efficiently. That's why it's not only a mandatory gesture, but a gracious one on the bride's part, to return the love with sweet thank you bridesmaid gifts.
If you are looking for the best, the sweetest, and most unique 'thank you for being my bridesmaid' gifts for your powerhouse girls, you've come to the right place. Stay with us till the end and you will leave with a big, satisfied smile on your face and maybe a few things waiting in your basket.
Unique Bridesmaid Gifts To Say Thank You
Thank you presents for bridesmaids are supposed to be super cute, something they'll love and very personalized. You can hand them over during a happy occasion like the bachelorette party or the rehearsal dinner.
We have put together 42 amazing bridesmaid thank you gift ideas to curtail your headache of choosing the right gift. Take a look:
1.     Personalized bracelets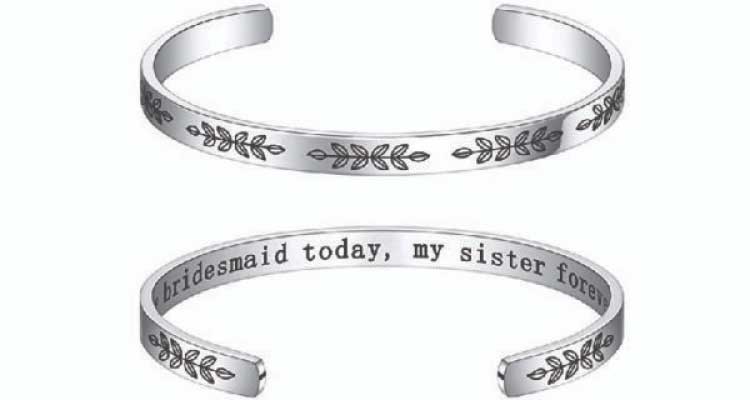 Your bridesmaids are no less than your own sister even though they are not bound to you by blood. As a bridesmaid thank you present you can get them this beautiful bracelet that says My bridesmaid today, my sister forever. They will be so overwhelmed knowing how you value their presence in your life.
●       Flexible cuff bracelet with smooth edges
●       Chic design, well-polished and oxidation-resistant
●       Made with premium stainless steel in nickel-free hypoallergenic formula
●       Engraved message inside and leafy design on the outside
Related Reading: 30 Unique And Affordable Bridesmaid Proposal Gift Ideas
2.     Wedding team hand cream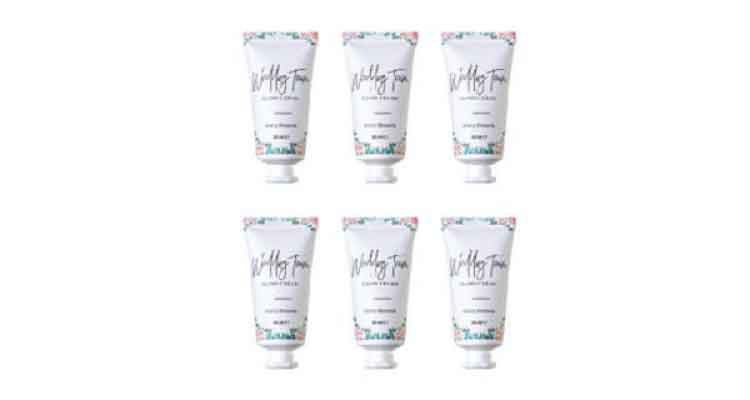 Your bridesmaids have put so much effort into making this wedding a grand success. Don't you think they deserve a lot of pampering? I know that's a huge YES! So how about this bridesmaid thank you gift box of 6 wedding team hand creams?
●       Contains high-quality ingredients to rejuvenate skin
●       Beautiful, cherry blossom fragrance
●       Comes in pretty floral tube packaging
3.     Bridesmaid slippers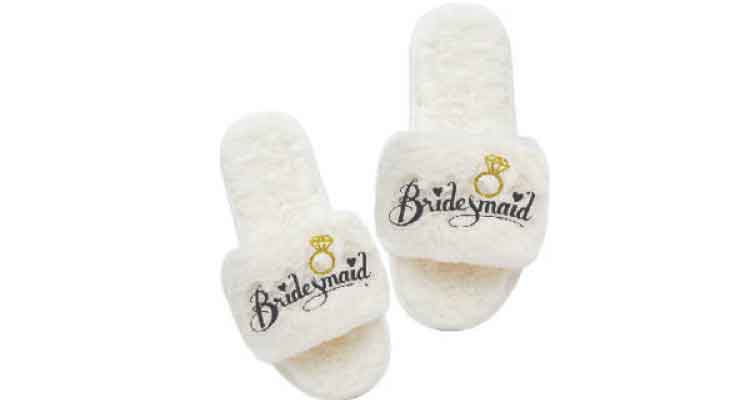 Slippers are no doubt one of the nicest bridesmaid thank you gift ideas. We have picked out these cute and fluffy open-toe slippers for your girls. Just look, aren't they adorable? Your bride tribe will love the soft feel. Why not book a relaxing spa day before the wedding where you can give these out?
●       Slide-on slippers made of plush fabric and thermoplastic rubber sole
●       Light-weight and good for everyday use
●       Traction-secure design makes them safe for any type of flooring
●       'Bridesmaid' written on slippers along with a golden glittery ring design
4.     Bridesmaid robes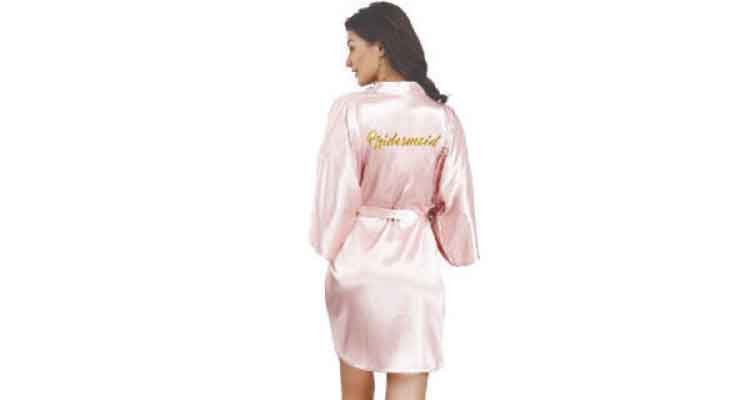 Speaking of a pampering and soothing bridesmaid spa, you have to add another essential item on this front – wedding-themed robes for all your special ladies. What could be a more comfort-laden option as thank you bridesmaid gifts?
●   Shiny, silky and soft robes made from polyester
●       Tied in the front in kimono style
●       Best suited for handwashing
●       Available in a wide variety of color choices
Related Reading: 20 Bridesmaid Proposal Box Ideas – Ultimate List Of Things To Include
5.     Ceramic trinket tray
Your maid of honor is carrying out the most delicate task of keeping the ring safe. It's only fitting that your maid of honor thank you gift is a sophisticated, ceramic ring dish which they can use for the wedding and then afterward. If she is a fan of Friends, this tray is just perfect for her…I mean, look at the words printed on the tray – just like the title font of Friends.
●       The writing is: The one where you're my maid of honor
●       Quality ink and craftsmanship so that it won't wear off
●       Made of glazed ceramic with golden rim
●       Very safe packaging to prevent any damage during shipping
6.     Bride tribe tumblers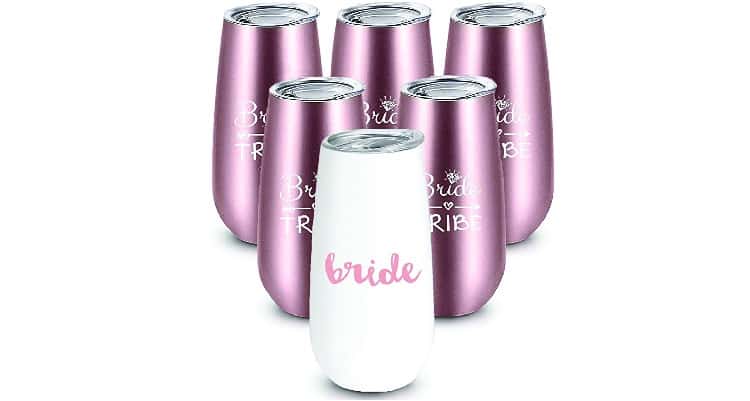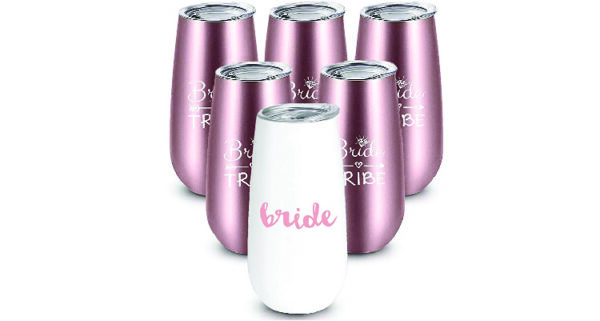 What are weddings without rivers of champagne flowing? And you don't want your girl squad searching for the guy serving wine flutes every time they need a drink, right? And when the wedding runs around a special theme, it's only fitting that your girls get a color-coordinated set of wine tumblers. These certainly do check a lot of boxes as thank you presents for bridesmaids.
●       Double insulated wall to keep the drink hot or cold for long hours
●       Made with long-lasting 304-grade stainless steel
●   Reusable
●       Stylish Instagram-worthy design and shape to fit in on any occasion
7.     Customized makeup bag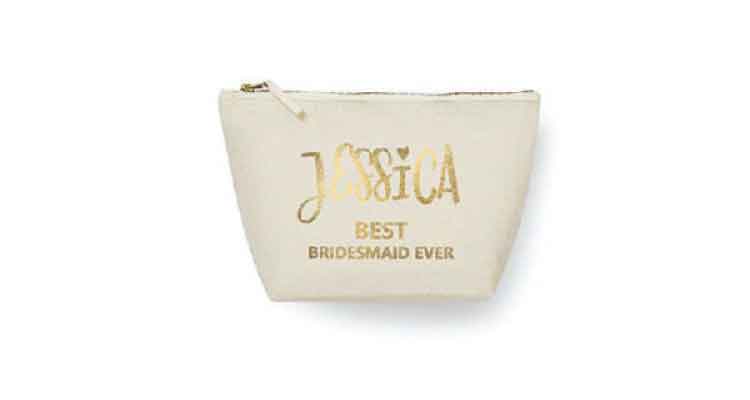 Small makeup pouches are a part and parcel of every bridesmaid's bag during the wedding. Now, wouldn't it be so much better if their pouch had their name on it to ensure it does not get lost amidst all the other stuff in the dressing room? As thoughtful thank you bridesmaids gifts, you can get your besties a personalized makeup bag for the Big Day.
●       Available fabric colors are black, beige, or white with golden or silver font
●       Sturdy, brass color, metal zipper
●       Made from 100% cotton canvas material
●       Options to add the person's name and role in the wedding in preferred color combination
Related Reading: 25 Unique Wedding Gifts For Bride From Groom
8.     Diamond pens
So, you are playing a fun game at the bachelorette party where you all have to write something down. It will look so very wedding-y if the bride and the bridesmaids use a cute party favor pen for the game. Why don't you slip these gorgeous diamond pens into your bridesmaid thank you gift boxes?
●       Sleek design in rose-gold color with acrylic diamond-shaped top
●       Separate gift box for each pen
●       Package of 8 pens: 1 has bride and 7 have bride tribe imprinted on them
●       Inexpensive, cute, and elegant – perfect party favor
9.     Personalized pendants
Your maid of honor and tribe of bridesmaids took such great charge of the wedding planning that it seemed like a cakewalk. They took every worry off your hands and now it's time to show them how grateful you are. Personalized name necklaces would make great 'thank you for being my bridesmaid' gifts. 
●       Unique vertical bar pendant available in 16k gold, silver and rose gold plating
●       Length of chain is customizable
●       Choose engraving or hand-stamping of names or initials
●       Comes in a beautiful jewelry box wrapped in a bow
10.  Stemless champagne glass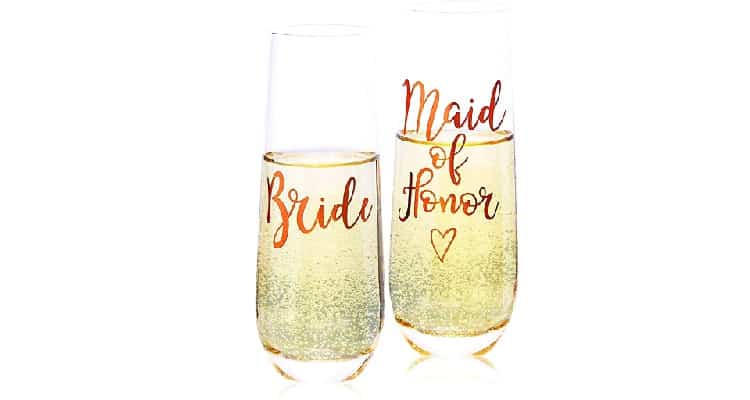 The bride and the maid of honor share an extremely powerful connection. When you want to raise a toast for this important person in your life, you two should share a unique pair of glasses. These rose gold champagne flutes are so very suitable choices as a loving maid of honor thank you gift.
●       Features Bride and Maid of honor in rose gold foil, cursive font
●       Capacity of 9.8 ounces (each glass)
●       Not suitable for machine wash
Related Reading: How To Get The Perfect Bridal Glow: Wedding Skin Care Tips
11.  Compact mirror
Weddings are a great occasion to meet handsome men. Your girls would definitely want to look ravishing and be party-ready at the drop of a hat. How about thank you presents for the bridesmaids that come in handy when they need a quick touch-up to bring out their most bewitching selves. You have to agree, compact mirrors are real necessities for any woman's quick makeup fixes.
●       Pack of 6 compact mirrors, 1 for the bride-to-be and 5 for the bridesmaids
●       Stunning crystal-style lid with mirrors on both side
●       Contains a plain mirror and a 2x magnifying mirror for better clarity and precision
●       Small, pocket-sized, easily portable
12.  Luggage tags
 Are your super girls flying all the way to Maui for the destination wedding? Send them your love with these cute thank you bridesmaid gifts for the long journey – these pink luggage tags would perfectly complement a floral, peach and white wedding vibe. What a nice memento to remember this trip forever!
●       In the front, the text says, So the adventure begins
●       Inside, there is an information card to fill in before flying
●       Made of quality PU leather, durable
●       Elegant design with golden metal buckle and lettering
13.  Adjustable bracelets
Looking for bridesmaid thank you gift ideas? Tell me if you can beat this…what do you sat to a bracelet with a message, Thank you for standing by my side today and forever? Your whole tribe wearing the same pretty bracelet at the bridal shower would be such a lovely sight, not to mention on so Insta-worthy!
●       Adjustable and flexible to fit every wrist
●       Made of rust-proof, stainless steel
●       Shiny, well-polished, won't cause any skin irritation
●       Comes in a velvet pouch for gifting purposes
Related Reading: 12 Trendy Wedding Gifts Your Groom-To-Be Will Love
14.  Bridesmaids socks
After attending all the parties and wedding events in high heels, your feet must be killing you. Imagine how it must be for your girl gang, what with all the running around they had to do to make sure everything went off smoothly. Help them breathe and rest a bit in these cute bridesmaid socks. Your girls won't be able to thank you enough for such a thoughtful present.
●       Made of soft polyester cotton blend
●       Stretchable to let tired feet breathe
●       Looks pretty with bride tribe lettering and cute pink pompom in the back
●       Meant to be machine washed with the same color batch
15.  Maid of honor picture frame
Needless to say, there are going to be hundreds of awesome moments captured during the wedding with your precious maid of honor. After the prints come back both of you are going to want to display some of the pictures at home. Nothing will be as good as a decorative picture frame as a maid of honor thank you gift.
●       Made of durable engineered wood
●       Rustic look with a beautiful quote for the maid of honor
●       Features a pretty handmade heart design with threads
●       Suitable to hold 4×6" photographs
16.  Canvas bag with initials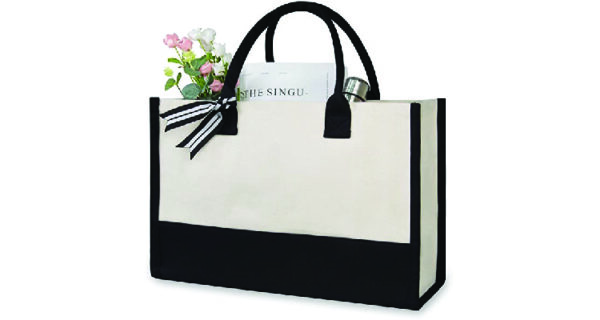 Your busy bee ladies squad is going to require a nice and spacious tote bag on the day of the wedding. It will come in handy when they are holding onto something for the bride or carrying the bouquet or their personal stuff. These personalized canvas bags can be amazing bridesmaid thank you gifts to shower some love on your girls.
●       Heavy-duty, 100% natural cotton, canvas bag
●       In-built PE board to make it sturdier and give a better shape
●       Select initials of your bridesmaids to personalize the order
●       Black-and-white retro look and classy design
Related Reading: 28 Romantic Valentine's Day Gifts For Husband
17.  Jewelry box
A bride knows best how jewelry boxes are important for the safekeeping of precious ornaments during a wedding. And that is precisely why you should get a unique color-coordinated set of 6 for your bridesmaids and the maid-of-honor. Your ladies will be thrilled to get these in their bridesmaid thank you gift boxes.
●       Set of 1 white and 5 pretty, peach, travel-size, jewelry boxes
●   Written in beautiful calligraphy: bride and bridesmaid
●       4 square pockets with bangles and ring holder sections
●       Made of quality faux leather with easy-glide golden zipper
18.  Wedding coffee mug
Gift your maid of honor a cute, wedding-themed coffee mug to share a cup of hot beverage together to beat the wedding blues. She can save this mug forever as a sweet memory of your Big Day.
●       Exquisite, bone china material in milky white color
●       Cute illustration of bride and maid of honor in messy buns wearing bridal robes
●       Provides better insulation than porcelain cups to keep the drink warm
●       Printed on both sides with lead-free ink
19.  Bride Tribe keychains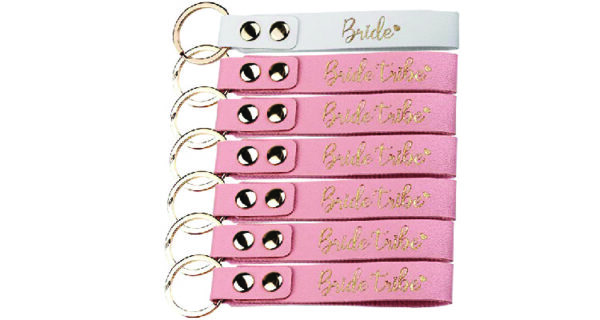 Just like the luggage tags, your bride tribe could have similar keychains in the same color and lettering. These bridal party supplies have practical utility and make excellent thank you presents for bridesmaids.
●       A set of seven bride's tribe and 1 bride keychain in white and pink
●       Durable PU leather stamped with golden metallic ink in calligraphy fonts
●       Sleek metal ring to attach the key
20.  Picture frame
This wedding is going to be a roller-coaster ride for you as well as your bridesmaids. So many new memories in the making, full of laughter, wedding jitters, and even a few drops of tears. Gift them a nice keepsake to display some lovely moments from the wedding. Picture frames are all-time classic thank you bridesmaid gifts.
●       Specially hand-crafted from solid wood in a soothing color
●       Rustic design with both back-stand and wall-mounting hooks
●       Suitable for 4 x 6" photographs
●       Imprinted with a heart-warming message for bridesmaids
Related Reading: 15 Best Engagement Gifts For Newly Engaged Friend
21.  Necklace and earring set
What could be a better 'thank you for being my bridesmaid' gift than a jewelry set with a gift card that says, "I can't say 'I do' without you"? Trust me, the ladies will absolutely adore this pendant and earring set which will go perfectly with their bridesmaid dresses.
●       Handcrafted from nickel-free and lead-free alloy
●       Specially made for sensitive skin
●       Looks stunning in rose-gold plating and crystal pave rhinestones
●       Lobster hook extender included for the pendant chain
22.  Maid of honor wine tumbler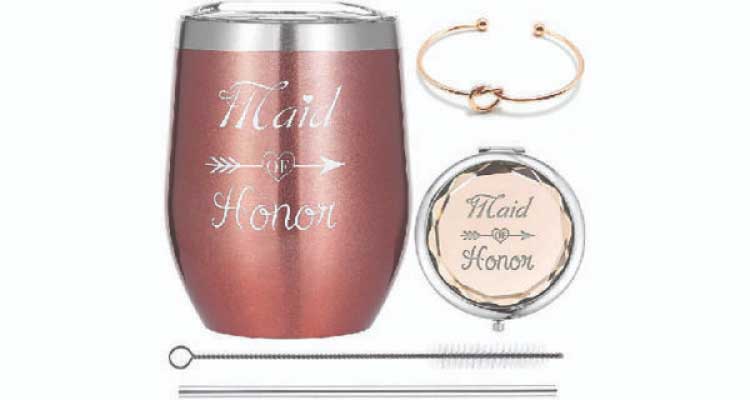 How about a gift set specially customized for your wonderful maid of honor? This wedding gift basket contains a wine tumbler, a makeup mirror for your pretty girl, and a stunning knot bracelet. With maid of honor beautifully carved onto the tumbler will leave no doubts as to whom the stand-out piece belongs to and she deserves the best, doesn't she?
●       Double-wall insulation tumbler with BPA free lid
●       Stylish compact mirror in the same rose gold color and font pattern; comes with a little brush
●       The tumbler comes with a straw
●       Bracelet made of rose gold plated, stainless steel in adjustable design
23.  Floral makeup bags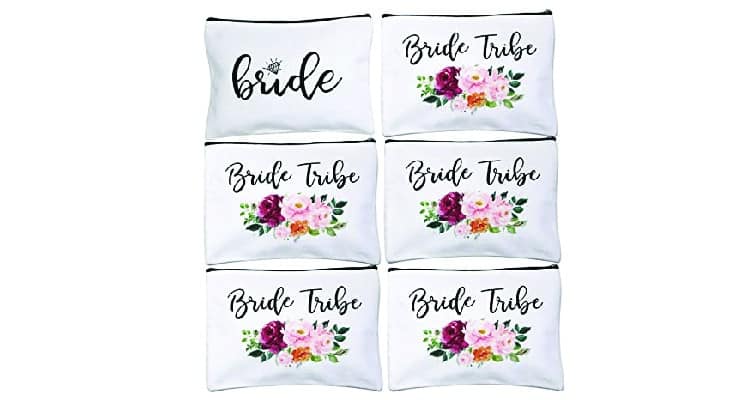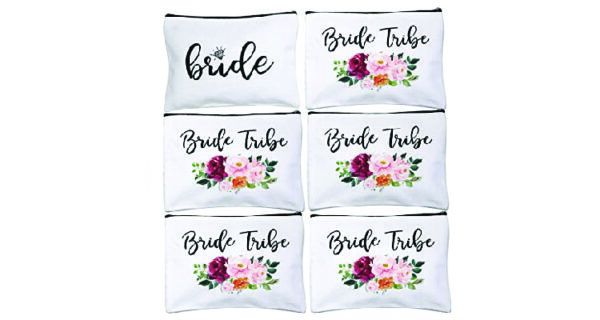 Who wouldn't love to have a pretty floral makeup pouch? Your bridesmaids can carry around their essential items like lipstick or perfume or a compact for a quick touch-up in these small cases. Don't you worry about bridesmaid thank you gift ideas anymore, just grab a bunch of these for your team of ladies.
●       Comes in a set of 6 for the bride and the bride tribe
●       Light-weight, spacious, and easily portable
●       Quality canvas cotton material with durable zipper
●       Beautiful floral design and calligraphy lettering on a white base
Related Reading: 30 Best First Wedding Anniversary Gift Ideas For Couples
24.  Cute bottle opener
Do you wish to add a small item in the bridesmaid thank you gift boxes that will serve as memorabilia from the wedding? This airplane travel bottle opener would be just right for that. It's a party favor your bridesmaids can use in the bachelorette party and after the wedding as well.
●       Pack of 12 metal bottle openers
●       Very intricate design with gold-plating
●       Small size, can fit in a pocket or purse
●       Cute packaging, ideal for gifting purposes
25.  Initial bracelet
Your bridesmaids will be by your side to boost your mental strength if you feel overwhelmed. They will help you to get through this wedding with grace and happiness. How do you tell them that they are an indispensable part of your journey? A personalized bracelet with their initials engraved on it can do the job without you saying much. Add this to your list of thank you bridesmaid gifts.
●       Includes a gift card – I can't tie the knot without you
●       Adjustable pattern to fit every girl's wrist
●       Made of oxidation-resistant premium quality alloy
●       Knot and initials put side by side is symbolic of bride and bridesmaids' bonding
26.  Bridal hairpins
If you are finishing your wedding outfit with a stunning tiara or leafy headband, the bridesmaids should dress their hair with a pretty floral pin. Add this floral golden pin to your thank you bridesmaid gifts basket to add that extra dash of glam to your girls. Team bride will spill gorgeousness all over the wedding with their graceful hairdos.
●       Set of 2 pins; can be worn individually or together on a low side bun
●       Features intricate design of ceramic flowers, beads, and gold plated leaf
●       Attached to the hairpin with a golden wire
27.  Girly wine flask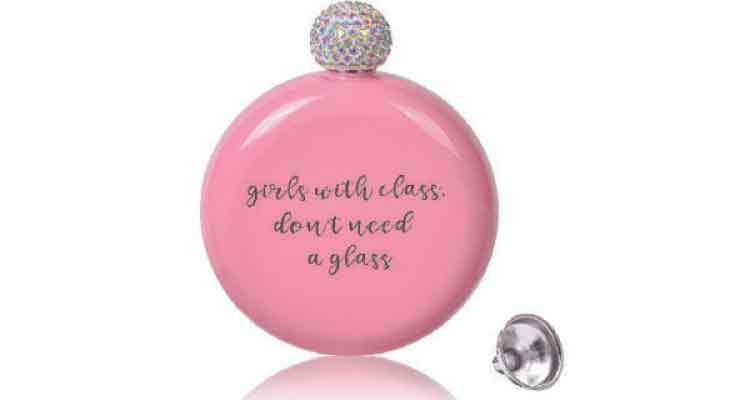 Your bachelorette party is supposed to be a bit naughty and all about one helluva night of intoxication. Team Bride can go a little overboard on that night. You never know where the wild party will land you. Be prepared for the exciting night with these super chic, sassy, hip flasks for you and your girls.
●       Unique engraving and design meant for bold women
●       Stainless steel with rhinestone lid gives it a classy look
●       Flask capacity is 5 oz
●       Available in black, pink, and silver color options
Related Reading: 10 Things To Do With Your Girl Gang Today!
28.  Coffee gift basket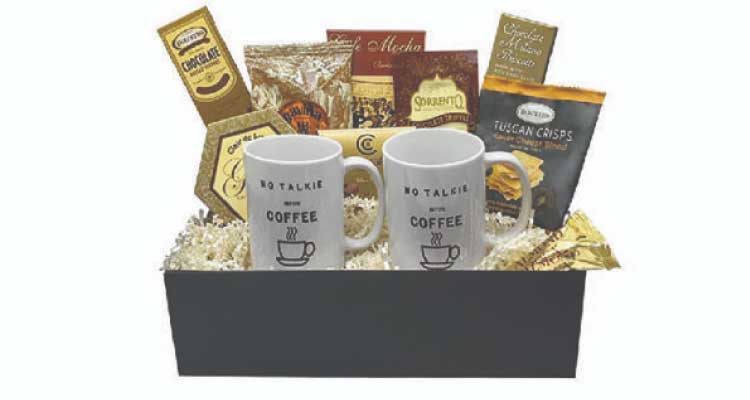 You girls are going to need a strong boost of coffee to come back to reality after that out-of-the-world zone of the bachelorette party or the wedding reception. Keeping that thought in mind, present your bridesmaids an entire set of coffee and cocoa gift hamper.
●       Contains chocolatey snack items like truffle, wafers, and biscotti
●       Assortment of coffee and cocoa
●       Two mugs also included
29.  Maid of honor necklace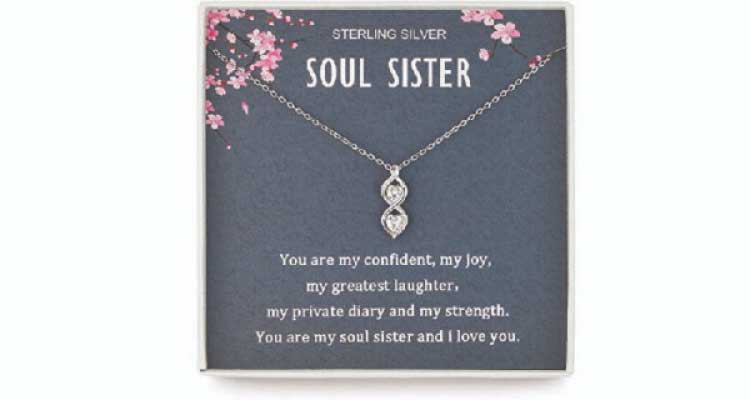 How long have you known your maid of honor? Were you best friends in kindergarten? Or did you two share the same womb? Either way, she is your biggest support system, the source of your joy and laughter. She is your soul sister. Your maid of honor thank you gift should say that out loud. Take a look at this dainty infinity necklace:
●       This stunning piece of jewelry is made of authentic sterling silver
●       Chain length: 18 inch
●       Comes with a heartfelt gift card message
●       Well packed including a gift bag for presenting
30.  Bridesmaid Christmas ornament
Commemorative Christmas ornaments are such beautiful memorabilia that one can't help but be swayed by their beauty. If you are having a fall or winter wedding, Christmas ornaments will be a fitting item for your bridesmaid thank you gift basket.
●       Used UV printing technology to imprint motif and text on white ceramic or porcelain plate
●       Flat, circular ornament with design on both sides
●       Colors will not fade away
●       Customize text and date as you wish
Related Reading: 21 Wedding Gift Ideas For Couple Already Living Together | 2022
31.  Bridal party pins
Nobody understands your precious girls better than you. You know who's the sloppy drunk and who among them won't be seen without their makeup for a second. You can get a bunch of party pins and share them with everyone according to their nature/personality. It will be the most fun thank you bridesmaid gifts you can give your darlings.
●       Contains 16 pins with labels like — Bridesmaid, Team Bride, Hot Mess, Bad Influence, Diva, Maid of Honor, etc.
●       Light and sturdy, made of tin
●       Cute as a button in white and floral design
●       Easy-open clasp to wear with a dress or fit onto purse or handbag
32.  Scrunchies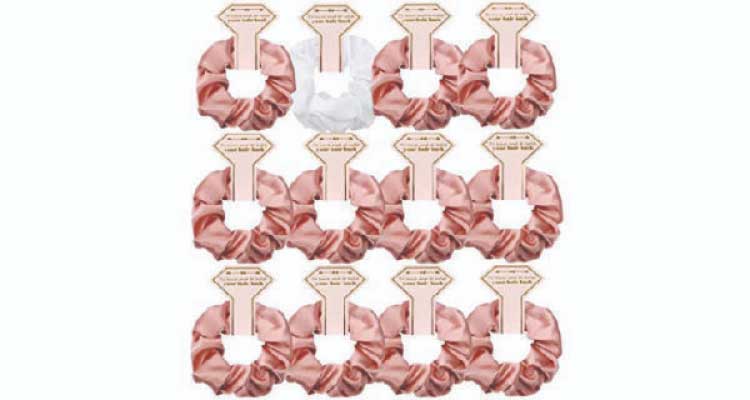 Cute satin scrunchies are all the rage in weddings and all over Instagram too these days. To be honest, no girl can ever have enough scrunchies. You can get a whole pack of them to match with the colors of the bridesmaid dresses. A small item in the bridesmaid thank you gift box that everyone will adore.
●       The sleek satin fabric sits softly on hair
●       Great texture and stretchable
●       Packed around a diamond-shaped gift card with a quote: To have and to hold your hair back 
33.  Maid of honor tote bag
Are you still confused whether your maid of honor thank you gift should be something related to the wedding or something practical? A tote bag solves all your dilemmas here. It is handy and highly utilitarian on almost any occasion. Plus, this floral white tote bag with the words "Maid of Honor" gives out a complete wedding vibe.
●       Quite spacious and made of canvas
●       Better to clean it with a damp cloth than throw it into the washing machine
●       Elegant, rosy floral motif
●       Well-built peach handles to carry around safely
Related Reading: Modern Wedding Suits For Groom – 25 Ideas
34.  Custom name ring
Customized rings have a warm personal touch that is unmatched by any other gift. Get your hands on these minimalistic statement rings imprinted with the names of your bridesmaids as a token of your love and appreciation. It will not steal the attention from their entire outfit but subtly enhance its beauty. Your thank you bridesmaid gifts basket will remain incomplete without a fine jewelry piece like this ring.
●       Available in gold, silver, and rose gold plating in a wide size range
●       Have it inscribed in the preferred font  
●       Add a heart or star after the name
●       Best not to wear during any heavy physical activity
35.  Spa gift box
Pamper your girls with a wholesome spa gift package so they feel refreshed and rejuvenated before the wedding ceremony. Spa kits are ideal for thank you bridesmaid gifts ideas and you don't need to think twice about this particular kit by Dear Ava.
●       Includes moisturizing hand and body soap and shea butter nourishing lip balm
●       Fragrant lavender candle made of A-grade soy wax
●       2 revitalizing bath bombs with cocoa butter and essential oil extract
●       Beautifully packed in a gift box with a heartfelt message attached
36.  Gourmet cheese basket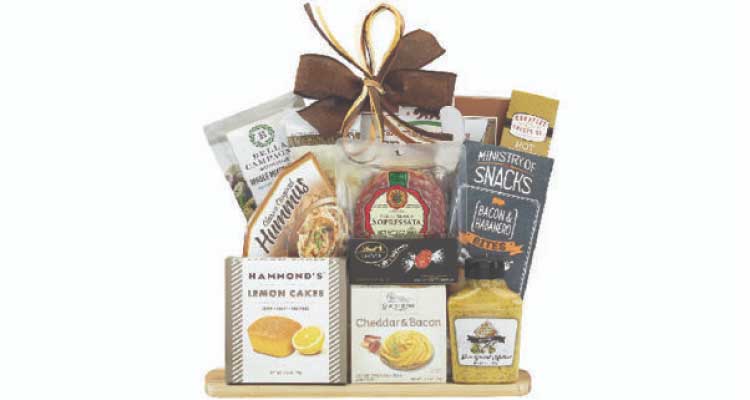 Speaking about lovely gift baskets for the bridesmaid, here's another one in the same category. It is meant to please the cheese connoisseurs amongst your girly gang. A basket full of mouth-watering gourmet snacks and food items will win over anyone in a heartbeat.
●       Includes eco-friendly, bamboo, cutting board with the set
●       Variety of food items from salami to hummus, from bacon to cheddar cheese, and more  
●       Personalize gift basket by adding a message for the recipient
37.  Bridesmaid candles
Amidst all the rush and stress of planning a wedding, your bridesmaids deserve some moments of peaceful meditation and relaxation. Whether it's to take a bubble bath in the sweet aroma of lavender oil or just while having a quiet dinner, this candle will be a hit for both. The quote on the label makes it an even more appropriate thank you bridesmaid gift.
●       9 oz candle that lasts for 40-45 hours
●       Ingredients are 100% natural soy wax, cotton wick, and non-toxic elements
●       Fused with soothing lavender fragrance
Related Reading: 10 Things Nobody Tells You About Marriage After The Wedding
38.  Fanny packs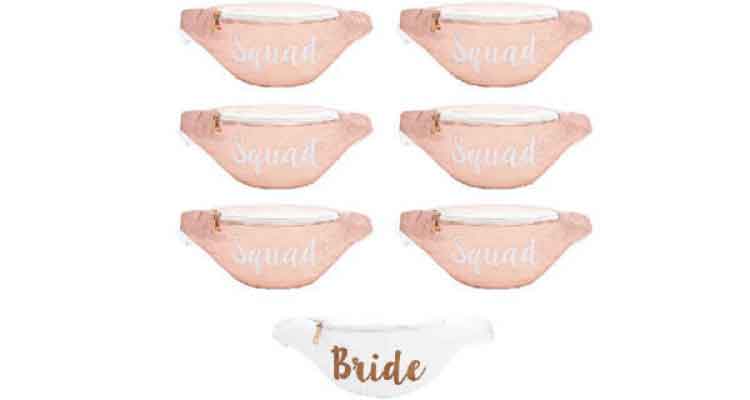 When the bridesmaids are running errands before the Big Day and even at the venue, it may not be always possible to carry a big bag for their personal stuff. This is where fanny packs come in super handy. They can safely keep important things like mobiles or lipstick or a small perfume bottle at hand without having to worry about losing anything.
●       Full set of 7 fanny packs for the bride and her squad
●       Funky design in a silk material
●       Adjustable waist strap to fit a wide range of sizes
39.  Bridesmaid t-shirt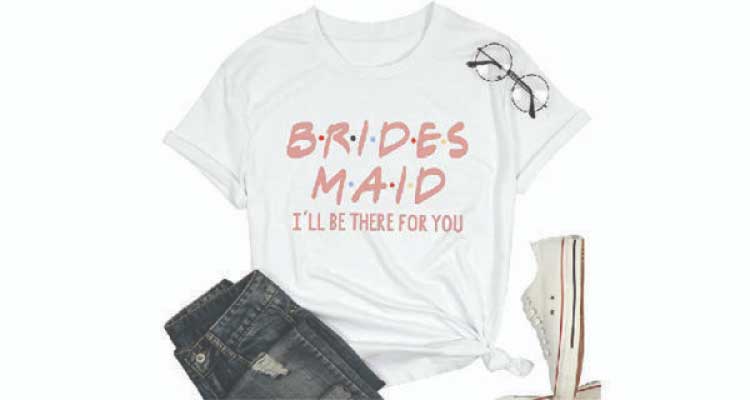 Is the Friends theme song your forever favorite jam too? Then picture this – you and your tribe rocking a karaoke bar in Chinatown wearing this cute bridesmaid t-shirt. Sounds about perfect, doesn't it? It will be a night to remember! This line from the song, "I'll be there for you" is such a great representation of your friendship through thick and thin.
●       High quality, cotton blend
●       Soft and comfy to wear
●       High tech printing process to make sure printed words last long
●       Choose size from S, M, L, or XL
40.  Squad headbands
Now that it's time to dance like no one is watching and also to have a fun photo session at the bachelorette party, a collection of squad headbands for all your girls will make it extra special. Why don't you put these bachelorette hair accessories in the bridesmaid thank you gift boxes before the party begins?
●       Flexible tiaras will fit everyone perfectly
●       Shiny metal headbands with silver plating
●       4 squad tiaras along with one for the bride-to-be
Related Reading: How To Have A Non-Religious Wedding – Some Awesome Tips!
41.  Team bride sash
Bridal team sashes are THE one-of-a-kind accessories to wrap up your outfit at the rehearsal dinner or to add some zest to the bachelorette party. Except unlike a pageant, you all are winners here. So, one rose gold 'Team Bride' sash for each of your girls and a white 'Bride-to-be' one for you to celebrate this exciting milestone of life. This fancy accessory should be a staple with whatever other thank you bridesmaid gifts you pick.
●   Top-quality double-layered sashes
●   Silky satin material with golden font lettering
●   Set of 7 bridal party sashes
42.  Maid of honor bracelet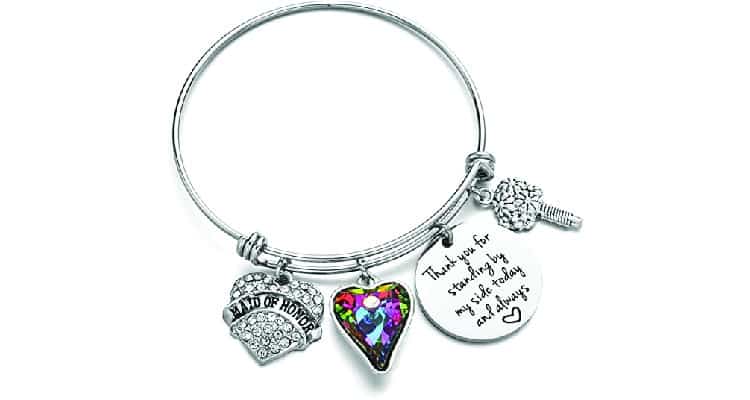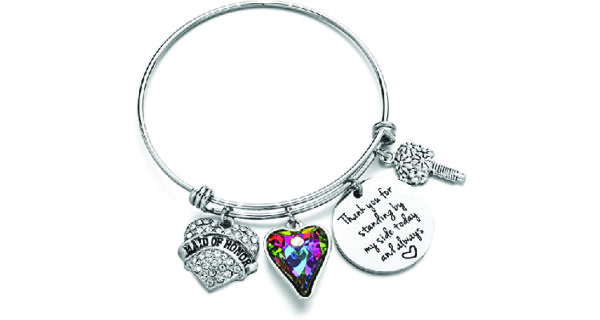 Let us wrap up this catalog of thank you bridesmaid gifts with a little something for the maid of honor. As extraordinary is this day for you as a bride, it is equally important to her as well. Let's seize this very moment in our hearts forever with a classic maid of honor trinket bracelet – a piece of jewelry to always remember you by.
●       Expandable metal bangle with 4 charm elements
●       High-quality polish that won't fade away easily
●       Nickel and lead-free material to avoid any skin irritation
●       Provided with a pretty gift box
 We hope that more than enough bridesmaids thank you gift ideas to get you covered before the wedding. Shake all the worries off your shoulder and create a list of your favorite gift items from our suggestion. We are sure your girl squad would love the presents and they would love you even more! 
FAQs
1. How Much Should You Spend on Bridesmaid Gifts?
 This totally depends on the budget of your wedding. Also, keep in mind how much your bridesmaids have spent for you throughout the wedding planning.
2. Does the groom buy the bridesmaids a gift?
Not really. It's his duty to buy gifts for the groomsmen from his side. Bridesmaid gifts are purchased and distributed by the bride herself. 
How Spending Time With Friends Helps Improve Your Relationship
Should The Bride And Groom Split The Wedding Cost? How To Do It…
Ask Our Expert
You must be Logged in to ask a question.