Many many congratulations on your engagement! Now that you are no longer boyfriend and girlfriend but would-be husband and wife, a birthday gift for your fiancé deserves additional contemplation and care before you come to a decision.
Irrespective of the duration of your courtship, you might still struggle with fiancé birthday gift ideas because if the relationship had been short, you might not be aware of all their likes or dislikes. And in case you have been together since almost forever, then you might run out of ideas after so many birthdays.
32 Best Birthday Gift Ideas For Your Fiancé
This list has 32 fiancé birthday gift ideas, and we are sure that at least one of these would appeal to you or your fiancé. No matter what you choose for your significant other, remember that no gift is big or small as long as it signifies your love and affection.
Take a look at the following curated and thoughtful fiancé birthday gift ideas and give him/her the best surprise of their lives:
1. Preserved rose with a 'Love you' necklace
A rose with a necklace is an ideal birthday present for your fiancé if she is a woman who appreciates such romantic gestures. This preserved rose with a 'Love You' necklace will be a testament to your eternal love for her. Turn on your phone's camera and point it toward the stone. And voilà, 100 languages will flash on the screen.
Comprises a 100% real fresh rose with a minimum of 30 petals
Consists of a small drawer with a necklace carrying the 'Love You' message in 100 languages
No need to water the rose; it can self-preserve itself for 3-5 year
2. A keychain with a caring message
A 'Drive safe' keychain with a cute and romantic message can be the best birthday gift for your fiancé and the perfect way to say "I love you" as it can make them feel treasured and cherished. The engraved message itself signifies that you care about them a lot. This durable and sturdy keychain is a perfect keepsake for your fiancé and will come in handy when they are missing you.
Composed of stainless steel with the key chain being highly polished
Comes with a free jewelry bag
Message engraved – "Drive safe, I need you here with me"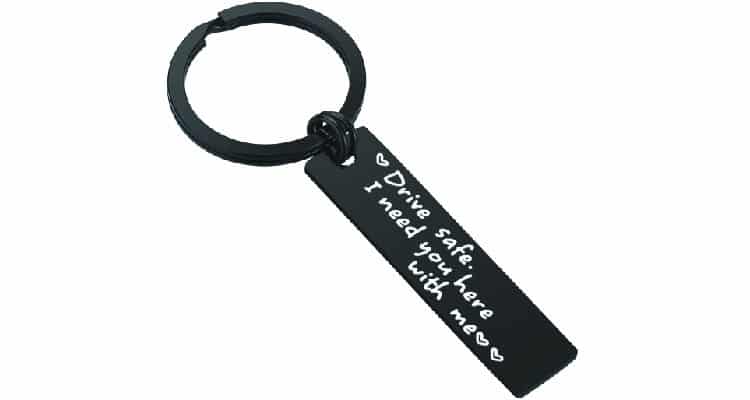 3. Picture frame to celebrate memories
This wood string art picture frame is a model birthday gift for your fiancé if you are planning to settle down sooner than later. This picture frame demonstrates all the good things that would come your way as you begin a new life with your partner. If your fiancé travels a lot, then consider gifting them this photo frame. They can take a look at it and reminisce about their time with you whenever distance keeps you apart.
The frame is able to hold a 4″ x 6″ photo
It is made of a wood and cotton line
The hanging hardware is attached with the frame
4. A birthday card with a heartfelt message
Sometimes a birthday card with a thoughtful message can be an endearing birthday gift for your fiancé provided they value the intent behind it. Make them feel special on this eventful day with this romantic birthday card. If your fiancé is the type who swoons over sentimental keepsakes, then definitely go for this gift.
Black foil damask accents with the picture of a rose
It comes with a super romantic front message and a sentimental 'Happy Birthday' message
The message will bring a smile to your fiancé words
5. Red heart in a bottle for some extra-mushy romance

Remind your fiancé that they are your best decision ever. A lovely tiny heart in a jar with a customizable message card can be gifted to both genders and is one of the best fiancé birthday gift ideas for him and her. Express your feelings with this adorable hand-made red heart in a bottle and make your sweetheart feel valued.
It comes with a packaging of your choice
It has a cute message inscribed in a bottle with a red heart
It comes in a teal blue box or a bright craft packaging
Related Reading: 10 Ways To Build Your Relation After Getting Engaged And Before Marriage
6. Classic romantic box sign as a keepsake
Some people love little sayings and mementos. Bring both of those elements together and you get this classic box sign that is perfect for your fiancé to look at and think of you when they are missing you. The Classic Box sign is a gender-neutral gift. Consider this if you are running out of fiancé birthday gift ideas for her and him. This romantic keepsake can also work well as an art décor in the living room or bedroom.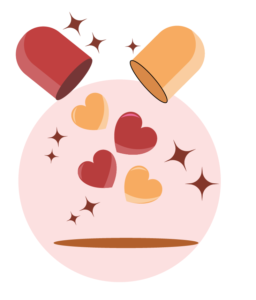 Get your dose of relationship advice from Bonobology right in your inbox
Features rounded corners with sanded edge
It is built with high quality wood
It can hang on the wall or stand on its own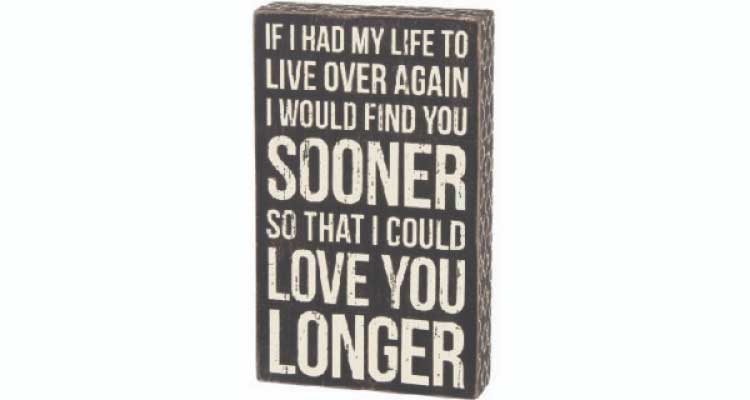 7. Bistro coffee mug to make their mornings better

Make coffee addiction romantic by gifting this 15oz Bistro coffee mug to your would-be partner for life. When you are feeling extra romantic, you can put a tape on some part of the message so that it reads – 'I Am Never Not Thinking About You!'. This, unquestionably, is an awesome birthday gift for fiancés.
It is a white ceramic mug with high quality ceramic inks
It has permanent imprint, and it is dishwasher and microwave friendly
It holds 15 ounces of any beverage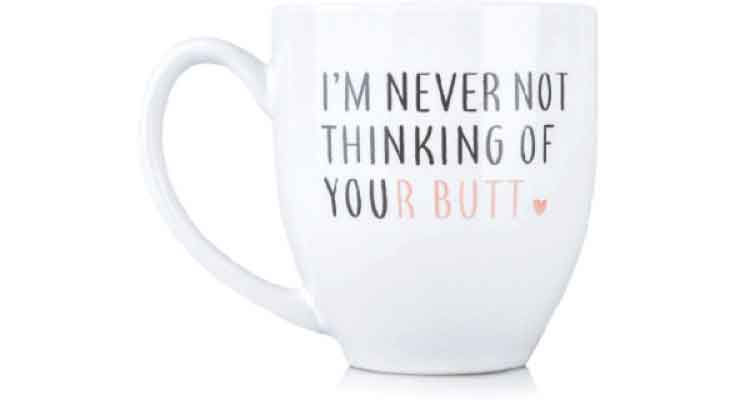 8.  Lovers vouchers for some extra spice
Thinking of an out-of-the-box but a meaningful birthday gift for your fiancé that will make them fall in love with you all over again? Try out this Lovers Vouchers and let your soon-to-be significant other choose from a variety of options which include a cuddle session, a candlelit bath, a big juicy kiss and many more.
It carries 20 unique love coupon. Its dimension reads 8 x 3.25 inches
It is ideal for fulfilling desires
If your fiancé is looking to spice things up, they can even choose a shower for two or a full body massage for some sexy time.
9. Mr. and Mrs. aprons for some kitchen romance

This pair of aprons is a fantastic fiancé birthday gift if both of you love cooking together. Make his or her day by getting them this elegant matching apron and enhance your romantic moments in the kitchen. This gift is the perfect example of elegance and quality and is bound to set the mood for many romantic evenings.
It provides a cover from chest to knee and is machine washable
This pair of aprons offers protection from food stains, spills, and kitchen grease
It includes a romantic recipe book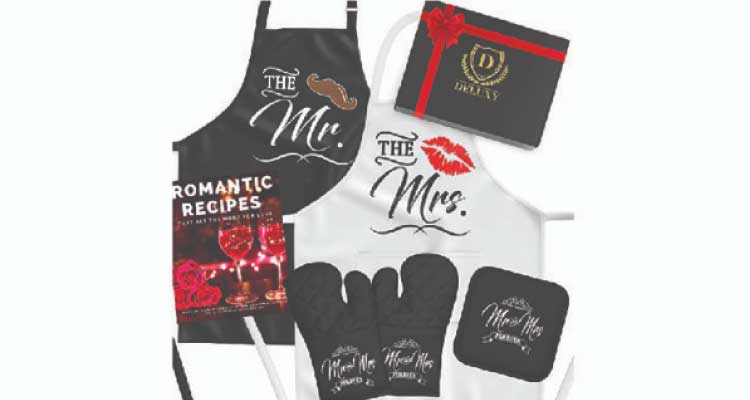 10. Macorner tumbler for her
Macorner Tumbler for Women is the ultimate birthday gift for your fiancé if she loves gifts which are romantic, mushy but functional at the same time. The cup body is strong and sturdy and resistant to rust. Forget about spilling, dripping or condensation; just toss your bottle in your bag without worries.
It is a fashionable vacuum insulated stainless steel tumbler
It can be used at the pool, BBQ, during hiking, picnic, on the beach, at home
It comes with a leak-proof cap; the beverages can stay hot/cold for up to 9 hours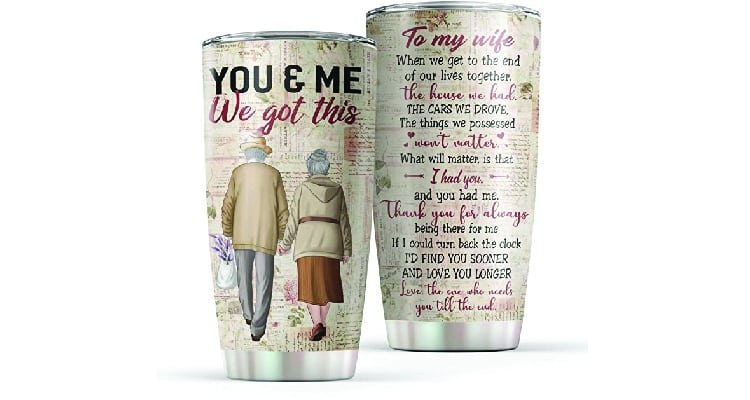 11. Long distance relationship gift
If you are in a long-distance relationship with your fiancé, then it makes complete sense to get this gift for them. Hugging this pillow will somewhat lessen the pain of being apart every night. Rest assured that the writing on this pillow will not fade anytime soon; you can even treat it as a keepsake and include it in the décor of your bedroom.

It goes through a long-lasting fiber dyeing process that keeps the decoration soft and breathable
The pillowcases are made up of 120gm silky, soft-brushed microfiber fabric
It is fast drying, machine washable, and resistant to wrinkles
Related Reading: Before You Get Married, Ask Yourself These Questions!
12. Engraved wallet card for your beloved
Running out of small but meaningful fiancé birthday gift ideas for him? Go for this engraved wallet card made of premium quality stainless steel which is not only light in weight but also sturdy. This is another unique and thoughtful long distance relationship birthday gift for fiancé which he will love and relish.
It is built with stainless steel; the quality engraving will disallow color change or fading
This comes with a free gift envelope; the credit card size is 3.37″x2.12″x0.02; it is convenient to put it in wallet
It begins with a 'I CHOOSE YOU – And I will choose you over and over and over again'
13. A journal cum bucket list
There is nothing more romantic than having a bucket list with your fiancé and making plans to try out new experiences with them. This journal-cum-bucket list will help your fiancé to put all the goals, dreams and plans in a systematic manner. Every page on the journal comes with an inspirational quote; your fiancé will thank you for this one.
The gift consists of detailed pages for you to fill up with at least 100 ideas
Write down your experiences beside the target date and tick when complete
The dimensions read 6×9 inches; it comes with a beautiful cover with 110 pages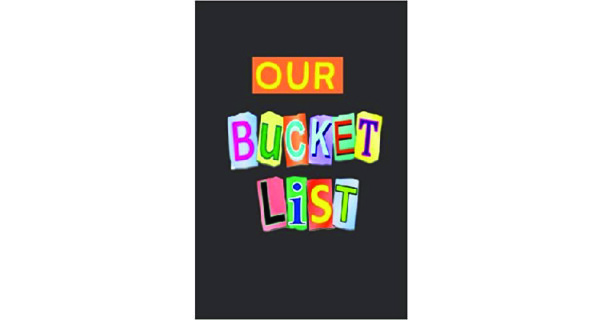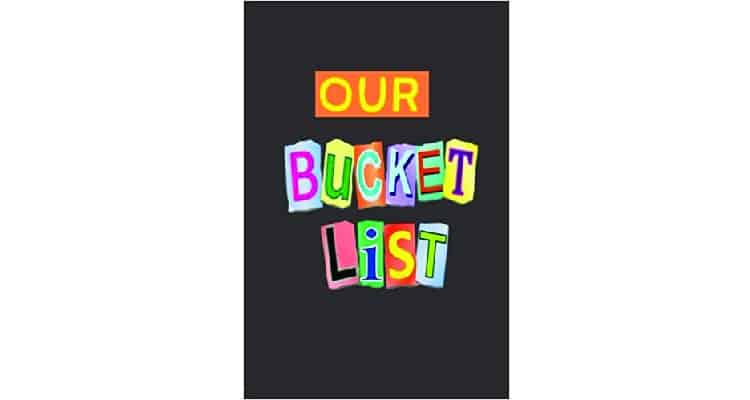 14. Star projector light for night time romance
If you want to transform your bathroom into a home spa or make your bedroom's atmosphere romantic, relaxing and elegant then by all means buy this star projector night light for you and your fiancé to spend romantic nights. The best part about these lights is that they are bright yet they don't keep you up at night. Truly an innovative birthday gift for fiancé!
It is lightweight and adjustable; the LED atmosphere light can be plugged in any USB interface
The gift is portable and small; it can be a part of the room and car décor
The gift produces a starry effect; it sets a romantic atmosphere for the house and/or car roof
15. Bath bombs for some well-deserved pampering
These bath bombs made from natural ingredients are perfect for pampering your fiancé. We think it's a fantastic fiancé birthday gift idea as it's not high maintenance and they can easily pamper themselves a few times each week with these. If your fiancé loves spending time in the bathtub, then get these bath bombs to enhance their bathing experience and make them feel like a king/queen.
The gift is made for normal/dry skin; it is therapeutic and relaxing
It consists of 12 distinctive handcrafted bath bombs; it also hydrates skin
It weighs 3 oz, and is 2 inches in diameter; it also contains color and flower petals
16. Filling in the blanks romantic gifts
This fill in the blanks is the best birthday gift for your fiancé if they are into expressing affection to your partner through words. The book which comes with fifty prompts will nudge your beloved in the right direction when they are unable to express their feelings for you. Both of you can go through this thoughtful gift together and read all the beautiful things your fiancé has written about you.
The gift encourages the fiancé to express love through words; it is built to enhance intimacy
The gift is inspired by couples' psychologists; it comes with a sticker sheet full of popular emojis
It consists of fifty prompts; it is ideal for showing love through compliments and words of affirmation
17. Pair of bracelets for long-distance love
Bond Touch Bracelets are model gifts for couples who have to keep their long distance relationship especially if they are in different time zones. You can't always Skype or Facetime each other as your individual schedules may not be aligned all the time. Let your fiancé know that you are thinking about them and make them smile every time you send a touch with this technologically advanced yet romantic birthday gift for fiancé.
It mimics the natural vibration of touch; it lets you stay connected even while being apart
The gift has a battery life for 4 days and comes with encrypted and secure bracelets
The accessory bands can be swapped with a different color to match outfits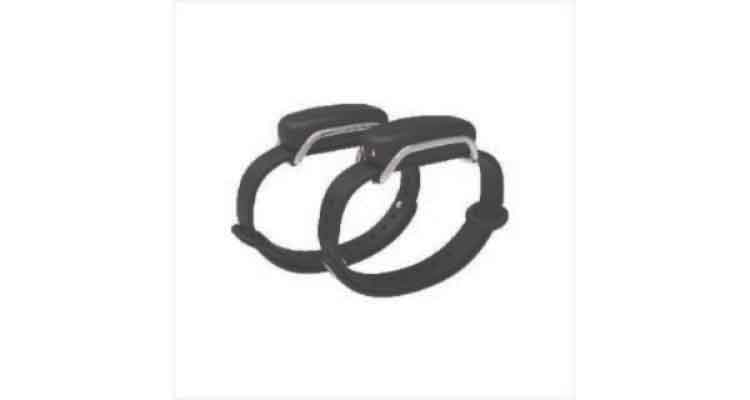 18. 100 dates poster for couple activities
Are you the kind of couple who likes to stay at home or are you the adventurous kind who is known for taking risks and living life on the edge? Get this poster for your fiancé and let them decide all the activities that can be done to make long-lasting memories. Whenever your fiancé is stuck with a lack of ideas for couple activities, this poster can be their savior and therefore an ideal birthday gift for fiancé.
It comes with vibrant, unique, and original illustrations for all kinds of dates under the sun
You can tick things you have already done as a couple and take up new challenges
It helps you build beautiful memories in order to make your relationship stronger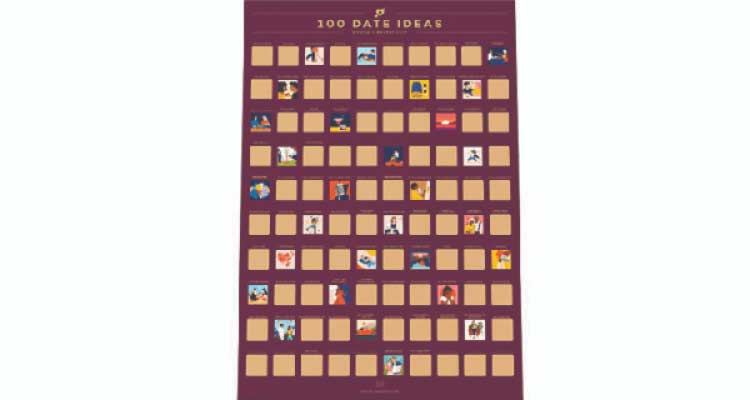 Related Reading: 23 Things To Do To Make Your Girlfriend Happy
19. Power drill manual wrench adapter
This universal socket engraved with 'I LOVE YOU' is the perfect gift for your sweetheart. They can use it in multiple places including the field, home or during regular work. Make your fiancé's life convenient with this adapter that saves time and energy and improves work efficiency.
It is made of premium steel; it is strong, rust-resistant, and long-lasting
It easily adapts to various shapes and sizes; it opens hooks, nuts, bolts, and other fasteners
This is ideal for auto repair along with improving home, carpentry, and construction
20. Engraved coffee spoon for your coffee-lover
This is the best gift for your fiancé if they are a coffee lover. The engraving on the coffee spoon makes it super romantic and is an ideal present to give to your beloved on your anniversary or during their birthday. If your fiancé and you love having coffee together or sharing a scoop of ice cream, we think this birthday gift for your fiancé will definitely come in handy.
It comes with an ultimate spoon to scoop out ice-cream, coffee, peanut butter
The spoon is dishwasher friendly; it is made of stainless, durable, cold and heat resistant steel
It is laser engraved; it has long-lasting pattern and comes with a long and slim handle
21. Handmade walnut wood love greeting card
This card is perfect as a complimentary gift especially if you guys have fought just before your special one's birthday. This 'I love you' card can be tweaked into a sorry card as well thanks to the ample space in the card for writing down your feelings. This is what makes it a unique birthday gift for your fiancé. If no other gift idea appeals to you, we say go for this card and score some brownie points with your fiancé and be a true gentleman!
It is created with premium quality walnut wood
It has a pretty laser cut heart shape accompanied by "To My Love" at the bottom
This is a personalized gift where you can write down your own message
22. Da Vinci Code mini cryptex to display love differently
The Da Vinci Code Cryptex is both an interesting and romantic gift. Its default password is set to the world's most romantic phrase 'I LOVE U'. It's perfect for your fiancé if she is organized and always on the lookout for storage spaces for things including makeup, skincare, jewelry, and other valuables. Give yourself a pat on the back for this birthday gift for your fiancé as it shows that you can think out of the box when it comes to gifts!
It is 14cm long along with a hidden compartment around 8cm Long x 2.5cm
'I LOVE U' is the default password that is customizable
Valuables, notes, keys, jewelry, accessories can be stored along with LOTR rings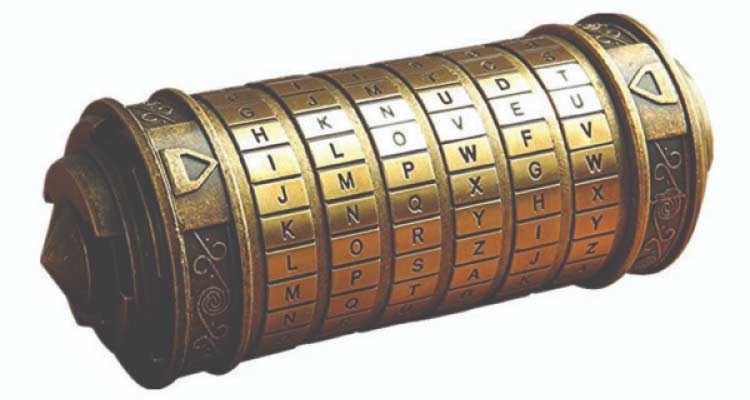 23. Neck and back massager pillow for all those aches
Your fiancé will thank you for this neck and back massager pillow if they suffer from sore and tight muscles frequently. This one may not be the traditional romantic gift, but it undoubtedly shows that you care for your special person. When you are not around to relieve your partner from aches, knots and muscle tensions, let your gift be their personal masseuse!
It soothes aching and tight muscles and boosts blood circulation
This gift comes with the latest heat therapy with the heated nodes providing an intense massage
It is a safe and mobile massager with a two-layer protection net
24. Beard kit for your man
Do you find bearded men hot? If yes, then why don't you enable him to maintain that with this Beard Kit?
It can be used twice a week; it conditions the beard and makes it look stylish. We vote this as one of the best fiancé birthday gift ideas for him.
This is composed of Shea Butter, Jojoba Oil, and Argan Oil along with zero harmful ingredients
This gift includes balm, 2 beard oils, shampoo, and an e-book on Beard care
The Beard Kit will trim, shape and tame his beard and make his overall look more attractive.
25. His-hers matching set necklace
Who said that jewelry is only for women? Break the stereotype and gift your fiancé Feraco's His Hers Matching Necklace. In case you are the man with a tomboyish fiancé, you can happily trade your black pendant with her rose one.
You can find – 'Eternal Love' engraved on smaller silver rings and 'The World Looks Wonderful When I Am With You' etched on the larger ring
It comes with a well-crafted titanium stainless steel necklace with laser-cutting technology; it is allergy-resistant
It is an easy fit for most adults; rose gold for her; black pendant for him
26. Engraved wooden watch to give him a stylish look
Does he love accessories which accentuate his looks? Get him this engraved wooden watch and profess your love once again. We say this is one of the best keepsakes; more so because of its romantic engraving.
It comes with a "To My Husband" engraving which is resistant to fading over time
It is built with 100% natural wood, handmade and with zero damaging chemicals
The product ensures excellent movement to guarantee the precision of each reading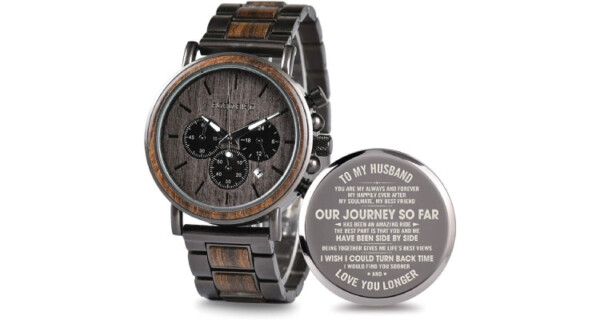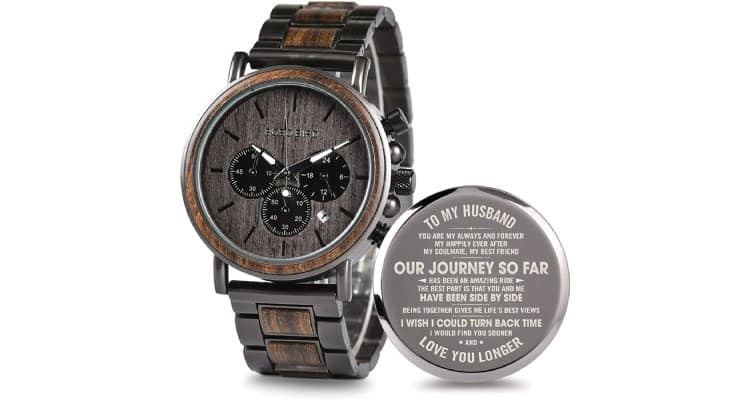 27. Romantic and memorable music box
Itching to gift something impeccable, gorgeous and unique to your fiancé? Why not consider this romantic music box which plays music? Not all gifts need to flash lights and come with random noises; we vouch for this one as it's a memorable, pitched and inexpensive gift.
Zero battery requirements along with a crank handle to play "You Are My Sunshine"
It is portable, small and can be a part of the home or work décor
It is a one piece music box with 18 tones and comes in the size of 6.5×5.0x3.8cm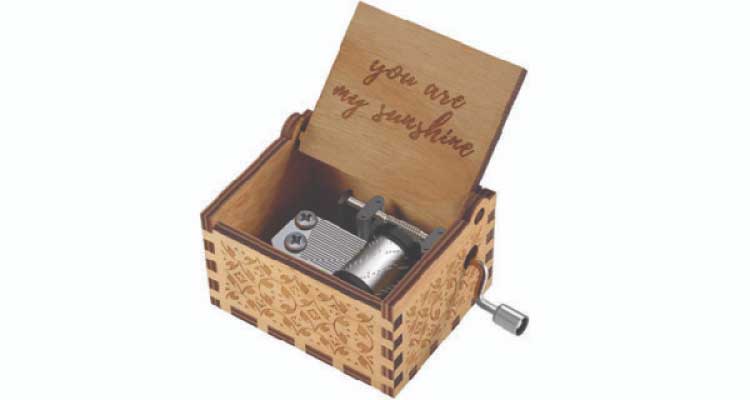 28. Leather journal to pen down thoughts
Trigger your fiancé's inner storyteller by presenting them with this journal. Available in four colors and two sizes, this handmade leather journal is perfect for your fiancé if they love penning down their thoughts. Don't worry about this journal bulging out or being bulky since it is very convenient to carry it in your bag.
It is handcrafted with acid-free and tree free cotton by talented artisans
The product comprises blank 120 sheets/240 pages white colored paper and is 1.5 inch thick
It can function as a perfect replacement for logbook, food planner, sketchbook, and photo album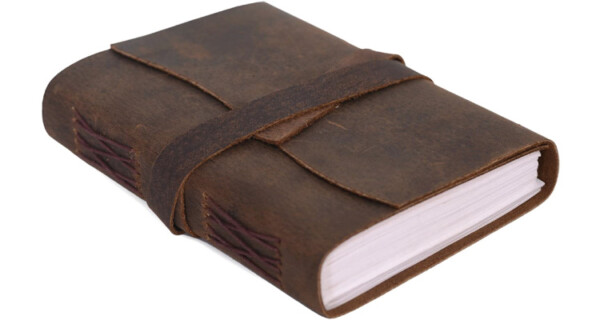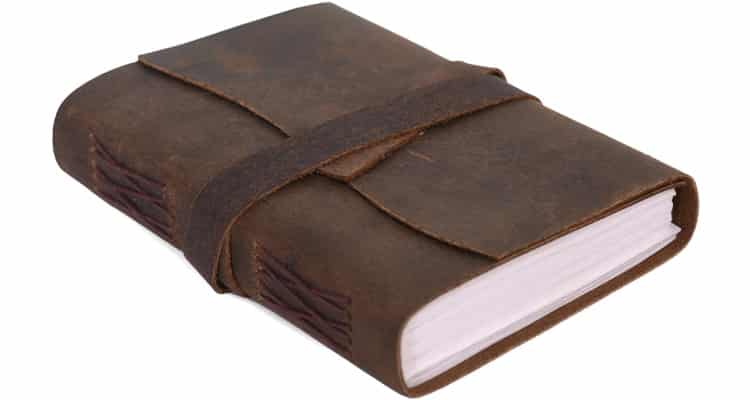 29. Delightful love candle holder statue
Do you want to add glamor and a touch of romance to your fiancé's bedroom? Why not get this lovely candle holder statue which boasts of a romantic design and can beautify any place? This beautiful birthday gift for your fiancé will definitely make him/her feel loved and appreciated whenever they glance upon this beautiful candle holder statue.
It is built with premium resin material and includes a greeting card
It has a romantic design – couple hugging and making an infinity shape of love
The product can glamorize any place and create a warm and charming environment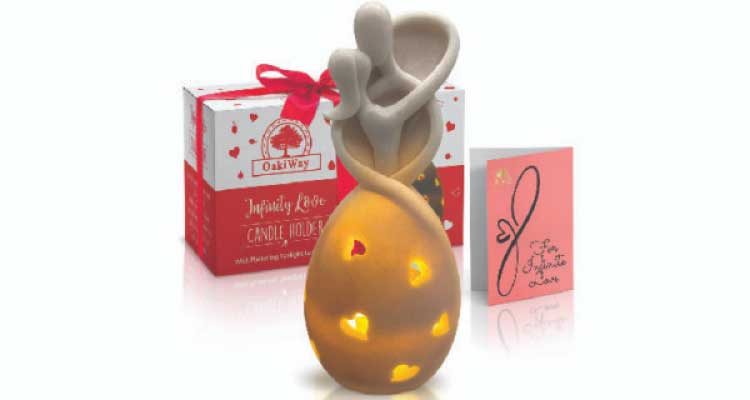 30. 1,000 swoon worthy artificial rose petals
When it comes to romantic gifts, very few things can beat roses. This gift box which comes with reusable LED candles and 1,000 artificial rose petals is one of the best mushy gifts out there. It's an awesome and cost-efficient birthday gift for your fiancé; you can decorate your sweetheart's birthday with this one!
It consists of 1,000 artificial rose petals and 24 packs flameless candles
The switch on/off button of the pre-installed battery is easily replaceable
It is best suited for romantic dinners, birthdays, anniversaries, and proposals
Related Reading: Top 5 Qualities Women Admire In Men
31. Tactical pen to make his life easier
This tactical pen with the most romantic engraving in the world will bring convenience to the owner whether they are at home or at work. It's an awesome romantic birthday gift for your fiancé because it will not only remind him of you but its multifunctionality will also make his life ten times easier. Whenever you face danger, this is a great addition to your personal survival gear. So carry it in a pocket, briefcase, laptop bag, etc. The flashlight can be used in high beam and strobe modes.
The solid well-crafted pen comes with a 'I Love You' engraving
The pen is a multifunctional ball point pen along with being a flashlight, a fire starter, and a bottle opener
It is unbreakable and rust-resistant, and it is comfortable to use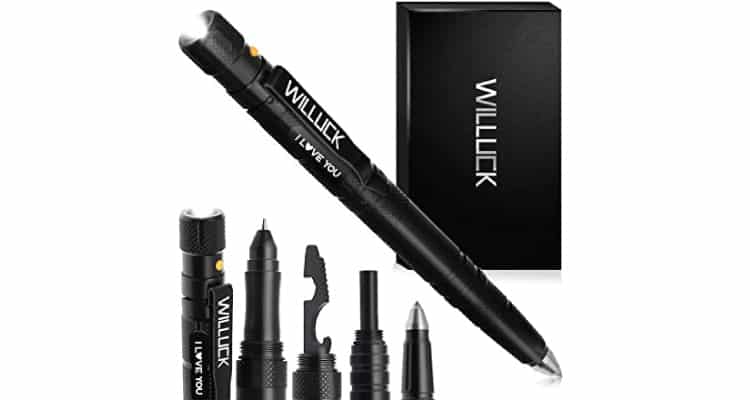 32. Keychain with cute engraving
One of the best fiancé birthday gift ideas is this couple's keychain since you both get to keep a part of the gift. This can be a nice alternative to the drive safe keychain if you wish to instill togetherness in the gift. Include her half on your set of keys and your half on hers; this one is a perfect birthday gift for fiancé if you guys are frequently away from each other.
The product comes with matching keychains with 'His Crazy' and 'Her Weirdo' engraving
The product is long-lasting and resistant to rust along with the added benefits of being zero fading and deformation
It is Made of stainless steel and comes with a hook and loop closure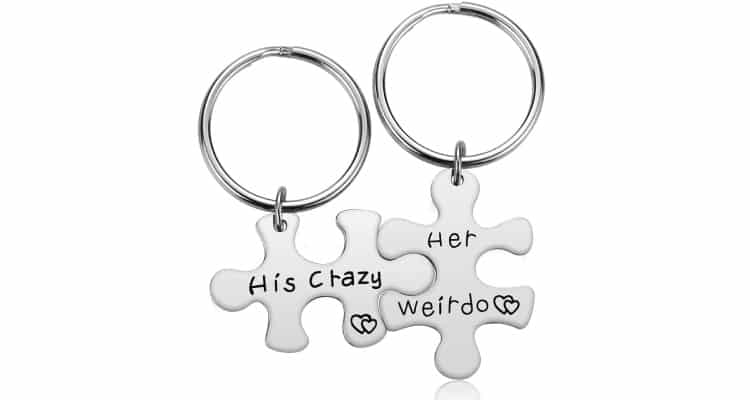 So, now that you have gone through the list, did anything strike your fancy? Feel free to share the above list of birthday gifts for your fiancé with other engaged people who are in the same boat as you and are having a hard time picking a gift. No matter what you choose, we are sure that your fiancé would be overwhelmed and have a huge smile on their face as you put a lot of time, effort and thought behind it.