First anniversary gift ideas
We often find ourselves worried over this one problem: picking the perfect gift for the ones we love. Is this too sober? Is this too much for the occasion? Will this be enough? Should I DIY it, or should I buy something? Is this worth the money? Will they like it? And the list goes on.
Now when it comes to special occasions like your first wedding anniversary, the expectation bar is pretty high, justifying your anxiety. But that's why we're here. Choosing the perfect 1 year wedding anniversary gifts for your love can be a very tedious task.
Fret no more! We've curated a list of great ideas for your first wedding anniversary gift which will definitely surprise them and make their hearts flutter! 
1st Wedding Anniversary Gift Ideas 
When it comes to choosing the perfect first wedding anniversary gift for your spouse, the best thing to do is to make it just for them. Study their habits, learn about their likes and dislikes. What makes them emotional? What do they cherish the most? Are they into handmade DIY gifts or do they prefer the expensive kind?
Not only does this help you to get the perfect wedding anniversary gift, but it also strengthens the bond of intimacy you share. The present becomes an emotion, more than just an object. Think of what your partner would love the most as you go through these 30 most thoughtful and romantic gift ideas to make your first wedding anniversary forever memorable. 
1. Preserved real rose with elegant necklace
A perfect one-year wedding anniversary gift, this beautiful piece comes with one natural rose, preserved in a beautiful case. With this, you get a necklace with the words "I'd be lost without you" inscribed on it. A most thoughtful gift for your wife, this will truly symbolize your unending affection for each other.
Made of 100% fresh roses, preserved with expertise to last 3-5 years without special care
The necklace comes hidden under the rose, romantically surprise your soulmate!
The box is pretty luxurious and comes with elite packing so that you don't have to worry about wrapping it first
If you spot any problem, you may reach out to their customer service and get it fixed immediately 
This necklace and the preserved rose make for an exquisite gift for your wife. The blend of beauty and elegance will truly add to the romance.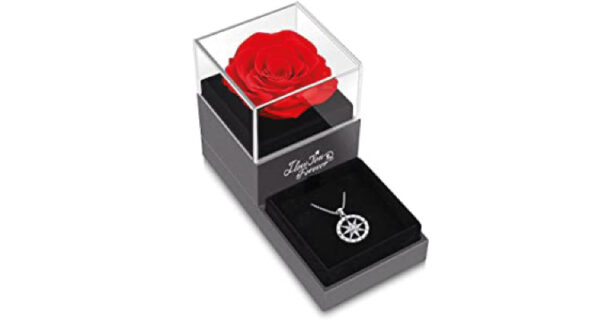 2. Custom star maps 
When we talk about special occasions like your first anniversary, nothing beats this custom star map as a 1st wedding anniversary gift. This map can be customized according to your special moment's date, time and location. Looking at the map, you can relive that moment together forever! 
It features the view of the night sky depending on your given date, time and location of the event 
Ensuring durability, the map is printed on wood panels. There is a 4mm birch surface and pine support too
You can customize the message to be printed on it
When it comes to customized first wedding anniversary gifts, these custom star maps are very popular and pretty. Whether you hang it on a wall or put it on side table, it'll be a center of attraction for sure when you bring a bit of that starry night into your home.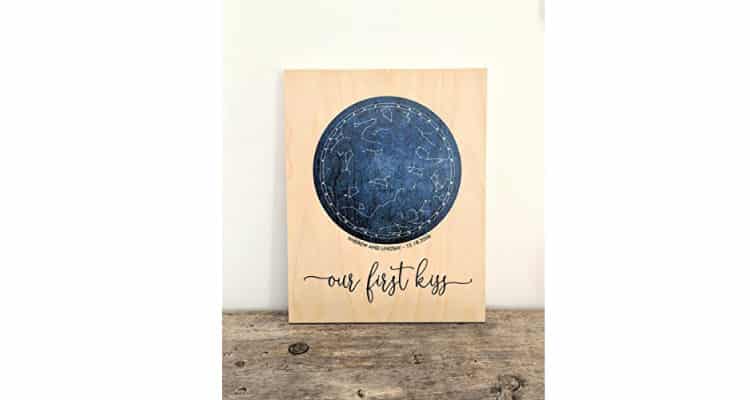 3. Song lyrics print frame
Another smashing idea for those looking at first wedding anniversary gifts, this frame is just what you need to add a little bit of "you" in it. Sold by SkyPrintArt, a reputed brand for handmade gifts, you can customize the font, capitalization and text in the background to literally anything and make this piece more than just an anniversary gift. It comes without a frame, which is actually a plus so that you can complement it with the frame of your choice. 
Premium, heavy weighted luxurious paper used for quality
Customizable font, text, capitalization and style
Size can be edited as per your choice
This frame is ideal when you're looking for something unique and different, minimalist but also thoughtful. Club it with a framed photograph of you as a couple, and your first year wedding anniversary gift can't be better.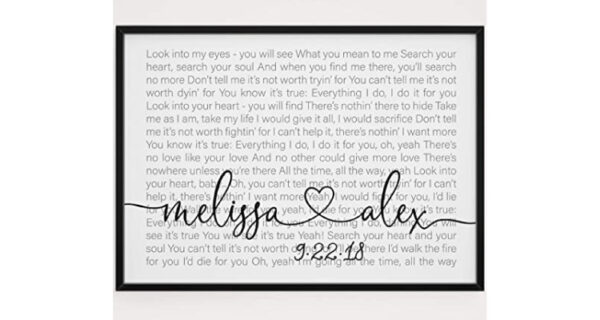 4. Hand sculpted resin figure
Are we still doing handmade? It sounds like it's in trend! This intricately crafted, hand-sculpted, and painted resin figurine is too delicate and beautiful to look away from! Made by artist Susan Lordi, it consists of 6-inch figurines of a couple on a rock bench holding hands. The woman flaunts a cream-colored dress while the man is in a matching shirt with dark pants. The vibe this imparts is one of close intimacy and a love that is ageless and endless. 
6″ tall and comes in premium packaging
Features an elderly couple holding hands, sitting close to each other – just perfect to represent your unending love
The enclosure card reads "Love ever endures," 
"I love thee" is inscribed at the back of the bench
Intricately detailed, carved and painted by hand, this first wedding anniversary gift for your significant other says "I want to grow old with you" in the sweetest, most romantic manner ever. 
Related Reading: The Best 51 Anniversary Wishes For Husband
5. Monogram initial disc gold filled necklace
Is your wife all about grace and style? We bring you a piece as elegant as she is! Surprise your wife with this beautiful and elegant personalized disc pendant. Customize it with her initials so that it becomes a personalized piece. Dainty, delicate and one of the perfect 1 year wedding anniversary gifts for her!
14k gold-filled disc
Anti-tarnish material – doesn't stain your skin blue or green
0.5 inches in diameter, the perfect size
It comes with a 16" chain (+2" extender)
What are we waiting for? Jewelry makes the best gifts! Ask anyone.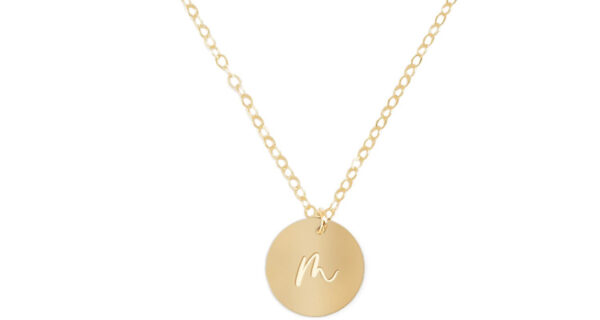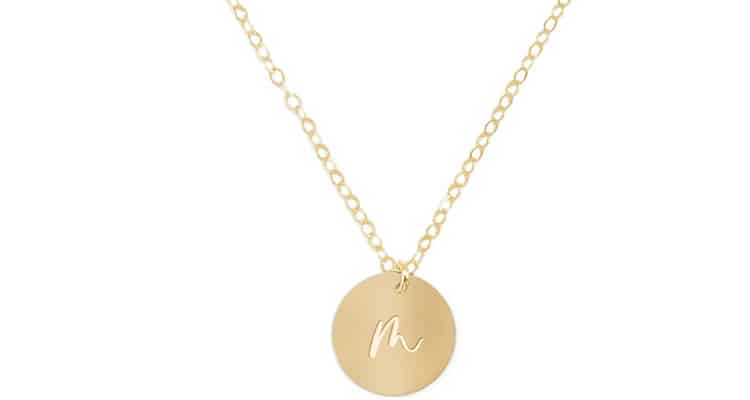 6. Personalized 3d photo lamp
When it comes to special occasions like your first wedding anniversary, we're all in for customized, personalized gifts. With this 3d photo lamp, spice up your bedroom décor while creating something utterly unique and thoughtful for your loved one.
High quality, LED luminous beads which provides a soft light that doesn't flash or hurt your eyes 
Works on electricity with USB cable (provided)
Fully customizable and personalized
This 3D photo lamp doesn't only lighten up your room, but with it, your love. Live in the moment forever with this perfect memorial.
7. Hand casting kit
Kit for what? Hand casting? Yup, you heard that right. When you're looking for anniversary gifts, why not have some fun with them? Make the day more memorable by creating your present together with your spouse. Enjoy the process and the product, guaranteeing you not only a wonderful present but also lots of fun!
It comes with a unique mold, casting stone, bucket, sandpaper and everything else you might need
It covers every fingerprint and fine line, recreating perfect details
Preserves a heartwarming gesture as a long-lasting keepsake
A hand casting kit is a great wedding anniversary gift for your significant other when you're looking for something to do together that's fun and will ensure not just a day well spent, but also a lovely memento.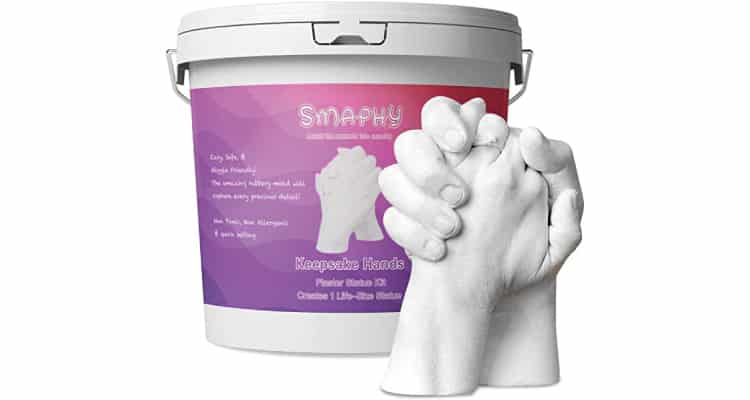 8. Two-piece elephant figurine
Is your wife an animal lover? Does she enjoy wildlife safaris? Is she bonkers for elephants? This cute figurine is all you need to make her day! The figure displays two adorable elephants intertwining their trunks to form a cute little heart in the air – a perfect symbol of love.
Made of resin, but gives a fine wood appearance
9" tall – not too big, not too small
Delicately carved and intricately detailed
Enjoy this adorable gift and put it near your door or on the coffee table to accentuate the look of any room!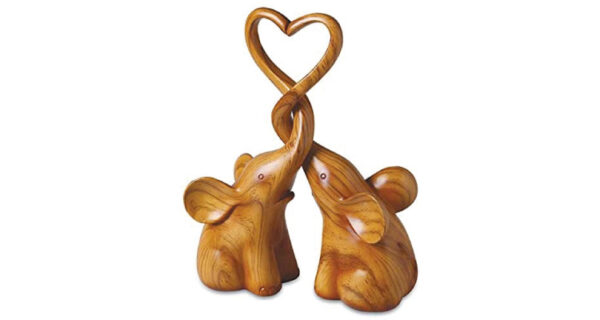 9. Michael Kors luxurious watch
When you're talking Michael Kors, you know you're talking posh! If you're in a mood to go a little extra for your husband on your first wedding anniversary, what better than a premium watch? Elegant, classic and luxurious, this watch ought to take him off guard!
Analog display. Grey dial. Mineral crystal, scratch-resistant glass
44 mm case and 22mm bandwidth
Round stainless steel case
Water-resistant
Michael Kors is a world-renowned brand for premium products, adding chic to anybody's wardrobe. This watch makes a perfect first wedding anniversary gift for your husband.
10. Couple scrapbook album
Remember Ellie and Carl from the Pixar animated movie, Up? Remember their gorgeous scrapbook of memories together? Why not make your own? Start off early! Buy and then customize this scrapbook album as you and your significant other ride through the years. Nothing could be better than a handmade album that contains all of your milestone moments together. Fill it up using photos, memories, letters, cards and anything else of significant value, such as movie or concerts tickets, napkins with little poems or doodles, etc.
8.5*9 " size
It consists of 90 white pages (45 sheets)
Gold file embossed on the cover, reads "You are my greatest adventure"
Spiral binding
This scrapbook is ideal for couples who like putting some hard work into their presents. If you're one of them, get this quality scrapbook and name it all yours!
11. Rhodium finish ring
For all those husbands out there who want to go posh, gift your wife this luxurious, premium rhodium finish ring. It's glamorous, attractive and dainty! It makes for the perfect first anniversary gift for your significant other when you want to recreate the proposal!
Sold by Swarovski – a trusted and reputed brand
Durable, easy to maintain
Sparkling crystal with rhodium finish gives it a timeless and elegant design
This rhodium ring is just perfect as a wedding anniversary gift for her when the budget isn't a worry. Gift her this ring and steal her heart – AGAIN!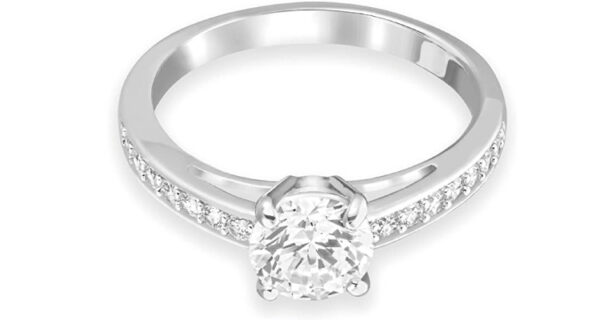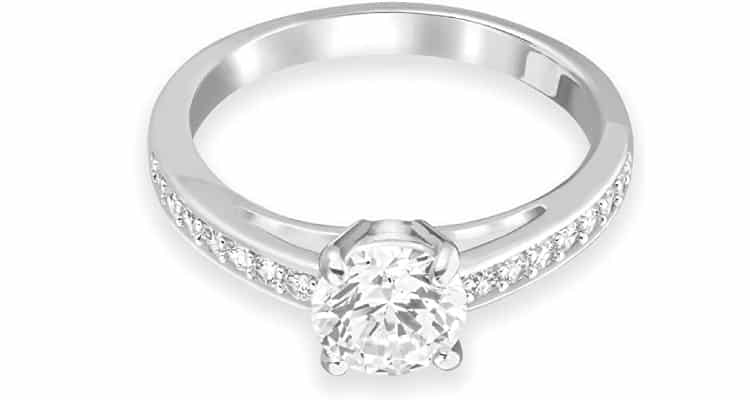 Related Reading: 25 Unique 1-Year Anniversary Gifts For Girlfriend [2022 Updated]
12. Home spa gift basket
When it comes to wedding anniversaries, isn't it all about a lot of me-time? Add this home spa gift basket to your list of first wedding anniversary gifts. The bonus is the sexy quality time you get to spend together with this premium set. It comes in fancy packing and consists of everything you'd need for a relaxing bath!
Shower gel, bubble bath, body lotion, bath bomb, bath salt and bath puff included in the package with hand-woven basket for storage
Honey-almond fragrance induced
Paraben-free: smooth on the skin
Are you STILL thinking about it? There couldn't possibly be a better gift! Go on and indulge your senses with this perfect gift basket.
13. Tommy Hilfiger wallet
When we're talking gifts for men, leaving this staple out would be unthinkable. Tommy Hilfiger is an international brand reputed for its swanky products and style. 
This wallet is 100% made of leather and has bifold closure, a perfect classy choice to complete a man's wardrobe.
It comes with leather lining
Coin pocket, 2 hidden pockets and 3 card closures included
Slim and sleek
This Tommy Hilfiger wallet makes an amazing gift for your husband. Go on and get your husband this elite product. He'll love it for sure!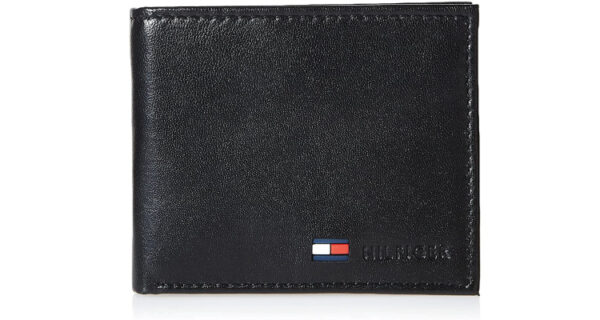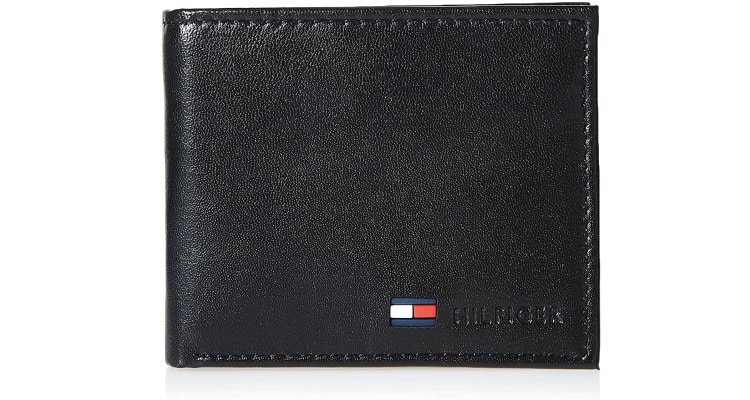 14. Guberry velvet bodycon dress
Does you lady-love love to dress up? For your first wedding anniversary, gift her this elegant and sexy Guberry velvet Bodycon wrap dress. Ideal for a dinner date, this dress is the perfect gift. Elegant and minimalist, your wife is going to fall in love with it – and you again, of course!
Mini length, full-sleeved, V-neck dress
95% polyester and 5% spandex, smooth on the skin
Flexible, breathable, chic and sexy
This V-neck dress is both classy and flattering. Show your wife that you know her sense of style by picking out her outfit and she'll show you what a happy woman looks like.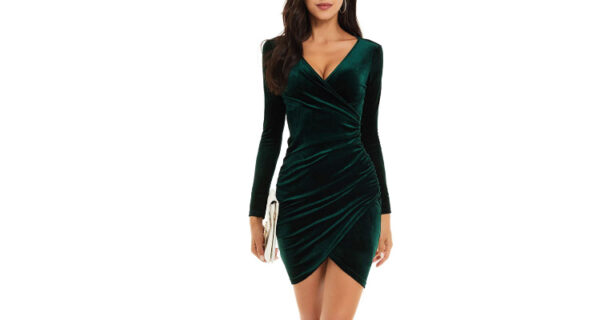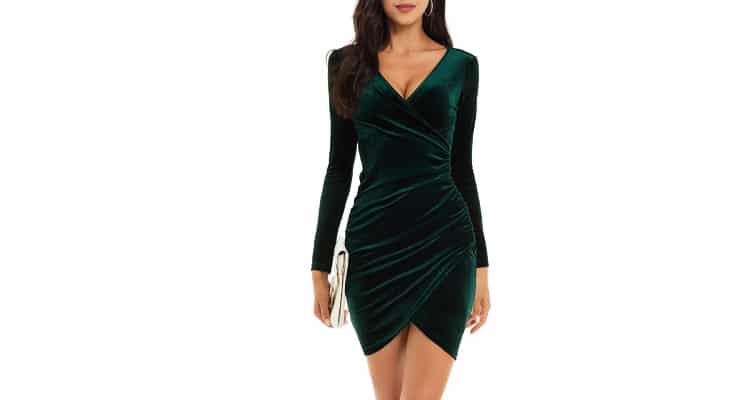 15. Scented candles
Yet another classic first wedding anniversary gift – a set of scented candles. Light up the mood with these scented candles and love will be in the air! You could pair them up with another gift you like as a double bonanza!
Scented with rose, lavender, jasmine, fig, lemon and vanilla to soothe your senses
Made of 100% pure soya wax and premium cotton wicks
These candles are great for setting the mood and for aromatherapy
After a busy day, the soothing fragrance from these candles will help you relax and soak up a sense of calm. Add this to your basket of gifts and see her smile.
16. Customized reel viewer
Remember those reel viewers we'd use as kids? The ones we'd peep through with one eye to look at all our favorite cartoons? Wouldn't it be just perfect if you could look at yourself and your loved ones in a reel viewer similar to those? Relive all your special moments captured throughout the relationship such as the day you proposed, the big day and every day ever since.
Comes with one view-finder and 1 reel gift card               
Upload your custom reel
Easy and fun to use
This reel viewer is not only a throwback to those childhood days, but all your favorite personal days too! Customize the viewer to your lover's favorite photos and watch them burst into joy.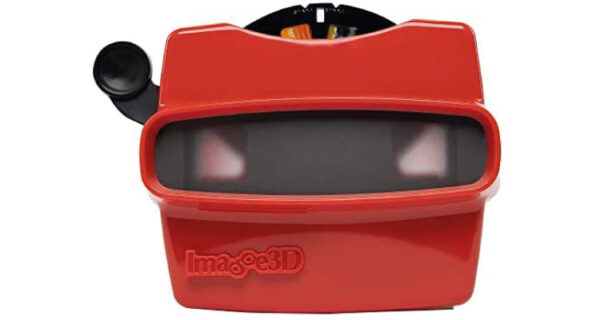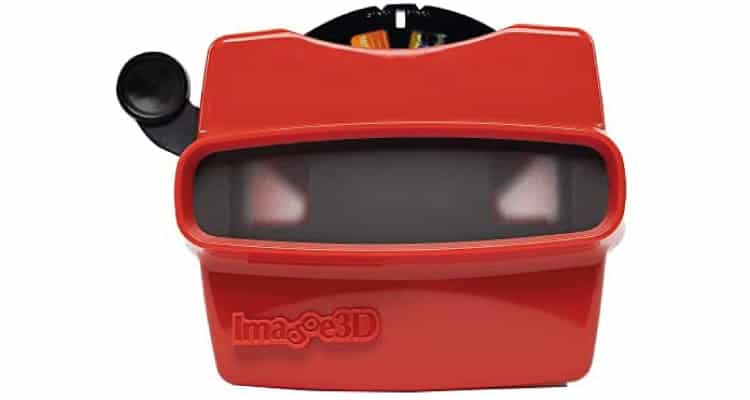 17. Acrylic song cover showpiece
Do you and your SO have a song? When people ask you, "So what's YOUR song?", do you have an answer? What about the first song you danced to as husband and wife? How about taking that song and turning it into something beautiful and permanent? We're talking about an acrylic song or album cover. Customize your photo and the name of the song and turn it into an acrylic showpiece. It's elegant and dainty, and also permanently etches something meaningful to the both of you into a work of beauty –perfect as far as wedding anniversary gifts go.
Printed with UV technology
Get direct access to the song you print by enabling the song code option – simply scan it and listen to the song on your phone
Personalize the message and have it engraved on the material of your choice – wood or glass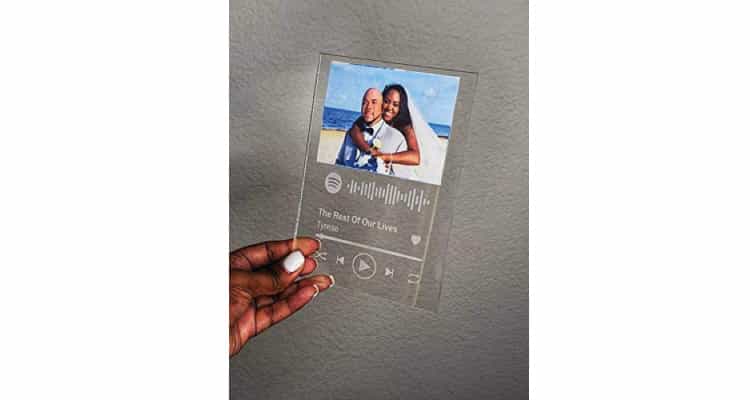 18. Tarsus magnetic couple bracelet
This set of two couple bracelets come with adjustable bands and two delicate yet strong magnetic balls. An adorable gift to symbolize the never-ending, strong bond between you and your spouse.
High quality nylon bands, braided into bracelets
Stainless steel magnetic balls – wont rust, won't fall
Comes in beautiful envelope along with a lovely message printed on premium paper
Choose from a variety of exciting colors. This set of magnetic couple bracelets is the right present when you're looking for something more than just a gift…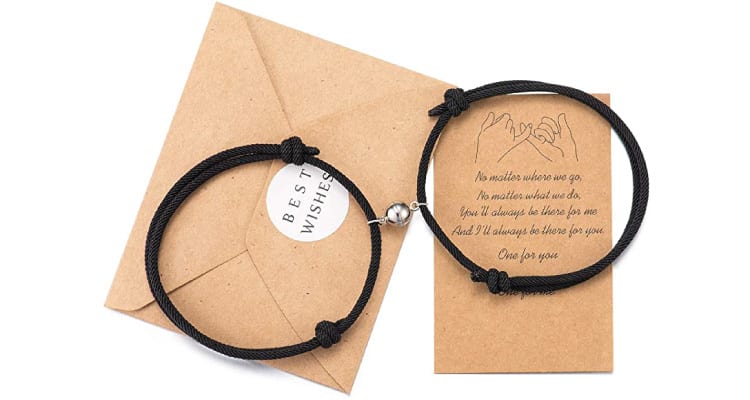 19. Love poems
Is your spouse a reader and mad for poetry? If you've answered "Yes" to both the questions, then Sheila Kohler's "Love Poems" is just the first wedding anniversary gift you're looking for. This pocket sized book covers romantic poetry from all eras, and makes for the perfect present to show your significant other how much you love them.
Hardcover with 256 pages to keep the love going
Pocket sized – perfect to carry with you everywhere
Includes poems by numerous poets spanning centuries
Poetry is the perfect way to expressing love. And if you want to up the romance, read out a few select poems to them – the dreamy look in their eyes will be unforgettable. What are you waiting for?
20. Pillar bar necklace
This exquisite piece sold by Oak&Luna is such a stylish wedding anniversary gift. Unique, chic and elegant, a gift like will make any occasion memorable.
Pure silver material with gold plating, also customizable as per desire
Arrives in a special gift box for your special one
Pairs well with any outfit
What is prettier than an elegant necklace with your name engraved on it? Oak&Luna's classic piece makes it one of the best choices for an occasion as special as your 1st wedding anniversary!
21. Why don't we card game
Are we looking for gifts that add a little spice and naughtiness to an occasion like your wedding anniversary? Well, the Why Don't We card game is perfect for cranking up the heat and adding some sexy vibes in the air.
Scientifically proven to strengthen intimacy
Over 150 cards to choose from
Comes in three levels for you to choose the perfect element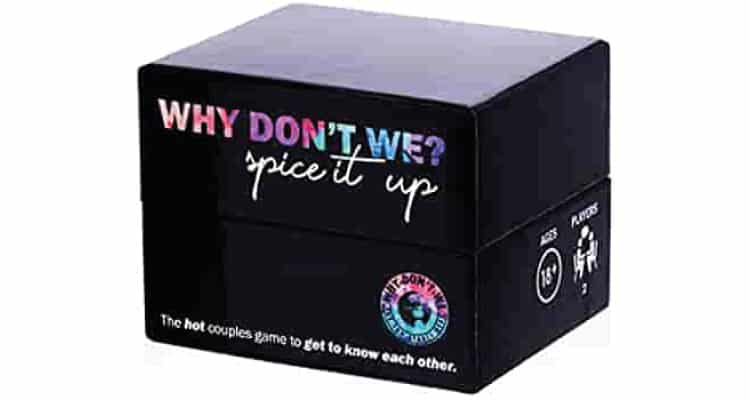 22. Hands table sculpture
When we're talking about table statuettes shaped like your hands you simply have to check out the ones made by Touch of Class. They make delicate and real looking hands sculptures, bound to mesmerize the beholder. The two of you have promised to hold onto each other forever – what could be a more beautiful tribute to the promise? 
Bronze resin masterpiece with gold highlights
Recreates the moment of your wedding proposal
Mounted on a sturdy black base, 11" tall
This masterpiece makes a perfect yet unusual first wedding anniversary gift. Recreate the day you proposed to your significant other and hold on to that moment forever and ever and ever.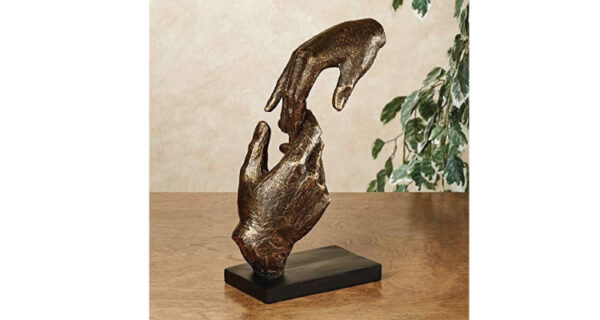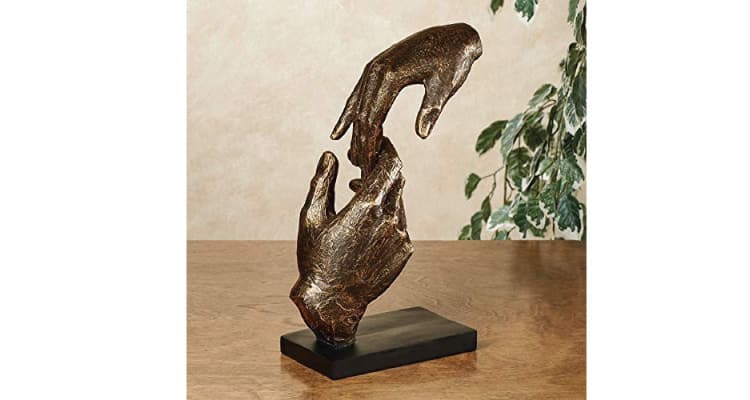 23. Matching hoodies
I'm sure we can all agree that hoodies and sweatshirts are the epitomai of extreme comfort. And matching hoodies for couples takes that a whole other level. This gift set is perfect for a couple to celebrate their unbreakable bond. The pizza print on this piece accentuates the incompleteness of one without another and makes the whole set a perfect anniversary gift.
50% cotton, 50% polyester
Missing pizza piece print, black color
Soft, breathable, and comfortable material
Go for this comfort-laden bundle of warmth and wear it together for a cute, warm, and fuzzy date night. Express your love out loud and tell them how incomplete you are without them!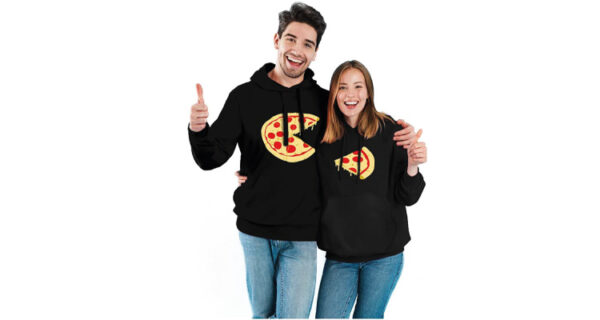 24. Marriage boot camp
When we're talking about your first wedding anniversary gifts, we can't miss out on naughty games to tickle your desires. Scientifically proven to boost intimacy and chemistry between couples, this marriage boot camp is the ultimate adult game, especially for newly-wedded couples! Get your motors running with this sexy card game and make the day…and night (wink, wink)…unforgettable.
6 exciting categories
Dare, punish, question, and have fun
Best truth and dare card game in town
Who wouldn't enjoy a fiery night after an amazing day? This card game right here will add all the sparks you need!
25. Mr. and mrs mug set
When it comes to gifts and presents, mugs have been a popular choice for the longest time. With this elegant set of mugs that readout Mr. and Mrs., your morning coffee routine is set! Not only does this make a perfect wedding anniversary gift, but is it also surprisingly fancy. Surprise your caffeine-loving spouse with this beautiful mug set.
Made of ceramic; microwave and dishwasher safe
Lids and spoons included
Comes in a beautiful, elegant and royal black box with gold print
This mug set is a pretty popular choice for wedding anniversaries among young couples. What a perfect beginning to perfect mornings forever!
26. Hand carved figurines
We just can't get enough of couple figurines! With a dash of personalization and creativity, resin figurines make great and thoughtful anniversary gifts. And this one has our hearts.
9" in height, the perfect size
Hand crafted with resin and articulately sculpted to ensure detail
Features a newly wedded couple kissing on a swing – could there be a better setting?
Often, love needs to be expressed not in words but in figurines. And what could be more perfect than this one?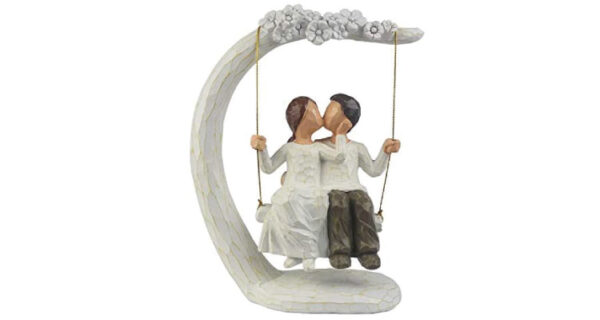 27. Mr. and mrs. couple coffee set
For any caffeine-addict, the world of coffee can never disappoint. This premium coffee mug set features two couple mugs with stirrers and lids as well as two pairs of the most comfortable coffee socks!
Real Marble mugs, with gold printing
Anti-skid rubber fiction print on the bottom of the socks to prevent slipping
Comes in a luxurious silk box –no need to pack
Let's take our coffee comfort to a whole new level. A cozy way to spend weekends with your significant other – warm feet, warm hearts and hot, hot coffee!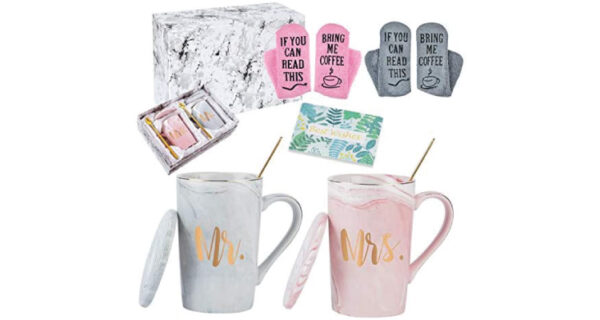 28. Platinum wedding band
Who said rings don't make a good first year wedding anniversary gift for husbands? And who said wedding bands are just for weddings? To make your special day a bit more special, gift him this perfect platinum wedding band. And what makes it better is the perfect proposal line to relive the day you got engaged!
950 platinum setting
Choose your perfect size
2mm width, super light on fingers
The more the less, this platinum wedding band makes a perfect wedding anniversary gift when you're all in to make it classy and grand. Spoil him with this luxurious band and make your day memorable!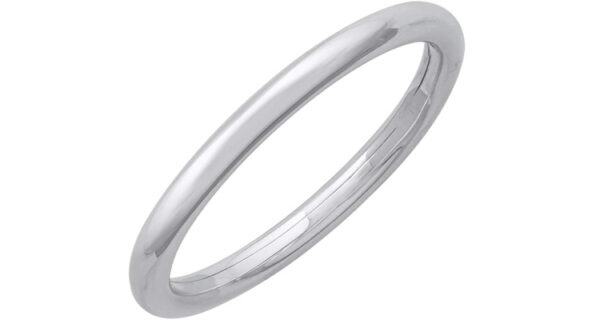 29. Elabest rhinestone clutch
When it comes to women, bags are a super bet – after all, she needs one for every occasion. This rhinestone clutch makes for a perfect wedding gift owing to its luxurious look and style. It looks fancy yet dainty and comes in three perfect colors to make your evenings sparkle.
Adjustable chain
22" * 12" size, perfect for a cocktail night out
Rhinestone adds to the jazz, adding a touch of style and elegance
This rhinestone clutch is the perfect wedding anniversary gift for her, especially if she enjoys dressing up. Add a dash of luxury to her wardrobe with this elegant clutch and wish her a chic anniversary.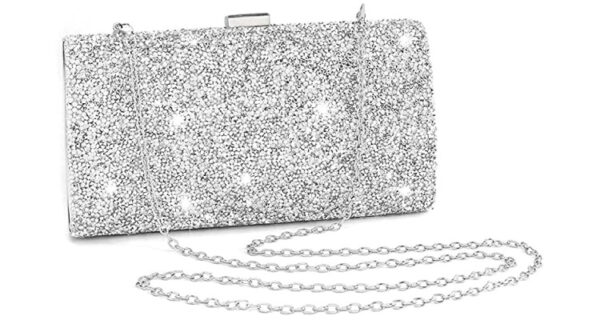 30. Urllinz marriage prayer plate
Remember when you were finally declared as man and wife? When you held her in your arms and kissed her, finally a married couple? And do you remember the marriage prayer before that? Relive that powerful, life-changing moment forever with this elegant, dainty marriage prayer plate. The porcelain plate reads out the beautiful marriage prayer that you can cherish forever. Cement your love and strengthen your bond with this lovely symbol of joy and togetherness.
●       Made of porcelain
●       9″ in diameter
●       Comes with a sturdy black stand. Can be clamped anywhere
●       Embellished with gold print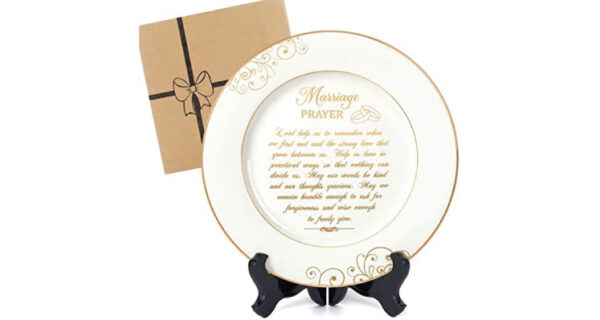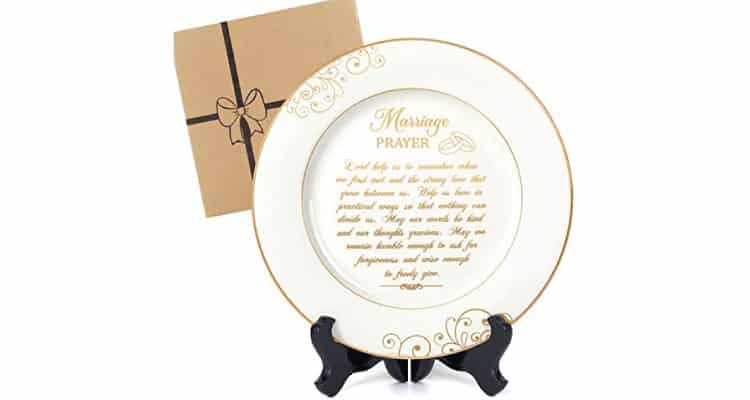 It can be really confusing when it comes to choosing the right wedding gift. The best gift is one that relays your thoughts, feelings, and passion. Personalized gifts enhance the entire gift-giving experience since they show how much thought and care you put into them. Handmade gifts are popular too, for the same reason.
And of course, there will always be those products and time-tested presents that will never go wrong and will never go out of style. Pick what appeals most to you and your SO. And here's wishing you the most wonderful first anniversary!
11 Last-Minute Gift Ideas For Someone Who Has Everything | 2022