Too tired to venture out? At-home dates to your rescue! You can spend quality time together without getting out of your comfort zones. However, in the long run, there isn't much to do during at-home dates besides binge-watching and cooking together. If you've reached that point, you need to invest in some board games for couples, because you can always rely on them to make your time special.
Whether you are new in a relationship or in a long-term one, good board games will always add fun (and lots of food) to your date night. There's a plethora of romantic board games for couples available in the market as per your need. While some games will spice up your date night, others are meant to bring out your competitive side. There are also conversation cards that foster hearty talks and help you know each other better.
So, what are you waiting for? Let's plan your next date night.
21 Fun And Romantic Board Games To Play As Couples
Planning a cozy night with your partner or someone special? Or searching for fun games to play with your wife or husband? Why not take it to the next level and add fun and sparks to your time together with 2-player board games for couples?
Besides combating boredom, board games for couples enable them to spend quality time with each other in this era of modern dating. Whether you want to experience childhood nostalgia or looking for something new on a date night, board games have you sorted. Remember, couples who play together stay together!
These games are an entertaining way to let your partner know that you love spending time with them. Many of these activities also help you understand your partner on a deeper level. Curious? Check out this long list of board games curated especially for you.
Related Reading: 25 Games To Play With Your Girlfriend – Fun, Flirty, And Exciting
1. Paris: La Cité de la Lumière
Paris: La Cité de la Lumière is one of those board games for couples that won't bore you no matter how many times you have played it. This can surely be counted among the most beautiful board games with stunning designs.
Paris: La Cité de la Lumière is divided into two parts. It is set in 19th-century Paris during the World's Fair. In the first half, you need to fill the streets with oddly shaped creations and in the later part, you have to bring your buildings as close as possible to the street lights. Whoever succeeds in this, wins the game.
Pour a glass of wine and get ready to conquer in this competitive solid game of Paris: La Cité de la Lumière. Try it, you'll see why it's one of the best two-player board games to exist.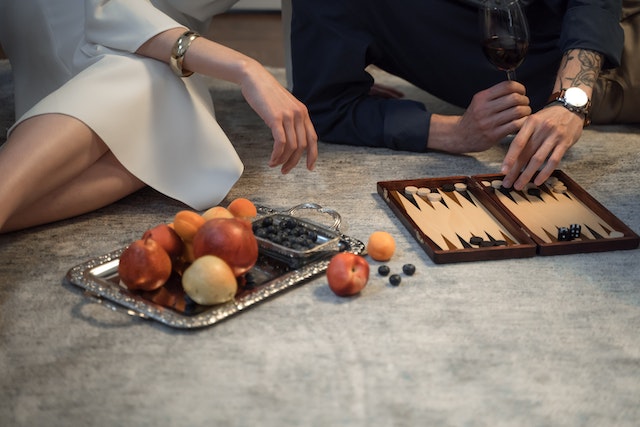 2. Tiny Towns
Tiny Towns allow you to showcase your architectural skills. In this couples board game, you get a 4×4 grid on which you are supposed to erect a tiny town. You have to make as many buildings as you can by using the maximum number of resources.
Use pieces and cards to start creating your town. There are cards for each type of wooden building. Each card tells the pattern of cubes you will need for that particular building. You need to be quite efficient while planning your town and judiciously use the space available to you.
The game ends when resources are exhausted. Whoever scores the most points wins the game. This is certainly one of the best 2-player board games for couples who love spatial activities.
3. I Should Have Known That
This one is for those competitive couples who like healthy competition. As the name suggests, 'I Should Have Known That' has questions that you should know the answers to. Such board games for couples help you unleash your competitive side by testing your trivia knowledge. Rules are quite easy. You lose points on a wrong answer but don't get any points for correct answers.
I Should Have Known That comes with 400 questions such as "Is a penguin a bird?" You will also find questions like "How long did Sleeping Beauty sleep?" The puzzle cards have a question on one side and the answer on the other. It won't take much time before you hear one of you say, "Oh! I should have known that!"
Two-player games that enable couples to expand their knowledge while having fun? Yes please. Plan your next date at home with this simple board game.
4. St. Noire is one of the best board games for couples who love murder mysteries
So, you love murder mysteries? Instead of watching them on TV, why not solve one? St. Noire is an Alexa-hosted board game. This is one of the best board games for couples. It is addictive and allows you to immerse yourself completely into the experience. It is also the first voice-controlled murder mystery board game.
Related Reading: 21 Fun Party Games For Couples – Time To Let Your Hair Down!
Get ready to don your detective hat and save St. Noire, a small town where a murder has happened. The killer has warned that they'll strike again. You need to listen to the audio and play along. Find the clues, and trust no one as someone is lying. You have to find out the killer before the time runs out. This is a cooperative game that requires both of you to act as a team instead of competing with each other. It is one of the most fun games to play with your wife or husband.
5. Love Lingual, the card game
Love Lingual is a card game, which falls under the couples board games category. It is best for those who love conversations. This set of 150 cards has in-depth questions that will leave you cuddling and talking about things that matter in your lives. Whether your relationship is new or you have been married for a long time, this conversation starter game does its job well.
For new couples, it acts as an icebreaker card game. However, for couples who have known each other for a long time, this game helps uncover that side of your partner which you might be unaware of. Such board games allow you to discuss questions regarding family, intimacy, past, and future. You can choose to stick to a particular topic or you can select cards from all the categories.
For example, your card may have a question like, "What's one memory that instantly makes you smile?" That's what this game does. Makes you contemplate as well as relive old memories.
6. Fog of Love
If you love rom-coms, then you'll probably find Fog of Love quite engaging. It is one of the best two-player games. You don't play as yourself but as a character in a fictional love story. In this board game, you create a character and then understand it with the help of cards.
There will be interesting scenarios, compromises, awkward and amusing situations for both of you before you can reach the end of the love story. You get to live different scenarios as a character. For example, you might play out an Awkward Situation scene and create your own unique love story. Truly a great game to show your creativity.
7. Off-Topic is one of the best board games to play with your partner
Off-Topic is "a game for those slightly off" as mentioned on its outer case. If you are a lively couple who believes fun is the sole purpose of life, then this one's for you – Choose this game for your next date and it will surely leave both of you in stitches. Off-Topic is one of the best board games for couples who want to let their creative juices flow. It might seem simple but let us warn you, it could be quite challenging to come up with accurate responses in a limited time frame.
In a total number of five rounds, the player who scores victory points in most of the rounds wins. In this game, both of you get a player board along with a marker and cards with the same number on them. Roll the dice, set the timer, and start writing. You can discuss your answers and exchange some hearty laughs. It takes just a minute to learn the rules of this game and you are ready to go.
8. The Couples Game
This is a fantastic game if you are a board game geek. This interactive game has witty questions to leave you in splits. Couples Game has 150 questions segregated across three categories – Match, Best, and Me Or You.
Either you can play it as a couple or with your friends who have joined you for a double date. Such easy board games for couples are perfect for spending time with laughter and fun. However, if you are looking for a lovey-dovey and mushy game, you might want to skip it.
9. Exploding Kittens
Exploding Kittens is a deck card game and doesn't directly come under the board games category. It is a kitty version of the lethal game Russian Roulette. In this game, both of you draw cards until somebody has to take an Exploding Kitten. That's when they are out of the game.
The only way you could win in this abstract strategy game is by maintaining a distance from the exploding kitten card. You need to implement the required actions to avoid that particular card. Perfect for date nights, picnics, and road trips, this two-player game is quite addictive and helps you de-stress.
Related Reading: 17 Romantic Camping Ideas To Cozy Up To Your SO
10. Codenames Duet
If you like spy thrillers, then you will definitely like Codenames Duet. It is one of the best two players games that helps you push your intelligence. If you are running out of fun things to do with your partner at home, give this a shot.
If you like cooperative board games, then this is perfect for you. You and your partner will have to find 15 agents in a crowded room. To get started, there are 25 word cards and clues. You or your partner will read the one-word clue and point to the agent you both think it is hinting at. If your answer is right, you find the next agent, and so on. This game will bring out your team spirit.
11. Actually Curious
One of the classic board games, Actually Curious is based on four primary colors – Blue, green, yellow, and red. It is a card game that helps you build trust and empathy with your partner. With a deck of 52 cards, you can get answers to questions like "How do you love?" and "What is one's ultimate form of self-care?"
The blue cards have the easiest of questions, followed by green, yellow, and red. The red ones help you find answers to the most intimate questions. Actually Curious comes in five editions – Curiosity Edition, The Happy Hour Edition, The Culture Edition, The Our Future Edition, and The Human Rights Edition.
It is one of the most romantic board games for couples that also adds fun to their date nights. Be prepared for a session filled with self-reflection, light-hearted conversations, and deep emotional connections.
12. UNO Dare is one of the lesser-known board games
UNO is more popular than most of the board games available in the market. But not many of its fans know that the manufacturer of this fun game has another card game, UNO Dare, which is helping hundreds of couples know each other better.
UNO Dare is one of the best games for shy lovers as certain cards add dares for the participants. While the rest of the cards remain the same, UNO Dare comes with 8 Dare cards, 8 Wild Dare cards, and 4 Dare List cards. The Dare List cards allow you to choose one of the four different dares: Family, Showoff, Daredevil, and House Rules. The best part is that you can decide your own special rules under the House Rules card.
Pre-decided dares are hilarious, like one has to walk while holding a card between their knees. Make sure that the House Rule dares are fun-filled and don't disappoint your companion.
Related Reading: 40 Cute Things To Do With Your Girlfriend At Home
13. Stet
It is among the most popular board games for couples who have an interest in grammar and word games. So, if you and your partner love reading, then you should consider adding Stet to your date nights. Time will fly.
This two-player board game requires participants to know the English language, at least at the high school level. Stet allows you to impress your bae with your language skills. It also allows you to tease your partner, but it is advisable to maintain the fun tone of the game and avoid insulting your loved one while showing off your skills. Once hooked on this one, you can look for similar board games that allow you to challenge each other's knowledge.
14. Sexopoly board game
Sexopoly board game is an adult version of Monopoly, manufactured and sold by British sex toy company Lovehoney. Just like Monopoly, you use tokens to buy properties in Sexopoly. However, the game gives you chances to flirt and take sexual advantages. For example, if the other person can't pay rent, you can ask them to take off their shirt.
Playing with pieces like 'pink beaver' and 'cute puppies' adds to the excitement. This two-player game allows you to build your adult empire by buying real estate like Meryl Strips' film studio and Spearmint Hippo strip club.
The game can help you rediscover the spark in your relationship and promises maximum adult entertainment when you are alone with your partner. Sexopoly is best suited for couples with wild fantasies as you get rewards for interesting ideas.
15. Easy board games for couples will always include Twister
If you are bored of small board games, then Twister is for you as it is played on a large mat with four colors in six rows. Twister allows you to be physically close to your partner, making it one of the most exciting games for couples. Bring out the kid in you and make your date night lively and entertaining. You can make your own rules to add intimacy.
The game involves a spinner that decides where you have to place your hand or foot. Eventually, you would see your body tied up in knots with your partner's. When the game involves two players, they can't place a hand or foot in the same circle. To keep up with the competition, both partners try to reach unlikely positions until one of them falls. For shy lovers in a newfound relationship, this game can strengthen their bond, both physically and mentally.
16. 36 Questions
The best love stories are based on conversations. And that's where games like 36 Questions come in handy. These questions aim to bring two strangers close and make them fall in love. It is one of the most interesting board games for couples online.
The original website allows you and your partner to participate in a click-through game. To begin, one has to read a question on the screen out loud to their partner (and the next question will be taken up by the other partner, and so on). Questions like "Before making a telephone call, do you ever rehearse what you are going to say? Why?" help you engage in a fun yet deep conversation with each other.
17. Yahtzee
While most board games for couples need a lot of accessories, Yahtzee is the only game that is played with only five dice and a dice shaker. You have to roll the dice and make certain combinations based on various scoring categories. The first to score 50 points has to yell "Yahtzee" out loud. The highest scorer after multiple rounds is declared the winner.
Primarily, it's not a romantic game, but who's stopping you from using your creative mind to add fun and intimacy to it? Just add conditions and house rules that allow you to give the wildest dares to your partner.
Related Reading: 100 Romantic Questions To Ask Your Girlfirend And Make Her Heart Melt
18. Machi Koro is one of the most fun board games for couples date night
Do you know it's one of the most popular Japanese board games? It allows participants to act as the Mayor of Machi Koro, develop a city, and complete it based on landmarks. Your aim is to reach all the top landmarks before your partner.
Participants take turns to roll a die or two dice to reach the landmarks. However, your die can sometimes help your partner as well. One after the other, you erect all of your landmarks. It's a fast-paced game and gives you enough time to make some wild plans for the night.
19. Talk Flirt Dare
If you have already tried many board games for couples and still feel bored, then the Talk Flirt Dare card game could be a great choice for you. This card game encourages couples to enjoy real conversations and get rid of screens for some time. Using Talk Flirt Dare, you can ask the most personal questions to your partner.
Get to know some of the deepest truths about your partner's life, flirt to spice things up, and give dares that come straight to your dirty mind. You can have so much fun with this simple game. Simultaneously, it also gives you a chance to share your intimate secrets with your loved one. Sounds fun already? Shuffle the cards and explore your wild side with your lover.
20. TableTopics Couples
TableTopics Couples is a great board game. It is a conversation starter pack of 135 cards. You get cards with questions like "What's the most romantic thing your partner has done for you?" From here onward, it's your answers that will excite your boo. You can look forward to a deep and romantic conversation with your partner on this date night.
Whether in a new relationship or married for 50 years, couples' cards by TableTopics are ideal for all types of couples. Even if you know your partner inside out, these play cards will bring out something new every time. From hilarious answers to meaningful conversations, it'll help you create magic with your lover. Unlike other adult cards, you can keep the TableTopics Couples card on your coffee table.
Related Reading: 31 Funny Ways To Start A Text Conversation And Get Responses!
21. Azul
Last on our list of board games, Azul is a game in which you claim tiles, place them on a board, and compete to score points. Players score points for collecting tiles of the same colors or creating a particular pattern. All this makes it one of the best board games for couples date night.
While it can also be played with friends and family, Azul adds fun to a relationship when played between a couple. It's because when you arrange tiles to claim your score, you might inadvertently help your opponent. You can trick, tease, and engage in hilarious conversations with your partner and make lasting memories.
Key Pointers
Board games are the best way to bond with your partner if you don't want to step out of your house for a date. Whether you are in a new relationship or a mature one, board games have something for everyone
Just make sure that you choose the right one from our curated list of board games for couples, as per your and your partner's interests
Some board games not only entertain the couples but also bring them physically and emotionally close to each other
You don't need to go out every time on a date. Make date night arrangements with your spouse at home. Order some snacks, beverages, and spice up your date night through such activities. Wanna know the best part about board games for couples? After you've won, you get bragging rights and can tease your partner all day long!
So, shuffle your cards and roll your dice, and allow your favorite board games to bring both of you close together. You can easily find them at your local market. You can even choose from multiple board games for couples online on e-commerce sites.
FAQs
1. Are board games good for relationships?
Board games are incredibly efficient at keeping the spark alive in relationships. While the new couples come closer with board games, mature relationships strengthen further. Board games not only allow lovers to have fun and tease each other, but also teach them a lesson about cooperation and teamwork. 

Most games allow up to eight participants. You can even propose these board games at a friend's gathering. Who knows, one might get lucky after a game session.
2. How do games build relationships?
Playing games with your partner is a fun way to engage with them and strengthen the relationship. Some games need you to team up with your bae while others foster your competitive nature. Whatever the game is, you get to know each other better as you play along. A cooperative game with a mutual goal helps you display your teamwork and push each other to win the game. 

Board games help you both break the monotony and spend some quality time together. Some of the best board games create a path for clear and deep conversations, which are crucial to building long-lasting relationships. Even when you play against each other, you engage in healthy competition which makes space for fun and flirting.

101 Heart-Melting Romantic Ideas for Her – Sweep Her Off Her Feet
Ask Our Expert
You must be Logged in to ask a question.