Long-distance relationships are not exactly a fun ride. After all, they say 'out of sight, out of mind' for a reason. As the main keyword here is distance, couples need to work two times harder to keep their love alive. The formula to a happy long-distance relationship is emotional availability added with equal parts healthy communication, surprise visits, and thoughtful presents. Talking of presents, bracelets for long-distance couples make for amazing gifts in case you haven't chanced upon the idea already.
Bracelets are not all about fashion and trends. They can go a long way in expressing deeper emotions to make your loved one feel closer to you, overcoming all the distance. For example, a pair of compass-engraved bracelets gives the message that it will guide you to reach each other if you ever feel lost and lonely. How beautiful is that? 
Best Bracelets For Long-Distance Couples
Why do you think bracelets for long-distance couples are counted as meaningful gifts? Well, first of all, a bracelet could be a constant reminder of the presence of the precious person in your life. Do you want to celebrate a special occasion? Personalized bracelets come to your rescue. You can go all creative and modify the piece of jewelry with any text or name or motif that you fancy. 
And, finally, the wide variety of couples bracelets in pretty designs is sure to leave you in awe! From couples anniversary gifts to commemorating your first date, there is something in store for every purpose. To help you zero down on that particular bracelet for long-distance relationships, we have handpicked the 15 best choices across all price ranges. Go ahead and find yours!
1. Jewelry for long-distance couples? Bond Touch bracelet
Bond bracelets for couples work like a charm in a long-distance relationship. You may wonder why. There is one thing you miss the most while staying miles away from your sweetheart. And that is the comfort of their gentle, caring touch. Imagine if you could feel their personal touch sitting in two different countries. Sounds like a dream? Modern technology has now reached far beyond our fantasies and the result is this extraordinary bond touch device. 
Mimics the natural vibration of a person as they tap on the screen 
Encrypted and secure for private chats
Stays connected through the day and night with a battery life of 4 days
Includes 2 USB chargers 
Related Reading: 15 Custom-Made Personalized Couple Gifts
2. 'Tree of life' spiritual wristbands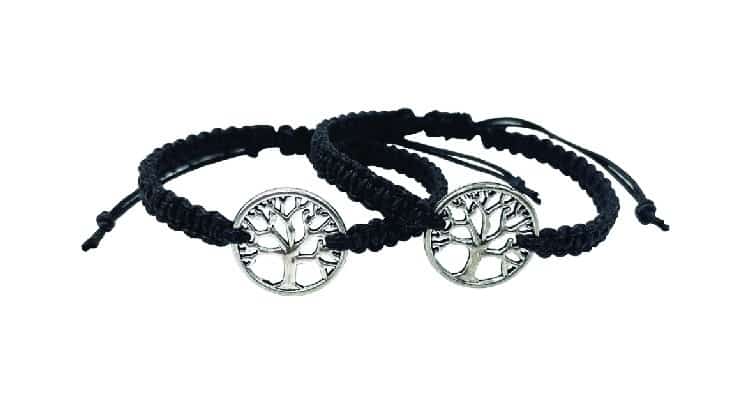 The tree of life is significant on many levels. It represents growth, strength, uniqueness, and thirst for wisdom. Just like a plant gradually grows into a tree, all its branches flourishing toward the sky, as humans, we also develop into unique individuals questing after the zenith of excellence. On that note, share these spiritual bracelets for long-distance relationships with your loved ones to appreciate their resilience and exceptional qualities. 
Beautiful braided design made of rope
Pack of 2 adjustable bracelets 
The tree of life charm is made of metal alloy
Bracelet size is 8in for men and 7in for women
3. Beaded bracelets for long-distance lovers
This could be your chance to prove those people wrong who believe love dies with distance. Moving away from your partner doesn't necessarily mean that you are walking out of each other's lives. The space you keep safe in your heart for them will remain unchanged, no matter what. The everlasting love you have for each other completes your lives from any remote corner of the world. To convey this emotion through a gift, take a look at these pieces of jewelry for long-distance relationships. How beautifully the black and white complement one another, just like you and your loved one. 
Black onyx stone bracelet is designed for male wrist
White howlite beads bracelet is for the females
Good-quality natural stones with a width of 8mm
Flexible fit as beads are attached with a sturdy elastic cord
4. 'Love message in morse code' bracelets 
Are you looking for cheap long-distance touch bracelets that mean something special? Well, it's your lucky day because we found a romantic way for you to exchange relationship vows through morse code. As you reach the airport for final goodbyes, gift this lovely pair of bracelets to your love before parting ways. One of them says 'I will be back' while the other one assures 'I'll be waiting'. If that is not a hell of a romantic gesture, we don't know what is!
Adjustable bracelets to fit any wrist size of both adults and teenagers
You can resize these hand-woven bracelets
Comes in a gift box with a message card inside
High-quality beads and craftsmanship so it won't hurt your wrist
Related Reading: 21 Long-Distance Relationship Gifts For Your Partner | Updated List 2022
5. Smart bond bracelets for couples with Bluetooth
Staying connected is the key to overcoming the distance between the two of you. It gets so depressing at times when you see other couples kissing at a romantic spot and you are there on your own. At that very moment, you desperately wish to feel your partner's presence, right? There is one thing you can do to partly solve this problem. Get your hands on this long-distance relationship touch bracelet if you are ready to splash out a couple of hundred bucks. Let's find out what it does to waive your loneliness.
As you tap on one bracelet, the other one will light up
These bracelets connect through a mobile app
You can use the app for setting any reminder
Customize the flashing color if you want 
6. Compass-engraved couples bracelet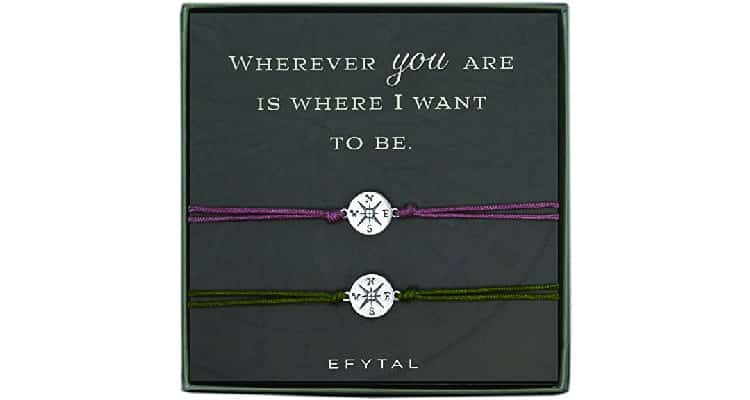 Like we said earlier, keeping a relationship alive from two different cities or even different countries is not a walk in the park. It takes genuine relationship effort, time management, and most of all, a true intention to make things work. There are days when your partner feels terribly lost and starts missing you a lot. Then they look at this compass-engraved bracelet on their wrist and it reminds them that their heart belongs to you, wherever you are. Why don't you make it happen for them and gift your sweetheart these cute bracelets for long-distance couples?
Made of 925 Sterling silver and colored cords
The cord doesn't bleed color or make your skin itch
Adjust the sliding knot according to your wrist size
Comes in a grand packaging including a gift bag, thank you note, jewelry box, cleaning cloth, and care instructions
7. Cuff-style couples bracelet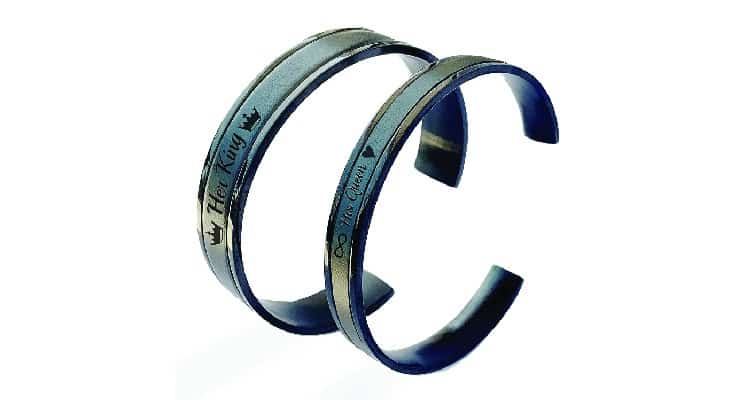 Do you just love to treat your girl like your queen? I assume she also doesn't let go of a single opportunity to make you feel as important as a king. Then, your mutual love and appreciation for each other can be transformed into a beautiful gift idea. Care to give this jewelry for long-distance couples a shot? I am sure these 'her king' and 'his queen' cuff bracelets are tailor-made for the two of you. 
Crafted from genuine leather inlay on a stainless steel cuff
Press it to sit tight on your wrist or keep it a little loose and comfortable
You can customize the leather color and width of the bracelets 
Add your own text and font size for the engraving 
Related Reading: Top 14 Best Practical Gifts For Couples
8. Long-distance pinky promise bracelets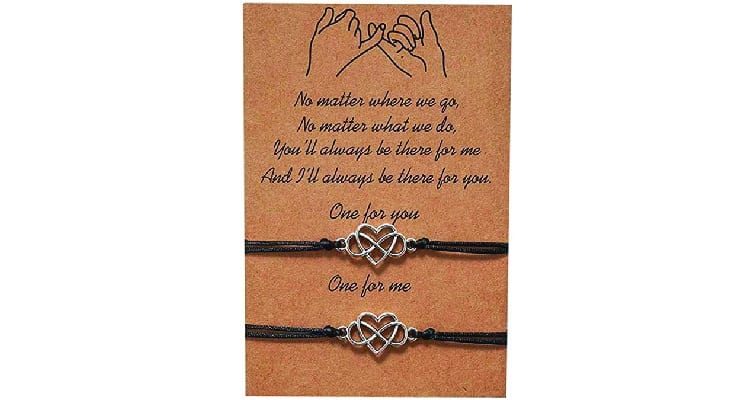 This one is meant for those sweet teenage couples who just graduated high school and are now flying to a new place to start a fresh chapter of their lives. Yes, you have heard college is difficult. Lovers drift apart as they often fail to cope with the pressure of assignments and the long-distance romance. But that doesn't have to be the end of your story too. Get these super cute yet cheap long-distance touch bracelets and make a promise to hold on to each other. Keep one for yourself and the other goes with your partner.
A set of two bracelets wrapped around a message card 
Simple design of an overlapping heart and infinity charm
Made of cotton strings and high-quality alloy
Lightweight and comfortable to wear
9. Personalized nameplate bracelet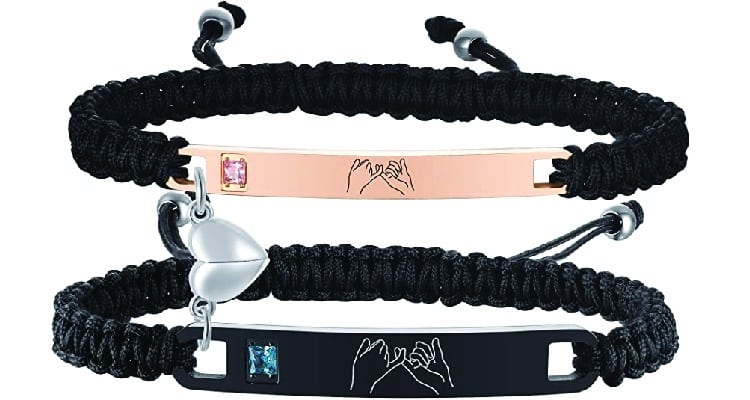 You know any gift you purchase for your loved one turns out to be extra special when they are personalized. You are probably wondering, "How can we customize bracelets for long-distance couples? Don't they come ready-made?" What if we tell you that now you can modify a pair of bracelets with any engraving that you want? These mutual attraction nameplate bracelets offer you an empty space to fill in with an intimate message or motif. There's no doubt it will win over your partner in an instant.
Features braided wax cord and stainless steel ID plate
Antiallergenic adjustable bracelets
It also includes a heart-shaped magnetic charm
You can customize it to add names, dates, coordinates, initials, motifs, and so on
10. Infinity loop jewelry for long-distance relationships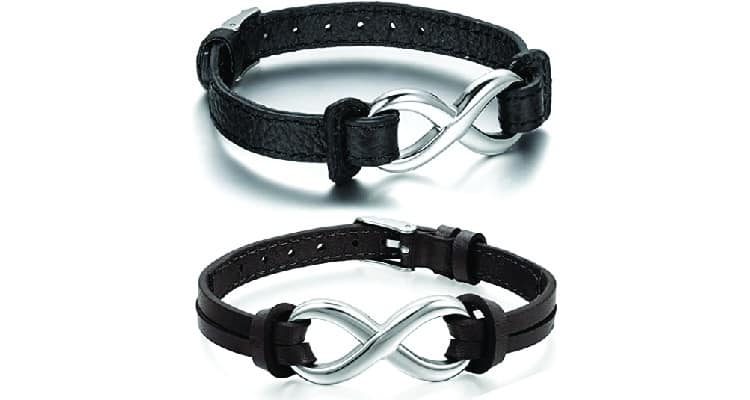 The infinity loop is gaining popularity as a statement symbol in apparel and ornament design. Have you ever thought about what it represents in life and relationships? We are not diving too deep into the spiritual aspects. In simple words, the infinity symbol stands for the concept of timelessness, eternity, and endless possibilities. No wonder this pretty wristband with an infinity motif makes for the ideal piece of jewelry for long-distance relationships. It emphasizes the foreverness of your partnership and strengthens your bond.
Comes with black and brown leather bands
Features a silver-tone infinity charm
Adjustable length up to 9.06in
Includes a cute velvet pouch
Related Reading: Thinking Of You Gifts For Your Partner – Ideas For Him And Her
11. His-and-hers bracelets for long-distance couples 
Showing a little possessiveness for your bae never hurts, does it? After all, they are such beautiful, kindhearted people and you are proud to have them as your partner. That's why his-and-hers gift items have always been a hit among couples and so is this pretty pair of bracelets for long-distance relationships. The cherry on top are those super cute tiny lock and key charms. It says the key to your heart is ever so safe with your loved one.
Handmade with braided nylon ropes
Neither too tight nor too loose – adjust as you like
Sturdy construction, so no chances of the strings coming apart
Comes in a blue jewelry pouch
12. 'Always and forever' motif wristbands
It's only natural that the distance between you two takes away the spark from the relationship over time. You should try to find unique ways to tell your partner you love them once in a while. And what's more lovable than the assurance of a happy future together? Trust me, your sweetheart will melt when they receive this stunning piece of jewelry for long-distance relationships with the words 'always and forever' engraved on it. 
A pair of titanium and stainless bracelets
Lightweight and comfortable fit 
Features laser-cutting and polishing technique
Rust- and corruption-resistant material to keep the fine polish intact for a long time
13. Long-distance relationship touch bracelets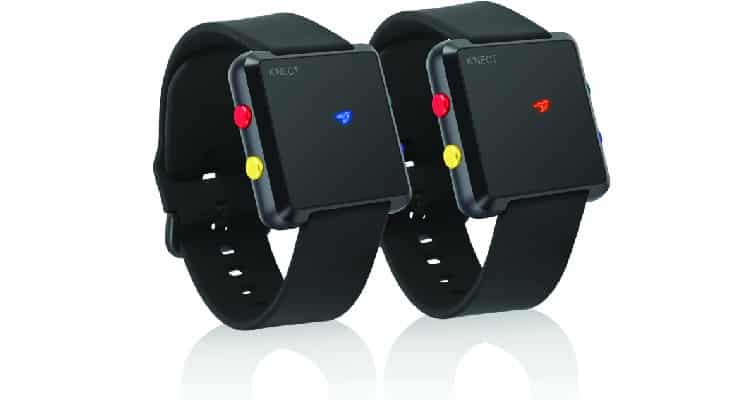 So you are looking for a pair of smart bracelets that will keep you connected with your partner and also not burn a hole in your pocket. Don't you worry anymore because these cheap long-distance touch bracelets are budget-friendly and of great quality. Now, you can send preset text messages and emergency SOS SMS to make sure your partner is safe and sound when they are far away from you.
Associate 4 different colored buttons with 4 people in your family to stay connected
Send love texts in code to your partner by pressing the buttons
Share current location for safety purposes
Comes with USB cables, user manuals, and free Android and iOS apps
Related Reading: 12 Useful Gifts That Keep On Giving – Gift Ideas For Him And Her
14. Yin Yang jewelry for long-distance couples
If you learn to identify the Yin (dark, inward, resilient energy) and Yang (bright, outward, positive energy) characteristics and observe the Yin Yang examples in relationships, you will see that it's all about finding a balance between two people who complement each other. You may reflect on that aspect of your partnership with this pair of Yin Yang bracelets for long-distance couples. Chinese myths also suggest that these patterns have the power to repulse negative spirits. So in a way, you will be protecting your loved one when you each wear one of these on your wrist.
Made of high-quality alloy and braided wax rope
No allergic reaction as it's lead-free and nickel-free
The rope is embedded with 6 stylish steel balls
The shine won't fade away and the ropes are long-lasting
15. Magnetic bond bracelets for couples
Don't you feel your partner has a magnetic charm that madly attracts you to them? Hold on to that thought and check out these cute couples bracelets with a paired heart-shaped magnet. The moment you come closer, the pieces attach into a perfect heart shape just like you and your partner fit into each other's life. These matching bracelets could help you survive those particularly rough days in a long-distance relationship while you hope to see your love soon!
Pair of glossy and hypoallergenic bracelets
Crafted from rubber band and rope
Can be adjusted according to the size of your wrist
Features lock and key metal charms along with the magnetic heart
With that, let's wrap up this catalog of bracelets for long-distance couples. Now you know why these couple bracelets make for such fantastic, meaningful gift ideas. You will get to connect with your sweetheart on a deeper level and establish a bond that's hard to break even in the eye of the storm of this distance separating the two of you.
21+ Weird Yet Wonderful Long-Distance Relationship Gadgets [Trending 2022]
Ask Our Expert
You must be Logged in to ask a question.