The many perks of a long-distance relationship may seem like a contradictory statement but not anymore! Now that technology is on their side, people in LDR can have fun too! A long-distance relationship gives an opportunity to splurge and how! Now hold your breath…. Here are the long-distance relationship gadgets that regular couples can only swoon over.
With technology and no dearth of ideas, the market is rampant with gadgets that bridge the distance and make long-distance relationships exciting too. We have curated the best of these LDR gadgets to help you connect with your partner and have fun while at it. So here are 21 weird yet wonderful long-distance relationship gadgets.
Best Long Distance Relationship Gadgets For Couples
Distance doesn't have to be a hindrance to your love, let it bloom with these long-distance relationship gadgets. Your partner doesn't have to be a tech geek to appreciate these products. This article has a variety of gadget ideas so that you never run out of things to gift your partner. No matter what their taste, these gifts are sure to bring joy into their lives.
From modern bracelets to countdown clocks to sexy toys, the list of long relationship gadgets here is perfect for fulfilling any of your doubts about gifting your partner. Whatever be the occasion, you can gift him these long-distance relationship gadgets and improve your relationship despite the distance.
1. Long distance touch bracelet by Bond Touch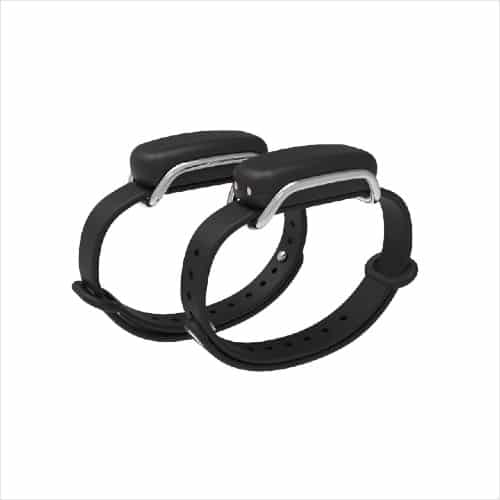 In a long-distance relationship, there should always be a bond that connects. Long-distance bands or bracelets are the new buzz for LDR couples. These have become a sort of must-have. Similar to fitness bands in look, these long distance gadgets are the ultimate fashion accessory.
The bracelet will vibrate and light up with one tap. Now, what can be more special than to let your partner know each time you think of them? There are numerous designs available so that you can choose according to your style. Besides, these come in matching sets so you and your partner will have the same design.
2. Dual time zone wall clock
This is one of the must-have long-distance relationship gadgets, especially for couples who live in different time zones. Tell time it will, but it will also allow you to set two different time zones, one in the large dial and the other in the smaller one. So, whether you have a Skype date night or you want to buzz your partner, you will never get confused about timings with this dual time zone wall clock.
So, this cuts the need of checking time repeatedly for different time zones, which can create confusion. In addition to that, these watches are super sleek, very stylish, and handcrafted to give you that uber cool look each time you wear them. What better way than to flash a super cool accessory and connect with your partner.
Related Reading: 21 Gifts For Beach Lovers [Gifts For People Who Love The Beach] | Christmas 2020
3. LDR lamps
Long-distance couples can now have fun with their partner's movements with these LDR lamps. These help one partner know when the other is near the device. Initially created for relatives living far apart, these lamps have become a loved choice of LDR couples. Rampant on social media, these lamps have become one of the most loved long distance gadgets around. What do they do? These lamps work amazingly well in connecting couples who live far apart.
Using Wi-Fi, they monitor the movements you make and make the lamp glow, this makes the other lamp glow as well, no matter how far the partner is. A perfect choice if you want little things to connect you with your partner.
4. Couple's Pillows | Long Distance Pillow
You can sigh over the fact that your partner is away and but you don't have to miss those sweet pillow talks anymore. Your search ends with this couple's pillow. It is one of the best long-distance relationship gadgets simply because of how warm and loving the present is. It comes with an arc that resembles much like sleeping in your partner's embrace. Now, what can be better than this? It has an anti-pressure arc so you can easily slide your hand under in and there will be no pressure on your hand.
So, you won't miss resting your head on your partner's hand, this pillow is so comfortable. How cool is that? Shop and sleep with love!
5. Apple watch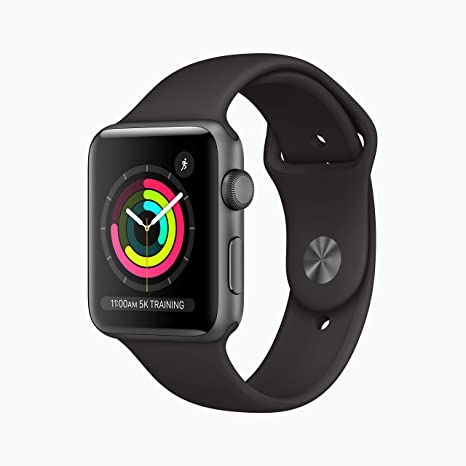 Everyone has heard of an Apple Watches but little does one know about the wonders that these can do as long distance devices. The Digital Touch feature bridges the gap of distance and makes you come closer to your partner. It has features like taps, heartbeats and sketches which bring two people closer, regardless of the miles between them. The latest Apple Watches come with dual display options which are a boon for long-distance relationship couples who are in different time zones.
Look for Apple Watch Series 3, Series 4 and Series 5. Well, you now have a chic watch that connects you to your partner and clears the confusion about different time zones.
6. 3D crystal photo frame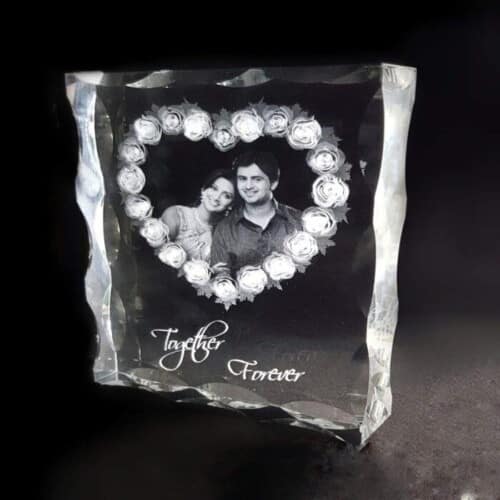 A memorable moment that is beautifully preserved for you to look at, every time you miss your partner. These 3D crystal photo frames are a perfect way to freeze a moment for a lifetime, making them one of the most unique long-distance relationship gadgets. Gift your partner this and it will speak volumes of how much you care for them. You can also use multiple frames to create a perfect corner for your memories and will come in handy whenever that yearning gets too much to bear.
It has an LED to light up your moment and the crystal adds a beautiful touch which makes this a perfect gift.
Related Reading: 21 Trending White Elephant Gifts Everyone Will Fight For | Best Fun Gift Ideas
7. Edinburgh hand casting kit
This piece of memorabilia will hold time still and vitrify the moment when you held your partner's hands. What gift can be better than this? Edinburgh hand casting kit is one such magical long-distance relationship gift that is perfect for partners living miles apart. Use the kit and you will have a mold of you and your partner holding hands, which you can look at no matter where you go. You can always keep your partner in your sight and memory with these couple gadgets.
This gift will keep you and your partner emotionally connected whenever you look at it and it is also a great way to have fun while making the mold.
8. Bath and body spa gift set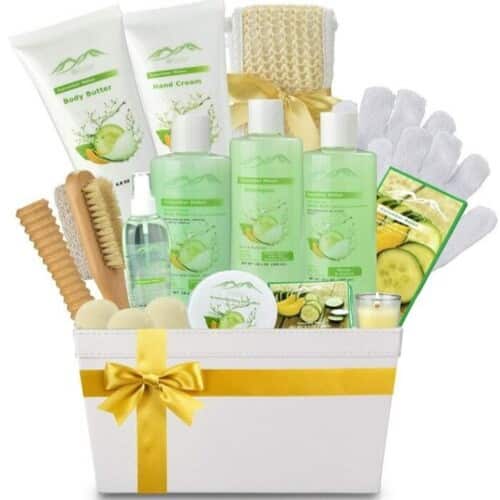 Miss the smell of your partner's presence? Here is a perfume to your rescue. With Bath and Body Spa gift set, you can feel your partner with you despite the distance, and what's better than having a spa day together over Skype? Not only will it rejuvenate you but also help in self-grooming, together with your partner.
When searching for gadgets for long term relationships, you should be looking for something that connects you both, and this product does exactly that. The familiar smell will connect you both, even if it is happening online. You can have fun with your partner while treating yourself to a spa day.
It comes in many variants so that you can choose the one that suits you the best.
9. Flirting and massaging gloves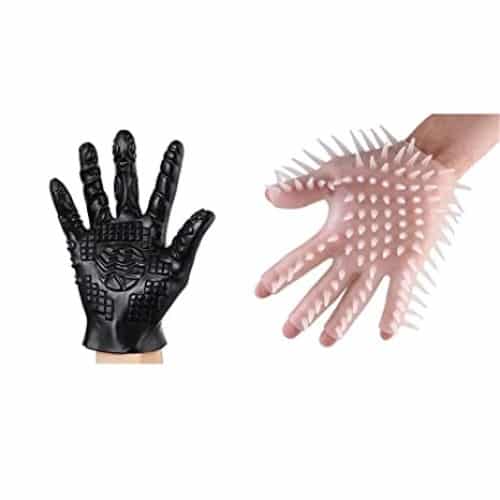 These gloves are one of the most wonderful long-distance relationship gadgets. The idea here is to make two people come closer, regardless of the distance. These gloves come in sets for both men and women and can be a great addition to online sex paraphernalia. These gloves are ribbed and have spikes made of silicon. These spikes and ribs heighten the touch and elevate the fun in foreplay. It is a great item for initiating the arousal that the couples usually indulge in.
The idea behind these gloves is to create a mobile and flexible gadget for LDR couples, who miss holding hands and that emotional connection that the touch of a hand brings.
10. Neck shoulder back massager
One of the many perks of having your partner with you is the little shoulder massages that they give when you are tired and stressed out. If a long-distance relationship is making you miss out on those massages then consider this neck shoulder back massager. Because of its functionality, it's one of the best long-distance relationship gadgets out there.
It comes with a massager with heat to ease out the pain and soothe the sore muscles. So, after the whole day's work, with a little massage, you are fresh. Not only on the neck, shoulder and back, this massager can also be used on the waist, legs, and any other parts of the body to ease the pain.
It has various settings so that you can choose the one that suits you the best. It is also portable.
11. Feraco his hers matching necklace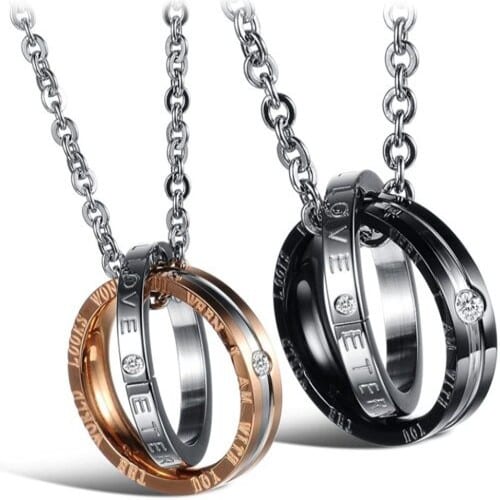 A matching set of necklaces is a great way to say "I love you" especially when you are away from each other. These long-distance relationship gadgets will remind you of your love for each other every time you will look at it. Made of titanium and with dual bands, one band has 'love' engraved on it. It is a perfect way to show your love for your partner. It looks super stylish and adds to the glam quotient.
So, you have a super cool accessory that speaks volumes of your love, it's a win-win situation.
12. LED video lights
Ever felt the need for better lighting while talking to your partner? Regular lights can make the video chat seem dull and boring. LED video light infuses magic into your regular video chatting. It makes you and your partner feel that you are video chatting under the bright Hollywood lights. These lights are easily portable and can be easily used on any smartphone, camera, laptop or even a tablet. It comes with its own charger so there's no problem with charging.
So, if you want to make your everyday chatting special, these couple gadgets are a must have.
Related Reading: 21 Romantic Gifts For Him [Sentimental Christmas Gift For Men]
13. Rings set | long distance touch rings
Before the diamond rings come the HB rings. These rings are made in heaven for long-distance couples. Add this to your wishlist if you are one of the love-distance couples who are seeking an emotional connection. Since watches and bracelets for LDR couples are rampant in the market, this comes as a unique gadget, a ring.
Each ring comes engraved with 'I love you' and the half heart design on each ring lets your partner know that they complete you and that they mean the world to you. Add to that, the long distance touch rings are gorgeous and come in rose gold and stainless-steel variants.
These long distance touch rings are the perfect way to feel close to your partner, even though you are miles apart and they become the perfect accessory that goes with everything and lets the world know that you and your partner are taken. 
14. Hug pillow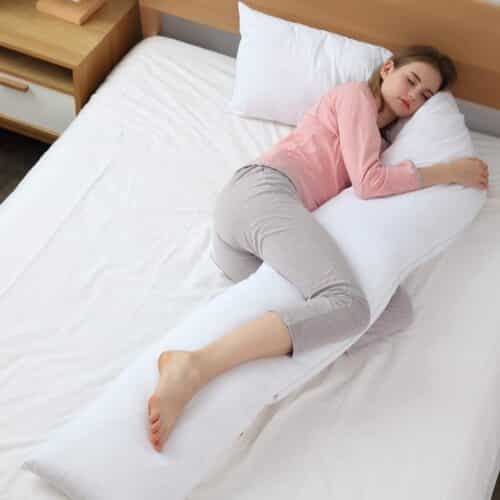 Hugs are a major part of affection display in any relationship. If you are missing hugging your partner then these pillows will come in handy. Designed in such a way with captions and words that they instantly connect you emotionally with your partner. These are also available in pairs so that you and your partner have the same pillows to hug.
The design gives you the feeling of hugging your partner every night and for a long-distance couple, this is the best thing ever. It makes you feel the embrace of your partner even when miles separate you both. Available in a variety of designs and sizes so that you and your partner can choose the one that suits you the best.
These make for the perfect long distance devices which brings the emotional connect back between you two.
15. Weighted blanket
Missing that feeling of being in your partner's embrace while sleeping? You don't have to sigh anymore looking at regular couples embracing while sleeping. You too can have that feeling of embrace with these long distance gadgets even if your partner is away from you. Check out these weighted blankets which help your body relax. They stimulate the feeling that you are being held and hugged.
This comforting feeling makes sleep better through the night. It comes with a 7-layer system to surround your body comfortably and form a cocoon of comfort while you sleep. It has less fiberfill and more glass beads to help control temperature in a better way so there is no sign of discomfort. These will ensure that you sleep in comfort with a feeling of being held in an embrace.
You can choose from the array of sizes and designs available, you can even choose the weight that suits you the best. A matching pair of blankets will ensure that you and your partner have the same blankets, which makes you feel connected.
16. Countdown clock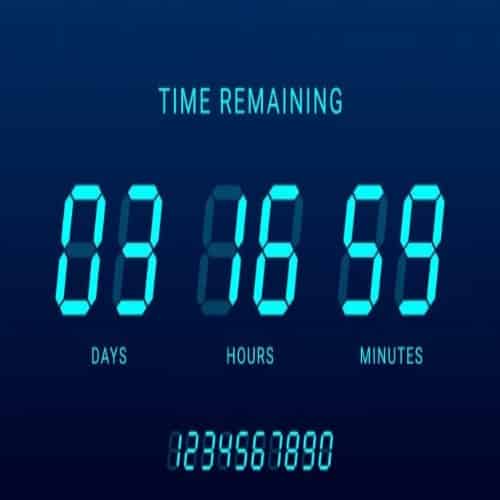 If you have cut the dates on your calendar, waiting for the next meeting with your partner, you need to upgrade yourself. Waiting with bated breaths for your next meeting or Skype date can be more fun with this Countdown Clock. It is like a countdown to your important days. Ranging from 1 minute to as many as 5 years (1999 days!) so you can set it to a varied range of time.
These clocks can be your best bet when you have an important date coming up. There will be no need of calculating the remaining days manually on the calendar. All you need to do is to enter the target date and the current date. And because of these long-distance relationship gadgets, your partner will remember you every time they look at it.
So, you don't wait alone when you use this clock, it waits with you. It also cuts down the confusion which may make you miss those precious moments with your partner.
Related Reading: 11 Cozy Gifts For Your Girlfriend | Thoughtful And Unique Gifts For Her
17. Phone connected vibrators
Every long-distance relationship faces a dearth of intimacy. These phone connected vibrators offer the best solution. The days of naughty talks or sexting are a passe. Though the market is rampant with an array of sex toys, you need something that can connect you to your partner, even more closely.
These gadgets for long distance relationships are the best bet when it comes to bringing back intimacy into your relationship. Fitted with a unique line of vibrators, you can connect with your partner simultaneously with just a tap on the app. Once both are connected, you can video chat as well as control your partner's toy.
So, this gives a lot of room for some dirty fun together, even when miles apart.
18. Massage gun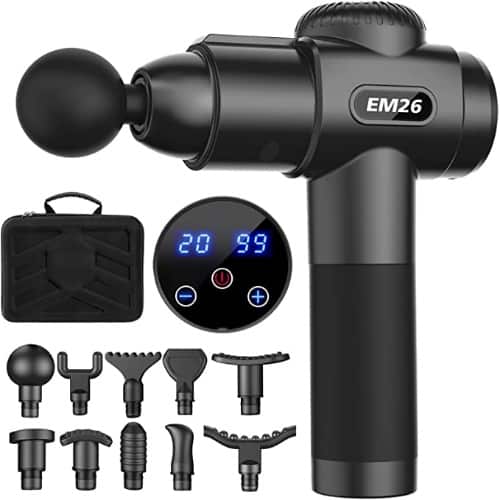 In a long-distance relationship, the importance of intimacy cannot be ignored. With technology and couple gadgets like these, the gap of distance can be bridged. This device comes with suction which gives the fun of sucking nipples and clitoral. It comes with 12 variations to control speed and intensity so you can choose the one that suits you the best. It is easily chargeable and portable. It is best when couples engage in sex online, your partner can be a part of this and heighten the experience.
So, it can be said that to get sex like experience with your partner which is pleasurable as well as fulfilling, this sex toy is a must-have.
19. Wand massager for long distance sex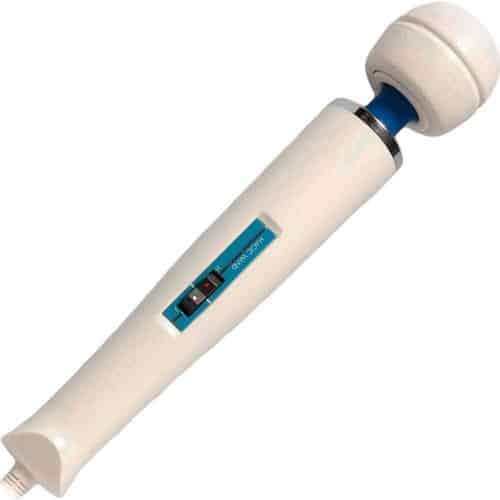 Though there are many vibrators available, the Long Distance Sex Toy by Sikxtoa is different. As the name suggests, this gadget lets you enjoy vibrations with ease. What sets this sex toy apart from others is that it allows an amazing vibrator experience, which makes intimacy easier and more pleasurable for long-distance couples.
What makes it unique is that it can be easily worn in the underwear. You get the option of creating custom vibes for your partner, getting to control the pace and intensity which suits you both best as a couple. For all these reasons, it's one of the best long-distance relationship gadgets you can get for your partner!
So, you get the pleasure no matter where your partner is located. This makes intimacy easy and fun.
20. Apple air pods
Apple Air Pods may not be thought to be useful as long distance gadgets, but it has its own advantages. This is one gift that will be appreciated by everyone and never fails to bring a smile to the face. These discreet Air pods with Bluetooth are very convenient for many things like music, Zoom meetings or chats with your partner. What is amazing is that you can put it to naughtier use when you are having fun together, makes FaceTime way sexier than it is.
With no chords to manage, you can sing, dance, and do all the naughty stuff without a single worry on the mind. It gives you the freedom to go wild.
Related Reading: 21 Best Romantic Gifts For Couples [Cute and Cozy At The Same Time]
21. Lexon Mino X bluetooth speaker
Ever felt the need of using music to spice up your long-distance relationship? Bluetooth speakers are your best long-distance relationship gadgets when you want to connect with a song or just require background music for your date. This speaker makes Skype dates fun, whether you are in the mood for soft romantic music or loud music, this speaker is a lifesaver.
You can share your playlist and play your favorite songs, which makes your partner feel you near. The emotional connection with music makes it special. A long-distance relationship may seem like a bed of roses. But it's not really! There are some thorns as well. Just ask those couples, they will have their list of how-to-keep-it going.
They will also tell you how much they have to work on it. The question is how one should be connected heart to heart, make the relationship work in spite of the distance, and claim true love overcomes even the distance factor. While optimists may find some silver lining, others may be on the verge of losing hope.
These 21 weird yet wonderful long-distance relationship gadgets, give hope to the LDR couples to carry on. For a long time, long-distance couples have been in a dire need of making for the lack of emotional connect and intimacy but technology had made everything possible. From hearing heartbeats to connecting sexually, these unique gift ideas take LDR to another level altogether. Now you can make all the other couples smolder in envy with these cool long-distance relationship gadgets. These gadgets prove that with technology on their side, LDR couples can have a fun and fulfilling relation like any other couple. So which ones did you find intriguing? 
21 Cool Tech Gift Ideas for Couples Madly in Love and Passionate About Gadgets
9 Best Gift Cards For Your Spouse [Best Gift Cards for Couples]