Gifting is an art. An underrated one at that. Finding a perfect gift that checks all the boxes is quite a task. Most of the time, newly received gifts are used just once or twice and eventually, they end up in the wardrobe behind a pile of clothes. Hence, to help you overcome falling into the trap of those seemingly useful gifts, we have compiled a list of gifts that keep on giving.
Now you must be wondering, what do we mean when we say gifts that keep giving all year? We mean all those gift ideas that can offer enjoyment over and over again, and can stir warm feelings every time. They are not restricted to one-time usage. A gift that keeps on giving will be put to use repeatedly, and hence is more practical, functional, and versatile. Your loved ones will rejoice every time they use it and recall how special you have made them feel.
12 Thoughtful Gift Ideas That Keep on Giving
Presenting your loved ones with a gift that keeps on giving sounds like a great idea. After all, who doesn't like to feel loved and special every time they use that uniquely practical gift? Be it a newlywed couple or your spouse's birthday, these gifts are great for giving the maximum bang for your bucks. So without any further ado, we present before you our much-coveted, mind-blowing list of Christmas gifts that keep on giving. Read on to find out some of the most amazing gift ideas that spark joy and give hours of pleasure.
1. Self-care subscription box
Is your anniversary coming up? Want to surprise your lady love on her birthday? Thinking of pampering her on valentine's day? Then you must consider this self-care subscription box. One of the best gifts that keep on giving, this box will treat your lover to the core. With its luxurious spa-like experience at home, she is sure to love you a little more for coming up with this idea. What's better? The box is repeated every month, spoiling her with the best skin care products.
A specially curated box of wellness goodies worth $120 to $200 every month
Self-care and relaxation products to end a tiring day
Every box includes 1 self-care activity along with 7 products to pamper
Products for aromatherapy, skincare, natural/organic bath, body care, and other lifestyle items
Cancel, resume, or pause the subscription as per your convenience
Related Reading: 30 Romantic Gifts For Him [Sentimental Gifts For Men] 2022
2. Healthy snack subscription box
For the couple that believes in mindful eating and healthy snacking, this subscription box can be one of the gifts that keep giving all year. Say no to guilty snacking with this box full of health delivered to your doorstep every month. It's like a Christmas gift that keeps on giving, with a healthy and delicious twist to it. With every bite of wellness, your bae is going to remember you fondly. Thinking of a perfect platter of movie-night munchies? Your search ends right here.
A box of up to 10 premium healthy snacks
Holidays, celebrations, and birthdays get a healthier twist
Every package includes healthy chips, granola bars, nuts and seed blends, whole fruit snacks, healthy protein bars, and many more options
Specially curated by an expert nutritionist
Box comes with a monthly guide to health and fitness covering nutritional tips, snack facts, workout challenges, snack recipes, and meditation
3. Succulent box
For couples who are plant parents, we have a perfect idea for them to indulge in their hobby. Spend some quality time with your BFF with this gift that keeps on giving – a subscription box of succulents. Unique, practical, and a gift for a lifetime, this one is sure to bring a smile to your partner's face. Present them with this succulent box on their birthday, your anniversary, or any other occasion. Partners, spouses, parents, friends, family – we are sure everyone is going to love such a thoughtful Christmas gift that keeps on giving.
Every box contains 2 clay pots and 2 different species of succulents
Both succulents measure approx 2 in and come in white/terracotta pots
Every month, newer varieties of succulents are sent, so you never get the same species
Low on maintenance, easy to grow, pest-free succulents with bright and colorful flowers, in a variety of shapes and colors
Every plant is carefully bubble-wrapped in a sturdy box to ensure safe delivery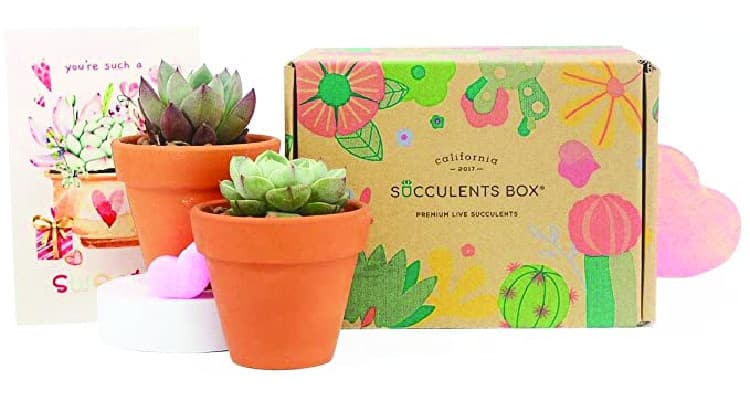 4. Portable radio
Any list consisting of a gift that keeps on giving ideas is incomplete without a few musical notes. Get your hands on this portable radio and pamper your loved ones with a gift that they can never have enough of. Be it your parents' anniversary, your partner's birthday, your BFF getting hitched, or your colleague's house-warming party, this radio is a perfect gift for all occasions. Croon to the music, sway to the beats, catch up on the local news, or go sporty with sport events, this one is a must-buy from all the gifts that keep on giving all year.
Portable and travel-friendly AM/FM radio
Built-in speaker with loud and crystal-clear sound
Handheld radio that supports mono earphones (not included in the package)
AC adapter-powered radio can also be operated using 4 AA dry batteries
Product dimensions: 9.6 x 3.3 x 7.3 in, hardware interface: 3.5 mm audio, voltage: 110 V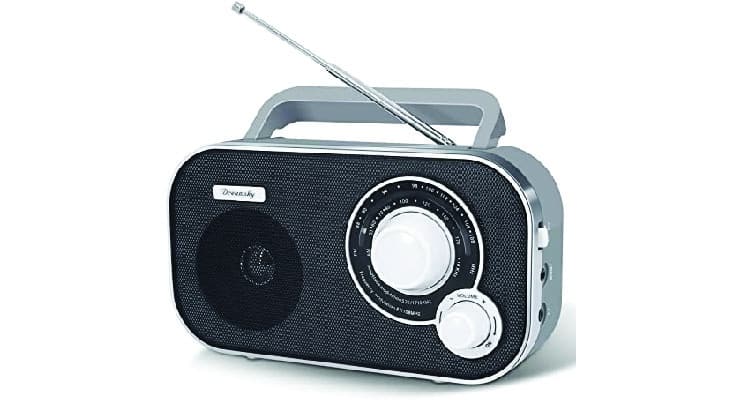 5. Soulmate necklace for wife
Express your love for your wife in a special way with this Christmas gift that keeps on giving every day. A necklace that she can adorn herself with, reminding her of your unconditional love for her. This glittering soulmate necklace is sure to bring forth a glimmering smile on her face too. A necklace that she can wear every day, it is one of those gifts that keep on giving joy and happiness forever. The personal message on the box makes it more alluring and adorable.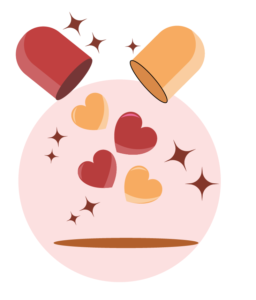 Get your dose of relationship advice from Bonobology right in your inbox
Love knot charm that signifies your infinite bond with your partner
Pendant studded with sparkling cubic zirconia gems, handcrafted, made of 14 K gold over surgical stainless steel
The size of the shimmering pendant is 1 in
18 in long chain in sterling silver
Hypoallergenic, skin-friendly, and nickel-free jewelry
Related Reading: 30 Matching Couples Gifts – Cute Matching Gifts For Him And Her
6. Neck, shoulder, and back massager
Gifts that keep giving all year should be such that they can be used by anyone and can be gifted on any occasion. A universal gift evokes feelings of love, warmth, and affection long after it has been received. This massager is one such gift that will relieve pain, stress, and tension of everyone in the family and will be used over and over again. Relax and rejuvenate at the end of a tiring day with a soothing kneading massage. Gift this to your partner on valentine's day and see them smile from ear to ear.
Deep massage for tissues and muscles using 8 kneading massage nodes
Infrared heating at 3 adjustable speeds eases the muscle tension and stress, ensuring utmost comfort
Massager features breathable mesh and PU leather
Automatically shuts itself off in 15 minutes
Portable and travel-friendly, it comes with a power adapter, car charger, and a long cable
7. Beauty and makeup subscription box
If a woman loves using makeup, you'll never hear her say, "I have enough makeup with me". Pamper your lady love with some of these great beauty products. One of the best gifts that keep on giving, she would certainly fall in love with her favorite stash of makeup every month. Since makeup is your woman's BFF, she will use this every time she steps out, on special occasions, and of course, on your date nights. Indeed a unique and practical Christmas gift that keeps on giving.
Every box contains 4 to 5 full-sized lip products
Great way to explore and discover newer brands and product ranges
Each bag includes a great variety ranging from lipsticks, lip glosses, lip balms, and liquid lipsticks, to lip liners, lip scrubs, lip pencils, and lip crayons
Each bag is worth approximately $50
All the products come in cute collectible makeup pouches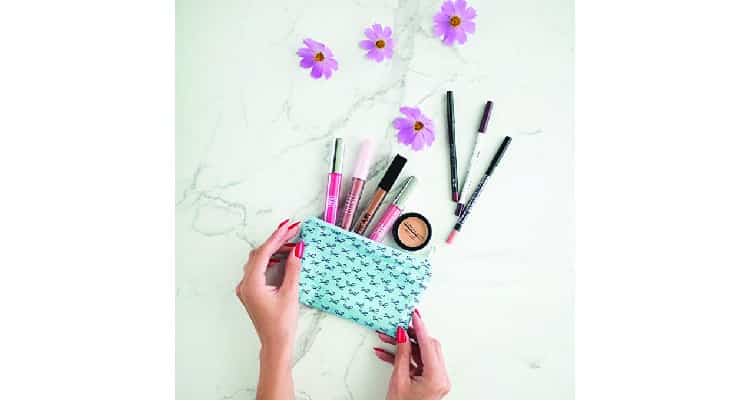 8. Chocolate gift box
Gifts that keep on giving bring forth sweet memories. Why not make these memories a little more sweet with some sugary treats? Chocolates are everyone's favourites, a delightful burst of melting goodness that no one can resist. Get them for your mom this mother's day, treat your grandparents with this box of sweetened happiness, or surprise your bae – you can never go wrong with this gift. It would be apt to say that our list of a gift that keeps on giving ideas would be partial by not including this little box of gooey joys.
A specially curated collection of 15 bestseller chocolates that includes more than a pound of assorted chocolates such as milk, dark, and white truffles
Indulge in unique flavors like cashew clusters, bavarian pretzels, coconut haystacks, peppermint patties, pecan snappers, English toffee, sea salt caramel, milk butter pecan patties, pretzel clouds, double silk truffles, and peanut clusters
Each piece of chocolate is individually wrapped and labeled to ensure the freshness of the flavors
Comes in an embellished tin box that is perfect for gifting
Get it customized with a personal message at the checkout
Related Reading: 21 Sexy Stocking Stuffers | Trending Christmas Gifts For Him And Her
9. Amazon gift card
For times when you can't decide what you should get as a gift that keeps on giving, you can simply go for an Amazon gift card. This is one of the most practical gifts that keep on giving as it is eagerly used and loved by everyone. Get this for that office colleague you don't know much about, your partner who is a little finicky, or your parents who are always divided on what they want for their anniversary. This is one of those gifts that keep giving all year, goes for all occasions, and holds good for all your friends and family.
The gift card comes in an attractive gift box which you can choose out of the multiple options available depending on the occasion
The gift card comes with no expiration date or fees
No returns and refunds are valid
The card can be redeemed against innumerable products on Amazon
Make it more special with a personal message printed on the packing slip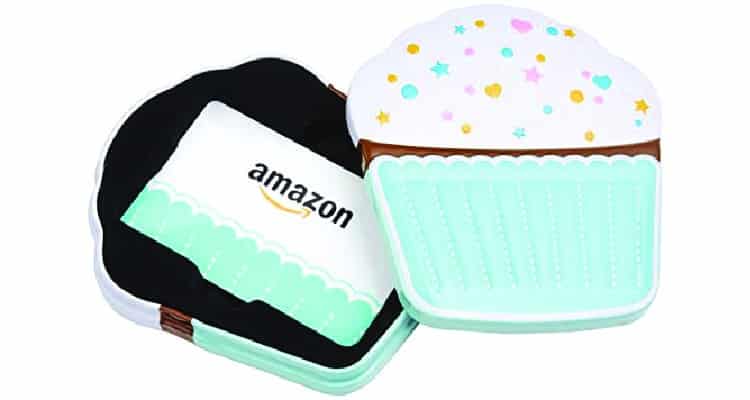 10. Gentleman's subscription box
It's that time of the year when your man needs to be spoiled and loved a little more. Why settle for any one of the gifts that keep on giving when you can have many? Get this subscription box of goodies for your gentleman that will appease him and make him the envy of the town. A box full of men's accessories that will add charm to his appearance and personality is just what the style police ordered. No need to pore over individual gifting products; get all of them in one box.
Make your man look good and feel good with this monthly subscription box
Each box contains 4 to 6 grooming and styling essentials for men
Carefully curated box by our expert stylists
Get goodies worth $100 in each box every month
Happiness delivered at your doorstep
11. Set of scented candles
What do you feel like doing at the end of a tiring and hectic day? Maybe just put your feet up, soak in a bubble bath sipping on your favorite wine, along with a few scented candles to help you relax? Sounds like a perfect evening to end the day with. Opt for this candle set, the aroma of which will remind your loved ones of your blissful presence in their lives. Set up a date night at home with a spa-like ambience for your partner. Light up these candles and let them work up a heady aroma that will enchant you both and take you along for a sensual experience.
Gift set of 12 scented candles in varying fragrances such as tangerine, figs, jasmine, spring, lemon, strawberry, rose, gardenia, rosemary, lavender, mint, and vanilla
Made of 100% natural soy wax and lead-free cotton wick
Natural plant essential oils used for fragrances
Non-toxic, eco-friendly, and baby-friendly – these candle comes in portable, pretty jars that can be reused
Each candle has 2.5 oz wax with a burning time of upto 30 hours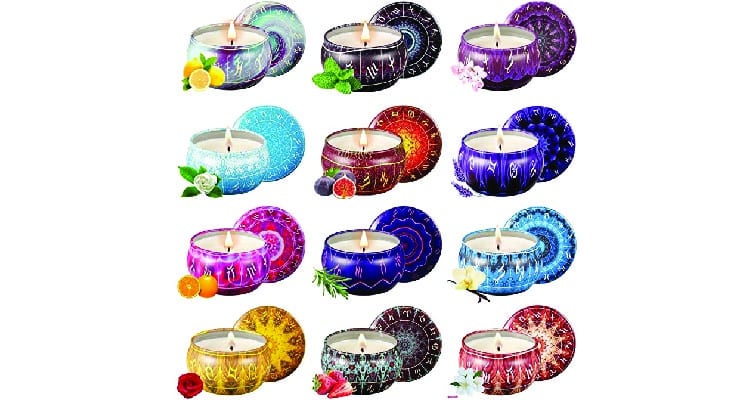 12. Multi-tool pen set
If you know someone whose tool kit is inseparable from them, and who is perpetually busy repairing and mending things, this will be one dream-come-true gift. Bringing our list of gift that keeps on giving ideas to an end, is this multi-tool pen. A handy pen that can multitask is just what your loved one needs at home. Trust this multi-tool gift set to come to your rescue every time. Though the product description says it's for men, this can obviously be used by anyone at all.
Gift set includes a 9-in-1 multi-tool pen and a 6-in-1 multi-functional pen
Pen features twist ballpoint pen, ruler, screwdriver, stylus, flashlight, and bottle opener that doubles as a phone holder
Sturdy and durable pen made of premium quality aluminum material
Sleek and compact design makes it easy to carry
Comes with 6 extra pen ink refills and a beautiful box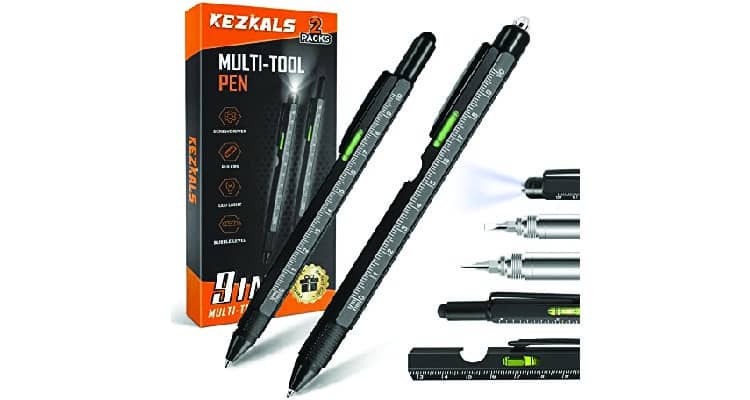 With this, we end our amazing list of gifts that keep on giving. No matter how and when you present these to your loved ones, they are sure to use, cherish, and treasure your gifts and the sentiments attached to them. So, head to your shopping cart and add these little bundles of joy to celebrate your special occasion. We are sure your family and friends are going to love them. Happy shopping!
30 Self-Care And Wellbeing Gift Ideas – Because You Deserve The Best