Do you have this superpower to always spot just the right present for the right person? But much to your surprise, the gift wizard in you is utterly bewildered when it's time to pick the very first gift for your new boyfriend. We will cut you some slack here because it's okay to be puzzled by all the stress knocking your head off.
The relationship is fairly new and tender. Perhaps, you have just defined your bond, yet it's way too soon to drop the L bomb. At this moment, getting him a $200 vintage record player would spill the signs of serious commitment all over the place. I am sure you don't intend to scare this sweet guy away. 
Well, what are the alternative gift ideas for a new boyfriend then? Something as indifferent as a graphic t-shirt or a box of Ferrero Rocher? Hell no! It will send him the wrong idea that it's just another fling for you, so you didn't bother to look for a thoughtful gift. 
You have to reach the middle ground, my friend. Once you find the fine balance between too serious and too casual, your new relationship gift ideas for him will be super hit. Wait, we are not here to throw you a vague one-liner and wash our hands off the matter. Let's walk you through a series of gifts for your new boyfriend to win his heart.
12 Cool Gifts For Your New Boyfriend He Will Surely Love
I guess, we have already established the fact that shopping for a boyfriend is not a doddle. Sometimes, your heart is set on a gift that is way out of your budget. Of course, you don't want to create the impression of a grand gesture by purchasing something ridiculously costly. 
Later, when you scroll through a list of regular romantic gifts for new boyfriend, they don't seem to be exceptional enough. Perhaps, he already owns these items. The relationship has just set sail, so you are not well-versed in his personal choices either. 
But enough with the worrying. We have brought to you the 12 safest gifts for a new relationship. As this list is prepared keeping in mind the different tastes of different people along with some generic items, you will definitely have a winner by the end of it.
Related Reading: 32 Birthday Gifts For Fiancé – Romantic Gifts For Him And Her
1. Personalized couples bracelets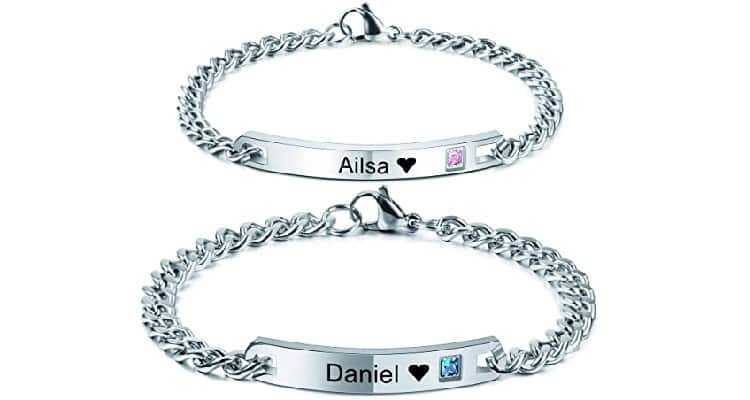 There is a reason that this stunning pair of couples bracelets tops our list of gifts for new boyfriend. You get a chance to add your own laser-engraved message on the tags – perhaps both your names with a little heart sign by the side. This unique gift idea for a new boyfriend is a subtle way to express that you like to see your names attached together, maybe forever. He will know that your hopes for this relationship are escalating toward a loving future. 
Glossy finish and minimalist design make it unique
100% nickel-free hypoallergenic material, suitable for all skin types
Adjustable band to fit any wrist size
Customize and add your text on both the front and backside of the ID tag
2. A beautiful journal for the writer in him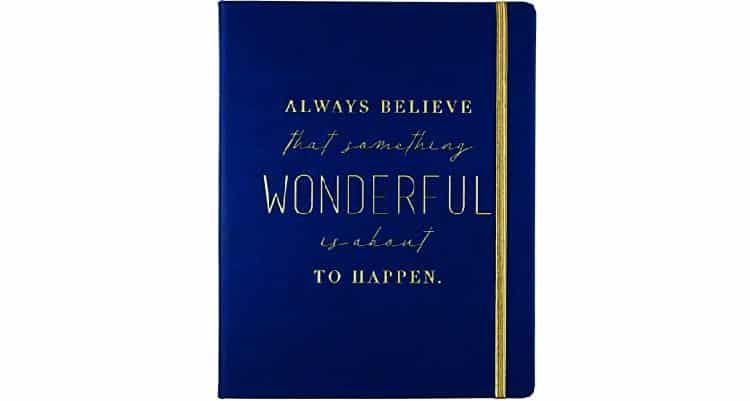 We can see you are putting an effort into finding the perfect birthday gift for your new boyfriend. It's pretty obvious that you wish to make him feel happy and loved. If your boyfriend is a poetic soul tucked inside an engineer's body, he would be thrilled to receive this galaxy blue journal notebook. It will touch him deeply knowing that you are appreciative of his passion. Impart some positivity in his life with the lovely quote on the cover. 
Sturdy, hardcover notebook with a beautiful calligraphic quote on the cover 
256 premium-quality, acid-free pages
This book sections are sewn-bound to lay it open safely
Pages are ruled with rounded corners
3. Popcorn maker if he is always hungry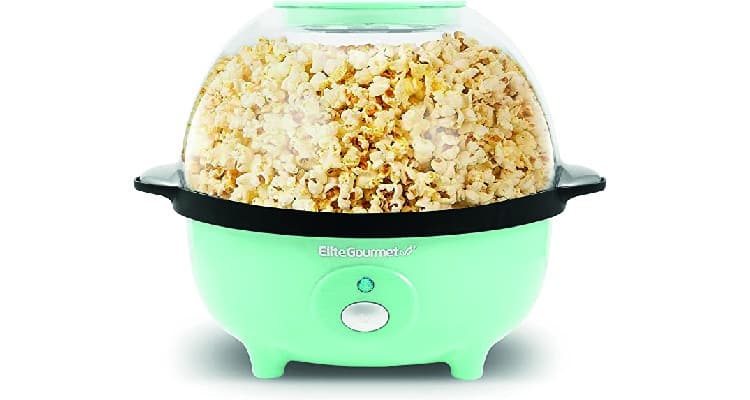 As you are spending more time with him, all the telltale signs are clearly indicating that you have a foodie partner. He gets hungry in short intervals and keeps nudging you to order in. While it's cute sometimes, you may need a better solution for the long term. In that regard, we have an amazing idea for a Christmas gift for your new boyfriend. With a handy popcorn maker, he will always have something to munch on and keep him busy. Sounds like a plan?
Prepares 3 qt popcorn at one go
No added preservatives or preheating is required
You can flip the lid and use it directly as a serving bowl
Motorized stirring rods help to spread the heat evenly 
Related Reading: 24 Food Gift Ideas For Foodie Couples Who Love To Cook
4. Plaid scarf for your fashionable man
So, every time you go on a date with this dapper gentleman, he sweeps you off your feet with his looks. Now that you are dating a fashionista, it seems apt to keep yourself updated with trendy men's fashion accessories. This trivia can come in handy in your search for gifts for new boyfriend. We suggest you get him this classy, cashmere-feel knit scarf that will go perfectly with a formal or semi-formal outfit. 
Made of quality purebred Australian Merino wool
Super soft and warm – perfect for chilly weather
Length is more than enough to wrap it twice around the neck
Hand wash in a mild soap to ensure longevity 
5. Coffee mug in the shape of a camera lens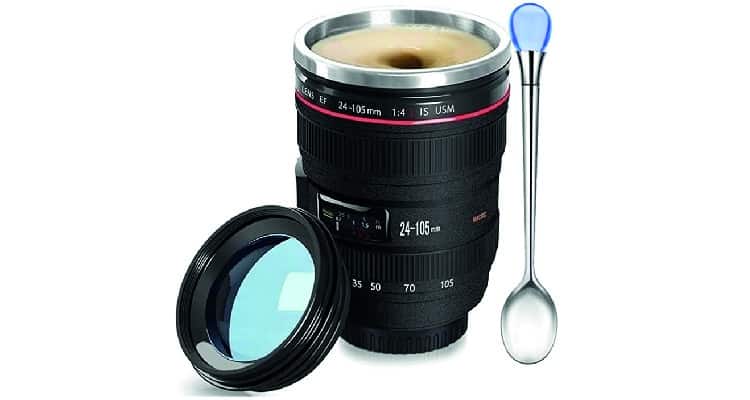 Hold your breath, this is going to be one of the coolest new relationship gift ideas for him. Ever since Instagram happened, we all have tried our hands at photography. Who doesn't love to click bits and pieces of their home and daily life to share with the world? If your boyfriend took it to a level of an important skill from 'just a hobby', this camera lens coffee mug will put a big smile on his face. No doubt it's one of the most unique gifts for new boyfriend that you will find online.
Made of food-grade stainless steel and plastic material
The lid is 100% spill-proof
This insulated tumbler keeps your drink warm or cold, as it is
You can also use it as a vase or pen holder at your work desk
6. Romantic gifts for a new boyfriend? Conversation starter pack
This exciting relationship gives you a butterfly stomach just like your teenage days. Although the thrill is exhilarating, there is still an awkward silence between the two of you. Sometimes, it feels like there is so much you don't know about each other. Of all the gifts for a new relationship, this pack of 50 thoughtful conversation prompt cards will finally help you break the nervous barrier. To build an emotional connection and intimacy, try out this gift for your new boyfriend.
Choose any one of the 5 categories and pick a card to answer the question
Serious, thought-provoking questions to grow intimacy with your partner 
Comes in a pocket-size pack to carry it easily on your date night
Related Reading: 50 Things To Talk About With Your Boyfriend And Know Him Better
7. Relaxing bath milk for a spa night
Amidst all the rush and stressful days, if you could give someone a few hours of pure relaxation and peace, there is nothing like it. When you think that way, a bottle of luxury bath milk would be a delightful birthday gift for your new boyfriend. In fact, why don't you plan a romantic surprise to make the day count even more? Arrange a beautiful dinner spread with his favorite home-cooked meal. And later, unfold a romantic evening of bubble bath, candles, and essential oils and see where the night leads you!
Handcrafted from purely natural and sustainable ingredients
Rich in coconut milk and cocoa butter for a hydrated, super soft skin
Amazing floral fragrance of rose petals infused with sandalwood essential oil
The bottle is reusable and will last for 8-10 baths
8. Customized pet portraits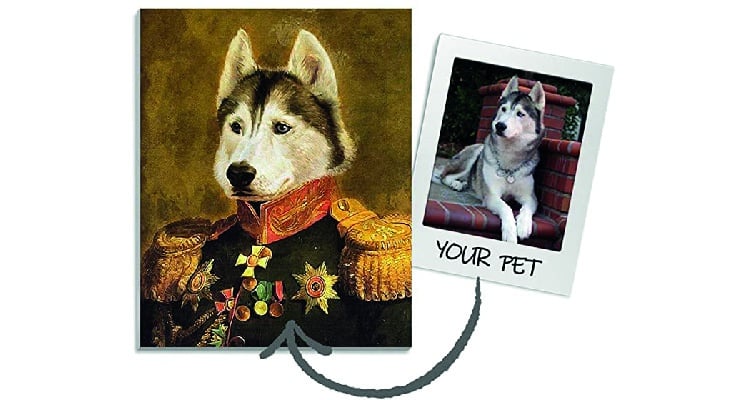 We have found the perfect gift for a dog lover if your new boyfriend is all for pets. Is a big chunk of his day spent on pampering his army of neighborhood cats and dogs? One thing you know for sure by this time is that his dog means the world to him. Then, add this personalized canvas print to your list of gift ideas for a new boyfriend. As he takes one look at this hilarious dog portrait, he will fall for you all over again. 
Features your pet's unique personality and expression 
The portrait is printed on a 100% cotton fabric canvas
Hand-illustrated portrait which is one of a kind
Comes in a solid wooden frame with corner protection
9. Coffee samplers as a Christmas gift for a new boyfriend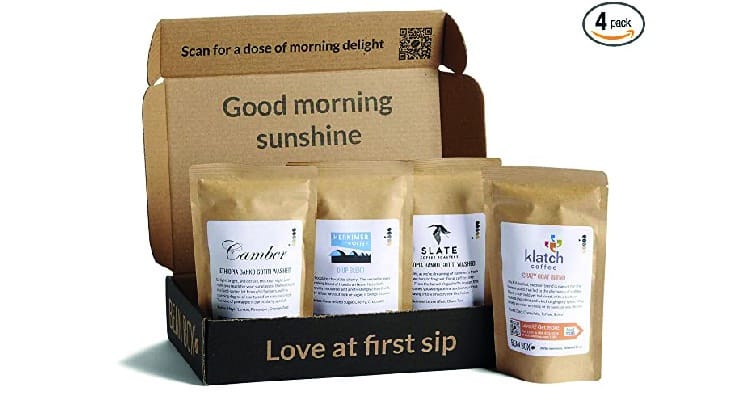 If you have started dating this guy just around the holiday season, finding a Christmas gift for your new boyfriend is going to be a task. Let me guess, did he take you to a small, remote coffee joint on your first date? But, hands down, that was the best coffee you have ever had in town! What could be a better gift for this big-shot coffee aficionado than a box of gourmet coffee samplers? With this present, you will be the first person on his mind every morning as he takes a sip of his coffee and smiles thinking about you.
A pack of four, 1.8 oz whole bean coffee bags 
You can choose from different roast types like light, medium, espresso, decaf, etc
These artfully-crafted coffee bags are curated from world-class coffee roasters
Packaging is sustainable and eco-friendly
Related Reading: 35 Useful Travel Gift Ideas For Men – Best Gifts That He Will Love
10. Music lovers' bookends
Don't you just love listening to him as he hums a soothing tune while cooking or working? Or, when he plays the guitar and sings for you on a romantic evening? Perhaps you could appreciate the very special musician in your life with some sort of musical merchandise. We consider these classic musical notes bookends as one of the perfect gifts for your new boyfriend. Trust me, people love it when you pay attention to such small (yet important) details. 
Set of 2 musical notes bookends to place on both sides of a book stack
Made of resin with a polished and painted finish
Ideal to display as a decor item at home or office
11. Couples keyrings are great gifts for new relationship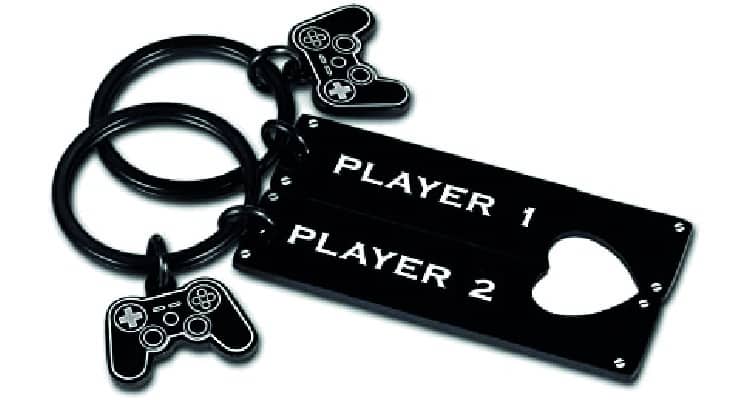 Hey, are you dating a gamer by any chance? If my assumption is on point, this pair of keychains exclusively designed for a gamer couple would be such a romantic gift for your new boyfriend. Only when the metal tags fit each other perfectly, the hollow heart sign in the middle is rounded off. What a beautiful way to say, "You are the one who fills my heart and completes my existence." The player tags and the cute gamepad charms make them even better as gifts for new boyfriend. 
Sleek and shiny stainless steel keyrings
It says Player 1 and Player 2 on the tags, meant for both the partners
You can also wear them like pendants as statement jewelry
Quality of the ring and the other elements is not flimsy at all
12. Yummy cocktail cherries
We have saved the cherry on the top to wrap up this catalog of new relationship gift ideas for him. Any cocktail connoisseur would kill for a jar of premium cocktail cherries. Is your boyfriend always bragging about his unique cocktail recipes or the fancy cocktail mixer he just purchased? I am sure he would be delighted to have this new addition to his home bar. Take a look:
Stemless cherries for garnishing cocktails and desserts
Very natural, slow-cooked, and gluten-free cherries
No added preservatives or thickening agents
Out-and-out American product – packed and produced in Northern Michigan
So, are you all set to grab the very special first gift for your new boyfriend? You can always tweak your gifts with a bunch of flowers or his favorite chocolate chip cookies. Rest assured, our list of gift ideas for new boyfriend won't fail you at your venture. Go ahead, give it a whirl. You will thank us later. 
FAQs
1. What gift should I give to my boyfriend for the first time?
When you are buying gifts for your boyfriend for the first time, pick something thoughtful yet not too serious, for example – coffee mugs, accessories, watches, perfumes, and grooming kits, personalized gifts like a photo explosion box, or a bunch of 'Reasons why I like you' notes. 
2. What do guys like as gifts?
Guys usually prefer practical gift items which they can use on a regular basis such as electronic items and gadgets, fashion accessories, any bar tool for their precious liquor cabinet, comfy hoodies, camping gift items, and so on. 
21 Gift Ideas For Basketball Players [Boyfriend Loves Basketball]
Ask Our Expert
You must be Logged in to ask a question.