It's always an extraordinarily sweet feeling to receive a gift which is personalized. Shopping for such gifts can be quite hectic though and even more so when you are looking to buy for two people. That's why we have made this task easier for you by curating a list of custom couple gifts which you can browse through, click and buy – all from the comfort of your home.
The act of gift-giving is very special– add a custom-made touch in this scenario and you've doubled the emotional intensity of gifting. Customizable couple gifts will let the couple know that you have put a lot of thought into choosing a gift that you believe is perfect for them. Such bespoke gifts contain the proof of your effort, time, and mindfulness which will melt their hearts. 
Customized Couple Gifts – Personalized Gifts For Any Couple 
Custom couple gifts are all about personal connections. These customized and creative gifts for married couples can be anything. From jewelry to kitchenware to figurines. Stand out from the crowd by choosing from the personalized gifts for newlyweds listed below:
1. Morse code bracelets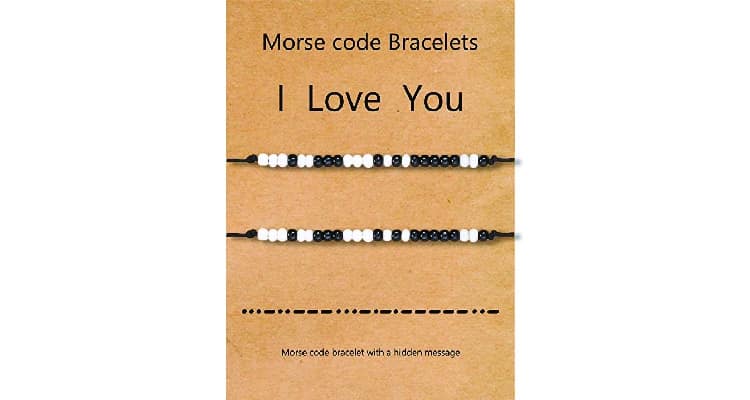 Morse code is an alphabet or a code in which letters are represented by dots and dashes. Each character is represented by a unique sequence. These morse code bracelets composed of black and white beads have secret words written using those dots and lines. Such customizable couple gifts express love and gratitude in a unique way and in a manner that normal gifts never could. It's a meaningful bracelet and an unforgettable gift.
Comes with vintage matching card where you can write something special
Made of high-quality glass beads, each one is different and unique 
Don't worry about the beads breaking – they have gone through quality tests
Imported wax rope used to string beads together; quite strong 
Related Reading: 31 Best Baby Shower Gifts For Dad And Mom To Be
2. Personalized bobbleheads 
This is one of the best and unique custom couple gifts as the bobbleheads display every small detail. They have a remarkable resemblance, exquisite facial features, precision painting, pretty decorations and delicate hairstyle. A really fun and thoughtful gift that is not only eye-catching, but also a conversation starter.
Click the "Customize now" button, then provide photos and further information
After the figure's head is finished, they will send you the photo for confirmation
Once you are happy with the complete bobblehead, it will be shipped with care to your address
100% handmade
3. Matching couple necklace
This matching couple rings necklace is one of the best personalized gifts for newlyweds. There are two rings that intersect each other, portraying a symbolic appearance of love and marriage,  and the make up the pendant on the necklaces. You can engrave words on the small and big entwined rings.
Necklace made of titanium stainless steel
Exquisite laser cutting and workmanship
Lead and nickel-free
Hypoallergenic and won't cause any irritation on the skin 
4. Personalized cutting board
Cutting boards are a great gift irrespective of the occasion being celebrated. The engraving on this wooden cutting board can be done according to your wishes. This is one of the best custom couple gifts you can give a pair of newlyweds or a couple about to get married – you can have the couple's names or the date they got/are getting married, engraved on the board.
Made from high-quality natural wood
Each and every board is examined carefully prior to beginning the engraving process
All boards are covered twice with hot mineral oil to enhance their longevity
The board's smooth surface is flawless
5. Couple apron set
Nomsum's funny, practical and great for any occasion apron sets will put a smile on the couple's face. "I'm her spicy " and "I'm his hot" are printed on the front. Custom couple gifts such as these are humorous and ideal for any occasion. Your friend and their significant other can have a bonding experience in the kitchen as they cook together, sporting the quirky yet cute gift you got them.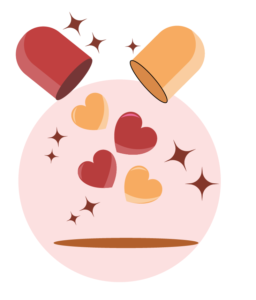 Get your dose of relationship advice from Bonobology right in your inbox
100% polyester and made up of extra-durable fabrics which are guaranteed to last long
Broad coverage to fit people of all sizes
Made up of premium quality materials, these aprons won't shrink or wrinkle if handled properly
6. Desk photo clock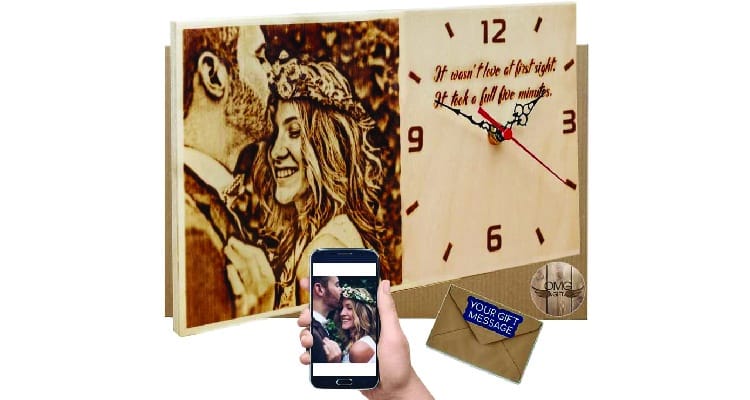 This wooden clock with the couple's photo burnt onto the wood will remind them of you. Choose customized gifts for married couples which they can keep on their nightstand or work table. This is one of the best custom couple gifts as wood burning gives a more vibrant look than laser engraving. 
Upload picture you wish to get engraved
Photo will be burnt onto premium Russian birch plywood that is 1/2 inch thick – this technique is called pyrography
Picture will have easel support which will enable you to keep on table 
Due to the burning, the wooden clock will smell like a campfire
Related Reading: 28 Romantic Valentine's Day Gifts For Husband
7. Personalized keepsake set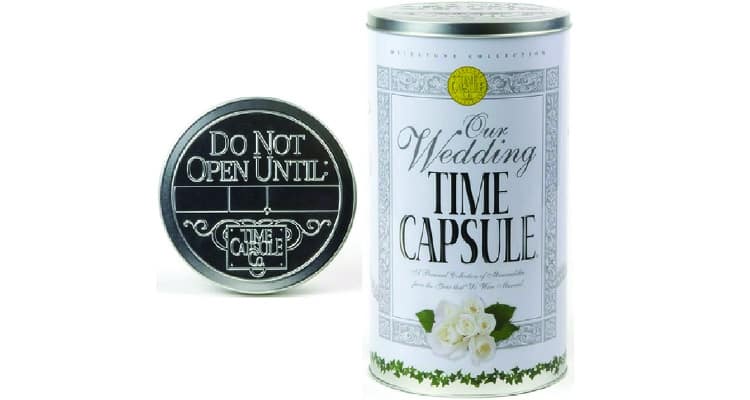 This is an uncommon yet useful gift. This heartwarming 22-piece gift set comes with everything the couple will need to create an absolutely unforgettable treasure. Such personalized gifts for couples are amazing because it will help them to spend quality time together while filling this time capsule gift with memorabilia and mementos that will evoke nostalgia.
Put your favorite keepsakes and souvenirs from your first year of marriage in time capsule
Document what your daily lives are like. As well as all the 'firsts' in your marriage, such as a first car, first home, etc
Make a photo album with the "Our Wedding" sticker
Comes with advice letters and 6 sets of "Message to the Future" letters
8. Star Wars customized gift
This is one of the most unique custom wedding gifts for couples who love Star Wars. It is a shadow box with a Star Wars theme. It features a beautiful hand-made origami Princess Leia as the bride and Hans Solo as the groom. You can customize it by adding the couple's names and their wedding date. 
Crafted with origami paper and cardstock, then mounted onto an acid-free cardstock
Frame colour: choose between black or white
Can be wall-mounted or placed on picture easel to have it free-standing
Frame includes glass in front and every piece is meticulously crafted 
9. 3D Couple portrait lamp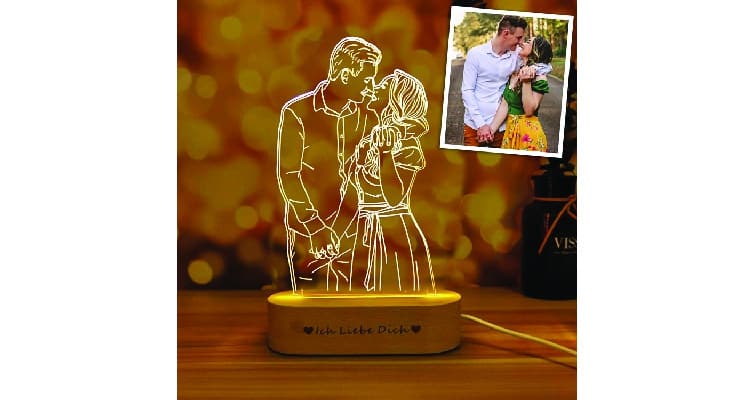 Believe it or not but this gift looks like it has come straight out of a fairy tale. This particular customizable couple gift shows a portrait of the couple in a magical, 3D style. At night in the room, it is like bright stars shining. Provide the makers with a picture of the couple and turn it into an elegant, line art, lamp. 
Hand-drawn, minimalist line art made from photo which is then etched on acrylic glass
Comes in two LED colors
Wooden stand can be customized with words 
Click 'Customize Now' button and upload photo with words you want printed
10. Couple drinking glasses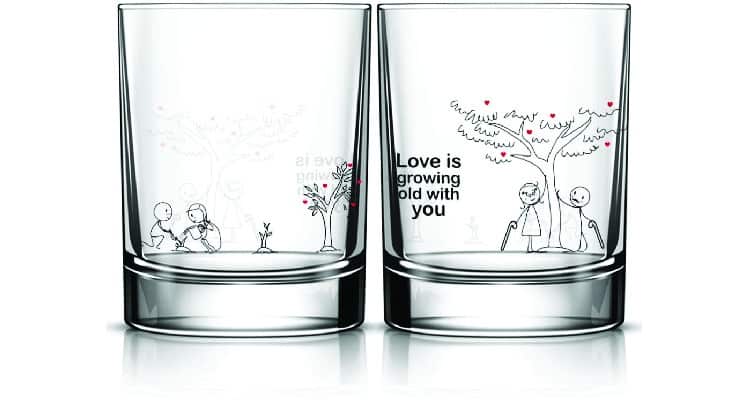 This "Growing Old With You" couple glass set is a lovely way to pour the couple who are all set to tie the knot, some love and whiskey. As they say, couples who drink together stay together. This custom couple gift will remind them of their bond and the life they can look forward to building together. 
Playful take on classic whiskey glasses: Clean lines and rounded shape with whimsical stick figure characters
Dish-washer safe
Heavy base and highball glass make them durable 
Complete image on each glass 
 11. Custom snow globes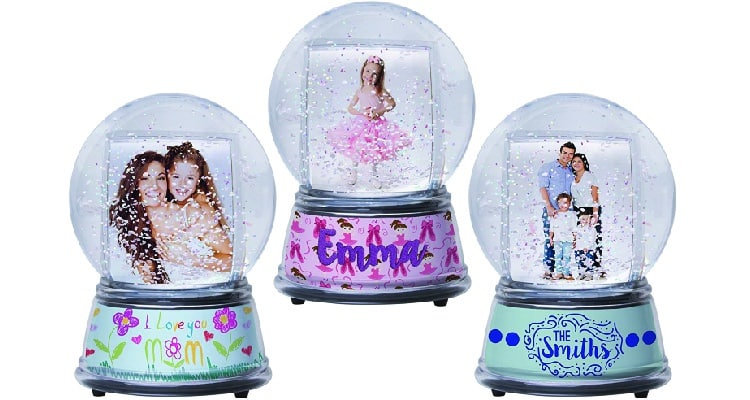 Snow globes symbolize "happy days" – a perfect symbol to capture the essence of living with the love of your life. Conflicts come and go but happy days will be a forever kind of thing with your significant other. These snow globes make the perfect, most thoughtful custom wedding gifts for couples. They will be touched when they receive such a one-of-a-kind gift made just for them. 
This create-a-globe is made out of durable plastic, NOT glass so it's kid-friendly
Holds two 2×3 photos, one on each side
Includes 4 pre-printed inserts for the snow globe base or you can create your own
Base pulls off to insert photos and there are little latches on the bottom to insert your own base design
Related Reading: 24 Food Gift Ideas For Foodie Couples Who Love To Cook
12. Magnetic heart-shaped couple bracelet
These custom couple gifts are quite unique as they come with a pair of delicate heart-shaped magnetic bells that mutually attract toward one another when you get closer. Heart is one of the top symbols of love and these couples bracelets symbolize the eternal love and friendship between two people in love.  
Made of high-quality nylon string and stainless steel
Magnetic heart bracelets never fade and won't fall out
Comfortable, safe and convenient to wear
Matching heart bracelet for couples comes with adjustable band that allows wearers to create perfect fit 
 13. Kissing whales keychain
This is one of the most romantic and adorable custom couple gifts as the whale's mouths have magnets which pull toward each other. The magnets bring the male and female whale together symbolizing a sweet and passionate love. Add a personalized touch by engraving the couple's names or initials on the keychain.
Click "Customize Now" button and upload your text
Has braided steel wire which is resistant to friction and won't get damaged easily
Made of zinc alloy which is resistant to corrosion
Hypoallergenic and won't irritate the skin
14. Personalized blanket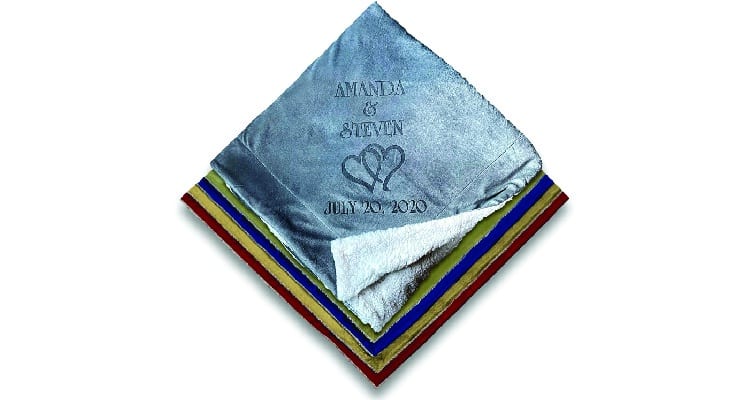 This large, warm, cuddly blanket is the ideal gift to give a couple so that they can cozy up together, enjoying the warmth and comfort. You can have it customized with their names and wedding date to make it all the more special. These personalized gifts for newlyweds show the young couple how much you care about them. 
Silky smooth micro mink fabric on the outside with faux lambswool sherpa on the inside providing maximum comfort 
Available if five color options: red, grey, green, blue and beige
Great for the couch, rocking chair or at the foot of the bed for an extra layer 
A cozy, furry throw blanket adds just the right touch of warmth to the room 
15. Personalized crossroads art
Artwork can make for gorgeous and extremely meaningful custom couple gifts. They also enhance the decor of the house. This particular piece shows love in an old-fashioned style. This creative picture of a crossroad sign with the names of the happy couple will symbolize the day they met and started their life together. Definitely one of the more lovely and unique customized gifts for married couples on this list.
This art is made of giclee printing, meant to produce a product at a higher quality and last a longer lifespan than a standard desktop inkjet printer
The quality of the giclee print rivals traditional printing processes and is commonly found in museums, art galleries and photographic galleries
Real, handcrafted, canvas prints produced and hand-stretched in California 
Such custom couple gifts are sure to reinforce positive growth in relationships. This gift will let them know how much time and energy you must have put in to come up with such sentimental gift ideas. Select any of the above personalized gifts for couples and you can be sure that they will be treasured and cherished by the couple for a long time.