We believe that a little fanfare is good for the soul. And a day as special as your wedding calls for much revelry! After the proposal and engagement party comes an important moment – assembling Team Bride. This is the squad that's your ride or die and you want to make a lovely gesture to get your girls onboard. Here's a stellar list of bridesmaid proposal box ideas that will strengthen the friendship you share. 
Recalling the words of Oprah Winfrey, Queen of Daytime TV, "The best gift anyone can give, I believe, is the gift of sharing themselves." As you share your big day with these fabulous women, a bridesmaid proposal box will mark your affection and gratitude for their presence. Now there are several ways of going about this and our list caters to different tastes and budgets. You don't have to stick to our suggestions; use them as a jump-off point and improvise.
No one knows the bridesmaids better than the bride after all. Our goal today is to finalize a 'will you be my bridesmaid box' that puts a smile on your friend's face. Are you ready to shop till you drop? Let's get started!
Personalized Bridesmaid Proposal Box Ideas
There are lots of websites that sell pre-filled bridesmaid proposal boxes but there's more fun in making them yourself. Nothing in the world can replace a personal touch. However, assorting the hamper with care, keeping in mind the preferences of your friends, is a time-consuming task. We know you're a busy bee, especially if you're the first bride among friends, and we're here to make your life easier.
This mini-catalog contains bridesmaid proposal box essentials, as well as suggestions. You can include as many of these as you want. Remember, there are no rules or conventions – the bride is free to do what she wants! Roll the red carpet for these ideas that'll help you pop the question in your 'will you be my bridesmaid box.'
1. A beautiful box to begin with
The bridesmaid proposal box is the first and most vital component of your hamper. Now while first impressions might not be the last…they certainly do last. These boxes from the Pop Fizz Design Store are a step in the right direction.
This is a set of 6 – while 5 of them are bridesmaid proposal boxes, the other is for your maid of honor. You can also get a 10-pack if your bridal party is bigger
The lettering on top of the box pops the question 'will you be my bridesmaid?'. The color is green, white and gold foil
These boxes are extremely easy to construct. There are 4 steps you can follow
They are high in quality and chic in appearance – you will be surprised to see how budget-friendly they are!
2. Bridesmaid proposal cards
A proposal card is a nice touch if you want to go the extra mile. The Pop Fizz Designs Store is here with another ingenious present – a card with a bath bomb. Yes! There's no better way to make personalized bridesmaid boxes.
The card comes with an attached bath bomb on a ring graphic
You can get these in 3 sizes – in 4, 6, or 10 count packs. No matter the size of your entourage, these cards have got you covered
The cards are blank inside; a huge pro because you can write the note yourself. Bridesmaid gift boxes give you the opportunity to pour forth affection
And finally, they come with a matching oversized envelope which gives a refined look.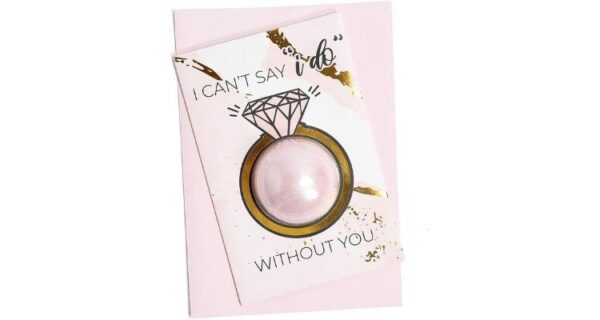 3. A customized wine glass
It's wine o' clock with this next present on our list. Many brides choose to add wine tumblers or glasses to their bridesmaid proposal boxes. But we'll do you one better because this idea is frankly a little overused. Go for a personalized wine glass instead. Now that exudes sophistication!
This stemless wine glass can be personalized through laser engraving. You can get your bridesmaids' names or a completely different message done
You can choose the font for the engraving from their range of options
It is dishwasher safe and of premium quality. A good addition to the maid of honor proposal box too
The glass is highly durable and comes with a guarantee. If you find it broken or damaged, the company will replace it for you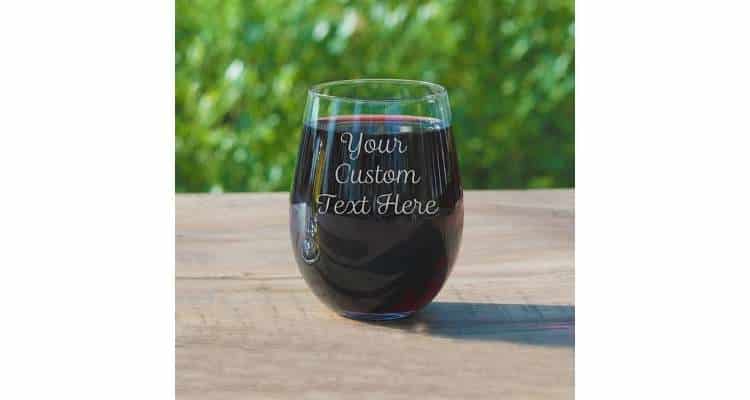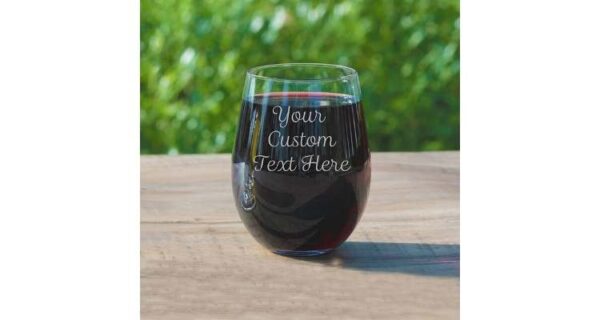 Related Reading: 12 Thoughtful First-Night Wedding Gifts For Your Husband
4. Aesthetic oversized scrunchies
The scrunchie craze is as real as global warming. No, seriously. The scrunchie market has shot up because of the insane demand for them. You get scrunchies in ALL shapes and sizes but we've picked the ones that will most suit your personalized bridesmaid boxes.
These satin scrunchies are extra-large in size. You can take us at our word when we say this – there is nothing more in vogue than oversized hair accessories
There are 4 scrunchies in the pack and are a tad expensive per count. However, they are ideal for your hamper. Aren't you realizing so many things while planning your wedding?
There are many color options available. You could either put one scrunchie in each bridesmaid proposal box or the whole 4-pack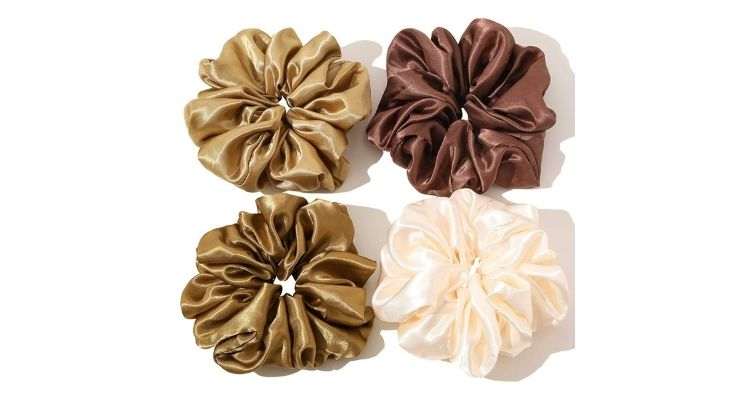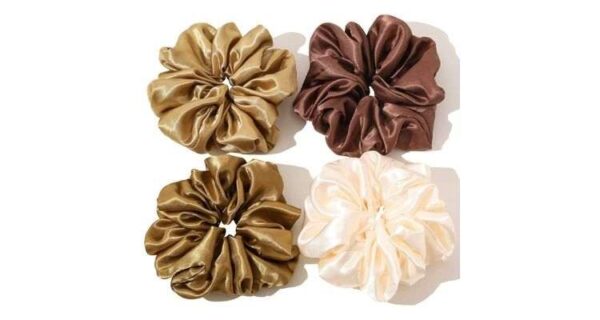 5. Personalized scented candles
This list just keeps getting better, doesn't it? Nothing says love like a personalized scented candle. Silver Dollar Candle Co. from Tennessee is your go-to for hand-poured candle gifts. Imagine the look on your friend's face when you ask her to be your bridesmaid with a candle.
You can personalize the mason jar, as well as the lid, with a beautiful message for your girls
The company provides several font options for your custom text. One of the finest bridesmaid proposal box ideas, right?
Similarly, there are more than 20 scent options ranging from peppermint brownie to pumpkin spice latte. It's unbelievable, but they even have a scent called 'Fresh-Cut Christmas Tree'
Since it's a little on the higher end of the budget, you can get this candle for your maid of honor proposal box only.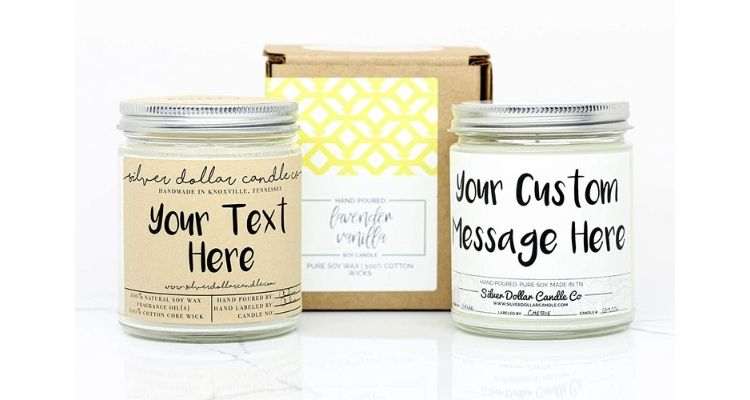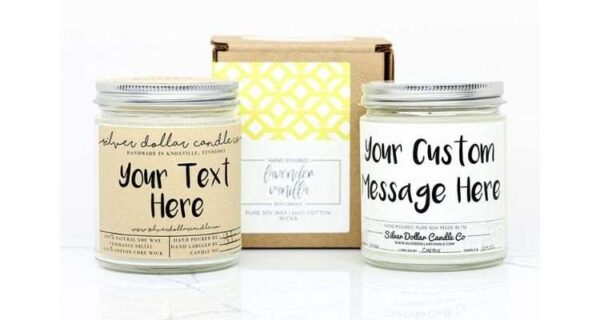 6. A custom Spotify keychain
We try to not play favorites but every now and then, a gift like this comes along. This Spotify keychain is everything you ever dreamed of for your bridesmaid proposal box. It is a unique gift no one will see coming… And every girl should indulge in these things to do with a bff before getting married
This keychain lets you customize the photo as well as the song. The receiver of this gift has to scan the code and the song will start playing for them
It is highly durable (made of acrylic) and small in size. No question of it not fitting in the box
This gift is good value for money with regard to the customizations you can make
Keepsakes are an integral part of custom bridesmaid boxes and this keychain is accomplishing precisely that.
7. Lindt dark chocolate truffles
Charles M. Schulz wisely said, "All you need is love. But a little chocolate now and then doesn't hurt." We think that chocolate is one is the best bridesmaid proposal box ideas to exist. And when it comes to what we want, Lindt is the finest in the business.
This pack of Lindor dark chocolate truffles contains 120 pieces. More than enough for your bridesmaids and maid of honor proposal boxes
You can also buy the same pack in white or milk chocolate. All of Lindt's products are yum
Lindt, like most luxury chocolate brands, can be a little pricey. But their products are worth every penny spent
Since they're individually wrapped, these truffles are a good fit for your boxes
You can decide how many you want per hamper. As for the leftover ones? Well, you're working so hard to put these beautiful boxes together, surely you deserve a sweet little treat!
8. A pot of Essie nail paint
If your girls are into beauty and grooming regimens, then some nail paint is a must-have for their personalized bridesmaid boxes. We say personalized because you can pick the shades that'll look good on them. And with Essie in town, you don't need to worry much.
This pot of nail paint from Essie comes in a lovely neutral pink that is ideal for everyday wear
There are 4 other shades available, all so beautifully named – 'Love-Note Worthy' and 'Pretty In Ink'
The nail paint has a glossy finish and the application looks salon-perfect
The cherry on top of this pretty cake is its vegan formula. This product is cruelty-free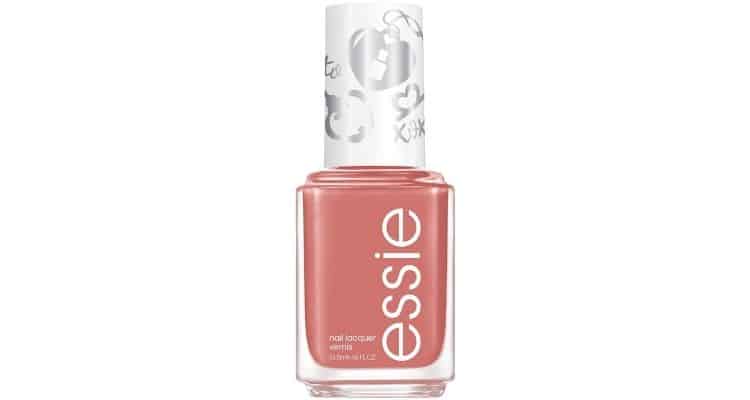 9. An engraved bracelet
Jewelry is a classic and timeless present. You can never go wrong with a bracelet in your luxury bridesmaid proposal box. A wonderful present, made all the more special with a custom message; this will surely win your girl gang's heart.
This is a gold-plated bracelet that can be customized on several fronts like font, chain length, front and back inscription, etc.
You can also get it in a silver or rose-gold finish – a good option if you don't want all your bridesmaids to have the same present
It comes in 2 kinds of packaging – standard or 'I Do'. The latter is designed for bridesmaid gift boxes like yours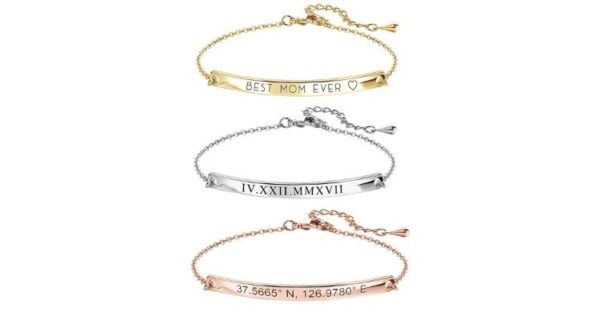 Related Reading: 11 Last-Minute Gift Ideas For Someone Who Has Everything | 2022
10. A mini shower-gel from The Body Shop
Bath products are the epitome of luxury and comfort. And thankfully, we live in an era of mini-products. They're the absolute cutest and we can safely say that your custom bridesmaid boxes would be incomplete without them. Especially if the mini is from Bath and Body Works…
This mini-shower gel is 'Pink Grapefruit.' There are many other options available like 'Argan' and 'Satsuma'
It is a soap-free cleanser and lather-rich. Additionally, it has a gel formulation – no stickiness here!
While we are fans of the mini-products culture, you don't have to get them if you aren't sold on the idea. Bath and Body Works provides many size options; you can choose depending on the size of your box
11. A satin robe
Hmmm, we wonder where the bridal party could use a bunch of satin robes? The bachelorette party is the only thing that comes to mind! These stylish and sexy robes are precisely what your entourage needs. And hey, they're quite practical too.
This robe is made of high-quality satin. It can be washed in the machine, so there won't be any problems with maintenance
The tie closure and solid color make for a chic look that'll glam up your pre-filled bridesmaid proposal boxes
Guess what? The robe has 2 pockets. That's right, 2 pockets!
It's available in multiple colors and sizes so you decide – will your bridal squad twin or not? These robes will make for a fun sleepover which is a must-do activity with the girl-gang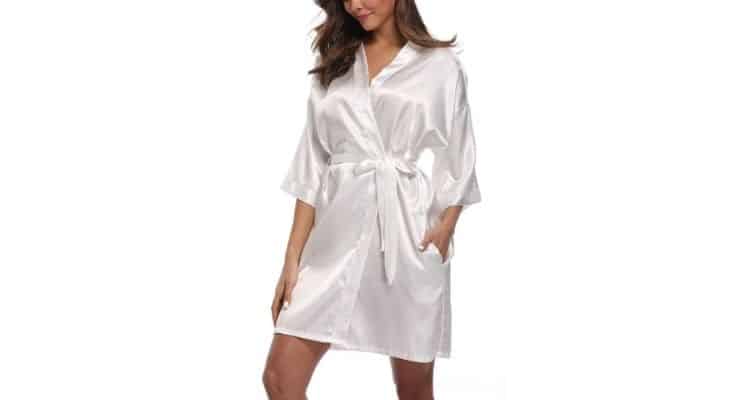 12. A personalized makeup bag
A makeup bag is a gift from the heavens, sent to make life easier. If your girls are interested in makeup then they'll get some good use out of a makeup pouch. No one wants scattered brushes and palettes lying around after all. Take a look at what this one has to offer…
This canvas makeup pouch can be customized with your bridesmaid's name or initials
You can choose from the numerous font and color options available
Here come the words every girl wants to hear – FREE SHIPPING!
The pouch is eco-friendly (and budget-friendly too). We think it's a fabulous bridesmaid proposal box idea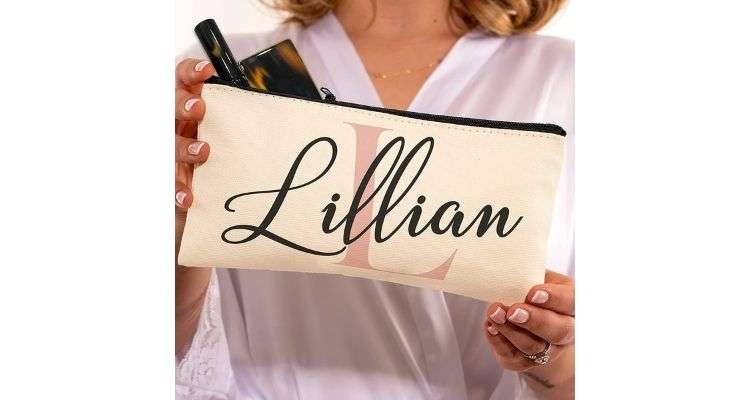 13. Organic lip-balm from Earth's Daughter
Whoever said that a diamond is a girl's best friend, clearly never laid their eyes on lip balm. One of the best bridesmaid proposal box ideas we have to offer is this lip balm from Earth's Daughter – a brand dedicated to saving the environment.
This lip balm is 100% organic USDA certified. For good measure, it is also gluten-free
It is a 6-pack comprised of different flavors like eucalyptus and vanilla. However, you can get these in other sizes and combinations
This high-quality product is very easy on the pockets
It contains ingredients like coconut oil, beeswax and vitamin E – all of which are excellent for the lips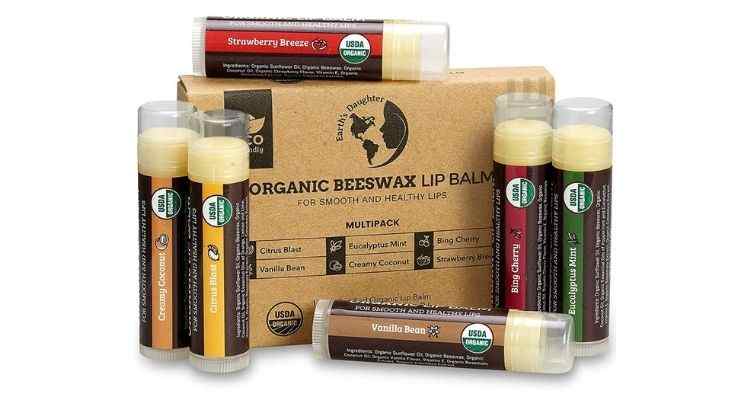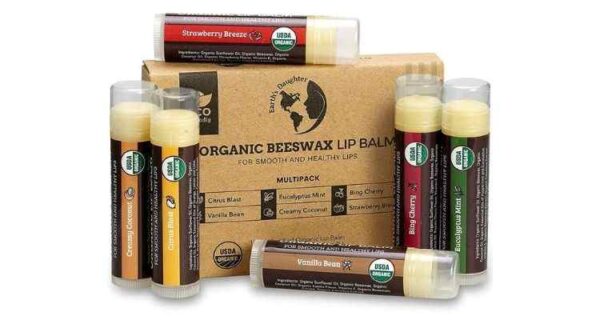 14. PAVOI gold-plated hoop earrings
Of all the earrings a woman owns, hoops are the most versatile and most loved. You can take things up a notch with your bridesmaid proposal boxes with these PAVOI gold-plated hoops. They are a safe bet because come on, who doesn't like a pair of gorgeous hoop earrings?
These earrings are gold-plated but there are 3 other options available for the finish
Specially crafted for daily use, they are lightweight and hypoallergenic
Their small size makes them compatible with almost every outfit – maybe your bridesmaids could wear them on the big day too
They come with a 90-day return and refund guarantee to ensure your satisfaction
Related Reading: 15 Cool, Popular And Best Gift Ideas For Women
15. A team-bride face mask
As unfortunate as it is, we live in the times of the coronavirus. But we will definitely not let it dampen our wedding spirits or our sense of style. Designers across the world have gotten creative with face masks and you should follow in their footsteps with this 'Team-Bride' mask.
This mask prioritizes your safety and comfort simultaneously with the adjustable straps and nose-clip, and multiple filters
It can be worn and washed thus usable for a prolonged period and it is also eco-friendlier than disposable masks
The customized print does not leave any residue on the face, nor does it cause any discomfort. The print is durable and won't fade
It might be a little pricey to get these for the whole bridal party, so maybe get one for the maid of honor proposal box only. In fact, get one for yourself to protect your skin and get the perfect bridal glow
16. Mini-perfume by Versace
Curating luxury bridesmaid proposal boxes? Versace has got your back with its mini perfume. A scent will be a wonderful part of your assortment of gifts; it's something everyone uses and it exudes sophistication. A perfect combination.
This floral and fruity scent is ideal for daily use. The fragrance lasts for 4-5 hours
Since it's a mini bottle, your girls can decide for themselves if they like the scent. They won't be stuck with a bigger bottle in this case
The bottle is pink and attractive; it is also travel-friendly. A great option to keep in a handbag
While the perfume looks and belongs to an expensive brand, the price is quite reasonable
17. A pretty hardcover notebook
Notebooks are such an underrated present; it's a shame not enough people turn to them for gifting. Well, we think a pretty notebook is one of the finest bridesmaid proposal box ideas out there. Who doesn't need a notebook?
This hardcover journal is spiral bound and it has a beautiful abstract print cover
The pack contains 3 notebooks, each in a different color – something unique for all the bridesmaid gift boxes
Since they are ruled, one can put them to multiple uses. Maybe you'll get your awesome girl gang to start journaling after all!
18. Knock Knock What-I-Love-About-Us journal
Now this gift involves time and effort on your part, so if you're short on them, reserve this luxury bridesmaid proposal box for the maid of honor only. This is the ultimate gesture of love and affection so go all out with this masterpiece from the Knock Knock Store.
This What-I-Love-About-Us journal requires you to fill in the blanks. The statements revolve around the relationship you share with the other person
It's 112 pages long and when you finish writing, you'll have a personalized gift ready
The book is compact (4.5 x 3.25 inches) and easy to accommodate in a box
The sentimental value of this gift makes us place it in the top 5 bridesmaid proposal box ideas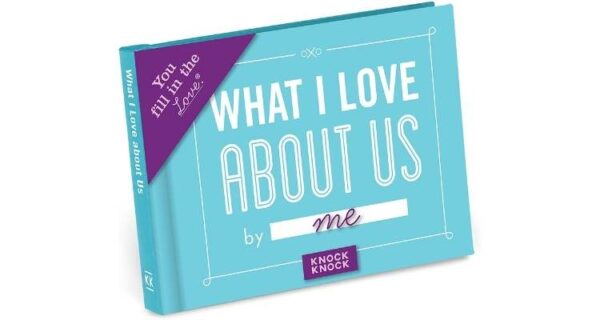 19. Cute succulent planter pots
Hmmmm, let's talk about a mature gift that's really grown-up in nature (pun intended!). Planter pots are a good (and unique) token of affection. This is truer if the pots are super-duper cute!
These ceramic-painted planter pots come in a set of 3. Ideally, this should have half your pre-filled bridesmaid proposal boxes ready if your bridal party's comprised of 6 people
They look like a hedgehog, a fox, and a bunny – very adorable as décor pieces
They have a 30-day money-back guarantee; that's how you know you can trust the brand
These pots can be used indoors or outdoors. You can throw in some succulent seeds and give them as a combo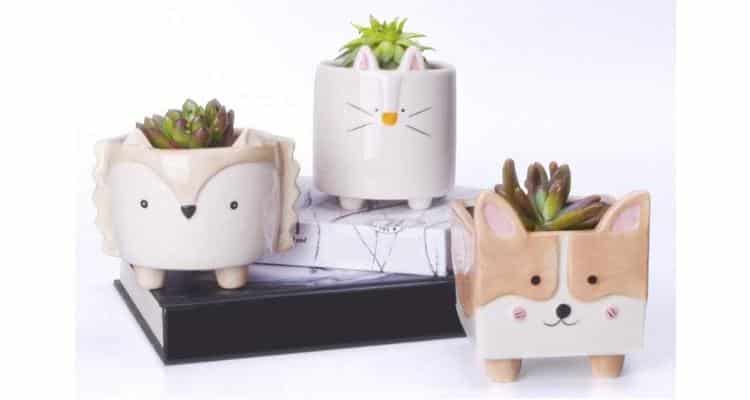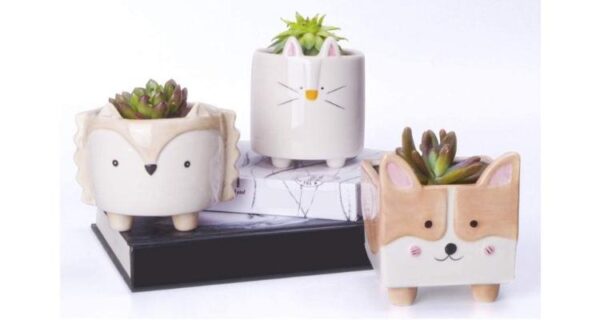 20. L'Oreal Paris lipstick
A great way of curating custom bridesmaid proposal boxes is throwing in a lipstick. You can choose a different shade for each bridesmaid based on their taste and complexion. Take a look at what L'Oreal Paris has to offer…
This lipstick belongs to the L'Oreal Paris Color Riche range. It has a rich and deep color as well as hydrating ingredients like Argan oil
There are SO many shades available, it's honestly like walking into Willy Wonka's factory (but for cosmetics)
It is a stick lipstick – easy to use and travel-friendly. Moreover, the satin texture makes it a good choice for daily use
Well, what did you think of our bridesmaid proposal box ideas? We hope you found something that's the right fit for your girl gang. They will be thrilled with this gift for sure. Have a wonderful wedding and a rocking marriage. We'll be rooting for you all the way, just like your bridesmaids.
FAQs:
1. What are some bridal party proposal ideas?

There are many ways to propose to your bridal party, but the idea in fashion is bridesmaid proposal boxes. They are specially curated hampers that pop the question. You can customize the box however you'd like – big or small, budget or luxury, etc. Take a look at our 20 bridesmaid proposal box ideas for some great ideas.
2. Will you be my bridesmaid message ideas?

The note should be sweet and simple. "I couldn't say 'I do' without you" or "Will you stand by my side as I say 'I do'?" or "It's not a (bridal) party without you." You need to mark your gratitude because your bridesmaid will be doing a lot for you in the coming weeks. Similarly, you want to ask the question, not impose.
3. What should a bridesmaids proposal say?

A bridesmaid proposal box should pop the question, naturally. It should be an invitation to join the bridal party. However, many brides choose to include a cost estimate of the wedding since they can be expensive. The bridesmaid should know exactly what she's getting into.
21 Gifts For Sister-In-Law | What To Get Your Sister In Law for Christmas | 2022
Ask Our Expert
You must be Logged in to ask a question.