It is a surreal feeling to be at the age where all your friends and cousins are about to become parents. But now that they have taken this momentous, life-altering step, it is your responsibility to be prepared with the best baby shower gifts. 
You're no longer giving something that just looks great or fits the couple's vibe when you give a baby shower gift; you're in a whole new gifting universe. You're selecting products that will help ease the new parents' stress, create family memories, and even educate a newborn to appreciate music and reading. 
The stakes are higher. This, of course, makes navigating the procedure a little more difficult. When you factor in the reality that infant gear is always changing and improving, it creates a genuine problem. But fret not! As you take the first step into the world of baby showers, we are here to hold your hand. Here is a comprehensive list of 31 best baby shower gifts for mom and dad to be! 
Useful Baby Shower Gifts For Parents-To-Be
If you've recently been invited to a baby shower, you're probably wondering what makes a good baby shower gift and whether or not the soon-to-be parents will appreciate it. If the family has put together a gift registry, you're in luck. Otherwise, it's time to think outside the box. To provide a helping hand, we've put together a list of 31 baby shower gift ideas that are both practical and personal. If you're looking for some ideas or don't know where to begin, this list is a wonderful place to start:
Related Reading: 23 Best Gifts For Grandparents – Thoughtful Gift Ideas
1. 4-in-1 mini convertible crib and changer
So, your friends have decided to have a baby? Now, what should you gift them? This is an obvious nursery need when it comes to a newborn infant. There are a variety of cribs available online but this one by Dream on Me is one of the best baby shower gift ideas for dad and mom-to-be. 
Convertible crib 
Elegant design 
Equipped with 3 drawer changing table 
Comes with 1″ OEM mattress pad
Made with New Zeland pinewood 
The parents-to-be will be elated to receive a crib as a gift because it means one thing off their task list. After all, the purpose of a good gift is to make their life easier. 
2. The Name Book by Dorothy Astoria 
It might be a tough undertaking to choose baby names when a baby is on the way. This is why a baby name book is one of the best baby shower gifts. A list of names is frequently included in a baby name book to assist you to choose a name for your baby.
12,000 name options
Comes with meaning and significance of the name 
Contains the origins of the name 
The dad and mom-to-be will be grateful to you for such a thoughtful gift that saves them hours of Google search. 
3. Gerber baby onesie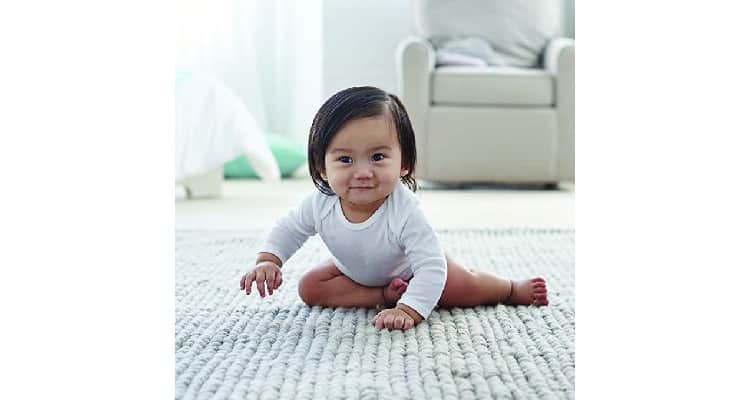 Shopping for clothes is quite the task for the pregnant mom, be it for comfortable clothes for herself or cute baby clothes for the little one to come. A thoughtful gift is this cute, long sleeve, mitten cuff, onesie by Gerber. It is such an adorable gift idea for a baby shower.
100% cotton
Imported
Pull-on closure
Machine wash
Includes six white Gerber long-sleeve onesies bodysuits with mitten cuffs
The parents are going to gush over the cute and practical design of this onesie, not to mention how cute the baby is going to look crawling over the house in this attire. 
4. Infantino 4-in-1 carrier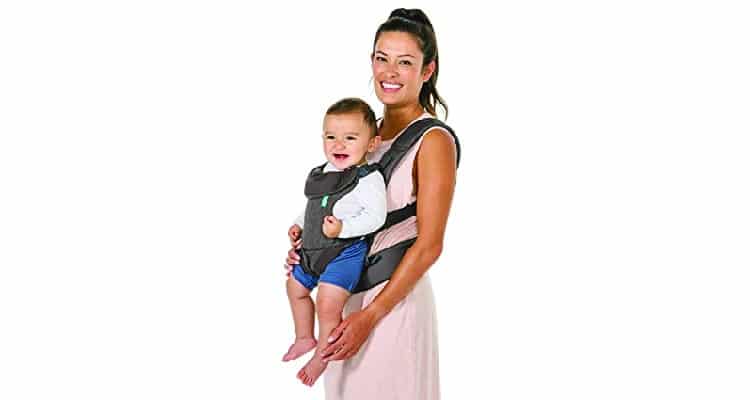 When it comes to the best baby shower gifts, this one takes the crown. It is practical, convenient and something parents will be able to use once the baby arrives. Brought to you from Infantino, this advanced carrier will be one of the most thoughtful gifts you can give to new parents.
Adjustable ergonomic seat with adjustable shoulder straps 
Convertible facing-in and facing-out design for newborns and older baby
Supportive waist belt
Smartly designed for maximum convenience 
The parents won't have to take turns carrying their baby everywhere thanks to this beautiful and practical carrier and continue enoying their married life. Now, isn't this a thoughtful gift? 
5. Anti-scratch baby mittens 
Baby nails are the sharpest objects on the planet, and they grow faster than you think. These soft, sweet mittens are ideal for preventing newborns from scratching themselves until they learn to use their hands.
Premium 100% cotton
4 colors(white, pink, yellow and green)
Light, thin and breathable
Use warm water below 40 ℃; wash separately or put in washing bag in machine
This is one of the most unique baby shower gifts because this is something the dad and mom-to-be might not be aware of if they are first-time parents.
Related Reading: 20 Best Relaxation Gifts For Her To Relieve Stress
6. Doorknob bumpers
We've all heard how a child's deep slumber can be disrupted by the sound of a doorknob locking into the doorframe, which can be caused by pets or noisy husbands. Give the couple a doorknob bumper to keep such a raucous situation from happening again. It's such a thoughtful baby shower gift idea, one that will allow the newborn to sleep soundly.
Polyurethane
Strong adhesive 
Easy peel-off installation 
Set of 12 
While this might not be the prettiest gift, it will definitely be loved by the dad and mom-to-be because it allows them to move around the house without the fear of waking up the baby. It also means the couple can enjoy romantic moments together while the baby naps peacefully, 
7. Pronto changing pad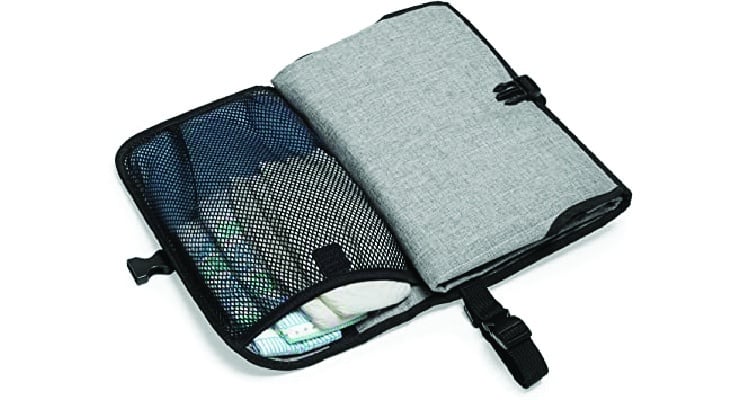 Babies are a bundle of joy, but they also come with a bundle of responsibilities like changing a million diapers. What could be a better baby shower gift idea than a changing pad which makes the parents' lives easier? This one by Pronto is convenient, classy, and practical. 
Imported
Zipper closure
Spot clean with damp cloth and mild detergent
Ultra-convenient clutch features wipe-clean, zip-off changing pad and translucent wipes case for timely refills
Large mesh pocket holds up to four diapers plus creams
New parents would be happy to have these hidden in the car, the stroller basket, and the diaper bag. The tiny clutch contains everything you need for a quick diaper change, including a built-in cushion and pillow, as well as space to store diapers and wipes.
8. Pregnancy pillow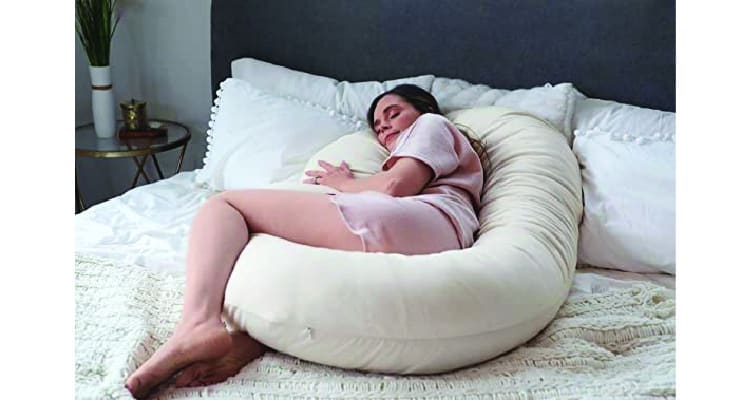 With pregnancy, the contour of the body changes gradually, making it difficult for the mom-to-be to sleep comfortably and in the correct position. A pregnancy cushion can help women relax and sleep comfortably while also alleviating any back pain they may be experiencing.
100% organic cotton cover
Organic c-shaped maternity body pillow
Supports your back, hips, knees, neck and head to help relieve pain 
Gentle on your skin
This is one of the best baby shower gifts for moms, especially because the last few months of pregnancy has many side effects. She will love this gift because it is looking out for her comfort and well-being, and she'll be touched by the thought. 
9. Swaddle blanket 
These muslin blankets by Aden & Anais come in a variety of designs and can be used for a variety of purposes. They can be used for swaddling, as burp cloths, nursing covers, or anything to stretch out on the floor for tummy time. When it comes to these adorable blankets,  there is no such thing as having too many. 
Cotton 
Adjustable 
Available in two sizes 
Gentle on skin 
This is one of the best baby shower gifts to give as it is one more thing off the shopping list of the dad and mom-to-be. 
10. Postpartum recovery essential kit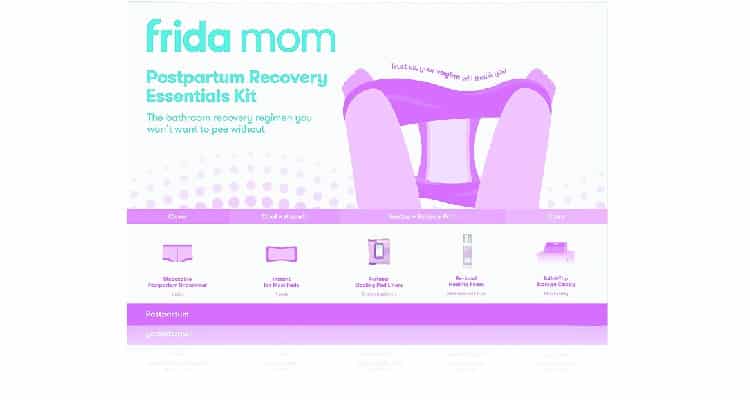 Parents don't always want to worry about postpartum recovery (and first-time parents may have no idea what they're in for). This kit includes postpartum underwear, ice maxi pads, cooling pad liners and healing foam, as well as anything else moms don't want to think about but will need later
Relieves pain 
Easy access caddy 
Convenient 
Pregnancy is already a tough time for parents. They might not be prepared for what's to come once the baby arrives so this kit is one of the best baby shower gifts for moms. 
Related Reading: 30 Matching Couples Gifts – Cute Matching Gifts For Him And Her
11. Skip & Hop diaper backpack 
New-parent life might feel all-consuming as they pack diapers, stock up on binkies and listen to "Baby Shark" on repeat – even if it's playing on loop in their head! Allow this stylish diaper bag to serve as the dad and mom-to-be's only adult possession. We love a good backpack and this one is better than good – it's super stylish and oh-so-good-looking.
Durable material 
Easy cleaning 
Vegan leather 
Adjustable strap
The beautiful style and practicality of this backpack makes it one of the best baby shower gifts that new parents will be delighted to receive. 
12. Philips fast baby bottle warmer 
Because a bottle warmer is a parental luxury rather than a necessity, this is a unique baby shower gift idea. This one by Philips features temperature settings, so you can warm milk and baby food without overheating it.
Warms milk in just 3 minutes
Heats gently and evenly because milk circulates during warming – no hot spots
Progress indicator light shows you milk is ready when all three segments are lit up
 Warmer keeps milk warm for up to an hour and then automatically shuts off
The baby needs warm food at all times, so this will be a great gift to save the parents a lot of time. 
13. Moby baby shower set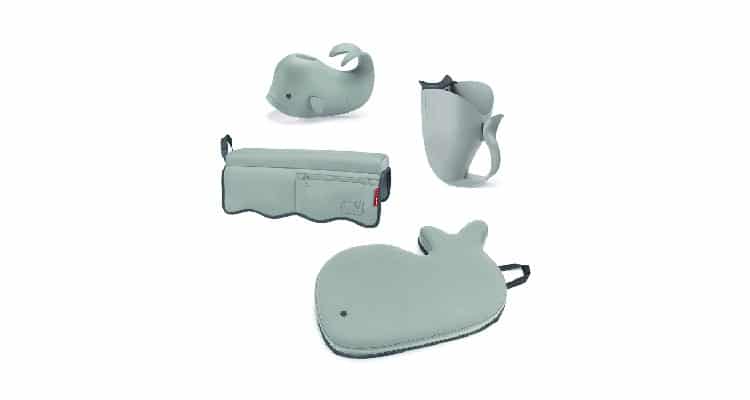 This bath set by Skip & Hop includes a soft spout cover, a kneeler so parents can get comfortable kneeling in front of the bath, a padded elbow rest (with a pocket!) and a no-slip mat for inside the bath, making bath time pleasurable for both – parents and newborns.
Four-piece set includes a rinser, soft spout cover, padded elbow rest, and kneeler
BPA-free
Phthalate-free
Bathtime can be a great bonding experience between the parent and baby. With the help of this adorable set, the parents can engage the baby and make bath time fun. It is one of the best baby shower gifts for a fun bonding activity with the baby. 
14. Baby shusher 
A baby shusher will end your hunt for the best baby shower gift ideas. We couldn't believe something like this existed but it does and it is an ingenious invention. You won't believe how helpful it is for first-time parents who are still learning how to settle down their infant for a nap or just to soothe a cranky baby.
Uses real human voice 
Adjustable volume 
Portable 
Easy to use design 
Imagine how easy the life of the new parents will become thanks to this unique baby shower gift idea. They won't have to keep shushing their baby giving the parents more time for romance.
15. Excursion kit 
The life of a couple changes drastically once they become parents. Their carefree days need to be left behind and they must be prepared for everything at all times, especially when it comes to the baby. That is exactly why this Welly excursion kit is one of the best baby shower gift ideas for dad and mom-to-be. 
Durable 
Stackable tin 
Available in multiple sizes 
Recyclable 
With this tin, every parent will feel more comfortable when leaving the house, as it contains essentials for any (mis)adventure, such as bandages, disinfection wipes, ointment, tape and more.
16. Playmat for kids 
This instructive play mat is a great addition to anyone's house, whether they use it as a playmat or a nursery rug. The cute motifs and aesthetically engaging designs will appeal to babies and parents will appreciate the fact that it is machine washable and travel-friendly.
Perfect for every room 
Keeps babies engaged 
Washable 
Interesting design
This one is for when the baby becomes a little older, but it's still one of the best baby shower gift ideas. The parents will find it useful at different stages of their baby's life and will eventually be prepared to deal with their toddler with this mat in their arsenal, thanks to you! (and us!) 
17. First pair moccasin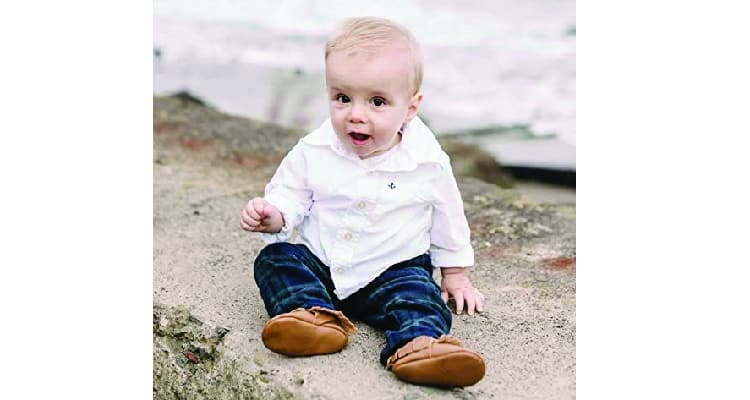 Are the parents-to-be particular about style and fashion? If the answer is yes, then these adorable moccasins are one of the cutest gift ideas for a baby shower. 
Genuine leather 
Soft soles 
Flexible 
Crafted to last 
These are the ideal accessory for newborns who are crawling or just learning to walk, as they are made from durable material and come in five neutral tones.
Related Reading: 30 Best Gifts For Pregnant Women For Extra Care And Pampering
18. Electric nail clipper 
Clipping a baby's nails for the first time can be stressful, especially for first-time parents. Those delicate little nails are so sensitive that the tiniest of wrong moves could cause the infant to cry. However, thanks to this electric nail clipper, long nails can be cut down to size smoothly and safely. 
Safe 
Gentle 
Clippers feature anti-slip edge
BPA and phthalate-free
This will be one of the more unique baby shower gifts because this is something the parents-to-be might not be aware of and will be thankful for when the time comes to cut the tiny nails of their newborn. 
19. Crib sheet 
This cute crib sheet with a hidden zipper to hold it in place is one of the most genius baby shower gift ideas. These lovely and practical bed sheets come in a variety of colors and patterns so you get a new look with every change.
Pure cotton 
Imported 
Smart design 
Hassle-free use 
Parents will appreciate not having to worry about the sheet becoming loose as well as the convenience with which they can zip the sheets on and off (without having to wrestle with the mattress). 
20. Cradle & swing 
Some newborns sleep only in their parent's arms, while others sleep only in cribs, yet all babies appear to sleep to the gentle sway of a swinging motion. And here is the one that works. This mirrored dome and hanging mobile calms criers and peacefully entertains tiny brains.
2 ways to swing. Side-to-side or head-to-toe
2 comfy recline positions
6 swing speeds, 16 soothing songs and nature sounds
Motorized mobile with dome mirror and 3 soft butterfly toys
Machine-washable, plush seat pad and newborn head and body support
This is not only one of the most unique baby shower gift ideas for new parents, but also a dream come true. Mom and dad need some cuddle time too and with this swing, they can put their bundle of joy to sleep without any hassle. 
21. Uggs Ascot men's slippers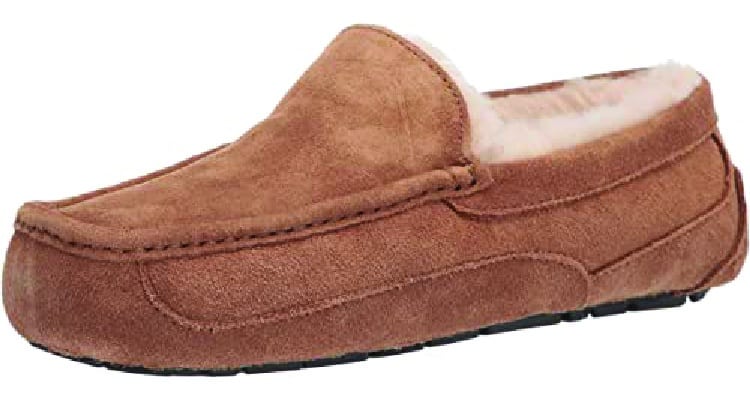 While the dad-to-be might not be giving birth, he will be getting ready for parenthood. Gift the new dad something which will bring him comfort as he paces to and fro with his gentle bundle, like these Uggs Ascot slippers. Made from suede and lined with Uggs signature wool, they feel like walking on clouds. 
100% suede leather
Imported
Rubber sole
Cast in a classic loafer silhouette 
Water-resistant suede
Late nights spent changing diapers and pacing the floor in an attempt to lull the baby back to sleep necessitate some extra cushy footwear. These ultra-comfy slippers are one of the best baby shower gift ideas and will keep this soon-to-be father warm for hours at a time (let's hope it doesn't come to that).
22. Mama needs a coffee mug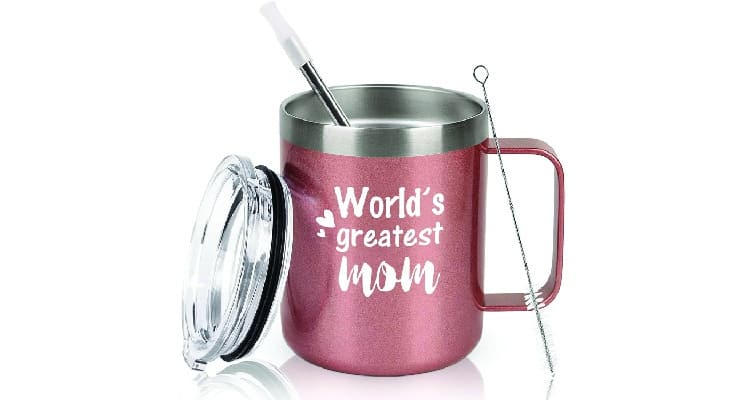 We all know that parenthood comes with its own set of challenges. Everyone knows that parents have to alter their routines to suit the needs of the baby. However, some habits should not get affected, like the first cup of tea in the morning. Hence, this adorable metal cup makes for the perfect baby shower gift for a mom.
Double-wall vacuum insulated design
High-quality metal 
Comes with lid 
BPA free 
With this elegant insulated mug, a new mom can keep her favorite beverage from becoming cold…again. It's not only adorable, but it's also really useful as this clever baby shower gift idea will save her a lot of visits to the microwave. 
23. Fred Buff baby rattle
If the dad and mom-to-be are fitness freaks, this dumbbell-shaped rattle will be one of the funniest gifts for baby showers. It is a creative way to incorporate the lifestyle of the parents into the baby shower, reminding them of life outside parenthood.
Fun and functional 
Unique design
Easy to handle 
When the baby is old enough, everyone will be chuckling as they watch the little human trying to wield this rattle. 
Related Reading: 40 Unique Gifts For Sister To Make Her Feel Special
24. Welcome to the Club: 100 Parenting Milestones You Never Saw Coming Book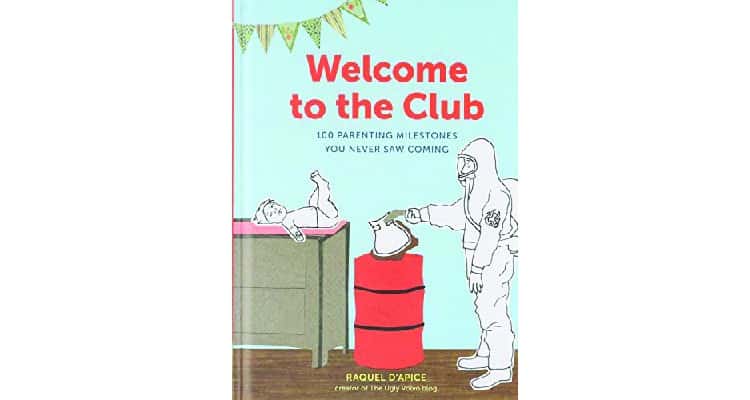 If you're a parent, you might want to welcome the new members to the club with a dose of truth and a dash of levity. The comic behind the popular parenting blog "The Ugly Volvo"  has written a book about the all-too-real milestones they'll soon be "celebrating," such as when a baby headbutts you in the lip for the first time.
Illustrated 
Available in hardcover 
Hilarious anecdotes 
This is one of the most unique gifts for baby shower because it will not only make the parents laugh but will also prepare them for all the adventures they will embark on after the arrival of the baby. 
25. Baby milestone blanket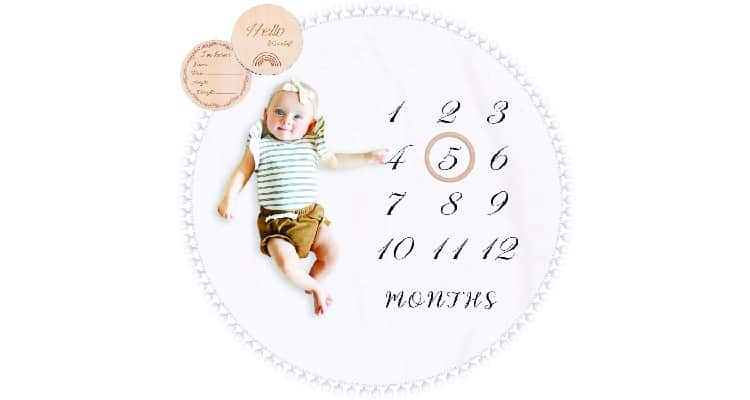 This round blanket is super soft and cushy, making it the ideal memento for new parents to commemorate their baby's first year. It's part souvenir, part charming crawl pad, and altogether adorable.
Flannel 
Comfortable to use 
Skin-friendly 
Easy to clean 
This is a great baby shower gift idea and the parents will be thrilled to receive this. Years later when their baby is all grown up, they will cherish these moments and thank you for such a thoughtful present.
26. The baby owner's manual 
You must have heard people complain, "Aah! If only babies came with a manual!" They do now, though. This book contains a wealth of valuable information regarding a baby's first year, from "programming sleep mode" to "emergency maintenance," all presented in a humorous and easy-to-read format.
Step by step instructions 
Helpful diagrams 
Available in paperback 
This is the ideal baby shower gift for dad and mom-to-be because it teaches them everything they need to know about handling the baby during the first year and how not to be perpetually worried about being bad parents. 
27. Take me home baby set 
This twenty-three-piece set includes a reversible blanket, a snap sleeper, short sleeve onesie and a hat – all for the little cutie in question. Guaranteed the new parents won't be able to stop taking photos of their little model. There are different colors available that make this a great baby shower gift for girls or boys.
100% cotton 
Soft material 
Durable 
Easy to wash 
You will be the Miranda Priestly in the baby's life, giving the newborn a fashionable start to life. 
28. Bebe-on-the-go bath and skincare set
New parents have to think about multiple things after a baby is born especially when they love traveling. They can't be carefree and pack their bags to a random destination. This baby care travel kit is the perfect baby shower gift for mom and dad to be. It comes with travel-size bath and skincare products for the baby which they can easily fit in their luggage.
Completely natural
Plant-based ingredients
Hypoallergenic formula
Paraben-free
The Bebe-on-the-go set makes for a unique baby shower gift idea especially if the parents are particular about natural ingredients and products.
29. Baby bottle feeding set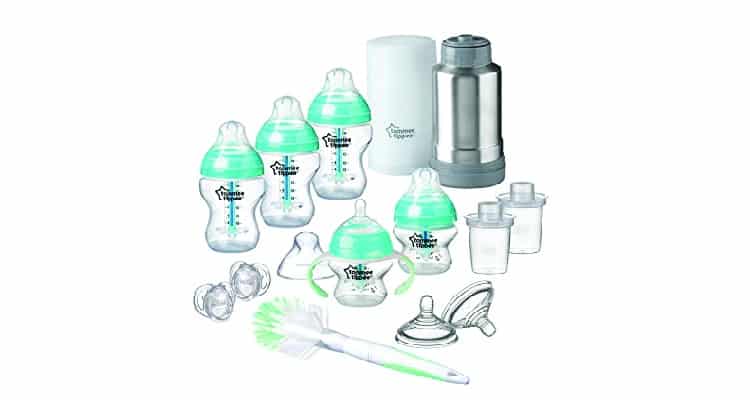 It is easier to announce "We're having a baby" than registering for items because there is no way of knowing whether or not the baby will enjoy them. This becomes even more apparent (and upsetting!) when their new baby refuses to drink from one of the two dozen bottles that mom and dad have bought or been gifted! This is why the baby bottle feeding set is one of the best baby shower gift ideas.
Designed to reduce colic symptoms for less gas, spit-up and discomfort
Award-winning breast-like nipple for natural latch and guaranteed acceptance
Unique anti-colic venting system draws air away from milk
Heat sensing technology turns straw pink when baby's feed is too hot
It is one less thing to worry about in the frenzy of newborn activities. Also, we can all agree that a well-fed baby is a happy baby. 
30. INGLESINA table chair 
This portable high chair attaches to most tables, allowing parents to take it to Grandma's, a restaurant, or a holiday destination without having to lug around their bulky high chairs. There's even a bib pocket (did we just hear the parents scream with delight?) 
From 6 months to 37lbs (approximately 36 months)
Tubular structure in painted steel
Universal twist-tight couplings adaptable to most types of tables
Fold-flat closing system for minimum hassle at end of use
Lifted backrest and firm seat for greater comfort of baby
A great baby shower gift idea, this chair is going to make the parents happy because they can take their baby out without worrying about where to seat them. 
31. Munchkin step diaper pail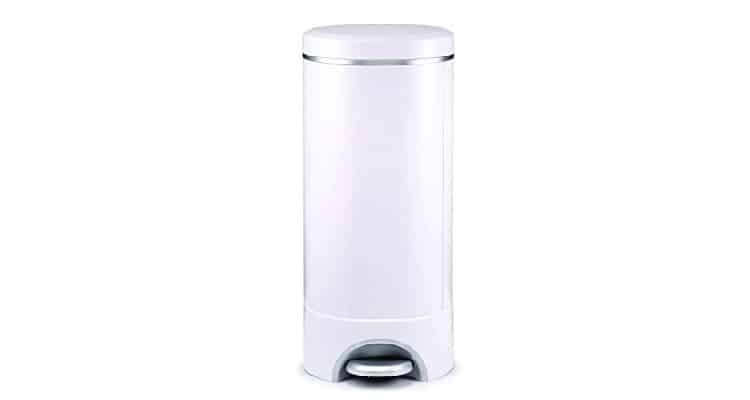 Babies come with a lot of joy…and a lot of diaper duty which can leave a bad smell all over the house. This Step Diaper Pail by Munchkin is the perfect baby shower gift idea to protect the parent from smelling like a diaper all the time. It even comes with an Arm & Hammer cartridge to neutralize odors. Just don't forget to bring extra refill bags.
Proven No.1 in odor control, Step Diaper Pail keeps your nursery fresh
Awarded Best Overall Diaper Pail by the Good Housekeeping Institute
Patented self-sealing system keeps odors contained whether the pail is open or closed
Only diaper pail compatible with both Refill Rings and Snap, Seal & Toss Bags
It may not be the most attractive gift, but your recipients will be grateful once they discover how well this diaper pail keeps the odor away. 
With this, we come to the end of our expansive (not to say creative) list of the 31 best baby shower gift ideas for dad and mom-to-be. Each gift is an attempt to ease the life of the parents and help them enjoy the amazing new journey called parenthood. 
30 Self-Care And Wellbeing Gift Ideas – Because You Deserve The Best
Ask Our Expert
You must be Logged in to ask a question.