Yoga is a realm that more and more people are getting into with each passing day. In a dynamic and ever-expanding field like that, it is hard to not come across a couple of folks who are into it. Whether it is your yogi friend's birthday or you just want to spread some zen and appreciation, there are a variety of options when it comes to gifts for yoga lovers.
From Christmas gifts for yoga lovers to thoughtful gifts for yoga enthusiasts, we have got you covered. We have put together a list of the best gifts for yoga lovers that they will surely fall in love with. Without any further ado, let us dive right in.
32 Best Gifts For Yoga Lovers In Your Life
Getting a gift for a yogi is no rocket science and way simpler than it sounds. From scented candles to yoga mats and more, there are a multitude of things that would make ANY yogi's day. To make things easier for you, here is our list of gifts for yoga lovers:
1. Gaiam Designer yoga mat
Gaia has been around since 2016 and has become a popular name in the realm of yoga. Now known as Gaiam, they have been the go-to destination for people practicing yoga. Their premium designer yoga mat is, hands down, one of the best gifts for yoga lovers. Besides, the number of color options you get here is just the cherry on top of this shopping experience. Not only are these mats super-duper pretty, but they bring a bunch of unique features to the table. Yogis know how to fall in love with the smallest things in life and this gift will surely have his or her heart!
Being a PVC yoga mat, it is non-toxic and a healthy choice
It comes with a free, downloadable yoga mat lesson to get you started as soon as possible
Although these mats are extra-thick, they are very lightweight and easy to carry around
The Gaiam yoga mat come with a non-slip texture which allows it to stay in one place while you do your yoga and exercise
Related Reading: 30 Self-Care And Wellbeing Gift Ideas – Because You Deserve The Best
2. Lavender yoga mat cleaner
It goes without saying that yoga mats are much-needed companions for all the fellow yogis out there. However, they obviously do get dirty over time from all the yoga and exercise you do on them. If you are running out of gift ideas for yoga lovers, look no more. The Asutra Lavender natural and organic yoga mat cleaner is just one of a kind.
There is more to this magical potion than meets the eye which makes it one of the best gifts for yoga lovers. Your yogi friend will surely fall in love with this thoughtful gift.
The lavender aroma has aromatherapeutic properties and offers a peaceful yoga session
Comes with a microfibre cloth as well
Very easy to use as you just have to spray and wipe with the microfibre cloth
Asutra yoga mat cleaner is 100% organic and free from parabens, phosphates, and bleach, and contains zero harsh chemicals
3. Joob Joob Women's casual hippie pants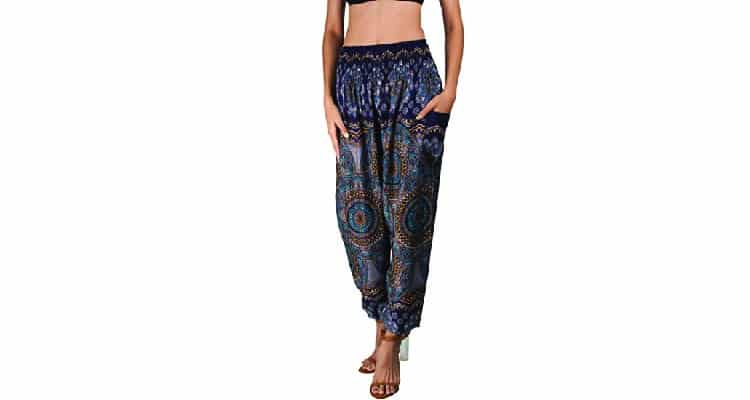 Not only is this pair of pants one of the best gifts for yoga lovers, it is also filled with utilities. The smocked waistband and ankle-flattening design look great on every body type. Besides, it sits on and allows your tummy to flatten out. Additionally, the ultra-light fabric these pants are made of make them suitable for any weather, especially during summer.
Versatile styling and design of the pants makes them suitable for both indoor and outdoor use
Made of comfortable and breathable fabric
Getting one size larger allows the adjustable waist to be perfect for maternity use
4. Headband for yoga
One can't really talk about yoga without having this mental image of people wearing headbands. Clichéd? Sure. But, wearing headbands when exercising or doing yoga is a necessity for keeping the hair out of your face. However, the DASUTA set of 10 women's yoga headbands takes it a step further.
These are very soft and made of a combination of Chinlon and Lycra Spandex. They absorb all the sweat during your intense workout sessions, and are reversible as well for you to try different styles.
The headbands are made of 87% Chinlon + 13% Lycra spandex, making them super soft, breathable and stretchy
They are very versatile and can serve as scarves during winter; they are reversible
Set of 10 colors to match with your clothes
Related Reading: 35 Useful Gift Ideas For Camping Lovers And Outdoorsy People
5. Your Choice cooling towel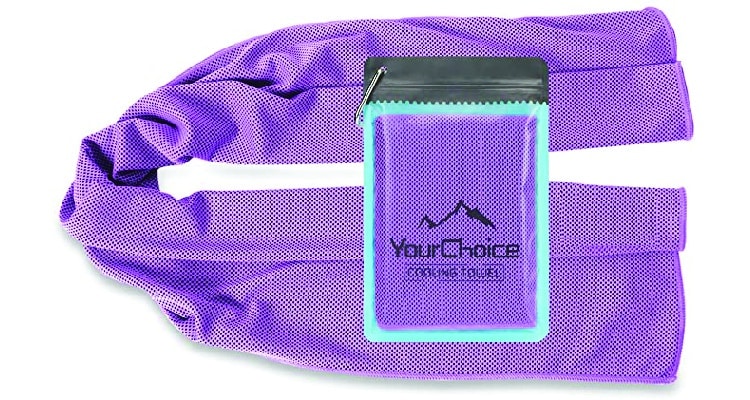 Cooling towels are a blessing in disguise after a intense yoga or workout session. They allow your body temperature to stabilize and keep you calm. A cooling towel is more like a cold compress, but has a lot more utilities. This magic towel starts cooling instantly and works like a charm.
In addition, what makes it to this list of gifts for yoga lovers is the fact that it is completely chemical-free. Icing on the cake is the UPF 50 sunscreen protection, soft and lightweight material, and ultra-absorbent nature of the towel.
Offers quick cold therapy for fever, stress, etc
It can go on cooling for hours on end
The cooling towel is made of high-density, cooling mesh fibre
6. Travel tumbler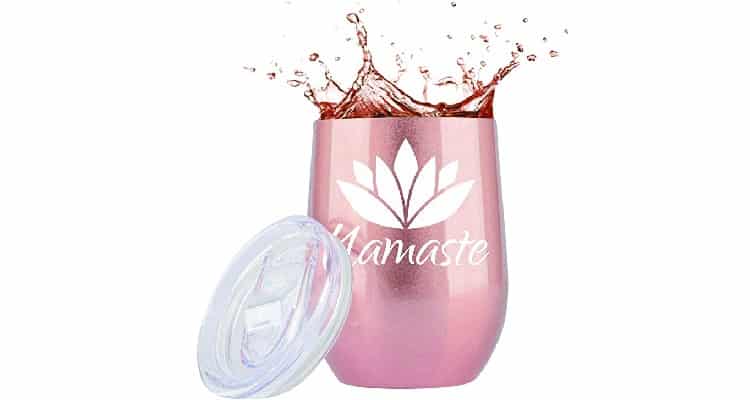 If you are looking for the perfect travel companion for your yoga-loving friend, look no further. This steel, rose-gold colored travel tumbler is one of the best gifts for yoga lovers. Whether you want to carry wine, coffee, or any other drink, this tumbler is the way to go.
The big size of the tumbler makes for a whole lot of space for your drink to spread out and to be sipped on. Its amazing design will catch anyone's eye. It looks fancy and doesn't pinch your pocket a lot either. Cherry on top is the build quality that makes this tumbler a long-lasting gift for your yogi friend.
This is a 12 oz tumbler for drinks
It comes with a spill-resistant lid and a straw
The tumbler is made of shatterproof steel to offer maximum durability
7. Lava Rock Bracelet for stress relief
This is not your run-of-the-mill bracelet, and is one of the best gifts for yoga enthusiasts for a number of reasons. For starters, the bracelet is made using lava rock beads. You also get lavender essential oil alongside the bracelet for free. All you have to do is pour drops of the oil into the porous Lava Rock beads. The beads then diffuse the scent to you and help you relax. Besides, it can be of immense help to your yogic friend in finding peace after a toxic relationship and make him or her relax during times of anxiety attacks or stress.
The bracelet comes with stress-relieving lavender essential oil
The 7.5 in size of it fits most wrists
You get to see 8 mm stones on the elastic cord that make up the bracelet
Related Reading: 24 Gifts For Minimalists – Simple Yet Practical Gift Ideas
8. Biggo Tibetan singing bowl set
There is nothing quite zen-friendly like this singing bowl on this list. The Biggo Tibetan singing bowl is pretty magical when you tap on the bowl with the wooden stick that it comes with. You get to hear a sound that puts you completely at ease.
The Tibetan singing bowl set is handmade and specially designed by artisans from Nepal
It brings sound therapy to the table by a simple tapping of the sound bowl with the wooden stick
This singing bowl is made from 7 extracted metals
9. Yoga cat figurine
This is an adorable cat figurine that your yogi friend will surely love, especially if they are a cat lover. They can put this Grey Buddha cat figurine pretty much anywhere at their place, and enhance its aesthetics.
Comes with a height of 5 in, a length of 3 in, and a width of 2 in
It is made of hand-painted resin
One of the best gifts for yoga lovers, meditation enthusiasts, and cat-lovers alike
10. HoMedics tabletop fountain
Home décor couldn't get any better with the HoMedics indoor, 3-tier relaxation tabletop fountain. From a design that adds a whole lot of zen to any space you put it in, to replicating the sound of a spring – there's no reason to not add this to our list of gifts for yoga lovers!
The 3-tier design is to replicate the sounds of a calm spring
Comes with an extra deep basin and natural river rocks
There is also a reflective lighting feature that further enhances the ambience
Relatable Reading: 21 Cool Tech Gift Ideas For Couples Madly In Love And Passionate About Gadgets | 2022
11. Aromaflare lavender-scented candles
From creating a positive ambience to bringing your living room décor to life, scented candles have so many uses. Besides, if your friend is a yoga-lover, they will love these lavender-scented candles. Not only does it have aromatherapeutic properties, but it also burns without smoke, thanks to its soy wax composition.
The motivational quote that it comes with makes it all the more worth it: "Sometimes you forget you're awesome so this is your reminder". Still thinking about why this is one of the best gifts for yoga lovers? This perfect gift will help your yogic friend to focus and find their balance.
Comes with a motivational quote to boost someone's morale
Made out of 7 oz soy wax, and burns without smoke
Creates a very relaxing smell, thanks to the perfect mixture of eucalyptus and lavender essential oils
12. BodyRestore shower steamers
Whether you have had a long day at work or just one of those bad days, these shower steamers can turn your day around. All you have to do is put one of these in your bathtub and feel the magic! Definitely an amazing way to end the day and get to bed.
Set of 15 shower steamers enveloped in eucalyptus essential oil
Aromatherapy properties help in dealing with nasal congestion and stress
It dissolves in your bathtub and offers a long-lasting scent
13. SZXTC aromatherapy shower bombs
These shower bombs by SZXTC are similar to BodyRestore's shower steamers. However, they come with significantly cheaper price tags. So, if you are on a tight budget, these should definitely be your choice. You get 8 different scents, and the icing on the cake is that these are made of real herbs.
Set of 8 different scents – lavender, eucalyptus, rose, sweet orange, Hami melon, watermelon, lemon, and peppermint
Helps deal with stress and bring calmness after a long day at work
Has real herbs which have healing properties
14. Relaxation gift set
If you want to go all out and make your yogi friend's day wholesome, this is what you should go for. This relaxation gift set comes with multiple items that whisper "stress-relief". After all the yoga and work throughout the day, your yogi friend can come home and use this kit to relax. All-in-all, this is definitely one of the most value-for-money gifts for yoga lovers on this list.
A premium gift box that consists of 7 items
The set includes weighted lavender eye pillow, embroidered face towel, satin silk scrunchie, non-slip yoga socks, essentials pouch, lavender essential oil, and soy wax candle and card
Fused with lavender essential oil for aromatherapeutic properties
15. Asana Moon premium yoga cards deck
If you are wondering why we added cards to our list of gifts for yoga lovers, here's why. These are no ordinary cards. They are premium yoga cards by Asana Moon that showcase yoga poses. These can be extremely useful especially if your yoga-loving friend has just started exploring yoga or wants to learn several new poses. Whether your yogic friend wants to learn yoga poses to boost his or her sex life or just expand their knowledge base on the subject, this deck of cards has it ALL.
You get 101 posture cards that display over 120 poses. Additionally, you get to see 2 Sequence Cards that showcase a total of 12 sequences. There are 2 Sun Salutation Cards, 2 Asana Index Cards, and 1 Yoga Guidelines Card as well.
There is an Extra Chakra Card and an Extra Thank You Card too! This premium yoga deck is stacked, and is one of the most thrilling gifts for all the yoga enthusiasts out there.
The premium yoga deck packs 108 cards
These cards have a total of 120 yoga poses and 12 sequences
Each card comes with a dimension of 3.7 in x 5.5 in, and is vividly illustrated
Related Reading: 32 Graduation Gift Ideas For Her – Unique Meaningful Gifts
16. Wrist blocks for yoga
Anyone who has been a practitioner of yoga or an exercise-aficionado knows what their wrists go through. Be it an incorrect posture or repeated stress to the wrist, it feels like you have been playing the guitar for hours on end without a break. That is not a good thing. You could develop Carpal Tunnel Syndrome which is not a comfortable thing to go through, to say the least.
These Wrist Buddy yoga blocks minimize the incoming stress on your wrists, and maximize your efficiency when doing yoga or exercise in general. Very effective, and something that any yoga lover will find useful.
Chiropractor-designed blocks offer 60% less wrist pressure
Comes with a coarse hand surface for an anti-slip grip
Lightweight and easy to carry
Comes with Left and Right hand markers for ease of understanding and usage
17. Antique incense-holder
We have often seen those beautiful, antique incense-holders in movies and series. You can easily get one of these gifts for yoga enthusiasts. There are 4 ways to go about using it.
In addition, you get 20 incense cones for free along with this incense burner. The AppyHut Cone incense burner is handcrafted and especially designed to properly diffuse the smoke from an incense cone. The design and feel of the incense burner also take a room's overall aesthetics to the next level.
You can use it in four different ways – as a tabletop cone incense burner, tabletop tea light candle holder, wall-hanging cone incense burner, or even as a wall-hanging tea light candle holder
You get 20 incense cones for free
The hand-crafted look gives it a premium feel
18. Kindfolk yoga mat bag
This yoga mat duffle bag by Kindfolk is just the perfect blend of fashion and utility. Not only are there multiple design options to choose from, there is an outer pocket to further extend the space for your personal items. One of the best things about this duffle bag is that it is made from 100% man-made leather, which makes it 100% animal-friendly.
Additionally, Kindfolk is partnered with charities like A21, Girls Empowerment Network, and Nicole's Place. So, when you shop with Kindfolk, they donate $1 of every unit sold to empowering women and girls across the globe. Why not do some good while getting one of the best gifts for yoga lovers? If you are looking for the best eco-friendly and sustainable gifts for your yogic friend, this duffle bag is an excellent option.
The duffle bag comes with dimensions of 26 in x 8 in x 8 in and can fit up to a 26 in wide mat (including extra-thick mats)
There is an outer pocket to keep your mobile phone, keys, and other personal items
It comes with multiple design options to choose from
19. Yoga-themed makeup bag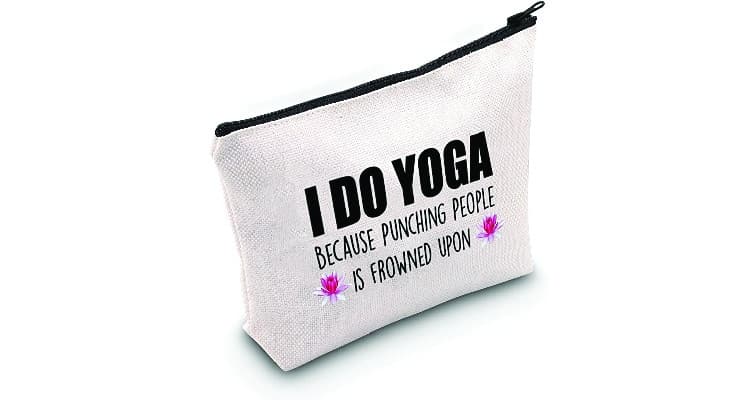 If you want to bring a huge smile on your yoga-loving friend's face, this is it. It serves as a makeup bag that has a large space for all their makeup accessories and cosmetic items. In addition, the quote that reads "I Do Yoga Because Punching People Is Frowned Upon", makes it a funny gift as well. We just HAD to add it to our list of gifts for yoga lovers.
23.5 x 17 cm dimension offers a large space for your makeup accessories
It is made of canvas fabric, thus making it very durable
Easy to clean, easy to get rid of makeup residue
Related Reading: 15 Cool, Popular And Best Gift Ideas for Women
20. Chakra Stones wall-hanging home décor
Whether your yoga-loving friend is superstitious or not, getting this 7 Chakra Stones ornament is a great way of showing that you care for them. These 7 Chakra Stones are each symbolic of something and are meant to bring a certain amount of balance in energies. It immediately changes the ambience of a room, is a lucky charm, and an eye candy.
Consists of 7 Chakra Healing Crystals which are amethyst, aquamarine, green aventurine, red agate, yellow tiger eye stone, lapis lazuli, and red jasper
These help in bringing balance to the mind and body
Can be easily hung anywhere; brings positivity to the place
21. Leekung yoga meditation décor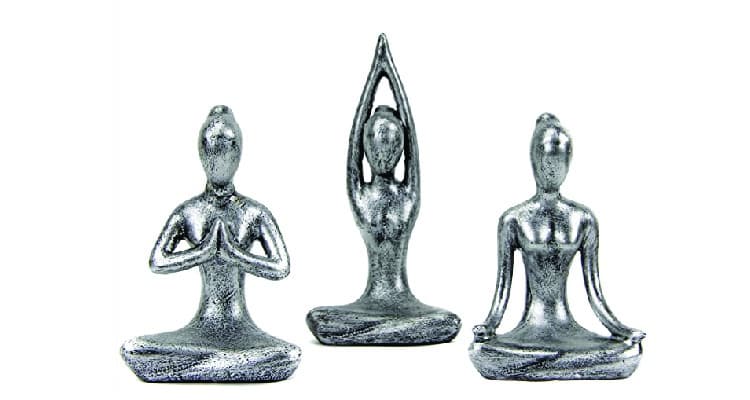 These three adorable Leekung figurines are just so beautifully made that your yogi friend will absolutely love them. You get to see this ornamental pattern of design throughout. Besides, their size makes placing them anywhere as home décor easy-peasy.
Made with high-quality resin and given an ornamental finish
Set of three figurines showcasing three yoga poses
The figurines come with dimensions of roughly 3.5 in x 2.1 in x 1.3 in
22. Scented candles gift set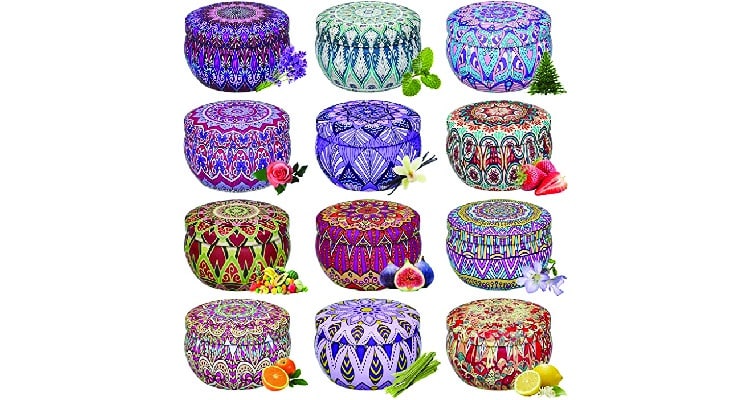 Scented candles are a great way of showing that you care for a person. Besides, they come handy in a variety of situations. Is our yogi partner about to come back from work, and you arrived early? Use these scented candles and order their favourite dish! A romantic yet therapeutic ambience is all set. In fact, you can gift these candles to anyone. Aromatherapy is for everyone to make use of and relax with.
Besides, if your yogic friend just got himself or herself into a relationship or got married recently, this gift will be secretly special. Guess why? Although there are multiple ways in which exercise and fitness improve your sex drive, scented candles have a similar and stronger effect!
Comes with 12 different scents – lavender, lemon, orange, peppermint, vanilla, rose, strawberry, citronella, figs, freesia, Christmas tree, and tropical fruits
The candles are made out of 100% pure soy wax, and burn without creating smoke
Each candle can last up to a staggering 15 to 20-hour duration
23. Florensi meditation cushion
From deep meditation sessions to intense yoga sessions, the Florensi round zafu meditation cushion is specially made to bring extra comfort and focus. It is a floor pillow, and because of its beautiful design, it enhances the aesthetics of a given room as well.
Whether your yogi friend sits or kneels on it, their joints will face very little stress.
This cushion also serves as an excellent therapy for dealing with lower back pains and reducing numbness in hands and feet. This is one of the best gifts for yoga lovers and something that you would definitely want to consider.
The seat of the cushion is 16 in wide x 5 in tall
It is filled with 100% natural buckwheat hulls alongside an additional layer of foam padding
These are lightweight and can be used as an excellent sleep aid, padding for the back, and more
24. Ewedoos yoga mat bag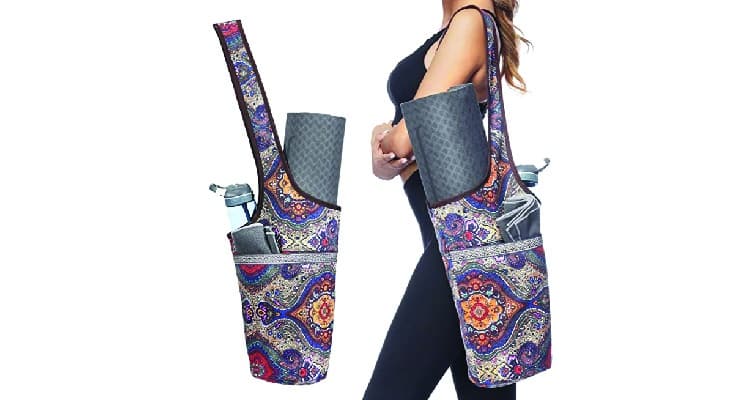 Carrying your yoga mat has never been this easy. The Ewedoos yoga mat bag is just one of those amazing gifts for yoga lovers you don't want to miss out on. This gift will be cherished by every yoga enthusiast out there. Whether your friend is a yoga teacher or goes for yoga classes, this bag will make carrying that yoga mat 10x easier.
Made to fit the majority of yoga mat sizes
Multi-purpose utilities
Comes with a large side pocket and a smaller zipper pocket as well
25. Gaiam Yoga Socks
If you have worn a regular pair of socks during yoga sessions, you know the struggle. Not only do your feet slip constantly, it takes the fun out of your sessions too. Good thing is, not anymore. The Gaiam Yoga Barre Socks are a fantastic offering from the popular brand.
These come with anti-slip silicone grips at the bottom which ensure that your feet don't slip at all. Moreover, the kind of design that they come in also gives off the look of ballet socks, so you can rock them at your dance classes too.
Non-slip silicone grip
Multi-purpose design
A single size can fit most people
Related Reading: 21 Gift Ideas For Women Over 50 | Amazing Christmas Gift Ideas
26. BALEAF women's yoga shorts
This pair of yoga shorts is just what you are looking for to give to your yogi buddy. These are high-rise and made with stretchy fabric. This makes them super comfortable to wear. Besides, you get maximum coverage and you don't have to feel awkward when stretching and bending during your yoga classes. Also, they come in a wide variety of colors.
High-rise and wide waistband offers maximum coverage when stretching and bending
Comfortable freedom of movement
Made out of moisture-wicking and breathable fabric
Versatile, and can be used for multiple activities
27. Lavender eye pillow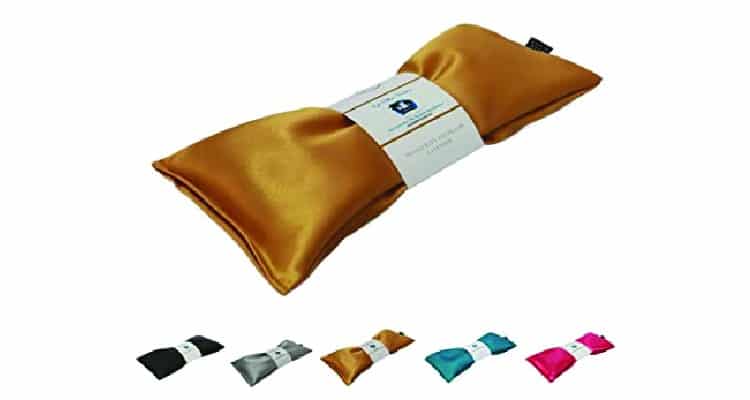 Eye pillows are such a relief especially when you are having a terrible headache. If your eye pillow comes with aromatherapeutic properties, even better! This eye pillow is filled with aromatherapy herbs and organic flax seeds to provide maximum relief to your eye area.
Filled with pure aromatherapy herbs to relieve stress
Organic flax seed in the eye pillow gives a light acupressure massage as well
Keeping it in the freezer and using it later relieves headaches and swelling
28. Hydracy water bottle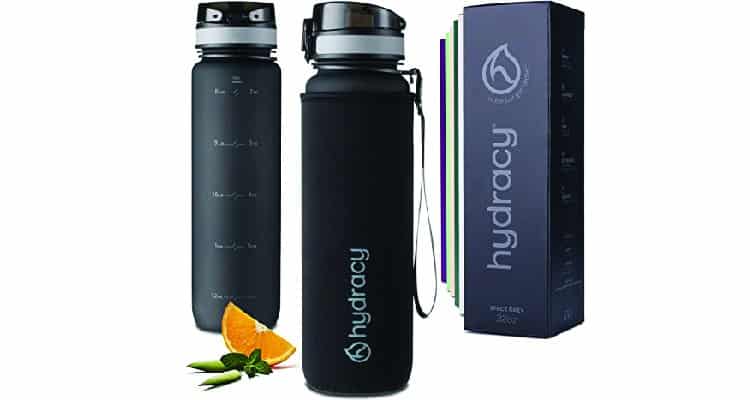 There are a bunch of different water bottles out there, so why should you get this one in particular? This is no ordinary water bottle. There is a valuable time marker on it, which is a great way to remind yourself to take a sip. Additionally, there are a whole lot of elements like its build, its quality, and spill-proof design that makes this one of the best gifts for yoga lovers. If you are looking for useful gifts that keep on giving, then this is it! Day in, day out, this water bottle is going to come in very handy for your hardworking yogic buddy.
Made out of 100% BPA-free Tritan plastic
100% leak-proof
Its neoprene sleeve keeps sweat at bay from the bottle
29. How to: yoga coffee mug
Right off the bat, you get to see yoga poses as the main design on the coffee mug. It comes handy when you have a friend who has just started on their path to become regular at yoga. This will help them as the illustrations are perfect for a quick visual practice and recap.
Has yoga poses as its primary design
Showcases the sun salutation as well, making it a great choice for beginners
Comes with a yoga mat coaster
30. ShangTianFeng wind chime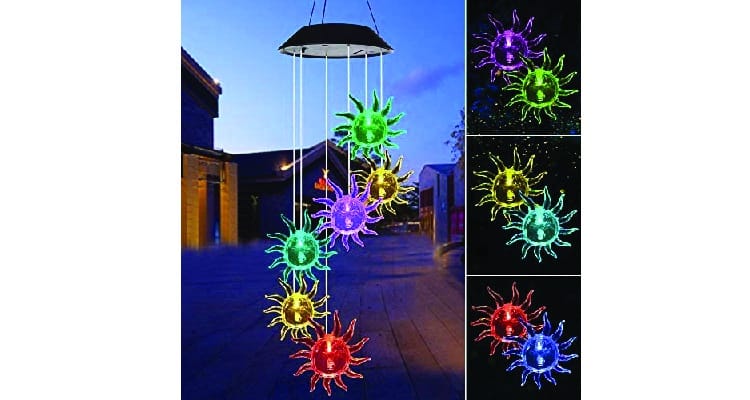 Come on, who doesn't like windchimes! Not just because of the sound, but you could look at them for minutes on end and be completely at peace. That entire feel of a wind chime is enhanced with the ShangTianFeng series of wind chimes. You get three different designs to choose from.
You can hang them outdoors too, to make your porch or entrance look beautiful. Surely one of the prettiest eco-friendly gifts for yoga lovers!
Solar-powered and shines at night in multiple colors
Rain and moisture-proof design
Very lightweight and easy to hang
Related Reading: 25 Uncommon But Useful Housewarming Gift For Couples
31. Yoga dice set
This gift will make you stand out in the crowd. If it is your yogi friend's birthday and you want to gift something unique, this is it. Added bonus if your friend is a beginner and wants to learn more and more poses.
The multiple dice pieces offer more combinations than one can fathom. Besides, this makes the entire yoga session more enjoyable and will keep your beginner friend inspired. This thoughtful gift just had to make it into our list of gifts for yoga lovers.
The yoga dice set has 7 dice pieces
Multitude of combinations for variation in poses
Dices are made of high-quality wood
Poses are printed with blue ink
32. Sanuk yoga sandals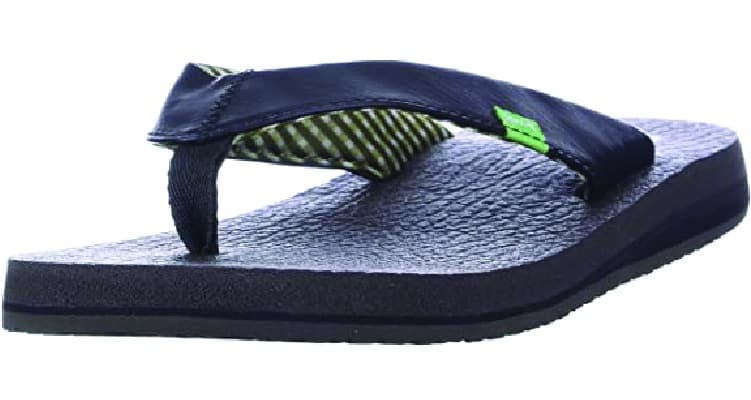 These are no ordinary sandals. Most sandals wear off in weeks or months, and are not durable enough. However, this pair of Sanuk yoga sandals is an absolute boss at facing your day-to-day usage.
They can last for years. They have the subtle-yet-elegant vibe to them that'll make anyone question where you got them from. Additionally, these are just so comfortable and soft to wear. You won't feel a thing and your feet will have the time of their lives. Hands down, one of the best gifts for yoga lovers.
Dimensions of 10 x 5 x 1 inches
Vegan shoes made with machine-washable material
Comes in 17 different colour options
So, this was our list of 32 gift ideas that will surely make your choice easier (or harder). We are pretty sure that you are tempted to get your hands on more than one product from this list of gifts for yoga lovers. What are you waiting for? Grab the best gifts for your yoga lover friend right away!
30 Matching Couples Gifts – Cute Matching Gifts For Him And Her
16 Sentimental Gifts For Your Boyfriend That Will Melt His Heart