Nothing screams romance like Disney. That's why, if a young, doe-eyed couple in your circle is getting married, we have the list of the perfect Disney wedding gifts they will adore, especially if they happen to be die-hard Disney fans.

We all wish for a fairytale wedding and if the ceremony itself is going to be fairytale-themed, you can't be caught sneaking in a buffet coupon as a wedding gift. As a fellow Disney lover, I have curated a list of magical Disney wedding gift ideas for the handsome couple-to-be. They are so good that you might just want to get married yourself! 
Cute Disney Wedding Gift Ideas 
We have all grown up watching the perfect happy endings written by Disney where a handsome, golden-haired prince falls in love with a beautiful, kind princess. It is only befitting that the love-struck couple is bestowed with a gift that does justice to their love story. After all, we are all tired of receiving boring crockery and mixers. Why not become the fairy godparent and sprinkle some glitter on the wedding gifts. So, here is a list of the 12 best Disney wedding gift ideas: 
Related Reading: 18 Best Gift Ideas For Any Newly Engaged Couple
1. Disney villain 16-piece dinnerware set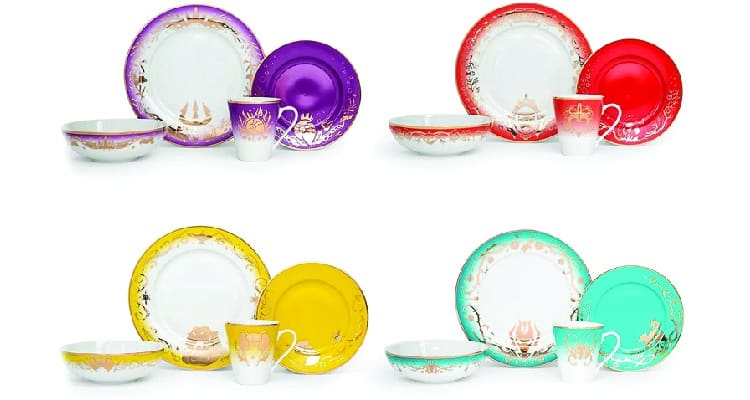 Give the pair a one-of-a-kind dinnerware set for their new home with the Disney villains' 16-piece dinnerware set. Maleficent, the Evil Queen, Jafar, and Ursula are among the Disney villain characters loved by all and the charming dinnerware set is inspired by them. This will be the perfect Disney wedding gift idea as the new couple can use this set while having a date night, or entertaining the never-ending guests. 
Made from porcelain 
Includes 4 dinner plates, 4 salad plates, 4 soup bowls, and 4 mugs 
Premium quality 
Hand-wash only 
Do not microwave 
2. Fairytale storybook ring holder 
If you are the bridesmaid or the best man, you are in luck. We have the most adorable Disney wedding favor idea which you can present to the couple as a surprise, right at the altar! This book-shaped ring holder bears a resemblance to the classic fairytale books often seen in Disney. This gift will help them begin their journey toward happily ever after.
The ring holder measures 6 cm long by 4.25 cm wide
Made of cardboard, paper
Complete with an ornate cut-out inside, perfect for holding the wedding rings
High quality
3. Mickey Minnie frosted stemless wine glasses 
Now, here's a fact: the newlyweds are going to be throwing a lot of dinner parties and entertaining family and friends for a long time. To feel exclusive and special, they require the perfect wine glasses which state their personality. There is nothing better than these Mickey and Minnie frosted glasses which make for the ideal wedding gift. 
Another reason that these glasses are the perfect Disney wedding gifts is that when kept together, the set of glasses gives the illusion of Mickey and Minnie sharing a romantic kiss. Now, what could be better for a newly married couple? 
2-pack glassware set
Each champagne glass holds approximately 9 oz
Sleek and narrow design
Perfect for everyday use 
Related Reading: 15 Custom-Made Personalized Couple Gifts
4. Mickey Mouse double-flip waffle maker
If you're looking for practical Disney wedding gift ideas, this Mickey Mouse waffle maker is a must-have kitchen addition for all those lazy weekend breakfasts. It has non-stick waffle grids, two ready indicator lights, and an alarm that sounds when it's done, and it generates extra-deep crevices (to hold more syrup, of course).
Any true Disney fan would love to have this waffle maker in their house and that's what makes it the ideal Mickey and Minnie wedding gift. You are not just giving them a gift, but a chance to spend countless Sunday mornings with a delicious breakfast in bed, which will ultimately help strengthen the marriage and love between the couple (Oh, how noble you are, kind human!) 
Bakes one 6-inch Mickey Mouse shaped-waffle
Illuminated Mickey power light
Non-stick cooking plates
800 W
1-year warranty
5. Disney wedding ornament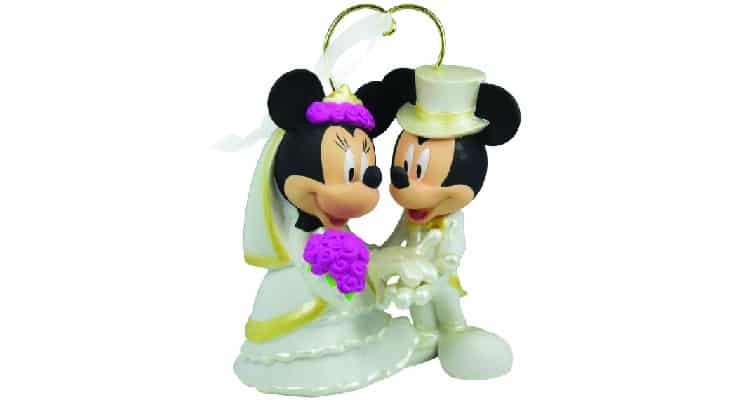 Something old, something new, something blue, something Disney? Of course, the couple would need something Disney-themed to complete their fairytale wedding, and this is the cutest Disney wedding ornament to commemorate the love of two souls as adorable as Mickey and Minnie. It would be such a cute first wedding anniversary gift.
While this Mickey and Minnie ornament would be ideal as a Disney wedding gift, it also works well as a Disney wedding anniversary gift that the couple can pass on to their little children. 
High quality 
Made from resin 
Durable 
Finely painted 
Available in multiple colors 
6. Disney Pixar Stir popcorn popper
Popcorn is a crowd-pleaser, and the happy couple can make their movie nights memorable with this machine. With a top that doubles as a serving bowl, this smart Disney wedding gift idea can generate up to 10 cups of popcorn in minutes. Those couples who are movie lovers are in for a romantic night of cuddling to the perfect Disney movie marathon with a side of popcorn.
Motorized stir rod to maximize popped kernels
Non-stick heated surface
Plastic domed cover doubles as a serving bowl
Convenient cord wrap for storage
Fun graphic features 15 Pixar characters
7. Darth Vader spinning luggage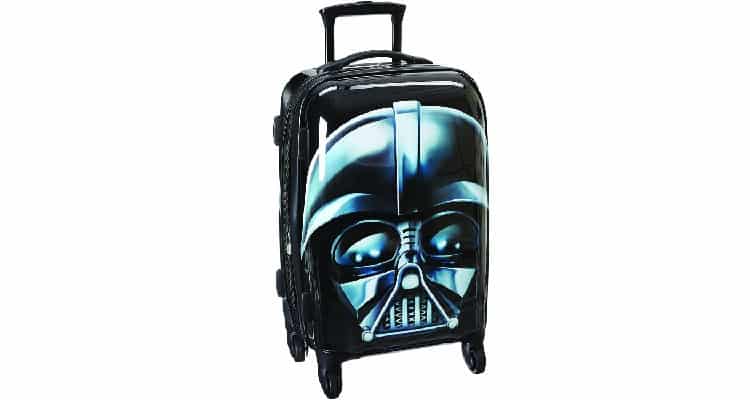 So, Disney isn't limited to magical kingdoms and gown-adorned princesses. It is also home to the world's most beloved franchise, Star Wars. This Darth Vader-themed luggage is the Disney wedding gift idea for partners who are also globetrotters. Imagine how cool the married couple will feel going on their honeymoon with this suitcase, especially if they are off to Disneyland.
Single spinner wheels, Star Wars-branded push button, and pull handle
Star wars-branded zipper pulls
American Tourister branding ID tag
Split construction, large mesh pocket on interior panel, and cross straps
Related Reading: 15 Best Bridal Shower Gifts That'll Make Her Feel Special
8. Disney wedding cake topper 
This isn't so much a gift as it is a Disney wedding ornament. The beautiful wedding cake topper reads "Happily Ever After" with the classic Disney castle. We can't think of a better Disney wedding gift idea that is so simplistic, yet so romantic. If I was the bride, I would refuse to cut the cake because I would keep staring at the topper. This is one of the best Disney bride gifts because it will get her excited about the other Disney gifts in your arsenal. 
Made of premium cardstock with gold glitter
Easy to use
Sturdy and attractive
100% guarantee of quality 
9. TOSCANA Beauty and the Beast stone serving tray 
This is where you can end your hunt for the best Disney wedding gift. The Beauty and The Beast stone serving tray is an impeccable piece of art, paying homage to the timeless story of Belle and the Beast. Everyone will want to be their guest to see the rose-gold inlay that depicts the iconic rose. This tray serves as an exquisite serving platform for cheese and snacks. 
High quality 
Durable 
Beautiful design 
140 x 140 in serving space
Marble and acacia serving the stone
10. The Unofficial Disney Parks Cookbook
Is your Disney-obsessed couple celebrating an anniversary? Then this cookbook will be the ideal Disney wedding anniversary gift. Not only is it Disney-themed, but it is also a fun activity the couple can enjoy together. This cookbook, which includes step-by-step instructions for some of the Parks' most iconic dishes, will give your favorite Disney couple their next date night idea. They can transport themselves to Disneyland with just a nibble from their kitchen, from the famous Dole Whip to Mickey Mouse pretzels.
Available in hardcover 
Authentic recipes 
Easy-to-follow instructions 
11. Disney-themed wall clock 
We all know that when someone is in love, time stops mattering. But soon, the bride will awaken from her beauty sleep, the groom's enchantment will wear off, and they will need something to get them everywhere on time. This Disney-themed wall clock is the most functional Disney wedding gift idea that the couple can use for a very long time. 
Cinderella thought her clock was a downer, but I think this Disney-inspired timepiece adds a touch of charm to any space and will be an adorable addition to the home of the newlyweds. 
White color
Plays classical and Christmas songs, along with Disney favorites
Requires batteries 
12. Mickey Mouse doormat rug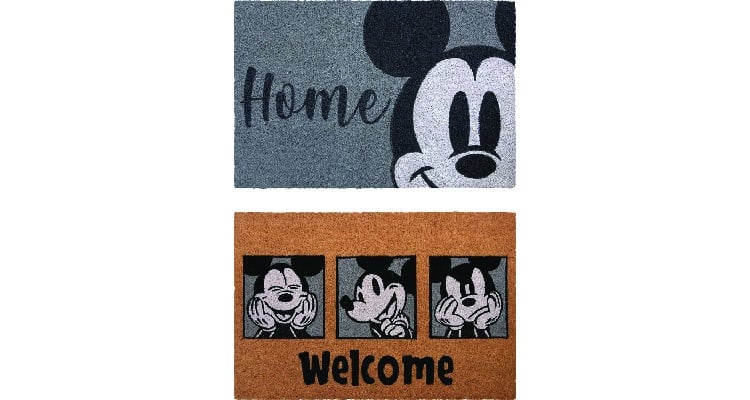 Without another Mickey and Minnie wedding gift idea, we cannot end this list of the best Disney wedding gifts. This doormat will adorn the entrance of the newlywed couple's beautiful new home, reminding them of the magic that lives within them every time they enter their place. As the glowing couple prepares to enter their castle forever after, place it at their entrance and give them a happy surprise.
2-pack rectangular-shaped doormat
20 in x 34 in
Easy to clean 
Durable 
There can never be enough Disney wedding gifts but for now, we have shared with you a list of the 12 best Disney wedding gift ideas which will help you win the hearts of the couple. It's not just a gift, it is a memory that they will carry with them and cherish. And thanks to you (and a little bit us as well), it will be a magical memory forever!