Your friend is tying the knot and they are glowing with happiness. It's time to multiply that happiness by immersing them with the best bridal shower gifts. An impending nuptial is directly proportional to loads of gifts. No doubt your best friend means a lot to you and a special person like her deserves special bridal shower presents. 
It is a given that brides have a lot of things going on in their lives thanks to all the wedding preps, from selecting the perfect gown to seating arrangements, from finding the perfect venue to putting together the food menu. They deserve a break from all the wedding preparations and bridal showers are the perfect way to release them from their stress. If you are not sure what to give your best friend as bridal shower gifts, take a look at the compiled list below. 
Top 15 Bridal Shower Gifts For The Bride-To-Be
A bridal shower is basically a fun, often intimate event organized to celebrate the bride. It's like a pre-wedding party which involves food, games, drinks and gift-giving. Get your best silk robes ready and celebrate the day with your girl gang. This list has the best bridal shower gifts for the bride. Select your favorite amongst the list and get ready to party with the bride.
1. Funny lavender scented candle
One can never go wrong with selecting scented candles as gifts. This lavender scented candle has a go-get-em message printed on the front. It says "Badass Bride, You Deserve All The Best". This is one of the top best bridal shower gifts for the bride through which you can send your best friend love, light and positive energy via this stress relieving candle.
Hand poured using 100% natural waxes and pure essential oils
Organic scented candle – mix of lavender and eucalyptus
Long-lasting scent creates peaceful, soothing and elegant ambiance that will to relax and feel happy
Related Reading: 21 Wedding Gift Ideas For Couple Already Living Together | 2022
2. Personalized canvas tote bag
Whether the wedding is in the city or it's a destination wedding, a tote bag is an essential item. The bride can carry all her necessities in one bag and take the bag with her everywhere. This is one of the best bridal shower gifts as it is stylish, spacious and definitely doesn't compromise on style. 
Made of heavy duty, 100%, 13 oz, natural cotton canvas
Comfortable to carry by hand or over the shoulder
All seams are reinforced and sewn to ensure durability
Classic black and white color makes the bag more retro and charming
3. Honeymoon sand keepsake jar
This is one of the most unique bridal shower presents. It is certain the couple must have selected one of the best honeymoon destinations and will go on a long romantic honeymoon together where there won't be anyone to disturb them. Help them keep the memory intact by giving them such precious bridal shower gifts. They can keep sand in this jar as a souvenir of their honeymoon. 
Write a unique message on the cardboard and tie it to the bottle 
'Honeymoon 2022' printed on bottle
Text won't fall off or fade 
Bottle made of high quality glass material to prevent breakage
4. Marriage survival kit
This marriage survival kit will drive all her pre-wedding blues away. It is one of the most versatile bridal shower presents of all time. It is for both the bride and groom. This kit is loaded with items to enrich a married couple's life. This kit  includes wine tumblers, a bottle opener and funny coasters among other items. Another fun item this kit contains is coupons for couples which will come handy when they are in the mood to spice up their marriage.
Also included: decision making dice and heart ring dish
12 oz wine tumblers made of 18/8 stainless steel material inside out
Comes with key-shaped bottle opener
5. Funny travel makeup case
A travel makeup case is another compulsory item in the bride's list to keep all her cosmetics with her for the perfect bridal glow. The travel makeup case comes with a funny quote printed on the front. It says, "To have and to hold the same pen*s forever". This is one of the funnier great gifts for bridal showers as it perfectly sums up the relationship you and your best friend have. 
Both sides are printed and it comes with anti-fading and waterproof coating
Portable makeup bag has large capacity for all your cosmetics 
Zippers come with lock structure to prevent from sliding 
Made of soft and smooth wear-resistant fabric
6. Lace trim cami lingerie sleepwear
Is your best friend way too excited about her wedding night? Well then girl, help her out! This is a 4 piece pajama set which includes a robe, floral lace bralette, satin shorts and sexy panties. She can wear this sexy lingerie on her honeymoon as well. And when your bestie's hubby sees her in this, she won't be the only one thanking you for this gift!
One of the best bridal shower gifts as it can be worn again and again 
Features contrast lace, belts and robes
Robe is made of satin material 
Multiple color options available
Related Reading: 10 Bachelorette Party Ideas For The Bride-To-Be
7. Elegant jewelry box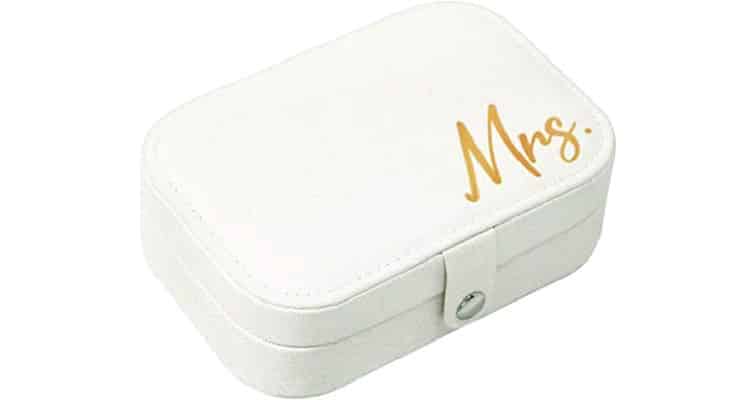 This travel jewelry box is beautifully designed with a modern and elegant touch. This jewelry box will impress the bride-to-be at first sight. It is a great gift to add to wedding shower favors as well. 
Colebrook Designs is a female owned small business that specializes in major milestones such as weddings and baby showers
This organizer's compartments are large enough to store all travel jewelry items
Portable and lightweight
Features: necklace panel with 5 snaps to hang necklaces, one earring panel for your different size earrings and ring holder, suitable for almost 10 rings 
Has adjustable part for other size valuable items
8. Wine flutes
These stemless wine or champagne glasses are extremely elegant and graceful. You can also add this as bridal shower favors. Pair the sensory delight of a fine champagne with the exquisite art form of these breathtaking wine glasses. 
Unlike crystal glasses which contain at least 20% lead, Elixir glassware is made from lead free ultra-clarity crystal
Each glass is masterfully shaped and hand blown by artisans using traditional methods
Wide rim is carefully cut and polished to direct the drink to the center of the tongue, creating a harmony of fruit, acidity and tannin flavors
9. Mr. and Mrs. apron set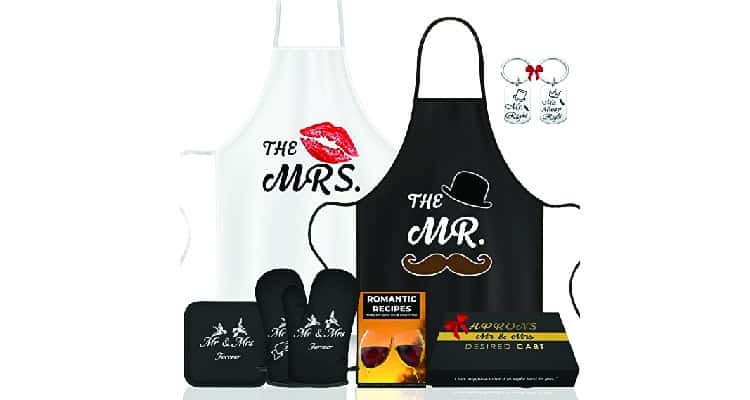 This is one of the top best bridal shower gifts for foodie couples who love to cook together. The set includes a pair of oven mitts, pot holder, a recipe book and keychains. It also comes with a wish book where you can wish the happy couple with words of love.
Romantic Recipes cookbook is great for bonding together
12 significant recipes described step by step to ensure you have the perfect drink, dinner and dessert
Whether removing a pan from your oven, picking up a hot pot from your stove or tending to a burning grill, you can be rest assured that your hands will be well protected by these high quality, heat resistant hot pads
Aprons, oven mitts and potholder are 100% machine washable
 10. Best friends picture frame
This personalized picture frame with the sentimental quote, "you're my person", is designed for you and your inseparable bestie with whom you've shared everything, from laughter to tears. Definitely one of our picks for top best bridal shower gifts to lay some love on your girl.
Create long lasting memories and display your most treasured photo with your best friend
Choose from their birthday parties, wedding reception, or your graduation day 
Handsome rustic picture frame with stained wood finish
Cute, handmade, string art heart is made of solid materials that withstand years of use without breaking or fading
Related Reading: 35 Funny Gag Gifts For Women | Best Gift Ideas For 2022
11. Bath bombs gift set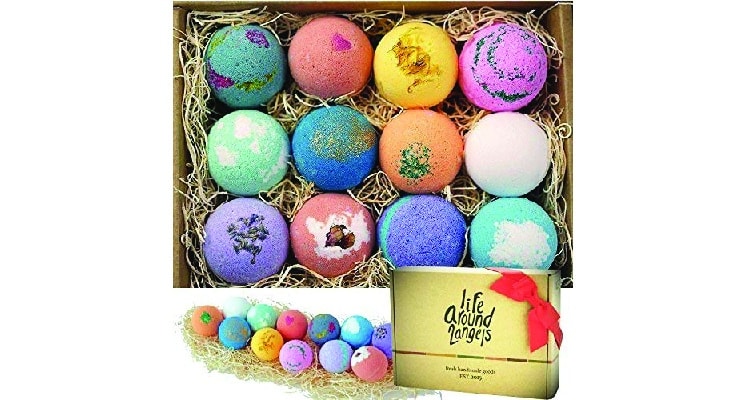 These bath bomb gift sets by LifeAround2Angels are uniquely designed and handcrafted in the USA. Girls love to smell good and feel good, which makes these bath bombs one of the lovelier bridal shower presents on our list. The scents are simply delightful and some are as unique as mango, papaya and melon. These can be added as wedding shower favors as well for the bridesmaids who will guarantee love them.

Set includes 12 handcrafted bath bombs that come in 12 different scents, each about 3 oz and 2 inches in diameter
Cruelty-free and humane; made in special clean rooms, hygiene is guaranteed 
Made using sterilized equipment, they are bacteria-free
Each bath bomb has been handcrafted with flower petals, pearls and flakes
12. Keepsake hands casting kit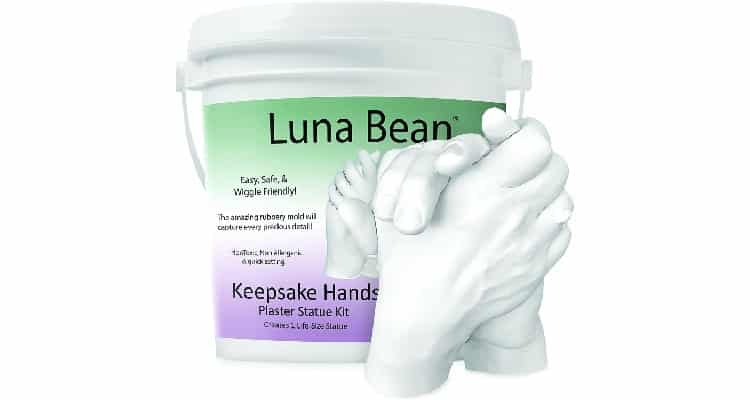 There is nothing more loving and affectionate than holding your partner's hand. Make this special moment last a lifetime with great gifts for bridal showers such as these DIY kits. It can be a task to find a gift that's original and shows how much you care. This hand casting is one-of-a-kind gift and one of the most beautiful things to do with partner.
Unique rubbery cast captures every fine line for perfectly treasured gift
Has more working time, forms stronger cast, provides better details and has bolder color-changing properties than other craft brands
Fun and memorable gift activity 
Lasts for a very long time
13. Chosen one picture frame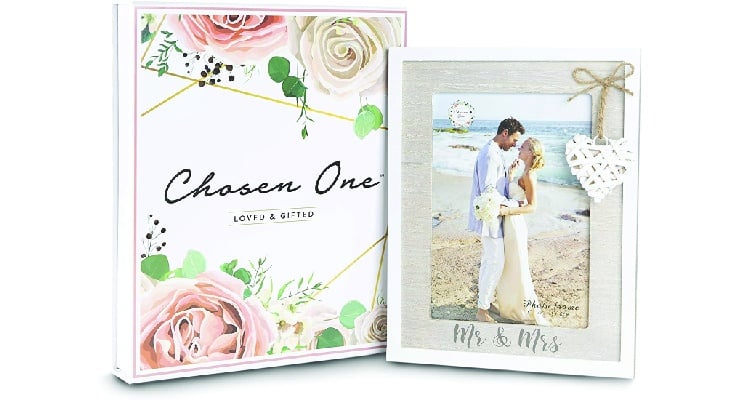 With natural earth tones, and distressed features, this natural and white picture frame is one of the best bridal shower gifts if your friend loves all things rustic, vintage, boho, natural and romantic. Add a picture of your bestie with the love of her life and look at the sparkle in her eyes when she opens your gift.
Neutral colors will suit all decor
Comes gift-wrapped
Comes with beautiful swing tag so you can write your message of love
10% of profits are donated to charity
14. Wedding cake knife and serving kit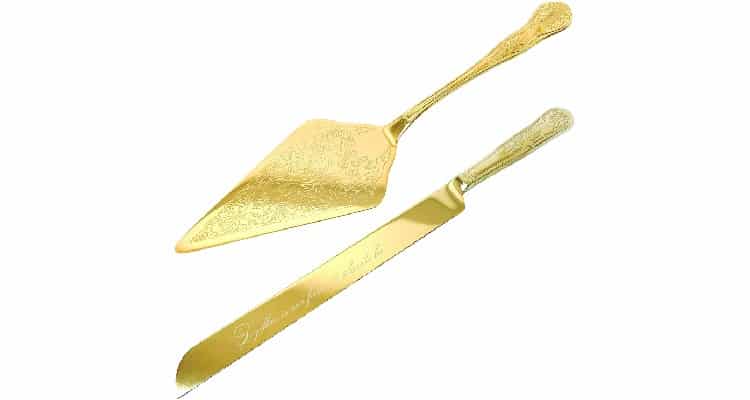 The wedding cake is a tradition nobody skips. Boost their first cake cutting memory as husband and wife with unique and thoughtful bridal shower gifts for the bride and groom. You can customize this set by wrapping the gift in the theme colors of the wedding and top it off with a nice satin bow.
Not be used in dishwasher
Simple wash with mild soap and water, and dry thoroughly 
Engraved with the quote "Together is our forever place to be"
Can also be used for other indoor or outdoor parties and events
15. Personalized bar necklace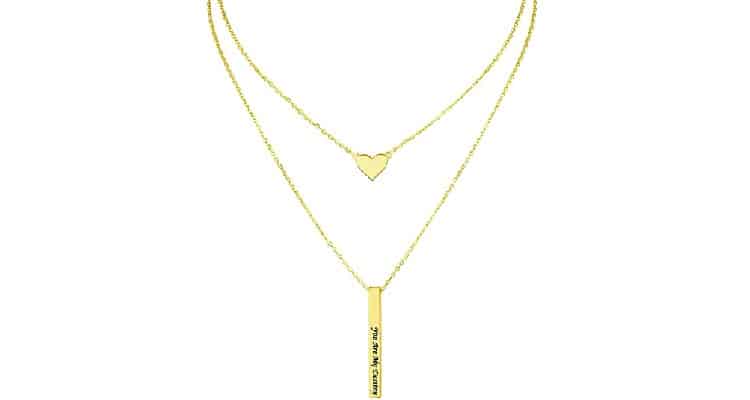 These necklaces make great bridal shower favors as well, since jewelry is loved by all women. MeMoShe is a jewelry brand that creates custom-made necklaces. You can customize your best friend's name or their birthdate or an amalgamation of both of your names, into a piece of jewelry. This isn't one of those run-of-the-mill top bridal shower gifts, but something precious and unique. Best of all, it will always remind your bestie of you.
Customized 3D necklaces, which means all four sides will be engraved
Made from 925 Sterling silver or stainless steel 
Chain length fixed at 14 inches; heart choker and bar pendant necklace connected 
Select chain from either a cable or box chain design, then choose symbol you wish to engrave on bar necklace
Your best friend has been with you through thick and thin. It's time to let them know how much you care about them and to show them that you want them to start this new journey with love and happiness. To show them your love, bridal showers are the best opportunity. Make it even more perfect by selecting the best bridal shower gifts from the above list. 
FAQs
1. Who throws the bridal shower?
The bridal shower is usually hosted by the bride's close friends or their maid of honor, bridal attendants, or bridesmaids. 
2. Do bridal shower hostesses give gifts?
It's a tradition for the hostess to give gifts to the bride. Before buying presents, you may want to talk to other bridesmaids and bridal attendees so your gifts don't clash.
3. Does the groom go to the bridal shower?
Usually the groom doesn't attend bridal showers. But in modern times, the groom may drop by to play a fun game or two. They even appear at the end of the bridal shower to greet the bride's friends. 
Top Wedding Registry Must Haves – Budget Friendly Items For Couples