It goes without saying that you are the best wedding gift for your groom. But weddings are a special occasion that needs to be celebrated through an exchange of unique and special gifts. While the wedding day usually revolves around the bride, the groom deserves some attention too. Shower your groom to be with an exclusive gift that will leave him teary-eyed.
What could you get the man you are going to spend the rest of your life with? Contemplating it? Don't worry, it happens to the best of us. It is difficult to shop for a man on a normal day, selecting gifts for the groom from the bride is a herculean task that requires expertise. That's why we have rounded up a list of 12 trendy wedding gifts your groom-to-be will love. 
12 Best Wedding Gift Ideas For The Groom To Be
In the midst of wedding chaos, setting aside time to scroll through the internet or run through malls in the hunt for a wedding gift for groom should not be a responsibility that falls on the head of the bride. Your future husband deserves something as special as him but not at the cost of causing you distress. 
So dear brides, sit tight, hold on to your veils and follow this list of wedding gift ideas from bride to groom. This list includes an array of ideas suitable for every personality. Whether your husband loves the great outdoors or is often found in the kitchen, whipping up delicacies, we have a gift for everyone: 
1. Teals Prairie & Co. Personalized Gentleman Gift Set Cufflinks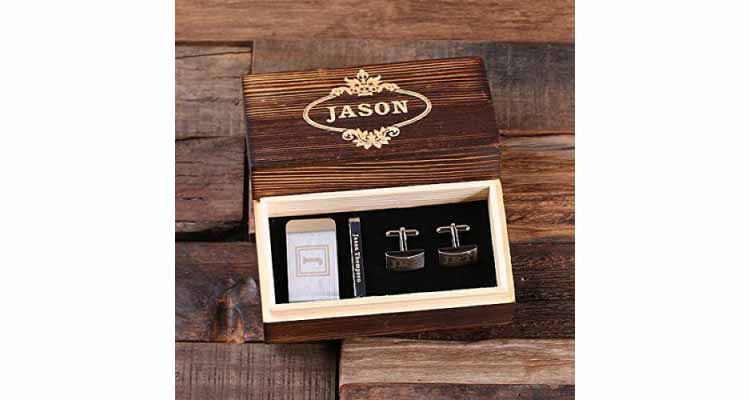 Teals Prairie & Co. should be your go-to choice if you're looking for personalized groom gifts. A gorgeous and classy set of cufflinks, these will be a classy addition to your man's formal attire and make for the perfect wedding gift for groom.
Product size: 5 in X 2.75 in X 2.25 in
Free design support after ordering
No setup fee
No artwork fee
All customization accepted (logos, clip art, drawings etc)
Related Reading: 40 Best Valentine's Day Gifts For Him | Gift Ideas For Boyfriend
If your future husband is particular about his style and likes to be well dressed, he will appreciate the gift. You could get it personalized by writing the date of your first date together, his initials, the initials of your names together etc. The best part about this product is that there is no limit to your creativity! 
2. Whiskey decanter set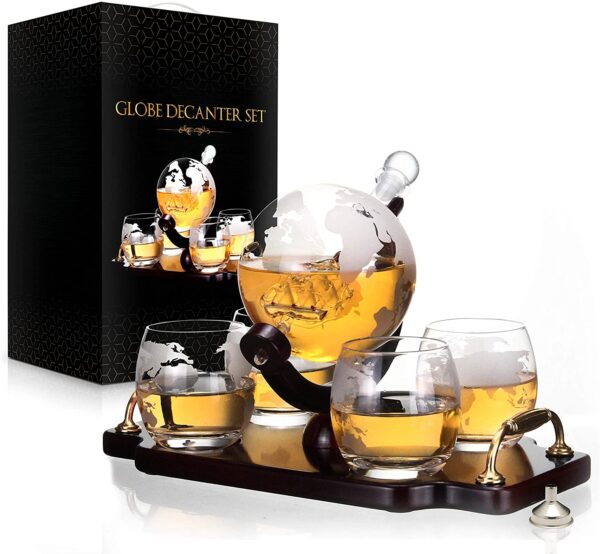 This vintage-inspired whiskey decanter set by Flybold is one of the best gifts for groom to be. Not only is the set ideal for a photo with the groomsmen on the big day, but it will also keep your man pleased for years.
1 large size (28 oz, 850 ml) whiskey globe decanter with a ship inside
4 Globe etched glasses 
The liquor holder comes with a mahogany finish tray and attractive golden handles
Glass stopper to keep your drink fresh and flavorful
Pour funnel to fill up your whiskey decanter globe set with no spillage
This stunning set of whiskey glasses will be the perfect addition to your man's collection and is bound to impress your significant other. Not only is it a great groom gift idea but it is also perfect to enjoy date nights at home and celebrate your love over a glass of old-fashioned cocktail. 
3. Portable Bluetooth table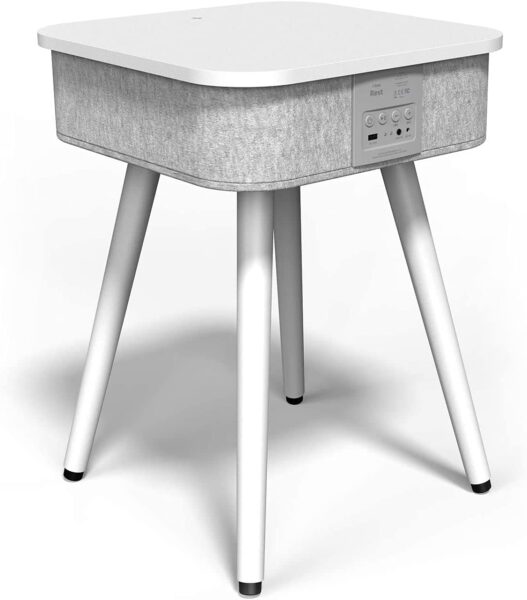 He's already made concessions and given up some items he'd kept since his freshman year in the dorms to make space for you and your belongings in his life and home. Even if he's getting married, a man still wants his own space. This sturdy Bluetooth table from I-box is perfect for helping him set up a cozy nook that is only his and subtly conveying that you're all for personal space in the relationship – and thus makes for a great gift for groom on wedding day.
Wireless charging Bluetooth speaker
Enhanced sound performance
Integrated charging station
Built-in rechargeable battery 
Hassle-free 12-month warranty
Related Reading: 21 Gift Ideas For Basketball Players [Boyfriend Loves Basketball]
It boasts a built-in Bluetooth speaker as well as a trendy design. Using the touch of his phone, he'll be able to create any mood he desires with music. After a long and tiring day, the two of you could cuddle on your couch, enjoy a cup of coffee and listen to soothing music, all thanks to this wonderful table that you gifted him. It's one of the best wedding gift for groom.
4. Customized cigar set 
With this bespoke cigar set, give the groom a gift box stocked with everything he needs to savor the taste of finer things in life. This set from HomeWetBar allows you to customize it and get the name of your groom engraved on the box. 
The cigar gift set contains two whiskey glasses, cigar holder with cigar cutter, lighter, cigar stand, & velour bag
Glasses, cigar holder & cigar stand are engraved with a name and initial with an option to engrave the lighter to match
Whiskey glasses measure 3.5″ x 3.5″ and hold 10.25 oz and the case measures 6.5″ x 3″ x 1.5″ and fits 3 cigars
Cigars not included
It'll be the ideal personalized groom gifts to enjoy during the wedding reception or even while relaxing on the honeymoon because it allows him to smoke a celebration stogie while sipping his favorite whiskey. 
5. Linen handkerchief 
When your groom sees you for the first time on your wedding day, give him something to wipe away his tears. This handkerchief from Broideri Stitch appears to be as delicate as it is attractive. Make it extra special by having his monogram embroidered on it and you have yourself a great wedding gift for groom.
Hand embroidered 
100% Irish Linen
Made in the USA
Customizable
Made to Order
Related Reading: 21 Wedding Gift Ideas For Couple Already Living Together | 2022
These soft, hand-embroidered napkins make for the best gift for groom because every time he uses it, he will be reminded of your special day. If not his initials, you also get a special date or even a beautiful phrase, which holds special significance in your relationship, embroidered on it.  
6. Genuine leather briefcase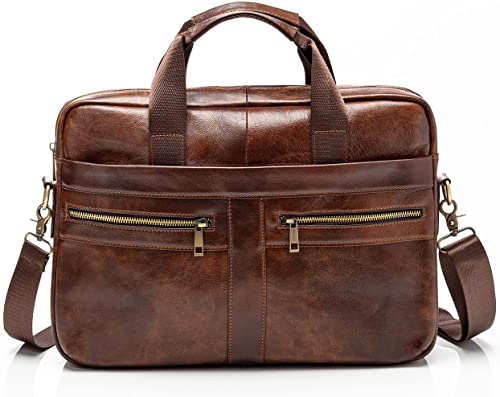 There's a place for everything in this briefcase by Bra1nstorm: notebooks, laptops, pens, and smartphones. It's made of genuine leather with a removable shoulder strap, and it's as beautiful as it is utilitarian. It will undoubtedly make your SO look sophisticated and elegant when he goes to work.
True brass hardware
Silky smooth carrying straps
Intricate double reinforced stitching and premium cloth lining
Crafted from the finest rugged materials
Engineered to stand the test of time
A man of class would appreciate the beauty and superior quality of the bag. It is one of the best gifts from groom to be because of its practicality. Even though it is hard to wipe off your smile as a newly married couple, this will make his smile wider everytime he uses the bag and it is a possession he can cherish for years. 
7. A timeless watch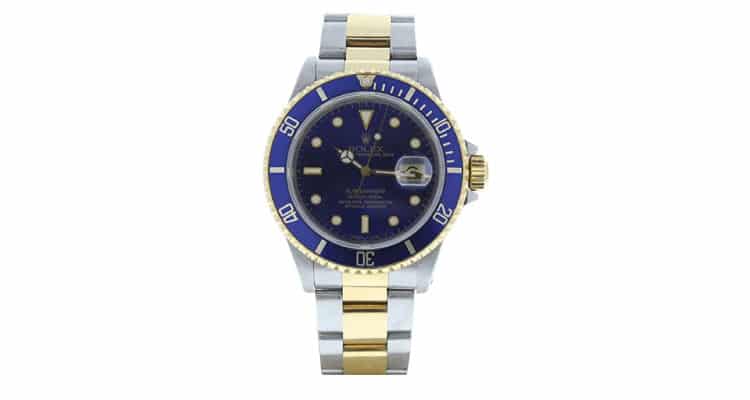 With the ultimate sign of restrained style – a Rolex – show your partner that you think of him all the time. A Rolex takes on a personal meaning in addition to its enormous monetary value and makes for a classy wedding gift for groom.
This Rolex Submariner model 16613 blue face & bezel is in excellent condition and timekeeping is in perfect working order.
It has an oyster band that fits up to a 7 3/4″ wrist size
The watch case measures 40mm and is designed with the oyster fold-over clasp
The watch has passed the water and pressure test
Comes with Rolex box, booklets, hangtag & 2-year warranty from Sam's Watches
Related Reading: 21 Cool Tech Gift Ideas for Couples Madly in Love and Passionate About Gadgets | 2022
You can choose from a wide range of traditional and professional watches for men from their selection of respected, high-precision timepieces. But keep in mind that because of their renowned longevity, you're giving him a future heirloom he can pass down to future generations. That profundity of the sentiment and promise make the Rolex one of the best wedding gifts for groom. 
8. Skincare kit 
Do you think he treats you like a princess? Now is your turn. Give your spouse Tiege Hanley Men's Skin Care System, which will transport him to a world where he reigns supreme. Wedding gift ideas from bride to groom can't get better than this. 
The skincare kit includes facial cleanser (face wash), exfoliating face scrub, AM face moisturizer (SPF20), PM night moisturizer, eye cream & anti-aging serum 
Tiege products will help improve your skin's elasticity, even out dark spots, and reduce the appearance of dark circles, fine lines and wrinkles.
Tiege Hanely men's skincare products, bundled for level 3, come in a simple regimen designed to work together to protect and repair your face from signs of aging
The kits include a simplified usage guide to help you learn a simple routine
Fantastic quality at an amazing price
Tiege Hanley products are not only an indulgence but also an effective way of caring for the skin, hair, and body. Choose a pre-curated package, such as the Face Care Gift Box for Men, or put together your own hamper with cleansers, scrubs, moisturizers, shaving, hair care, bath and body items, and more. The next time you both indulge in some cuddle time, his smooth skin will be a gift for you. 
9. For your senses gift basket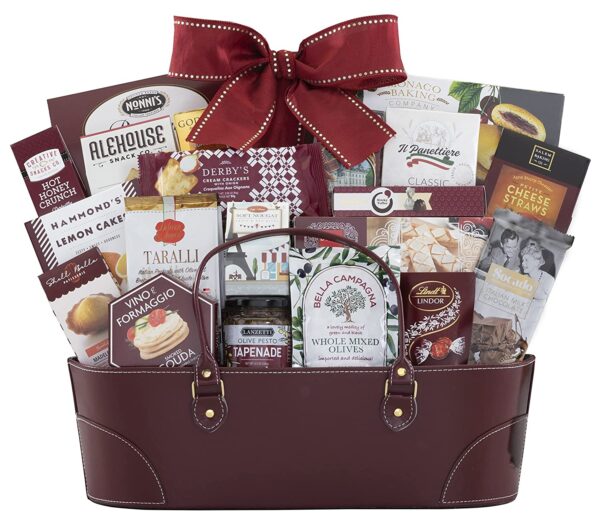 Treat him to a tour through the realms of the senses with a hamper packed with his favorite treats from Wine Country, filled with delectable tastes, sights, and scents! The brand offers a wide variety of presents for all preferences, with an array of pre-made hampers to choose from. This is one of the best gifts for groom to be. 
Perfect gift for all occasions 
Comes with assorted flavors 
Ease of home delivery 
Personalization facility available 
Hassle-free exchange 
Related Reading: 6 Wedding Night Gift Ideas For Your Husband
What makes this even better is the flexibility they provide. You can mix and match the items to create a really personalized gift box. Their elegantly packed goods are likely to be a pleasant gustatory experience for all budgets. Once you are done with the wedding shenanigans, the two of you could turn this gift basket into a little game of sensory guessing by tying a blindfold around him and making him guess the flavor. Watch out though, this harmless game could get really naughty (wink wink).
10. Cashmere hoodie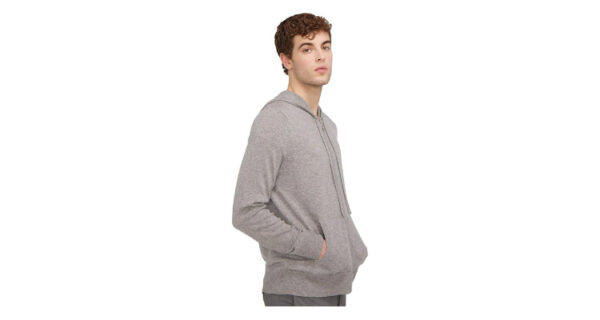 No man will ever be without his favorite hoodie. However, that doesn't mean they can't have more than one, especially when that one is the perfect blend of comfort and elegance. This cashmere hoodie from State Cashmere fulfills both of these requirements. This is one of those gifts for groom to be that he will still be wearing twenty years from now.
100% Cashmere
Imported
Zipper closure
Dry Clean or Hand Wash only. Wash your cashmere gently with warm water and dry flat to prevent stretching 
Do not bleach
A warm cashmere hoodie will keep your beloved snug on cold winter mornings. He could wear it for his everyday jog or on a casual evening walk with you. And you could also steal it from his closet because after all, wearing your husband's hoodie is one of the simpler pleasures of being married. It's the perfect wedding gift for groom and you too. 
11. Grilling tools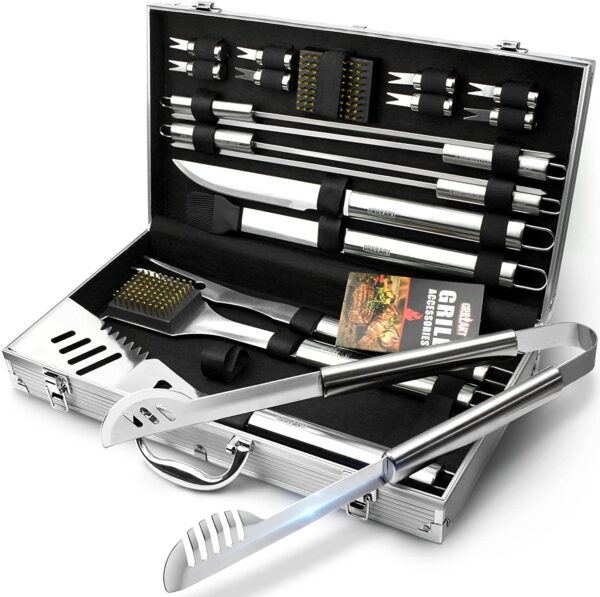 Every man needs a good set of grilling utensils, and they make excellent gifts for groom to be! As a soon-to-be husband, this attractive 19 piece set from Grillart is a must-have, especially so that he can one day become an outstanding dad who barbecues for his family.
This BBQ set includes 1 tong, 1 fork, 1 knife, 1 grill brush, 1 basting brush, 4 skewers, 8 corn holders, 1 replaceable head of grill brush, and 1 spatula that has 4 functions(with built-in bottle opener and tenderizer blades)
This is a complete and professional grill accessory that contains almost everything you need for grilling
Made from professional-grade stainless steel that resists heat and stands the test of time
User-friendly
Portable and convenient 
Related Reading: 7 Last-minute Valentine Gift Ideas For Your Dear Husband
The groom will appreciate having such expert tools available to prepare wonderful BBQ for his new wife as well as any guest you host as newlyweds. He can also take this BBQ set on camping or fishing trips, thanks to its portable size and convenient carrying bag. You could become the best couple in your group and host marvelous soirees to celebrate your new relationship. 
12. Perfume set 
A lot of people associate scents with memories. Your wedding day calls for a special scent he can associate with and forever remember the day you both tied the knot (not that he needs a reminder). This exclusive perfume set from Bvlgari is the perfect gift for groom on wedding day.
Assorted scents 
Set of 5 
9.6 ounces 
From the house of Bvlgari 
Easy returns 
Most men love a good perfume. Most men also love getting compliments and are particular about the way they smell. Give him this set on your wedding day and you can wake up to a husband who is not only handsome but also smells divine. Now, who wouldn't like that?
This is a chance for you to give him something special and shower him with love. You can also show how much you know him by getting the right gift. These 12 gifts for groom-to-be will definitely win you the wife of the year award and your groom will thank his lucky stars that he is marrying a woman who has impeccable taste.
30 Practical 2-Year Anniversary Gifts For Boyfriend To Impress Him
Ask Our Expert
You must be Logged in to ask a question.