Wait a second! Now we have to get the hang of 'another' fancy internet phrase? Well, yes, but I do think you will really dig the concept of love language once you get to know what it means. This is a language spoken by every soul in the world. In simple words, it refers to an individual's unique expression of love. This is why choosing pertinent love language gifts for your partner can strike the right chord.
We find the roots of this concept in the 1992 book The 5 Love Languages: The Secret to Love That Lasts by author, speaker, and counselor Gary Chapman. The author points out five significant approaches in which people generally convey and demonstrate their feelings of love, which are – words of affirmation, quality time, acts of service, receiving gifts, and physical touch. 
So, the moment you master your partner's way of expressing love, your job to find love language gifts is halfway done. It's really more like a test of how well you can read your partner's mind (or ask them directly!) and translate their love language into the kind of gift they will truly appreciate. If you still need a little assistance in connecting the love languages with perfect gift ideas, we are here to your rescue.
Thoughtful Gifts For Every Love Language
The idea behind Chapman's five love languages was to help people in connecting with their lovers on a deeper level. And that's exactly what's going to happen when you apply the concept of love language into customizing gifts for your special someone. Trust me, it's not a hard nut to crack once you have decoded the way they like to express and receive love.
If your partner skips other plans to spend the day with you (quality time), planning a picnic with them would be such an adorable idea out of all the 5 love languages gifts. Just like that, if your partner never forgets to remind you how much they love you (words of affirmation), a '100 things I like about you' journal will make them so emotional. 
We are here today to walk you through our top 10 thoughtful love language gifts perfectly tailored to your SO's dominant language of love. 
Related Reading: 21 Uncommon Romantic Gestures For Her
1. Gifts for 'quality time' love language: Romantic dinner set 
I really admire those people (and envy them a bit too) who will do anything to fit their precious quality time with their loved ones into their busy schedules. How beautifully they manage to keep their jobs in the office and gather the rest of their attention to make that one person feel so special. If you too have such a partner in your life, you could reciprocate their affection with gifts for quality time love language every once in a while. For today, get your hands on this lovely dinner set and create a romantic evening with your SO.
The set includes plates, champagne flutes, ice bucket, candlesticks, satin napkin, and much more
Comes with 24 soy candles and a bag of silk rose petals
Made of premium quality glass, porcelain, and stainless steel
Doesn't include any plastic or one-time-use product
2. Spa kits are amazing love language gifts
The definition of quality time differs from one person to another. It could be as elaborate as a romantic weekend getaway to Vermont or something as simple as baking a cake together. My friends, Alice and Dave, are more like a stay-at-home couple always looking for at-home date night ideas. While scrolling through gifts for 'quality time' love language, Dave came across this luxury bath and body gift basket which led them to spend many a romantic spa evening in the comfort of their own home.
This 18-piece gift set includes shower gel, bubble bath, diffuser, jojoba oil, and a lot more
Filled with relaxing fragrance and benefits of lavender essential oil
Comes in a reusable weaved basket 
100% natural sulfate and paraben-free vegan products 
3. Write a "Book About Us" for 'words of affirmation' gifts 
Does your loved one use words of affirmation as a love language? They keep sending you lovey-dovey texts throughout the day. Disconnecting a call without saying "I love you" – blasphemy! So, for a darling person like them, what words of affirmation gifts can you get that will melt their heart in their own language of love? You could write an entire book about your sweet love story! Sounds like a plan?
A hardbound, 64-page journal 
Beautifully crafted and the pages are filled with illustrations
Features many unique and playful prompts to write about you and your love
Compiled by the author M.H. Clark  
4. Gifts as a love language: T-shirts for couples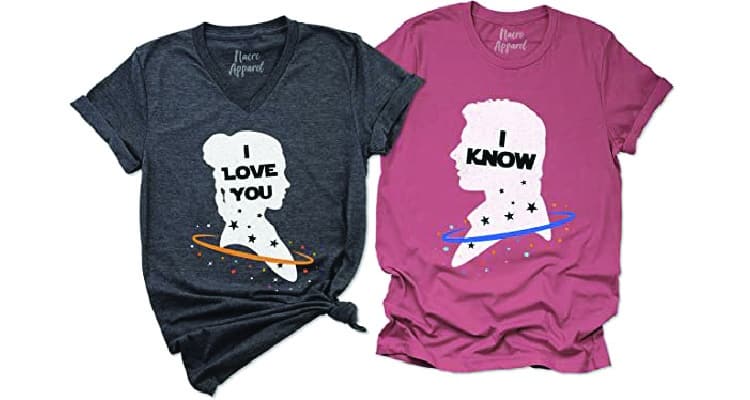 Finding gifts as a love language doesn't have to be that tricky. Do you wish to be more vocal about your feelings for your partner? Then take them to a karaoke night and dedicate a romantic song to them. Write them a beautiful love letter pouring all your emotions into it. Drop by their office just to say "I love you". Or you could grab these matching couples' t-shirts as words of affirmation gifts that will be close to their heart forever. 
Pair of graphic t-shirts in a cute design
Available in a wide range of color and neck types
Made of quality material 
Feels really soft on the skin 
5. 'Acts of service' love language gifts: Sandwich makers
Acts of service is that kind of a love language where a person's actions speak louder than their words of admiration or comfort for you. They would always help you do the dishes, give you a hand with the grocery bag, or make you a hot cup of cocoa whenever you are upset. How about you show your partner some love in the language they understand? Of all the 5 love languages gifts, you can pick this sandwich maker to prepare some delicious breakfast treats for your darling. 
2 layers on top and bottom with an egg tray in the middle 
Once cooked, you have to remove the egg tray to get the finished sandwich
All the parts can be washed separately in a dishwasher 
Trays are polished with non-stick coating
6. Love coupons to give your partner a cute 'act of service'
Maybe we don't always appreciate all the efforts our partners put into the relationship, but they deserve to know how much they are valued. I know this girl, Sarah, living across the street, cute as a button, always taking care of her boyfriend. Daniel, too, doesn't leave a single chance to make her feel like a queen. So, last week, when he asked me to suggest some gifts as a love language, these love coupons came to my mind. From body massage to breakfast in bed, it gives you many opportunities to do something nice for your bae. 
A set of 15 unique love coupons for couples
Cute design and compact in size (3.5 in x 8 in)
Premium quality, uncoated card stock is used
100% original design by the in-house illustrators of the brand
Related Reading: Top 12 Gifts For New Boyfriend You Just Started Dating
7. Throw blanket for a cuddly evening 
Intimacy doesn't always come from passionate lovemaking, I think you would agree with that. Gentle, non-sexual touches are just as important to developing emotional intimacy between two partners. A soft hug or a small peck on the cheek can give you a solid boost of love hormones to make you feel happy, content, and relaxed. That is why getting gifts for physical touch love language could go a long way in strengthening your relationship. Why don't you check out this super soft throw blanket for all your cuddling sessions on the couch? 
Crafted from 100% microfiber polyester flannel fabric 
Not too heavy to make you sweat or too light to slip off
Double-faced plush and velvety softness on both sides
Big enough (50 in x  70 in) to wrap you comfortably 
8. Intimate travel kits as gifts for 'physical touch' love language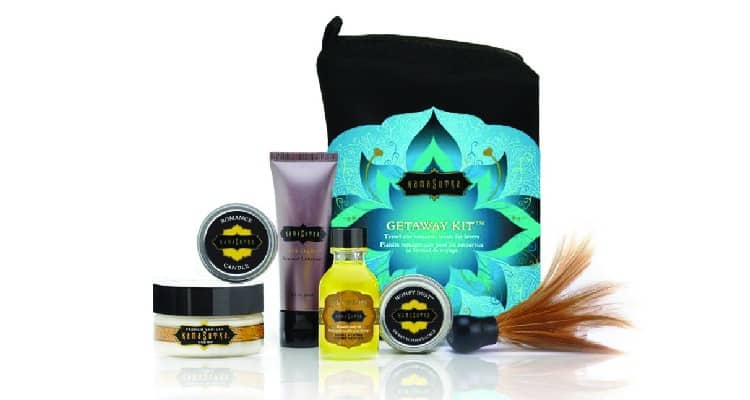 That being said, if you are going on an exotic couple's trip for the weekend and hoping for things to turn a bit kinky, you might need something more apt for the occasion. We have found one of the most amazing gifts for physical touch love language and trust me, you will thank us later for this. Without any further ado, let's jump into this Kamasutra intimate gift set, specially designed in travel-sized packs. 
The kit includes kissable body oil, cream, powder, and also honey dust
Comes with a tea light candle, lubricant, and a feather tickler  
Packed in a zippered, keepsake pouch
Fits well in your carry-on luggage 
9. Get acrylic song prints as love language gifts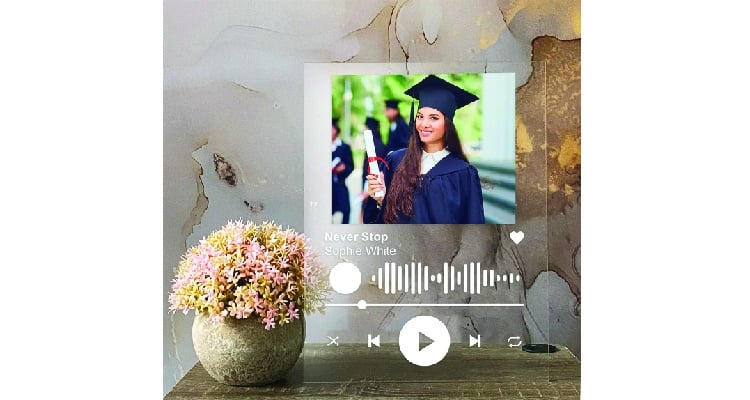 When it comes to receiving gifts love language, we suggest a bit of personalization to make it extra special for your partner. Every couple has that one song eternally close to their heart. It tells their story and reminds them of the time they fell in love. Take that song and get it customized on an acrylic print with the cutest picture of the two of you. You will catch your partner in tears for sure.
Offers the best quality acrylic available on the market
Customize with your favorite song and picture
Advanced UV printers are used to make the print more permanent
Available in other materials too, such as wood and glass
Related Reading: 30 Matching Couples Gifts – Cute Matching Gifts For Him And Her
10. Hug candle for a person who has a 'gift giving' love language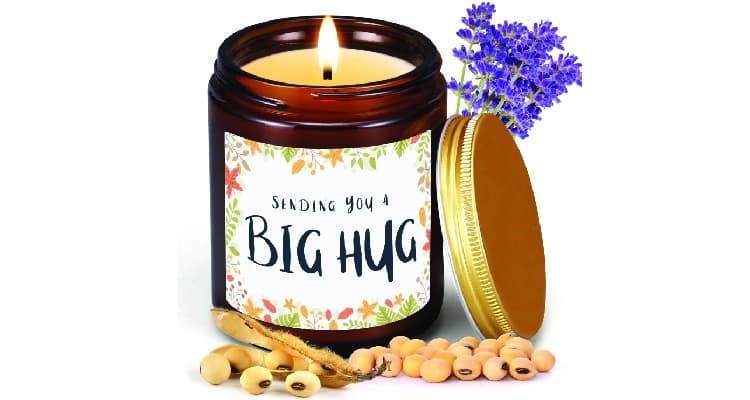 If your partner's love language amounts to giving or receiving meaningful gifts, we have just the right choice for you. Send your love a big, warm hug with this pretty candle and fill their home with the enchanting smell of lavenders. If you are trying to make your long-distance relationship work, this 'gift giving' love language present will touch their heart and make them miss you even more!
Made of environmentally-friendly pure soy wax
Lead-free wick to assure continuous, no-soot burn for 50 hours
Beautiful aroma coming from a blend of natural lavender and eucalyptus essential oils
Has a healing effect to reduce anxiety and depression, and improve sleep
There you go – a full-blown guide to buying love language gifts to win the heart of your bae all over again. Whether they are fueled by words of affirmation or they have a 'receiving gifts' love language, you will have plenty of options to pick from our list of all 5 love languages gifts. Chop chop! It's time to save these presents to your cart. 
13 Gifts For Gay Men – Gift Ideas For Gay Boyfriend And Husband
Ask Our Expert
You must be Logged in to ask a question.