Finding good quality date night subscription boxes for couples is not an easy task. There are so many complications that go into it, like the activities, themes, types of subscription boxes. Truth be told, date night boxes have increased in trend only after the pandemic – that terrible time where we were stuck at home with our partners, unable to go out anywhere.
When you're shopping for date night subscription boxes there are a few things that need to be taken into consideration. If you and your boo have different tastes in most things then you may find it a little challenging to find a date night subscription box for the two of you. It's not impossible but you have to make sure you pick something that the two of you can enjoy.
Best Subscription Boxes For Couples
Some of you might be new to the date night subscription box paradigm, after stumbling upon the term on Instagram. For those who are new to this and wondering, what are subscription boxes for couples? To put it simply, they are recurring packages delivered to you, where each package contains a certain theme or activity. Most subscription boxes are delivered once a month, but some vendors allow a change in the delivery frequency.
There are various types of subscription boxes like clothing, food, wine, coffee and beauty. In this article we're going to dive deep into the world of different date night gifts for couples. So here are the best subscription boxes for couples we found on Amazon:
Related Reading: 12 Best Honeymoon Gifts For Couples They Will Love
1. Multi-themed activity subscription box
This is one of the classic choices when it comes to date night subscription boxes for couples. Every single box is made with the intention to make date nights fun again. What makes this date night subscription box unique is the fact that these boxes are handcrafted. Keeping the spark alive in long term relationships takes more than just effort, it takes amusement and fun. 
Each date night box comes with fun and engaging relationship-building games and activities focused on making you and your partner laugh while giving you both some time to reconnect.
Have a brand new unique theme delivered every month at your doorstep and go on an adventure from the comfort of your couch
No need to run to the store or try and scavenge for items as every box includes everything you need to have a fun date night
Laugh and get to know your partner like never before with various themes ranging from the silly to the adventurous
Includes a themed Spotify playlist to accompany your date
2. DateBox Club monthly subscription with romantic activities
If you're parents then you know it is next to impossible to carve out a date night with your partner. We've heard stories about kids coming down with the dreaded stomach flu or a fever just as the parents were about to go out after having everything lined up with their babysitter. If you've found yourself in the same shoes as those countless, hopeless couples, then you've probably come to the conclusion that home dates are the best. And the safest.
DateBox gives you all of the ingredients necessary to create a fun evening with your partner. There's plenty of activities to choose from just like other subscription boxes for couples. The conversation starters that come in a few boxes have the potency to become full blown talking points. It's always wonderful getting to know your partner better at any given point in a relationship.
Every date night box is beautifully and thoughtfully crafted for the highest quality experience
Date night made simple, boxes come with an easy to follow instruction card that walk you through the entire night
Budget friendly boxes that are cheaper than a dinner date, leaving you room for other expenses
Interact, communicate, and connect in new ways, while transforming your home into an amazing date night venue
3. International snack subscription box
Once you are involved in a serious relationship, sharing your belongings with your partner becomes second nature. You share a house, a bed, insurance, and even your snacks. Since you're sharing your favorite treats with your partner, did you know that the act of sharing food or even feeding your partner is a big indicator of the level of intimacy in romantic relationships? If that excites you or you have a foodie partner then this date night subscription box is the right one for you.
What sets this subscription box apart is the vast variety of international snacks, from candy to crackers to chips to cookies to chocolate and more. These are a fabulous way to discover new flavor profiles and have fun enjoying them with your beloved. A simple date night idea with tasty snacks and a new episode of Bridgeton, sounds absolutely lovely to me.
Have 5+ treats from a mystery international country delivered to you at your doorstep every month
Munch on a wide range of full-size international snacks whilst discovering flavors you never knew existed
Each box comes with a generous amount of treats so you can share them with your partner without getting in a fight
Free shipping in the US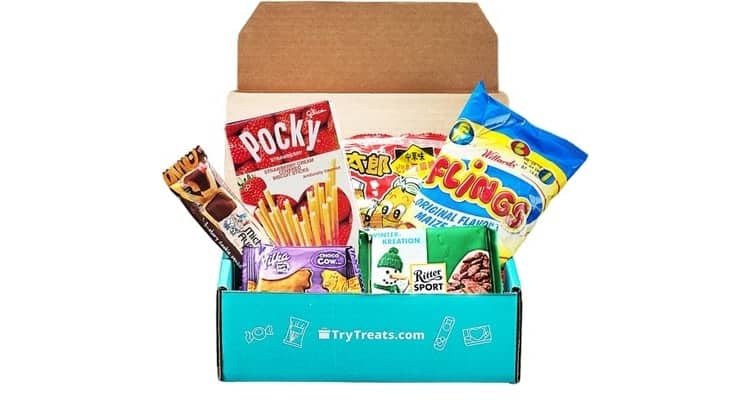 Related Reading: 24 Food Gift Ideas For Foodie Couples Who Love To Cook
4. Vegan snack subscription box
For all those lovely vegans out there, you didn't think we'd forget you, did you? We've added a snack item for you too in this piece. You don't need to go looking for vegan subscription boxes for couples, because as always, we've got you. If you do choose to go with this box, thank you very much for being conscious earth buddies of our planet.
Vegancuts has been a staple in the online vegan community for almost a decade – being the pioneer in all-vegan subscription service. Their team leaves no stone unturned to discover the most exciting vegan products from new and established brands.
Planet friendly in every manner, from the packaging to the product
A fun way to try delicious plant-based snacks
These boxes have been carefully crafted to be gifted and enjoyed by all
Certified vegan products that have been through thoroughly examined ingredients, products, and carefully crafted boxes
Every month at least 10 vegan snacks are delivered making it easy for those on a plant-based diet
5. Coffee and gourmet cookie subscription box
Each month, you'll receive a curated batch of freshly roasted international craft coffee along with the perfectly, flavor-paired, gourmet cookies. Forget wine and cheese, indulge in (or gift!) this unique coffee pairing experience and enjoy these matches made in heaven. Each box includes pairing notes to guide you in experiencing the coffee and cookie match to the fullest. Subscription boxes for couples who are foodies are always the most unique.
These aren't your average grocery store coffees. Every box contains organic and small-batch coffee roasts cultivated from around the world. Indulge in freshly baked treats with this one of a kind date night subscription box. Coffee dates make a great first date idea, no reason why it can't be true in a long term relationship.
Each box includes 4oz of an organic batch of coffee; 2 packets of gourmet cookies and one pair of pairing notes
The coffee roast remains fresh for 1 year before opening
Quality, organic, small-batch, craft coffee with no added flavors
The cookies are all uniquely flavored, popular ones being red velvet, taro and lemon bar
All boxes are shipped free on a monthly cycle ensuring fresh quality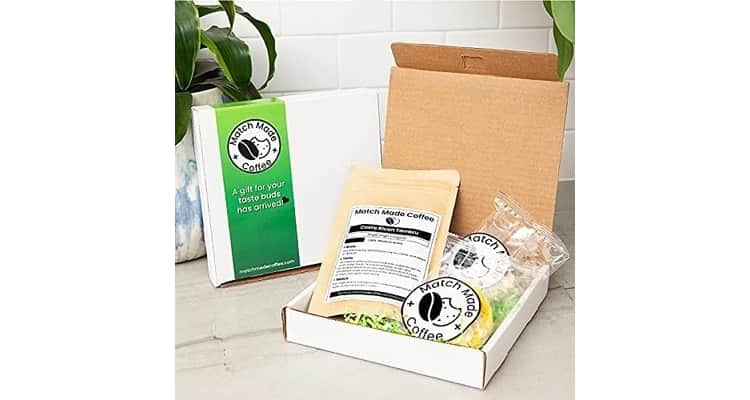 6. Adult monthly subscription box
Ah yes, the magic and surprise of subscription boxes along with steamy sex with your partner. Sex subscription boxes for couples aren't mainstream yet, which is puzzling given the several wow factors of this box. Think about it this way, you're not subscribing to a subscription box per se, you're actually setting up monthly routines where the sex can be provocatively fun. 
If you have children then you know having a good sex life as parents isn't always an easy task. Something about the boring routine of daily life seeps into the bedroom making sex repetitive. Bring back the sensual and exciting nights with products you and your partner would normally never try. Who knew a Google search for subscription boxes for couples would enhance your sex life?
Experience a breakthrough and step out of your routine sex life
Each box can be customized to your sexual preferences and curated to ramp up your pleasure
Pleasure products can be used solo or together for all couples – have a new date night experience every month
Choose from four themed categories: sensual, playful, fun and costume
High quality products that are body-safe, innovative and unique
Perfect for busy couples looking to connect as well as new couples looking to experiment
7. Subscription box for romance readers
Every couple prioritizes a different kind of intimacy. If sex subscription boxes don't appeal to you, then perhaps you're relationship is based on intellectual intimacy. Reading is the kind of activity that is good not only for individuals but also couples. Couples who read together, grow together and stay together. If you and your partner both love to read then your search for date night subscription box ends here.
There are so many benefits to reading that we can't help but recommend this even to those couples who aren't into reading. A simple activity such as choosing a book itself can reveal something new about your partner to you. This subscription box is best suited for those who are into sappy, optimistic and hopeful romance novels.
Discover new authors and their work as you receive a new book each month
You receive signed books to add to your collection without the hassle and expense of traveling to book signings
In addition to this, every box includes a bookish swag, sweet treats and women-oriented product samples for free
Different seasonal goodies: cozy ones for the fall and winter months while in the summer you'll get beverages and self-care goodies
Related Reading: 40 Romantic Gifts For Couples – Gift Ideas For Him And Her
8. Subscription box for mystery readers
Are romance novels not your thing? Enjoy a healthy relationship with your partner by reading together. You can snuggle together and read, and you'll always have something to talk about. This box caters to readers who enjoy a fun mystery read, with the additional bonus of being cozy with the love of their life. People are always talking about how couple book readings can enrich relationships.
There are so many reasons the mystery genre is appealing: the strong hook and focused reading, the piecing together of the clues and trying to put the story together, the suspense…just to name a few. To heighten that sense of mystery, create an ambience at home – soft light, music, wine – and open the box together. Isn't it a blessing to live in the 21st century with so many innovative date ideas?
Each month you will receive two hardcover books and a surprise in every box
Select your favorite category – thriller, mystery or horror
Additional option of a mix of all sub-genres is available 
Our curator searches through thousands of books to put together a unique package of thrills and chills
My Thrill Club's subscription box is like getting a present every month – buy it for yourself or as a gift to book lovers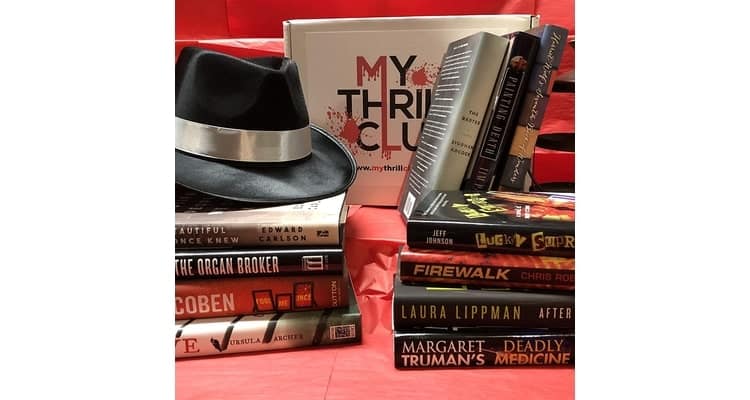 9. Arts and crafts subscription box
It has been our observation that couples who share hobbies and spend time doing activities together are happier than couples who don't. As a matter of fact, activities like doing crafts release chemicals in your brain that make your brain happy, in much the same way that falling in love does. That's why this arts and craft couples subscription box can translate into a good date night idea – it's happiness in a box! As an added bonus, you also create memories and keep your relationship interesting.
This subscription box includes tools that you'll be able to use several times over. Some popular crate items are wood burning tools, precision knives, artist brushes, palette knives, a mallet, or a screwdriver. Some have one tool, others several. Crafty subscription boxes for couples are a great way to reduce technoference in your relationship.
During the holiday season boxes are shipped within two business days of order
Craftsman Crate teaches artisan arts and crafts using real tools in complete kits 
This box gives you everything you need from detailed instructions to supplies,  to create your first project or two 
Banish boredom and get off your devices – do something real
Features over 30 skills
10. Jigsaw puzzle subscription box
Putting puzzles together is a great way to spend quality couple time together. If you've tried having a date night with your partner with a jigsaw puzzle and your favorite snack, you know what we're talking about. There are so many unique subscription boxes for couples on the internet, jigsaw puzzle subscription boxes stand among the top 10. One of the few items that help you bond even in a long distance relationship.
Completing puzzles as a couple is a great way to unplug, at home or during a vacation trip, and it will bring you closer together. Find a comfortable spot to sit complete with mood lighting and with a space that is large enough to accommodate the puzzle. Then pop the cork of your favorite wine bottle and fill two glasses – or any other beverage of choice. Sit across from each other, gaze lovingly into each other's eyes and open the puzzle box.
Have some screen-free fun with this quarterly box for jigsaw puzzles 
Features unique 1000-piece puzzles from independent artists
The puzzle as well as the curated gifts that are included are all inspired by the theme of the box
These puzzles and gifts are gender-neutral and all inclusive
Related Reading: 33 Cute Fall Date Ideas To Keep Your Romance Alive
11. TheraBox – self care subscription box
Self-care is all about taking a step toward focusing entirely on yourself. However, carving out moments for well-being doesn't always have to be a solo routine. In fact, practicing self-care rituals with your partner has double the reward: Not only are you reaping the individual benefits, but you are also deepening your relationship and connection as a couple.
If you and your partner love self-care and are always looking for ways to unwind and pamper yourself then you've come to the right place. Not only are self-care subscription boxes for couples a rare sight, finding good quality ones takes effort too.
Each TheraBox is designed to nourish your mind, body and soul for a more joyful and stress-free life. TheraBox is a monthly self care subscription. Each box incorporates 1 joy boosting activity inspired by research in psychology and mindfulness to rewire the brain for more happiness. Additionally, the box contains select 6-8 full size products sourced from brands that specialize in aromatherapy, clean beauty, skincare and other unique lifestyle goodies. Themes & items change monthly so it's always a delightful surprise.
Same as seen on Oprah, Forbes, Today Show, BuzzFeed, NBC and more
Receive products worth $120-$200+ value in every box
8 full sized self-care wellness goodies to uplift the mind, body and spirit 
Each box includes 1 self-care activity + 7 lifestyle products – such as aromatherapy items, and natural/organic bath, body, skincare products
Curated by a therapist, packed with things that help you de-stress 
Cancel anytime you like or change your mind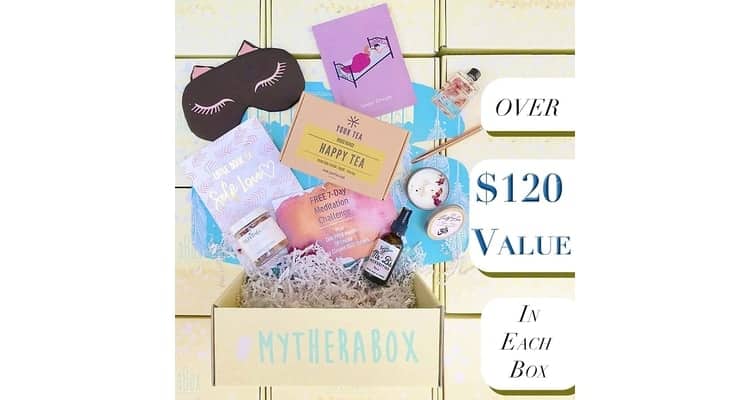 12. Adventurous romantic date night games (Our Ancient Odyssey)
During this date night, you and your partner will get to experience this with some fun Classical Greek-inspired games and challenges. Since the theme of this game night will be based in Ancient Greece, this game is perfect for couples who love history, theater, and acting! This is one of those date night gifts for couples that allow you to reconnect with your partner through fun and challenging activities. You are guaranteed a lot of laughter!
The boxes are specifically designed to let you reconnect through activities that make you laugh and bond together
Everything you need for your date night comes ready in the box
Budget friendly date night activities for hours of quality time under $40
Trusted by thousands of couples worldwide
If you've stuck around till the end, we hope you found yourself a winner among these subscription boxes for couples. Share this piece with your other friends to amp up their date nights too!