We all know when Valentine's Day is celebrated. But did you know there's a day on which you can celebrate your female best friend? Just a day before V-Day, Galentine's Day is a fictional holiday celebrated on the 13th of February. Make it an epic day by getting your BFF something from this list of the best Galentine's Day gift ideas.
Friends play a big part in our lives. Female friendships lift you up when the world lets you down. They hold a special place in our heart, and they deserve to be celebrated for putting up with us all these years.
Cute Galentine's Day Gift Ideas For Every Type Of Friend
Life never gets scary when you have a friend to rely on. They make you laugh a little louder and listen to you without forming any judgements or opinions about you. Choosing between friendship and relationship is easy , because men may come and go but your friend will always be a constant. You can call them at 3 in the morning to vent and cry your heart out. They won't mind because as the famous saying goes, 'ovaries before brovaries'. Listed below are some of the cutest Galentine's day gifts for friends, which will convey your love and affection for them:
1. Bangle watch and bracelet set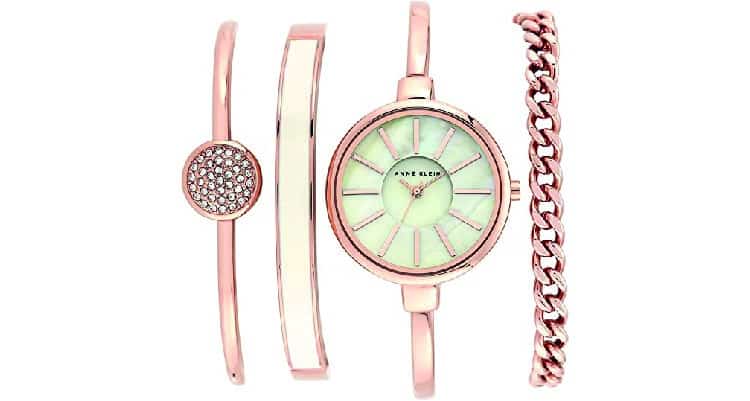 Such Galentine's gifts will render a classic look to your friend, making her feel chic and treasured. This set of accessories can make any woman feel good. Such royal-looking gifts are sure to live at the front of her closet. This gift set includes a rose gold-tone chain bracelet, a bangle with ivory enamel inlay, and a bangle accented with 36 clear, premium crystals.
Slightly domed mineral crystal
Mother-of-pearl dial with rose gold-tone hands and markers
Rose gold-tone bangle with adjustable end links
Japanese-quartz movement
Related Reading: 21 Gifts Ideas For College Girls [Updated List For This Christmas]
2. Ceramic trinket dish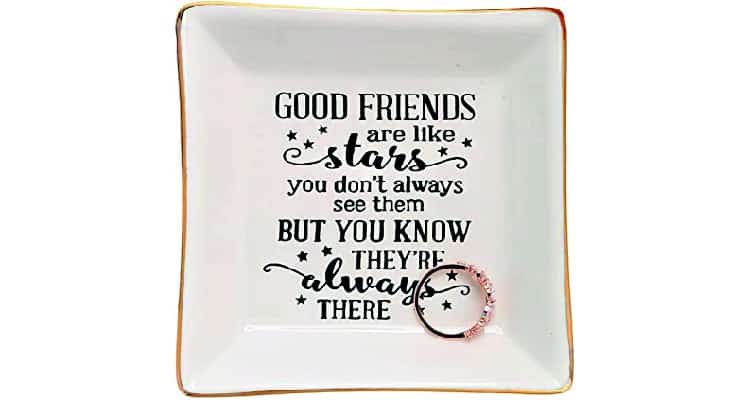 One of the best Galentine's day gift ideas, as this will be very convenient for your friends to carry wherever they go. They can keep it on their nightstand or at the washroom sink. It will always remind them of you as the quote on the ring dish says, "Good friends are like stars. You don't always see them but you know they're always there."
Crafted from high-quality glazed ceramic
Comes in a well-packed Styrofoam and gift box
Place your rings, earrings, necklaces, and watch
Measures approximately 3.9 in L x 3.9 in W x 0.6 in H
3. Monogram wine tumbler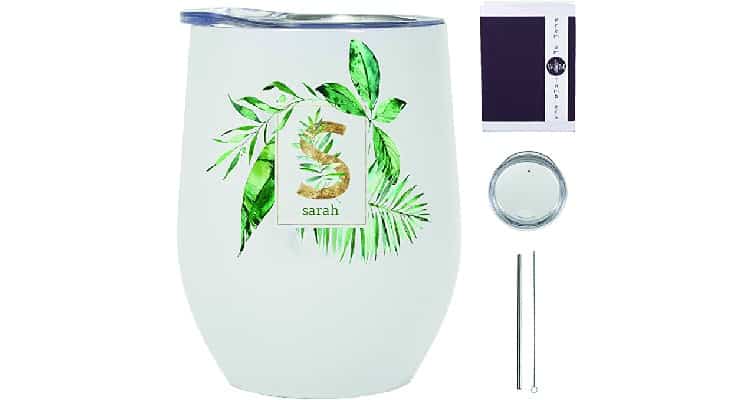 Are you looking for unique Galentine's day gifts for friends? Look no further! This monogrammed tumbler is made to last with superior materials, a shatter-proof design, and a graphic that will never fade. This is a lasting gift that she will never forget and these are also affordable gifts under $50 for her which she will adore.
Premium, double-walled, vacuum-insulated design
Made with food-grade safe and BPA-free 18/8 stainless steel
Your drink will stay hot or cold for hours, and won't transfer a metallic taste to your drink
Comes with a premium, sealed lid to reduce spilling 
4. Customized name necklace
This is an ultimate Galentine's present. Gift your friends such meaningful and personalized jewelry with love, and help them immortalize special moments. You can even add this to your Galentine's day box and create lasting memories with them.
Made of allergy-free material
Made of premium-quality stainless steel 
18K gold-plated and doesn't flake off or change color
Customizable design and font 
5. Face flower head planter pot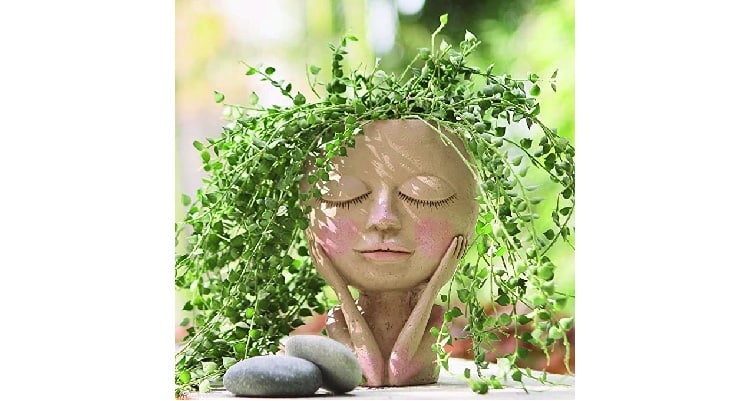 This uniquely designed, cute flower pot will be a great choice for decorating your best friend's room. It is sure to bring her unexpected joy and praise. She can put it in the yard, on the window sill, in the living room or the bedroom, as it is suitable for both indoors and outdoors. 
Made of high-quality resin
Durable and lightweight 
Designed for long-term use
Has drainage hole to drain excess water
6. Oversized hoodie
Seen on the famous show Shark Tank, this one-size hoodie blanket fits all sizes and bodies, and is a must in every girl's closet. Your best friend will love such Galentine's gifts for her that are comfortable and look classy.
This wearable blanket will keep your friend warm on cold days, while she's working from home or chilling in her room watching a show
It is extremely comfortable and made up of luxury materials
You can pull your legs inside to be completely covered in a blanket 
Fits people of all ages and sizes
7. Engraved cuff bracelet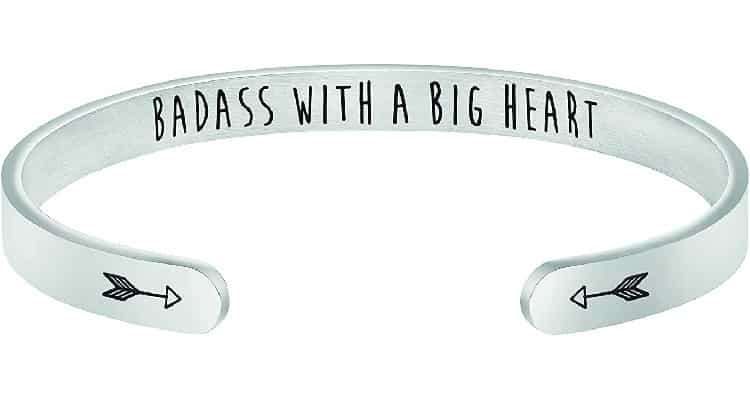 If your best friend almost never treats themselves, then why not pick for her this adorably chic silver bracelet? This accessory is slim, small, and a must-have in every girl's collectibles. This is one of the best Galentine's day gift ideas as it will remind your BFFs what they are known for — 'Badass with a big heart".
Cuff bracelets are fully adjustable and flexible enough to bend and fit most wrist sizes
Mantra bracelets are made of surgical-grade 316L stainless steel
Strong and durable
Silver cuffs will never fade, rust, tarnish, corrode, or stain
Related Reading: 25 Gifts For Beach Lovers [Gifts For People Who Love The Beach]
8. Edible cookie dough
Put this in your Galentine's day box, and all your diet-conscious friend will need is a spoon. This healthy dessert is a gourmet keto snack and can be enjoyed 100% guilt-free.
Zero added sugar, no added junk, and healthy fat from almond butter
This snack revolution is legendary, suitable for both kids and adults  
No added preservatives, no gluten, and no fillers
Made with natural food ingredients 
9. Freezable facial globes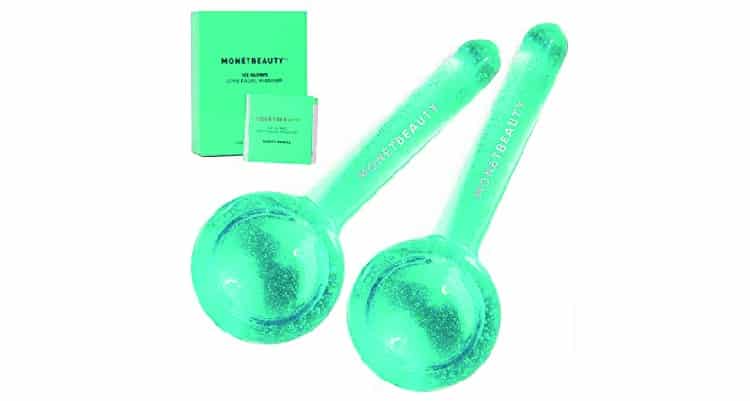 Ice-cold relaxation helps in reducing puffiness under your eyes. Your friends can chill the globes in ice for some time, then apply serum or oil on the face, and roll the globe under their eyes and neck. Massage for 15-20 minutes. Your best friend is all set to have a glowing skin with such Galentine's gifts.
Promotes relaxation and relieves tension
Restores skin's natural radiance 
Minimizes pores and brightens skin
It is durable and freezer-safe 
10. Moon lamp
Such Galentine's day gift ideas will literally light up her dark days. Since this lamp is made with 3D-printing technology, it looks like a real full moon. The surface of the moon lamp is very close to the actual moon. These are cool, popular and best gift ideas for women.
Night light with 16-color RGB, the 16 colors can flash or fade or strobe
Moon light with remote and touch-control model
The remote control distance can reach 30 ft
Use the remote control to change the color and the brightness of the color 
11. Travel jewelry organizer
This makes one of the best Galentine's gifts to add to your Galentine's day box. It's for the friend who always forgets her accessories or loses them. 
The double-ended ring rows are removable for quick access to any ring
The attached elastics prevent necklaces and long earrings from being entangled
See-through pockets make it easier to organize, and smooth zippers to prevent jewelry loss
Material is water-resistant, polyester fabric
12. Vegan shoulder bag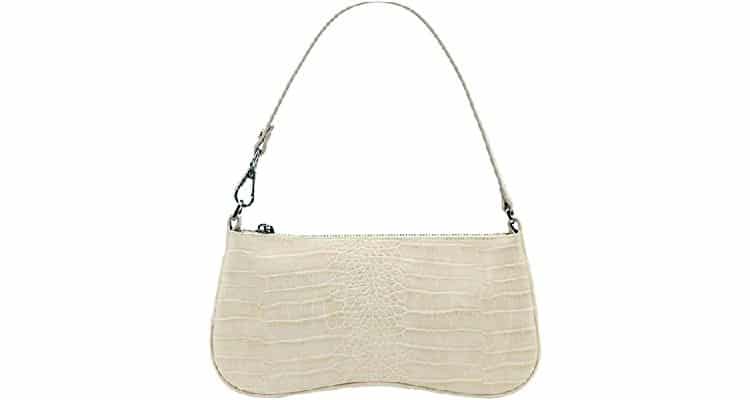 The '90s inspired shoulder bag is dressed in crocodile-embossed vegan leather with gorgeous hardware. This trendy, simple bag is one of the best Galentine's gift ideas, as it can hold all of your best friend's necessities and amp up a basic look. 
Croc-embossed vegan leather
100% recycled plastic lining
Zip closure
Silver-tone hardware 
Related Reading: Gifts You Can Get For People You Have Just Started Dating
13. Tighten and lift trio for face, eye and neck
Getting this collection of tightening formulas is the perfect way for your friend to get a tighter, lifted skin around the eyes, and on the face, neck and décolleté. The potent eye serum features a cooling applicator that gently massages while revitalizing the entire eye area. This is one of the most thoughtful Galentine's day gifts.
Visibly tightens, lifts, and firms the neck for a more youthful look
Improves the look of sagging skin for a more sculpted-looking contour
Evens skin tone and reduces the look of discoloration for a brighter, more radiant skin
Hydrating formulas create a soft texture, and smoothen fine lines and wrinkles
14. The tower of sweets
Share this irresistible gift tower with your gal pal and look at her face light up. If your friend has a sweet tooth, then this is one of the best Galentine's day gift ideas for her. Personalized messages are also available to share your sentiments for every situation. These are gift ideas for women who have everything.
It includes Godiva hazelnut milk chocolate, caramel popcorn, Guylian Temptations Belgian milk chocolate truffles, and much more
English fudge with sea salt, crispy Amarettini almond cookies, and Italian tiramisu truffles are neatly packed in a tower of beautifully decorated boxes
Finished with a hand-tied bow
Send personalized best wishes along with this gift package
15. Luxurious kimono robes
This kimono robe is an indulgent luxury at an affordable price. Such Galentine's day gifts are suitable for all occasions. 
Premium quality robe 
Lingerie robe has wide V-shaped neckline, and loose-flowing sleeves
Comes with matching belt, belt loops, and inside ties
Comes in 16 stunning colors
16. Ocean-scented spa gifts
It's impossible to go wrong with spa gifts. When you're shopping for workaholic friends, these thoughtful gifts are the best Galentine's gifts for your friends, as it's a great way to relieve their stress. It will pamper them and also let them know that you're looking out for them.
Bath set is infused with essential oils blended to create the perfect ocean scent
Products are rich in antioxidants and repair the skin damage, leaving it smooth and nourished
Deluxe, 5-piece, spa gift set – includes essentials for the ultimate spa experience
Includes scented candle, body butter, hand cream, bath bar, and bath bomb
17. Long distance touch lamps
Light up your friend's room and life by getting such warm Galentine's day gifts. Just touch your lamp and the lamp in her room will light up too, which will let her know you are thinking about her. How sweet is that! This friendship lamp will highlight the loving bond you share with your friend.
Sync as many lamps as you like
Connect one lamp with your special someone, or have a whole group of lamps connected with your friends and family
When you tap your one lamp, then all the lamps on that same GroupID will light up the same color
You can easily change colors by holding down the touch pad
18. Cute cat lamp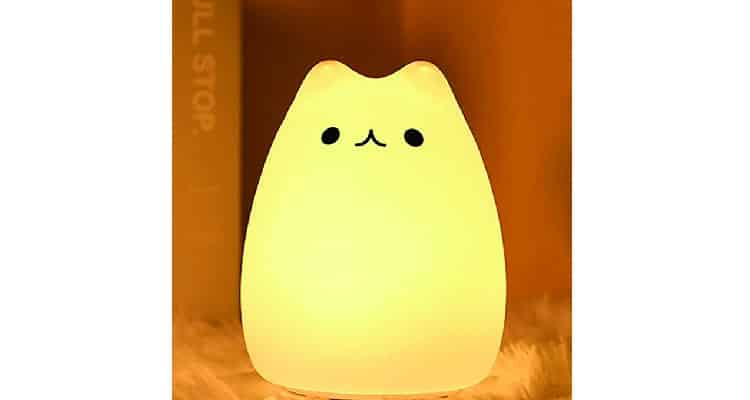 If your best friends love cats, then this squishy, silicone cat makes one of the best Galentine's day gift ideas for them. The gentle and soft light will help them fall asleep easily. 
Portable hand-held size and design
USB-rechargeable, portable, shockproof 
7 changing colors
Made of soft and BPA -free silicone material
19. Kaja cheeky stamp
Kaja has adorable packaging on the outside and imaginative formulas on the inside. This made-to-play beauty is one of the best Galentine's day gift ideas as it is packed with Korean innovation for all skin types and skin tones.  
Cheeky Stamp Blendable Blush is a cushion blush formula with a heart-shaped applicator
Cruelty-free, paraben-free, sulfate-free
For a sheer wash of color, apply once; for a bolder blush, apply twice
Available in 7 sheer-to-buildable shades that deliver a crush-worthy flush
20. Press-on nails
Ballerina, artificial, press-on nails include 24 nails, comes in 12 different sizes 
Takes only 3 minutes to wear
It is convenient and efficient
Medium-length, glossy, fake fingernails are the perfect gift for women and girls
It's the perfect day to celebrate the love you have for your best friend. Romantic relationships will come and go but your best friend will be there for you in all phases of your life. Whatever you choose, always remember that the best gift you can give her is your friendship. 
FAQs
1. What is the purpose of Galentine's Day?
The purpose of Galentine's Day is to celebrate female friendships. It's a celebration of affection and love among women who have been there for each other through thick and thin. 
2. Is Galentine's Day for singles?
It's a day to celebrate friendship among women. It doesn't matter whether you are single or not. If you've got a gal pal, the day is yours to celebrate irrespective of relationship status. 
16 Sentimental Gifts For Your Boyfriend That Will Melt His Heart