Women love to receive gifts and they love to laugh. We have combined the two things they love and made this ultimate list of gag gifts for her. Just killing two birds with one stone here. You don't have to be a prankster to look for the best gag gifts for women. You just need to be someone who likes to make the women in your life laugh and feel special.
Everyone needs a good laugh and needs to be pranked from time to time and this list of gag gifts for her does just that. They are adorable and won't offend her. They are affordable but the reactions they whip up will be priceless and treasured forever. From classic funny gifts to strange quirky ones, this gift will make them LOL. 
Funny Gag Gifts For Women
To balance laughter with wholesomeness, get a sentimental gift. If you are looking for gag gifts for your girlfriend, then get something else with it too to make the moment playful but sweet. Plan an at-home date night and surprise her with funny gifts. If it's for your friend, then go nuts and get a lot of gag gifts for her. 
1. Fish Flip Flops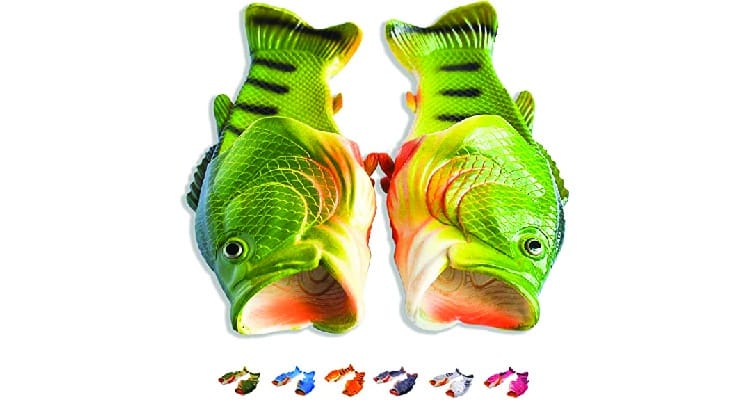 It is summer and the season of walking on the beach has officially arrived. These funny fish flops are all the rage at the moment. It looks so funny that people have declared it the most bizarre shoe trend ever. Each flip flop is in the shape of a fish who has its mouth open. They are hilarious, thus making it one of the best gag gifts for women.
Made from strong, light-weight, elastic, and shockproof material
No matter what you're doing, your feet can stay comfortable with no pain
They have high-density anti-skid soles which makes them more wear-resistant and stops you from slipping around like a wet fish 
They are also made from just one piece which means there's no glue. They are tough, non-toxic and easy to wash
2. Burrito blanket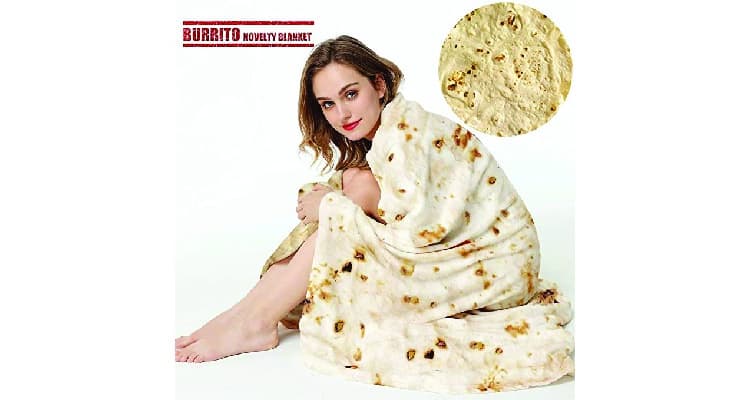 If your girlfriend loves Mexican food and snuggling up with you under a cushy blanket, then get such funny gag gifts for her.  Make her laugh by turning her into a human burrito!
Premium quality 285 GSM ultra soft flannel blanket that is super-thin and breathable
Feels relaxing to use even during the summer
Soft to the touch, it is a lightweight blanket suitable for all ages, people and pets
Comes in multiple sizes and colors
3. Go Girl urinal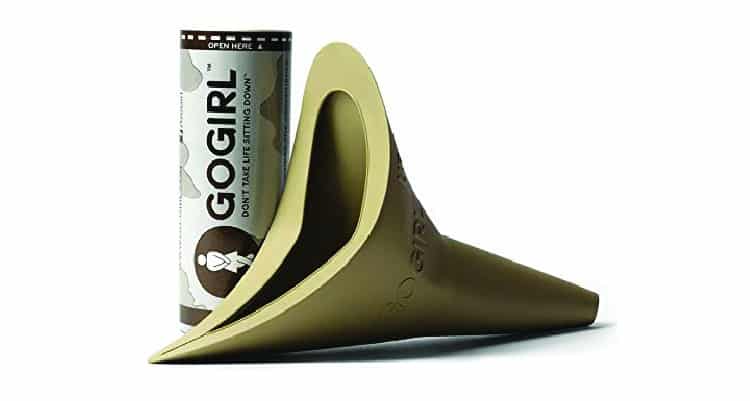 Now, is this cool or is this cool? You might think this is one of the best gag gifts for women, but to be honest, it will also be very helpful for her. It's a urination device that will allow her to pee while standing up. 
Discreet, reusable, funnel-shaped urination device
Fits in your purse, pocket, or glove compartment and is TSA-approved
Great for traveling and a must-have for outdoor activities or anywhere with limited or dirty bathrooms
Moisture and germ-resistant, latex and BPA-free 
Related Reading: 12 Trendy Wedding Gifts Your Groom To Be Will Love
4. Boob scarf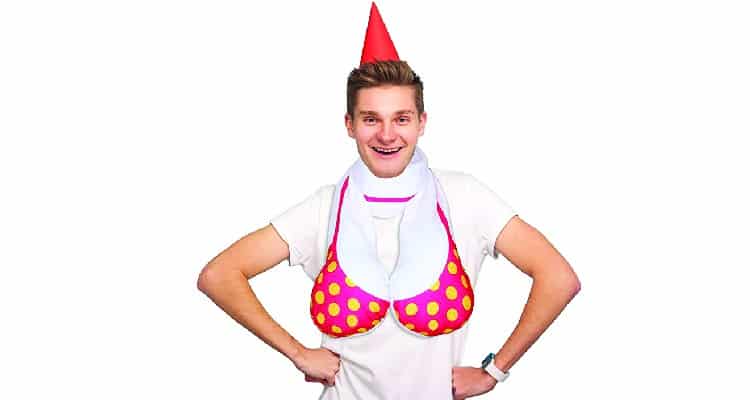 This is one of the best Christmas or birthday gag gifts. This creative prank gift will be an instant hit at a Christmas party. It is also a great gag gift for women who are looking for bachelorette party props. She can wear this on girls night out with friends or you can wear it yourself to a pajama party.
Made of polar fleece, soft and fluffy. Handmade product
Total length measures 64.56"
There is a fastener on the inner side to stick the scarf together
Item comes folded and secured with a plastic bag
5. Funny scented candle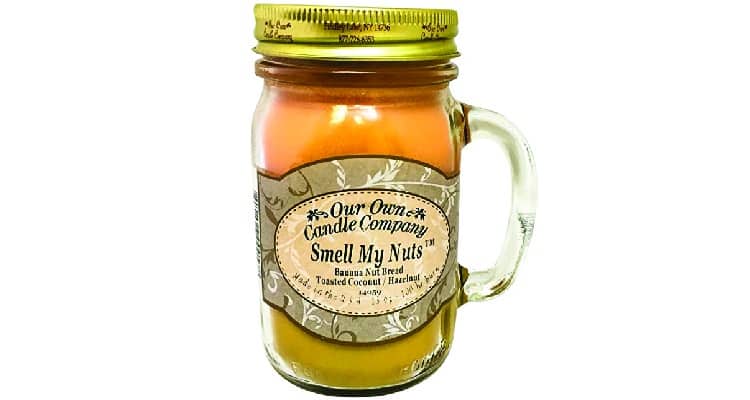 Don't go by its literal name – 'smell my nuts". It means the nuttiness of banana nut bread. Funny, isn't it? Plus, the scent of banana nut bread will make her forget all her worries. It's one of those funny gifts for women that will leave her room smelling like dessert.
Banana nut bread, toasted coconut and hazelnut make this candle a truly outstanding combination of scents
13 oz jar of their specially blended soy and paraffin wax
Lead-free wick with patented straightener to ensure proper burning every time; Keep wick trimmed to 1/4 inch and remove wick holder before lighting
100 hours burn time per candle
6. Public toilet survival kit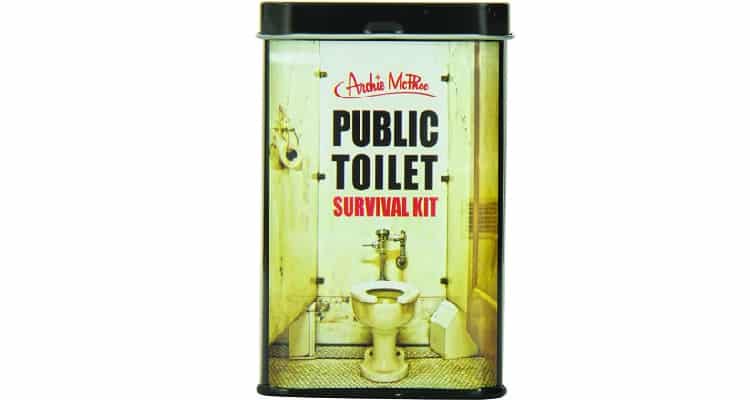 You never know when you're going to encounter an unclean public toilet, so this isn't just a funny gag gift for women but also a useful one that will ensure her hygiene.
Each kit includes one toilet seat cover
Two antiseptic wipes and one pair of latex-free disposable gloves 
Comes in 3.75″ tall tin
7. Shakespeare insults poster
This insults poster inspired by one of the greatest wordsmiths ever will be an amazing gag gift for women. The next time she curses, make sure you have a dictionary in hand to understand what she means. 
This poster is a unique and will be memorable for your family, friends, teens, students, and teachers
Makes a funny conversation piece with friends at home, school, or office
Has 100 insults. Teachers and librarians use it to spark interest in literature and Shakespeare
Printed on heavy, archival quality paper that's built to last
8. Trump bobblehead
Doesn't matter if she's a supporter or hater, this is one of the best gag gifts for women. The funny part is that it's not Trump's head that bobbles, but the middle finger. This will make a unique memento of one of America's craziest elections of the past 100 years. 
"Hey Sleepy Joy" is written on one side
"Hey Biden" on the other
You can keep this on your office desk or at your study desk at home
Comes in clear PVC packaging
9. Funny socks
She'll definitely love such gag gifts. It doesn't just keep her feet warm, it will also express her feelings toward those who judge her. The socks has a floral design and a quote printed on its side, "I don't have an attitude problem you fucking bitch".
Designed with the highest available needle count to ensure well-defined graphics and outstanding quality
Durable and breathable 
Professionally crafted from a perfect blend of 70% ultra-soft cotton for comfort
28% colorful polyester for eye-catching design and 2% elastic for durability
10. Squishy cat set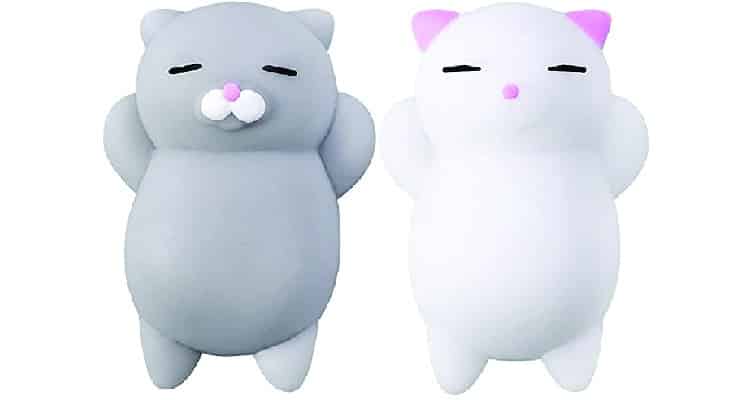 Relieve your girlfriend's stress by giving her this adorable squishy cat set. This is one of the best funny gifts for women as these cute squishy cats will help her release her frustration and anger. If she is in a complicated relationship, she can relieve her stress with this cat set. She can punch and squeeze the cats all day long. 
Built with the highest-quality silicone 
Designed to withstand a fair amount of squeezing, pinching, fidgeting, and stretching
These two baby kittens are great fun to play with and will keep you relaxed
It relieves anxiety or nail-biting while also giving you some well-deserved time to breathe 
Related Reading: 21 Wedding Gift Ideas For Couple Already Living Together
11. Game of phones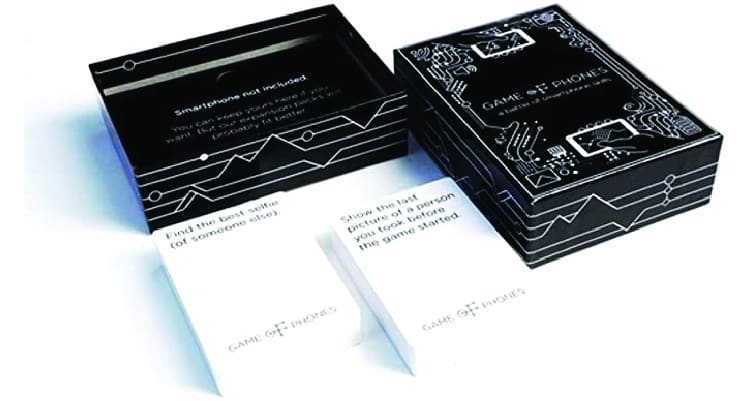 This is a unique and hilarious party game. Such gag gifts for women will be useful for your girlfriend when she is hosting a house party with her gal pals, and is looking forward to some chaos and laughter. 
Use apps and your smartphone's web browser to find the weirdest, funniest, and the most unexpected responses to game prompts
Easy to play and family-friendly
No two games are ever the same because the internet is endless and what's on your smartphone is always changing
For 3 or more players. Game contains 112 prompt cards and instructions
12. Tabletop bowling kit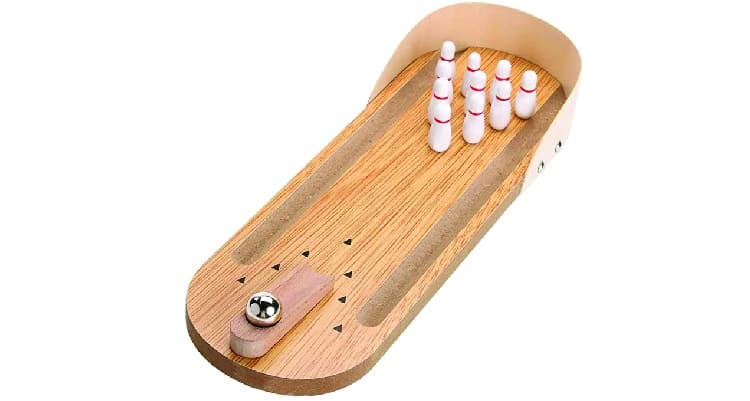 She doesn't have to be a gaming addict to love this mini bowling set. These are gag gifts for her that involve a little fun to relieve stress after a hectic day. 
This tabletop bowling game is a stress relief toy, so can be used to send stress relief gifts for women in your life
Medium density fiberboard bowling lane
1 bowling launch ramp
1 steel mini bowling ball and 10 pins
13. Pizza pouch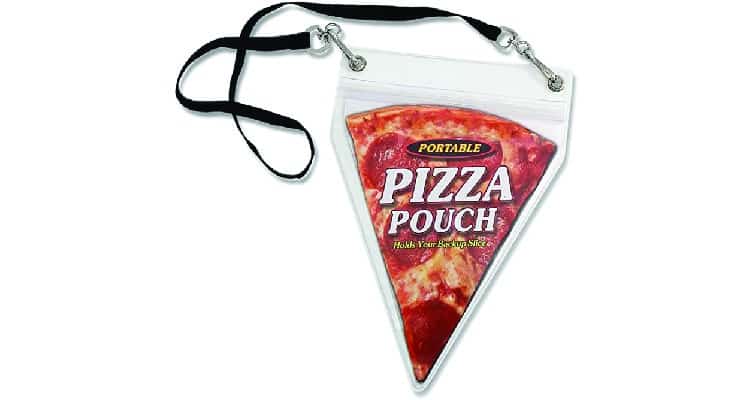 If you have a friend who gets grumpy when she is hungry, then this is one of the best gag gifts for her. Hangry people deserve our love and support too! Such gag gifts are great for pizza lovers as well. 
This pizza-preserving necklace keeps America's favorite pseudo-Italian snack safe and toasty within a zip-lock pouch
A detachable lanyard lets you take the choicest slice with you instead of leaving it at home
Comes with a reusable zip lock seal
Not to be used with microwave or oven
14. Shock bubble gum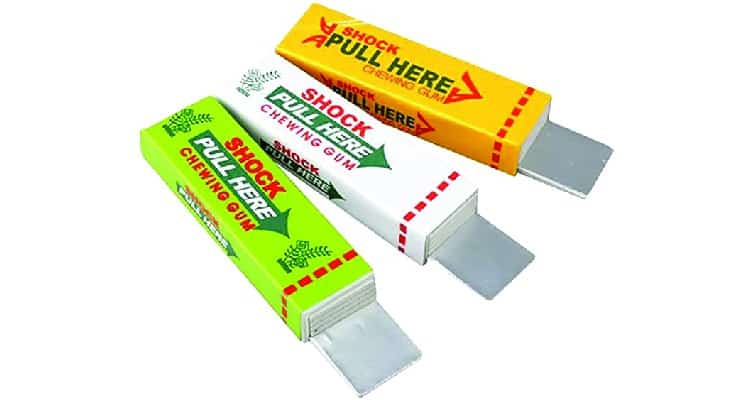 This brings back childhood memories, doesn't it? Oh the number of times we were pranked with this! Now you can use such gag gifts as birthday gag gifts and prank your girlfriend, friend or even your mom!
Looks just like a regular packet of chewing gum
Simply offer some gum and watch as they receive a harmless shock
It is battery-operated and the battery is included
Not suitable for children under 14 years of age, adults over 50 years old or people with any medical condition 
15. Yodeling pickle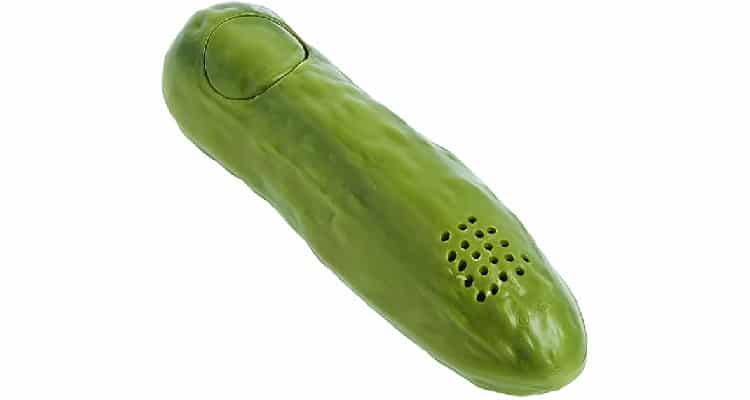 This yodeling pickle will rescue your girlfriend from boredom. This Electronic Yodeling Pickle yodels its little heart out. Such gag gifts will make her laugh and keep her entertained for hours on end.
5-1/4″ long, plastic pickle (batteries included)
Sings at the push of a button
No briny odor and a great gift for all occasions
Be sure to look at the funny reviews when you buy this product!
16. Funny sweatshirt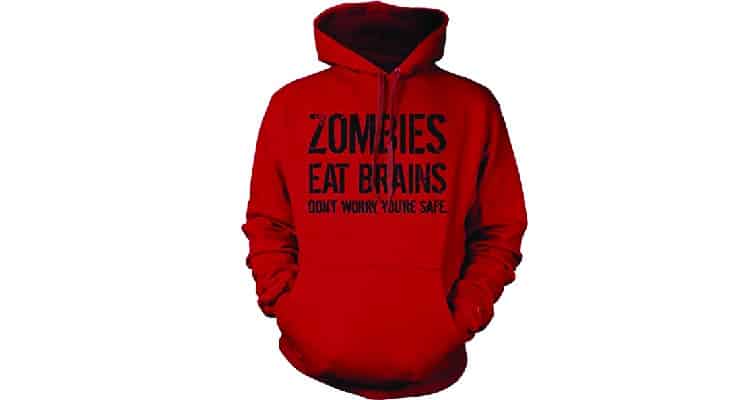 If you and your girlfriend share a playful equation with each other, then these hoodies make great Halloween or birthday gag gifts for her. The print on the hoodie reads, "Zombies eat brains. Don't worry, you're safe". This is a perfect gift to express your fun-loving bond  and to tickle her bones. 
It is machine-washable
Wash or iron inside out in cold water or in low heat
Available in all sizes including 3XL, 4XL, and 5XL 
17. Humorous tumbler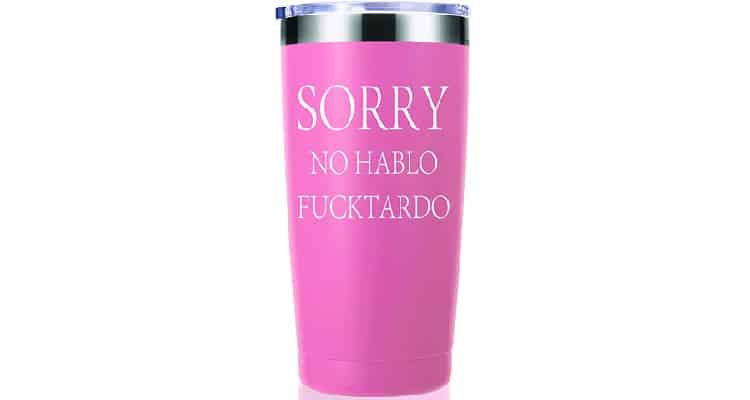 This novelty gag gift is one of the best gag gifts for women. Not only does it speak her mind about keeping troublesome people at bay, it will also keep her beverage hot or cold. 
18/8 stainless steel as well as 100% stainless interior.
Durable, double-walled, insulated construction can keep your drinks hot or cold for hours
BPA-free lid and no-sweat design to make sure your hands stay dry
Not recommended for dishwashers
18. Flushin' Frenzy game
This game is sure to get big LOLs from adults and children alike. Make your game nights and date nights gross and funny with such funny gifts for women. You can play this game with her while asking unique never have I ever questions for couples and make the night more interesting.
Flushin' Frenzy game guarantees big laughs and big fun
You have to plunge the toilet the number of times on the die
When the 'poop' flies out of the toilet, be the first player to grab it. If you can catch it in midair, you earn two tokens
The player who earns the most tokens wins
Related Reading: 15 Best Engagement Gifts For Newly Engaged Friend
19. Beer coats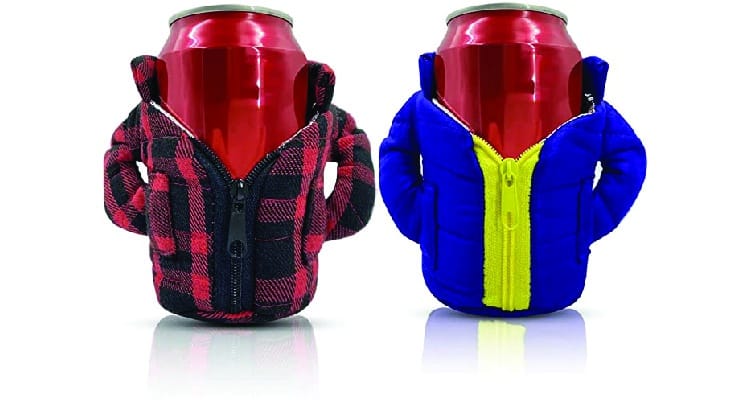 For your woman who loves you and beer equally, it is just the most adorable gift ever. Even her cold drinks won't catch a cold. Get it? This is one of the best gag gifts for women as she can dress up beer or soda cans in these koozies and keep her hands warm. 
Combination of 6 different kinds of heat isolution material can effectively maintain the temperature of cold drinks
Suitable for 12 ounce cans or any other cans and bottles within 4.8" diameter
Show the world your unique and interesting soul with this quirkily-designed drinkware item
20. Mini karaoke microphone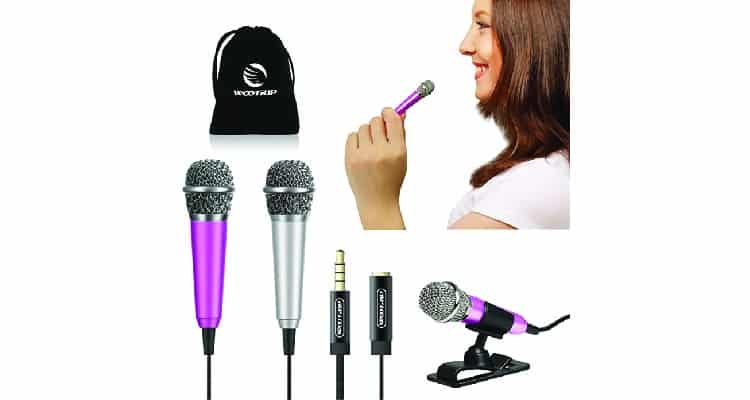 Is your girlfriend a YouTuber? A videographer? Or does she like recording her life on video? A clear microphone is a must-have device for creating great videos. This isn't just a gag gift for her, it's good audio quality makes it a thoughtful gift for a woman who loves to sing.
With premium materials, this microphone can capture sound from all directions and perform accurate and clear vocals
Compatible with Android, iOS devices, and iPads 
No batteries required. Just plug in your phone and connect your speakers or earphones
Smaller than the thumb on your hand and comes with a velvet carry pouch
21. Dog farts candy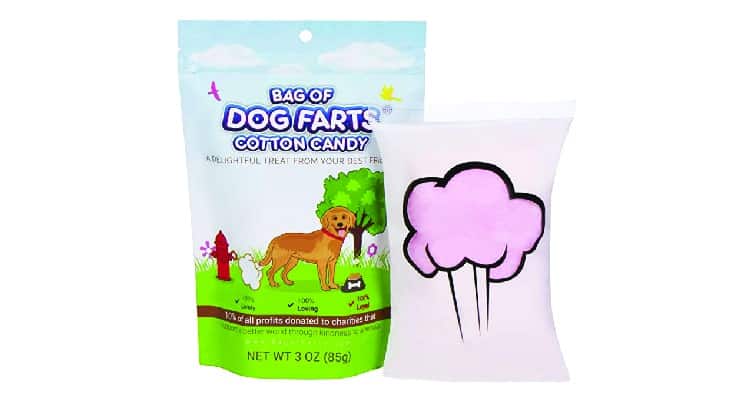 It's a promise that this smells better than its name and definitely nothing like dog farts. Laughter is a universal language of love and shower this love with the best gag gifts for women. 
This 3oz fruit punch cotton candy is delicious
Makes great birthday party treats or Hanukkah present
Fill an Easter basket with this sweet and funny candy
Perfect for dog lovers
22. Personalized face socks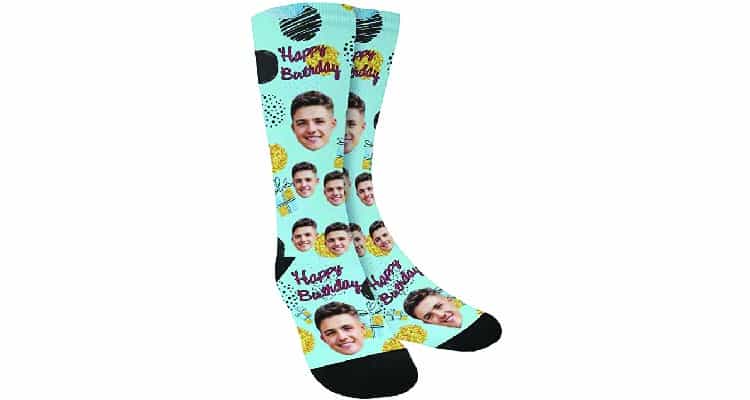 Take your ugliest selfie and print it on these socks. The receiver of this gift would love to see you looking like a dork on their feet. Choose such unique gag gifts for women to express your love with fun and laughter.
Click on "Customize Now" and "Upload Your Photo"
It is custom-made for you so you can choose your favorite style and color
Made from high quality polyester which will make your feet feel comfortable and soft
Vivid and realistic design
23. Funny plant pot set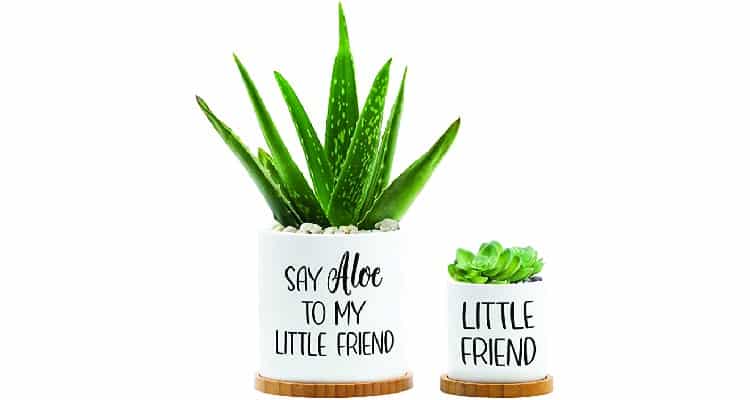 "Say aloe to my little friend" is cheekily printed on the planted pot which also comes with another that says "little friend". These succulent planters are supremely cute and make funny gag gifts for women who love to garden. 
The decorative planter pot with a farmhouse style font fits most home decors and can be paired with a variety of plants
Package includes 2 ceramic pots and 2 bamboo trays
"Say Aloe" pot measures 4.7" Hx4.7" W. "Little Friend" pot measures 3.1" Hx3.1" W 
Made of premium quality ceramic material 
24. Funny oven mitt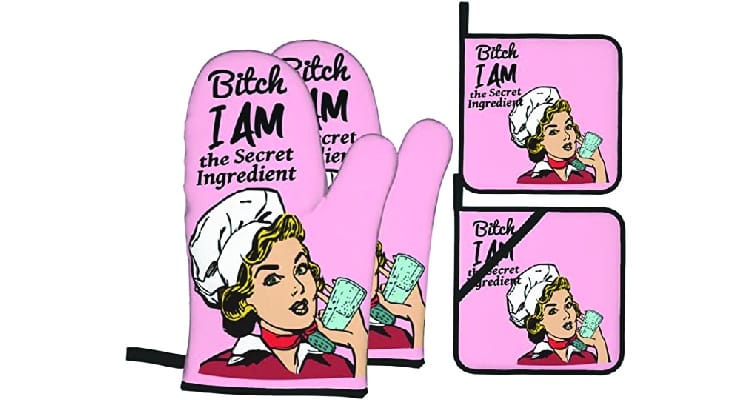 If she's a great baker or a cook, then she must be tired of hearing questions like "What's the special ingredient?" These oven mitts make the best gag gifts for such women as it answers that question in a funny way. You both can bake together and connect with her on a deeper level.
The print on the oven mitt reads "Bitch I am the secret ingredient"
Made of polyester fabric and soft quilted cotton lining
The inner and outer layers are made of waterproof fabric
Perfect size and fits all palms 
25. Porn for women funny book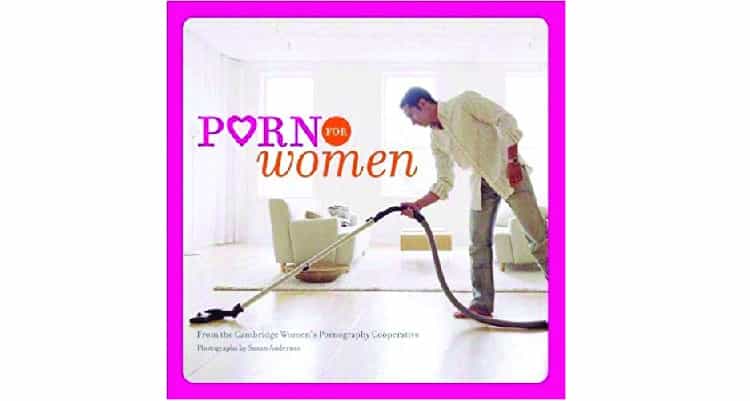 For women who are interested in men and want more than the bare minimum. This is one of the best gag gifts to help such women laugh as well as raise the bar for their romantic and sexual partners. Prepare her to enter a fantasy world. A world where men fold clothes, make delicious dinners, and where flatulence is just not that funny. This book has salty language and is hailed as the funniest book on Amazon by its buyers.
Published in English by Chronicler books
It has 96 pages
Give the fairer sex what they really want with PG photos of hunky men accompanied with steamy captions
These men are shown to be cooking, listening, asking for directions etc 
26. Mini wacky inflatable guy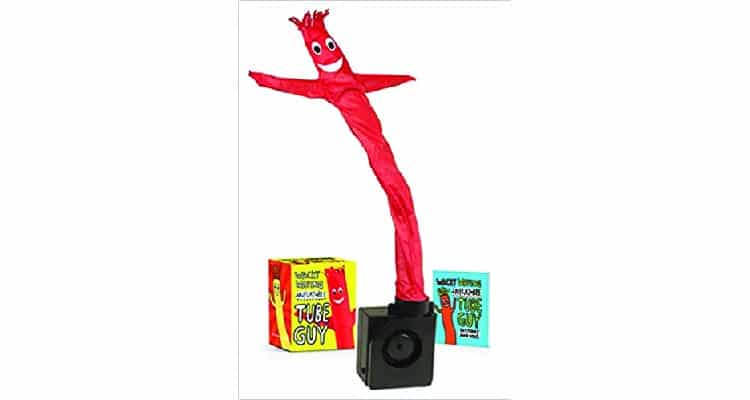 This is a first-of-its-kind miniature Wacky Waving Inflatable Tube Guy. These will make the perfect desk companions, tiny marketing tools, or hilarious gag gifts for women. 
18-inch waving tube man with a fan in the base to make him dance, wiggle, and shake just like the real thing 
Includes a 32-page mini book exploring the larger than life and utterly surprising origins of everyone's favorite flailing arm man
A rechargeable Ni-MH battery is recommended for best performance 
Bring a little bit of joy to her desk, dorm room, or bedside table 
27. Pooping pooches calender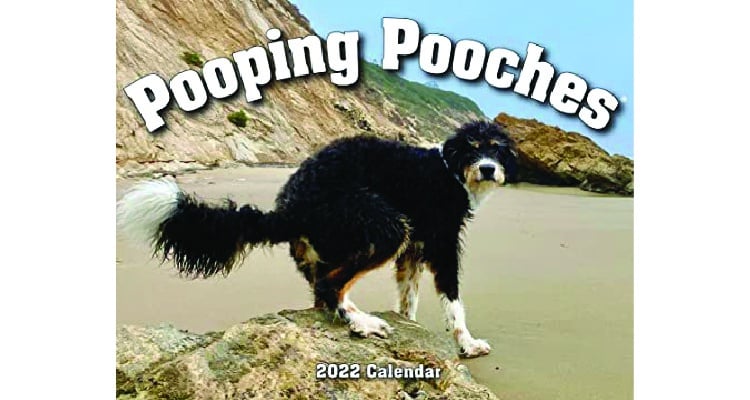 Does your female friend, family member or girlfriend love dogs a little too much? Then here are some funny gifts for her. These 12-month calendars of pooping dogs will be some of the funniest gifts she's ever received and she'll never forget it.
Each month reveals a beautiful pooch answering nature's call 
The calendar is 8.5 x 11 inches closed and 17 x 11 inches when open
$1 from each sale is donated to help a dog in need
Has US holidays 
28. Grow a boyfriend
Looking for gag gifts for single women who are interested in men? Look no further than this 'grow a boyfriend' gag gift. Even if your friend is done with dating and wants to stay single for a while, then get her such gag gifts and pull her leg. This gift can actually be one of the funny conversation starters she can have with her friends or colleagues.
Add water to grow the boyfriend
It grows to 6 times the original size
2 inches to approximately 12 inches
Begins to grow in 2 hours, reaches full size in 72 hours
Related Reading: 30 Unique 2-Year Anniversary Gifts For Girlfriend To Impress Her
29. Raining men umbrella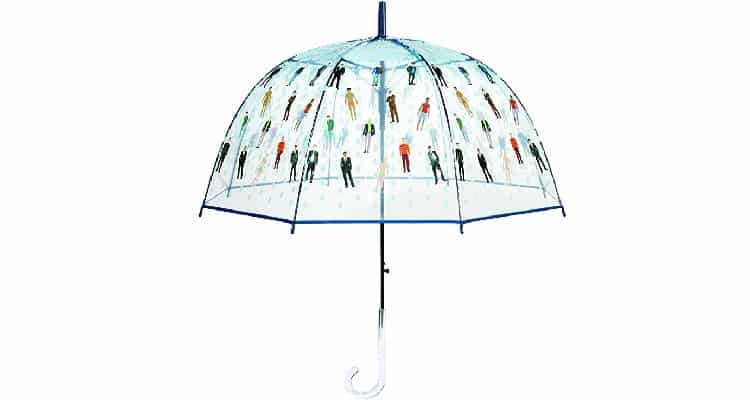 We all know the song, It's Raining Men. The creator of this gift took the song literally and made an umbrella that has men falling like raindrops. It's the perfect gag gift for women interested in men, and it will also be useful when it's raining cats and dogs out there.
The clear bubble dome design measures roughly 30″ wide x 31.5″ tall
Let the semi-automatic gliding design open and close your umbrella with ease
The bubble dome design allows for the most coverage and protection from even the worst downpours
30. Funny coasters
With these funny coasters, there will be something to laugh at during dinner. These coasters are a sure hit at being the most perfect gag gifts for women. It has four coasters, each with a funny quote.
Each coaster is 4 x 4 x 0.3 inches
The wine bottle holder/coaster box is 5 x 5 x 2 inches
Made of Paulownia wood
Features funny quotes and a unique colorful design 
31. Alpaca door stopper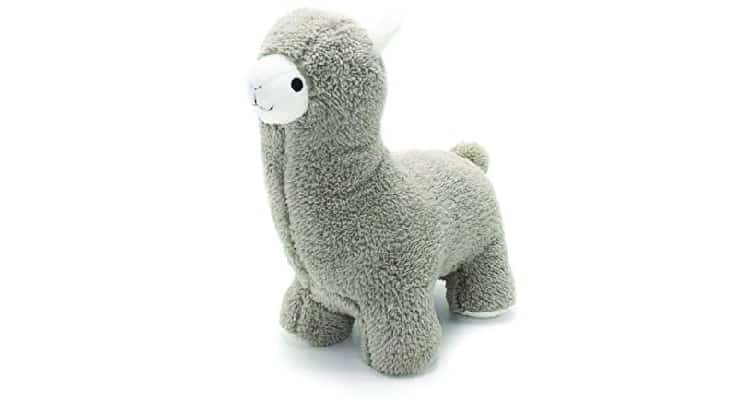 Your friend, girlfriend or mom will love this cute and functional gift. I mean… who wouldn't love a tiny alpaca sitting beside their bedroom door? Get such adorable gag gifts for women in your life and surprise them.
The door stop is sewn and filled with mixed materials
The shell is made of durable cotton and polyester
The sand padding inside allows the alpaca to be placed upright
Can block any door
32. Panda onesie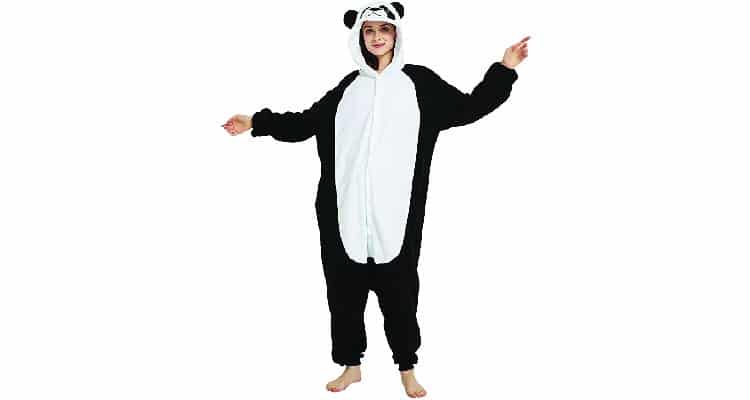 Know someone who loves a comfy onesie? Get them this cute panda onesie. The head of the panda is completed by high-precision embroidery. These onesies are  the perfect Halloween gag gifts for women. 
Has a row of buttons on the chest
Can be washed in the machine 
Has high elasticity and moisture absorption
It provides warmth. It is heat-resistant and comfortable 
33. Yoga Joes
These are brilliant gag gifts for women who love yoga. They will find inspiration through these miniature poses. A non-violent toy to express love and peace. Celebrate International Yoga Day by giving her such gag gifts.
Comes with 9 figures.
Packaged in a "mini yoga studio" clear box with bamboo floor
Figures are ABS plastic and box in PET packaging
100% recyclable, including the packaging 
34. Funny paper weight
Does she love to curse? Yes? Get her this immediately. The perfect place for this paper weight is her office desk which will raise the eyebrows of her coworkers. Add humor to her boring office days with such funny gifts for her. Never let her papers blow away again with the weight of this F-bomb.
Handmade from solid metal recycled items by acclaimed metal artists in Utah
Sturdy and durable
Measure 2.5 x 5 x 2.5 inches
Weighs 1 pound
35. Rolling clocky
The runaway rolling bedside clock that will jump, hide, walk, shake, and change directions so you HAVE to wake up to chase and turn off the alarm sound. These alarm clocks are great gag gifts for women who have trouble getting up on time. It's fun, annoying, quirky, and a unique gadget guaranteed to keep her punctual.
Clocky is super loud
It is a part robot, part alarm clock
He sounds like R2D2
Obnoxious enough that you can't sleep through his alarm sound 
This list of gag gifts for women also double up as useful and helpful gifts which will act as their savior in many ways. Which of these funny gifts for women would you pick? Your mother, friends, sisters, aunts and girlfriend will either laugh till they cry or make YOU cry. Fun, isn't it?
35 Best Gift Ideas For Music Lovers And Musicians In Your Life