Are you someone who's always confused about what to gift your woman? Have an upcoming occasion to celebrate and want to make the woman of your life feel special? Fret not, for we have the perfect gift ideas for women who have everything. Let this guide steer you through your gifting dilemmas so that you can land a gift to impress your lady.
No matter how much your woman insists, "I already have everything, I really don't need any gifts," there will still be that something that she has her heart set on, but just doesn't know it! Pull a rabbit out of your hat by choosing from our unique gift ideas for women and see her smile, surprise, and happy! Be it upcoming anniversaries or birthday gifts for her, even Christmas gifts for women, or simply a little something to make her feel loved, these gifting ideas have you covered.
What To Get The Woman Who Has Everything – Best Gifts For Her
Your lady has all the comforts and material things that she can wish for, and the only thing she craves is your love and affection. Now of course you do, but why not show it by showering her with all your attention, pampering her to the core, and gifting her something special. Instead of rushing to buy the clichéd, give it careful consideration and invest in something valuable and admirable. You are sure to find some of the best gift ideas for women who have everything in our carefully curated list.
Select from the best gifts for wife in accordance with her likes and dislikes and the woman of your life will be overwhelmed seeing you shower her with the choicest of gifts. Celebrate your bond and pick up something that will leave an indelible stamp on her mind.
1. Exotic bath set
Any list of gifts for the woman who has everything will be incomplete without a sumptuous bath set that can help her unwind. Nothing can be more relaxing than a soothing spa-like experience at home with such an exquisite assortment of bath salts, shower gel and scented candles among other niceties. Trust me, no woman can resist this one! And who knows, you might get lucky and dragged into the bath for some 'together time' *wink*!
6 pc bath set includes shower gel, bath salt, scented candle, body lotion, bubble bath, miniature tub holder
Infused with lavender essential oils, this bath set makes for a soothing and tranquilizing spa-like experience
Gentle on the skin; made up of natural ingredients like sunflower seed oil and vitamin E
Attractively packaged
Related Reading: 30 Unique 2-Year Anniversary Gifts For Girlfriend To Impress Her
2. Mirror mirror in my purse…
Compliment your SO and let her know how precious she is to you. This is one of the best gift ideas for women who have everything since compliments are stored deep in a woman's heart and memory. Tell your love how beautiful she is and show it to her too – this compact mirror in rose gold finish will keep on reminding her how beautiful and loved she is.
Sleek and stylish compact mirror with engraved+ message
Folding mirror with a diameter of 2.6 inches
Perfect to carry in purse or pocket
Best for makeup touch-ups
High-quality, durable and unbreakable glass
3. A bangle that always reminds her of you
On days when you are not around to hold her hand, let this bangle caress her wrists and remind her of the time you two have spent together. Birthday gifts for her should be as special as she is. This stunner of a bracelet with a sunflower charm will let her know how she fills your life with joy and happiness.
Crafted from a premium quality mix of nickel-free copper/brass
Embellished with sunflower charm in dual tones
Adjustable bangle for perfect fit
4. Book of affirmations: An everyday gift of positivity
There is nothing better than words of affirmations to venerate the queen that your lady love is. One of the best gifts for women who have everything, this book will instill in her confidence. So you're not just gifting her a book for her to list her dreams, goals, and affirmations, but also your unending support, and if that's not one of the best gifts for a wife, then what is?
Book of uplifting affirmations that exude positive vibes
Available in 3 editions, namely, Kindle, hardcover, and paperback
To channel positive energy
5. Vintage trinket box
This is one of those gems that every woman wants in her closet: a beautiful, vintage, trinket box to keep her knick-knacks organized. High on the utility value, this is a practical gift that your woman will adore and value forever. Splurge on this classic trinket box and enjoy the sparkle in her eyes!
100% handmade box carved out of wood and embellished with inlaid mother of pearl
Beautiful specimen of Korean craftsmanship; doubles up as a souvenir
Spacious enough to store precious trinkets and jewelry
Comes with a blank gift card
6. Set of aromatherapy candles
Christmas gifts for women need not be very expensive. The gifts that are most unique are those that come straight from the heart like this set of aromatherapy candles. The sheer beauty and fragrance of the candles are enough to steal her heart with its warmth, making your lady love bask in their glow.
Soy candles that last for up to 30 hours
Assortment of 4 perfumed candles, suffused with essential oils: lavender, spring, Mediterranean fig, and lemon
Perfect to help soothe, relax and uplift mood instantly
7. Tiny, magnetic easel
The best gifts for women are the ones that are simple, sentimental, and yet smart. Convey the message of your heart with this miniature magnetic easel, telling her how she lights up your life with her presence. Whatever be the occasion, this is one of the best gifts for the woman who has everything.
Mini easel printed with a heartfelt message
Can be used as a fridge magnet too
Pretty layered paper in 3D with glitter work
Product dimension: 4.9X3.6 inches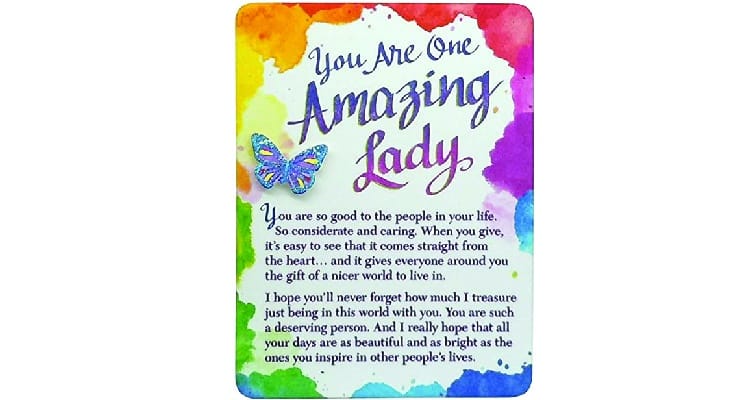 8. Incredible head, neck, and foot massager
Show the woman of your life how much you care for her well-being by gifting her this massager. Gift her an opportunity to take out some me-time, put her feet up and relax with a glass of wine while this massager kneads her tired shoulders. Earn a top spot in her heart as she enjoys the quiet time, slowing down for a bit and unwinding.
Neck, head, shoulder, and foot massager with gentle soothing functions that help over-tired muscles to loosen and relax
Ergonomically designed massager that works on the right massage nodes
Can be used anywhere and everywhere, at your convenience
Compact and handy massager that can be used while traveling as well
Comes with a complimentary car adaptor and AC adaptor
Related Reading: 40 Best Homemade DIY Gift Ideas For Girlfriend
9. Stunning wine tumblers
Lounging with you on a hot summer afternoon while sipping on chilled wine from these stylish wine tumblers, sounds like a perfect date at home, doesn't it? How about a Sunday brunch with friends, raising a toast to the good life in these rose-gold tinted tumblers? These stainless steel tumblers are the best gifts for women who enjoy sipping on wine with friends.
12 Oz capacity wine tumblers; double vacuum insulated to regulate the temperature
Comes with spill-proof lid and coffee spoon in dazzling rose-gold tones
Attractive packaging in a gift box, along with gift card
Highly utilitarian gift that can be used for any beverage: tea, coffee, juices, milk, cocktails, mocktails; the list is endless
10. A practically perfect planner for the practically perfect woman
If you're looking for a practical present, then planners can be one of the best gifts for wife. Help your wife organize things and plan her schedules down to the last minute, with this helpful planner. It will certainly help her in achieving that much-needed peace of mind once she jots down the details to put everything in place in her day-to-day life.
Helps keep all important details in one place: financial, legal, medical, personal, official, and practically everything else under the sun
Acid-free paper makes for smooth writing
Hardcover journal, bound well to make it long-lasting and durable
96 pages and 17 tabbed sections to record important data
Product dimensions: 8.5X11 inches
11. Stay hydrated and healthy with this infuser water bottle
Help your woman instill the good habit of staying hydrated with optimum water intake. Assist them in doing so by gifting this unique infuser water bottle. Make water more refreshing and healthier by infusing them with fruits.
Infuse water with the goodness of fruits and get energy, essential nutrients, and hydration, all in one go
Made of BPA-free plastic, is sturdy, durable and travel-friendly
32 Oz. the flip-top bottle makes for easy pouring
Comes with detachable strainer and complimentary e-book to give you recipe ideas for infusing water
Stylish neoprene sleeve regulates the temperature of the water
Related Reading: 21 Wedding Gift Ideas For Couple Already Living Together | 2022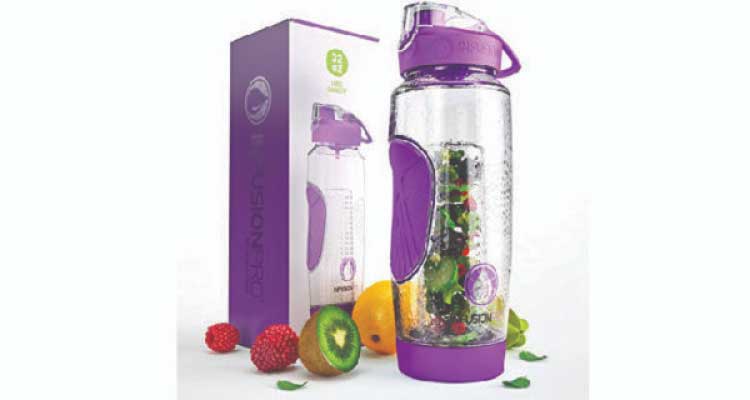 12. Charging station for multiple devices
Charging sockets are one of the most common things that couples (and other family members) fight over. Put a stop to these silly couple fights with this charging station that lets you charge up to 6 different devices at a time. No more pulling each other's phones out of the socket to charge yours…isn't that a win-win situation for you too?! Trust me on this one, your love will admire your thoughtfulness and practicality in choosing this unique gift for her. As one of the perfect gifts for the woman who has everything, it will surely find a place in her heart.
Fast and smart charging station for 6 devices
Sleek, compact design makes it easy to charge phones anywhere
Compatible with most cell phones including iOS and android
Comes with 1 type C cable along with 1 micro USB cable
Comes with adjustable dividers to fit in devices of varying sizes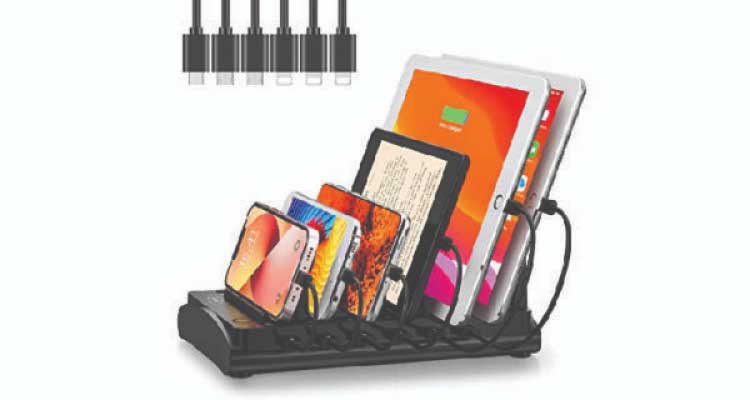 13. Lay your heart bare in a love letter
Go old-school and let your lady know how much you love her by writing out a love letter! Falling short of words to express your love? Don't worry, you can gift her this love letter-themed wall décor instead. See her smile coyly as she unpacks your love in the form of this gift. Isn't this one of the most unique gift ideas for women that you have ever come across?
Ready to be framed, wall art print displaying a love letter message
Distressed parchment, typographic print
Product dimension: 8X10 inches
Made with premium class paper, resulting in HD quality of art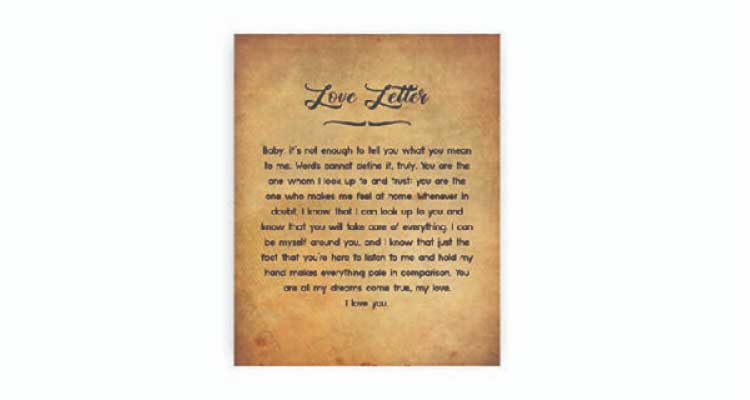 14. 2-in-1 essential oil diffusing bracelet?
Whenever you are in two minds trying to narrow down on best gifts for women, opt for something that is versatile and multi-utilitarian. Like this pretty bracelet that doubles as an essential oil diffuser. This dainty bracelet adorning her wrist can help ease out her tension and stress with the aromatherapy vibes it emits.
Made of high-quality, corrosion-resistant stainless steel
Adjustable bangle size
Lightweight, chic and fashionable
Contains 1 bracelet, 8 reusable cotton pads (to pour essential oils), and a gift box
Related Reading: 21 Long-Distance Relationship Gifts For Your Partner | Updated List 2022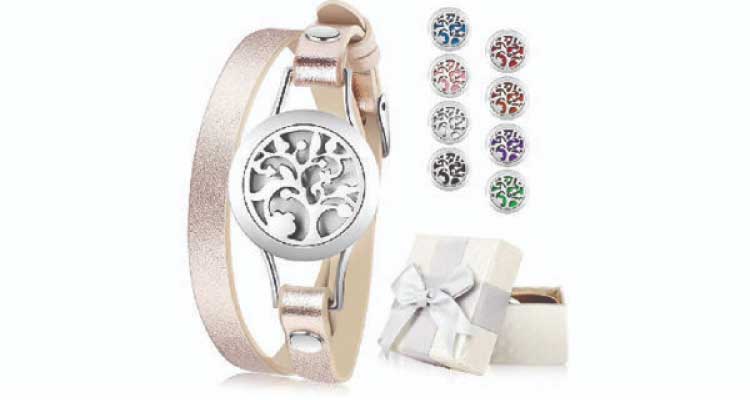 15. Power packed gift: a power bank
Want to stay in touch with your love the whole day long without having to worry about a dying phone battery playing spoilsport? Gift her a power bank so you two lovebirds can continue with your non-stop love talk. A power bank is a necessity to stay connected with everyone– friends, family, colleagues, and of course, the entire world via the internet.
Smart design to charge your phone in style
Equipped with a flashlight for emergency situations
Lightweight and travel-friendly, comes with 10,000 mAH battery bank
LED display to show remaining battery percentage
16. LED table lamp with Bluetooth speakers
This one is an exceptional present that can earn you brownie points from your SO, just make sure you present it in an equally special way. Set up a date night, dress in your best, lay the table for a candlelight dinner with this LED lamp as a centerpiece, churning out soft, and romantic melodies. Dance to the tunes of this beautiful lamp as it lights up your souls and your woman falls for you all over again! What a musically unique gift idea for women!
2-in-1 table lamp and Bluetooth speaker with 96 LEDs
High-quality speakers with 5W high sound
Waterproof speakers with 3600mAh rechargeable battery
Smart technology supports pairing with all Bluetooth enabled devices for a distance up to 33 feet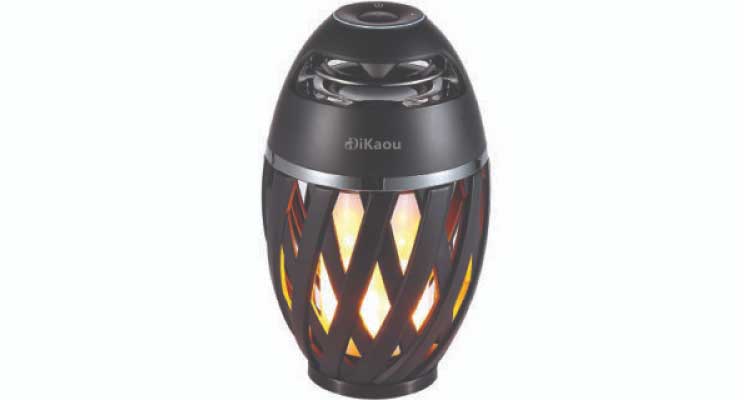 17. Jewelry stand
A woman who has everything probably has a lot of jewelry too (duh!). Women love to keep their beautiful things, tidy and organized. Gifting her with a pretty jewelry stand that helps her in keeping everything in one place is definitely going to be one of the best birthday gifts for her.
Metal jewelry stand in the shape of a tree for easy and clutter-free hanging of necklaces, earrings, rings, bracelets, etc.
Product dimensions: 11.8 x 6.3 x 5.9 inches
Item Weight: 12.3 ounces
Related Reading: Your Guide To How Not To Pick Gifts For Your Coworkers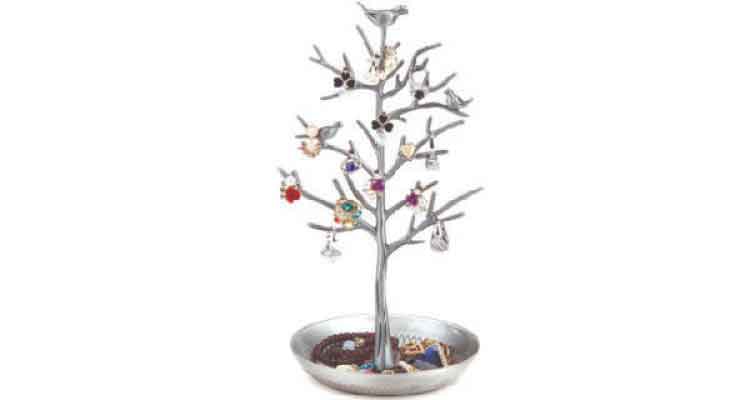 18. How about gifting her a movie night?
Your lady may have everything, but one thing that she can never have enough of is quality time with you because the heart always wants more! Nothing can be better than this gift idea for women who have everything. A surprise movie night munching on this assorted pack of gourmet popcorn and snuggling with you yeah, undoubtedly one of the best gifts for women ever.
8 pieces set of popcorn kernels and seasonings
Great range of flavors and tastes to cater to every palate
Seasonings go equally well along with fries, nuts, chips, etc.
Related Reading: 32 Best Gifts For Movie Lovers & Film Fans
19. Wine gift set
If you and your lady love to enjoy bonding over wine, what can be a better birthday gift for her than a cool and stylish wine set? Slip this beautiful box of assorted wine gifts into her hands and watch her eyes sparkle – just like your favorite sparkling wine! Be it Christmas or her birthday, you can never go wrong with this one.
Comes in an attractive gift box and includes a pair of wine socks, a scented candle, a loofah, a wine tumbler, a bottle opener and stopper, a cleaning brush and straw, and a greeting card
A complete package on its own
A great option for last-minute gift ideas for women who have everything
20. Looking for cozy and comfy gift?: Wearable blanket
How often do we all wish for a blanket that we can not only snuggle under but also walk around in? Does your woman love snuggling under her blankie over the weekend, almost unwilling to step out? Gift her this unique wearable blanket that doesn't require her to come out of this cuddly softness. These make for excellent Christmas gifts for women.
Double layer blanket with comfy fleece microfiber and luxurious fluffy Sherpa
Oversized hood, big pockets, and baggy sleeves
Comes in different colors and sizes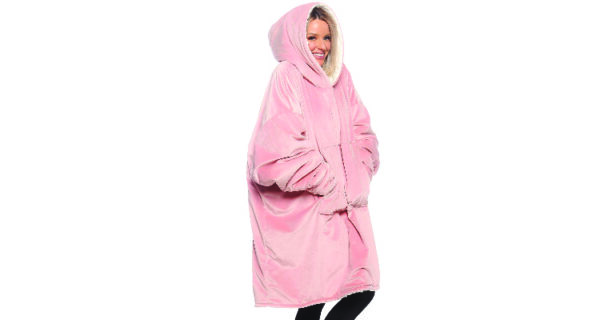 21. Dainty crystal bracelets
Add the dazzle and gleam of crystals to romance your lady love with this beautiful gift idea for women who have everything. Bring out that hint of extraordinary with this stunning piece of jewelry that she won't be able to take her eyes off of – this is certainly a unique gift idea for women.
Made with Northern Lights crystals, gleams in a shimmer of lights
Product dimensions: 7 inches + 2 inches extender
Packed in an attractive box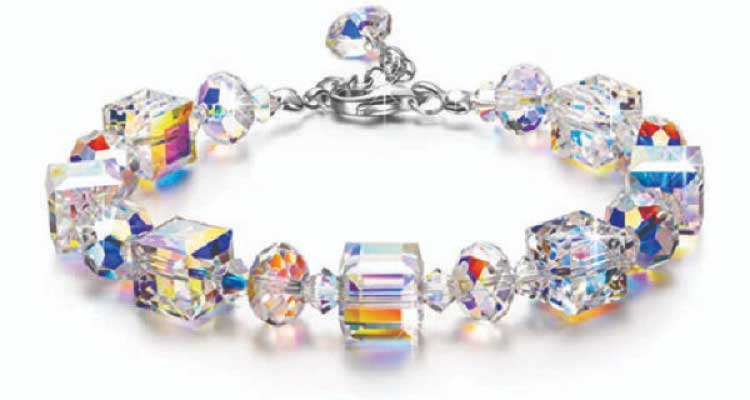 22. Wooden foot massager
Women have a lot to run after– household chores, official commitments, kids, family, friends, and various other odd jobs. How about sending her some love and care in the form of this wooden foot massager? This acupuncture massager will help her find some respite and much-needed relaxation. Your woman might have everything, but she can always do with some comforting me-time.
2 different varieties of acupressure nubs along with 5 rows
1 Reflexology foot massager for all your pains
Improves blood circulation and relieves stress
23. Funny t-shirt to tickle her sense of humor
So is your woman always insisting, "Honey, I don't want anything for my birthday. I have everything; there's really nothing you can give me!"? Then, this is just the right pick for you! This t-shirt with a rib-tickling slogan is undoubtedly one of the best gifts for women who have everything– including a funny bone! Bring out the belly laughs with this funny t-shirt that says: "I already have everything so they just got me this shirt" (we told you it's the right pick!)
Made of the finest of fabrics, perfect to lounge in all-day
Light-weight, available in different colors and sizes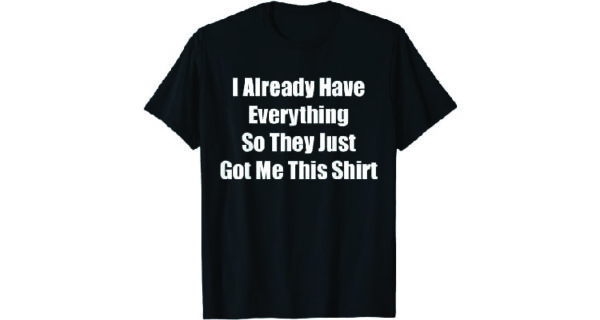 24. A rose that never wilts
A bouquet of roses for your lady love sounds good, but this unique rose that will never dry up sounds even better! Why not add a little mushy drama by going down on one knee as you present this symbol of your eternal love with this beautiful glass rose in a lighted-up dome? She'll definitely be falling for you all over again.
Glass rose entwined in a string of pretty lights
Comes in a beautiful and attractive box along with 2 different greeting cards
Needs three AAA batteries(not included in the box)
25. Rechargeable hand warmer
These super cool hand warmers have to feature on our list of the best gift ideas for women who have everything. You've promised to always hold the hands of your woman, now you have to keep them warm and snug too! Gift her this unique hand warmer for those cold winter days to ensure she stays cozy and comfortable.
Compact and handy, portable and travel-friendly
Best for using outdoors
Quick heating mechanism that gives instant warmth and comfort
3 different levels of heating
Can be used for long durations with its 5200mAh rechargeable battery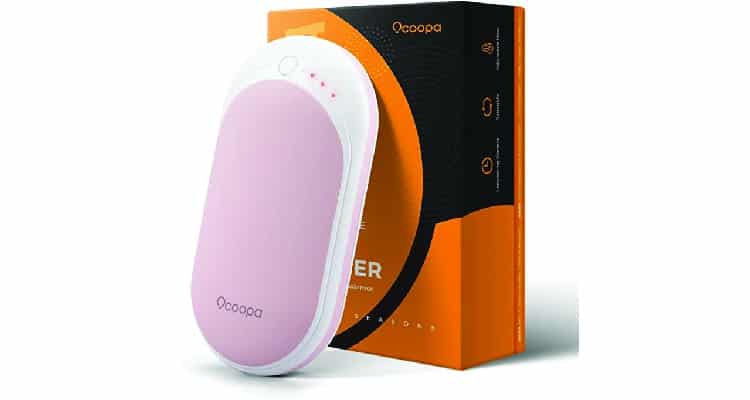 26. A coloring book for leisure-filled moments
Sipping on a glass of chilled wine, relaxing, and enjoying my me-time with a box of crayons and a coloring book – this is what makes up my fantasies. When you give her this coloring book, you're actually giving her so much more — a precious, peaceful time when she can just be herself, letting go of worldly cares and worries as she immerses herself in a world of colors and art.
Fun coloring book for adults
Get ready to grin with gin– 40 pages of hilariously funny art that focus on wine
High-quality stock paper accounts for its durability
Product dimensions: 8×10
Paperback in soft matte finish cover
27. Set of skincare products
You love running your fingers up and down her soft, smooth arms, don't you? It is time to show some love and care to those hands that cuddle and caress you. This box of skincare essentials will help your wife to glow like the diva that she is! Even though she has everything, she can still do with some great products to pamper her skin.
Travel size gift set of skincare essentials
Includes 2 varieties of hand cream, 1 hand salve, 1 cuticle cream, 1 foot cream, and 1 lip balm
Comes in a ready-to-gift tin box
No parabens, SLS, or phthalate used in the products
Related Reading: Summer Beauty Regimen: Couples Who Do Skin Care Together, Stay Together
28. Who can say no to a box of chocolates?!
It is rightly said, "Chocolate is happiness that you can eat!" So, share your chocolaty happiness with your woman sprinkled with generous scoops of love! Our list of gift ideas for women who have everything would be incomplete without a box full of melt-in-mouth chocolates! If this is not one of the best gifts for wife, then what really is?!
20 pieces of assorted chocolates
Flavorful toppings and creamy chocolate
Premium quality cocoa used to handcraft rich, luxurious chocolates!
Packed in an eye-catching box for gifting occasions
Related Reading: 6 Reasons Why Chocolate Makes Relationships Sweeter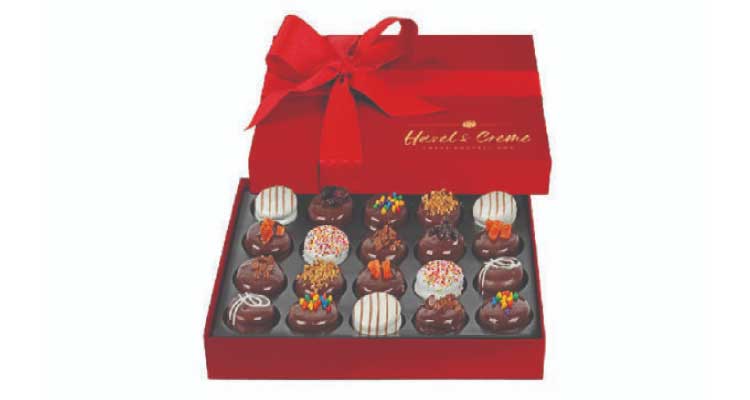 29. Unique world map poster
Bring the entire world to your lady love's feet. A perfect gift idea for women who have everything; this world map poster will not only adorn her walls but will also fire her traveling spirit. It is one of the best gifts for women who are oft bit by the travel bug.
Scratchable world map to mark places you've visited together
Features accurate landmarks and cartographic details in vibrant colors
Comes with accessories like a handy scraping tool, memory stickers, eraser, and magnifying strip
Comes with a magnetic hanger frame to hang it from
Product dimension: 24×17 inches
Related Reading: The Ultimate Bucket List For Couples – 71 Fun And Romantic Things To Do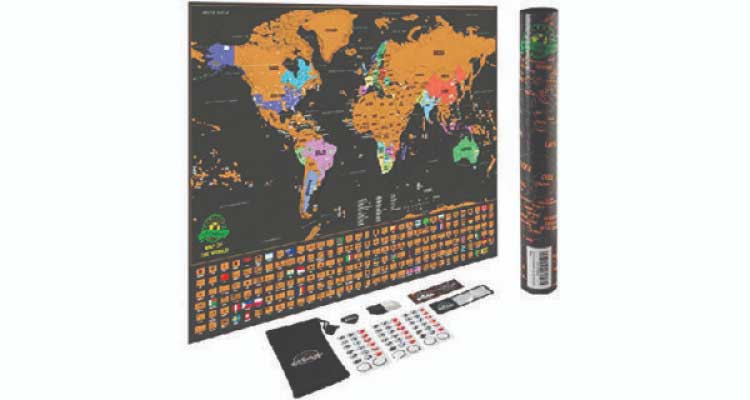 30. Cute couple aprons for couple cooking adventures
Spending some quality time together, rustling up a recipe? Don these couple aprons as you woo your lady with your skills in both, the cooking as well as gifting department, as you come up with this unique gift idea for women who have everything. Get her this "better together" couple apron and let the world know she adds the right dash of spice to your life.
Matching aprons made from premium fabric for a couple who cook together
Aprons feature a large pocket in front with adjustable neck straps
Product dimensions: 31" x 27" coverage
Now that we've covered an all-encompassing list of gifts for women who have everything, we are sure you're all set to make her fall for you all over again. Simply pick any one (or more!) from this listing and enjoy watching her face break into a starry smile!
FAQs
1. What do girls like for gifts?
Girls love gifts. Period. We all love to get gifts. Even better are gifts that are high on practical value and yet have a hint of drama and romance.
2. What to get the person who needs nothing?
People might not need anything and yet you can come up with a unique gift that will take them completely by surprise. Have a look at all the unique gift ideas for women we've offered in the list above.
3. What should I gift my female friend on her birthday?
Birthday gifts for her can be anything that aligns with her interests and passions. And, when in doubt, take the easy way out with chocolates and flowers – like the ones we've added to our list!
33 Best Valentine's Day Gifts For Her | Gift Ideas For Girlfriend