Contrary to what most people think, gifts don't have to be expensive to express your love and admiration. Let me remind you that price doesn't dictate the quality of your gift, even if it is gifts under $50 for her. It only needs to convey your love for her. Yes, we would all love an all-expense paid vacation, but sometimes a thoughtful and customized gift can mean a lot more than a high-end piece of jewelry.
Wait a minute, just because these gifts aren't expensive, don't assume they look worn down. These gifts are affordable yet sophisticated and will stick to your budget. Whether she is moving out of the city, or getting married, listed below are some inexpensive gifts for women no matter what the occasion is. 
Best Inexpensive Gifts For Women Under $50
We have done the hard work for you and curated a list of small thoughtful gifts for her. These are some affordable gifts to suit a wide range of people with different interests and likes. Go ahead and check out these gifts under $50 for her and select your gift. 
1. Personalized tote bag
This classic tote bag comes with a monogram embroidery font. Each bag is made individually using a high thread density monogram in a classic black font. Not only is this a part of the envious gifts under $50 for her, but it also adds a personal touch to it.
This initial tote bag has an inner zipper pouch
The zipper pouch makes it easy to store phone, keys, glasses
The handles of our monogram tote bag are tied with ribbon and there is a circle of flowers and leaves outside the embroidery letter
Large capacity and durable. These bags are made of 100% 13oz natural cotton canvas. Heavy canvas on the outside, and a moisture resistant lined interior. 
2. Mini Fridge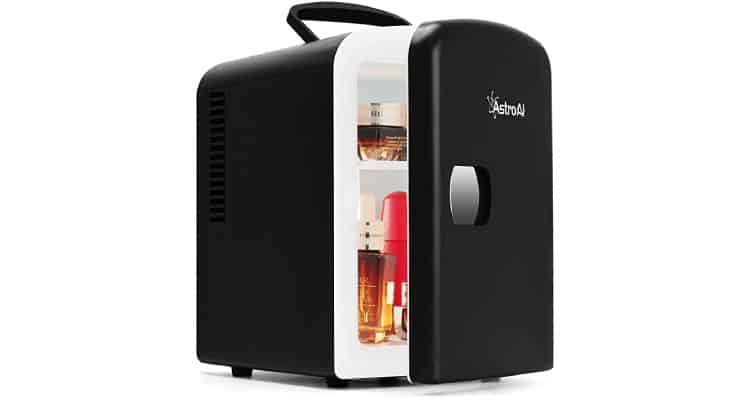 Who said gifts can't look expensive even if those are gifts under $50 for her? She can store her favorite serums, cleansers and creams or a can of her favorite beverage in her bedroom or at her workplace with this mini fridge. 
Can store 6 can/12 oz with ease. It comes with a removable shelf
Inner dimensions are 5.5" x 5.3" x 8.07". You can connect the compact refrigerator to a 100-120V home power supply, or you can connect to a 12V car power supply
Semiconductor refrigeration chip is freon-free and environmentally friendly
Can store makeup, skincare, breast milk, beer, and snacks
Related Reading: 33 Best Valentine's Day Gifts For Her | Gift Ideas For Girlfriend
3. Hair Volumizer by Revlon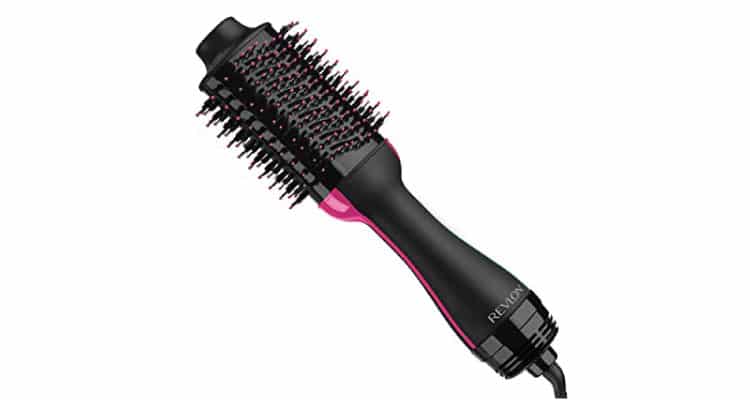 This game changer 2-in-1 hair dryer and volumizer makes an important part of the great gifts for wife under $50. A woman's crowning jewel is always her hair. Gift her this amazing styling necessity and make her the happiest wife ever.
Style, dry and volumize your hair in one step with 30% less frizz and damage
Unique non-detachable oval brush design with nylon pin and tufted bristles 
Multiple heat/speed settings with a built-in cooling option for flexibility in styling
The product meets U.S. safety requirements and features
4. Cold brew coffee maker
Does your partner love the taste of smoothness and want less acidic taste in her coffee? This cold brew coffee maker can be used to brew coffee and can be kept for up to 2 weeks for both hot and iced coffees. She can bond with you or she can bond with mother-in-law over coffee.
Fine-mesh coffee filter keeps grounds out of your freshly brewed pot – differing from other coffee machines
Tritan plastic withstands hot temperatures if you want a steaming cup of coffee. Fits in most refrigerator doors
Bottles come in 18, 24, 32, 40, and 64 oz sizes, beverage makers and pitchers in 1 Qt and 2 Qt sizes
These are BPA-free hydration solutions 
5. Kimono robes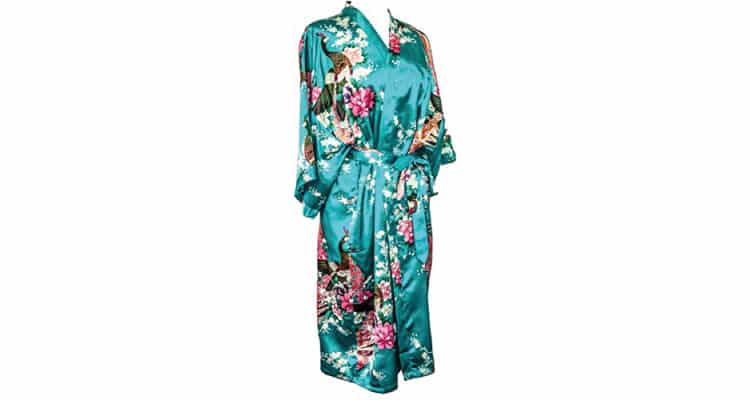 This kimono robe is an indulgent luxury at an affordable price. Such inexpensive gifts for women are suitable for all occasions. This is one of the ways to make your wife feel special. It can make your special partner feel blessed and loved to have somebody like you to pamper them.
This is a premium quality robe and not the cheaply produced copycat
The lingerie robe has a wide V-shaped neckline
Comes with a matching belt, belt loops and inside ties
Has large loose flowing sleeves which comes in 16 vivid and stunning colors
6. Rope bag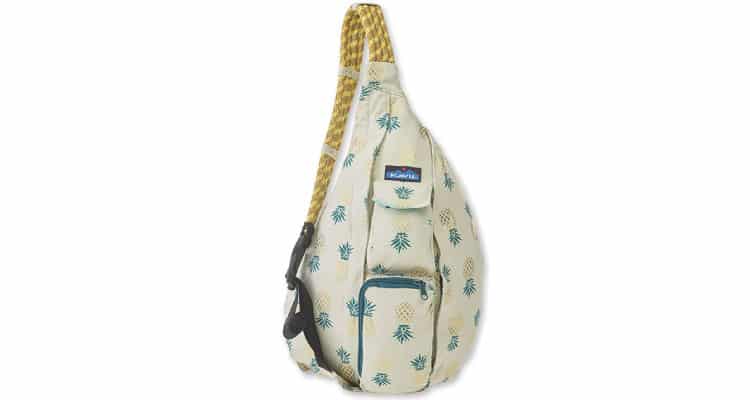 Perfect for trekking, commuting, and traveling, this rope bag makes great gifts under $50 for her. If she loves adventure and trekking, then give her this sling bag to make her trekking days go smoother. Make sure you accompany her though.
Made from lightweight durable cotton canvas
Comes with a front pocket zip to keep mobile phones
Two vertical compartments with inside zip pockets in the bag
Has a nylon lining and is made of high-quality material
7. Gardening tools set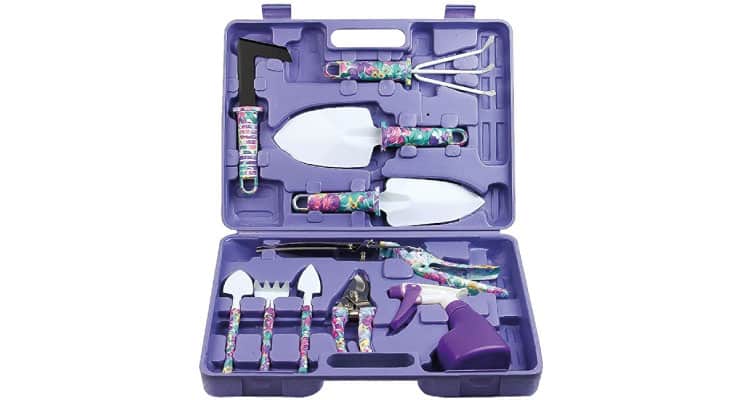 Gardening is a great way to make your life beautiful and decorative. This gardening tool set is a perfect gift ideas for women who love gardening. Such gifts under $50 for her with a cute appearance and fully functional tools, your lover would love it.
Perfect for a variety of tasks including digging, weeding, raking, loosening soil, aerating, transplanting, pruning, and watering 
Using these 10-piece garden hand tools, begin your gardening hobbies to grow vegetables, plants, flowers, spices and whatever you like
Environmentally friendly plastic tool case. Improved iron heads with anti-rust paint. Ergonomic rubber handles printed with floral patterns
Plastic molding water sprayer. It is lightweight and durable, and makes gardening easier and more enjoyable
8. Spa gifts
It's impossible to go wrong with spa gifts. Whether you're shopping for a workaholic girlfriend or just somebody who needs a well-deserved break, go for it. Such gift ideas for women under $50 are a great way to pamper her.
Infused with a relaxing ocean scent, these products are bound to put you into a state of relaxation and bliss as if you were at the beach
The bath set is infused with essential oils that are mixed profusely to mimic the perfect scent of the ocean
These products are rich in antioxidants and repair the skin's natural barriers, promoting smooth and nourished skin.
This 5-piece spa gift box includes all the essentials for the ultimate spa experience without leaving your home. It includes a Scented Candle, Body Butter, Hand Cream, Bath Bar, and Bath Bomb
9. Neck and back massager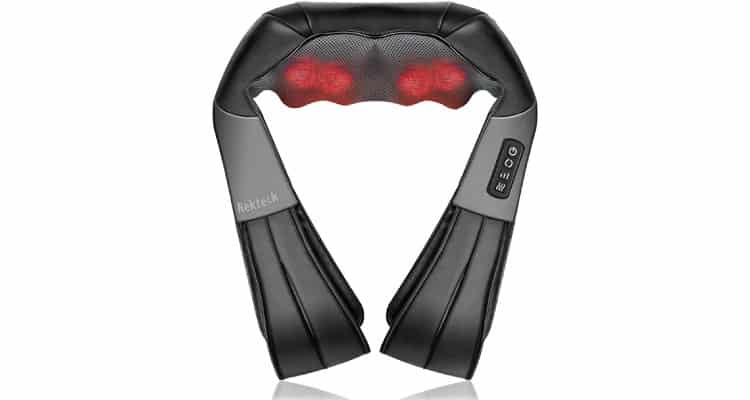 This portable electric-powered massager is the best gift to your girlfriend. It will relax her and rejuvenate her. Such gifts for under $50 will alleviate her muscle ache and other associated pain. 
This neck massager has eight powerful deep Shiatsu kneading massage nodes
It is easy and safe to use. It comes with adjustable intensity
This shoulder massager has a three-speed strength level that you can use to adjust the pressure according to your liking
It has an ultra-soft fabric which provides a soft feel
It is made up of high-quality premium PU leather and breathable mesh fabric which makes the massager durable 
10. Ring light and tripod kit
Has your girlfriend recently turned to blogging or vlogging activities? Has she started making reels on Instagram or loves to follow trends on TikTok? Help her capture her next viral video using this ring light and tripod kit and she will fall in love with you again.
Features a high sensitivity touch panel design that has a longer shelf life than traditional mechanical buttons
It provides full control to easily adjust the 3 color modes — cool white, warm yellow and daylight
10 brightness levels to meet your different needs
This pocket-sized Bluetooth remote allows you to take selfies or group photos easily from a distance up to 30 feet
11. Picnic and outdoor blanket
Gift such gifts under $50 to her that she loves you doubly. Try to spend the day having a cute picnic with her. Also, fetch this blanket along with a few fresh fruits and spend a day reading and connecting on a deeper level. Take her out to a picnic date. It is one of the super cute ways to express your feelings.
Large and foldable which is great to carry out for traveling and camping purposes
This large picnic mat size is about L 59″ X W 69″ 
The high-quality, 3-layer design with soft fleece on top, PEVA on the back, and selected sponge in the middle
It is completely waterproof and sand-proof 
12. Iron skillet
One of the most essential kitchen tools is an iron skillet. It offers an abundance of possibilities such as searing, sautéing, frying, grilling, and you can avail all of these qualities in gifts under $50 for her. 
One Lodge Pre-Seasoned 10.25 Inch Cast Iron Skillet
Unparalleled heat retention and an even application of the heating process
Pre-seasoned with 100% natural vegetable oil
Use in the oven, on the stove, on the grill, or over a campfire
13. Mini waffle maker
Looking for inexpensive gift ideas for women? Get this mini waffle maker. Waffles with maple syrup for breakfast hit a different tone altogether. Get your girlfriend this mini waffle maker instead of a traditional one. 
This mini waffle maker has a four-inch cooking surface. It's actually very simple. You have to plug it in the socket, pour the batter and serve it with toppings of your choice
It has dual non-stick surfaces and comes in dark pink color
350 Watts and for household purposes only. Simply plug it in and the waffle maker will heat up in a few minutes 
Dual side surfaces provide an even consistency in cooking the waffles 
The light will automatically turn off when your waffle is ready 
14. Decorative candle holder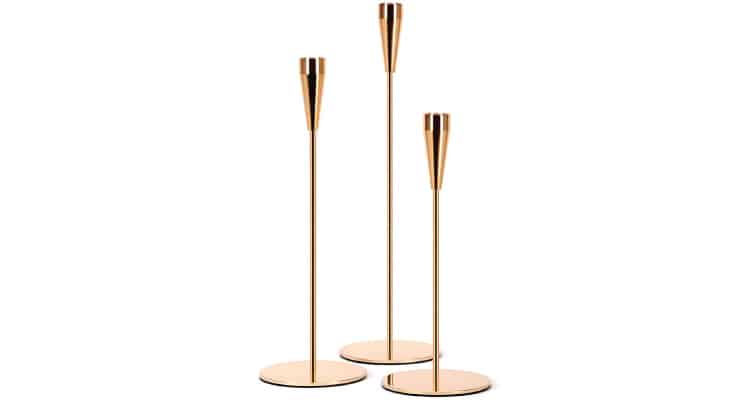 Set the mood of her room by gifting her this elegant set of candle holders. These stands look great in any room to set an intimate mood for your parties and dinner dates. This is a part of the gifts under $50 for her. Enjoy these candles without worrying about hot wax damaging your furniture and get her in the mood.
Illuminate your area with your favorite candles 
These 3 tall candle holders come in 9.84″ x 11.81″ x 13.78″ sizes
Each one can fit tapered, thick, and LED candles
Each taper candle holder bulk is crafted using durable metal to ensure that it won't break or warp easily 
15. Wine decanter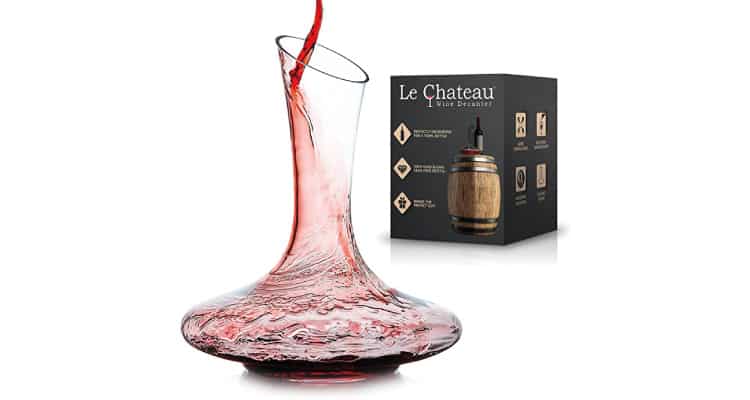 Wine needs to breathe, and this super sleek and stylish decanter will make her wine gatherings a lot more special. It's hard to believe such an elegant piece could be a part of gifts under $50 for her.
The slanted spout makes it easier to pour
It has a large surface area
It provides maximum aeration
Made of 100% lead free crystal
Related Reading: 21 Christmas Gifts For New Moms | Unique Motherhood Gift List [2022]
16. Skin care set
Women love to take care of their skin. Most of us have a routine we follow every night. These are one of the thoughtful gift ideas for women under 50$. 
Effectively cleanses, exfoliates, and helps brighten the skin 
It evens out your skin tone leaving your skin refreshed, smooth and radiant
This exfoliating sulfate-free facial cleanser is formulated with powerful antioxidants that promote a healthy glowing skin
Has a lightweight non-greasy formula that is designed to hydrate skin for a glowing complexion
17. Personalized bar necklace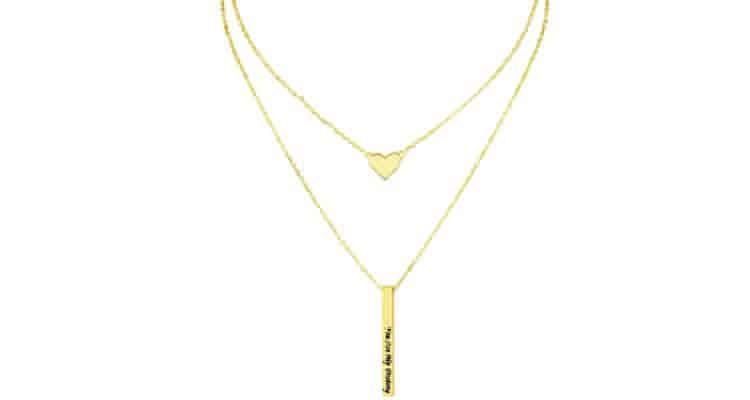 MeMoShe is a jewelry brand that makes custom-made necklaces. You can customize it by putting in your girlfriend's name or her birthdate or both of your names. This isn't one of those run-of-the-mill gifts under 50$ for her. This gift requires some thinking.
These are 3D customized necklaces which means all four sides will be engraved
It is made up of hypoallergenic material and will be safe for sensitive skin
It is made with 925 Sterling silver or stainless steel 
The chain length is fixed at 14 inches; a heart choker and a bar pendant necklace are connected 
You can select the chain depending upon your likes –– either cable or box chain, and then choose the symbol you wish to engrave on the bar necklace
18. Airfryer
Would you believe me if I said that these are gifts under 50$ for her? Well, believe it. This versatile air fryer comes with an option of frying, roasting, cooking or baking delicious healthy dishes. 
Achieve perfect fried results with little to no oil
Temperature ranges from 200°F – 400°F allows you to cook at your desired temperature
The personal size air fryer saves space on your counter and in your cabinet
It comes with a detachable BPA-Free basket, cool touch exterior, and auto-shutoff that ensures added safety & security
19. Round ball clutch
This is something we would see a Jenner or a Kardashian carrying in paparazzi pictures or posing it on their Instagram. Such small thought gifts for her will make her feel elated. 
Unique and fashionable design which will make her the center of attention
100% handmade production with 95% natural material and handwoven Vietnamese skill
The clasp is fixed by rattan fibers and hot glue to ensure its robustness
The straps are made of synthetic leather that is softer and more beautiful
20. Bubble tea cup
If you are looking to gift an ultimate bubble teacup that is stylish and looks pleasant on the eyes, then this is the perfect gift and it also fits your budget. It is also one of the gifts under 50$ for her. 
Made of durable materials, it is BPA free and includes 4 pack of 24oz glass bubble tea cups 
Wide mouth smoothie cups have 3 3/8" wide openings for easy pouring
The lids fit all wide mouth mason jars
The wide angled straws (230mm length, 12mm diameter) are perfect for sipping pearls easily in bubble tea and  is a great size for smoothies
21. Portable speaker
Music is a great way to let loose, to feel good about yourself and calm your mind. Give her this waterproof speaker which she can carry even while showering, camping, or hiking. This makes a great Christmas gift for her under 50$.
Equipped with 25w of stereo audio drivers and two wide bass passive radiators
The Bluetooth 5.0 speaker supports TWS function. This can help you truly enjoy the quality of surround sound
The radiator is also loaded with cool LED lights with a dual 256 level brightness display 
It comes with a built-in 5000mah super electric vehicle battery
Related Reading: How To Love Yourself – 21 Self Love Tips
22. Salt and pepper grinder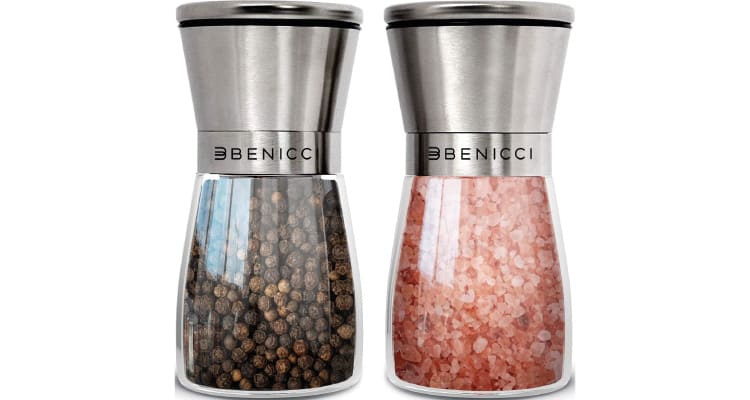 A cute little set of salt and pepper grinder to sit on her dining table. Every time she sees it on her table, it'll remind her of you. This is one of the cheap birthday gifts for her when you don't have a lot of money to spend yet you want to give a thoughtful gift.
It comes with a wooden spoon, cleaning brush, and comes in a gift package
Has a non-corrosive ceramic grinder 
Made of durable stainless steel 
Comes with an easy grinding coarseness with four stages of grinding 
23. Beautiful jigsaw puzzle
Want to spend some quality time with your girlfriend and connect with her on a deeper level? Get her this beautiful jigsaw puzzle and spend an evening solving it. The picture on the puzzle is so aesthetic, it'll make the gift look expensive and nobody will know these are gifts under $50 for her. 
It has 500-piece Ravensburger large format jigsaw puzzles 
Crafted with premium quality in terms of both content and material
The size upon completion of the puzzle is 27″ x 20″
The pieces of the puzzle come with an anti-glare extra-thick cardboard
24. Humidifier
This is one of the most unique gifts under $50 for her. Help her breathe better, sleep better, and live better at home with this humidifier. Dry air can cause a lot of breathing problems. Make the air around you cool and breezy by getting her such small thoughtful gifts for her.
It pumps moist air almost immediately and effectively which will make you feel better in minutes
Operates in complete silence 
No humming, whistling, or crackling while it is operating
This durable whole-house humidifier steadily and efficiently dispenses the soothing cool mist you crave for
25. Freezable facial globes
Ice cold relaxation helps in reducing puffiness under eyes. Chill the globes in ice for some time, then apply serum or oil on your face and roll the globe on your face and massage for 15-20 minutes. Give such gifts under $50 for her and watch her skin glow with happiness.
Promotes relaxation and relieves tension
Restores the skin's natural radiance 
Minimizes pores and brightens skin
It is durable and freezer safe 
26. Mug warmer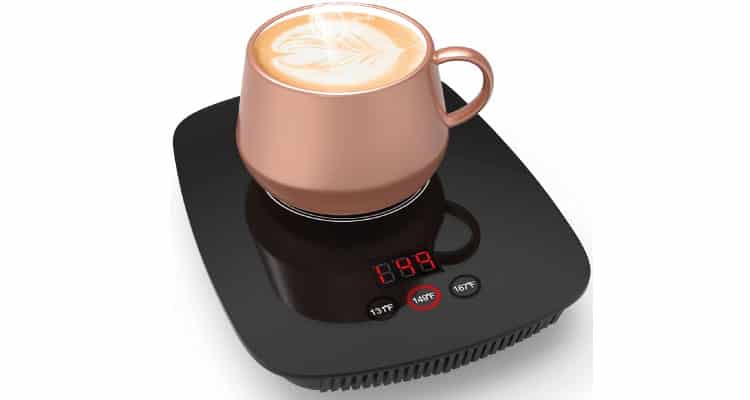 Does your girlfriend enjoy a good cup of coffee or tea every morning? Then look no further than this coffee mug warmer which is a mini-sized mug warmer, almost the size of an iPhone. Your girlfriend can take this to work and enjoy her warm beverage anywhere she wants. These are great for gifts under 50$ for her. She can have a warm beverage any time she wants.
This mug warmer is small and stylish
This comes with an automatic switch with heating and constant temperature monitoring functionalities 
It has three temperature settings, ranging from warm to hot, and reaches up to 167 degrees Fahrenheit 
This cup warmer comes with an auto shut-off function which turns off the heat after 4 hours
Related Reading: 6 Ways To Get Romantic With Your Partner This Monsoon
27. DIY wine making kit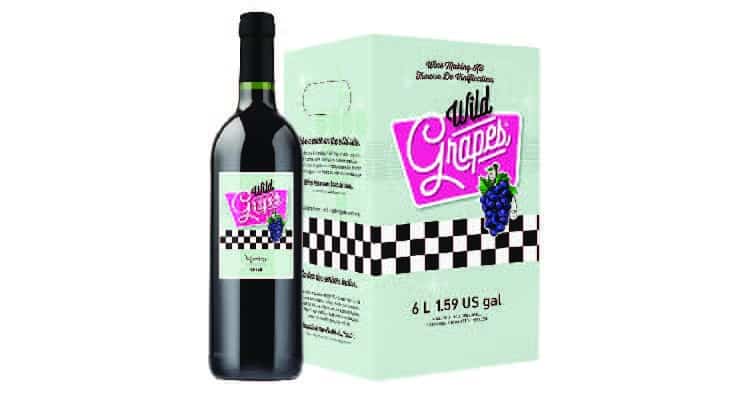 Most women love wine, and if your partner is one of them, then this gift is a no-brainer. It is hip, iconic, and new age. This DIY kit will help you both bond. It has quality, flavor, and aroma, which makes it unbelievable that this is one of the gifts under 50$ for her. Make this wine and enjoy it on a romantic at-home date night. Get drunk together, be goofy together and make silly mistakes. 
Chilean Merlot is a red wine with rich fruity blackberry and plum aromas
This Chilean Merlot is made up of premium ingredients and easy to make
Pick your wine style and pair it with the Wild Grapes wine started kit
Each DIY wine kit includes a wine base, yeast pack, fine agents and 30 labels
Follow the instructions given and you will have a delicious wine in just four weeks
28. Oversized hoodie
Seen on the famous show Shark Tank, this one-size hoodie blanket that fits all sizes and bodies is a must in every girl's closet. Your girlfriend will love such illustrious birthday gifts for her that don't look cheap.
This wearable blanket will keep your girlfriend warm on cold days while working from home or just chilling in her room watching a show
It is extremely comfortable and made up of luxury materials 
You can pull your legs inside to be completely covered in a blanket 
The blanket is ideal for people of all sizes and ages. You just need to pick a color your girlfriend would like the mos
29. Bath bombs gift set
These bath bomb gift sets by LifeAround2Angels are uniquely designed, handcrafted in USA, and made in a clean environment. Girls love to smell good and feel good, which makes these bath bombs one of the small thoughtful gifts for her. This is one of the great gifts for wife under $50.
This set has 12 handcrafted bath bombs that come in 12 different scents, each about 3 oz and 2 inches in diameter
Made in special clean rooms, hygiene is guaranteed 
Made up with sterilized equipment, they are bacteria-free bath bombs
They are all handcrafted with flower petals, pearls, and flakes
30. Aromatherapy diffuser
It's a great gift for every occasion and counts as one of the gifts under 50$ for her. Their essential oils are formulated using high-quality plants sourced from different regions of the world. Their oils are sourced from all over the world, such as lavender from France and Tea Tree from Australia.
Their essence diffuser has a 400ml capacity and uses wave diffusion technology to atomize essential oils for ultimate wellness
It comes with ten essential plant oils. To protect the oils from sun degradation, they are packed in 10ml amber jars
They have absolutely zero additives or fillers in creating the oils 
They use local harvesting as it is environmentally conscious and creates a better essential oil
31. Bookends
Is your girlfriend an avid reader? Is she a bibliophile who loves to read and hoard books? Then this pair of handmade bookends will make the classiest gifts under 50$ for her. This set of 2 decorative bookends pairs a contemporary geometric design with the timeless appeal of marble décor. It is the perfect home design for shelves.
Brass inlays adorn each side of these modern bookends 
It adds a touch of gold to your library decor
Each of these heavy bookends are carved from solid stone and weighs approximately 4½ pounds
A non-skid bottom adds additional stability to hold large books.
Related Reading: How To Celebrate Valentine's Day Without Spending A Fortune
32. Scented candle set
The power of smell is like no other. Scents can awaken memories and can send you to a calming place. Your girlfriend will love this deluxe 100% natural soy wax. This gift is synonymous with luxury, class, and sophistication.
It is made with premium and highly refined all-natural soy wax
It has a low melting point, which provides each candle a 60-hour burn time
It promotes relaxation and is believed to relieve anxious minds
It is 100% sustainable and vegan friendly
33. Tea set
Who doesn't love having tea at least once a day as a cup of good tea can relax, breathe and let go. It will calm the senses. Whether it is Earl Gray or jasmine tea, I don't mind as long as it's hot and steaming. 

These tea sets are wellness and good health wrapped together as a gift
These are delicious teas in regal and luxurious packaging, making them the perfect gift for your perfect partner
You get 60 tea bags comprising six fruit and other different herbal flavors
These are gourmet tea bags made with the highest quality tea selection
34. Felt letter boards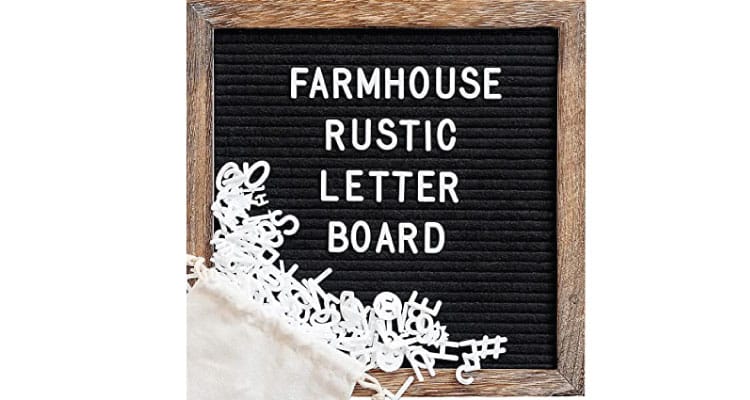 Felt letter board with letters and numbers fits in great with any decor and will most certainly match your girlfriend's room decor. Spell out romantic things for each other by the help of this letter board. There's no doubt your girlfriend will not love such gifts under 50$ for her.
Has a classic 10×10 inch solid wood frame
The wood is distressed by hand so there will be some variation
Sturdy metal wall hook and wood easel stand makes this message board with letters flexible 
Nine bonus cursive words and picture holders and note clips included with this letter board
35. Cake stand
Whether you are looking for something to spice up your girlfriend's center table or to give her an appropriately elegant stand then this white-painted, round wooden cake stand with collapsible legs fits the bill in style. This looks so royal that nobody will ever find out these are part of gifts under 50$ for her.
With its one-inch-thick round wooden top and four elegant little legs that fold inward
This 12" diameter, 4.5" tall wedding cupcake stand will grace all your events 
Whether it's spices, a plant, or a sumptuous cake, it can hold anything
It comes with foldable legs, and it is easy to clean
36. Charcuterie board set
f you give such expensive looking gifts under 50$ for her, then her guests will be dazzled to see something like this at a party. They specialize in cheese boards with a ton of beneficial features to make entertaining fun and easy.
Their serving board is the perfect size for displaying a variety of delectable food items
This includes meats, cheeses of various textures, crackers, veggies, fruit, jellies and jams, dips, and more
Charcuterie boards are an art form. You can design a unique and gorgeous platter for any festivity
Consider this bamboo cheese board a blank canvas on which you are the master artist 
37. Marble fruit bowl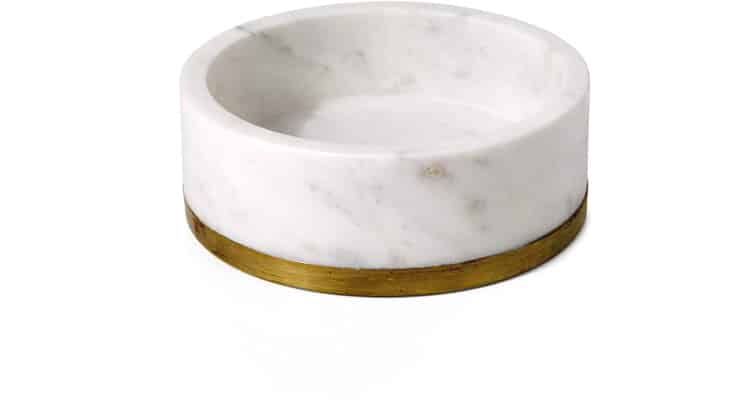 Looking for some more women's gifts under 50$? Here's a great one. Imagine she wakes up every day and goes to make breakfast and finds this marble fruit bowl full of fresh and healthy fruits. It would remind her of you every morning she looks at this elegant piece of bowl. It looks extremely regal and stylish.
It is a handmade natural bowl 
Has an unpolished finish to the marble
A brass ring at the bottom of this handcrafted bowl adds a pretty detail
This bowl is sold and measures 2″ in height and 6″ in diameter
38. Stovetop popcorn popper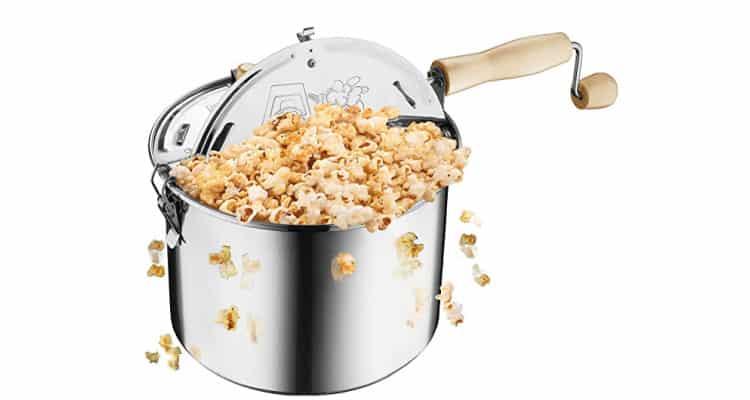 This is one of the great Women's Day gifts under 50$. Are you guys watching a movie with no popcorn? Sad. Get her such gifts under 50$ for her and make your movie nights memorable.
Makes 5-quart of popcorn in just minutes
Comes with a unique spinner stirring mechanism that prevents burning
The handles and knob are made of real wood
It is easy to clean. Just wipe with a paper towel and store for later use
It's a big list of small thoughtful gifts for her, and they are all amazing gift ideas for women under $50. They may be cheap, but they don't look that way. After all, the intention of the person behind giving a gift is what matters the most rather than its price. We wish for you to enjoy your special days without the worries of a fat cheque paying for those things. Happy gifting! 
36 Sentimental Gifts For Best Friends – Thoughtful Gift Ideas
Ask Our Expert
You must be Logged in to ask a question.