This is my Ask our ExpertThis is my Ask our Expert
The Pride Parade is the most important event of the year if you're from the LGBTQ community. This annual event needs you to look your best and for that reason, we've come up with these gay outfit ideas that will make you look stunning for this year's Pride Parade.
Pride Month celebrates the progress we've made while also raising awareness about other significant issues affecting the LGBTQ+ community. June is also a time to celebrate love and individuality in all of its manifestations – publicly, loudly, and proudly. With Pride approaching, there will be 30 days of events honoring living openly and recalling the Stonewall rebellion in New York City in June 1969, which accelerated the campaign for LGBTQ+ rights in the United States.
Fabulous Gay Outfit Ideas – A Complete Fashion Guide
Dressing up well for the Pride Parade is important for several reasons. Those who belong to the pride community, dress up flamboyantly to express their individuality since that's what Pride month is about. Whether you're someone looking for outfit ideas to join the Pride Parade this year to show your support or are a member of the LGBTQ community, don't worry. Here is a list of outfit ideas for you to consider wearing for Pride.
1. Oh Deer I'm Queer gay pride t-shirt
When looking for gay pride outfit ideas, you can never go wrong with a graphic tee with clever LGBTQ wordplay. This t-shirt is a wonderful way to proclaim your gay pride anywhere. And of course, you can wear this t-shirt even after Pride month is over. Sometimes it's really difficult to find gay club outfit ideas, but you can so rock this t-shirt with any flamboyant bottom of your choice. Have no worries about the comfort, this t-shirt is made with ring sprung cotton, ensuring comfort even after multiple washes.
Queer wordplay in polygon optics
Rainbow colors based on rainbow flag of LGBT community 
Superior design and high-quality prints on t-shirt
Lightweight, classic fit, double-needle sleeve and bottom hem
Related Reading: 21 Gifts For Lesbian Couples – Best Wedding, Engagement Gift Ideas
2. My Wife Has An Awesome Wife lesbian t-shirt
Are you a couple looking for gay outfit ideas? Maybe you want to show off your girlfriend in the Pride Parade? This t-shirt design announces to the world – "My Wife Has An Awesome Wife" which is nicely incorporated into the design with a bold font and the rainbow colors of Pride. This gay design makes it a witty and cool outfit idea for any occasion, especially during the Pride month. Your search for pride festival outfit ideas for lesbians stops here.
Perfect for lesbian couple to wear together 
Lightweight, classic fit, double-needle sleeve and bottom hem
90% cotton, 10% polyester
Soft back neck tape for no irritation
3. Ah, Men! LGBT Jesus rainbow flag tank top
As Pride Parades are about the celebration of the LGBTQ's social and self-acceptance, and legal rights, this tank top is your witty response to all the hotheads who try to put you down from a religious perspective. If you and your boyfriend have been looking for cute gay couple costumes that can match, this tank top is the right one for you. Additionally this tank top can be a way for you to clear up myths and misconceptions about gay people.
Solid colors, 100% Cotton
High-quality prints that will last even after multiple washes
Lightweight and airy tank top
Double-needle sleeve and bottom hem
Related Reading: Transgender Dating And The Taboo Around It
4. Adidas Women's pride crop top
Love unites us all, this Adidas crop top is the perfect outfit if you want something that's fashionable and subtle but still has dollops of queer charm. With this crop top, show your colors at the Pride Parade. You can even wear this on your morning run throughout Pride month as this workout crop top is part of an Adidas collection that celebrates LGBTQ Pride. The lightweight fabric is cool to the touch, so you stay focused on your moves.
100% Polyester, regular fit with round neck
Designed for any type of training session, from HIIT class to hot yoga
Material is quick to dry and cool to touch
Sportswear with Pride theme to show off your queerness
5. Circuit Star holographic gay jockstrap harness
Circuit is a brand that is LGBTQ exclusive with its fashion. The wonderful thing about this list of gay outfit ideas is that a lot of these can be worn again on different occasions. This jockstrap can be useful to those who are always on the lookout for gay club outfit ideas as well. No matter where you wear it – whether for Pride or while out clubbing – you're going to look stunning in this outfit. This jockstrap harness and string bikini thong for men is one of the most boldly gay Halloween outfits on the internet.
83% Polyester + 17% Elastane
Stand out in the crowd with stylish, influencer, designer wear style
String bikini thong for men.
Stylish, bold and sexy for the Pride Parade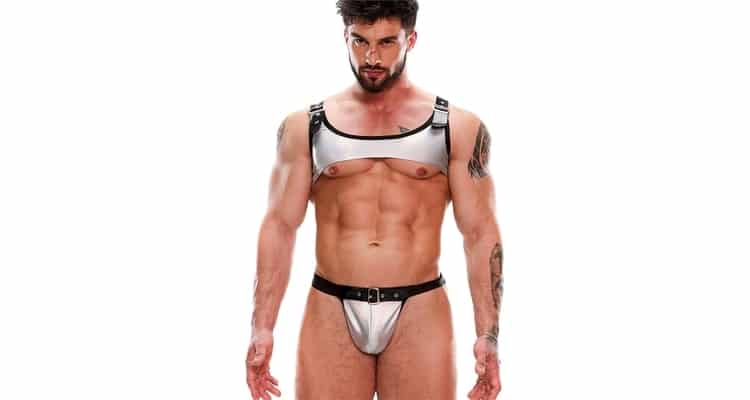 6. Women's rainbow thigh highs socks
Leg Avenue is known for its effort in accessorizing women's clothing and this product belongs to their LGBTQ lineup. This can be worn under pants, or with a dress, skirt, or shorts. This is perfect for Pride Parade or any other occasion celebrating Pride as they are super comfy. Throw on a cute headband and you've found one of the cutest Pride festival outfit ideas for this year.
Can be worn under pants, or with a dress, skirt or shorts
Fun and flirty
Made of 85% nylon and 15% spandex ensuring comfort and stretch-ability
A pull-on closure design makes it easy to wear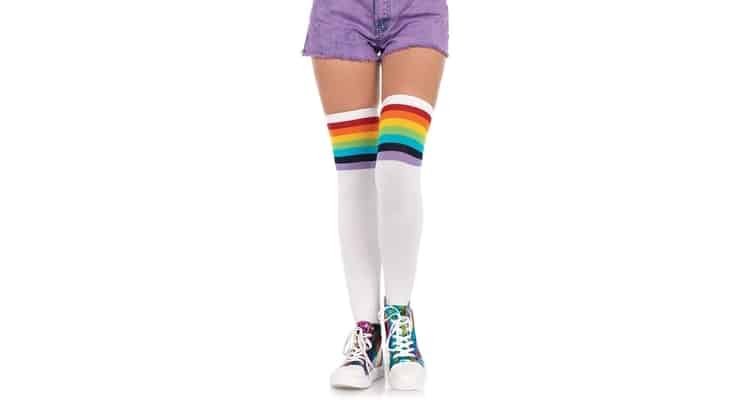 Related Reading: What You Need To Know About Coming Out Of the Closet
7. Leg Avenue's festival butterfly wings
Do you enjoy dressing up in a costume every chance you get? These butterfly wings are a good costume for you then. No Pride Parade costume is complete without the perfect costume accessories and these wings will make you stand out during the Pride Parade. Since you'll be accompanied by your friends, you can create cute gay couple costumes with these colorful wings. Take flight with these gorgeous wings and consider checking out the other accessories we've mentioned to create one of the best gay outfit ideas.
Monarch butterfly wing halter cape with wrist straps and support sticks
Gorgeous high-quality wings
Features vivid colors on soft flowing fabric
Comes with adjustable velcro collar and wrist straps for comfortable wear
Includes easy to install portable sticks for wing extensions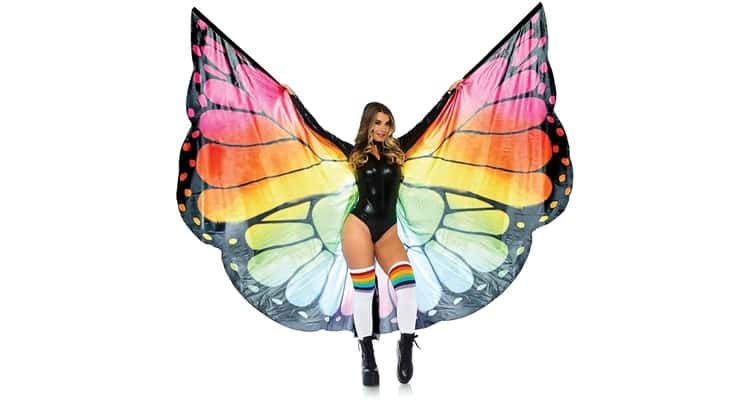 8. Women's fishnet crop top
Create a look that's as unique as you are and win with this sexy fishnet crop top. This soft, stretchy fishnet is sure to hug all your curves just right while you shimmy and shake the night away. From playful festival wear to a bold layering piece, this flirty fishnet top is a versatile addition to any wardrobe. You'll be the life of any party or festival when you layer this rainbow crop top with your favorite festival pieces for Pride.
Stand out with this fun, long-sleeved rainbow fishnet crop top festival wear by Leg Avenue
Flattering fit and scoop back detail 
Made with stretchable fishnet fabric
One size clothing flatters all body types across sizes 4-12
Hand wash only to maintain quality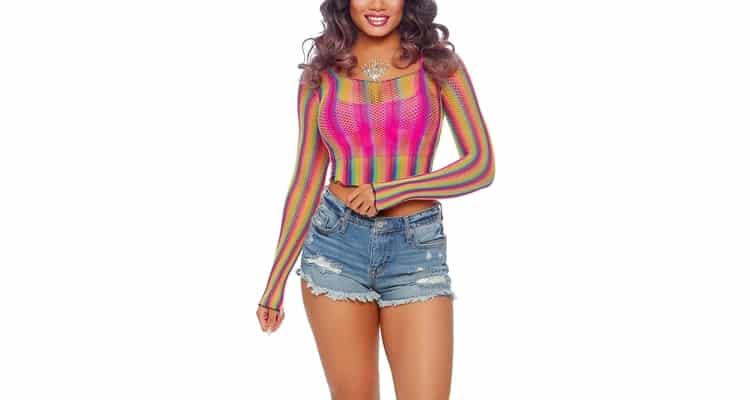 9. Furry cat ear headband
Pride Parade is incomplete without cute headbands. These are purrrfect to wear with almost any costume ideas you may have. Whether you wear it with a casual outfit or a bright rainbow-colored vibrant one, these will compliment any gay outfit ideas you have. For those of you who are here in search of cute gay couple costumes for Pride Parade, then order a pair of these for you and your partner and you're sorted. These headbands are a fun piece to wear to any LGBTQ event. They're really cute to wear and are a great addition to any cosplay or gay Halloween outfits from your wardrobe.
Handmade item 
Elastic band ensures snug fit on most heads
Can be worn for Pride Parades, cosplay parties, Halloween, etc.
Creative outlook with LGBTQ theme
Related Reading: How To Build A Healthy Gay Relationship
10. Women's gothic boots
This article of gay pride outfit ideas would be nearly incomplete without a product that has a gothic theme to it. The Gothic subculture was developed by the fans of Gothic rock. These punk fans wished to influence the world with their taste in fashion, music and art. These gothic boots can be the perfect addition to your wardrobe because you can pair them with a variety of outfits. These goth platform boots have a heel height of about 3.93″. The rainbow soles and buckles add a colorful and flashy look which makes them perfect for adding an edgy finish to jackets.
Knee-high boots with rubber, platform soles
Soles are anti-slip and abrasion-proof
Shaft measures approximately 3.93″ from arch
Adjustable lace-up design is easy to put on and take off
Breathable insoles allow for all-day walking in comfort
11. Women's halter crop top and shorts set
Are you looking for cute gay outfit ideas for Pride Parade this year? Since fashion is highly subjective, if your preference is cute and comfy outfits then this rainbow-themed halter crop top and shorts set is the one for you. There are several things that attract a woman to another woman. You'll be able to put this halter top to good use when you're visiting a club as well – dress up all sexy and ready to party, and hoping to catch an appreciative glance or two or three…wink 😉 Great for lounging or running, going for errands, and anything else you can possibly think of.
Durable and comfortable material with elastic closure
Sleeveless halter with straps and rainbow patch
Comfortable, elastic waist, dolphin shorts
Clear, high-quality prints and cute style
Lots of color options available
12. Pride jewelry set
And lastly we have a cute, four-piece accessory set to complete your Pride festival outfit ideas. This simple and cute jewelry set will enhance any outfit you wear, and the best part is that you can wear them every day. Before you worry about them becoming tarnished, they're made out of stainless steel which is resistant to tarnish and rust.
Made from stainless steel instead of alloy or brass
Highly resistant to rust, corrosion and tarnishing
Durable while being fashionable for everyday use
Meaningful jewelry with an LGBTQ theme
Comes packaged in cute gift box
That's a wrap to our list of gay outfit ideas that we have drawn up for you. If you've stuck around till the end, we're sure you've found items that you've liked. Don't forget to send this piece to your friends who are also in need of outfit ideas for the parade this year!
Ask Our Expert
You must be logged in to post a comment.