Long gone are the days when men used various charms to woo a girl of their choice. Now, the tables have turned and so the women are upping the art of seduction by charming the man they want. Believe it or not, the art of seduction comes naturally to women. Nothing can stop these shy, beguiling beings from wowing the man they like and making them go crazy when they show their best moves in the game of seduction.
Have you wondered how Marilyn Monroe captivated the attention of the millions with her subtle and sensual persona? Agreed she was beautiful and way ahead of her times, but the ways she used the seduction tactics made her an object of desire and fascination the world over. Now, you must be thinking only celebs can ace seduction tactics. Here, you are wrong. Every lady in the universe has been blessed naturally with a gentle demeanour and persona. Just all you need is to channelise that inner diva hidden within you and ace the different forms of seduction tactics. Before we explore further, let us first clarify the concept of seduction and how women like you and me can use the subtle seduction game to our advantage.
Related Reading: Tips For Every Married Woman To Seduce Her Husband
What Is Seduction?
Seduction is the power to make someone fall for you. The deliberate attempts to make someone feel especially attracted to you and drive him to have sex with you count as seduction tactics. This concept is mysterious, challenging, interesting and exclusive. Woman, already famous as a mysterious being, can use different seduction weapons to her advantage.
She can intertwine different aspects of her personality like charming looks, intelligence, sense of humour, beguiling persona into an irresistible combination to woo a man she wants.
Let us explore different ways with which a woman can transform herself into a sultry seductress and ace the art of seducing a man like never before.
Get ready to seduce a man
Seduction is an art that begins with you. So, when we say you are ready for it, we mean it literally. A well-dressed woman is equipped with the armour of self-confidence and charm naturally. If you wonder how being charming, subtle and classy can help you being seductive, then we have an answer. As per 'men and the power of visual', male sexuality is attuned and influenced by visual cues. Simply put, the way you dress and present yourselves leaves a great impact on how men see you. For them, an excess of everything is bad, be it makeup or skin show. Both of them come across as a made-up effort or fake, which is a big turnoff while seducing men with looks. Two handy tips on seducing a man are here for your reference, to help you prepare for your irresistible first impression.
Keep it classy: Classy women know how to turn up for an occasion. By following fashion etiquette pretty well, you can bring out the power of visual appeal and woo any man you like. Don't forget to wear your perfume and you will keep getting compliments for sure. While choosing a dress, too much skin show is a big No-No. If you are wearing a short dress, make sure cleavage is not visible. Or if it is a backless dress, keep it at a decent length. Balance your dressing rules well and you will be classy and elegant for the date
Keep it natural: Makeup should be natural for a date-look. We know you want a glamorous presence, which is easy to achieve if you use cosmetics subtly. Balanced use of products makes you look comfortable in your skin and empowers you with confidence and natural beauty. So ladies, take out your staple makeup products, including a shade of lipstick, to bring out your best side. Follow these tips to shine like a diva and take the firm steps towards the art of seduction
How to seduce a man with words?
Any man interested in you will love you for wit, intelligence and humour. Deep and interesting conversations can introduce a man to your engaging side. Talkative girls can use this charm to their advantage and engage the man they like, know more about him and build a lasting relationship. Besides the emotional connection, women can also use the art of casual conversation to assert their interest in men. This is where seducing a man with words comes into the picture.
Yes, you can seduce him just with 'words'. The safest way of seduction, words can help you express your interest in him. Let us give you some tried and tested tricks with words to make him fall for you.
Be spontaneous: Men like women who are positive and happy by nature. Make him comfortable in your company and enjoy light-hearted conversations. While seducing a man with words, try to make a conversation flow seamlessly and talk over easy-breezy topics
Flirt with him: Flirting is the art of making people feel attractive. For girls, simple flirting is the safest way to express their interest in a guy they like. There are no magic phrases to seduce a man with words. Go with the flow. Instant pickup lines might seem cheesy but are great icebreakers. He will surely be impressed with your attention
Compliment him: Bring out your strong observation skills and shower him with honest compliments. You may like his chiselled face cut or intense look/hooded eyes, but are hesitating to express your admiration. Don't hold back, as guys also like compliments. Ask him if he is working out because he's looking fitter and muscular. Or the jacket's colour is suiting him. If he smiles and says, thank you, then the magic of compliments is working on him. So, don't miss out on it and express your compliments sincerely
Take a keen interest in his life: You must take a real interest in his life and understand his passion, hobbies, interests and personal challenges. Be a good listener when he is opening up to you. This shows your interest in him and his life. This move will strengthen your connection with him and provide a strong base to your chemistry
Challenge him in the game of words: Praising and agreeing with him all the time can make your relationship boring. To avoid that, our experts suggest you try out reverse psychology on him and challenge his views. See how he responds to a different point of view. Don't be aggressive. Be polite and curious and see how this turns in your favour and introduces you to some of his hidden traits. At times, leave a conversation with a cliffhanger to see how curious and interested he is in you. Who knows, this curiosity can trigger his interest in you even more
Related Reading: Fractionation Seduction- How Does It Work? Step-By-Step Guide To It
How to seduce a man with body language?
Body language is the most underestimated way of seducing a man. There are some interesting insights on using the body language to seduce a married man here. Just because we are unaware of the science, we miss out a lot. But now, seducing a man with body language can be an easy task. Ladies, you can express your sexy side with your crisp posture. A straight back highlights your confidence in your personality and a straightforward attitude. Show up in your heels to enhance your attractive body features. Playing with hair can make you look sexier and attract his attention. So, twirl your tresses or run your fingers through them to tease him even more. Isn't that great? Well, we have just started. Team it up with your irresistible smile. Pair it up with flirty eye contact, and you have a man approaching you for more.
Touch him flirtatiously. 'Accidentally' brush against his hands. Make your first moves through these body language cues and catch his eye for desirable chemistry.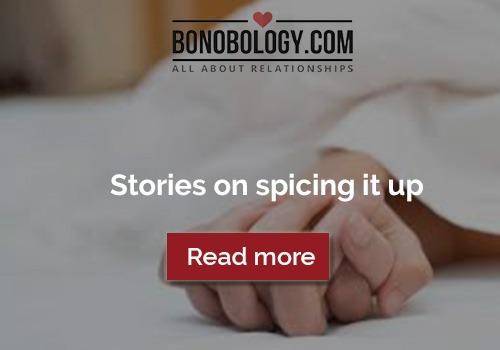 How to seduce a man on the phone?
If you are thinking how to seduce a man on the phone then let us tell you this, women can use subtle tricks while seducing a man on the phone and capture their attention subtly. You can use a phone to curate voice-based and text conversations to deepen the connection with him. Define your goal of seducing a man – an instant hook-up or a long-term relationship, and then work on the quality of your conversations accordingly. You can also use video calls to seduce a man on the phone.
Through 'voice' calls, you can create a world that is sensual and enticing. Be it interpersonal or telephonic conversations, try to talk in a low pitched tone. This makes magic for your sensuality and makes you sound seductive. Avoid being excited and animated. Practice calm before you initiate a phone conversation. Take a few deep breaths and think what your topic of conversation will be. Restrict the number of phone calls. If you are thinking of how to seduce a man with your words  then also realise that if you keep space in your phone calls it works wonders.
Men too need their own time and space away from you. If you keep calling him often, he may start taking you for granted. Refrain from the extremes like 'phone sex' if you don't want a casual relationship.
Use 'Instant Messaging' services like Watsapp and Messenger to convey that you are thinking about him. Let the emojis do the talking. Every guy likes to feel wanted, especially from a girl whom he is interested in. Use his name repeatedly while typing a text for him. This makes chatting personalised and special for him. Keep the messages short and sweet. A little bit of mystery in messages makes him ask for more and keeps the conversations relevant and interesting. Go beyond, 'How your day was or what did you do all this while?' and see how he responds. Again, don't overdo it. Restrict your instant text messages and let him get back to you. Be patient with your phone seduction tactics with men. Some men take a long time to express themselves, whereas some just sail along the turf. Evaluate a conversation afterwards, try to find out the hidden meaning between the lines and play along. If you both have palpable chemistry, then seducing a man on the phone will inch you closer to him.
How to seduce a man with your eyes?
Over many centuries, the beauty, depth, and emotions expressed through eyes have inspired poets, songwriters, novelists and lovers alike. One of the iconic beauties of all times, Audrey Hepburn once expressed, "The beauty of the woman must be seen through her eyes because it is a doorway to her heart, the place where love resides."
Women who are eyeing a man must take full advantage of it. While seducing a man with words, establish eye contact with him while talking and he will sense your interest and curiosity in him. Gaze at his eyes for a second while he is talking and then move your eyes to different parts of his face. When you share a glance, respond playfully with a sexy smile. This way, you will end up seducing a man with your eyes in an irresistible way. If he is not hesitating to establish eye contact with you, then this is a great sign for you. It shows you are getting along well. If you couple this with a sexy smile, then this will give him sure-shot signals that you are interested in seducing him.
Related Reading: Flirting With Your Eyes: 11 Moves That Almost Always Work
How to seduce a man sexually?
Men are like ON/OFF buttons. It might take seconds to turn him on or lose his interest in sex. So, ladies, you have to be extra careful while turning a man on for a sexual encounter. Make a disturbance-free ambience desirable for heated action between the sheets. But if you know him in and out, then seducing a man sexually is not difficult. The next level is to tease him with your love notes. Tell him what you want to do to him. Share your sexual fantasies. Bare it all. This will be a big turn-on for him and set him out for steamy action. Encourage him to share his fantasies with you and fulfill them passionately.
When he is out of the shower, show up in glamorous bare essentials. This will set the action in place. Bring up food in the picture. You are already looking delectable to him and seducing a man with food will fire up the action.
Prolong the foreplay with chocolate, wine, strawberries, whipped cream or ice cubes – the imagination is up to you and so is a satisfying foodgasm.
Be creative while using food for seducing him. If you are a less-experimental couple, then go for deep and lingering kisses. The more, the better. Another way of sexual seduction is to relax him with massage techniques and he will be up with all the action.
With all these tried and tested tips in place, we are sure you will master the art of seduction in no time. But if you find it difficult to channelise your seduction game, then don't hesitate to contact our Bonobology Counsellors for personalised guidance.
Men share how they feel when they are the only ones initiating sex every time