A pregnant woman, more than anyone, deserves to be lavishly pampered. Whether you're a first-time or fourth-time mom, nurturing a new life is a 24-hour job that takes a toll on your body and mind. Thus, it's a no-brainer that nothing short of the best gifts for pregnant women will do.
While many expectant mothers have registries filled with all the things they'll need once the baby arrives, there's nothing wrong with treating your friend – not the baby – to something unique off the register. This approach is probably more considerate because it focuses on the needs of the expecting parent – something that usually gets forgotten in the hullabaloo once a child is involved.

We have prepared a comprehensive and budget-friendly list of the 30 best gifts for pregnant women, any of which we're sure they would love to receive.
30 Special Gifts For Pregnant Women And Expecting Moms
There are plenty of gifting possibilities out there when you're celebrating her birthday, a baby shower, the holidays, or simply want to say "Thinking of you." Pampering gifts for pregnant women like bath soaks or huge body cushions can help reduce the symptoms of common pregnancy problems. Then you have clothing to keep her comfortable during delivery and even elegantly crafted luxury gift baskets to commemorate the occasion. Yup, so many options to choose from!
Related Reading: 30 Gift Ideas For Women Who Have Everything – Unique Gifts For Her
You also don't have to spend a lot of money to find something unique. Many meaningful presents are nevertheless luxurious. They're also great as birthday and holiday gifts. Check out our list of the best gifts for pregnant women if you're looking to pamper a friend or family member.
1. Premium wood sonogram sized photo frame
Your favorite expectant mother probably can't wait to show off her new baby, and this thoughtful present ensures she won't have to. The frame is the right size for her most recent sonogram photo, and it says "love at first sight" in a charming font.
High clarity, glass display 
Smooth, contemporary display 
Comes with a cute gift box 
Sturdy, wooden frame 
Ready to mount 
This sonogram frame could be the perfect gift for pregnant wife. She will be thrilled to see how excited you are to welcome your newborn and have already made them a part of your family. 
2. The Big Fat Activity Book for Pregnant People
The days running up to a pregnant woman's due date are the slowest in the world. Mama is ready for the baby after more than nine months of waiting, but newborns stick to their own schedules. While she waits, she can pass the time with this exciting adult activity book. It is one of the best gifts for pregnant women because it allows them to spend their time productively and has a host of puzzles and word games that will keep them occupied even in bed.
Word finds: Sorry, Nope (all the stuff you're not allowed to have anymore); Bad Baby Names (Merle, anyone?)
Mazes: Make it from Your Desk to the Bathroom Without Throwing Up
Lists: How to Register Without Crying; Things Every OB on the Planet Has Been Asked by Newly Pregnant Women
Journaling: Yoga Teachers (Also Your Mom Friends, Your Parents, People on Facebook, All Articles, and Everyone You Meet) Want to Tell You How to Give Birth, But You Don't Have to Listen
Quizzes: Which $1500 Stroller is Different?
Expecting moms can have a tough time enjoying activities they previously loved. This book is one of the best gifts for expecting mothers because it can help take their mind off the bundle of joy she is eagerly awaiting. 
3. Expecting You A Keepsake Pregnancy Journal
Looking for a thoughtful present for your pregnant sister or best friend? Try this fill-in-the-blank journal to help her keep track of her pregnancy from beginning to end. It's a terrific method for her to work through some of her hopes and worries right now, and it'll also serve as a wonderful family heirloom to pass down to her child in the future.
A place to record thoughts and feelings
Carry it everywhere
High-quality paper 
Beautiful design
Journaling the moments leading up to the birth of the baby is a real gift for pregnant women. The husband and wife can make notes of the significant moments like the date of the first sonogram, first kick, games played at the baby shower, etc.
4. Everlasting comfort bath pillow 
Related Reading: 35 Funny Gag Gifts For Women | Best Gift Ideas For 2022
After a long day, no pregnant woman's self-care routine is complete without a warm soak. To make the bathing experience even more relaxing, add a bath pillow that supports the neck, back and enhances the overall bathing experience. This is one of the best gifts for pregnant women. 
Strong stick on 
Easy to dry 
Extremely comfortable 
Holds all bath accessories 
Fits any tub, spa, or jacuzzi 
We know she is not going to get the time to enjoy a relaxing bath once the unborn child arrives, so why not gift her a lovely and relaxing experience while she can still enjoy it.
5. Letters to my baby 
While your buddy is caring for her growing baby, she can fill out 12 prompt letters with memories and desires to read to her future child. It is one of the best gifts for pregnant women and sets them off on their motherly journey helping them feel connected to the baby. 
Includes 12 letters with various prompts like: 
On the day you were born
My wishes for you are
Your first home was like this
A great gift for a pregnant woman to nurture her motherly emotions while she waits to talk to the baby. These letters can be cherished for years and become an integral part of their relationship.
6. Pink Stork Flakes Pregnancy Bath Salt
Bath time isn't just for relaxing; it's for relieving the pain in sore muscles. Upgrade her bubble bath with salts, developed to boost magnesium levels in the body, a nutrient shown to help with aches and pains.
100% Dead Sea Salt bath flakes
Supports relaxation 
Made without gluten, wheat, dairy, soy, GMOs, etc.
Magnesium helps with stress, sleep quality, blood circulation, leg cramps, and headaches
Safe for pregnant women
A bubble bath might be just what she needs. It is a great gift for pregnant wife. You can rekindle the romance by taking a relaxing bath together while sipping on some non-alcoholic drinks. 
7. Safe Baby Handling Tips Board Book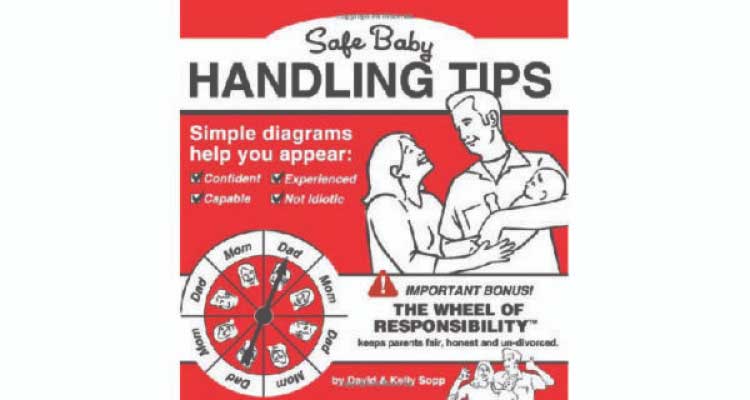 This amusing book makes a terrific gift for expecting mothers. If she has no prior experience with childcare, it will teach her the fundamentals in the most hilarious manner imaginable.
Safe tips 
Updated for modern parents 
An indispensable guide to parenting 
Helpful and relevant 
Lord knows how befuddled a new mother is before the baby arrives. Help her relieve some of her stress through this hilarious and instructive book. 
8. Snoogle's original maternity/pregnancy total body pillow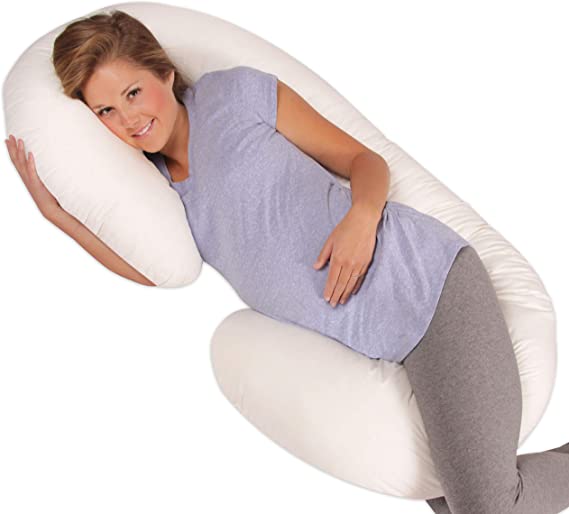 After a long day of carrying a growing baby, there's only one thing mama wants… to cuddle up to a life-size pillow. This cult-favorite has nearly 5,000 five-star reviews for a reason: it cradles her belly and supports all her aching joints, allowing her to sleep easier. A thoughtful gift for your pregnant friend to help them enjoy cuddle comfort and support without the extra body heat.
First and true original Snoogle
Snoogle takes the place of multiple pillows to help support hips, back, neck and tummy
Patented design, developed by a Registered Nurse and mom
Sham-style removable cover – machine washable

Don't be jealous dads-to-be, but until the baby arrives, this pillow is going to be the cuddle partner of your wife. This is one of the best gifs for pregnant wives because they will be able to sleep like a baby (pun intended ).
9. Maternity support belt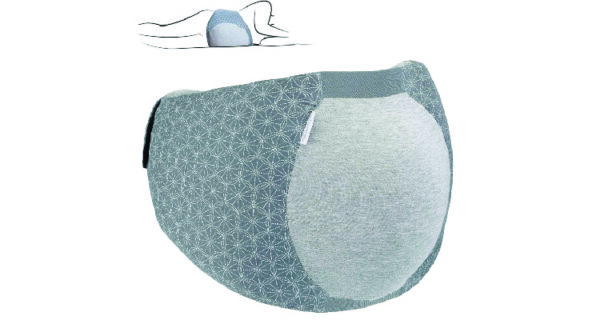 Mom is hauling a heavy load these days and her back will suffer as a result. This belly band with support can assist you. It softly cradles and raises her belly to ease the pressure, and it comes with two memory-foam pads for added support when she's lying down.
Cotton 
Easy to wash 
Comes with a hook for support 
Ultimate comfort 
This is a great birthday gift for pregnant woman especially if her birthday falls during the last months of her pregnancy. She'll be touched to know you've got her back (aww, come on – it was so obvious!)
10. Mama Bee Belly Butter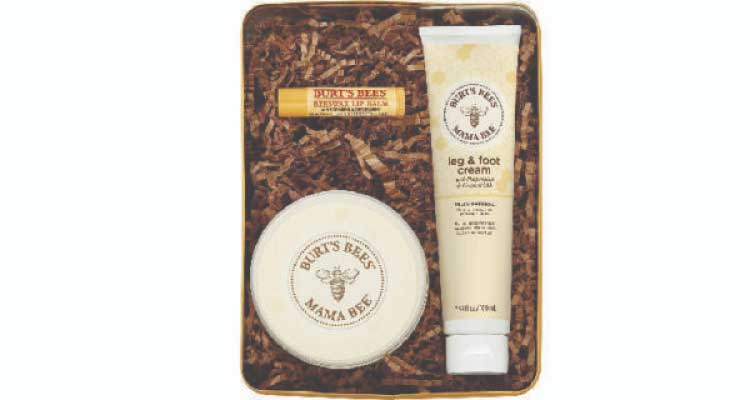 Her skin will stretch and tighten as her belly expands, resulting in a dry, irritating feeling. This hydrating body butter is filled with nourishing shea butter and vitamin E to keep her skin smooth and supple. It may even aid in the prevention of stretch marks.
Made from natural ingredients 
Nourishing for skin 
Hydrates 
Safe to use 
Specially formulated for mothers
An expecting mother faces multiple body issues. Marks should not be something she should worry about. Thus, this is one of the best gifts for pregnant women.
Related Reading: 30 Best First Wedding Anniversary Gift Ideas For Couples
11. Diaper changing kit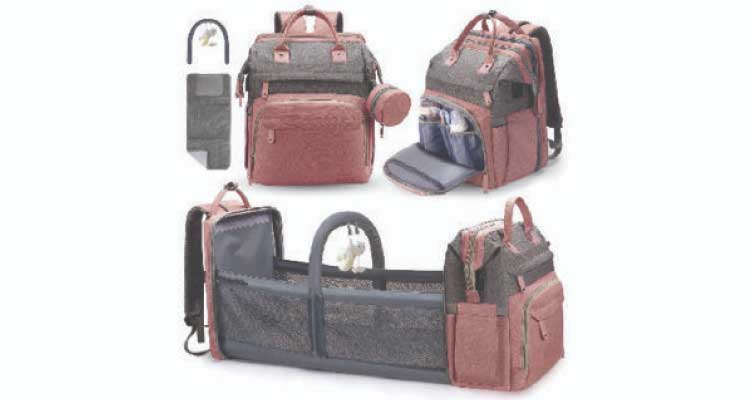 Stock up on mommy essentials to help her prepare for the arrival of the little one. This waterproof, portable changing mat has plenty of room for diapers, wipes, and other necessities. And, did I mention it's incredibly stylish?
100% nylon 
Large capacity 
Waterproof 
Lightweight 
Comfortable and safe 
This is one of the best gifts for a pregnant friend to help her prepare for D-day. 
12. Fresh Organic Medjool Dates 
According to research, starting at 36 weeks of pregnancy, eating six dates every day will help you have a shorter, easier delivery. Is there a better present for pregnant women than that?
Vegan 
Gluten-free 
Sugar-free
High in fiber 
Premium quality
A healthy mama means a happy mama. Give this gift to your pregnant wife or friend and help her satiate her cravings in the healthiest way possible.
13. Postpartum pads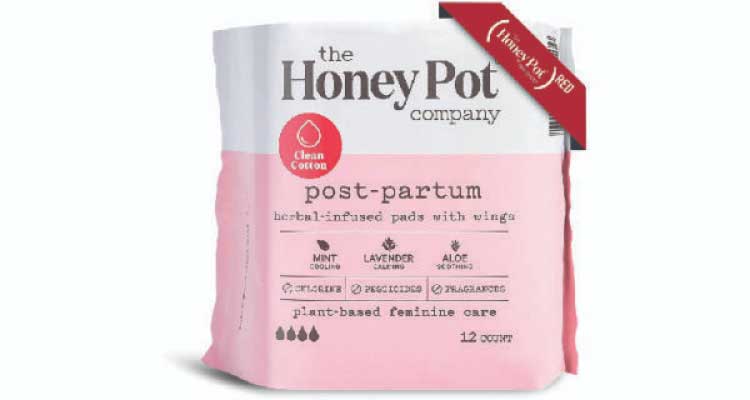 Though it's not the most glamorous gift for expecting mothers, she'll be grateful for it after childbirth. The pads are produced with a calming "cooling" effect created by a blend of natural and herbal components to alleviate the inevitable pain, cramping, and discomfort that mothers experience in the early days with the baby.
Infused with herbs
Made from cotton 
Plant-based ingredients 
Free from perfumes 
Soothing and relaxing effect

The pain that an expecting mother goes through doesn't just stop with the delivery but continues even after it. She might be wary of her post-partum period and thus this will be one of the best gifts for pregnant women as this particular gift will help soothe her troubles. 
14. Electric heating pad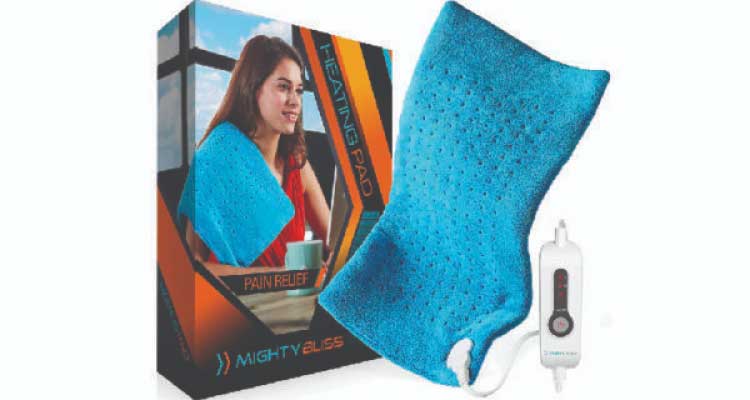 Pregnancy isn't easy, as any pregnant woman will tell you. The aches and pains that accompany a developing tummy may be temporarily relieved by using an electric heating pad.
Superfast charging
Soft, micro plush fibers 
Multiple heat settings 
Machine washable 
Dry and moist settings 
This is the best gift for pregnant women to give her relief from perpetual body pain. 
15. Softies Women's Ultra Soft Marshmallow Hooded Lounger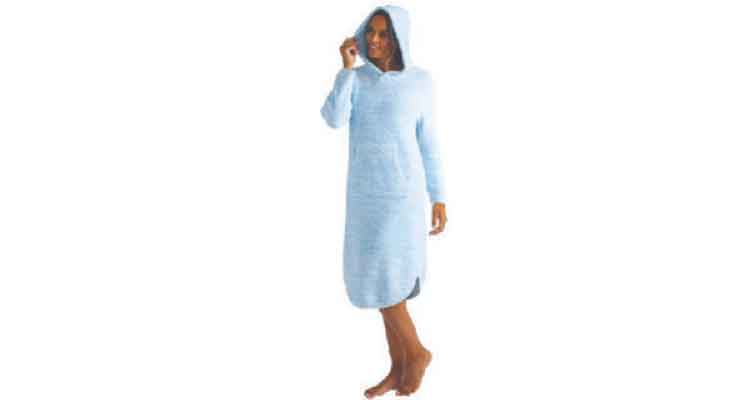 Comfort meets fashion in this extremely adorable hooded lounger. It is somewhere between a pajama and a blanket and is the best birthday gift for pregnant women. 
51% Polyester, 49% Nylon
Pull-on closure
Machine Wash
Model wears size S/4 and is 5'9″
Be careful though, this is what she might live in until the baby arrives. 
Related Reading: 36 Sentimental Gifts For Best Friends – Thoughtful Gift Ideas
16. Cotton midi dress 
This outfit is ideal for individuals who have a bun in the oven. It's not only adorable and easy to dress up or down, but it's also really comfortable, with an elastic bodice that will expand to fit increasing bellies.
Cotton/Rayon
Button closure
Hand wash only
Elasticated waistline with a drawstring
Available in multiple colors 
A fashionable dress is the best gift for pregnant women. Think about it; they already have limited options in their wardrobe, so this helps them take a break from boring maternity clothes and wear something gorgeous.
17. Maternity labor delivery nursing robe
Comfort is one of the best gifts for a pregnant friend. Thus, this robe is perfect. She can wear this plush, enormous robe during delivery, at home while nursing, or when she finally gets some rest after the baby is put to sleep—the possibilities are unlimited!
85% viscose, 15% polyester
Tie closure
Comfortable fabric 
Loose fit 
Attached belt 
This robe will come in handy when the baby is fussy and she has no time to put on her jeans. The new mom can wear this chic yet comfy robe and nurse her baby too.
18. Aphrodite's Mom Necklace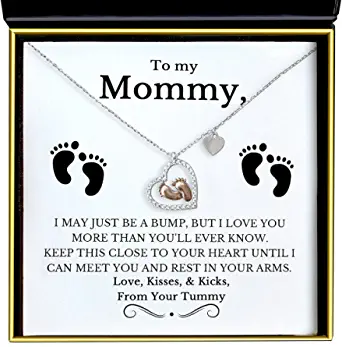 The mother-to-be is more excited than anyone to hold her baby in her hands and has already imagined the many beautiful 'firsts' that are in sore…first crawl, first steps, the first words, etc., in her head. Fuel her excitement with this beautiful mom necklace which is one of the best gifts for new moms. 
Comes with a heartfelt message card 
Superior quality 
Elegant design 
Safe for pregnant women 
Made of 925 sterling silver with triple rose gold plating
This sterling silver necklace will also be the perfect Christmas gift for pregnant wife because this year she deserves something extra special!
19. Pure silk sleep mask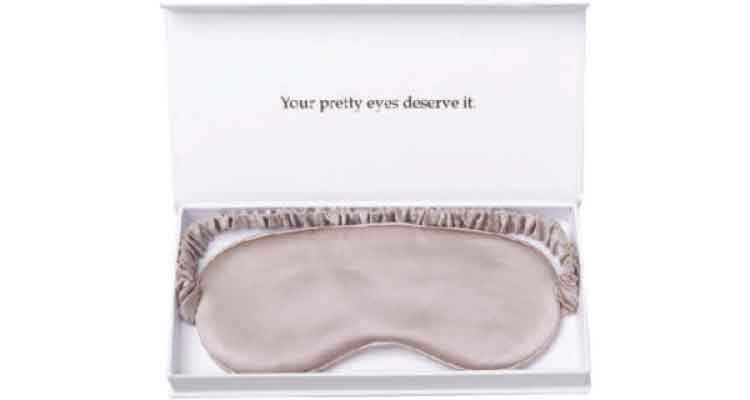 This silky eye mask will help her block out the light so she can catch up on some sleep at any time of day whenever she needs some serious shut-eye (which will be pretty much all the time once the baby gets here).
Made from 19mm, 6A level, 100% pure, mulberry silk
Blocks out even the brightest of lights 
Hand wash only 
Comes with a satin bag for storage 
Retain skins moisture 
There could be nothing better than a sleeping mask as a gift for pregnant friend because it enables her to get the best gift – some much-needed sleep.
20. Herbal Retreat Petite Presentation Box Tea Sampler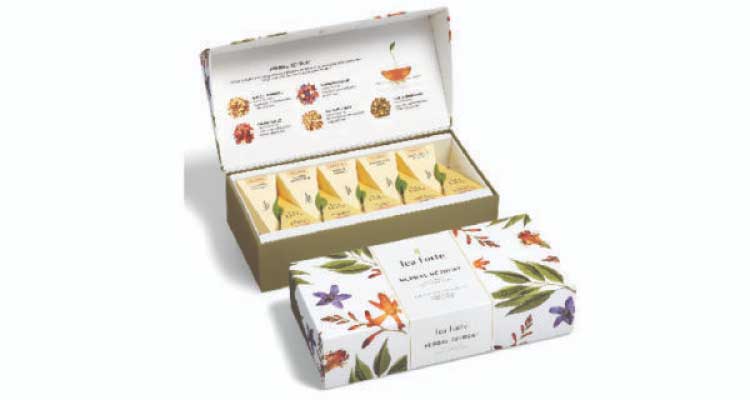 Pregnancy can be hard, and harder still for caffeine addicts. If she's trying to cut back on caffeine, these beautifully packaged, caffeine-free, herbal tea mixes will help.
Wide range of gourmet teas 
Comes with a tea bag infuser
Handcrafted 
Contains an elegant embossed box 
Contains a special tea blending menu 
These delicious and exotic teas are the best gift for pregnant women because the herbal blend can also help relieve pain and have a soothing effect. And nothing is more calming than a pot of freshly brewed tea, am I right?
Related Reading: 30 Gift Ideas For Your Co-workers | Personalized, Inexpensive Gifts
21. Maternity bras 
A variety of wireless nursing bras that are easy to unclip with one hand are undoubtedly on the wish list for women planning to nurse. You can tell this set is good because it has over 16k favorable ratings.
Material: Nylon + Spandex
Hook and eye closure
Easy to wash 
Removable pad
There couldn't be a better gift for pregnant wife than this. It is comfortable, soothing and also counts as lingerie. 
22. Women's Madison sneakers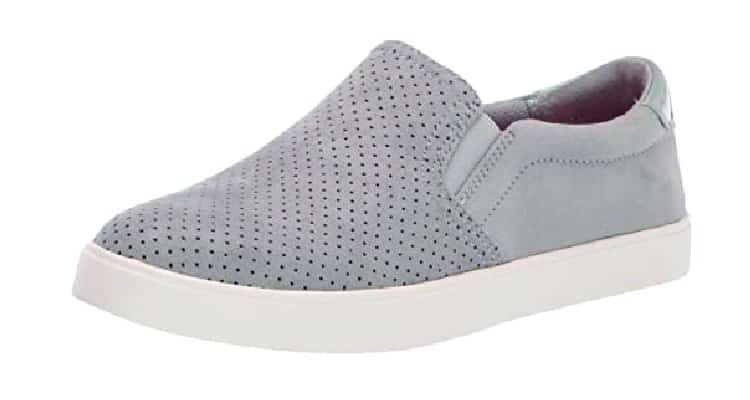 These light, cushioned and supportive sneakers are ideal for her to slip into with ease – no shoelaces required, which is perfect considering she can't reach them anyhow).
Imported
Synthetic sole
Soft lining 
Flexible 
Twin stretch gore panels
She has bid adieu to her favorite heels for the time being, right? Well then, as an alternative, this will be the best birthday gift for pregnant women, especially the ones who are cuckoo for shoes. 
23. Signature chocolate box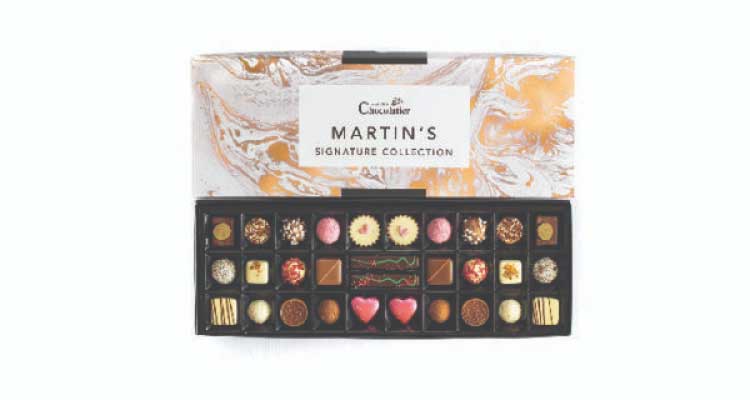 Food cravings are real during pregnancy. While there are multiple restrictions, there are some cravings that must be indulged. She can treat herself whenever she wishes with this box of fine chocolates.
30 flavored chocolates
Handmade 
Artisanal 
British chocolates 
Decadent chocolates are the best gift for pregnant women. Trust us, you can't go wrong with this! Willy Wonka would agree!
24. Diaper cake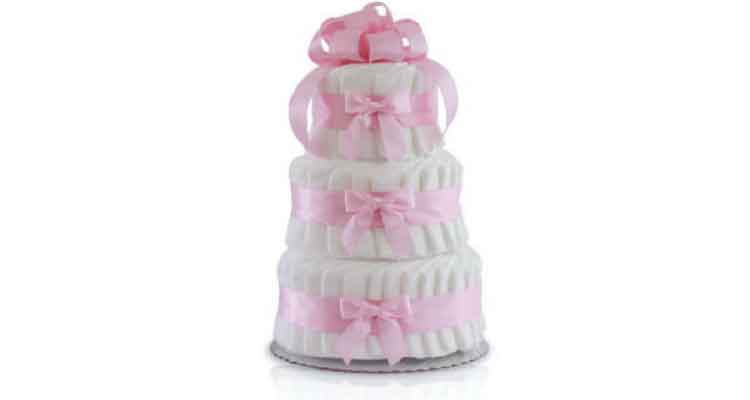 Although a box of diapers may not seem like the ideal gift for expecting mothers, trust me when I say that she will appreciate having so many on hand once the baby arrives. This one is super adorable and shaped in the form of a cake. 
60 Pampers Swaddlers diapers (size 1)
Completely assembled
Decorative cake board with to/from card
Satin ribbon, satin wired bow topper
Gift wrapped in tulle
This may not be the cake that she wants, but it's definitely the cake that she needs. And make sure you give her a nice red velvet cake she can eat too!
25. Don't Despair, Repair! Strengthening Hair Oil
If you are in search of good gifts for pregnant women then this hair oil is it! With this nourishing oil on hand, she won't have to worry about her hair. It's a miracle worker when it comes to dealing with frizz and damaged ends.
Suitable for all hair types 
Silicone free 
Helps repair hair cuticles 
Safe for color-treated, keratin treated, chemically-treated and relaxed hair
Contains bioidentical lipids such as ceramides and essential fatty acids
Post-partum hair fall can be a nightmare for most women. With this hair oil, she can regain her long, shiny mane and be stress-free. 
26. Mini fridge 
What is the best gift for pregnant women? Anything that makes their life easier. This mini-fridge is perfect for the job. I know most people keep beauty serums in this tiny fridge, but it can also be a creative method to have milk close by when the baby arrives.
Compact 
100-120V home power supply
Eco-friendly 
Cool to warm 
Superior quality 
This is one of the best gifts for pregnant women because it allows them to have a secret stash of snacks in their room, especially if they are on bed rest. 
Related Reading: Top 10 Gift Ideas For Her
27. Hypoallergenic bamboo sheets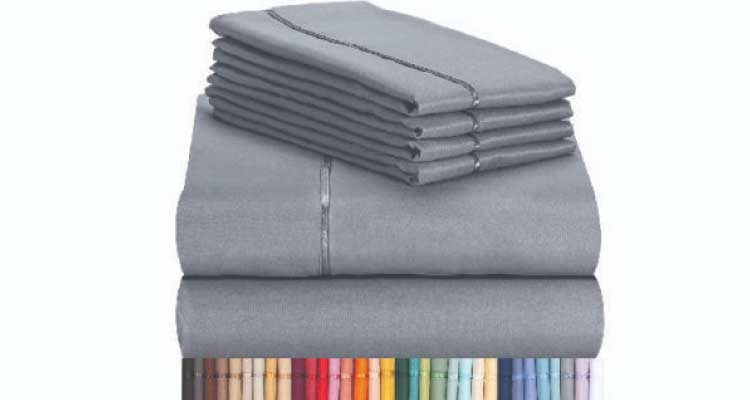 Give her the best night's sleep she's ever had with a cooling sheet set made especially for pregnant women. Show me a superior sheet set that is created sustainably, free of harsh chemicals and bacteria, and is odor-resistant. I'll wait. 
Contains 6 pcs 
Eco-friendly 
Cooling effect 
Top-quality 
Extra deep pockets for memory foam
This could be one of the best Christmas gifts for a pregnant wife to feel extra pampered during the holidays. 
28. Mini massage gun 
This small massage gun is powerful enough to replace massage treatments from her favorite therapist, making it the ideal pampering gift for pregnant friends. 
Ultra-portable 
Ergonomic grip 
150 min battery life 
Includes soft case 
If you want to gift your bestie some relaxing Me-Time, then this is the best gift there is. She will be in heaven and feel rejuvenated. 
29. The Sh!t No One Tells You: A Guide to Surviving Your Baby's First Year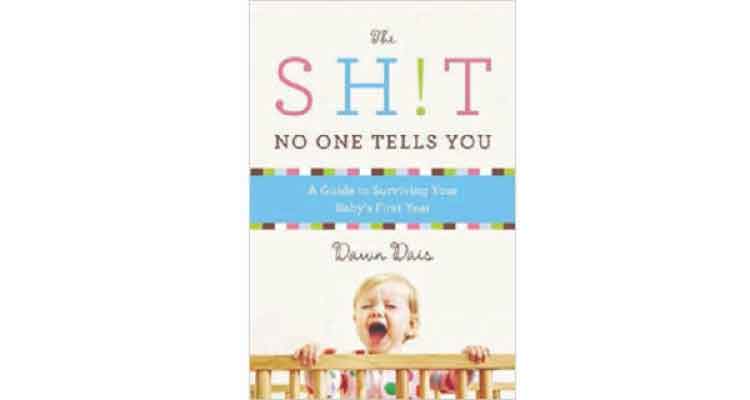 This amusing guide to the first 52 weeks of parenting will brighten any expectant mother's day while also assisting her in adjusting to her new position.
Humorous
Real advice from real moms 
Full of anecdotes 
Helpful advice and tips 
What a wonderful birthday gift for pregnant women. This gives them a full view into what awaits, but with a generous dose of humor, allowing them to have a funny mentor in their journey as new moms.
30. Pregnant AF sweatshirt 
Being pregnant is a beautiful experience and the proud mama to be should be able to say it to everyone. This sweatshirt, therefore, is one of the best gifts for pregnant women. 
Machine wash 
Solid colors 
Classic fit 
Dry in low heat 
It is comfy, classy and so soft. Who wouldn't like it? Perfect for home-wear or if you need to step out for a walk or to run a quick errand. Heck, wear it to the movies or while grabbing an ice cream to satisfy your midnight craving.
And with that, we come to the end of our meticulously crafted list of best gifts for pregnant women. Spoiled for choice? Well, this is a special time in your friend's (or sister's, wife's, daughter's…choose the correct option – yes, more choosing) life, after all. So, it's the perfect time to shower the mom to be with extra love, and what better way than to pamper her with special gifts! 
35 Best Gift Ideas For Music Lovers And Musicians In Your Life