February 14 is just around the corner. The day where expressing love for your girlfriend becomes a little more important than the rest of the days. It's time you start looking for the best Valentine's Day gifts for her. No matter how much a woman says, "It's just another day", believe me, it's not. She will secretly be expecting something cute and romantic.
Boys of all ages, please ditch the age-old and cliched red heart-shaped chocolate box this Valentine's Day and surprise your girlfriend with something extra sweet. Put a little more thought into your gift and let her know that romance is your middle name.
33 Top Valentine's Day Gift Ideas For Her
Before you splurge on the internet browsing through lists, think about her likes and dislikes. Pick a gift that aligns well with her interests and reaffirm her faith that she made the right choice by making you her Prince Charming.
Along with whatever gift you are planning to surprise her with, make sure you get a bouquet of fresh roses or any of her favorite flowers. Girls love to receive flowers from the love of their life. I sure do. It's such a sweet gesture. Make it a memorable day with these Valentine's Day gifts for her.
1. Dyson Airwrap Styler Volume And Shape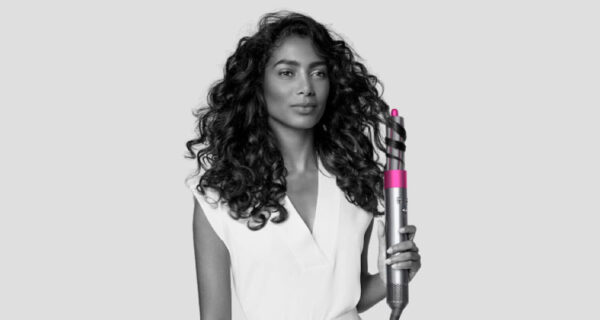 Okay, so I know this is a little on the burn a hole in your pocket side, but trust me, this is hands down one of the best Valentine's Day gifts for her. If you are someone who is looking for Valentine's Day gift ideas for her and can afford to spend a little extra on the woman of your dreams, gift her this amazing product from Dyson and watch her go weak on her knees.
This unique invention by Dyson comes with intelligent heat control which doesn't exceed beyond 150 degrees Celsius
It styles and wraps your hair using only air. Not heat but air and comes with one-click attachments and cool-touch tips
Dyson Airwrap Volume and Shape styles are meant for fine, flat hair
Its soft smooth ring brush is gentle on the scalps and creates a smooth, blow-dry finish
It also comes with a round volumizing brush to give you that bouncy look
We all know a woman's hair is her crown and glory and this is arguably one of the best Valentine's Day gift ideas for her. Go ahead, buy this gift and bring home the best boyfriend award.
Related Reading: 30 Unique 2-Year Anniversary Gifts For Girlfriend To Impress Her
2. Shattered glass ceiling necklace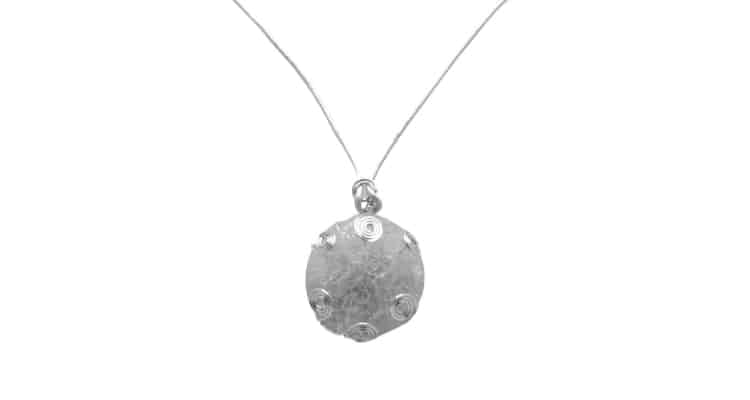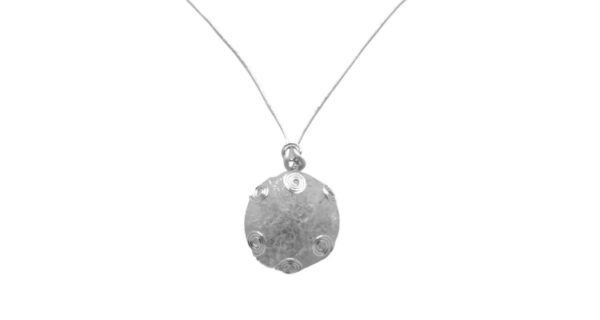 There's a new trend I am absolutely loving. As this world has always been a trying place for women, we need a reminder to shatter the glass ceiling and be optimistic. This symbolic necklace pays a tribute to all the achievements of successful women.
These unique clear necklaces are handmade with wife weaving accents
It has a silver leather adjustable cord making the necklace look more lustrous and one of a kind
It has a silver artistic wire with beautifully looking delicate spirals on the front and an enchanting spider web effect on the back 
This dazzling necklace is for women of all ages and screams inspiration and achievement
Each piece is different as it comes with unique visual effect from shattering of a clear glass
There is no doubt women love to be recognized and celebrated for their success and achievements. More than that, women love men who are not turned off by feminists. Tell your woman you are proud of everything she has accomplished with such unique Valentine's Day gifts for her.
3. Swarovski Women Infinity Crystal Bracelet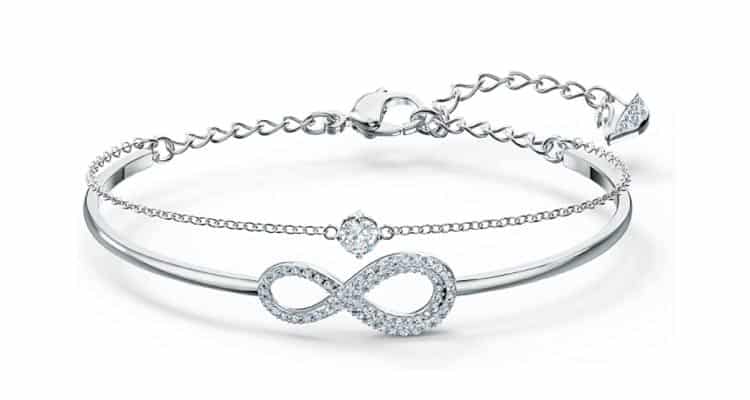 Swarovski, renowned for its reliable sparkling products, is famously known as the world's premier jewelry and accessory brand. Gift this elegant and mesmerizing bangle bracelet to your girlfriend and watch her jaw-drop. 
This Swarovski Infinity bangle bracelet is a combination of precision and quality
It is crafted with premium quality sparkling crystals with chic rhodium-plated chain
This layered look is trendy and unique because of its bangle plus bracelet quality 
The infinity design makes it a meaningful gift. Swarovski jewelry is everlasting and known to maintain its brilliance over time
It comes with a rhodium-plated band and chain, white crystal infinity Sybil and clasp closure
Surprise your girlfriend with this dainty infinity knot that shines like the stars in the sky. She will wear this every day and whenever she looks at the bangle bracelet, it will remind her of you. This is for sure one of the best Valentine's Day gifts for her. 
4. Spa gift basket
Lovestee's Bath and Body line is made up of a remarkable vanilla blend. Pamper your girlfriend with a spa basket. A great spa gift basket promises two things. Firstly, indulgence because your girlfriend is going to love it and treating her like royalty is a must. The second is convenience. Gift your workaholic girlfriend this spa basket and she can have spa-like treatment at home.
This is the ideal Valentine's Day gift. It is an exquisite Vanilla Spa Gift set
It has six fragrances. Shower gel, luxury hand lotion, sensual body lotion, bath salt, bath puff and Eva sponge
This spa basket comes under both beauty and health. The shower gel and body lotion will keep you uplifted throughout the day
If your girlfriend's having a long day, the bath salt is sure to soothe her nerves. It comforts the body and stimulates the senses
The hand lotion is easy to apply and absorbs quickly
Vanilla is the show-stopping note in all the products. Surprise your girlfriend with such romantic Valentine's Day gifts by giving her a combination of sultry woods, vanilla and rich fruit aroma scents which will effectively turn her bathroom into a spa. 
Related Reading: 30 Unique Engagement Gifts For Couples
5. MiaMio Kissing Coffee Mugs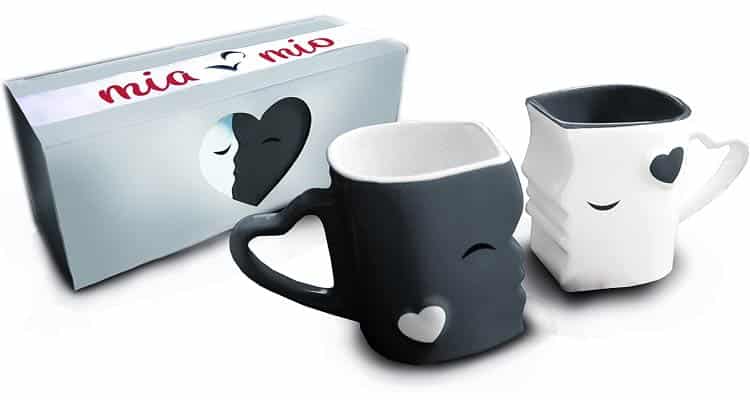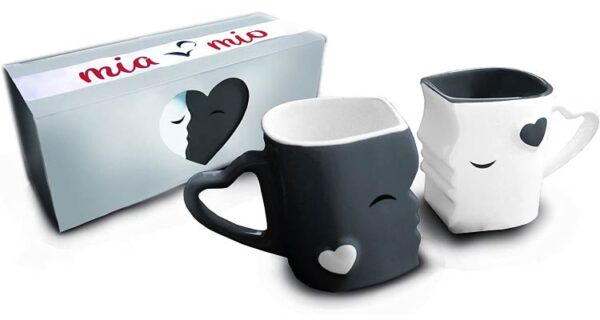 MiaMio is a brand that makes romantic, personal and exclusive gifts for couples. These kissing coffee mugs are the cutest cups ever and it makes one-of-a-kind Valentine's Day gift ideas for her. These cups perfectly complement and complete one another, like you and your girlfriend, and look like they are having a deep moment, a passionate kiss.
The cups are very sturdy and made up of high-quality ceramic
These kissing mugs will last a long time as they are difficult to break
The mugs have unique heart-shaped handles, which are sturdy and durable
The net weight of one cup is 0.6 lb. and has a capacity of 10 oz 
Its packaging is perfect for Valentine's Day as it comes with a beautiful gift box with a heart window
Now there's no denying cute Valentine's Day gifts for her can melt her heart, provided you choose them well. By gifting her this mug set, you're also giving yourself the gift of more coffee dates with her. That's a win-win!
6. DIY wine making kits by Wild Grapes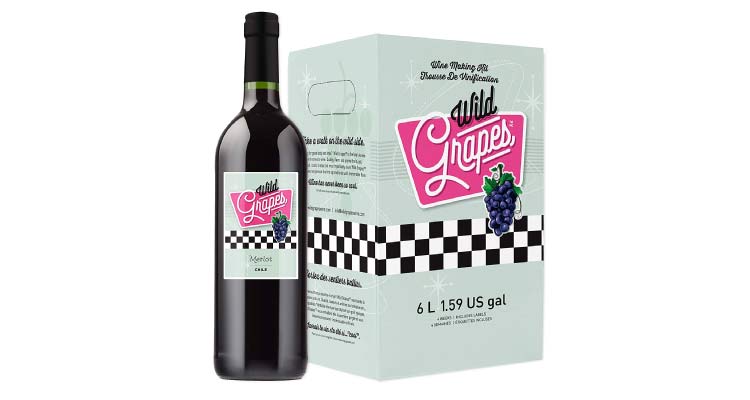 This cool wine-making kit is surely among the unique Valentine's Day gifts for her. Most women love wine, and if your partner is one of them, then this gift is a no-brainer. It is hip, iconic and new-age. This DIY kit will help you both bond.
Chilean Merlot is a red wine with rich fruity blackberry and plum aromas
This Chilean Merlot is made up of premium ingredients and easy to make
Pick your wine style and pair it with the Wild Grapes wine started kit
Each DIY wine kit includes a wine base, yeast pack, fine agents and 30 labels
Follow the instructions given and you will have a delicious wine in just four weeks
It has quality, flavor and aroma, which makes it perfect for Valentine's Day gift ideas for her. Make this wine and enjoy it on a romantic date night. Get drunk together, be goofy together and make silly mistakes. 
7. The Comfy Oversized Hoodie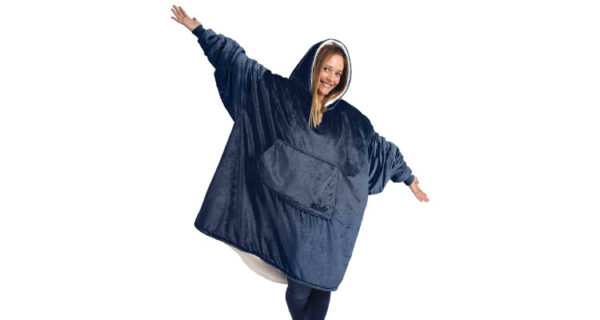 Seen on the famous show Shark Tank, this one-size hoodie blanket that fits all sizes and bodies is a must in every girl's closet. Your girlfriend will love such Valentine's Day gifts for her. 
This wearable blanket will keep your girlfriend warm on cold days while working from home or just chilling in her room watching a show
It is extremely comfortable and made up of luxury materials 
You can pull your legs inside to be completely covered in a blanket 
One size fits sizes and people of all ages. You just need to pick a color your girlfriend would like the most
It is made of polyester fabric and is easy to wash. Put it in the washing machine and then tumble dry on low 
This makes a great gift which your girlfriend can take anywhere with her. Be it camping, a night at the beach or a sleepover at your place. It's one of the best Valentine's Day gift ideas for her.
8. Bath bombs gift set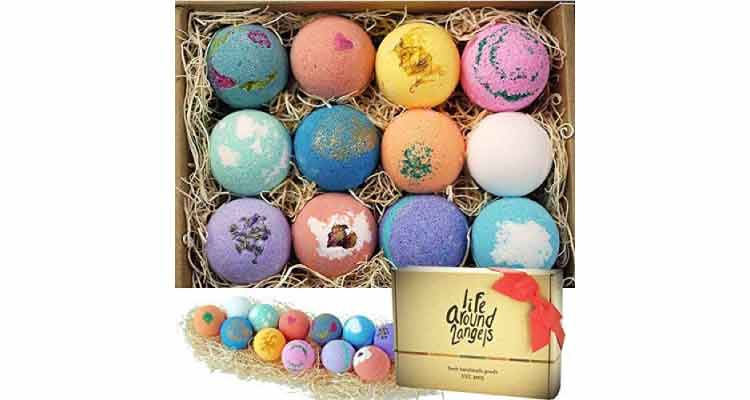 These bath bomb gift sets by LifeAround2Angels are uniquely designed, handcrafted in USA and made in a clean environment. Girls love to smell good and feel good, which makes these bath bombs one of the best Valentine's Day gifts for her. 
This set has 12 handcrafted bath bombs that come in 12 different scents, each about 3 oz and 2 inches in diameter
They are cruelty-free and humane 
Made in special clean rooms, hygiene is guaranteed 
Made up with sterilized equipment they are bacteria-free bath bombs
They are all handcrafted with flower petals, pearls and flakes
The scents are baffling as some are as unique as mango, papaya and melon ball. Your girlfriend will flip with joy when you surprise her with such Valentine's Day gifts for her.
9. Dash XOXO mini waffle maker
Waffles with maple syrup for breakfast hit different. Sticking to just flowers and chocolates on Valentine's Day is outdated. Get your girlfriend this mini waffle maker instead of a traditional one.
This mini waffle maker has a four-inch cooking surface. You just have to plug it in the socket, pour the batter and serve it with toppings of your choice
It has dual non-stick surfaces and comes in dark pink color
350 Watts and for household purposes only. Simply plug it in and the waffle maker will heat up in a few minutes 
Dual side surfaces provide an even consistency in cooking the waffles 
The light will automatically turn off when your waffle is ready 
This pink hot waffle maker that is stamped with XOXOs will add an extra ounce of love every morning into your relationship. If this isn't among the perfect Valentine's Day gift ideas for her, then I don't know what is. 
Related Reading: 11 Cozy Gifts for Your Girlfriend | Thoughtful and Unique Gifts for Her
10. Personalized bar necklace
MeMoShe is a jewelry brand that makes custom-made necklaces. One of the ways you can show her affection is by customizing your girlfriend's name or her birthdate or both of your names. This isn't one of those run-of-the-mill Valentine's Day gift ideas for her, this requires some thinking.
These are 3D customized necklaces, which means all four sides will be engraved
It is made up of hypoallergenic material and will be safe for sensitive skin
It is made with 925 Sterling silver or stainless steel 
The chain length is fixed at 14 inches; a heart choker and a bar pendant necklace is connected 
You can select the chain depending upon your likes, either cable or box chain then choose the symbol you wish to engrave on the bar necklace
This elegant and classic piece of accessory will become everyday wear in your girlfriend's daily life. It is simple and promises to complement any style of clothing. This is one of the best Valentine's Day gifts for her.
11. Makeup case with lights and mirror by Kremier
Kemier is a famous cosmetic brand specializing in beauty and personal care products. Every girl has makeup hoarded in her drawers. Your girlfriend will love such thoughtful Valentine's Day gifts for her. 
This makeup case is lightweight and easy to carry around
It is made up of aluminum and has interchangeable trays for easy storage and organizing all the cosmetics 
It also comes with a lock and key for security
It has a synthetic leather finish that will last a long time
It is waterproof and comes with generous LED lights that can be dimmed or made bright as per the user's preference 
If your girl loves makeup, this is one of the fail-proof Valentine's Day gift ideas for her. Get her this and bowl her over. She will never forget a gift like this.
12. Aromatherapy diffuser by Pure Daily Care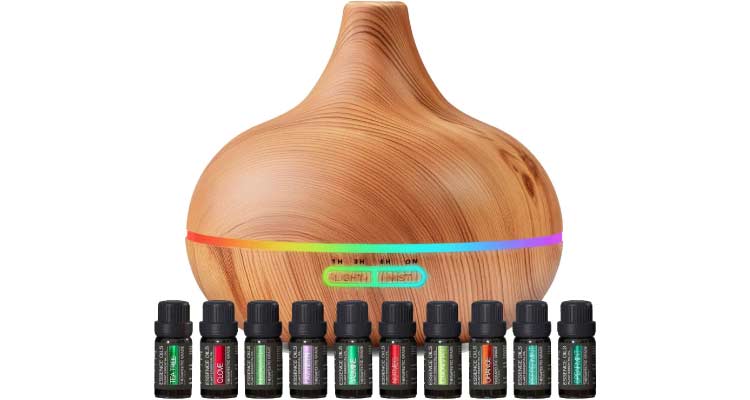 It's a great gift for every occasion and definitely counts as one of the unique Valentine's Day gift ideas for her. Their essential oils are formulated using high-quality plants sourced from different regions of the world. 
Their oils are sourced from all over the world, such as lavender from France and Tea Tree from Australia
Their essence diffuser has a 400ml capacity and uses wave diffusion technology to atomize essential oils for ultimate wellness
It comes with ten essential plant oils. To protect the oils from sun degradation, they are packed in 10ml amber jars
They have absolutely zero additives or fillers in creating the oils 
They use local harvesting as it is better for the environment and creates a better essential oil
This aromatherapy diffuser is everything your girlfriend will need for a calming stress-free night. Create the perfect mood at night by freshening the air inside your girlfriend's home and have a romantic night followed by a great night's rest.
Related Reading: 21 Long-Distance Relationship Gifts
13. Shiatsu neck and back massager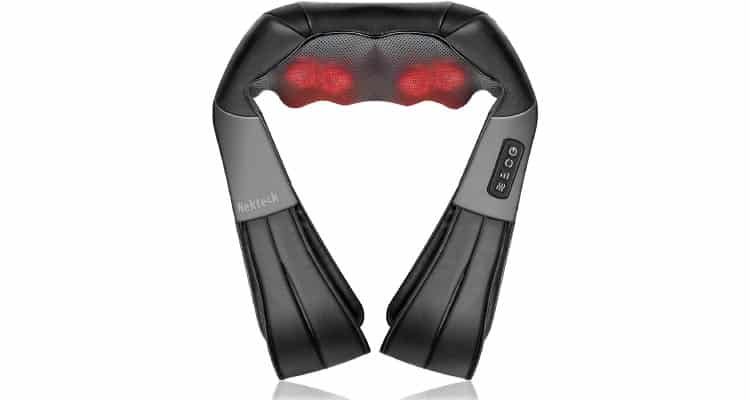 This portable electric-powered massager is the best gift to your girlfriend. It will relax her and rejuvenate her. Such presents make for out-of-the-box Valentine's Day gifts for her. It will alleviate her muscle aches and pains. 
This neck massager has eight powerful deep Shiatsu kneading massage nodes
It is easy and safe to use. It comes with adjustable intensity
This shoulder massager has a three-speed strength level, which you can use to adjust the pressure according to your liking
It has an ultra-soft fabric, which provides a soft feel
It is made up of high-quality premium PU leather and breathable mesh fabric which makes the massager durable 
It's a massager on the go. She can use it at home or her workplace. Let your girlfriend's stress melt away by picking out such unique Valentine's Day Gifts for her.
14. O'Hara Des Fleur preserved roses
I said it before and I'll say it again: flowers are the way to a woman's heart, especially roses and lots of attention. These real roses that will last a year without the need to be watered make one of the perfect Valentine's Day gift ideas for her.
These preserved roses are 100% real, processed using eco-friendly science 
They exude a luxurious floral scent. They are free of any artificially added fragrances
They are carefully preserved so their beauty isn't damaged 
These flowers come in a bouquet arrangement inside a premium luxury gift box
These flowers are handcrafted and come in various colors. The flower boxes can be used as a centerpiece as well
Flowers are the most beautiful way to show someone they are special and you love them. Surprise your girlfriend with these long-lasting roses as a symbol of your lasting love.
15. Hoop earrings by Tilo Jewellery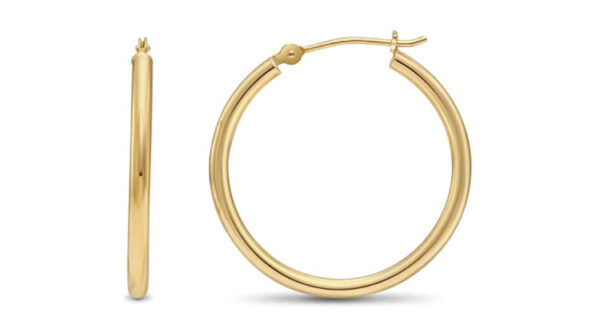 Minimalist jewelry is here to stay. These everyday wear round hoop earrings are a must in every girl's jewelry box. These Heidi fox gold hoops are as understated as they can get.
Made of 14k yellow gold and available in various sizes
They are high polished shiny classic hoop earrings. Its sturdy click-top closure makes it an easy and comfortable wear
They provide a 30-day money-back guarantee ensuring complete satisfaction to customers
You can get it in yellow gold or rose gold depending upon your girlfriend's taste
It's an everyday accessory, which is lightweight and can be worn by people with sensitive skin
These easy to put on hoop rings are elegant and classy. Such Valentine's gifts for her will get you so much love from your girlfriend for the days to come. 
Related Reading: 12 Thoughtful First-Night Wedding Gifts For Your Husband
16. "I Choose You" Pokemon Card
I don't think there's anything cuter than a card that says "Pikachu, I choose you." Such love notes are sure to make your girlfriend blush. This is one of the cute Valentine's Day gifts for her that you can give and make her feel loved.
The cover of the card features everyone's favorite Pikachu holding a heart that says "I choose you"
Inside the card, it reads "you used charm (it was super effective)"
The card has a measurement of 5.8″ X 8.3″ and it comes with a coordinating envelope
The card is printed on high-quality paper stock
Hallmark's greeting cards are eco-friendly and are made with paper from well-managed forests
Brighten your girlfriend's Valentine's Day by giving her this sweet card and let her know you choose her, now and always. You can also give her a cute Pokemon gift along with this card.
17. Bose noise-cancelling headphones
Who doesn't love listening to good music and getting lost in the beats of their favorite song! That's exactly why these noise-canceling headphones are one of the best Valentine's Day gift ideas for her. She can use them while running or working out at the gym. What's more, these are wireless headphones, which means you get the right mix of quality and convenience.
It has high-fidelity audio and comes with the perfect balance of quiet, comfort, and sound
Bose uses tiny mics to measure, compare, and react to outside noise, canceling it with opposite signals
You can choose from two modes – Aware Mode or Quiet Mode. The former to bring outside noise into your ears and the latter to complement cancel outside noise
It comes with 24-hour battery life. With just a quick charge for 15 minutes, these can last for three hours on the go
The Bluetooth pairing can work for a distance of 30 feet between the paired devices 
These noise-canceling wireless headphones from Bose fall under the expensive category but your girlfriend will cherish this gift for a long time.
18. Luxury bathtub caddy tray by Royal Craft
Royal Craft Woods make sustainable goods at affordable prices. Girls love a good bath and this bathtub tray will make her bathing moments a little more luxurious. This will surely make her happy. This is one of the good Valentine's Day gifts for her because it'll ensure she is reminded of you every time she goes for a soothing bath.
These bathtub trays are adjustable and can fit bathtubs with any dimension
This will fit even the widest of tubs as it is designed to expand from 29 ½ inches to 43 inches 
It also has a slip-resistant silicone grip that will prevent your tub caddy from sliding
It is made from sustainable premium quality bamboo 
It is coated with a protective layer of lacquer that makes this bathtub tray table waterproof and sturdy
Provide your girlfriend with a luxury at-home spa experience by giving her such Valentine's Day gifts for her and amp up the romance in your life. 
Related Reading: Forgot About The Day Of Love? 12 Last-Minute Quick Valentine's Day Gifts Ideas To Save The Day
19. Oversized cat eyes sunglasses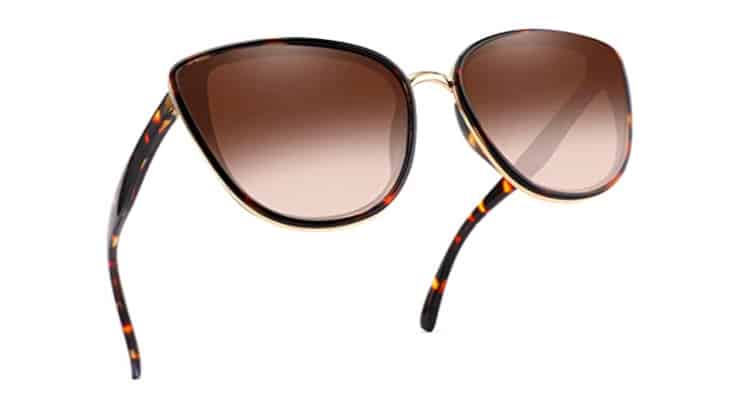 Upgrade your girlfriend's look with these classy elegant sunglasses that will match all her outfits. They are extremely stylish and will make all the heads turn. Still confused about Valentine's Day gift ideas for her? Don't hesitate and go for these sassy frames.
Oversized frames are trending on Instagram. It comes with a 400 UV protection and can block 99-100% of both UVA and UVB radiation
The sunglasses are made with great polycarbonate materials to avoid damage in outdoor activities
They are ultra-light and durable. They come in many different colors which you can choose from 
The nose pads provide flexibility and maximum comfort
These elegant sunglasses come with an exquisite case and specialized lens cloth
Gift these elegant cat eyes sunglasses to your girlfriend this Valentine's Day and make the style diva in her shine.
20. Jade roller and Gua Sha set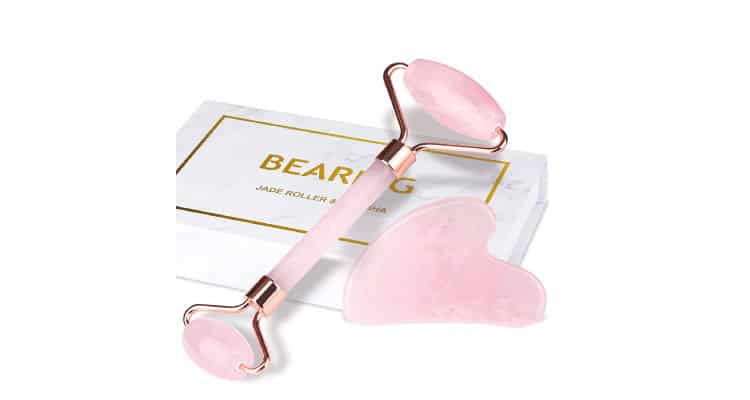 Taking care of our skin matters a lot and almost all girls love a holistic skincare routine. Jade rollers and Gu Sha are trending all over Instagram. From celebrities to skin experts, everyone's recommending them. Get your girlfriend such good Valentine's Day gifts for her to show how much you care.
The jade rollers have a sturdy handle and durable metal frames
The Gua Sha comes in concave, arc and sleek design which can be used on the chin, neck, spine, fingers, abdomen and behind the ear
These beauty rollers have now become a trend but trace their roots to ancient times
It brightens skin pore and tightens skin
Stimulated the lymphatic system, reduces dark circles and wrinkles
BearKig jade roller and Gua Sha are made of 100% authentic nature rose quartz jade stone. These Valentine's Day gifts for her are special as they will help your girlfriend indulge in a relaxing skin massage.
21. Birth month flower pendant necklace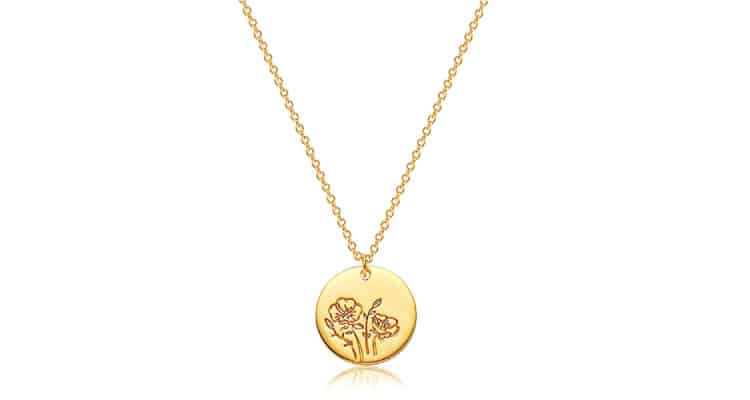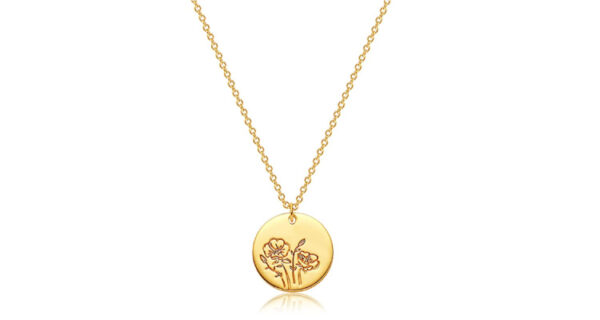 If this isn't the sweetest gesture on earth, I don't know what is. This little pendant will show your girlfriend how much thought you have put into the gift and it'll instantly make you the best boyfriend in the world. If you're looking for the best Valentine's Day gift ideas for her, then this necklace right here is the one.
These pendant necklaces are made of 18k gold, which assures durability and anti-tarnish properties 
The round pendant will have your girlfriend's birth month flower engraved on it
Twelve flowers corresponding to the twelve months of a year to choose from
Necklace Chain length is approximately 18", with a 2″ extension chain 
It is hypoallergenic and easy to wear as it comes with a lobster clasp design
They offer a 90-day money guarantee option. Get such a stunning birth month pendant necklace as a Valentine's Day gift for her and make her the happiest girlfriend. 
22. Fujifilm Instax Mini 11 Instant Camera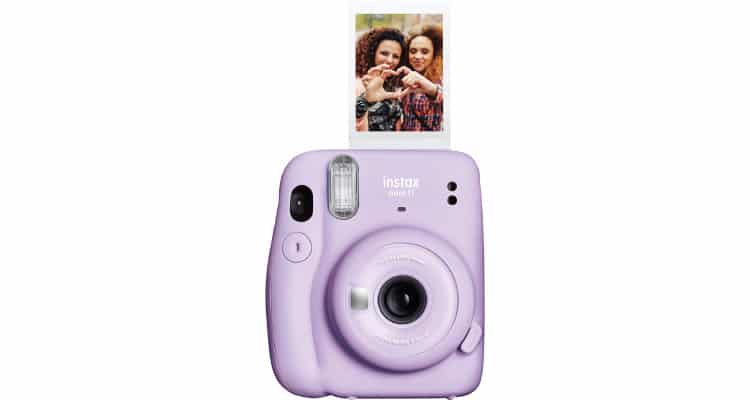 These cute little instant cameras are absolutely adorable. With its new Automatic Exposure function, you don't need to adjust a dial anymore to take photos based on your lighting. All you have to do is snap and shoot.
You can also take selfies with this instant camera's Selfie mode
This fun camera comes with two shutter button accessories and is available in five different colors
It has a slim body size and transparent ring lens
It can capture pictures in any environment, even in dark places and bright backgrounds
It comes with 2 AA batteries
Pull the front edge of the lens and take selfies with your girlfriend on the night of Valentine's Day.
Related Reading: 40 Best Homemade DIY Gift Ideas For Girlfriend
23. Coffee mug warmer
Does your girlfriend enjoy a good cup of coffee or tea every morning? Then look no further than this coffee mug warmer by Nicelucky for Valentine's Day gift ideas for her. She can have a warm beverage any time she wants.
This easy to use a coffee mug warmer meets everyone's needs as it maintains a suitable temperature for coffee, milk, water and other beverages all day long
This mug warmer is small and stylish
This comes with an automatic switch with heating and constant temperature function 
It has three temperature settings, ranging from warm to hot, and reaches up to 167 degrees Fahrenheit 
This cup warmer comes with an auto shut off function, which turns off the heat after 4 hours
Its mini-sized mug, almost the size of an iPhone. Your girlfriend can take this to work and enjoy her warm beverage anywhere she wants.
24. Smart water bottle by HidrateSpark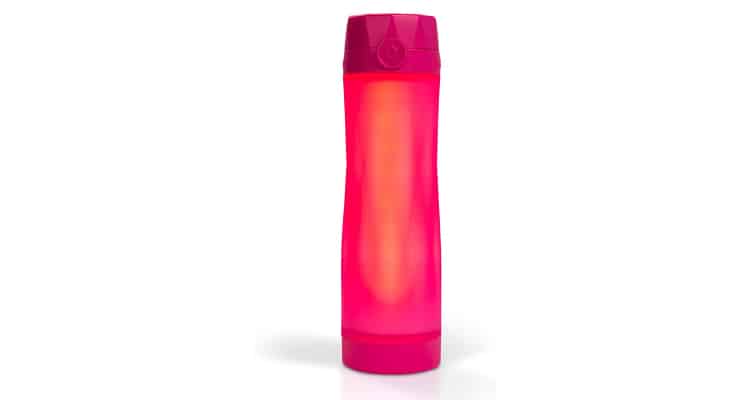 Sometimes we are so engrossed in our daily work that we forget to keep up with our requisite water intake. Choose this perfect Valentine's Day gift for her and show your girlfriend how much you care and love her well-being. HidrateSpark will track her water intake and the glow option will remind her to drink water.
The bottle has sensory technology which tracks water intake 
It syncs your progress to their free hydration tracker app via Bluetooth
The entire bottle will light up to remind you to drink water
It will glow either at regular intervals or when you are behind on your daily water goal
You can choose from three lighting options and various water bottle colors
This is surely among the one-of-a-kind Valentine's Day gift ideas for her. It's such a thoughtful and caring gift to give your girlfriend.
25. Silk sleep mask by BeeVines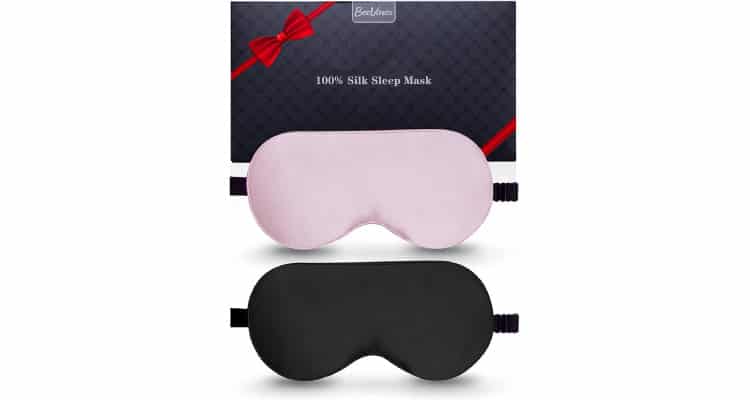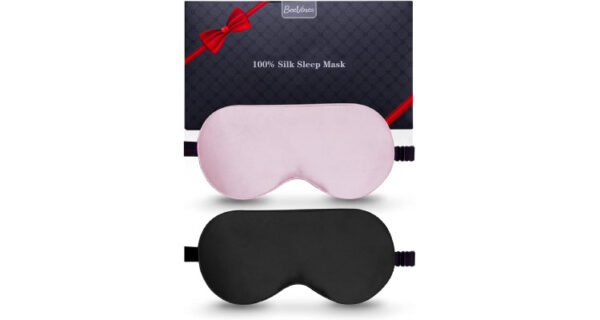 BeeVines is a startup owned by a mother-daughter duo and all its products are crafted keeping in mind that a good night's sleep is a must for good mental health. This set of two silk sleep masks will ensure your girlfriend has peaceful nights and energetic mornings.
They are 100% natural silk guaranteed to improve the mood through a good night's sleep
These silk masks for sleeping are naturally breathable
They will be calming to your facial skin and deliver a faster and sweeter sleep while keeping your eyes relaxed
They are made from high-density 19 Momme Mulberry Silk with double layer filling
They are made of 6A grade silk fabric and can be hand washed
Your girlfriend can wear this incredibly lightweight, soft, comfortable sleep mask anywhere, be it in bed, on a flight, or while camping and enjoy uninterrupted, deep, relaxing sleep. Get such Valentine's Day gifts for her and she will love you more than ever.
26. M3 body massage oil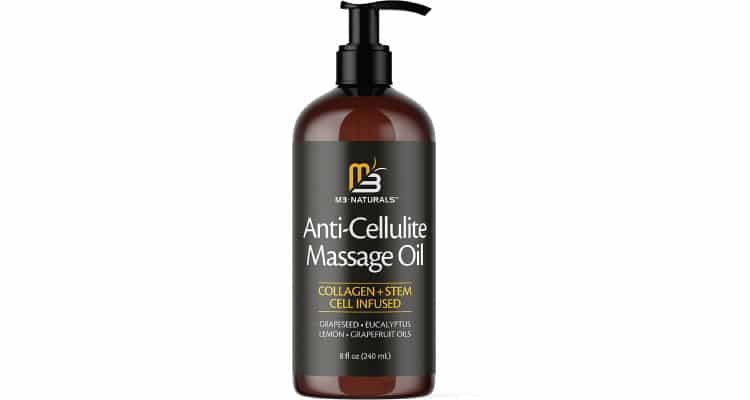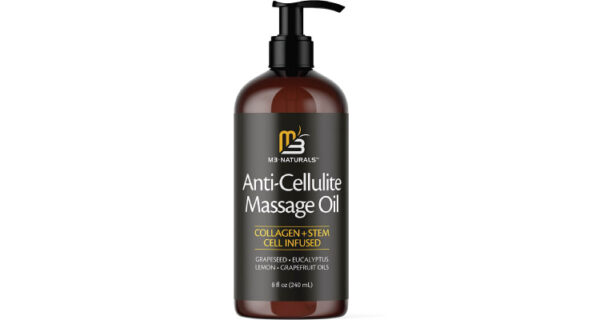 We all love a good spa treatment, especially massages. These help boost skin's collagen production to tighten the skin. This is alcohol- and paraben-free massage oil is sure to make one of the best Valentine's Day gift ideas for her.
This massage oil is sure to restore your girlfriend's beautiful skin
It provides a boost in natural collagen production and increases skin cell longevity
It fights cellulite on hips, thighs, abdomen and buttocks 
It comes in many flavors such as grapefruit and eucalyptus 
Its key ingredients are Vitamin E, Green Tea Extract, Raspberry Ketones, Jojoba Seed Oil
Want to make Valentine's night even more romantic? Apply this massage oil on her damp skin after she comes out of the shower and give her a good massage. And soon you will go from showing love to her to making love to her.
Related Reading: 30 Practical 2-Year Anniversary Gifts For Boyfriend To Impress Him
27. ESNA HOME scented soy candle set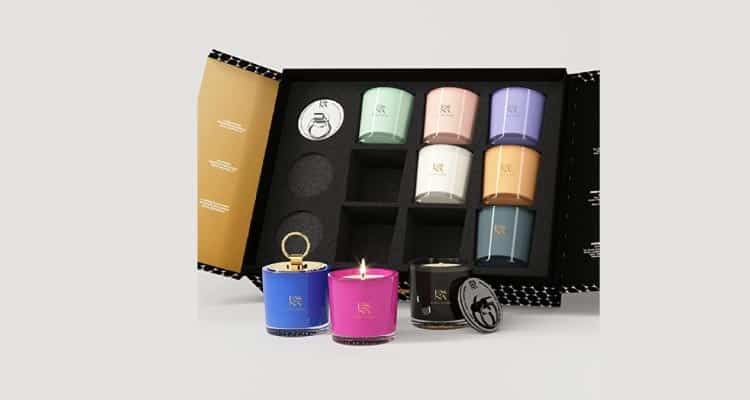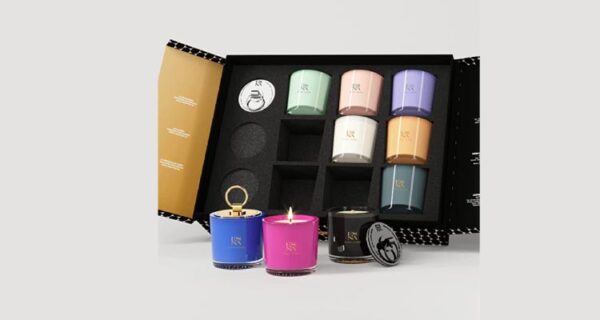 The power of smell is like no other. Scents can awaken memories and can send you to a calming place. Your girlfriend will love this deluxe 100% natural soy wax. This gift is absolutely synonymous with luxury, class and sophistication.
It is made with premium and highly refined all natural soy wax
It has a low melting point, which provides each candle a 60-hour burn time
It promotes relaxation and is believed to relieve anxious minds
It is 100% sustainable and vegan friendly
It has a combination of nine lush scents such as teak wood and cognac
Indulge your girlfriend's senses with these scents. She will love it for its whole body calming and balancing benefits. Come up with such Valentine's Day gift ideas for her and be sure of making lasting memories with her.
28. Morse code bracelet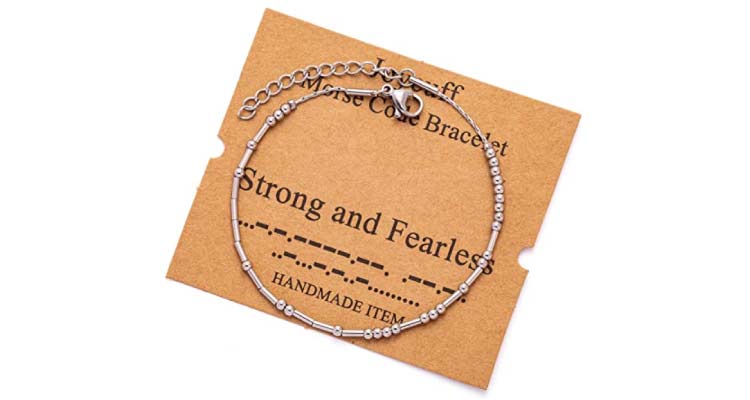 Does your girlfriend love minimal accessories? If yes, then this makes the perfect Valentine's Day gift for her. What makes this gift unique is that you can hide meaningful, thoughtful and special messages in it. And what's more? It will always be wrapped around her wrist. 
These are nickel-free and hypoallergenic, thus suitable for all skin types
Made from surgical 316L stainless steel
To avoid oxidation, always keep it in a jewelry box
The Morse code chain size is 7 inches long and comes with a 1.5-inch chain extender to fit most people
It comes with a lobster clasp which is easy to put in and take off
By giving her this gift, you are expressing your love through Morse code, through different sequences of letters and numbers. Your girlfriend won't fail to appreciate this act of love.
29. Bunny ring holder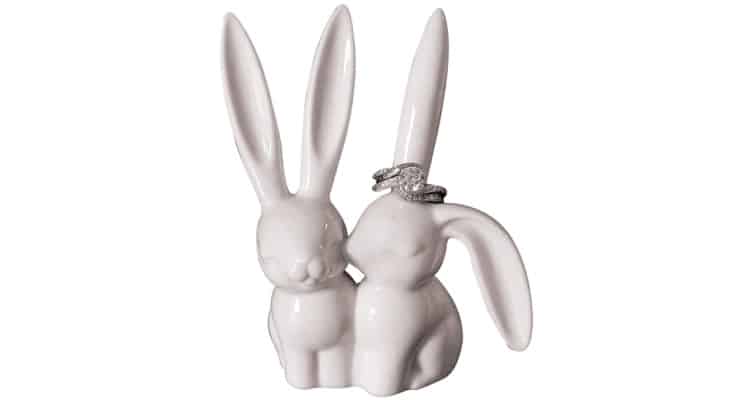 Okay, boys, this is the cutest little thing I found on the internet and I dearly wish to have it on my dressing table. This ring holder depicts a bunny kissing his girlfriend's cheek. How adorable! 
These love bunnies have three ears that can hold rings
It is made of white ceramic and the ears are at a 90-degree angle, which will hold the rings and won't let them fall
Use a dry cloth to clean it and can be kept anywhere in the house
It can hold rings of all sizes
It is of the dimensions 3×1. 75×4
Want something cute to give your girlfriend this Valentine's Day? Then, this is undoubtedly one of the most brilliant Valentine's Day gift ideas for her. 
Related Reading: How To Make Up For Forgetting Your Anniversary – 8 Ways To Do It
30. Wine cork holder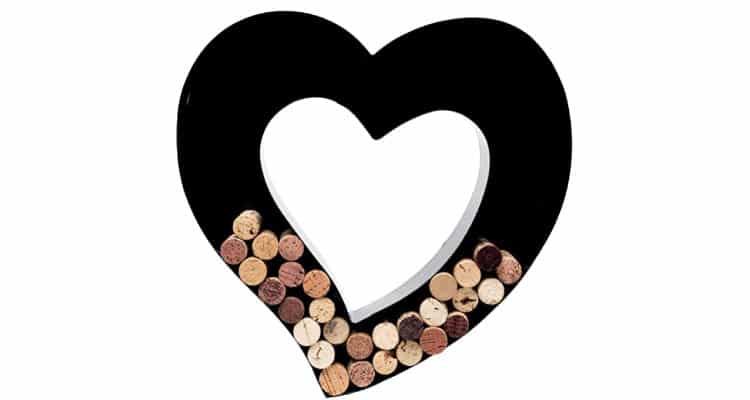 This is the perfect gift for memorable occasions. If your girlfriend is a wine connoisseur, then such things make the best Valentine's Day gift ideas for her. They say every wine cork has a story to tell. 
These wine cork holders are 2 inches deep and you won't be needing any adhesive to hold these corks
They can be stacked vertically without falling 
It is easy to install and you can get creative with decorating it
Will's metal letter wall decor items are handmade using durable metal
It is painted with a glossy black finish 
Get your girlfriend this wine cork holder and spruce up any corner of her home. Put this on display and relive the memories of the times you both had together sipping wine. 
31. Vintage compact makeup mirror
Your girlfriend will love this European-style compact mirror. She can carry this anywhere with her and whenever she takes it out, she will be reminded of you and your love for her.
This retro-style mirror can be folded and makes for an exquisite Valentine's Day gift for her
The vanity cosmetic tabletop mirror is designed with a decorative pattern
Its vintage style will give your girlfriend a sense of elegance and luxury
This vintage compact mirror is lightweight, portable and convenient to carry
Its size is perfect to fit in a drawer, handbag, purse and other bags
If you're wondering how to become the best boyfriend, then such Valentine's Day gift ideas for her are the answer. Gift her this royal-looking compact mirror and make your girlfriend happy.
32. Nuvantee pasta maker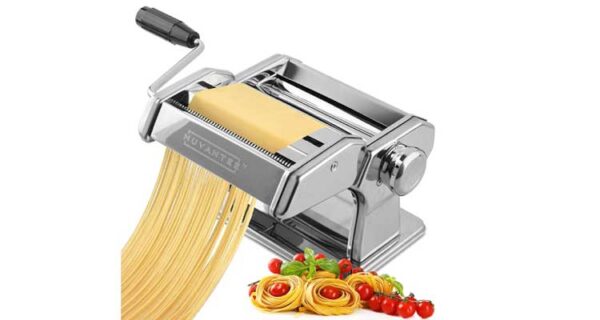 Let's be honest, pasta is soul food. Everyone loves a good plate of pasta. And some even love making pasta from scratch. It's a good activity that you and your girlfriend can bond over. 
It comes with seven range of thickness option 
It is super sleek, strong built and made of stainless steel 
This pasta maker is versatile and can be used to make other items such as dumpling skin, linguini and much more
It comes with pasta cutter attachments which will create your pasta of choice
It is also very easy to clean as it comes with a separated structure and washable cutter 
If you're looking for memorable Valentine's Day gifts for her, then this fun and unique pasta maker should be on your list. 
33. Acorus fruit tea gift set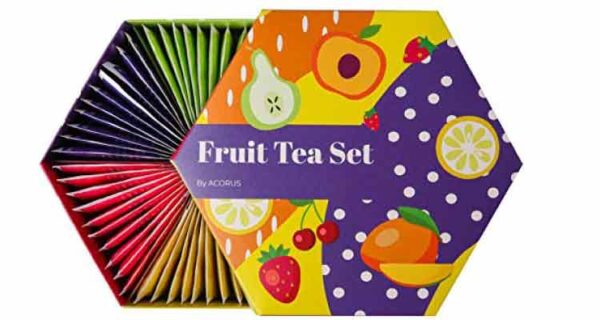 I wanted to end this list with something personal. I love having tea at least once a day as a cup of good tea relaxes and calms my senses. Whether it is Earl gray or jasmine tea, I don't mind as long as it's hot and steaming. 
These tea sets are wellness and good health wrapped as a gift
These are delicious teas in regal and luxurious packaging, making them the perfect gift for your perfect partner
You get 60 tea bags comprising six fruit and different herbal flavors
These are gourmet tea bags made with the highest quality tea selection
These tea bags contain no metal elements or glue 
Share a gift of fruits and herbs with your girlfriend and surprise her with this unwired box of the tea-drinking experience. 
The season of love is arriving. It'll be here before you know it, so browse for the best Valentine's Day gift ideas for her and land upon the perfect gift based on your girlfriend's likes and dislikes. Find a gift that says "I love you to the moon and back" in the most romantic way and make the most of the day showering love upon each other.