The love of your life proposed to you and now you are looking for bridesmaid proposal gifts to propose to your friends. Talk about the circularity of life! You said 'Yes' to someone and now you're browsing for unique bridesmaid proposal ideas. Well it's never too early to get your posse together to start planning for the big day.
First things first, you need to assemble your bride squad, then gather a maid of honor proposal box and present it to them by asking the question that is sure to give them butterflies in their stomach —"Will you be my bridesmaid?" When they scream "YES!!", you can start planning the wedding journey with them…after a couple of celebratory mimosas, of course! Commemorate this special occasion by giving them unique bridesmaid proposal gifts.
"Will You Be My Bridesmaid?" Best Bridesmaid Proposal Gift Ideas
Is there anything more exciting than being asked to be a maid of honor? Whether you are planning to share the big news of getting married by popping a champagne bottle with your friends or over brunch, elevate this special occasion by adding a gift. This list of 'will you be my bridesmaid' ideas will fully serve your purpose of looking for bridesmaid proposal gifts. 
1. Adjustable bracelet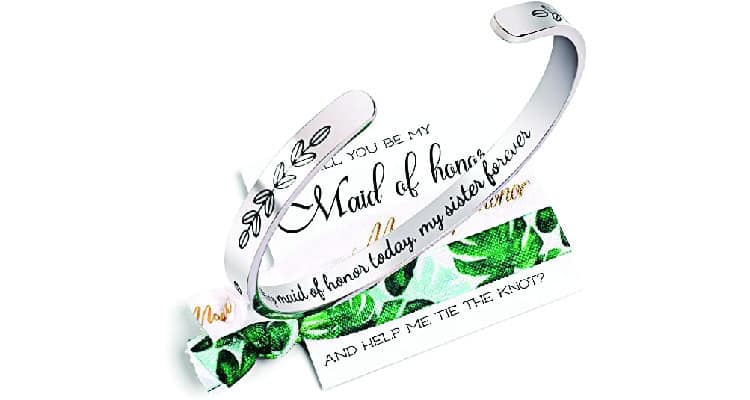 This elegant silver bracelet has the words engraved that says "my maid of honor today, my sister forever". How incredibly sweet is that! Nobody can say no to this sweet bridesmaid proposal idea. 
Made of premium quality, surgical 316L stainless steel
Highly polished and oxidation resistant
Lead free, nickel free and no cadmium 
Adjustable open design
2. Bridesmaid champagne flute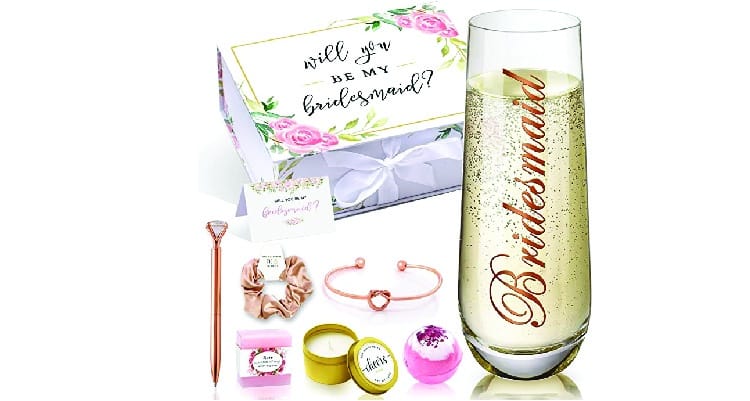 If you are looking for bridesmaid proposal gifts that are easy on the wallet yet fancy to boot, then this will be the perfect package for you. 
Package includes 1 stemless champagne flutes, 1 rose gold bangle, 1 rose gold diamond pen, 1 bridesmaid card, 1 scrunchie, 1 rose essential oil bar soap, 1 rose bath salt ball and 1 bluebell candle
Open bracelets designed with novel and delicate knots and adjustable size
Satin hair scrunchies ideal for the bride and bridesmaids
Rose gold diamond pens, unique design twist action to open
Related Reading: 20 Bridesmaid Proposal Box Ideas – Ultimate List Of Things To Include
3. Bridesmaid satin robe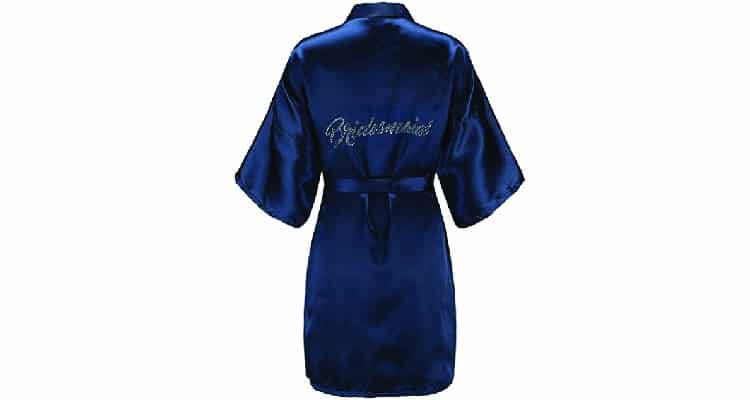 This gorgeous plush satin robe will make them say 'Yes' immediately. This is a perfect wedding favor. Your bride squad can wear this at your bachelorette party and take loads of pictures. 
Polyester; soft, smooth, lightweight and breathable
Suitable for hand wash, machine wash or dry cleaning
One size fits all sizes between 100-150lbs
Belted kimono robe design
4. Maid of honor keychain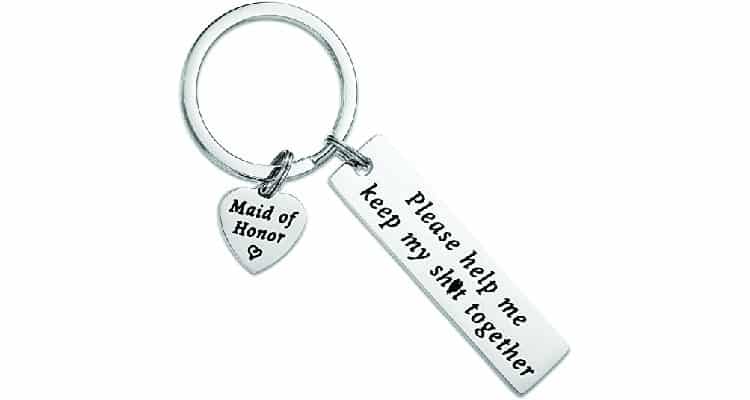 This funny yet meaningful keychain with the engraving "Please help me keep my shit together. Maid of honor" is a great gift if you are the first bride among friends to add in your bridesmaid proposal box. 
High quality 316L stainless steel
Doesn't rust, change its color or tarnish
Double-circle rings to connect key chain and charms so they never fall off or break
Key chain Bar pendant length 1.97inches, width 0.47inches; keyring diameter: 1.18inches
5. Jewelry box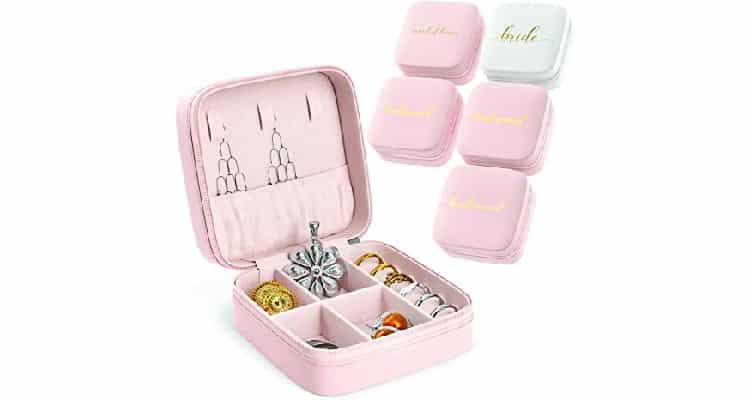 You and your bridesmaids will be traveling in style with these fun jewelry boxes. Your matching swag will set the mood right just before your wedding. Add this jewelry box in your bridesmaid proposal box so your bridesmaids can use them to keep their everyday accessories in one place, or they can use it to store the jewelry they'll be wearing on your big day. 
6 piece set includes 5 bridesmaid jewelry boxes and one bride jewelry box
Gold tone scripts adorn each box
Beautiful calligraphy adds a personal touch
Faux PU Leather construction; puncture resistant and durable
6. Bridesmaid tumbler
This bride and bridesmaid tumbler is honestly one of the coolest bridesmaid proposal gifts. This attractive looking tumbler is in rose gold color. It can be a perfect addition in your maid of honor proposal box. Say "Cheers!" to unique bridesmaid proposals.
Hot beverages stay hot for 3 hours, cold drinks stay chilled for 9 hours 
Comes with straw and cleaning brush
8.25" in height with a 2.5" diameter; holds 16 oz of beverage
Related Reading: 7 Things A Girl Should Do With Her Bestie Before Getting Married
7. Personalized puzzle
A cute personalized puzzle is one of the best 'will you be my bridesmaid' ideas. This personalized puzzle will have your bridesmaid's name printed on the pieces of the puzzle with the question "Will you be my bridesmaid?" 
Puzzle consists of 12 fragments
Size: 148 x 210 mm/ 5.8 x 8.3 inch
Comes with option to choose hair colors
8. Scrunchies
These satin scrunchies are lush and should be the first choice for brides and bridesmaids. Perfect for daily-wear too.  Add this in your unique bridesmaid proposal box. It's a known thing that planning your wedding can be stressful, so tie your hair back and get ready for the adventure.
Suitable for various hairstyles
Does not fall off easily, yet easy to take off 
High quality satin; soft, smooth and available in many colors
Comes with a card that says, "to have and to hold your hair back"
9. Zodiac candles
This is one of the most unique bridesmaid proposal gift ideas ever, as each of the 12 astrology candles represent a specific sign and emits a custom crafted scent that defines them. 
Made of all natural soy wax; each has zodiac sign has its own scent 
Finest ingredients to give fuller, natural scents and extra long-lasting burn times
Homemade, hand-poured, dye free and zinc free
10. Bridesmaid picture frame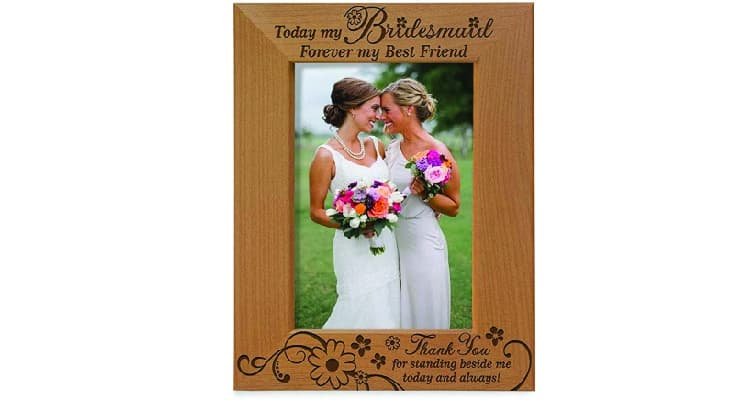 Commemorate one of the most memorable days of your life by giving your bridesmaid this beautiful wooden picture frame. It has a quote engraved on it which says, "Today my bridesmaid. Forever my best friend. Thank you for standing beside me today and always!"
Crafted from top-quality natural wood.
Picture frame measures 6 1/2″ x 8 1/2″ and holds a 4″ x 6″ photo
Curved beveled edges with glass front
Back stand easel for table display; wall-hanging clips for wall mounting
11. Wine labels
Get your maids of honor their favorite bottles of wine with a touching message that says, "I can't say "I do" without you. Will you be my Bridesmaid?" These meaningful bridesmaid proposal gifts will make your proposal even more special. When they say "Yes" you know what to do – uncork those bottles and partyyy! This is one of the things to do with your girl gang before you tie the knot.
Pack includes 7 labels, 4″ x 4.25″ in size
Highest quality, waterproof, glossy, adhesive labels
Will fit most standard wine bottles
Just peel and stick to your favorite bottle of wine 
12. Maid of honor socks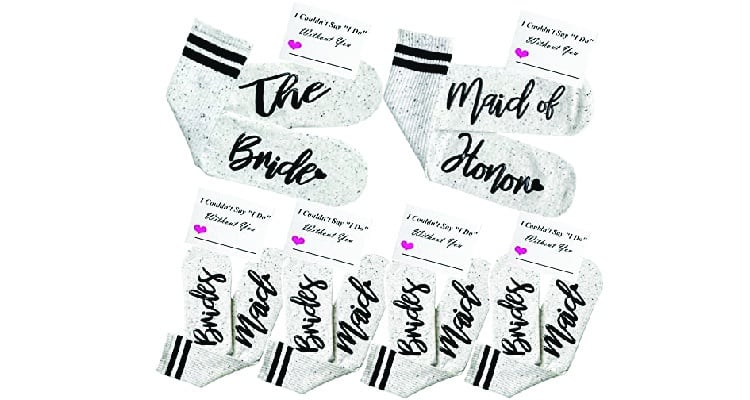 Cold feet and weddings are quite common, aren't they? To keep the bride and her bridesmaids' feet warm, this is one of the perfect bridesmaid proposal gifts to add in your maid of honor proposal box. These socks are adorable! You could definitely picture your bridesmaids wearing them during your bachelorette party or the night before the wedding!
One size fits all
Can be customized with the names of your bridesmaids
Complementary sock labels available at no additional charge
Made from soft and comfortable, combed cotton yarn
Related Reading: Top 10 Honeymoon Destinations In The World
13. Shattered glass ceiling necklace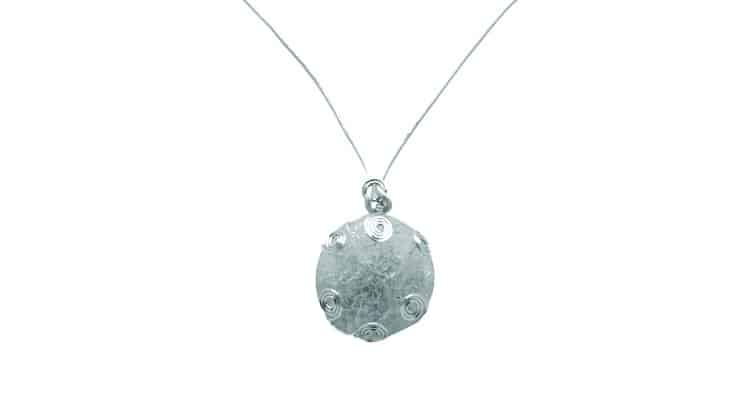 There's a new trend I am absolutely loving. This gift will make a unique bridesmaid proposal. As this world has always been a trying place for women, you need to remind your bridesmaids to shatter the glass ceiling and soar. This symbolic necklace pays a tribute to all the achievements of successful women.
Unique, clear, handmade necklaces with wire weaving accents
Adjustable, silver leather cord 
Artistic, silver wire with delicate spirals on the front and enchanting spider web effect on the back 
Each piece is different as it comes with unique visual effect from shattering of a clear glass
14. Swarovski bracelet
Swarovski, renowned for their beautiful, crystal products, is a world-renowned premier jewelry and accessory brand. Add this elegant and mesmerizing bangle bracelet to your bridesmaid proposal gifts and watch her jaw-drop.
Swarovski Infinity bangle bracelet – a combination of precision and quality
Crafted with premium quality sparkling crystals with chic rhodium-plated chain
Infinity design makes it a meaningful gift for a BFF 
Comes with rhodium-plated band and chain, white crystal infinity Sybil and clasp closure
15. Jade roller and Gua Sha set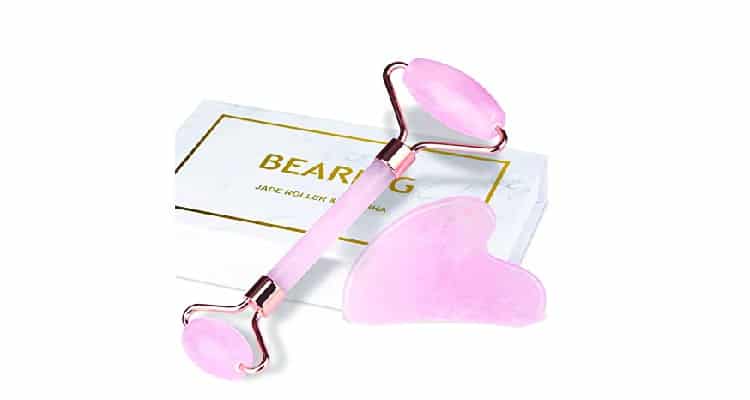 Taking care of our skin is very important and almost all girls love a holistic skincare routine. Jade rollers and Gu Sha are trending all over Instagram. From celebrities to skin experts, everyone's recommending them. These beauty rollers have now become a trend but trace their roots to ancient times. Get your bridesmaids these trending and great tools as bridesmaid proposal gifts and show them how much you care. Get the perfect bridal glow before the big day.
Jade rollers have a sturdy handle and durable metal frames
Gua Sha comes in a concave arc and sleek design; can be used on the chin, neck, spine, fingers, abdomen and behind the ear
Tightens skin pores and brightens skin
Stimulates the lymphatic system, reduces dark circles and wrinkles
16. Birth month flower pendant necklace
If this isn't the sweetest gesture on earth, I don't know what is. This little pendant will show your bridesmaid how much thought you have put into assembling this one-of-a-kind maid of honor proposal box.
18k gold, assures durability and anti-tarnish properties 
Round pendant will have your girlfriend's birth month flower engraved on it
Twelve flowers corresponding to the twelve months of a year to choose from
Hypoallergenic and easy to wear, comes with a lobster clasp design
17. Spa gift basket by Lovestee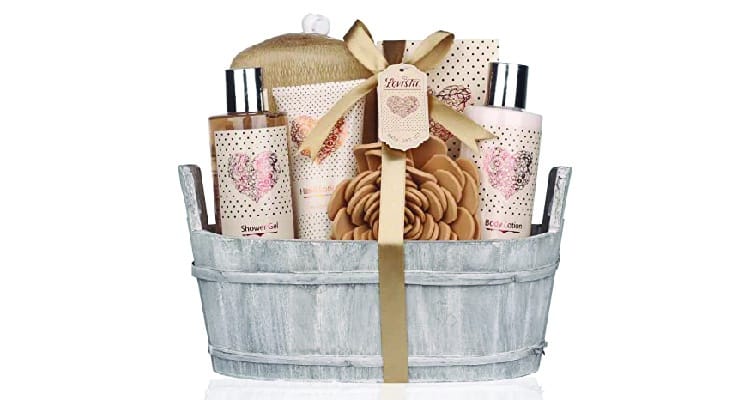 If this isn't the sweetest gesture on earth, I don't know what is. This little pendant will show your bridesmaid how much thought you have put into assembling this one-of-a-kind maid of honor proposal box.
18k gold, assures durability and anti-tarnish properties 
Round pendant will have your girlfriend's birth month flower engraved on it
Twelve flowers corresponding to the twelve months of a year to choose from
Hypoallergenic and easy to wear, comes with a lobster clasp design
18. Edible cookie dough
Put this in your bridesmaid proposal box and all your diet control friend will want a spoon right away – this healthy dessert can be enjoyed 100% guilt free.
Zero added sugar, no added junk, healthy fat from almond butter
For both kids and adults  
No added preservatives, no gluten and no fillers. 
Made using real, natural food ingredients 
Related Reading: 25 Marriage Lessons We Learned In Our First Year Of Marriage
19. Personalized bar necklace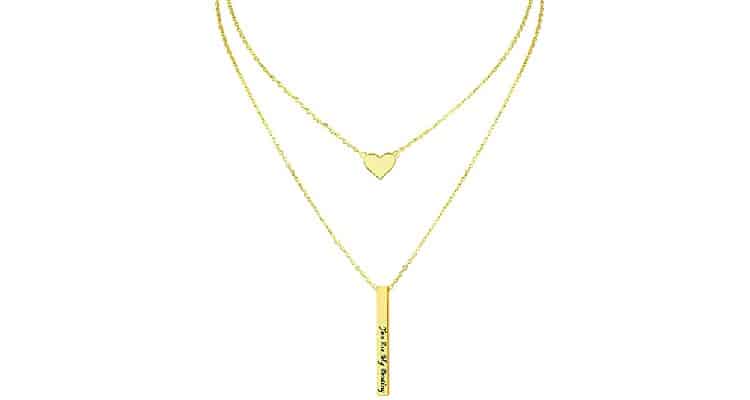 MeMoShe is a jewelry brand that crafts custom-made necklaces. You can customize your bridesmaid's name or her birthdate. This gift requires some thinking and is a thoughtful addition to your bridesmaid proposal gifts. 
3D customized necklaces, which means all four sides will be engraved
Hypoallergenic material suitable for all skin types including sensitive skin
92.5 Sterling silver or stainless steel 
Chain length: 14"; a heart choker and a bar pendant necklace is connected 
20. Artificial succulents
How adorable are these succulents! Use them as part of a gift set that includes all your 'will you be my bridesmaid' ideas or pick them up as a thank-you present after they say "Yes". 
Pack of 5 life-like succulent plants
Fake potted succulent; dimension about 2.8W x 3H inches
No worries about sunlight, frequent watering, pruning, or other maintenance
Made of plastic and easy to care for 
21. Balloon proposal box
I would personally love to be asked to be a bridesmaid with such a unique bridesmaid proposal. Pop the question with bridesmaid proposal gifts like this fun item. The balloons have confetti inside which will 'rain' down on everyone after it's been burst. Truly a fun and unique bridesmaid proposal plan. Once they say yes, search some bachelorette party ideas and have a blast with your bride squad.
Proposal message on the scrolls read "Will you be my Bridesmaid?" and "Will you be my Maid of Honor?"
Blank scroll to write a custom message included.
Inflate "pop me" balloon before using; receiver then follows the instructions leading to a joyful surprise 
Gift box is included in the package with a "pop me" sticker and a heart-shaped pin
22. Bride tribe mugs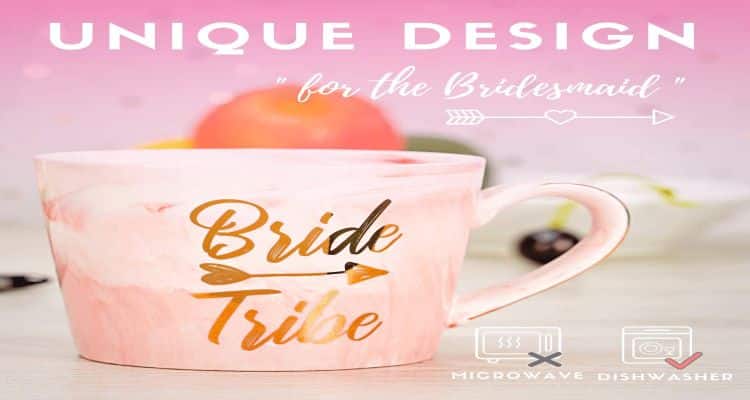 Ready for more perfect bridesmaid proposal gift ideas? This pretty mug comes with a special gift box and gift card. You can also add it into your bridesmaid proposal box.
Perfect for inviting your friends or family to be your bridesmaids, or as a bachelorette party favor and a bridal shower gift
Special message "I can't say I do without you" inside the mug
Will be a sweet memento for your bride tribe even after the wedding
High-quality ceramic, each mug has its own special marble pattern
23. Bridesmaid sleep mask
Present your girl gang with these bridesmaid proposal gifts so they can get their much-needed beauty sleep before the big day. No tired eyes before the ceremony, am I right?
Silk sleep masks designed to be gentle on delicate facial skin
Absorbs significantly less face cream than cotton
Shown to reduce friction, allowing skin to glide along the pillow, thus reducing pressure on creased skin, including the delicate areas around your eyes
24. Bride tribe sunglasses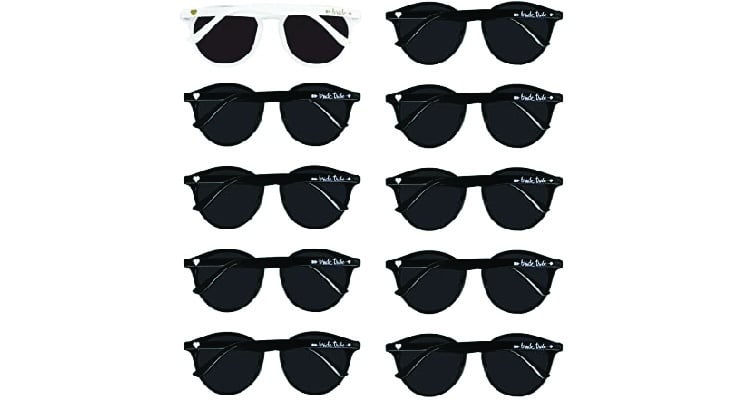 Your bridesmaids can arrive in style with these trendy, cat eye, sunglasses. These are not just great 'will you be my bridesmaid' ideas, but also great gift ideas for bachelorette parties. 
Classic, retro style frame and mirrored lenses 
Durable polycarbonate frames and premium UV 400 protection lenses
Will protect you from harmful UVA and UVB sunlight
1 pair of white 'Bride' Sunglasses and 9 Pairs of Black 'Brides tribe' Sunglasses
25. Brimesmaid throw pillow cover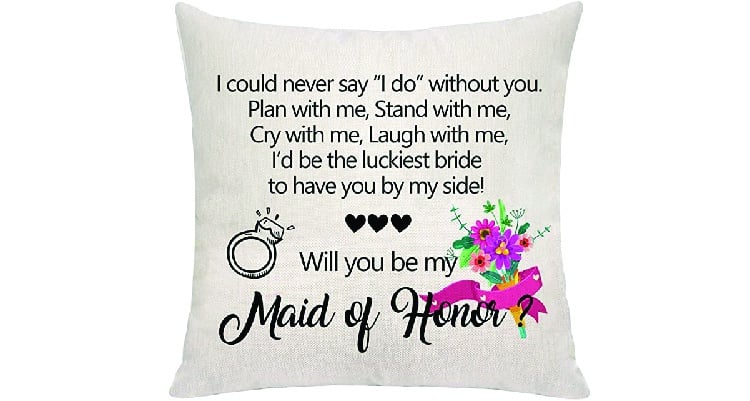 This throw pillow cover reads, "I could never say 'I do' without you. Plan with me. Stand with me. Cry with me. I'd be the luckiest bride to have you by my side". This is hands down one of the sweetest bridesmaid proposal gifts. 
Exquisite workmanship 
Pillow cover made of linen
Light texture, breathable, soft, environment-friendly and easy to wash 
26. Makeup bag
You and your girls will be traveling in style with these fun Bride Tribe canvas bags. Use them to keep your everyday makeup or on the big day for all your necessities
Gold-tone scripts adorn each makeup bag
Bridesmaid makeup bags are pastel pink, grey, navy blue or seafoam green, while the bride's makeup bag is white
Machine-wash and dry
Measures 8.5"W x 6.5"H x 0.25"L and features an easy-glide, nylon gold, zipper
27. Bridesmaid necklace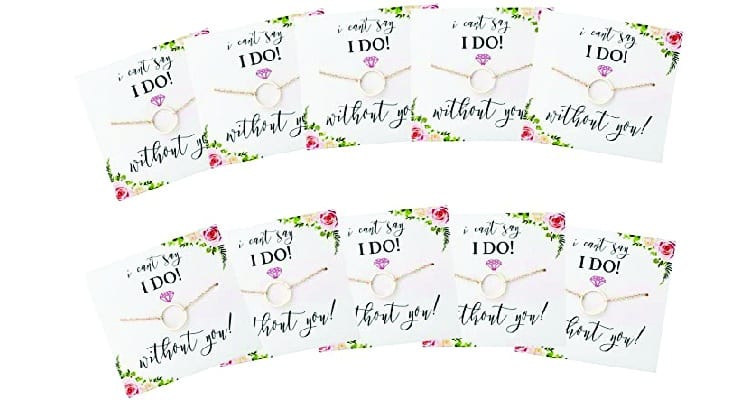 Still not sure how to ask someone to be your bridesmaid? This "I can't say 'I Do' without you" necklace will do the job for you. 
Available in a pack of 6 or 10
Available in both rose gold and silver plating
Comes with gift cards 
28. Message in a bottle
How about a unique bridesmaid proposal to ask your girls 'Will you be my bridesmaid?'. These messages in a bottle wedding invitations are super original and your girls will treasure them for many years to come.
Each invitation includes scroll, paper, pearls, flower, cork, glass bottle, and a mini label
Order as many as you need
Fill in the customization fields 
29. Compact mirror for bridesmaids
You need your gal pals around you helping to prep for your Big Day. Now while your bridesmaids will definitely look pretty in their bridesmaid gowns, with all the running around they'll be doing to make sure everything is perfect on your special day, the last thing they need is for their makeup to run. With bridesmaid proposal gifts like these compact mirrors, you can be sure that they will always have a compact mirror to do their quick touch ups. 
1 piece champagne bride makeup mirror, 1pueve maid of honor mirror and 6 pieces champagne bride tribe makeup mirrors
Diameter : 2.75″, thick : 0.6″. The material is metal and crystal 
Double-sided mirrors. Regular and 2x magnifying mirror
The upper part is 1:1 lens, the lower part is 2:1 magnifying
30. Bridesmaid proposal card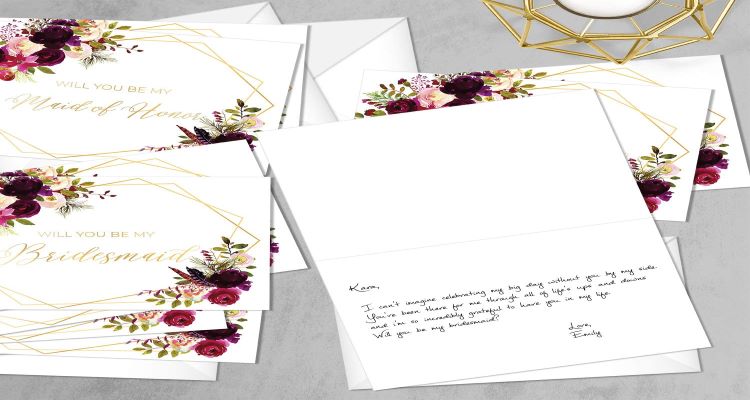 Bring it all together with the help of an elegant bridesmaid proposal card. Add this card to your bridesmaid proposal box and get them excited for what's to come.
10 Cards and white envelopes
8 Will You Be My Bridesmaid Cards
2 Will You Be My Maid of Honor Cards
Size: 5″ x 7″ folded card with one-of-a-kind, lush, floral design with faux gold accents 
Finding the perfect bridesmaid proposal gifts is part of the fun. From bouquets to gift boxes packed with goodies, we have rounded up the best bridesmaid proposal ideas which will definitely make them say "I do".
FAQs
1. Should I include a bridal party proposal card?
Yes, a bridal party proposal card is an essential part of the gift. It can be a personal, short and sweet note to your bridesmaid or maid of honor to let them know they are very important to you.
2. When should you send a bridesmaid proposal?
It is good to complete your bridesmaid proposals within two or three months of saying "Yes" to tying the knot. This will let them know you want them included in your big day and all the other wedding functions. 
3. How do you accept a bridesmaid proposal?
Being a bridesmaid is a job that comes with a lot of expectations. It's also a guaranteed ride on the emotional roller-coaster. Call them up and tell them your answer, or give them a big hug and let them know you're happy for them. Express how grateful you are and that you're looking forward to the big day. 
9 Problems Almost Every Couple Faces During The First Year of Marriage