If you are looking for gift ideas for boyfriend's mom, then you have arrived at the right place. It's not uncommon or unnatural to feel intimidated around your boo's mom. It's the kind of relationship which is hard to explain. She is probably the only woman whose approval you desperately want. You want her to like you, and once you get to know your to-be mother-in-law inside out, then there are high chances of her becoming one of your besties. 
It's all about spending time with her and getting to know her better. Before you spend some quality time with her, why not check this list of gift ideas for boyfriend's mom and kick start the unique relationship in the sweetest way? And this list is curated to fit all occasions and all kinds of mothers. 
Christmas Gifts For Boyfriend's Mom
'Tis the season of snow, hot chocolate and joy. Don't stress about buying the perfect Christmas gifts for boyfriend's mom as we are here to help you pick out the best for your significant other's mother. Before you meet her, make sure you greet her with one of the best boyfriend mom gifts from our list to ensure your name in her good books.
1. Best bonus mom ever insulated tumbler
Your boyfriend's mother is like a bonus mom you get after your boyfriend becomes a constant in your life. Travel mug gifts for boyfriend's mom like these will see to it that you are stamped with a big blue approved mark.
22 oz capacity, stainless steel, 
Insulated and double-walled to keep your beverages hot or cold
Features slide-close lid, non-slip base and matching, reusable straw
Available in mint, pink and lilac colors
BPA-free; makes insulated tumblers durable and rust-resistant 
Related Reading: 30 Best Gifts For Pregnant Women For Extra Care And Pampering
2. Necklace with gift box
Opting for jewelry has to be the easiest and safest option while shopping for women. This knot symbol necklace comes with a beautiful long quote that is sure to melt your future mother-in-law's heart. It reads "Thank you for raising the perfect man and welcoming me into your life with open arms and a loving heart". 
Comes with beautiful gift box ready for gifting 
Mysteriously intertwined endless knot symbolizes infinite love, eternity, health and longevity
6mm round-cut cubic zirconia stone gives sparkling and shiny finish
Quote comes in many fonts and themes
3. Fossil touch screen smartwatch
This is one of the best gifts for boyfriend's mom as this smartwatch has an always-on display and thousands of watch faces that can be personalized. It comes with hundreds of hip apps such as fitness, payments, music, social, news, games, stopwatches and more. It also comes with a swim-proof design that is perfect for all your activities.
Use WearOS by Google App on your phone running the latest version of Android (excluding Go edition) or iOS 
Supported features may vary between platforms and countries with compatibility subject to change
50 minutes of charging to reach 80%
Automatically tracks activity goals, steps, sleep, heart rate, cardio level and more
4. Le Creuset dutch oven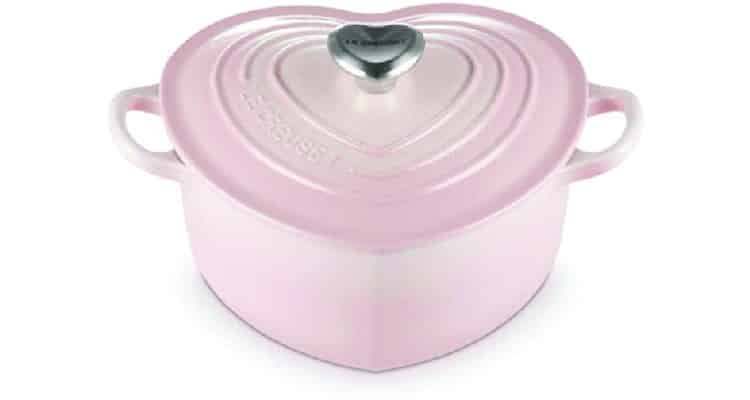 This new, heart collection from Le Creuset will make for great gift ideas for boyfriend's mom. She can bake sweet treats in this cocotte. No need to worry about any heavy lifting as this is the lightest cast iron on the market. It is also one of the best gift ideas for foodie couples who love to cook.
Enameled cast iron delivers superior heat distribution and retention
Easy-to-clean and durable 
Enamel resists dulling, staining, chipping and cracking
Ready to use, requires no seasoning
Tight-fitting lids specially designed to circulate steam and return moisture back to food 
5. Silk eye mask
BeeVines is a startup owned by a mother-daughter duo and all its products are crafted keeping in mind that a good night's sleep is a must for good mental health. This is one of the most thoughtful gifts for boyfriend's mom as this set of two silk sleep masks will ensure she has peaceful nights and energetic mornings.
100% natural silk guaranteed to ensure good night's sleep
Naturally breathable
Made from high-density 19 Momme Mulberry Silk with double layer filling
Can be hand washed
6. Luxury bathtub caddy tray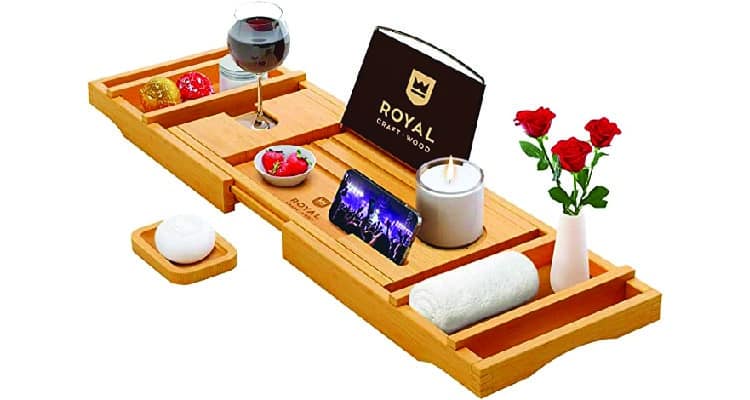 Royal Craft Woods make sustainable goods at affordable prices. Moms love a good bath and this bathtub tray will make her bathing moments a little more luxurious. This is one of the best Christmas gifts for boyfriend's mom.
Bathtub trays are adjustable and can fit bathtubs with any dimension
Will fit even the widest of tubs
Has slip-resistant silicone grip that will prevent tub caddy from sliding
Coated with protective layer of lacquer so it is waterproof and sturdy
Related Reading: 15 Best Engagement Gifts For Newly Engaged Friend
7. Fitbit
This might be a bit expensive, but hey, your future mother-in-law's health is priceless. She can optimize her workout routine with this Fitbit around her wrist. This will track her health and will let you know if there is anything to worry about. 
On-wrist, EDA sensor, mindfulness session
Daily Stress Management Score shows body's response to stress 
Check real-time pace and distance without phone using built-in GPS during outdoor activity
Tracks calories burned through the day
8. UGG women's coquette slippers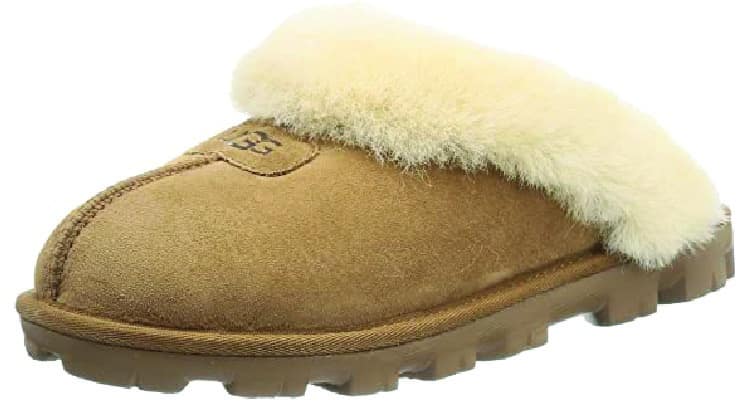 These UGG slippers scream luxury. You are sure to sweep her off her feet with these soft and utterly comfy coquette slippers. Made from soft sheepskin, these slippers have a lightweight sole and can easily be worn both indoors and outdoors.
Dyed sheep fur (Fur Origin: Australia/United Kingdom/Ireland/United States/Spain)
Synthetic sole
Available in whole sizes only
Mother's Day Gifts For Boyfriend's Mom
As promised, this list will serve its purpose of offering gifts for all kinds of occasions. Mother's Day is always quite special as it celebrates the heroism that is motherhood. Below are some of the gifts for boyfriend's mom that will become the highlight of this year's Mother's Day.
9. Adorable coffee mug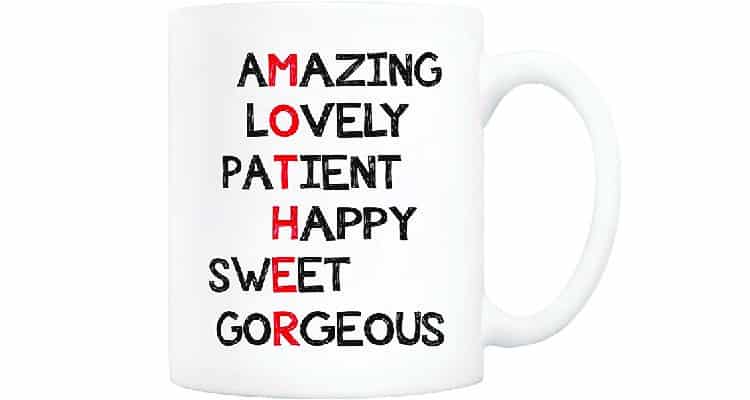 Make her coffee mornings sweeter with this adorable mug that has words which describe every mother on earth – amazing, lovely, patient, happy, sweet and gorgeous. This is one of the best gift ideas for boyfriend's mom as it spells out MOTHER in the prettiest way.
Dishwasher and microwave safe
Printed on both sides
Holds 11 ounces of your favorite coffee, tea or beverage
100% pure white ceramic 
10. Kombucha brewing starter kit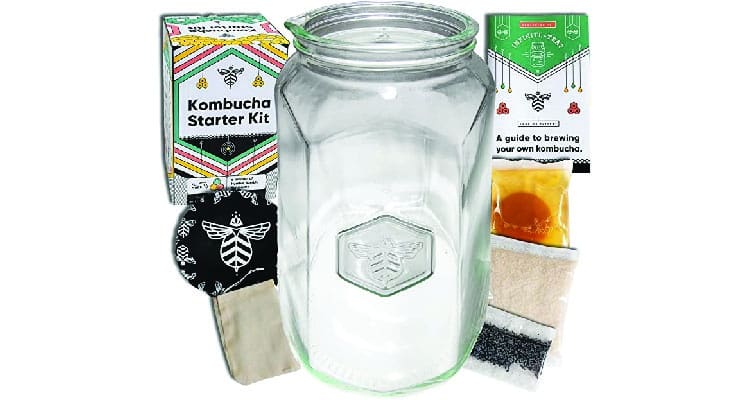 To those who don't know what kombucha is, it is a fermented, lightly effervescent, sweetened black or green tea drink. It is one of the best gift ideas for boyfriends mom as it is commonly consumed for a variety of health benefits as it is jam packed with probiotics and antioxidants that not only taste good, but help maintain a happy, healthy tummy. If she is looking for ways to lose weight, then this kombucha drink also aids weight loss. 
Proprietary Kombucha Jar is designed specifically for making kombucha at home,
Complete with 1 gallon and 2 cup volume markers
Making kombucha requires right supplies and instructions: Enjoy step-by-step how-to guide along with everything you need to get started on your first batch of kombucha juice
Related Reading: 21 Cool Tech Gift Ideas For Couples Madly In Love And Passionate About Gadgets | 2022
11. Premium mom box gift package
This beautifully designed premium gift set conveniently arrives in a rich, full color, gift box with beautiful artwork on all sides – inside and out. This is one of the best gifts for your boyfriend's mom as each box is designed by professional artists and gives out a tropical beach feel.
This is one of the ultimate gift ideas for a boyfriend's mom as it includes so many other beautiful gifts, including a long burning luxury aromatherapy candle with drawstring canvas bag, a printed mug and a stylish cosmetic travel bag among other things.
Contains beautiful silver pendant necklace displayed in custom designed, clamshell, sealed gift box
Warm her feet with cozy cotton socks: Each pair embroidered with, "If you can read this, give me a foot rub" and is sure to make mom laugh when she sees them for the first time
Made with quality cotton and strengthening fibers
12. Jewelry organizer stand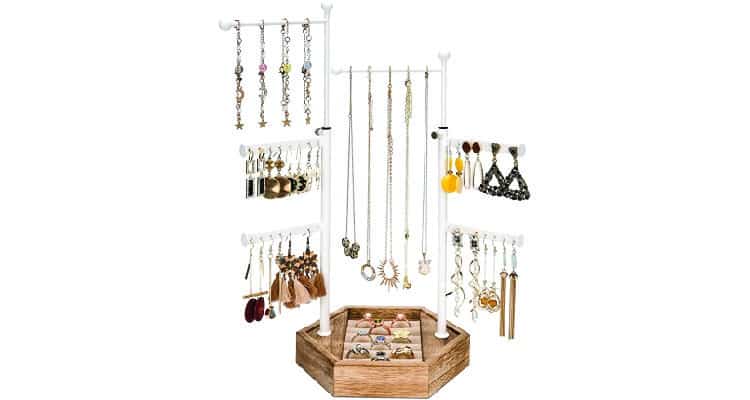 Give your boyfriend's mom the gift of space with this elegant and unique jewelry organizer stand – definitely one of the more thoughtful Mother's day gifts for boyfriend's mom. The necklace holder organizer with 2 metal poles and linen tray allows for quick access to your earrings, rings, necklace or bracelets. She can confidently say goodbye to the tangles and mess on her dressing table. This is one of the best and useful gifts for mom that she'll actually love.
Linen ring tray on wood base is specially designed for valuable rings
Anti-slip cloth keeps jewelry stand stable
You can adjust the shape of jewelry stand 
Two main poles with small round holes for earrings and bracelets
13. Aromatherapy diffuser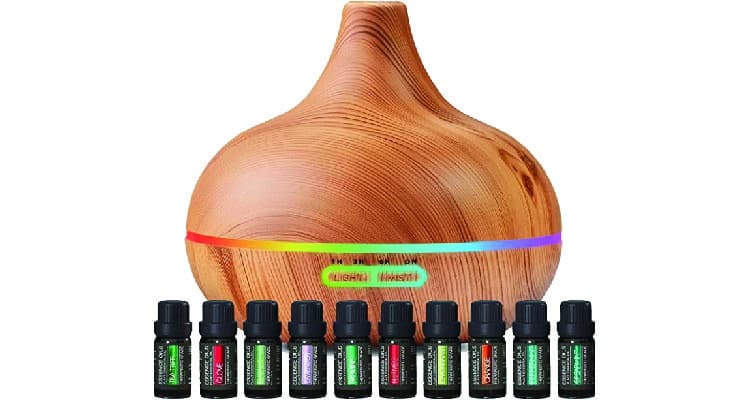 If you're looking for thoughtful Mothers Day gifts for boyfriend's mom, here's one that's perfect. You want to ease away her worries, right? So why not an aromatherapy diffuser? Their essential oils are formulated using high-quality plants sourced from different regions of the world. This is one of the best gift ideas for boyfriends mom as it will create a calming and stress-free ambiance for her to relax.

Comes with ten essential plant oils sourced from all over the world, such as lavender from France and Tea Tree from Australia
Essence diffuser has 400ml capacity and uses wave diffusion technology to atomize essential oils for ultimate wellness
To protect oils from sun degradation, they are packed in 10ml amber jars
Contains zero additives or fillers 
14. Wall clock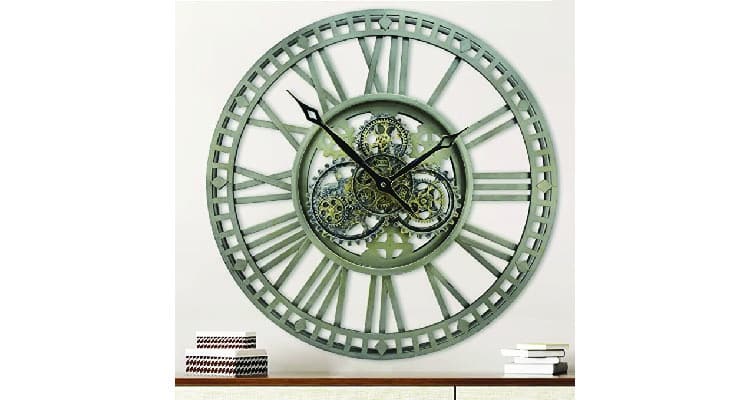 This giant gear wall clock is one of the more practical yet unique gifts for your boyfriend's mom. It is exquisite, vintage and definitely makes for a lovely decor piece. It is suitable for any kind of architectural decor. You can help her hang this wall clock in her living room, study, kitchen or her bedroom. 
Large wall clock designed with real moving gears in the clock center
Put battery in and the various gears of different sizes will start rotating
Adopts precise quartz sweeping mechanism for accurate time without any ticking noise
Classical black metal hands and large Roman numerals on 3D hollowed-out background
15. Oven mitts
If your mother-in-law is a great baker or a cook, then she must be tired of hearing questions like "What's the special ingredient?" These oven mitts make the best gifts for your boyfriend's mom as it answers that question once and for all.
Print reads "Bitch I am the secret ingredient"
Made of polyester fabric and soft quilted cotton lining
Inner and outer layers made of waterproof fabric
Perfect size and fits all palms  
Related Reading: 41 Best Gifts For Mother-In-Law – Thoughtful Gift Ideas To Impress Her
16. YETI Rambler 20 oz tumbler
We humans need our coffee to begin the day on a fresh and positive note. Brighten your mother-in-law's mornings by gifting her this stylish tumbler to pour her hot coffee in . YETI manufactures not only tumblers but also mugs and jugs that will keep your drinks hot or cold.
Ramblers are BPA free and dishwasher safe
They come with MagSlider Lids which won't let your beverage to spill
Made up of 18/8 stainless steel making them puncture-resistant and rust-resistant
Double-wall, vacuum insulation feature will keep drink hot till the last sip
17. Fleece throw blanket
Bring optimum softness into her life and keep her body warm with this breathable and lightweight throw blanket. This is one of the most thoughtful gift ideas for boyfriend's mom as its double-side design offers such comforting softness for a cozy and sound sleep. These are affordable gifts that should definitely be on your list.
Many fabulous color options available 
Perfect for most rooms – bedroom, kid's room, guest and living room
100% premium polyester microfiber
Machine washable in cold water only, on gentle or delicate cycles
Cute Gifts For Boyfriend's Mom
Your bonus mother deserves a cute gift for giving birth to your favorite man. She has raised him to be a good man and she deserves to be shown a little appreciation. Check the gift ideas below for boyfriend's mom and thank her for bringing up the gentleman whom you love so dearly. 
18. Faux succulent arrangement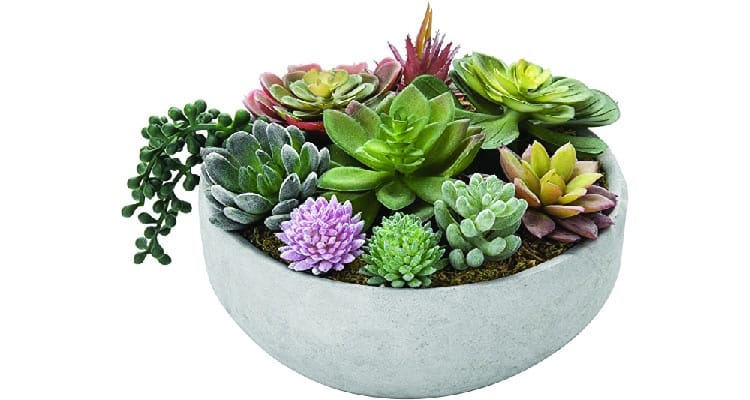 This is one of the best gifts for boyfriend's mom as she can enjoy all the pleasing benefits of succulent plants without the mess and maintenance required of the real thing. These artificial, faux succulents look so real, her guests won't notice the difference.
Variety of different succulents creates an intriguing texture that adds shape and dimension to any room
Arrangement of mixed artificial plants with moss fill in low profile concrete planter
Beautiful faux succulents potted in simple gray concrete pot gives a sleek industrial look; perfect for contemporary decors
19. Funny scented candle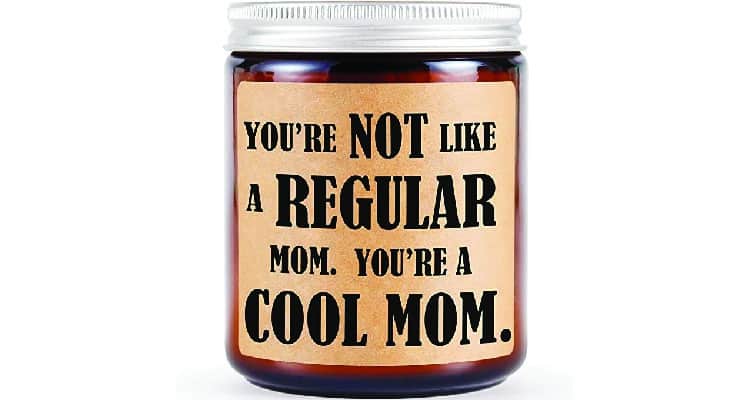 The humorous and heartwarming message on this scented candle reads "You're not like a regular mom, you're a cool mom". It will put a smile on her face and tug at her heartstrings as soon as she reads the message on these cute boyfriend's mom gifts. Every time she lights this candle, it will remind her of you, and make her feel all warm  and fuzzy inside.
Made of natural soy wax which has been hand poured
Made of pure essential oil and cotton wick
Burns without smoke for about 45 hours
20. Mini fridge
Who said gifts can't look expensive if those gifts don't burn a hole in your pocket? This mini fridge will shatter the assumptions of gifts having to be expensive to be meaningful and useful. She can store her favorite serums, cleansers and creams or a tin of her favorite beverage in her bedroom or at her workplace with this mini fridge. 
Can store 6 can/12 oz with ease; comes with a removable shelf
Connect to 100-120V home power supply
On outdoor trips, you can connect to 12V car power supply
Semiconductor refrigeration chip is freon-free and environmentally friendly
Can store makeup, skincare, breast milk, beer and snacks 
21. Picnic and outdoor blanket
Gift ideas for boyfriend's mom such as this come with the perks of spending more time with her. She can spend the day having a cute picnic with you and your boyfriend. All that's needed along with this blanket are some sandwiches, wine and fresh fruits. You can spend the day laughing, playing board games and soaking up the sunshine. 
Large and foldable; great to carry out traveling and camping 
Size: L 59″ X W 69″ 
High-quality, 3-layer design with soft fleece on top, PEVA on back and selected sponge in middle
Completely waterproof and sand proof 
22. DIY wine making kit
Most women love wine and if your boyfriend's mother does too, then this gift is a no-brainer. Chilean Merlot is a red wine with rich fruity blackberry and plum aromas. It is hip, iconic and new-age. This DIY kit will help you both bond which makes it one of the best gift ideas for boyfriends mom. 

Chilean Merlot made up of premium ingredients and easy to make
Each DIY wine kit includes wine base, yeast pack, fine agents and 30 labels
Follow instructions given and you will have delicious wine in just four weeks
Related Reading: Gift Ideas For Her: 15 Necklaces With Special Meaning
23. Tea set
Who doesn't love having tea at least once a day? Everyone knows that a cup of good tea relaxes and calms the senses. That's why it's one of the most thoughtful gifts for your boyfriend's mom. Whether it is Earl Gray or jasmine tea, nobody minds as long as it's hot and steaming. 

Gourmet tea bags made with the highest quality tea selection – wellness and good health wrapped as a gift
Delicious teas in regal and luxurious packaging
You get 60 tea bags comprising six different flavors
24. Charcuterie board set
These expensive looking gifts for your boyfriend's mom will definitely are a sure-fire winner. Won't she be thrilled and proud to show off this charcuterie board at her next party – "Oh, my son's partner got me this!". The brand specializes in cheese boards with a ton of extra features to make entertaining fun and easy. The serving board is the perfect size for displaying a variety of delicious delectables including meats, cheeses of various textures, crackers, veggies, fruit, jellies and jams, dips, and more.
Made from non-porous, bamboo wood
Comes with 4 serving knives, 6 sampler forks and 2 ceramic bowls
25. Marble fruit bowl
Imagine she wakes up everyday and goes to the kitchen for a cup of coffee and finds this marble fruit bowl full of fruits. Looking at this elegant bowl every morning is sure to remind her of you and the love with which you presented her this gift . This marble fruit bowl is really a beauty making it a great boyfriend's mom gift.
Handmade 
Unpolished finish for unique look
Brass ring at the bottom adds a pretty detail
26. Hoop earrings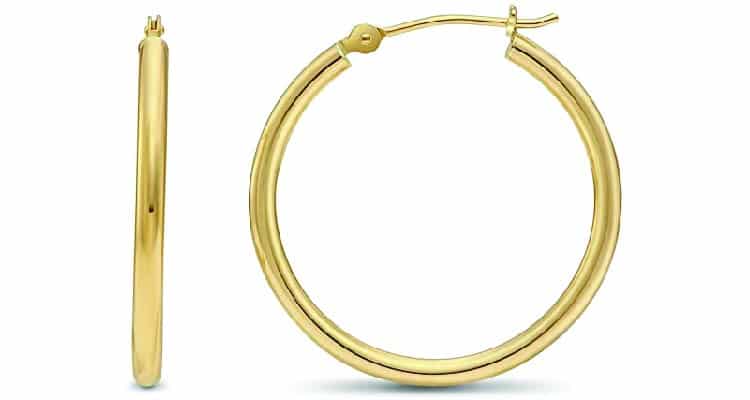 Minimalist jewelry is here to stay. These everyday wear, round hoop earrings are a must in every mom's jewelry box. These Heidi fox gold hoops are as understated as can be. These easy to put on hoop rings are elegant and classy. These gift ideas for boyfriend's mom will guarantee you a whole lotta love.
14k yellow gold or rose gold; available in various sizes
Polished, shiny, classic hoop earrings with sturdy click-top closure 
30-day money-back guarantee ensuring complete customer satisfaction
Now you have the list of perfect gifts for your boyfriend's mom. All you have to do is select the correct one which will sit right with her likes and tastes. Make sure you throw in a Christmas or Mother's Day card or whatever occasion it is you are celebrating and take your little act of gift-giving up a notch. 
30 Matching Couples Gifts – Cute Matching Gifts For Him And Her
Ask Our Expert
You must be Logged in to ask a question.