Planning a wedding is quite stressful, isn't it? To take a little burden off your shoulders, we are here to help you out with some wedding registry must haves. It's a big task for you and your fiancé to tackle this load of choosing things to add to wedding registry along with all the other things that you're already doing.
Dress shopping, finalizing the venue for your wedding and selecting the perfect cake topper are all exciting errands to run with your significant other. But looking for things to put on wedding registry might be a little difficult. There are many items that could be wedding registry must haves which will help you in building a beautiful home along with your partner.
What Is A Wedding Registry?
Once you fight the pre-wedding blues, it's time to get some work done. If you are asking what is wedding registry in simple terms, it is a curated gift list. It's a list from which your guests can choose the gift that they want to give you. You can add as many items as you want in your wedding registry must haves or you can limit it to five items, but they really shouldn't be too expensive.
While you can go out and shop these items for yourself, there are online registries that make your job easier and more convenient. You can sit at home and add gifts from anywhere into one place and make a list for your guests.
Related Reading: 21 Wedding Gift Ideas For Couple Already Living Together | 2022
Things To Add To Wedding Registry
There is a certain etiquette to selecting things to put on wedding registry. You can't just get anything that you like and curate a wedding registry. There are a few things you need to keep in mind before getting wedding registry gifts. Look for the gifts that you think will be useful for you and items which will last long. 
There are a few things that make the best wedding registry items such as kitchen and cookware products, home and décor ideas, and fine drinking experience items. The ideas for wedding registry gifts must suit your style and reflect your relationship.
Things To Not Put On Your Wedding Registry
Gadgets such as PlayStation or iWatch or speakers are one thing many couples avoid because apart from being expensive, they are also of no use to you and your significant other. Avoid asking for money. Extremely personal gifts meant for only one person should also be avoided. Those gifts can be saved for Christmases or birthdays, but they aren't good things to put on wedding registry. Ahead of the wedding, you need some wedding planning tips and some wedding registry ideas. Find the list below and select the gifts you want to add to your registry.
20 Must Have Things To Add To Wedding Registry – Wedding Registry Ideas
While you can also ask your guests to contribute to your honeymoon expenses as there are many sites which can be signed up on to start a honeymoon fund. If you are saving for a house, some banks have programs where they allow couples to start an account where they can contribute for the down payment. But if gifts are what you want, then below are some of the best things to add to wedding registry.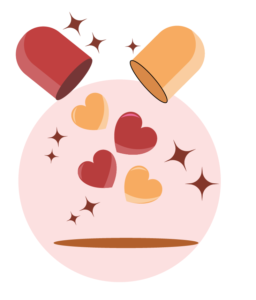 Get your dose of relationship advice from Bonobology right in your inbox
1. iRobot Roomba vacuum cleaner
You will feel like you are living in a sci-fi movie with the Roomba 694 Robot Vacuum. It makes personalized cleaning suggestions powered by the unique intelligence of iRobot Genius that learns your habits and your routines. This is one of those unique things to put on wedding registry.
3-stage cleaning system lifts dirt, dust and debris from carpets and hard floors while Edge-Sweeping brush takes care of corners and edges
iRobot's Patented Dirt Detect Technology allows robot vacuum to detect dirtier areas and clean them more thoroughly
Simply use iRobot Genius App or your voice assistant to tell robot to vacuum and consider your job done
Full suite of advanced sensors allows this robot to navigate under and around furniture, and along edges, while Cliff Detect keeps it from falling down the stairs
Related Reading: Paying For The Wedding – What's The Norm?
2. Steel nonstick bakeware set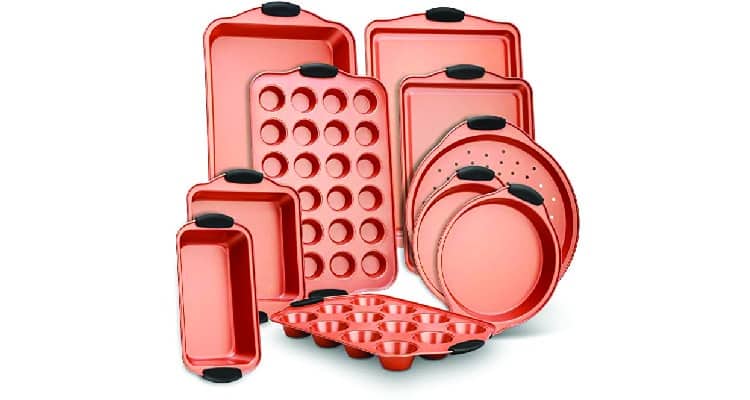 If you love baking and don't have a bakeware set, then this is one of the things to add to wedding registry. You can enjoy quality time with your husband while baking and connect with your partner on a deeper level.  This attractive assortment includes 10 baking tray sets. With a gorgeous rustic color, it will be an upgrade to your kitchen.
Complete high quality kitchenware for baking cake, bread or muffins
Includes baking pan, pizza pan, small cookie sheet, 2 round pans, square pan, loaf pan, big cookie sheet, 12 & 24 cup muffin pans
Made from durable and BPA-free carbon steel metal
Shielded with non-stick coating that eliminates need for butter, oil or cooking spray
3. Marble porcelain dinnerware
These cool, pink, porcelain dinnerware sets will be the most aesthetic thing in your kitchen. With their marble swirl accents, these sets make the best wedding registry items and are sure to make a statement in your dining room when you have guests over for dinner. If you enjoy entertaining, then seriously consider these ideas for wedding registry to set the mood, the tone and the table to perfection. 
Includes 4 round dinner plates, 4 salad plates, 4 bowls and 4 mugs
Expertly crafted in porcelain
Has pink wavy design for modern and organic look and feel
Made of high-quality, durable materials, each dish is 100% dishwasher and microwave safe
4. 2-way brewer coffee maker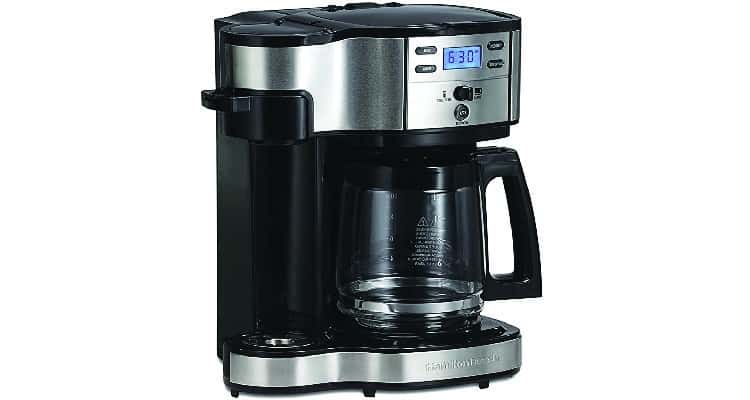 If you or your significant other can't begin your day without a hot cup of freshly brewed coffee, then definitely count this in as one of the wedding registry must haves. Making coffee in the mornings can be qualified as one of the realistic expectations in a relationship. Not only will a coffee maker serve you coffee whenever you want, it will also save you countless trips to Starbucks.
Brew single-serve cup or full pot of your favorite ground coffee
Brew cup for one using loose ground coffee (not compatible with K-Cup pods
With included mesh scoop, adding your favorite ground coffee couldn't be easier – just scoop, place and brew
Coffee maker turns off automatically after 2 hours
5. Automatic pot stirrer
Imagine leaving the pot on the gas stove without having to worry about burning your food. Well, imagine no more for this is now a possibility! You really can leave your pot unattended without worrying about your food sticking to the bottom and getting burnt. These revolutionary food gift ideas are just the thing to put on wedding registry. This pot stirrer is an auto-stirring, fully adjustable electric kitchen gadget. The Saki Autostirrer is an innovative kitchen gadget that enhances the cooking experience with the joy of hands-free stirring and 2 speeds for extra peace of mind. This is so your ticket to a carefree cooking experience.
The Saki Electric Stirrer is not a regular stirring tool or stirring machine
Adjustable arms designed to easily fit wide range of pans
Best for smart and healthy cooking 
BPA free, cordless and rechargeable 
Related Reading: How To Have A Non-Religious Wedding – Some Awesome Tips!
6. Air fryer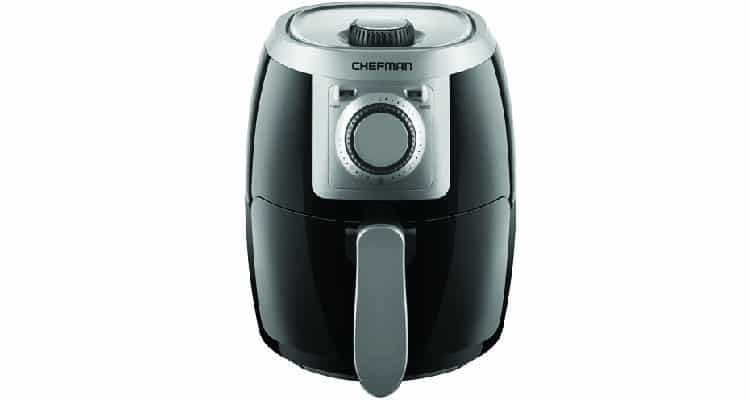 Would you believe me if I said that these wedding registry ideas are extremely budget friendly? Well, believe it. This versatile air fryer comes with an option of frying, roasting, cooking or baking delicious healthy dishes. Cozy up with your love over the weekends with steaming hot coffee and a tray full of yummy yet healthy treats. It is one of the affordable gifts you can add to your registry.
Achieve perfect fried results with little or even no oil
Temperature ranges from 200°F to 400°F
Personal size air fryer saves space on your counter and in your cabinet
Comes with detachable BPA-Free basket and cool touch exterior; auto-shutoff ensures added safety and security
7. Dutch oven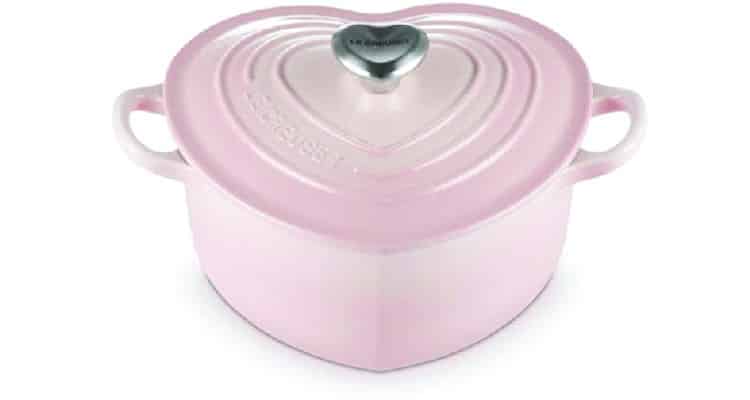 Pieces from this new heart-shaped collection from Le Creuset are great ideas for wedding registry. You can bake sweet treats in this lovely cocotte. You can even lift this with ease as it is the lightest weight cast iron in the market. 
Enameled cast iron delivers superior heat distribution and retention
Easy-to-clean and durable enamel resists dulling, staining, chipping and cracking
Ready to use, requires no seasoning
Tight-fitting lids specially designed to circulate steam and return moisture back to the food
8. Magnetic knife holder
This modern design knife block holder with exceptional versatility is one of the things to put on wedding registry. It will save you a lot of kitchen space as all the knives can be stacked in one holder. Knives are used everyday and different types have different uses. The block holds knives vertically without shoving them down into a wooden, hard plastic, or metal block thus reducing nicks, burrs, or dull blades for improved sharpness and cutting efficiency. Hence this is one of the most obvious wedding registry must haves. 
Dual sided magnetic universal knife block
Features two long knives and those for food-prep, steak and paring knives 
Made of 304 food-grade safe steel that's stronger, more resilient, and rust and corrosion resistant 
9. Motion sensor garbage can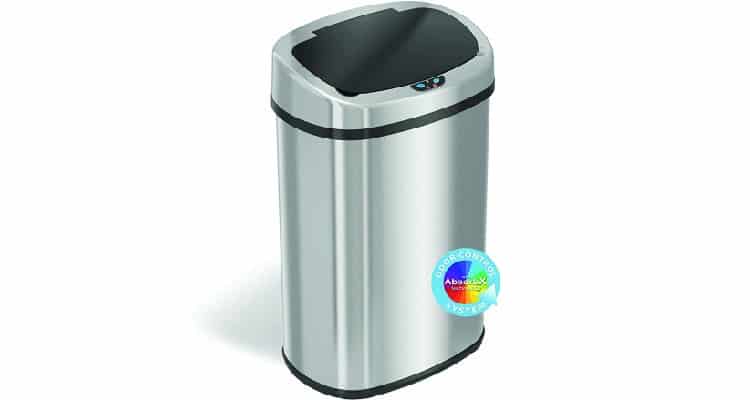 A garbage can is one of the most essential things in a house. We use it everyday. With this motion sensor garbage can, discarding trash becomes easier than ever. If you are a hygiene freak, then this is one of the must have wedding registry items.
Comes with unique lid status alert
Motion of your hand opens the lid automatically
Stops trash odor 
Fingerprint-proof
10. Italian style crystal wine glasses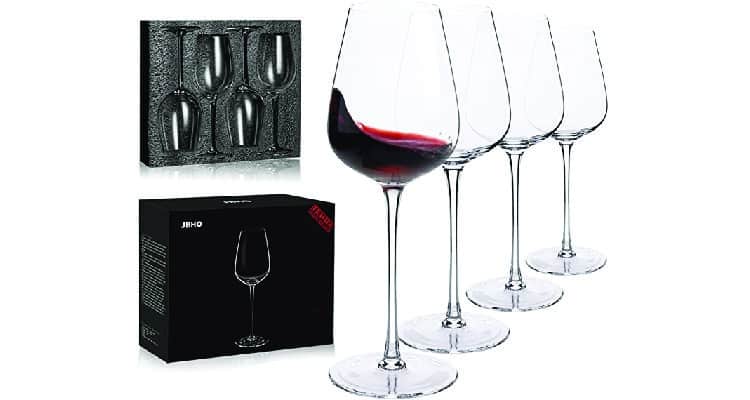 Wine glasses are popular yet very classy and important wedding registry must haves. If you and your partner love to indulge in a glass of wine every now and again, then these are some budget friendly things to put on wedding registry. Made from lead free, premium crystal glass, these Italian style, Bordeaux wine glasses are hand blown. They say couples who drink together stay together and in addition to that, these wine glasses will definitely make your bar look good.
100% hand-blown by experienced craft masters with more than 10 years experience in this field
Ultra clear crystal glass, thin rim, but perfectly sturdy  
Dishwasher safe
11. Pure linen sheets
Upgrade your bedroom style with these pure linen sheets. Amazing bedding will help you sleep better. The reason why this should be on your wedding registry must haves is that linen only gets better with time. It gets softer with every wash and use. These sheets have been made from excellent material and have been finely tailored using  impeccable craftsmanship which make these sheets one of our picks for best wedding registry ideas.
100% high quality French linen
Pre-washed to make softer and shrink-resistant
Every single thread in DAPU Lune bedding is certified with Oeko-Tex Standard 100 that is tested for over 100 harmful chemicals and substances, and declared safe for human use
Linen has high air permeability which means your body temperature can regulate and keep you cool in summer and cozy in winter
Related Reading: 20 Funny Gifts For Boyfriend That'll Put A Smile On His Face
12. Amazon Echo Dot
These speakers are absolutely top quality and you and your partner can give voice commands to play any song, artist, or genre through Amazon Music, Apple Music, Spotify, Pandora and others. What's more? Alexa Guard will help you stay safe when you are alone at home. 
Most popular smart speaker with Alexa
Sleek, compact design delivers crisp vocals and balanced bass for full sound
Stream songs from Amazon Music, Apple Music, Spotify, SiriusXM and others 
Play music, audiobooks and podcasts throughout your home with multi-room music
Use voice to turn on lights, adjust thermostats and lock doors with compatible devices
13. Compact handheld steamer
Handheld steamers are so much more convenient than an iron box. It is one of the travel gift ideas as it is tiny enough to fit in your suitcase. Get wrinkle-free clothes in just five minutes with this handheld steamer. Just fill the small detachable water tank with the water cup provided. Heats up in less than 30 seconds and powers on for 10 minutes of continuous steaming. The steamer will automatically turn off if not in use This is a smart and handy thing to add to wedding registry. 
Easy to carry and just as powerful as a full-size steamer
Uses electromagnetic pump steam technology
No leaking, no spilling; allows you to steam your clothes any way you want, hanging vertically or lying horizontally
14. Smokeless bonfire with waterproof cover
Make your married life more romantic by adding these cozy things to your list of wedding registry must haves. Celebrate your married life with this portable, durable and perfect for roasting s'mores bonfire to celebrate married life. You can use this outside on a chilly autumn evening to toast marshmallows. Enjoy your backyard gatherings with friends. It comes with a waterproof cover too.
Features double-walled construction that circulates air and allows wood to burn without smoke escaping
Includes spark screen that helps to protect you, your guests and patio or deck surface by containing the sparks and embers 
Perfect addition to your camping, tailgating, RV, and picnic experience
15. Stylish air purifier
An air purifier definitely qualifies as one of the appropriate must have wedding registry items. You can improve the quality of air in your home with this item. The black color gives it a really stylish look, too.
Uses H13 HEPA filter which can effectively filter any particles larger than 0.3 microns such as smoke, pollen, dander and hair
Adopts dual-channel technology and has a 360 degree air outlet
Refreshes room five times per hour
16. 4-piece luggage set
What comes after the wedding? The honeymoon, of course! Add this to your wedding registry must haves and you are all set to travel with the love of your life. This regal-looking luggage set is everything you will need to travel in style. Yup, they're so good-looking, you'll want selfies with them!
Push-button recessed locking handle system
360 degree 4-wheel spinner system which allows complete upright mobility for free-weight rolling 
Fully lined interior with accessory pocket
Related Reading: 21 Gifts For Lesbian Couples – Best Wedding, Engagement Gift Ideas
17. Mini safety box with keypad
Keep your diamond rings and other expensive jewelry absolutely safe in this mini safe box. It is quite compact and can fit in your cabinet very easily. You can also place it on your nightstand. The gap between the safe wall and the door is extremely small which can effectively prevent prying, thus greatly improving safety. 
When door is opened, sensor light will automatically light up
Comes with backup power 
Electronic lock is powered by four batteries 
Internal shelf is detachable 
18. Sous vide
What a fancy little kitchen utility to own! This is one of the best wedding registry items to include if you enjoy cooking. A sous vide works by circulating heated water in a pot at a very precise temperature according to the desired doneness of your food, holding it there for the duration of your cooking for exceptional results. Wedding, honeymoon and then perhaps, Masterchef? It is also one of the perfect gift ideas for foodie couples.
Perfect cooking every time from chicken to fish to vegetables, eggs, beef, lamb, pork – the sous vide cooks it all
Locks in flavor and moisture during cooking process resulting in texture and taste that is second to none
Small but mighty; this 12.8″ Anova Precision Cooker Nano stows away in any kitchen drawer
19. Wake up light alarm clock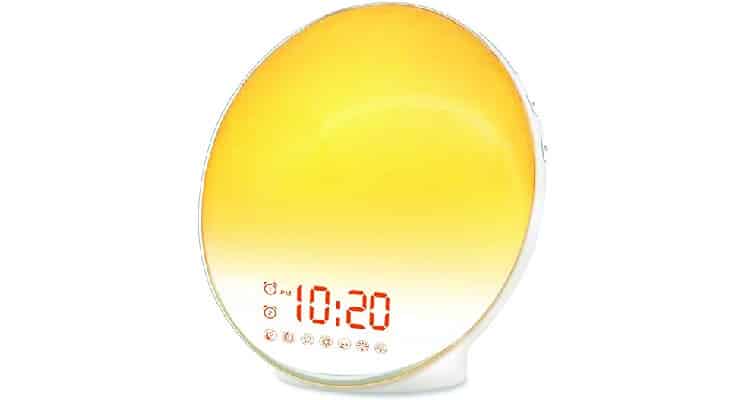 Are you asking what's so special and unique about an alarm clock? Well, this Sleep Aid digital alarm clock is designed for everyone, especially for heavy sleepers and kids. It has a sunrise simulation light with 7 natural sounds. If you and your partner are deep sleepers, then this is one of the things to add to wedding registry. 
Goes gradually from 10% brightness to 100% by 30 minutes before alarm setting time
If you think 30 minutes is too long, you can set process to 20 minutes or 10 minutes 
7 color changing lights; includes blue, indigo, purple, red, orange, yellow, green
Comes with 3 level LED time display brightness and 20 level lighting brightness adjustable
20. Quiet ultrasonic humidifier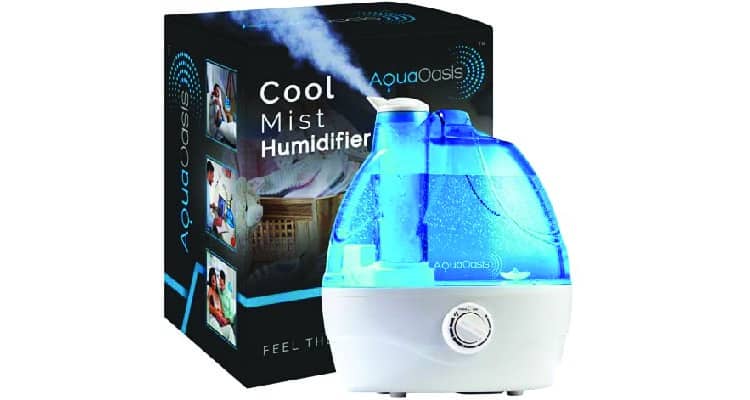 This is one of the most thoughtful ideas for wedding registry. This humidifier will help you and your partner breathe better, sleep better and live better at home. Dry air can cause a lot of breathing problems. 
Operates in complete silence – no humming, whistling, or crackling while it is on
This durable Whole-House Humidifier steadily and efficiently dispenses soothing, cool mist 
Now is the time to upgrade your kitchen utilities and decor. Your new life and home deserve the best of the best. Go ahead and create a rock-solid wedding registry to help set up home as you would like and have a happy married life. 
FAQs
1. How many registries should you have?
A typical wedding registry always has three to four registries. If you have more guests, then make it five.
2. How should you share your registry information?
The first way is via word-of-mouth. Inform your guests about the wedding registry. One more simple way to share is through your wedding website. Everybody is opting for a personal wedding site. You can do so too and share the wedding registry information on your wedding website.
3. How expensive should wedding registry items be?
It is best to select gifts that are in the price range of $25 to $200 dollars. 
16 Sentimental Gifts For Your Boyfriend That Will Melt His Heart