Camping is one of the best outdoor activities to indulge in, whether as a family, a couple or simply solo. Depending on how you choose to go, it can lead to some great family bonding time, solo introspection, or some earth-shattering kinky sex in a tent with your partner. The most unique part about camping is that – it's always right there, waiting for you to embrace it and leave the hustle of city life behind. If your loved one is an avid camper, then you must read on to find some really good camping gift ideas.
For outdoorsy people, two kinds of camping gift ideas are important – the practical stuff which is usually portable, lightweight and technologically advanced, and the thoughtful gifts which enhance your camping experience, allowing you to reminiscence about the good times outdoors later on.
Whether your loved one is a city lover who occasionally likes to unwind outdoors or a true blue outdoors aficionado, choosing a gift for them from the outdoor gear category is not really easy given the vast range of items available in this section. This is where we come in! Allow us to help you with the following curated list of camping gifts.
35 Best Camping Gift Ideas For Outdoorsy People
Some people experience bliss in a tent under the stars. For them, a well-thought-out camping gift can enhance their camping experience. Whether you are looking for a camping gift for your outdoorsy best friend a birthday gift for your significant other, or a few camping gifts for your family members, we guarantee that this carefully curated list of camping gift ideas will help you decide on something your loved ones will be thrilled to get, bowled over by your thoughtfulness.
Camping Gifts For Women
Picking a camping gift for a woman can be intimidating. You have to keep in mind her needs, likes and dislikes. A camping gift for a woman who is a novice at camping will be different than for a woman who is experienced with sleeping in a tent. For newbies, a pocket knife is a must-have, while for experienced pros, something practical or unique, like an LED Beanie hat, is a good idea. If your mum or bestie is a stickler for hygiene, maybe she'd love a discreet urination device, while a woman who loves to indulge her artistic side would be super thrilled to receive a travel water color set.
1. Savvy wine travel bag
Imagine that you are out camping and soaking in all the beauty of nature around you, but something seems to be missing! Add this camp wine bag set to your camping essentials and enjoy sipping on your wine or champagne amidst nature. The wine glasses are all about style and convenience and thus one of the best camping gifts.
Comes with padded insulation to safeguard the wine bottle
Includes 2 premium insulated wine cups made of steel
Has an external storage pouch to keep keys and small items
2. Winter warm gloves for outdoor activities
Slip these warm gloves on and you'll have no trouble using your touchscreen devices. Also, the non-slip silica gel on the palm will ensure that you have additional grip while riding a cycle or driving. These gloves are one of the best gifts for campers as it can be used for a bunch of outdoor activities like hiking, climbing and running.
Lightweight and warm; shields your hands from cold wind and icy air
Water-resistant, waterproof and windproof; provides dryness and warmth to hands
Smart phone with screen protector can easily be controlled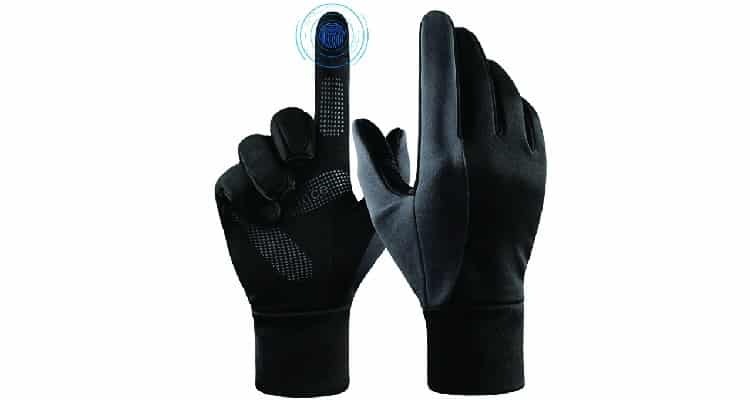 3. Electric portable pocket heater to keep you warm
You will definitely need an electric portable pocket heater when you are out camping. This handwarmer which is one of the unique camping gifts on our list, can keep your hands warm for 4-8 hours. You can even take off your gloves and hold the warmer inside your pocket with your bare hands for a quick heat up. One of the best camping gift ideas indeed!
Built with high-tech, aircraft-grade aluminum
Smooth and warm, portable and compact, anti-skid
Quick heating; 3 levels of temperatures , 5200 mAh lithium rechargeable battery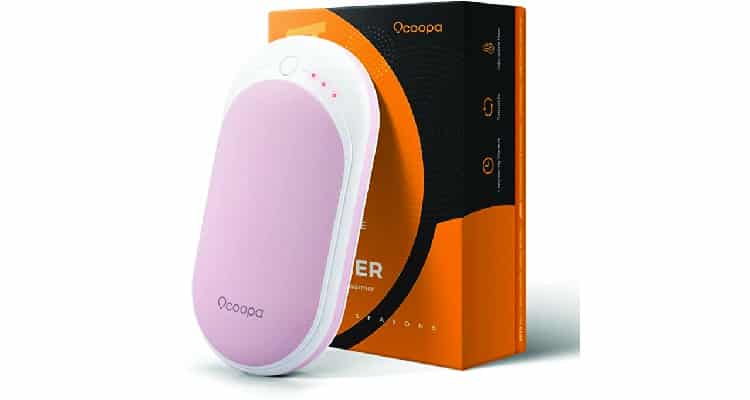 4. Socks to tickle your funny bones
Looking for personalized camping gifts? Show off your love for the outdoors with these quirky socks which come with the message, "I'd rather be camping". The socks feature a serene camping scene and is ideal for any woman who wants to add quirky socks to her camping wardrobe.

Made of spandex, cotton and elastic; stretches comfortably
Suitable for most women with US size 7 and up
Able to weather years of washes; wears without losing comforting feel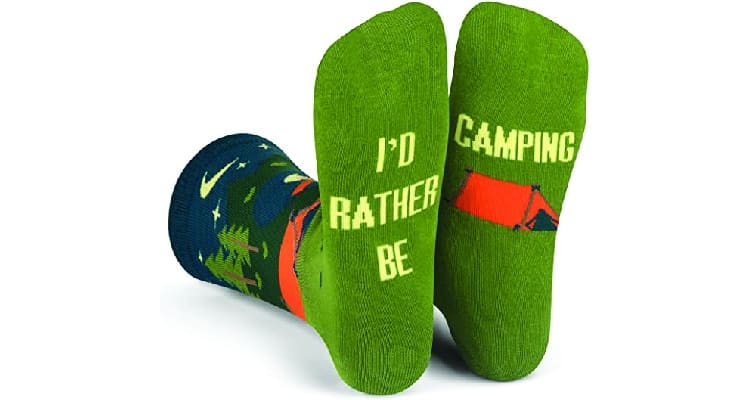 5. Tumbler with a feminine touch
We have a great camping gift idea for you if you want to add a tumbler in a pretty feminine color to your tumbler collection. Go for Camco's Tumbler – this heavy and sturdy mug can keep your drink either warm or cold depending on your needs. This tumbler is one of the best camping gifts for women and is a practical gift to take along on your camping adventure.

Double-wall insulation with stainless steel design; very durable
Coral pink color
Holds 20 oz of fluid; comes with complete sealing gasket
6. Discreet urination device for women
This discreet and reusable urination device cup completely transforms the bathroom experience and thus is one of the best camping gifts for women. Avoid unhygienic bathrooms outdoors and use this portable device cup. It can easily fit in your pocket or purse!

Built with long-lasting medical-grade silicone and co-molded plastic
Gets rid of messes and spills; will not collapse while being used
Longer spout ensures urine is farther away from body
Related Reading: 6 Things Every Girl Should Do For Maintaining Hygiene Down There
7. Fun and quirky wooden sign
Are you craving a unique camping gift which is fun and quirky, to add to your camping collection? Why not get this wood composite sign which comes with a quirky message. Hang it in your RV and get a kick out of people's reactions!

Wood composite sign with rope for hanging
Measures 4″ x 10″
Comes with the message "Welcome to Camp Quitcherbitchen"
8. Multifunctional makeup cum toiletry bag
This waterproof makeup purse bag is an ideal camping gift for women if you want to look picture perfect even while camping. Small and easy to carry; this multifunctional bag can be kept in your handbag or travel bag, completely hassle-free . Not only cosmetics, it can also hold your cell phone, ear pods and cards.

Made of oxford fabric which protects bag from getting wet
Shields precious stuff from accidental leakage or any kind of abrasion
Can easily hold cosmetics, toiletries, hair accessories, small items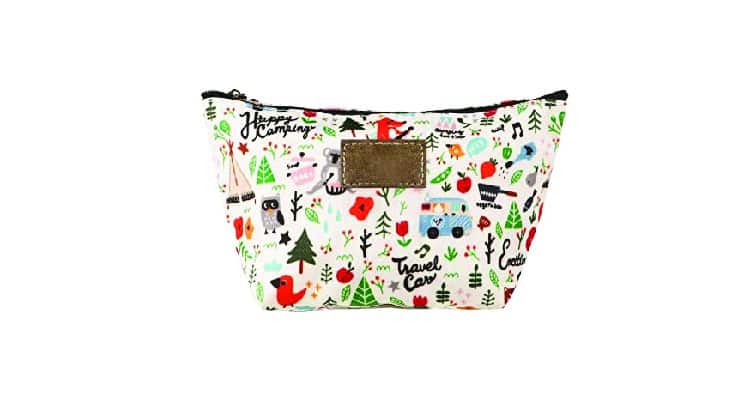 9. LED Beanie hat with light to guide you
This hands-free, head-lamp cap is easily one of the best camping gifts out there as this LED Beanie will be your guide at night. It comes with 4 LES lights and can light areas up to 30 feet away. So, any solo woman camper can freely hike or camp without worrying about tripping or losing their way.
Comes with 3 brightness settings; runs for 8 hours on a single charge
Adjust brightness of the hat as per convenience
Made of soft and elastic acrylic material; comfy and washable
10. Camper shirt for a stylish look
Add this shirt to your camping wardrobe and get on the road with a stylish and quirky look. These camper shirts are available with both short sleeves and long sleeves. The fact that you can pick and choose from a myriad of colors and patterns makes it one of the best camping gifts for women.
Lightweight and easily stretchable; super comfy
Made with premium and super soft cotton
• Short/long sleeves; comes with message "Happy Camper"
11. Two person hammock for some stargazing
When you are running out of camping gift ideas, a classic hammock can solve your dilemma! If being in a tent makes you feel claustrophobic, feel free to get this camping hammock made of nylon. Lie down on it comfortably and count all the stars you want!

Made of nylon; premium quality stitching; can hold two
Can be shared with a friend for bonding or a partner for romantic snuggling
Easy to set up; small, compact and lightweight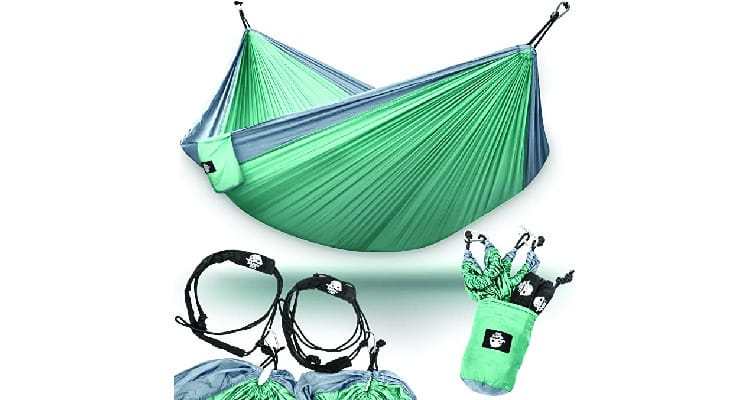 12. Waterproof outdoor snow ski pants
Whether you are planning on stretching on the ground, going for a hike, running, or biking, then consider getting these waterproof pants. Made from polyester and spandex, these pants will support you in extreme cold weather too. They are wind resistant too, making them one of the best camping gifts to give someone.

92% polyester and 8% spandex; button-end closure
Machine washable; wards off snow, rain, water, oil stains
Comfortable and flexible; comes with 4 big zippered pockets to store wallet, phone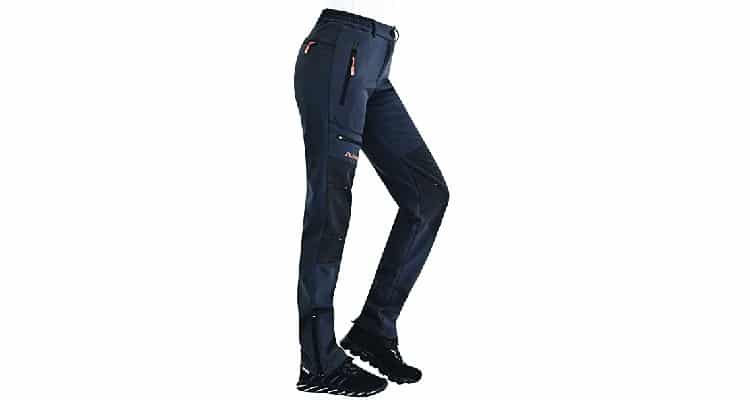 13. Personal water filter for clean drinking
Camping often takes one to uncharted territory and that's why sometimes you need unique as well as practical camping gift ideas. Needless to say, you might chance upon a disgusting looking crevice when you run out of water to drink. Here's where LifeStraw Personal Water Filter comes in.

Gets rid of harmful substances like odor, chlorine, pollution, chemicals
Improves taste of the water; 4 stage filtration system includes coarse filter screen
Provides 1500 liters of clean drinking water; maintains filtration accuracy
14. Folding knife for all the badass women
A pocket knife is one of the best camping gift ideas for a woman. It can be especially handy for a woman who is camping solo. This essential survival tool comes in handy while making food, setting up the tent, and also for cutting bandages, removing splinters and thorns. Femme Fatale's pocket knife with butterfly etching will be your savior during all your camping adventure.

Pocket clip makes it easy and safe to carry
3 mm thick, two-tone, 3 inches; stainless steel blade
Spring assist folding, one hand deployment; blue and silver anodized handle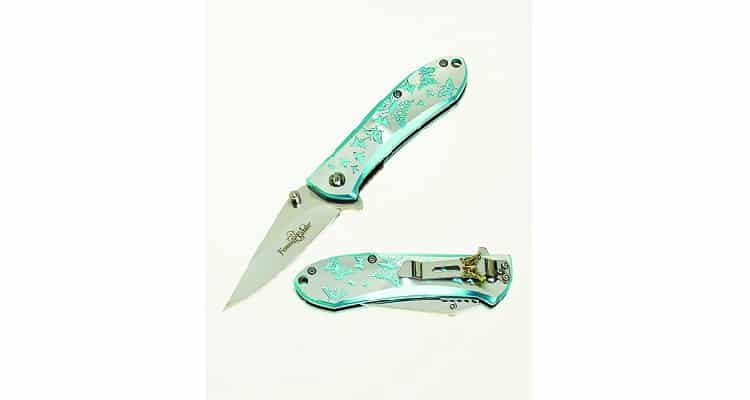 15. Waterproof wireless speaker acting as a lantern
This wireless speaker is one of the best personalized camping gifts ever, because of its multifunctionality. It can act as your retro outdoor lantern, mood lighting and even a night light when you are out camping. In case you love listening to music while you are outdoors, consider this speaker for its clear and loud sound.

Waterproof speakers with long battery; can play for 18 hours straight
Water-resistant; inbuilt protection ensures blockage from rain, dust, spills
Can use it in the shower room or beach as well; 2 Modes of LED Lights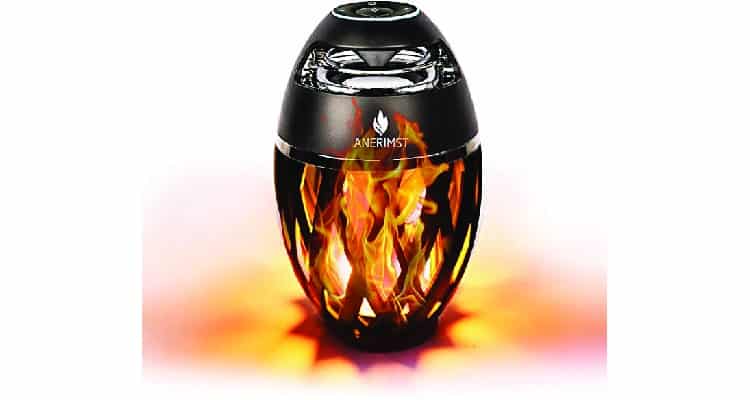 16. Oversized Sherpa wearable blanket to keep you warm
Who knew a blanket could end up becoming one of the best camping gift ideas! Feel warm and cozy with this Sherpa wearable blanket when you are out camping. This oversized, giant blanket is perfect for moving around outside the tent or just chilling inside with a book or some music.
Plush, fluffy Sherpa envelopes you completely; doesn't drag on the floor; no tripping
Gorgeous fleece microfiber on the outside and quality fluffy Sherpa on the inside
Sleeves can be rolled up; high-low hem, oversized sleeves, large plush hood
17. Funny and witty hoodie for women
A lovable, funny and witty hoodie can be your go-to fashion if you are struggling with your camping wardrobe. This hoodie is available in a variety of colors with a variety of messages – all of which are related to camping. We definitely vouch for this personalized camping gift!
Made of polyester and cotton; super comfy, hooded top
Machine washable; use cold water and wash inside out; use low heat and tumble dry; best to go for hang drying
Avoid ironing on the print to ensure long-lasting wearability
18. Travel watercolor set for artists and hobbyists
Wondering about unique camping gifts for the women in your life? Do you know any artsy woman who loves the outdoors? Go for this portable watercolor set so that she can capture the gorgeous landscape around you, freezing the beauty in time.
40 premium pigment colors including 4 fluorescent and 4 metallic colors,
Includes metal box, 10 sheets of 300g watercolor paper, water brush pen, sponge, swatch sheet.
Conforms to safety standards; non-toxic and zero odor; keep away from food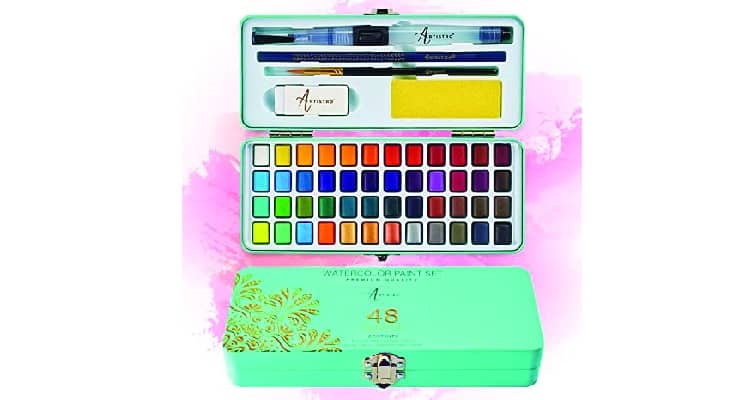 Related Reading: 38 Affordable Gifts Under $50 For Her That She Will Adore
Camping Gifts For Men
Finding a camping gift for a man who is into a wide range of camping activities like hiking, fishing, shooting, hunting, cooking, birdwatching can both be tough and easy. It's tough because you have a gamut of camping gift ideas and without guidance you might be confused; on the other hand it's easy because you are spoilt for choices and need not think hard once you know the likes and dislikes of the man you are getting the gift for. The following list of camping gift ideas range from functional cooking gifts like BBQ utensil set to multifunctional practical gifts like waterproof monocular telescope cum phone holder. Scroll through this gift guide and impress him with your selection!
19. LED flashlight glove, ideal for exploring outdoors
In case you are a solo traveler cum camper and often go around exploring the woods or nearby areas in the wee hours of the night, then this LED glove is a great camping gift idea. This flashlight glove is one of the best camping gifts for men and can be useful even during the early hours of the morning. Just wear them on your index finger and thumb and point it anywhere you need light.
Composed of polyester making it more breathable and stretchable
Comes with lengthened Velcro straps; turn on/off button on the back of the glove
Ensures hands are free from holding flashlight; makes fixing things a lot more convenient
20. Steel BBQ utensil set for your inner chef
If you are a foodie and don't want to compromise on the quality and taste of your food, then take charge of your cooking by ordering this utensil set which has everything to help a camper cook delicious food. And what's more, you get a strong, oxford cloth, storage apron to keep your BBQ tools.
Includes spatula, tongs, 100 pieces of bamboo skewers, forks, knives, grill cleaning brush among others
Made from thick stainless steel; durable, no bending or breakage
Spatula comes with built in bottle opener, lockable tongs with strong grip to grab food; sharp meat claws to help shred meat
21. Stocking stuffers as an essential camping accessory
You never know when you might land up in an emergency while camping. Needless to say, you require camping tools which could be a lifesaver during any eventuality or emergency. This multi-tool survival kit is an ideal camping gift for him and can be used for camping, hiking and other kinds of travelling.

13 different kinds of tools like hammer, hex wrench, wire cutters, nail claw, bottle opener, screwdriver
Even if palms sweat, these multi tools won't slip
2 safety locks; has lock feature for pliers and handle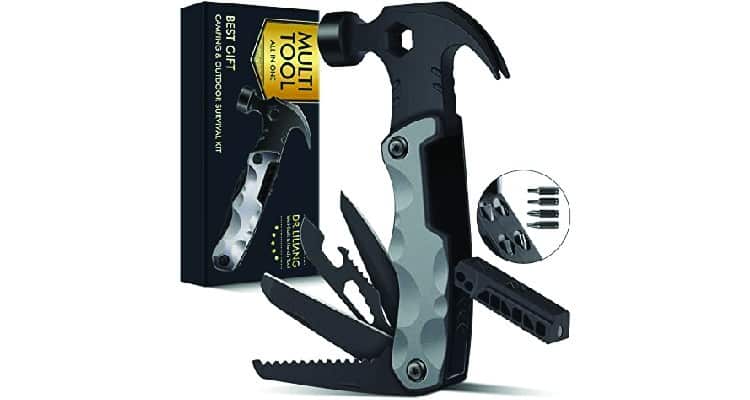 22. Comfortable and funny boxer shorts
Who says you need to only get serious and functional stuff for camping? Tickly your funny bone and buy this pair of funny boxers which says "Happy Camper". The cotton is super soft, colors don't fade and you also have a little chuckle when you wear these!
Made of cotton; preshrunk and machine washable; freedom to move and stretch
Found in different styles and lengths; comical look; soft elastic waist for comfort
Loose fit; long-lasting, color doesn't fade
23. Funny men's shirt suitable for outdoors
If you know an older guy who is physically fit, loves exploring the outdoors and is into a bunch of activities including camping, then this shirt is a good camping gift idea . The cool grey color and the writing on it gives the shirt a casual look and yet makes a statement! You can even share it with your girlfriend/wife given its unisex look.
Made of cotton and polyester; machine washable
Screen printed; unisex modern fit
Preshrunk; will shrink slightly while being washed
24. Bottle and can cooler for beer lovers
Who likes to chug hot beer while camping especially if they are a beer connoisseur! Consider getting this stainless steel, beer bottle cooler which not only prevents breakage but also keeps your beer cool for up to 6 hours. And, guess what? It can also hold your beer cans!
Fits 12oz beer bottles and cans; stainless steel cap can be used as a shot glass for espresso/whiskey
High grade, power-coating finish makes it durable and non-slippery
Bottle and can insulator come with bottle opener found at base of cooler
25. Camping chair stool backpack with cooler insulated picnic bag
Are you out of camping gift ideas for someone who likes camping but wants to be comfortable too? Consider this folding camping chair stool for carrying snacks, bottled water and other necessities. Sit on it to take a break from exploring and have a snack or take a picture!
Lightweight; can hold 331 lbs.; comfortable shoulder strap; comes with multiple pockets
Pockets are ideal for holding bottle, keys, umbrella, wallet, watch, books, power bank
Polyester and oxford fabric; keeps food and drinks cool
26. Waterproof monocular telescope cum phone holder
What do you need to ensure you enjoy the best view the great outdoors have to offer? All you camping guys can zoom in with the 12x magnification the 55m objective wide lens, monocular telescope has to offer. The clear and bright images will take your breath away, making it one of the ideal camping gift ideas out there.

Monocular with high power; provides clear and bright views
Excellent for bird watching, hiking, hunting, camping, mountaineering
Durable, waterproof, fog proof, dustproof and shockproof
Related Reading: 40 Best Valentine's Day Gifts For Him | Gift Ideas For Boyfriend
27. Chill steel water bottle to keep you hydrated
Keep yourself hydrated with this leak and spill-proof, chill, stainless steel, water bottle while you are out exploring the world. Rest assured your water will stay cold up to 28 hours, all thanks to the Therma lock vacuum insulation. This is easily one of the best camping gifts for men especially since the spout cover ensures that it does not come into contact with dirt and germs.
Convenient one-handed operation, all with a button push
Soot cover shields contents from dirt and germs; provides clean drinking water
Hand wash; top-rack dishwasher-safe; leak and spill-proof
28. 2-person inflatable kayak set for comfort and snuggling
Do you love camping by the lake and frequently set out on the water instead of just enjoying the view from dry land? Consider this 2-person inflatable kayak set which is also one of the best camping gifts for couples who like to go on camping trips together especially near water bodies.

Includes flexible, inflatable seat with backrest; spacious and comfortable cockpit
Can hold 400 pounds; directional stability; ideal for smaller bodies of water
Best use in lakes and mild rivers; yellow color helps in visibility during emergency
29. Motorola Talkabout Radio to never lose communication
This yellow, two-way radio set is best suited for your friends who love going camping together and also for those who also like to explore and wander on their own. This radio set will ensure that you don't lose touch with your friend! It's a decent camping gift idea for couples too. Why yell at each other and create a miscommunication when you can softly whisper in your radio!
Includes 11 weather channels with alert features; pairs up till 23 miles
8 hour rechargeable battery life; 2 radios, 2 belt clips, 1 dual drop-in charger
121 privacy codes with best interference protection alongside 22 channels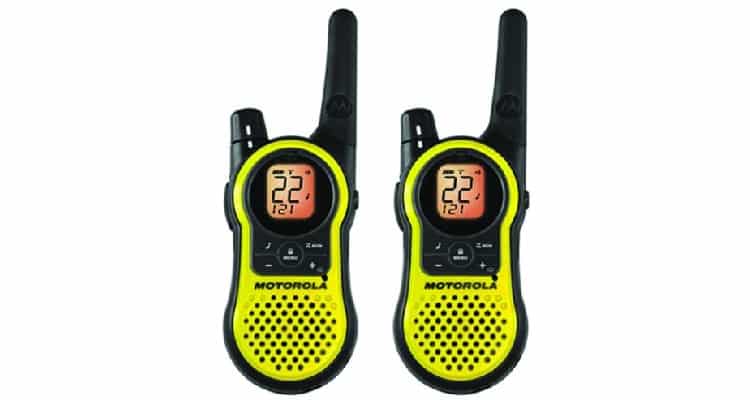 Related Reading: Dating An Introvert – 11 Communication Hacks To Use
30. Fishing lures for men who love to fish
Lure pike, walleye, trout, salmon, redfish and other fish with your new fishing lures! These soft lures are one of the best camping gift ideas for guys who love to combine camping with fishing. You can fish anywhere with these – estuaries, rivers, saltwater, reefs… Just get set and goooo! Ahh – this is the life, right?

Targets deeper holding fish; weedless nature helps to fish via all kinds of cover
3D paddle tail for realistic patterns; features halo graphic eyes
Soft body swimbaits work at both, ultra-slow speeds and moderately fast speeds
31. Outdoor Propane gas fire pit for clean cooking
You can bid goodbye to dirty ash, costly firewood and that annoying smoke. Let this propane campfire steal the show with its dancing flames sans the smell and ashes. This fire pit is also perfect for using at places where burning of real wood is prohibited.
Lightweight and portable; easy installation with no tools required
Provides a clean and smokeless flame with warmth and pleasant evening ambiance
Safe easy-to-use fire option; spark free propane campfire guards campfires
32. Cooler lid light at your rescue
Imagine reaching into your cooler dark for some refreshing, icy cold beer and instead, coming up with a bottle of soda! This inside-the-cooler lid light is one of the best camping gifts for him, because it solves the problem of trying to pick out the right bottle of drink in the dark while camping. This camping gift idea is an essential and useful camping accessory, and we recommend it thoroughly.
Lightweight, portable; plastic light brightens ice chests, coolers, toolboxes
Adhesive tape included; very easy to install; runs on 3 Volt, button cell batteries
Light switches on as soon as lid is raised; auto-shuts off after 20 seconds of constant use
33. Black cooking table for the chef in you
You no longer need to squat down and cook over a campfire, all thanks to this collapsible, steel, outdoor cooking table. This cooking table is sturdy and comes with a high wind screen. This is good news for all the men out there who use coal while cooking and know that blocking the wind is really important.
Consists of a half inch coal deck; sturdy construction; made from steel
Black finish with high temperature; three-sided windscreen for better control of heat
Feet can be adjusted on unlevel ground; cooking table is collapsible
34. Outdoor Stove Windscreen to block wind while cooking
Having a windscreen is super convenient if you are cooking outdoors while camping. This windscreen is easily one of the best camping gift ideas, for those who love to cook under the open sky. This is tall, large and sturdy windscreen will help you bid goodbye to your outdoor cooking woes. What a unique camping gift, right?.
Windshield comes with 10 removable plates to fit different size of stoves
Premium quality, aluminum alloy material; durable and resistant to abrasion
Compact; consists of a drawstring bag for easy storage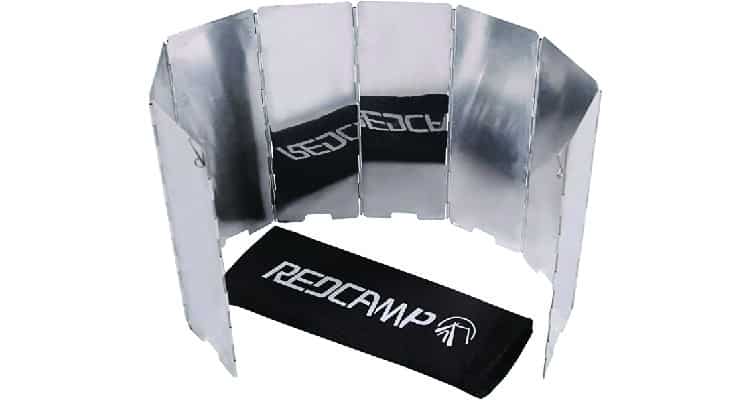 35. BBQ gloves for protection against heat
We feel that this is one of those underrated camping gifts for men. For campers who love grilled meat steaks, these BBQ gloves are a savior and easily one of the best camping gift ideas. They protects one's hands while handling extremely hot items.
Can resist up to 1472°F (800℃); offers excellent cut and heat resistance
Composed of aramid fabric and heat resistant polyester cotton
Includes food grade silicone grips that ensure nothing slips
If you are travelling with your partner, then consider some camping accessories which can be great camping gifts for couples. Heart shaped string lights can create a romantic atmosphere for all outdoor enthusiasts, then there are RV mats for camping couples who are obsessed with cleanliness in their RV! There are "Be brave seek adventure" keychains that can be worn by both him and her as they give in to their wanderlust. Then you have the 2-in person sleeping bags for couples who love to cuddle with each other especially while sleeping, and the loveseat camping chair – all perfect for couples.
So, we hope we've delivered with this list of awesome camping gift ideas for couples, families and solo wanderers who love exploring the great outdoors. Now all you have to do is click on the links and have these camping gifts delivered to the doorstep. Here's wishing you "Happy Trails!"
FAQs
1. What should I get for my outdoorsy friend?
Chances are that someone who is an outdoor enthusiast has all the essentials required for camping. So, you've got to think hard and come up with gifts that will enhance your friend's outdoor experience. If they complain about bug bites then get them a bug shield blanket which comes with anti-insect technology. How about a smart water bottle and compression socks if they love hiking, trekking and running. A sweat patch which gives suggestions about hydration and recovery strategy will also be a great gift idea. Consider screen-friendly gloves that will also prevent frozen fingers.
2. What does a family need for camping?
pend quality time together. This multigenerational bonding in the outdoors will definitely bring a family closer together and also create so many memories. A family, however, needs to consider certain camping essentials for a good experience in the midst of nature. Some essentials are camping chairs, heaters, waterproof socks, heavy wool blanket, portable laundry system, storage, shower tent, rope swing, climbing rope and a hammock!
3. What should couples bring camping?
Camping can be a great outdoor date idea for couples who love nature and adventure, and also for those who love to try out new experiences together. First and foremost, you need a lightweight, flexible and waterproof tent where you can cuddle with your partner without worrying about comfort or privacy. Secondly, you need a comfy sleeping mattress for a good night's sleep and some nocturnal activity (wink, wink!), thirdly you need a flashlight – you don't want to get lost in the dark, do you? It's also necessary to have a good cooking system and a pocket knife, too.
35 Useful Travel Gift Ideas For Men – Best Gifts That He Will Love
30 Gift Ideas For Women Who Have Everything – Unique Gifts For Her
Ask Our Expert
You must be Logged in to ask a question.