If your close friend or significant other is a Potterhead (and let us be honest, there's always one in every group) then trust us, this article has everything they desire! We've listed out some great gifting options below easily available on Etsy, Target and Amazon.
Any of these options would make amazing birthday gifts (Unlike the coat-hanger the Dursleys gave Harry) and will 'Siriously' spark major excitement! We have carefully curated a list of must have Potter items for people that are into the wizarding world – bordering on extreme fandom!
Related Reading: 21 Gifts For Beach Lovers [Gifts For People Who Love The Beach] | Christmas 2020
1. Hogwarts House Inspired Cosplay Suit
Potterheads love dressing up and enacting their favourite scenes so, add a little flavour of magic to their roleplay by gifting them their very own wizard's ensemble! A Gryffindor (Or if you hunt around a little you will even find Ravenclaw, Hufflepuff and Slytherin!) inspired uniform shirt and tie, and custom embroidered wizards' robe. This two-piece set can be worn with any pair of pants of your choice to complete the look!
The costumes are made up daily ware materials and hence, not only do they drape well but are also comfortable to wear and can be washed easily. Straight out of the movies, these robes even have the house crest embroidered on the chest of the robe.
2. The Dobby Gift Card
You know how much we love our cards and are trying to keep the tradition of gifting cards alive! Multiple hosts at Etsy have come up with their own punny versions of situations to help you find the perfect card for your close friend and loved ones, the website is alive with endless options for Potterheads. Here are our top suggestions.
From the master to Dobby card to the Voldermort inspired card. These cards are absolutely hilarious on the outside and blank inside so that you may add a little note and a birthday wish for your loved one!
3. A Harry Potter Leather Bookmark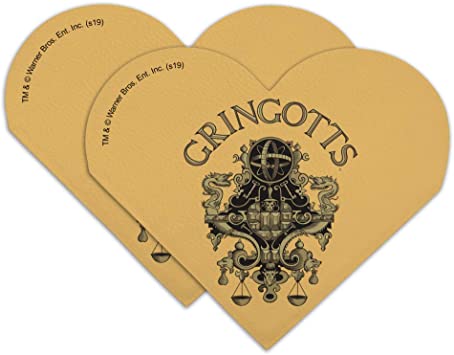 There's no doubt about the fact that if your close friend or significant other is a Potterhead then they are also probably an avid reader. Hence here is an adorably unique leather page marker in the mysterious disappearing footprints style similar to those on the Marauder's Map. This leather bookmark comes in various combinations of colour and leather. Select the one you think matches your loved ones' aesthetic from Ebony, Hikory and Cherry for base and Gold or Silver for the footprint embossments!
Related Reading: 12 Things To Consider While Gifting At The Workplace | Christmas Gift For Coworkers
You can even choose to have the backside of the bookmark monogrammed with their Initials. Or maybe R.A.B? (If you know, you know!) A beautifully sturdy and elegant gift, we assure you your loved one will really appreciate this bookmark!
4. 'Property Of Hogwarts' Dessert Spoon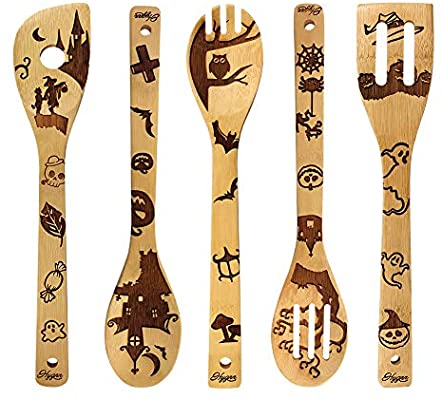 For those of you whose close friends or loved ones are upset that they could not really go to Hogwarts School of Witchcraft and Wizardry, here is a keepsake to cherish instead. Some Potterheads like to openly scream about their obsession waving their wands and time turners around while others have nifty iconic items all over their homes! For the latter we have this beautiful upcycled Harry Potter inspired antique silver plated dessert spoon. A through and through Potterhead is bound to know the worth of this particular item!
Each spoon is vintage in nature and hand stamped to give it its own individual character. Although no two spoons will look the same, it is exactly where the charm lies! So, gift your loved one a Hogwarts inspired memoir and brighten up their meals with this unique little artefact!
5. Multi-Layered Hogwarts House Crest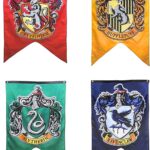 Six different layers, cut with intense precision come together to form this particular gifting item! We are certain that your significant other or close friend has been sorted into a Hogwarts house of her calibre and choice and hence identifies with its emblem! So, it is time to gift them a house inspired coat of arms, this unique and creative piece has been intricately cut using lazer tools and comes in painted and non-painted and glued and un-glued styles for all 4 houses, Gryffindor, Hufflepuff, Ravenclaw and Slytherin! Your loved ones can leave the non-painted versions bare or paint it in their own personally preferred colour tones and even turn it into a fun. Do it yourself style activity with the non- glued version.
This creative multi layered house crest is a fun decorative piece to have around anyone's home. It can be placed on your desk or mounted on a wall! So show your Potterhead friend how well you know them by choosing the correct crest to gift to them this birthday!
6. Wizard World Sorting Hat Bath Bomb With Surprise Pendant In Different Colours
Remember how Harry felt sitting under the sorting hat not knowing which house he was going to be sorted in? Well we've come up with the perfect sorting experience for your loved one with these mysterious Wizard World Sorting House Bath Bombs, which will not only sort your loved one in their befitting house but also give them a token to keep as a memoir. All they have to do is fill up their bath tubs with warm water and drop in the bath bomb and get ready to get sorted!
As the bomb fizzes the color of their house will slowly appear! Once sorted they will also find a house pendent in the waters. Scented with Earl Grey Tea–a timeless classic all they will have to do next is sit back and enjoy the magic
7. Live Printed Harry Potter Magic Photo And Video Printer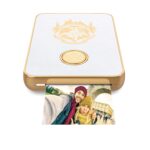 Bring the magic of the Wizarding world straight to the palms of your loved ones with this Harry Potter Magic Photo and Video Printer. Watch in awe as the photos come to life like magic with the app. All one has to do is download the app on their iPhone or Android and view their photos through the same to give it its magical touch. The wizarding world themed augmented reality facial filters can even change your face to look like Harry Potter, mad-eye moody, Luna Lovegood, the characters are endless!
Related Reading: 21 Long Distance Family Gifts They Will Actually Want To Use
Record, share and wow your inner circle with this portable magical instrument, the box includes Hogwarts house medallians for your loved ones so they can customize the Printer with the house badge of their choosing as Gryffindor, Ravenclaw, Hufflepuff or Slytherin. The one-click blue tooth printing makes capturing and printing the memories as easy as it gets.
8. An Amazing Harry Potter Cookbook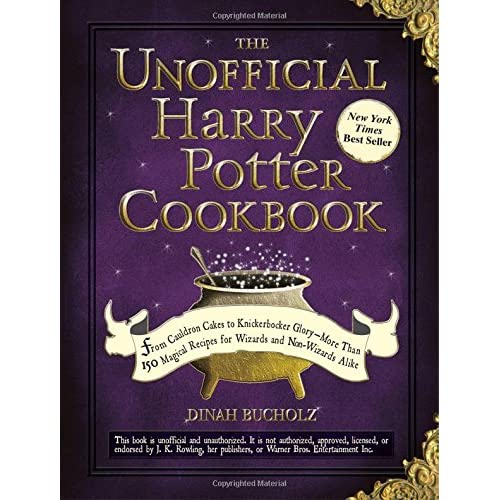 From Cauldron Cakes to Knickerbocker Glory if your loved one has ever spoken about pumpkin pasties or Butter beer here is your chance to be able to treat them to a meal they have only yet been able to fantisize about! This cookbook contains over 150 magical, mouth watering recipes exclusive to the wizarding world! Fit for wizards and non-wizards alike this unofficial cookbook comes in both hard cover and a kindle edition and is a great way to conjure up feasts that rival the Great Hall's, sweets and snacks! Any Potterhead will be absolutely delighted to have this Cookbook as an addition to their kitchens!
No wands required for the stirring, get ready to watch your close friends or loved ones whip up some spellbinding dishes. From Molly's meat pies and Treacle tarts to Kreacher's French Onion Soup, this book has a step wise guide to teach it all. Get them ready to transform ordinary Muggle meals into magical culinary masterpieces that will surely make even Mrs. Weasley proud!
9. Velvet Slytherin House Robe
Gift your close friend or loved one this comfy, plush velvet Slytherin robe for them to snuggle in for a luxurious evening of self-care and pampering. Of course there are robes available in all four Hogwarts houses to choose from so select the robe style as per the house of sorting for your loved one be it Gryffindor, Hufflepuff, Ravenclaw or Slytherin. Made with 100% Polyester crushed velvet this is a high quality product especially made for lounge wear the robe has deep pockets, a hood and a tie enclosure.
To complete the feel of being a Hogwarts student it even has the house sigil embroidered on the left chest. The fabric is comfy to wear and easy for post wear care which makes this a great gift for your loved on!
10. Harry Potter Books 1-7 Special Edition Paperback Boxed Set
Now we know that your Potterhead friend already probably owns the entire Harry Potter collection and has read them multiple times over, so why not give their books a magical makeover and refresh their earlier collection with this stunning paperback collectors' edition launched in 2018.
Specially re-designed by Caldecott Medalist Brian Selznick to celebrate the 20th anniversary of the publication of Harry Potter and the Sorcerer's Stone, these seven beautifully re-designed book will elevate any book shelf, and will truly be cherished by all Harry Potter fans!
11. Heat Activated Colour Changing Marauder's Map Cotton Face Mask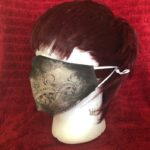 Yeah, you read that right. Help your close friend or loved one manage all their mischief with this cotton face mask. The mask looks suspiciously ordinary till it is worn. With solid colour shaded fabric on both sides, only once worn does the Marauder's Map show up as it get activated by the heat. Both sides of the mask are made with cotton and the colour changing side is coated in a non-toxic colour changing dye.
Related Reading: 21 Gifts For Sister-In-Law | What To Get Your Sister In Law for Christmas | 2020
Made with elastic ear bands with adjustable length ends this unique face mask is unlike any other out there in the market. Straight from the stores in Diagon Alley, you can even personalise the gift for your loved one with a letter from Professor McGonagall!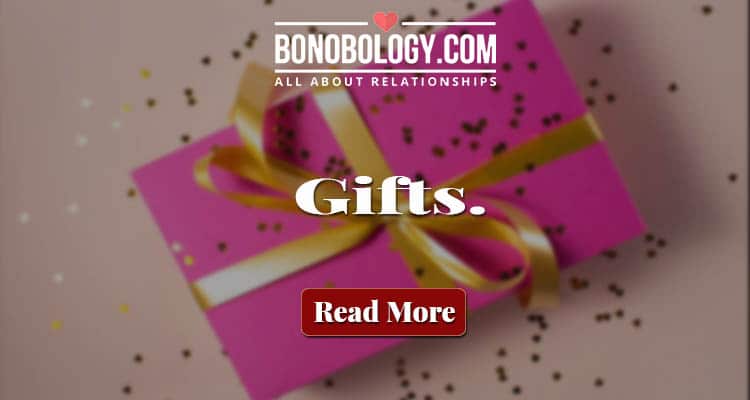 12. Harry Potter And The Deathly Hallows Ankle Socks
Designed keeping in mind some of the iconic moments from the scenes in Harry Potter, gift your loved ones these themed Harry Potter and the Deathly Hallows ankle socks to get comfy in.
Here's to bringing in magic even in the mundane parts of their lives these socks are surely going to add a little quirk to any Potterheads daily living with quotes that read Mischief Managed and expect Patronum!
13. Harry Potter Wizard Chess Set
Incase you would like to Chess to impress your loved ones then here's a perfect collectible for them especially if they are a Potterhead! Designed to look like a replica of the Wizards chess set seen in the Sorcerer's Stone, watch your loved one send their Knight to E5 with authority with this Harry Potter Wizarding Chess set. Each piece has been intricately designed to add to their grunge feel.
The pieces are made with plastic resin to give them a strong stoney finish similar to the pieces seen in the movies. This notable collection is a must have if your significant other is a Potterhead and a chess enthusiast!
14. A Harry Potter Golden Snitch Table Lamp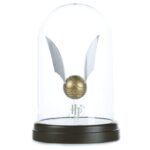 Brighten up any dark space with this elegant Golden snitch themed night light, inspired from the central element of the wizarding sport Quidditch, this night light is a stylish decorative item that your loved one can place in any corner of their home to give it a Wizarding spin. Not only does it look like an exact replica of the Golden Snitch used in the games as showcased in the movies and described in the books, it also doubles up as a night light, perfect to illuminate ones room.
Any potterhead is bound to get super excited at the sight of this artefact. The Golden Snitch has been placed inside a tall jar to give it a majestic look. The Light is USB powered and is a great collectors' memorabilia.
15. The Unofficial Ultimate Harry Potter Spell Book
A wizard or witch is nothing without his or her spells! Watch your loved ones embrace their inner wizarding self as they flip through the pages of this guide to every spell in the wizarding world! The writers have ensured that every spell uttered in the Harry Potter books, movies, card games and even video games have found a place within the pages of this book, that also means additional spells from the official Harry Potter spinoffs, such as Fantastic Beasts and Where to Find Them.
Sharp-eyed readers will also find handwritten comments through the book. Elegantly designed to contain over 240 spells, charms, curses, and hexes along with a catalogue of enchanted objects with an introduction on spell-casting and a guide to wand woods and cores, this Unofficial Ultimate Harry Potter Spell book is a must-have magical treasure for all Harry potter fans!
16. Hermione's Time Turner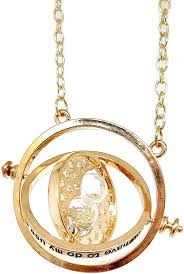 A replica of the Time Turner given to Hermione in the Prisoner of Azkaban, this is a collectible your close friend or loved one is bound to cherish. Watch their eyes light up as the gift reveals itself. Once worn this is bound to receive multiple compliments from Muggles and Wizards alike. Noble Collection's time turner is an intricately crafted item to ensure all the details of the item find their way into the lives of the wearer!
Related Reading: 21 Graduation Gifts for Her [Suits The Occasion] | Oct.2020
It is centered with a miniature hourglass and inner rings that rotate. Plated in 24 karat gold, this artefact comes with a display box for those who would prefer to keep it mounted in their homes! This gift is a must have for all Hermione fans!
17. Harry Potter Action Figure By Funkopop
A must have for a Potterhead's desk space or bedside table! This Harry Potter Funkopop is an adorable character replica as portrayed in the movies! Bring a part of the magical mischief to your loved ones home by gifting them this cute collectible and why stop at Harry Potter when you can gift them the entire trio complete with Ron and Hermione.
These Vinyl figurines are an extremely fun pop cultural representation of the Characters and will surely add a fun decorative element to any space they are placed in. Add to their Hogwarts collection with Dumbledor, McGonagall, Draco Hagrid and Headwig and even Voldemort!
18. Trivial Pursuit: World Of Harry Potter Edition
Does your close friend or loved one claim to be an ultimate Harry Potter Fan? Here is a great way to find out if they are a Witch or Wizard befitting of being sorted into one of the four esteemed Hogwarts houses or if they are a squib! Test their knowledge of the Wizarding World with Trivial Pursuit: World of Harry Potter Edition.
The game consists of a range of hard-hitting questions about the 7-part series and can be easily transported and be played just about anywhere! This board game is going to ensure that your loved one can host game night parties with a proper Harry Potter theme. Get them this game to get excited and duel out who knows Potter trivia more!
19. A Punny Mug
Now we know that die hard Potter fans would rather drink Butter beer but in the Muggle world we have to make do with coffee! Potterheads and coffee lovers both are bound to enjoy this cute addition to their kitchen.
20. The Elder Wand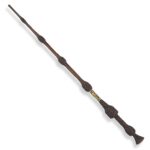 Practice the swish and flick of your wrist for the floating charm or the sharp strike for Expelliarmus. With this intricate replica of the iconic Elder Wand. Ensconced in Olivander's cushy box (although as per the legend Ollivander did not make this wand) this is the wand everyone is talking about in the final books of the Harry Potter Series that is destined to defeat death!
Passed down from the Peverall brothers to Grindlewald, Dumbledor, Harry and finally into the hands of your loved one, this wand has been crafted with high quality materials to ensure that the wearer feels powerful and absolutely in character!
21. Gryffindor Scarf (Or Any Other House Colour!)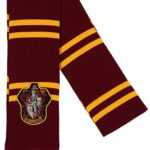 If your loved one claims to have been sorted in Gryffindor with Harry, Hermione and Ron then help them get into character with this authentic cinematic replica of the Hogwarts Scarf! Made with ultra soft knit fabric this scarf is bound to make your loved one feel warm and cozy through the harsh winter days! The scarf is embroidered with the Gryffindor House crest and the colours are an exact match as seen in the movies.
Long enough to be wrapped around twice and still have a magnificent drape this scarf goes well with Wizards robes or daily wear hoodies. Harry Potter fans can style this anyway they like. So gift your close friend or loved one this iconic addition to their wardrobe and watch them add a little Potter charm to their mundane Muggle days!
With these amazing Potter finds, your friend, family or loved one is sure to be delighted! Shower them with gifts from this Potterhead list with a 'swish and a flick' and watch them leap with joy. For anyone that loves Harry Potter ardently, these gifts are going to be a huge hit – mix and match the gifts and give them on absolutely any occasion – from birthdays to special days, these are gifts that are going to make your loved one feel absolutely special.
11 Cozy Gifts for Your Girlfriend | Thoughtful and Unique Gifts for Her | 2020
9 Best Gift Cards For Your Spouse [Best Gift Cards for Couples] 2020 Updated