Ladies and gentlemen, it's a brand new day. The sweetest gay couple you have been rooting for so long is finally flaunting their love before the whole world. And you could not be happier and want to make their special day even more special with a meaningful, heartfelt gift. It's time to scour the internet for gifts for gay couples, which requires some serious consideration. 
Did I just make you more worried than you already are? Wait, that was hardly my intention. Buying gay wedding gifts could be tricky if you try to find everything in rainbow colors. But why should you? Practical gifts enhanced with a bit of personalization are more than sufficient to convey your love and admiration for the couple. What counts is your intention and the thoughts you convey. 
Simply replacing 'his and her' with 'his and his' is bound to win over the happy couple. Since you are here, looking for some suggestions for LGBT couple gifts, we are happy to help. Stay tuned!
Best Gifts For Gay Couples – Engagement, Wedding, Anniversary Gifts
If you're looking for wedding gifts for gay couples, it's always a wise idea to stick to the registry checklist. But what if you want to go beyond the list for your closest friends or the couple hasn't registered a checklist or you're looking for a gift for other significant occasions like their engagement or anniversary? That's where things get tricky. 
How do you find the perfect wedding gift for gay couples that they will adore and cherish forever? You know, something to remember you by. Doesn't matter whether it's the most expensive gift or the largest gift box on the table. You can very well make the right impression with a little artifact that holds value for the couple. 
Keeping that thought in mind, we have gathered 12 gift ideas for gay couples to save you the trouble of scouring the Internet. Let's get started:
Related Reading: Lesbian Outfit Ideas – A Complete Fashion Guide
1. Gay wedding gifts? A planner and organizer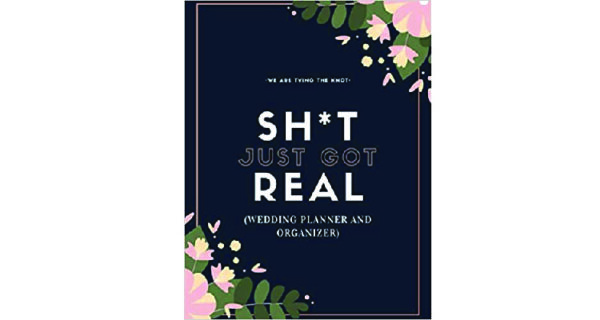 Are you looking for engagement gifts for gay couples? We have the most simple yet worthwhile suggestion for you – a wedding planner. If you have been through planning a wedding, you already know what a huge task it is. There are thousands of things to keep track of, so many places to attend every day. Your ideas about gifts for gay couples in this situation should be something to put them at ease. Take a look how this planner can help organize their schedule: 
It's a paperback journal in a glossy cover and elegant wedding-themed design 
There are countdown pages till the wedding day to maintain to-do lists
The journal includes tracker pages for every little detail like budget, vendor, photographer, food menu, seating arrangement, and more
Many empty pages are left for personal notes
2. Pride posters are amazing LGBT couple gifts
When you see a couple strongly holding their ground, making a bold choice ignoring every societal obstacle, extend your supporting hands without a second thought. You can choose any gift that shows you stand by the couple and their decision unconditionally. In that regard, this pride art poster would be a good engagement gift for gay couples. 
This classy black frame is made of high-quality porcelain
A beautiful art decor piece with pride rainbow and a quote – Straight outta the closet
This 7×7 inch square frame can be hung from the wall with a mounted hook in the back
Or, you can place it on a tabletop with the easel 
3. Personalized cutting board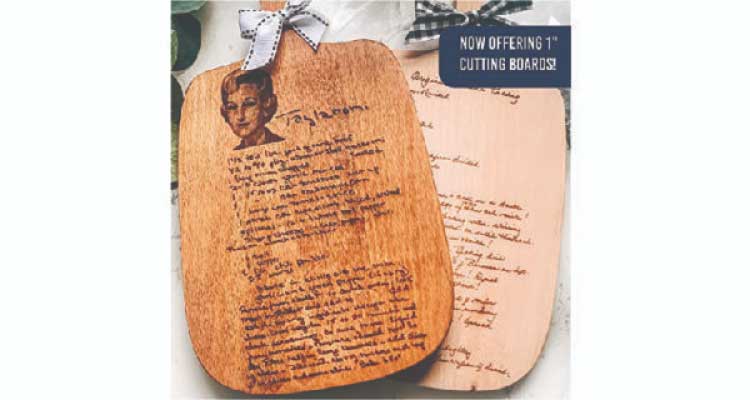 Your friends are about to embark upon the biggest adventure of their life – a new chapter as a happily married couple. When you are going to be a part of this celebration, look for such gifts for gay couples that will add more beauty and worth to their new nest together. Cutting boards are quite cliched, I agree. But the moment you print your granny's famous pie recipe on it, it turns out to be one of the most unique engagement gifts for gay couples. 
These boards are multipurpose can be used as a cheese board, a charcuterie board, or a serving tray
You get options to customize the engraving with drawings, photographs, handwritten or typed recipes
It is handcrafted from Birchwood offering 3 different stain styles
The food-grade oil and wax coating enhances the engraved recipe even better
Related Reading: Top 12 Best LGBTQ Dating Apps- Updated List 2022
4. Cute gifts for gay couples? A cozy blanket 
Cozy throw blankets are just like a big fat hug for your loved ones. They feel safe and warm curling under them. For that very reason, you might give it a thought while looking for anniversary gifts for gay couples. We suggest this soft white blanket featuring a lovely pride heart. The three magical words written on it represent the couple's love for each other as well as your unending affection for them. 
It's a combination of crystal velvet and sherpa fleece available in 3 sizes
Perfect for all seasons especially chilly Autumn and Winter nights
Lightweight and easy to carry outdoors like on a camping trip
Carefully follow the instructions while machine washing to keep the quality intact for a long time 
5. Mr. and Mr. gay wedding cake topper 
So, are you stuck in your search for gift ideas for gay couples on their wedding day? If you are not satisfied with the previous choices, try to make your gift exciting with this cute Mr. and Mr. cake topper. Two men in the sign, holding hands under a tree, beautifully depict the love story of the grooms. Like a cherry on the top, it will complete any gay wedding gift and make the ceremony special. 
This topper is made of food-friendly acrylic material
Suitable for a 6-inch tall wedding cake
If you wish to get a custom design, you can order separately through the seller
The topper arrives covered in a paper-like film for extra protection
6. His and His photo frame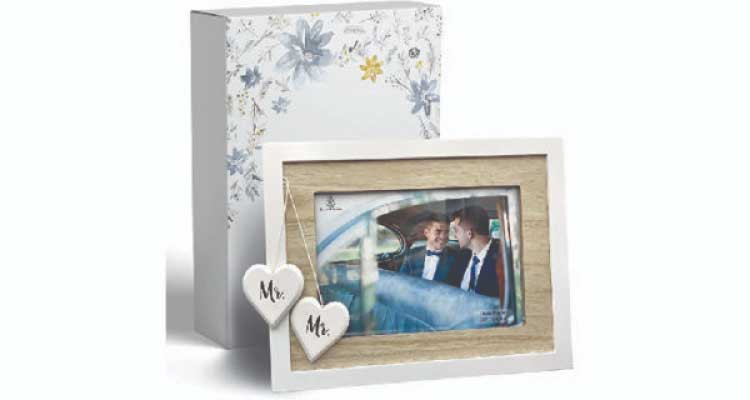 Weddings are all about making new memories and adding these to the old ones. There will be so many picture-perfect moments from the ceremony. The newlyweds may be spoiled for choice when picking the best ones to display at their new home. Before they run out of photo frames, you can grab this romantic Mr. and Mr. heart-studded frame for them. Like we said, buying gifts for gay couples is not a hard nut to crack. 
This rectangular horizontal frame can accommodate pictures of 5"x7"
The frame materials include plastic with high clarity and 100% natural handmade bamboo wood
Both hanging hook and free-standing easel are mounted on its back
You will receive the frame in a gorgeous gift box with magnetic closure
Related Reading: Lesbian And Gay Pride Bracelets – Rainbow LGBTQ Wristbands
7. Our adventure box is a great anniversary gift for gay couples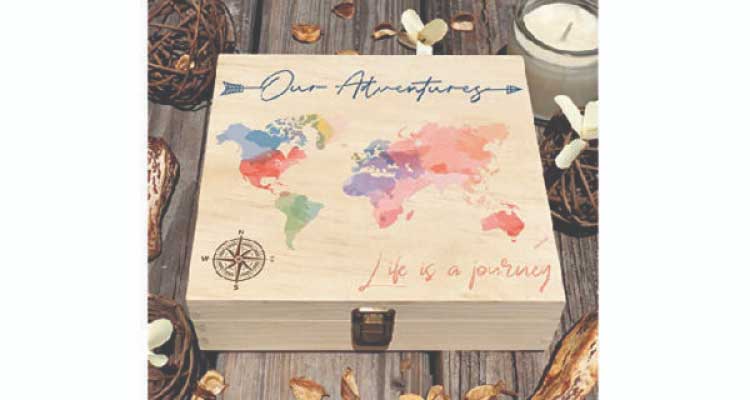 When you are happily married, your life feels wonderful. You start every morning kissing your hubby with a big smile on your face. Even the most ordinary mundane things suddenly seem to sparkle with new life. After five long years of marriage, when you look back, there will be so many reminiscences and collected souvenirs from your adventures together. That's why a pretty keepsake box is among the best wedding anniversary gifts for gay couples, where they can store all these memories safe and sound.
It's a vintage wooden box closed by a secure golden lock 
Unique design on the top lid with a watercolor world map and a compass sign 
UV print technology is used to absorb the ink in the wood
Long-lasting and no risk of the ink getting faded away
8. Adult party card game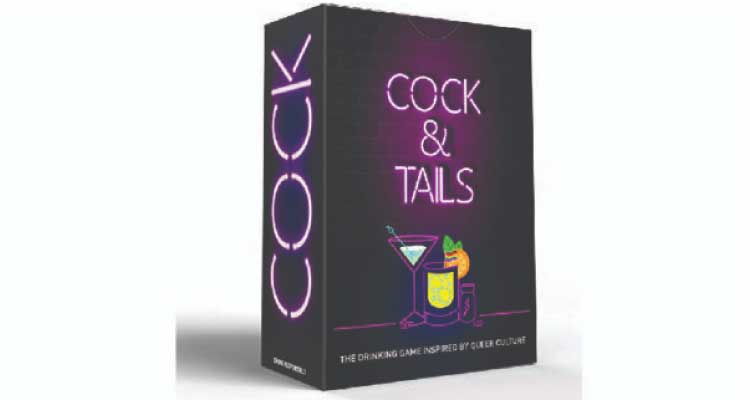 This is by far one of the most fun gift ideas for gay couples. Who can say no to a relaxing evening chilling with their inner circle, sipping on a cosmo, playing the kinkiest card game inspired by queer culture? I bet you can't. The next time you attend a house party, a pack of Cock and Tails is going to steal the show as the coolest gift for gay couples.
The cards are full of relatable references and hilarious inside jokes
On your turn, you have to draw a deck, fulfill the challenge or accept the punishment for failing
The game is best played with 3-10 players, a larger crowd may spoil the fun
There are a total of 104 cards including dynamic challenges, spill the tea, and more fun categories
9. Gay couples' luggage tag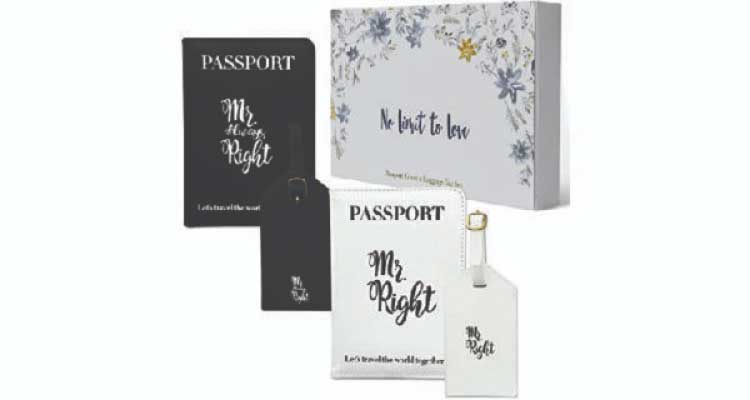 If you think about it, the best engagement gifts for gay couples are the ones that prove to be functional post-wedding. So many exciting things await the couple in their new life together. The ceremony, the honeymoon, decorating their new apartment and the list goes on. In this regard, a set of his and his passport holders and luggage tags make much more sense as gifts for gay couples, especially those who go on frequent couple's adventure vacations. 
Cruelty-free vegan leather material and sturdy buckle make the products durable and eco-friendly
The funny captions (Mr. Right and Mr. Always Right) are great conversation starters
Comes in contrasting black and white colors
They have a very precise neat and clean design
Related Reading: Modern Wedding Suits For Groom – 25 Ideas
10. Tuxedo champagne flutes for a gay wedding 
Are you looking for a very unique and befitting wedding gift for gay couples? I believe we have found something to meet your criteria. What are your thoughts on these super cute champagne flutes dressed in tuxedos? Aren't they just tailor-made for an elegant gay wedding ceremony? It would be even more perfect if you can get the champagne bottle customized in a similar style. Mark my words, your gift will draw everyone's attention at the ceremony. And the couple would be so elated, they might propose a special toast to you. 
The glasses are handmade by skilled craftsmen
The unique design follows the most trendy wedding fashion 
These flutes have a capacity of 8 ounces with a rim of 1.9 inch
They are well-packed in a sponge and a cardboard box, any damage is out of the question
11. Personalized crossroad sign gift for gay couples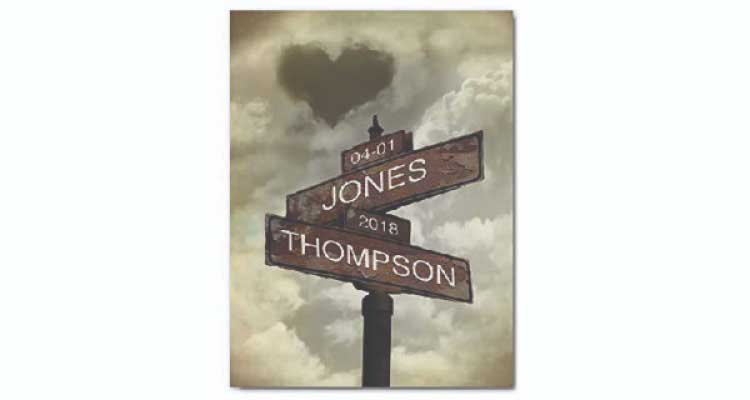 It's a wonder how two strangers cross paths in life, make each other's acquaintances and follow the love map to build a strong relationship. Our next idea for gifts for gay couples represents the very same thought. It's an aesthetic crossroad street sign with the couple's names on the plates and the date when they first met. Isn't that romantic as hell? Bring it to their engagement or wedding party and you will catch them in a tear or two. 
It's a realistic painting with a heart shape in the sky
Customize and add the couple's names and any special date you want to commemorate
Printed in a 240 gsm ultra matt inkjet photo paper with ultra-chrome HDR ink
 FYI, the picture frame is not included in this order; you have to frame it separately 
12. Mr. and Mr. wedding sign
As we are talking about wedding gift ideas, the last one on our list of LGBT couple gifts is certainly related to the wedding ceremony. Imagine how elegant any table arrangement would look with this glittery Mr. and Mr. letter sign! Off the top of my head, imagine placing this in front of the cake, like a centerpiece. It would l enhance the whole wedding vibe. You may as well treat it as an engagement gift so that the couple gets to plan the placement in advance. 
These decorative signs are made of compressed wood with a sparkling finish
They are free-standing and can be used on any tabletop
The structure is quite sturdy, thick, and durable 
Now armed with this varied guide to help you buy gifts for gay couples, it's time for more action and less thinking. Go through the catalog once again, make your choice and tuck it in a pretty wrapper before attending the ceremony. Our warm wishes to the newlyweds!
FAQs
1. What would a gay guy want for Christmas?
Here are a few great choices for Christmas gifts for your gay bestie – grooming kits or bath and body set to pamper him, snack baskets, gift items with #loveislove or pride flag, or maybe a novelty gift meant for the LGBT community. 
2. How can I surprise my gay boyfriend?
With  Pride month approaching soon, what could be a better surprise for your gay boyfriend than tickets to a summer parade? Or, you could take him on a surprise trip to the most famous Schwules Museum in Berlin. He would be thrilled! Low-key, romantic dinner dates or couples spa getaways always do wonders. 
Ask Our Expert
You must be Logged in to ask a question.