Getting into a romantic relationship involves opening yourself up to other new relations as well, like your boyfriend's parents and siblings. While you shower your boyfriend with love and sweet gestures, make sure that his parents don't feel left out. Eventually, this also boils down to getting gifts for boyfriend's dad. So why not make him feel a little extra special with a thoughtful gift that he can actually put to use?! Sounds amazing, isn't it?
Let's begin with bypassing the clichéd and get down to work scouting around for exciting gift ideas that are practical as well as high on the 'cherish' factor. Be it the joy of giving on Father's Day or Christmas, there will be times when you'll be left scratching your head thinking of unique gifts for boyfriend's dad. We understand how difficult a task this can be and so we've compiled a list of ideas that will steer you through gifting season.

25 Best Gift Ideas For Boyfriend's Dad
Choosing a gift can go haywire if you don't put some thought into it. While buying gifts for your partner can be a tad easier since you know his likes and dislikes, picking up presents for boyfriend's dad will need a little careful contemplation. Fret not, we've got you covered. Browse through our list to get an idea of all the options that you can consider.

1. Wallet with cardholder: Because money matters

No one can leave their home without a wallet and your boyfriend's dad is no exception. Needless to say, one of the best gifts for boyfriend's dad would be this slim wallet which scores high on the utility quotient. Smart, sleek, and stylish, this one is sure to make its way not just to his pockets, but his heart as well!

• 11 card pockets for carrying credit/debit cards, business cards, etc
• Industry-tested wallet shields against data theft by blocking RFID scanners
• Comes with a money clip for clasping all the bills together
• Slim and sleek design, no scope for ugly, bulging pockets
• Classic gifting option for fathers where style meets substance
Related Reading: 7 Ways Working Women Can Ace Balancing Work And Family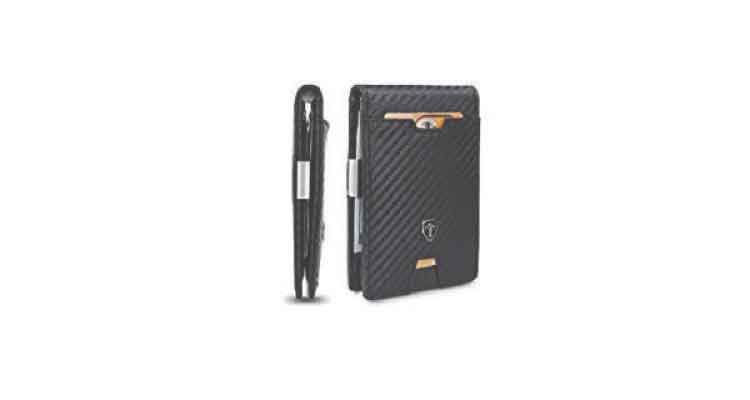 2. Get spa service at home with this shoulder, neck and back massager

Who doesn't enjoy a relaxing and soothing back massage? Or the much-needed kneading massage on the shoulders?! We bet there won't be a single day your boyfriend's dad won't use this massager that can ease out all the tensions (both muscular and mental). One can't ever say no to this shoulder, back, and neck massager which comes with advanced heat settings and kneading massage nodes. Your boyfriend's dad is sure to revel in the tranquilizing effect of its 8 kneading massage nodes working on his shoulders, back, and neck.

• Infrared heat setting improves blood circulation and relieves stress, aches, and cramps
• Highly automated action for the ultimate soporific experience
• Compact and handy design, suitable to be used anywhere and everywhere

3. Clear the clutter with this wooden desk organizer

Balancing a relationship requires you to give your boyfriend some personal space. Gift some space not just to your boyfriend, but to his dad as well, with this classic wooden desk organizer. This can be one of the best gift ideas for boyfriend's dad if he is finicky about keeping everything in its place. Cutely clumsy fathers could well do with this one too!

• Versatile piece that can be used in multiple ways: as a phone charging station, watch holder, storage space for knick-knacks, and much more
• Made of a solid ash tree, it is eco-friendly and 100% natural
• Smart design allows for both functionality and style
• Manufactured with premium quality wood, this organizer is strong, durable, and sturdy
4. Green thumbs up for the smart indoor garden
Trying to find perfect Christmas gifts for boyfriend's dad? Does he like spending time with nature? Does he potter about his prize garden? Then look no further than this smart indoor garden! This LED-powered garden is sure to win his heart with its natural abundance and sublime greenery.

• 6 varieties of natural herbs
• Safe, hassle-free, and mess-free, the easiest way to ensure homegrown yields
• Fully automated panel reminds you to feed the plants
• Water grown plants powered by the LED grow light make for faster growth of the plants

Related Reading: 21 Gifts For Your Girlfriend's Parents & In-laws | Under Budget Gift Ideas
5. Travel in time with this handmade leather journal
Does your partner's father like writing? Do they maintain a journal? A gift for boyfriend's dad is best when it is in keeping with his routine and practice. Pamper his flair for writing with this handmade leather notebook wherein he can express himself with élan, this one is an absolute delight for connoisseurs.

• Handcrafted from high-end water buffalo leather, recycled cotton paper
• Planet-friendly paper; the ultimate writing experience
• Unique specimen of craftsmanship, blending vintage class with sustainable modernity

6. JBL portable Bluetooth speaker for endless musical nights

Is your boyfriend's dad a music lover? Does he spend most of his nights swaying to his favorite songs? Then this is the best father's day gift for boyfriend's dad that you can surprise him with. Both of your boyfriend's parents will enjoy the melodies churned out by this cordless speaker from the house of JBL, the one brand that has revolutionized the music industry with its range of speakers.

• Wireless speaker, impeccable sound quality
• Portable, handy and easy-to-carry
• IPX7 waterproof
• Battery-powered speaker with provision of Bluetooth streaming
• Up to 12 hours of non-stop music

7. Show some love to his health with this gift basket of assorted nuts
Present your boyfriend's dad with the gift of good health. Cater to his mid-night cravings with a dose of goodness by presenting him with this gift basket of assorted nuts. The variety of crunchy nuts in unique flavors pack in a punch of nutrition to keep him energized and fit.

• 6 bags of nuts including cashews, almonds and peanuts
• Variety of flavors like salty, savory, crunchy, spicy and even sweet
• Loaded with healthy fats and protein
• Resealable bags ensuring crunch stays longer, nuts remain fresher
• Each bag weighs 4 oz.

8. Coolest gift for boyfriend's dad? Get these Beer chilling sticks
A list of the coolest gifts for boyfriend's dad would be incomplete without these beer chilling sticks. See him g(r)in from ear to ear (pun intended) when he unwraps perfect gift to match his cool quotient! These chilling popsicles are meant for the beer-loving pops who like their beer icy cold.

• Reusable sticks with cooling liquid filled which can be then inserted into the bottles
• Work well for long-necked bottles of beer and some soft drink bottles too
• Premium-quality 304 stainless steel
• It comes with a bottle opener
• Portable and easy-to-carry

Related Reading: 30 Unique Engagement Gifts For Couples
9. A classy golf accessories gift set
Gel with your boyfriend's dad over a game of golf. A good way to get along with your boyfriend's entire family on a sunny afternoon would be to play a sport together. Gift your boyfriend's dad this stunner of an accessory set and help him hone his golfing skills in style.

• Includes a poker chip ball marker, 2 Callaway golf balls, putt align divot tool, set of 3 Callaway golf tees and a Callaway tumbler set
• Stainless steel tumbler set, BPA-free and dishwasher-safe
• Specially designed tumbler with double-wall vacuum insulation keeps drinks hot/cold for hours at length
• Beveled bottom design makes it easy to fit into most cup holders

10. A stylish cardigan for a stylish man
The safest and best bet out of all the gift ideas for boyfriend's dad would be this suave and stylish cardigan. This sweater will definitely wrap him in the warmth of your love whenever you're not around. Comfortable and cozy, this sweater will help you forge a snug relationship with your boyfriend's dad.

• Skin-friendly blend of cotton and acrylic for utmost comfort
• Cable knitted sweater for men comes with attractive patterns and color combinations
• Goes well for both casual and formal occasions
• Warm and fuzzy, equally good for cold autumn evenings and freezing winter mornings
• Stand collared, single-breasted and buttoned-down sweater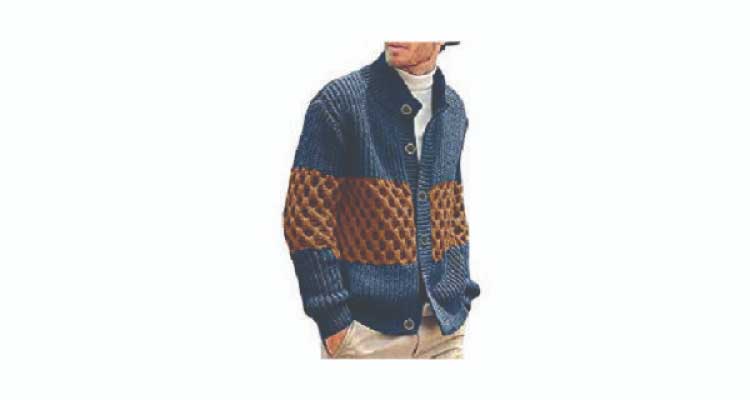 11. Barbeque grill set for all your outdoor parties
Dads and their specially whipped-up BBQs are inseparable. Fathers have a unique fondness for BBQs and once you present this unique gift for boyfriend's dad, you will earn a top spot in his heart! Tell them how special they are for you with this "#1 dad" printed BBQ grill set because the best dads in the world deserve to be treated with the best gifts for boyfriend's dad.

• 4 piece BBQ grill set
• Includes grilling tongs and spatula, digital thermometer for meat and uber stylish case to carry 'em along
• Premium-quality stainless steel, sturdy and dishwasher-safe wooden handles
• Well-equipped spatula with a bottle-opener at its base
• Battery-operated digital thermometer for easy and thorough cooking of the meat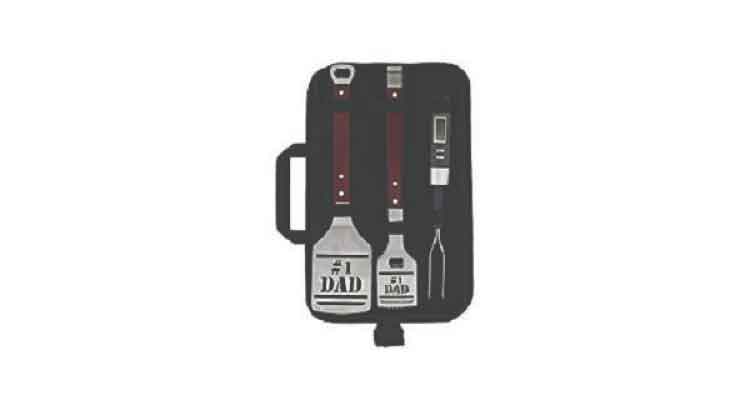 12. Fan his fandom for baseball with this Major league baseball poster and pushpins
Cheer for your favorite teams together as you catch up on an exciting, nail-biting baseball match at a Major League baseball park! This is one of the best gift ideas for boyfriend's dad if he's a huge baseball fan. Surprise him with this poster and mark all the parks you've visited together with pushpins or markers.

• One-of-a-kind interactive poster features all the US professional baseball stadiums
• Dimensions of the poster: 24 x 0.1 x 17 inches
• Finest quality of paper and premium inks, great wall décor
• Long-lasting and durable

13. Bond over a glass of whiskey stylishly served in a decanter globe set

What better way to bond with your boyfriend's dad than by clinking whiskey glasses? Make it a stylish affair with this hand-blown whiskey decanter set. Presents for boyfriend's dad like this elegant and sophisticated decanter set are sure to leave a lasting impression on him.

• Premium-quality glass etched with eye-catching design of globe and vintage ship
• Includes 2 matching old-fashioned whiskey glasses along with bottle in a wooden finish tray
• Bottle stopper in gold finish adds a touch of glimmering sophistication
• Product dimensions: 15 x 11.1 x 8 inches
• Decanter capacity: 850ml, glass capacity: 300ml

Related Reading: 11 Last-Minute Gift Ideas For Someone Who Has Everything | 2022
14. Go vintage with an antiquated motorcycle bottle opener
Is your boyfriend's dad a biking enthusiast? Does he have a travel streak in him? Is he a connoisseur of spirits? Mix his penchant for riding pillion, together with his guzzling of spirits and voila– you have the perfect father's day gift for your boyfriend's dad. This antique finish, bottle opener in motorcycle shape is a conversation starter at parties. Eye-catching and utilitarian, he is sure to love, use and cherish it forever!

• Unique shape makes for an attractive design
• Deftly crafted classic design
• Finest quality of zinc alloy, this bottle opener is sturdy and yet light in weight
• Product weight: 0.19 pounds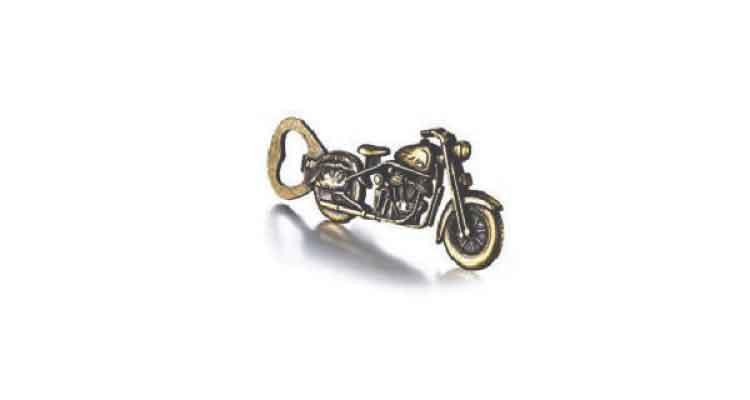 15. Best dad in the galaxy T-shirt
So you're a Star Wars fan? And for bf's dad is too? Well then stop looking for gifts ideas for boyfriend's dad and gift him this cool Darth Vader T-shirt. You need to show him that you adore him, right? Well, any T-shirt that proclaims "best dad in the galaxy" is sure to let this great guy know how you feel.

• 100% cotton fabric; soft and comfortable
• Snug fit, stylish design and cool
• Official merchandise of Star Wars
• Available in different colors and sizes

Related Reading: 21 Wedding Gift Ideas For Couple Already Living Together | 2022
16. Make him go "aww" with a cute family picture etched on crystal
Go that extra mile while selecting presents for boyfriend's dad and get him this personalized crystal photo. Fun moments spent with the family engraved on this stunning crystal base are a thing to cherish forever. Hold his hand and walk down memory lane with him, reliving those memories through this photo. Or better still, get the crystal etched with a family picture that includes you too and see both your boyfriend and his dad beaming!

• Shimmering crystal etched with family picture of your choice
• Made of K9 crystal; sturdy and durable
• Upgrade with the addition of a wooden LED light base
• Product dimension: 1.96 x 3.14 x 1.96 inches; product display dimensions: 1.96 x 3.14 x 1.96 inches
• Available in different sizes

17. Tickle his funny bone with this fun yet functional toilet bowl night light
We all know how much our dads love toilet humor and PJs. Tickle his funny bone with this practical toilet bowl night light. Nights for the elderlies are never complete without frequent trips to the bathroom. Make sure you light up their nights (along with their bathrooms!) with this unique gift and they'll be sure to smile and remember you even in the wee-wee hours. Yup, we went there!

• Battery-powered, motion sensors switch the lights on
• Automatic switch-off
• 8 different colors of lights
• Easy to install and hassle-free
• Product dimensions: 2.8 x 2.1 x 3.3 inches
• Item weight: 1.76 ounces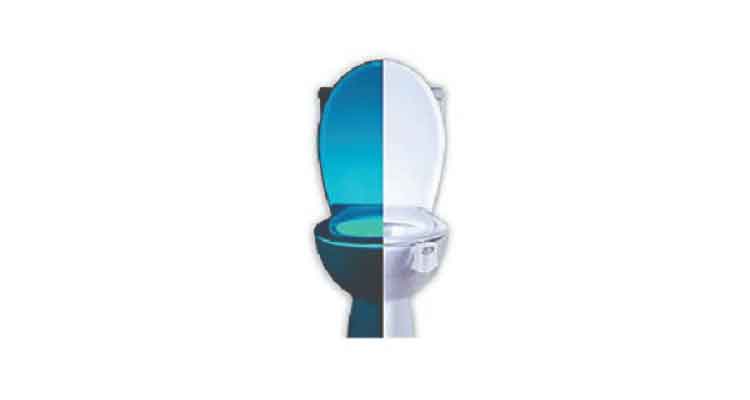 18. Assorted gift set for the jack of all trades
Can't really decide on gifts for boyfriend's dad? How about this assorted hamper where you have multiple useful things that he will surely love for their simplicity and practicality? Go for this gift set and cater to his multiple passions; be it traveling or humor, you got all of it covered in one go.

• Gift set includes: a travel tumbler, a keychain, a 12-in-1 multi-tool hammer, a pair of funny socks, a 3-in-1 survival bracelet, an exclusive gift card
• BPA-free tumbler maintains temperature of drinks for a long duration
• The multi-tool hammer great for hikers, travelers, or simply any das with a knack for mending and repairing things
• "love you daddy" engraved keychain in stainless steel
• Cozy socks with witty slogans
• Survival bracelet popular with gadget freaks and tech-savvy fathers

19. DIY hot sauce kits for the daring dads
Impress your boyfriend's parents with this unique gift idea. Do they love to experiment in the kitchen and whip up fun recipes? Are they a connoisseur of hot and spicy foods? Is DIY the way they go to? If yes, then this is the perfect gift idea for boyfriend's dad!

• Natural and GMO-free ingredients
• 5th generation heirloom spice blends and peppers
• Gourmet blend to make hottest sauces
• Item weight: 2.44 pounds, dimensions: 10X4.02X5 inches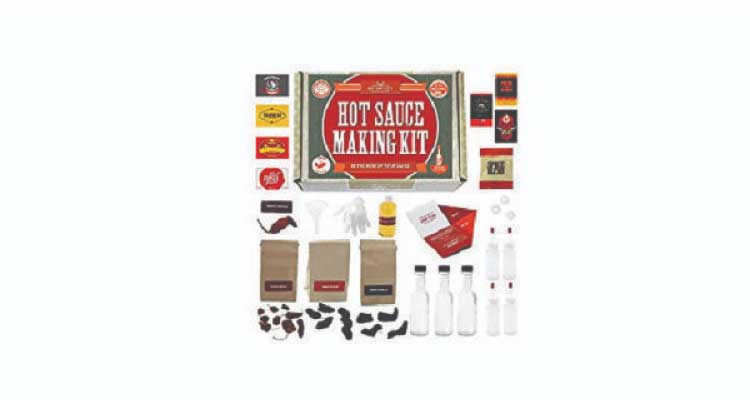 20. Define cool with this Bluetooth, LED, musical beanie hat
Ever wondered how your gifts for boyfriend's dad can impress both his parents? Land a double whammy with this unisex musical beanie which they are bound to love. And why not? It let's them take their music along everywhere they go. You can even go for a long walk with your boyfriend's dad where you can chit-chat with him while he strolls in this LED light beanie like the cool dad that he is! You are sure to light up his heart with this one.

• Battery-powered, Bluetooth enabled beanie
• Easy and hassle-free to use and pair with devices
• Includes USD cable for easy and fast charging
• Rechargeable and removable light with 3 different light settings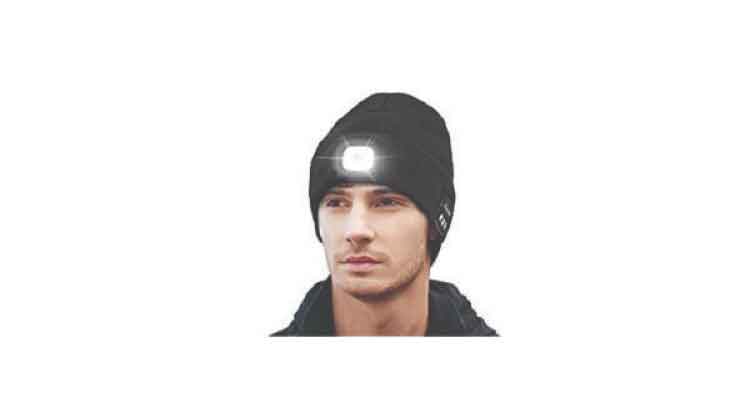 21. Charm him with this old-fashioned music box

Gifts for boyfriend's dad that remind him of the bygone era with its old-world charm have a special place in their heart. Claim that space for yourself with this vintage musical box. Music boxes with crank handles are unique and one-of-its-kind, and they radiate sheer simplicity and charisma.

• Crank handle powered music box that requires no battery
• Melody of You are my sunshine
• Product dimensions: 2.5″×2″×1.5″
• Special message engraved on the box

22. Cover him in the warmth of your love with this blanket
One of the best father's day gifts for boyfriend's dad– a message straight from your heart that can comfort him during those cold nights. This blanket with a special personalized message printed on it will surely make his heart melt! A thoughtful gift that he will use and treasure forever.

• Theme: letter from a daughter to her dad
• Finest of fabrics make this soft and fluffy blanket
• Product dimensions: 60''LX50''W
• Comes in various sizes

23. Gift your boyfriend's dad a piece of yourself in this hand-sculpted figurine
Celebrate the bond shared between a father and daughter with this heart-warming figure. Express how you feel for him without saying a word. The willow tree figure can be used as a mantelpiece reminding him of the love that you harbor in your heart for him.

• Figurine of dad reclining with daughter
• Premium quality wood
• Comes in gift box along with card

Related Reading: 21 Gift Ideas For Women Over 50 | Amazing Christmas Gift Ideas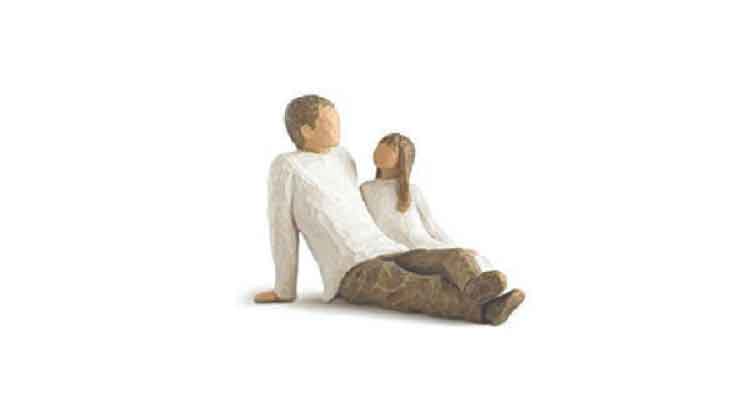 24. Tactical pen for tackling almost everything
Say hello to this smart and one-of-a-kind tactical pen– quite the unusual gift for boyfriend's dad instead. Write your name in his good books with this unique gift and see him go gaga over your choice of gift!

• Multi-utility pen; practical too
• Head that includes functions like bottle-opener, fire starter, emergency whistle, compass, glass breaking head and ballpoint pen
• Strong, sturdy and durable; made of aircraft aluminum
• Leakproof and waterproof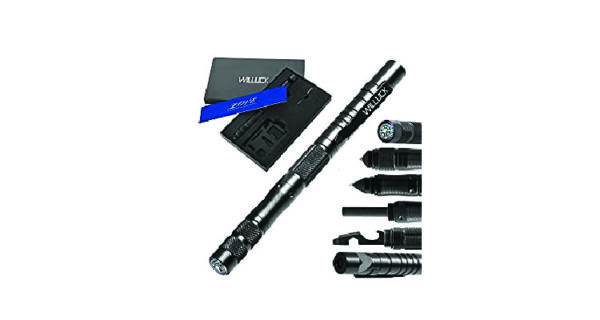 25. Add a spring to his steps with these stylish Moccasin slippers
Most gift ideas for boyfriend's dad are all about clothes and fancy faff – stuff he will hardly ever use. Try to forge a relationship with him by stepping into his shoes and thinking from his perspective about what can he use on a daily basis? Here's what you're stepping into: his shoes themselves! This pair of suave slippers makes for utmost comfort and functionality.

• Rubber-soled slippers crafted in 100% synthetic
• Classy yet casual
• Can be worn with most outfits all through the year
• Memory foam gives extra cushion and comfort to the feet
• No lace, no drama
• Comes in attractive, gift-ready packaging

By now, we are sure you are spoilt for choice considering the amazing line-up of gifts we have. You are all set to have a gala time shopping your heart out! Happy shopping and gifting!
FAQs
1. How can I impress my boyfriend's parents?
impressing your boyfriend's parents is a cakewalk when you are armed with such unique gifts for boyfriend's dad. they are sure to be besotted with your choices!
2. What to get your boyfriend's dad for Father's Day?
Father's Day gifts for boyfriend's dad can be utilitarian items that are cool and fun as well, keeping in mind his likes and dislikes.
3. What should I get for my boyfriend's dad for his birthday?
Birthday presents for your boyfriend's dad could be high on the practical front while accounting for their interests and passions.
21 Gifts For Your Girlfriend's Parents & In-laws | Under Budget Gift Ideas
21 Long Distance Family Gifts They Will Actually Want To Use
Ask Our Expert
You must be Logged in to ask a question.