Wearing matching t-shirts is a super cute way to proudly proclaim your relationship and love to the world. It's also a sweet way to tell your bae how much you love being a couple and want everyone to know it. And not just that, these tees and shirts make some great gifting options for your partner as well as your friends and they'll appreciate your thoughtful gesture. Aside from that, gay couple shirts and lesbian couple shirts are a fashion statement in themselves and you can bet on attracting at least a few envious glances while on street. In this article, I'm going to recommend some really cool and fashionable LGBTQ couple shirts that you ought to purchase for your partner and friends!
Gay Couple Shirts And T-Shirts
Whether you've just started dating or are happily married to each other, these gay couple matching outfits would be perfect for adding some color to your relationship. You can select the kind of product that suits both your preferences and purchase accordingly. These are some of the coolest designs out there for gay couple shirts and are certain to please both you and your partner.
1. LA LEELA men's aloha shirts
For couples who like to wear clothing that is simultaneously attractive and comfortable, this is the perfect product! With the rainbow colors splattered across the shirt, you can proudly flaunt your pride to the world. Not only that, but the vibrant style of this shirt will make both of you stand out at any occasion. If you're looking for gay couple shirts that don't compromise on either comfort or fashion, well then, here you go!
Lightweight fabric provides extra ease and comfort
Does not fade or wrinkle easily
Sizes are slightly larger than regular, for loose, holiday fitting
Related Reading: 16 Sentimental Gifts For Your Boyfriend That Will Melt His Heart
2. ALLNTRENDS pair of men's t-shirts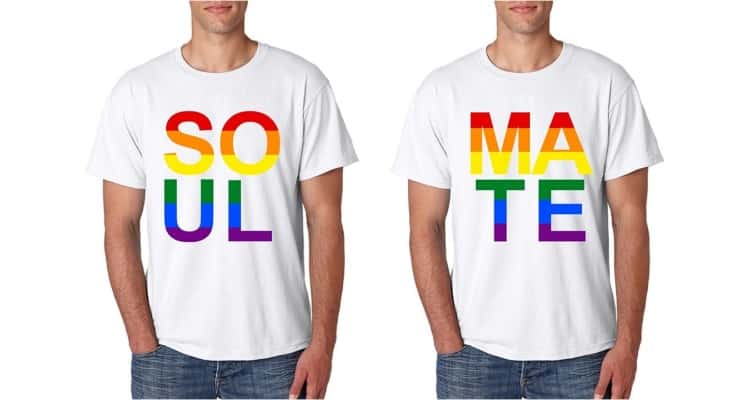 Don't you just love those couple tees with half of the word or sentence on one piece and the other half on the other? Not only do these gay couple t-shirts look adorable, but they also announce to the world who your partner is. The t-shirts look funky and can be worn for casual occasions with your partner. While each tee stands on its own too, it makes all the sense in the world when they come together, quite like you and your partner!
Made of cotton and polyester
Comes in four different colors
Different size combinations are available to accommodate both your size requirements
3. FASCIINO lgbt matching couple t-shirt set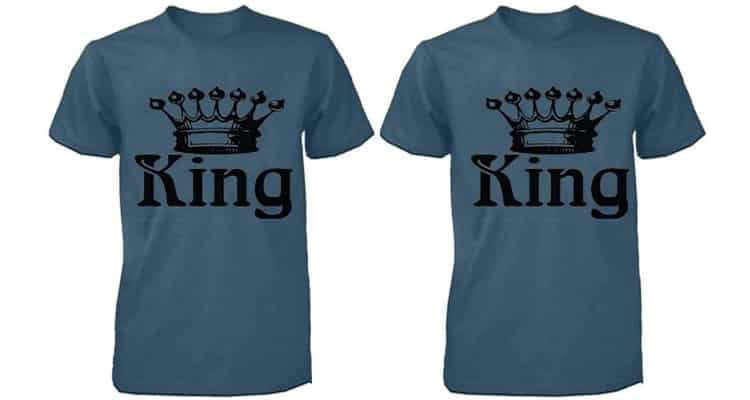 Show the world who you are with these simple yet stylish tees! Wearing these gay couple matching outfits together can help you to silently but surely announce your relationship to everyone around you. These pieces can easily be worn individually, but worn together, they are sure to be the talk of the town. Comfortable to wear and with their subtle color, they can be worn to parties, events and any occasion you choose, really. You can gift it to your gay friends on anniversaries and birthdays and they're certain to appreciate your thoughtful gift.
Comes in denim blue color
Available in several size combinations
Matching shirts are specially designed for couples
Related Reading: 20 Thoughtful Birthday Gift Ideas For Husband
4. Pride see-through fishnet t-shirt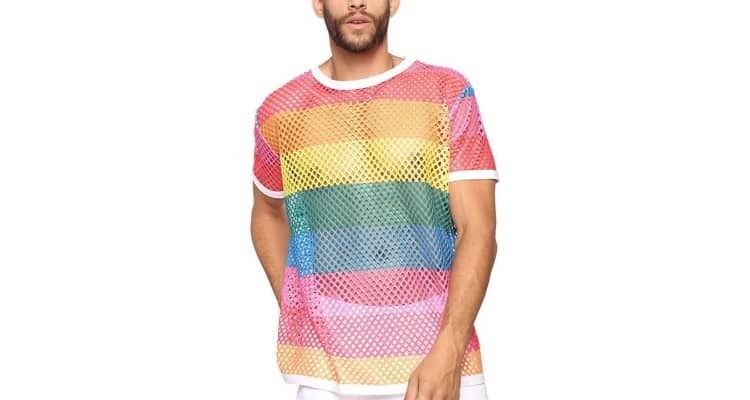 Looking for some sexy gay couple matching outfits? Look no further. With this see-through t-shirt, you can rest assured that neither of you will be able to look at much except each other. This t-shirt can be worn to night parties and maybe even the gym. Not only is it attractive, but it's also very comfortable, leaving optimal space for ventilation so you feel at ease. So flaunt your pride with your partner, and do it in style with this t-shirt!
Primarily made of polyester and some spandex
Stretchable fabric ensures durability
No risk of shrinking or fading
5. Leather military shirt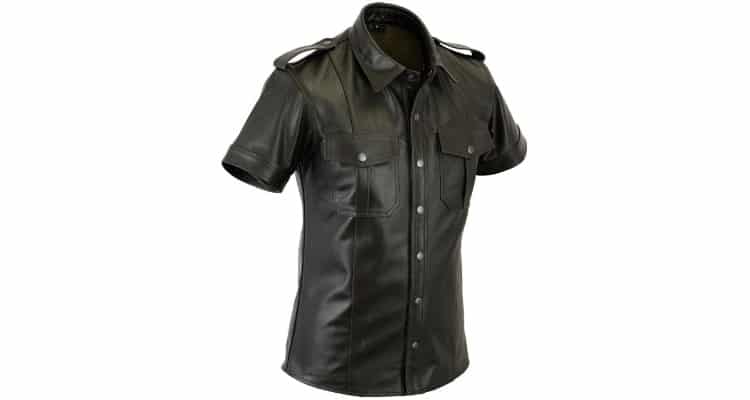 For those looking to spice up their relationship as well as their wardrobe, these gay couple shirts are the right fit. Not only do the shirts have a vintage style, police look about them, but they also scream 'gay', loud and proud! Both of you wearing it to an event, would ensure the whole party talks about it for days to come! These are best worn, however, inside the house, when you're up for some erotic role-playing. So what are you even waiting for, grab one for yourself right away!
Made using Nappa leather
2 breast pockets with press studs
Epaulet on each shoulder for vintage look
6. Gay As Fuck men's cotton t-shirt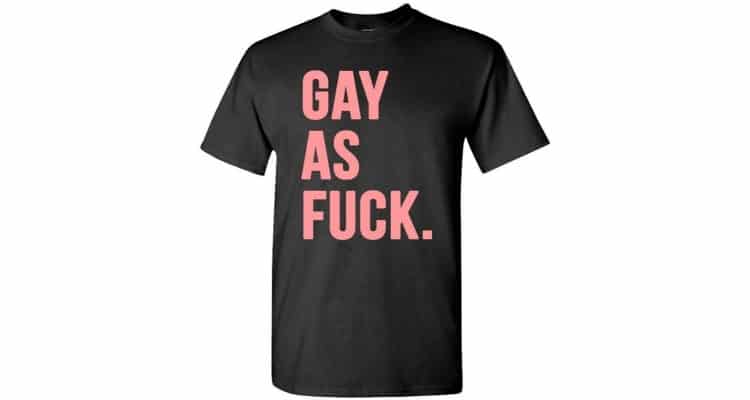 Proudly wear your identity with this funny tee quote. It's available in a bunch of cool shades, from tri-blend black to military to forest. Therefore, you can also buy slightly different colors for your partner and yourself to express the 'same but different' vibe you've got going on with your partner. There's no shortage of possibilities here, really! These are made using cotton so you can wear them all day long enjoying maximum comfort. 
Made of pure 5.2 oz heavyweight cotton
Crew neck style
Printed in Tennessee
Available in all sizes S to 3XL
Related Reading: 32 Birthday Gifts For Fiance- Romantic Gifts For Him And Her
7. Men's casual button-down shirt
Searching for gay couple shirts that are comfortable and cool as well? This Hawaiian shirt might be just what you're looking for. Whether on a beach or at a family backyard party, you're guaranteed to get numerous compliments. Combine that with your partner wearing this too, and the envious and admiring looks won't stop throughout the party. These pieces are great for hanging out at home with each other as well since they're loose and comfortable to wear all the time.
Available in sizes between M to 3XL
Short-sleeved
Available in 12 unique designs
Buttoned end closure type
8. Men's 2 piece outfit sets for summer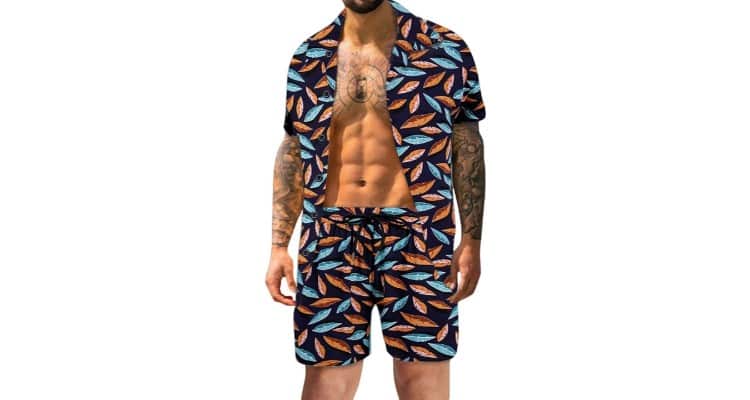 Why not take the concept of LGBT couple shirts a little further? With these 2 piece outfit sets, not only will your shirts match, but your shorts too! It's a fun little way to enhance the camaraderie between you while also wearing apparel that is comfortable and stylish. This set can be worn on any vacation, at family picnics, pool parties and in your personal space. With the vibrant color schemes, you can expect quite a lot of attention coming your and your partner's way.
Cotton and polyester blend
Soft, stretchable fabric – perfect for daily wear
Shirt can be worn separately
Related Reading: 20 Funny Gifts For Boyfriend That'll Put A Smile On His Face
9. URRU men's sequins shirts
What's better than colorful gay couple shirts and tees? Why, shirts and tees that shimmer and sparkle, of course! Bring back the '70s era with these polo shirts that will light up any dance floor you step on. And combine that with your partner wearing one too, and you already just know the party's gonna be legendary. You can wear these all day long as the stretchable polyester will keep you cool throughout. The mesh layer protects your skin from any itches or scratches and keeps it ventilated. Get a pair of these dynamic polo shirts and don't hide your flashy side anymore.
10 colors to choose from
Double layered apparel to keep it skin-friendly
Manufactured using polyester, sequins and mesh
10. My Other Half matching t-shirt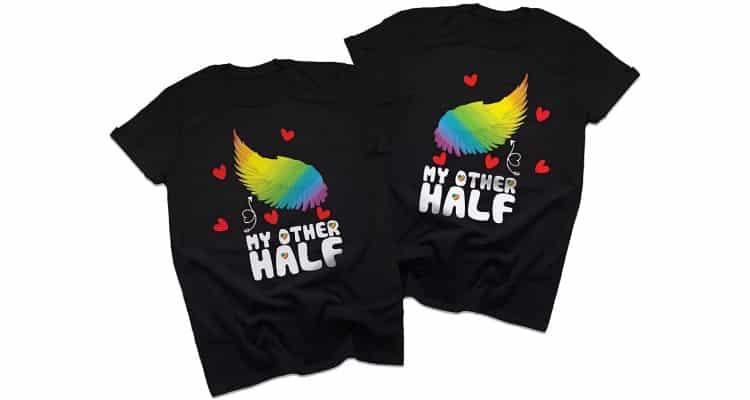 Declare your relationship to the world and look super cool while doing it, with this beautiful pair of t-shirts. While it looks great when worn individually, it really comes together when worn together – you are the wind beneath each other's wings, are you not? That's what these tees will say for you. This tee really makes for a great gift for your partner on any occasion, be it Christmas or a birthday.
Pure cotton
Provides several customization options before you purchase it
Available in 28 colors
Lesbian Couple Shirts And T-Shirts
In a world that's still not always accepting of others' choices and preferences, wearing your identity is one of the boldest things to do. And what better way to do it than with your partner? Your partner will love these lesbian couple shirts, and when the two of you step out in matching tees, proclaiming your love and pride for all to see, you're bound to get looks of admiration, respect and maybe even envy! Though they may come in different designs and types, they all come from the same place, a place of love and bravery.
1. FASCIINO matching lesbian couple t-shirt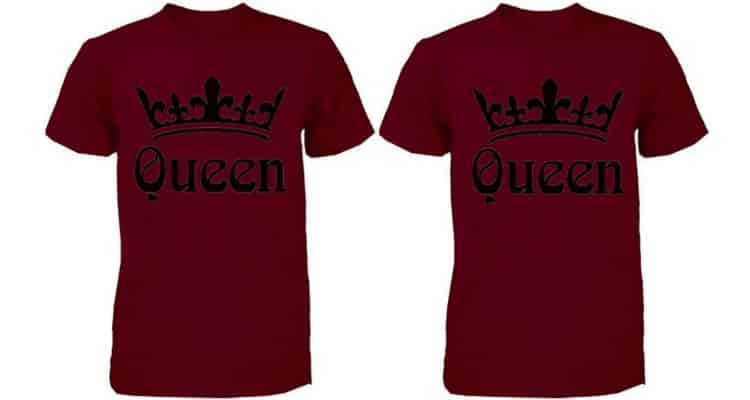 Make way for queens to reign the world! Show the world who you are with these minimalistic yet attractive tees. With these matching lesbian couple t-shirts, you can highlight your individuality while also showcasing your love for each other to the world. The piece is comfortable to wear and can be worn all day long.
Available in maroon 
Comes in a variety of size combinations
Stretchable fabric ensures comfort
Related Reading: 30 Gift Ideas For Women Who Have Everything- Unique Gifts For Her
2. Kamaple rainbow tee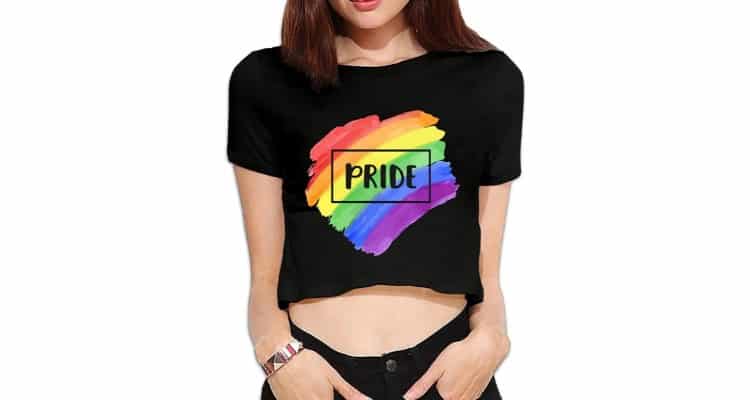 Flaunt your pride along with your midriff in this sexy tee! With a dynamic splattering of the colors of pride, the tee is very easy on the eyes. It can be paired with anything, be it your ever-reliable denims or some cute shorts or a swishy skirt. When looking for matching lesbian couple shirts, you need not give up on fashion for the sake of making a statement, you can do both at the same time. And this is the perfect example of that!
100% bamboo cotton
Soft and comfortable to wear for long hours
Comes in black or white 
3. shop4ever Love is Love women's t-shirt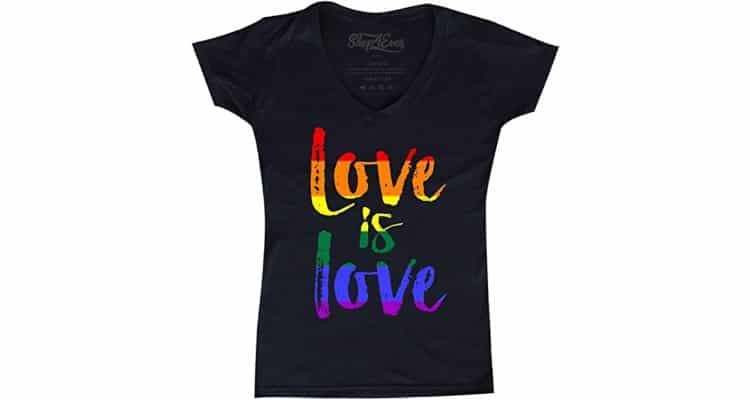 Looking for a casual pair of lesbian couple shirts? These V-neck style t-shirts might be just what you're looking for! With the quote showing your pride in catchy rainbow shades, the design is simple yet alluring. Plus it can be worn anywhere. Just want to chill at home? You got it. Want a minimalistic look for an office meeting? Pair it with a light jacket – easy peasy. Have a party to attend but you don't want to throw away comfort for fashion? Look no further! This just may become your go-to t-shirt.
100% cotton
Comfortable and lightweight
Comes in seven colours
4. Rainbow graphic casual short sleeve tops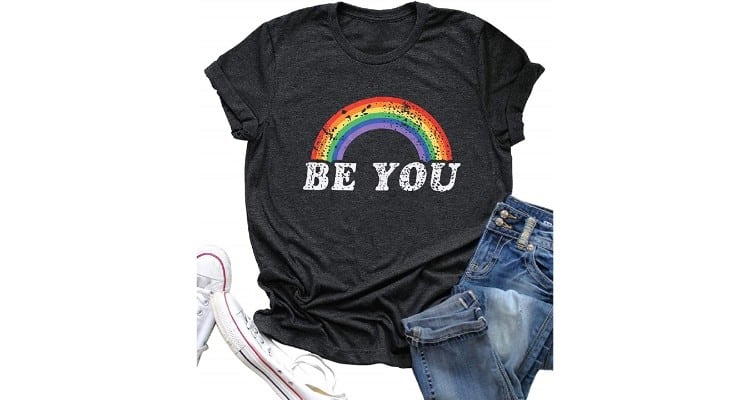 A good idea when purchasing lesbian couple pride shirts is to go for pieces that can easily go with other garments as well. With this casual top, not only can you display your pride, you can do so in style. Whether you're wearing jeans or tights, boots or sneakers, this top can match every kind of option. This means you and your partner can sport a similar look while also maintaining a sense of uniqueness and individuality. 
100% pure cotton
Breathable and skin-friendly
Available in 19 different colors and designs
Related Reading: 35 Funny Gag Gifts For Women
5. Personalized lgbt hand holding t-shirt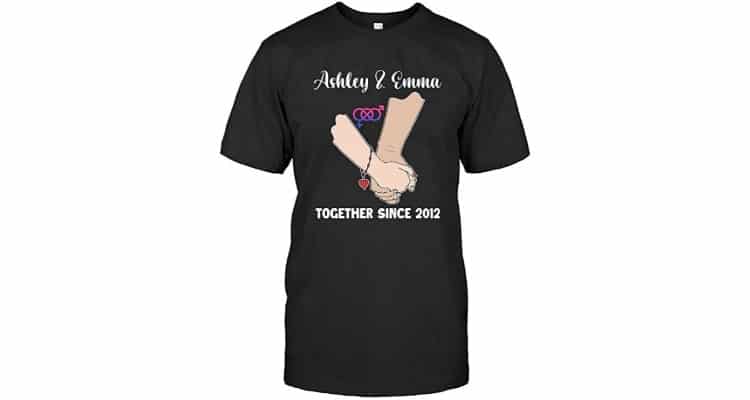 It's easy to get confused when it comes to choosing the right style and design. What if your partner doesn't like it? What if she finds it too impersonal? If that is something that worries you, this might be the perfect product for you. With an eye-catching print of two hands clasping each other, it would look great on both you and your partner. What's more, there are multiple customization options! You can change the skin color, the names and the date in the design, or change the entire design itself, and make your gift something truly personal.
100% cotton
Made in the USA
Available in 10 different colors
6. Women's artistic sunflower painting shirt
Some things are just too beautiful to not notice, and this tee is undoubtedly one such thing. So imagine the looks you and your partner will get when you wear it out together. The design of the top shows off your figure and is also very comfortable and breathable. It also makes for a great gift to any friend of yours, and they're sure to fall in love with it too!
Available in 9 unique, attractive prints
Fabric is lightweight, soft and stretchable
Sizes available from S to XXL; price varies according to size
7. Rock Paper Scissors pride t-shirt
Have a bit of fun with our list of lesbian couple shirts and get yourself and your partner a pair of this tee. The print is sure to grab eyes wherever you two go, and you can enjoy all the amused and surprised looks that come your way. Not only are the words funny, but the design on the tee is also very vibrant and erm, amusing and direct as well. You can wear it to parties and festivals, and have a great time either raising eyebrows or giving others a good chuckle.
Pure cotton except for the heather shades, which also employ polyester
Machine wash in cold water
Sleeve is double-needled
Comes in 10 different shades
8. Short sleeve, lgtbq pride t-shirt
You know those times when the print on a tee is too good to not buy? Well, this is that tee. For all those who still hold archaic beliefs on others' sexual preferences, this is the perfect reply: into the wine, not the label. Because, at the end of the day, what matters is the person you're with, irrespective of their gender or superficial traits. The fabric is very soft on the skin, which means you can wear it for a pretty long time and your partner can too!
Stretchable fabric that won't shrink after washing
Durable; print won't fade 
Choose from 7 color options
9. Long sleeve crewneck shirts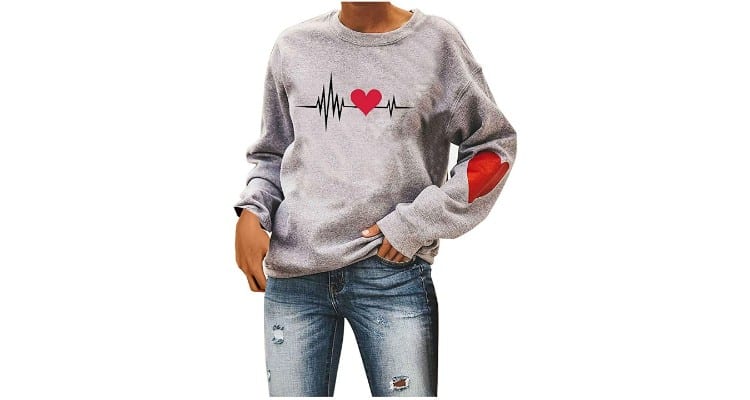 Show the world you are in love, and let your partner show it too, with this gorgeous tee. Its casual look means you can pull it off on any informal occasion while not compromising on your comfort. Wearing it along with your partner is definitely going to attract attention all around you two. These pieces can be worn throughout the year and the premium quality fabric ensures you can wear them for a long time without worry of any wear or tear. 
Hand wash preferable
Comfortable design; can be worn anywhere
Comes in over 10 colors and designs
Related Reading: 33 Best Valentine's Day Gifts For Her | Gift Ideas For Girlfriend
10. S4E rainbow heart women's t-shirt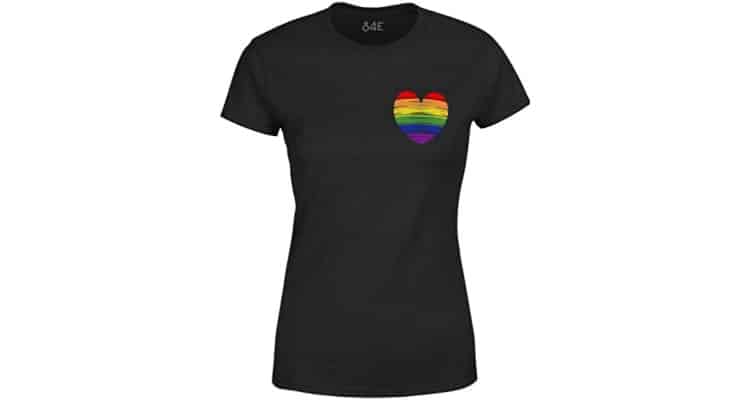 Don't just wear your pride on your heart in a metaphorical fashion, wear it literally with this pretty tee! For those who love their clothes to be minimalistic and simple, this might be just the thing. The beautiful rainbow heart showcases your personality oh-so-subtly while also highlighting your connection with your partner. This makes for a great gift to your friends and family too, be it on Christmas or a birthday.
Printed and designed in the USA
Material is light and comfortable
Comes in black and pink
The choices are immense and it's up to you to pick what you think your partner would love to wear in matching styles with you. Be it the gay couple shirts or the lesbian couple shirts, the products listed here will make you both stand out in any crowd. So, just as with matters of love, go with what your heart wishes for, and press that buy button!
6 Amazing Ways To Say Thank You During The Christmas Holidays | A Thoughtful Guide