Sex life after the 40s is a hush-hush affair for most Indian couples. Many of them still think that their sex life is potentially over after crossing this milestone. But it certainly is not. 'Naughty at forty' is not something to be frowned upon in terms of sex life. If couples take their age in the right stride, it can bring out the best of your sexual intimacy, quality life, and companionship. Before we explore the hidden dynamics of sex in the 40s, let us first analyse how different it is from sex in your 30s and 20s.
How is sex in the 40s different from sex in your 30s and 20s?
Couples in the 40s age-group carry lots of experience and stability as compared to their younger counterparts while enjoying sex. Most of the young couples just go with the flow, whereas mature couples know their partners inside out. They are quite confident in their skin, have seasoned perspectives, and chemistry. Similarly, there are many other reasons that make sex in the 40s different from your 20s or 30s, which we will explore in this section.
Carefree spontaneity is missing: Younger couples exhibit carefree attitude and spontaneity while approaching sex. Being with their partner is enough to have an amazing sexual adventure. But individuals in their 40s refrain from spontaneous sexual encounters with their partners, owing to household responsibilities, and presence of children/elders, etc. Ageing may take its toll on these couples. But fret not, as the 40s also bring with them a lot of awesome sex, if couples set intimate days every week                                                                                                                            
Enjoy openness in communication: The newbie couples in their 20s are sexually unsure of themselves and their sexual desires. They are still in the process of exploring each other and striking sexual compatibility. So, they might not be able to express themselves openly. Whereas, a 40s couple displays chemistry, understanding, and openness in communication like never before. Like partners cum friends, they enjoy quality sex in a liberating way
Ready to experiment: Since a 40s couple is 'open' in communicating the desires and fantasies with each other, it is fairly easy for them to experiment with new positions and fantasies, whereas, younger counterparts, due to their limited experience, might hesitate in sharing their desires and experimenting with their partners. So, here the ageing and compatibility enables a couple to encourage each other's fantasies and make sex a memorable experience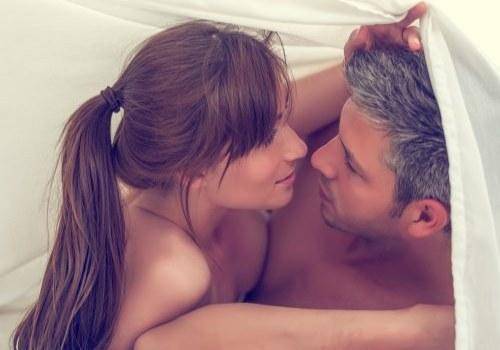 Comfortable in your own skin: Young individuals are always conscious about their looks, fat, complexion and features before getting intimate with their partners. But a 40s couple is not insecure about body flab, or bulging weight while indulging in sex. Such individuals have embraced their body structure and are comfortable in their own skin, which is the key to confidence in bed
Confident as a couple: The 20s are all about figuring your own self out in terms of sexual intimacy. What turns you on, how you respond to lovemaking, is your partner comfortable with you intimately, are the questions that flood them during sex. But, a quietly active 40s couple would have cracked the code on what works for them in bed and how to orgasm, thanks to the time spent together. They just give in to their partners completely and enjoy being in the moment completely during sex
Improved endurance levels: In their 20s, a couple, being quite 'new' to sex, might take time to figure out women's orgasm, or a man's guide to last longer in bed. But as an experienced couple in their 40s, it is fairly easy for both men and women to find more pleasure in sex than ever. Instead of finding it a chore, such couples usually slow down and enjoy the experience in a more connected way
Adapting to body changes: Contrary to popular culture, a couple in the 40s goes through a lot of body changes. Your physical stamina might be dipping, but that doesn't mean sex has to be curbed. A little bit of effort can make sex a much-needed antidote for the 'fit you'. There are lots of health benefits of sex for middle-aged men and women, including heart health, stronger immunity, and regulated hormone levels, etc. All these reasons make sex in the 40s a roller-coaster ride for a couple
The most important- take care of your health: As you get older, you also see some medical issues cropping up. Medical fitness is a huge must to enjoy a sex life in your 40s and beyond. This is the time when you should get serious about your health and take it seriously. Get into a good routine with exercise, balanced diet and good sleep. You may also check about potential side effects of your regular medicines on your sex life. Maintain a good lifestyle with and do not fret about performance issues at all
Related reading: How to spice up your sex life
Women's sex drive in their 40s
If you think ageing and health challenges reduce the sex drive among women, then you are wrong. Contrary to common belief, women in the 40s undoubtedly enjoy the best sex of their lives. Millions of women experience a sense of liberation towards themselves and their partner in this phase. They care less about fertility, think more about sex and are quite vocal about their sexual needs and fantasies. That's why we see many 40s women feel exhilarated and confident in their personal sexuality. But if they are suffering from some health issues like perimenopause, depression or anxiety, then this might affect their sexual drive. They might suffer from pains or disinterest in sex. Proper medical diagnosis and treatment can avoid such discomfort.
Men's sex drive in their 40s
Like women, men in the 40s, too, experience a shift in their sexual drive. Owing to health changes, lower stamina, and mounting stress, such men may take a bit longer to be ready for sexual activity. They may turn on after taking a lot of time and indulge in a sexual activity. But this is not a disadvantage from a female's point of view. Instead, this could be a potential advantage for a couple in the 40s, as they can experience touchy-feely intimacy and foreplay in sync with each other.
To reconnect with their spouses, men in their 40s must take charge of their health. Regular fitness should be a part of the routine for such men. A mix of proper sleep and healthy diet could also do wonders for men's health. On the emotional level, spending relaxing time with the spouse can reconnect you both on an intimate level.
Related reading: 7 things no one tells you about married sex
Positions that should be tried during your 40s
The 40s is the first time you will start experiencing aches and pains while indulging in sex. Don't let that hinder your sexual intimacy. Start with lots of cuddles or spooning position during lovemaking. This snuggling can help you bond on an emotional level. Devote more time for increased foreplay to enjoy heightened levels of intimacy. Use edible ingredients to spice up the missionary position. Or lie facing each other and begin sexual penetration at the comfort of both the partners. Ask her to be on all fours and then initiate intercourse from behind. Or, you may discuss with your partner to experiment with new sexual positions based on consent.
Did you know? Regular sex increases sexual desire and understanding among couples. This is one potent reason why couples in their 40s should not let societal, family and health challenges come in the way of sexual intimacy. Set aside one or two days for 'we time', and use this to rekindle the lost sexual spark between you. Give each other quality time, like a date, dinner or a long drive and let that lead into passionate lovemaking. Make it a regular routine and witness how it transforms your emotional, physical and mental well-being. This is key to intimate, long withstanding and lasting couple relationships. Agree with us? Do share your views about this with us.